Introduction
The United States and the People's Republic of China (PRC or China) are involved in a prolonged stand-off over trade, and in competition that is spilling from political and military areas into a growing number of other spheres, including technology, finance, and education, severely straining ties on the 40th anniversary of the two countries' establishment of diplomatic relations. The two countries lead the world in the size of their economies, their defense budgets, and their global greenhouse gas emissions. Both countries are permanent members of the United Nations (U.N.) Security Council. In 2018, they were each other's largest trading partners.
Trump Administration strategy documents have set the tone for U.S. policy toward China. The December 2017 National Security Strategy (NSS) describes both China and Russia as seeking to "challenge American power, influence, and interests, attempting to erode American security and prosperity."1 An unclassified summary of the January 2018 U.S. National Defense Strategy describes China as a "strategic competitor" and charges that it is pursuing a military modernization program that "seeks Indo-Pacific regional hegemony in the near-term and displacement of the United States to achieve global preeminence in the future."2 The Department of Defense's (DOD's) June 2019 Indo-Pacific Strategy Report identifies "the primary concern for U.S. national security" as "inter-state strategic competition, defined by geopolitical rivalry between free and repressive world order visions."3 The Trump Administration has leveled its strongest criticism at China's economic practices. In a major October 4, 2018, address on China policy, Vice President Mike Pence charged that China has used "an arsenal of policies inconsistent with free and fair trade" to build its manufacturing base, "at the expense of its competitors—especially the United States of America."4
In their public statements on the United States, China's top leaders have generally refrained from direct criticism. In July 2019, PRC Vice President Wang Qishan stated that "profound shifts are taking place in the relations between major countries," noting "mounting protectionism and populist ideologies" and "intensifying geopolitical rivalry and regional turbulence."5 PRC Vice Foreign Minister Le Yucheng, speaking at the same forum, addressed U.S.-China relations directly. The bilateral relationship, Le asserted, is "now going through the most complex and sensitive period since diplomatic relations were formalized four decades ago." Le called for "a China-US relationship based on coordination, cooperation and stability," and pushed back at the idea that China is responsible for U.S. "challenges." The wars in Afghanistan and Iraq "sapped [U.S.] strategic strength," Le asserted, and the global financial crisis "exposed the deep-seated imbalances in the U.S. economy and society." The United States should not make China "a scapegoat," Le argued, for "[p]roblems such as economic disparity, widening wealth gap and aging infrastructure."6
U.S.-China tensions predated the Trump Administration. Frictions over such issues as Taiwan, trade, and China's human rights record have been long-standing, as have been U.S. concerns about the intentions behind China's ambitious military modernization efforts. United States Trade Representative (USTR) reports to Congress going back to the last years of the George W. Bush Administration document mounting U.S. frustrations with China's failure to implement market-opening commitments it made when it acceded to the World Trade Organization (WTO) in December 2001.7 Previous Administrations concluded, however, that a modus vivendi with China was necessary for a broad array of U.S. policy objectives in the world, and they thus sought to balance competition and cooperation in the U.S.-China relationship.8
During the Trump Administration, competition has dominated the relationship and areas of cooperation have shrunk. To pressure China to change its economic practices, the United States has imposed tariffs on hundreds of billions of dollars of U.S. imports from China, with almost all imports from China scheduled to be subject to additional tariffs by December 15, 2019. U.S. tariffs and China's retaliatory tariffs have reordered global supply chains and hit U.S. farmers and manufacturers particularly hard. Twelve rounds of negotiations have not resolved the dispute.
On August 5, 2019, the U.S. Treasury Department labeled China a currency manipulator for the first time in a quarter century.9 The Administration has placed restrictions on the ability of U.S. firms to supply PRC telecommunications giant Huawei.10 The United States has also sought to warn other nations away from business dealings with Huawei and from cooperation with China on infrastructure projects under the framework of China's Belt and Road Initiative (BRI). Feeding a persistent narrative that the Administration seeks to "decouple" the U.S. and Chinese economies, on August 23, 2019, President Trump wrote on Twitter, "Our great American companies are hereby ordered to immediately start looking for an alternative to China, including bringing your companies HOME and making your products in the USA." As his authority for such an order, the President cited the International Emergency Economic Powers Act (P.L. 95-223), though he said on August 25, 2019, that he had "no plan right now" to trigger the law.11
Many analysts ascribe the rising friction in the relationship today not only to the arguably more confrontational inclinations of the Trump Administration, but also to more assertive behavior by China under President Xi Jinping. Xi assumed the top posts in the Communist Party of China in November 2012 and added the state presidency in March 2013. Later in 2013, China began building military outposts in the South China Sea and Xi launched BRI, an ambitious effort to boost economic connectivity—and China's influence—across the globe. In 2015, China began enacting a suite of national security legislation that shrank the space for independent thought and civil society, subjected ordinary citizens to stepped-up surveillance, and imposed onerous conditions on foreign firms operating in China.12 The same year, China launched its "Made in China 2025" plan, seeking to reduce China's reliance on foreign technology and directing the considerable resources of the state toward supporting the development of "national champion" Chinese firms in 10 strategic industries.13 In 2017, at the end of his first five-year term in his Party posts, Xi tasked China's military with turning itself into a "world-class" force by mid-century.14 That year, his government also began forcing more than 1 million of his Turkic Muslim fellow citizens in the northwest region of Xinjiang into reeducation camps.15 In March 2018, China's Communist Party-controlled legislature amended the state constitution to remove presidential term-limits, opening the way for Xi to stay in office indefinitely.16
Increasingly, the United States and China appear to be seeking to draw other countries into competing camps—those who agree to sign (often vague) BRI cooperation agreements with China (some 125 countries as of April 2019, by China's count), and those who, at the U.S. government's behest, do not; those who do business with Huawei, and those who, similarly at the U.S. government's behest, do not; those who publicly censure China for its actions in Xinjiang, and those who offer support.17 U.S. allies are sometimes in China's "camp." China represents "a new kind of challenge," Secretary of State Michael R. Pompeo has suggested, because, "It's an authoritarian regime that's integrated economically into the West in ways the Soviet Union never was."18 Important areas of remaining U.S.-China cooperation include maintaining pressure on North Korea to curb its nuclear weapons and missile programs; supporting the Afghanistan peace process; managing international public health challenges, from tuberculosis to influenza; and stemming the flow into the United States of China-produced fentanyl, a class of deadly synthetic opioids.
Many of the Trump Administration's critics share the Administration's concerns about PRC policies and actions, but disagree with the Administration's framing of the relationship and with specific Administration policies. Signatories to an open letter on China addressed to the President and Members of Congress and published in The Washington Post on July 3, 2019, acknowledge "troubling behavior" by China. They argue, nonetheless, that China is not "an economic enemy or an existential national security threat that must be confronted in every sphere; nor is China a monolith, or the views of its leaders set in stone." They warn, "If the U.S. presses its allies to treat China as an economic and political enemy, it will weaken its relations with those allies and could end up isolating itself rather than Beijing."19
Former Obama Administration officials Kurt M. Campbell and Jake Sullivan argue that, "The basic mistake of engagement was to assume that it could bring about fundamental changes to China's political system, economy, and foreign policy." They warn that, "Washington risks making a similar mistake today, by assuming that competition can succeed in transforming China where engagement failed—this time forcing capitulation or even collapse." Campbell and Sullivan call for "a steady state of clear-eyed coexistence on terms favorable to U.S. interests and values," with elements of competition and cooperation in four domains: military, economic, political, and global governance.20 Peter Varghese, a former senior diplomat for Australia, a U.S. ally, asserts that, "it would be a mistake for the US to cling to primacy by thwarting China. Those of us who value US leadership want the US to retain it by lifting its game, not spoiling China's."21
Many analysts fault the Trump Administration for giving up leverage against China by withdrawing from international agreements and institutions, by allegedly paying insufficient attention to maintaining strong relationships with allies, and by engaging in inconsistent messaging around trade, human rights, and other issues. In January 2017, the Administration notified the 11 other signatories to the Trans-Pacific Partnership (TPP), a proposed free trade agreement (FTA) of Asia-Pacific countries (not including China), that it would not be ratifying the agreement.22 In June 2018, the Administration announced its withdrawal from the U.N. Human Rights Council.23
Signatories of another high-profile open letter addressed to the President urge him, however, to "stay the course on your path of countering Communist China." The letter states that supporters of engagement with China told American policymakers "that the PRC would become a 'responsible stakeholder' once a sufficient level of economic modernization was achieved." The letter argues, "This did not happen and cannot so long as the CCP [Chinese Communist Party] rules China." The letter assures the President, "We welcome the measures you have taken to confront Xi's government and selectively to decouple the U.S. economy from China's insidious efforts to weaken it."24
Basic Facts About the People's Republic of China
The Communist Party of China (CPC) established the PRC 70 years ago, on October 1, 1949, after winning a civil war against the Nationalist (also known as Kuomintang or KMT) forces of the Republic of China (ROC) led by Chiang Kai-shek. Today, China is the world's most populous nation (with a population of 1.39 billion), the world's largest emitter of greenhouse gases (responsible for approximately 30% of global energy-related carbon dioxide emissions in 2016), the world's second-largest economic power (in nominal terms, with a gross domestic product or GDP of $13.6 trillion), and the only Communist Party-led state in the G-20 grouping of major economies. With the United States, France, Russia, and the United Kingdom, China is also one of five permanent members of the U.N. Security Council.
Leadership
Since 2012, Xi Jinping (his family name, Xi, is pronounced "shee") has been China's top leader. He holds a troika of top positions: Communist Party General Secretary, Chairman of the Party's Central Military Commission, and State President. In 2018, China's unicameral legislature, the National People's Congress (NPC), amended the PRC constitution to include a reference to "Xi Jinping Thought on Socialism with Chinese Characteristics for a New Era," putting Xi's guiding philosophy on a par with the philosophies of two powerful predecessors, Mao Zedong and Deng Xiaoping. Another constitutional amendment removed term limits for the state presidency, opening the way for Xi to stay in the position indefinitely after the conclusion of his second five-year term in 2023.25
Xi is the top official in China's most senior decisionmaking body, the seven-man Communist Party's Politburo Standing Committee (see Figure 1), which is drawn from the larger 25-person Politburo. Xi personally chairs multiple Communist Party policy committees, including those on foreign affairs, Taiwan, "deepening overall reform," financial and economic affairs, cyberspace, and "comprehensive rule of law." Some foreign observers refer to him as "chairman of everything."26 Other members of the Politburo Standing Committee concurrently lead China's other major political institutions, including the State Council, China's cabinet; the NPC; and a political advisory body, the Chinese People's Political Consultative Conference (CPPCC). The arrangement ensures that the Communist Party maintains firm control over all the country's political institutions. Xi has repeatedly reminded his countrymen that, "The Party exercises overall leadership over all areas of endeavor in every part of the country."27
Members of the Seven-Man Communist Party Politburo Standing Committee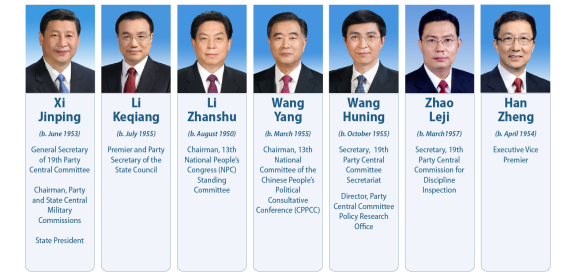 Source: Website of the Communist Party of China, http://www.cpcnews.cn.
Notes: Leaders are listed in rank order, with Xi Jinping ranked no. 1 and Han Zheng ranked no. 7.
Provinces
China presents itself as comprised of 34 provincial-level administrative units (see Figure 2). They include 23 provinces; five geographic entities that China calls "autonomous regions," all of which have significant ethnic minority populations (Guangxi, Inner Mongolia, Ningxia, Tibet, and Xinjiang); four municipalities that report directly to the central government (Beijing, Chongqing, Shanghai, and Tianjin); and the two special administrative regions of Hong Kong and Macau, which were returned to China in the 1990s by the governments of the United Kingdom and Portugal respectively. The PRC's count of 23 provinces includes Taiwan, an island democracy of 23 million people that the PRC has never controlled, but over which it claims sovereignty. Taiwan calls itself the Republic of China.
Provinces have their own revenue streams, and governments at the provincial level and below are responsible for the lion's share of the country's public expenditure, including almost all public spending on education, health, unemployment insurance, social security, and welfare.28 Provinces also have the right to pass their own laws and regulations, which may extend national laws and regulations, but not conflict with them. Beijing gives provinces considerable leeway in adopting policies to boost economic growth and encourages provinces to undertake approved policy experiments. Provinces do not have their own constitutions, however, and do not have the power to appoint their own leaders.29
Showing Provincial-Level Administrative Jurisdictions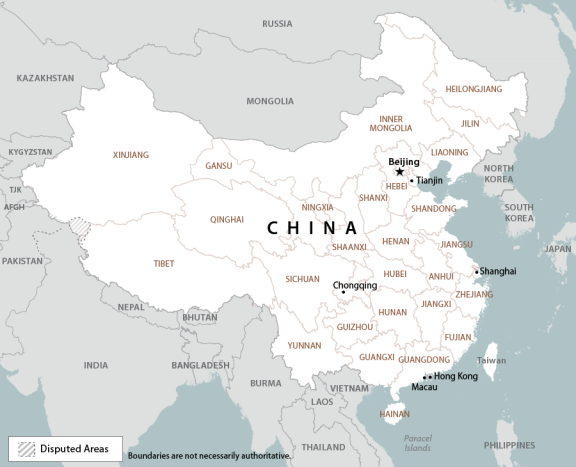 Source: Created by CRS. Map information from U.S. Department of State and Esri 2018 Data and Maps.
Notes: (1) Beijing, Chongqing, Shanghai, and Tianjin are cities with the administrative status of provinces. (2) Hong Kong and Macau are special administrative regions of China with the administrative status of provinces. (3) The PRC claims sovereignty over Taiwan, but has never controlled it. Taiwan officially calls itself the Republic of China. (4) This map abbreviates the name of Afghanistan as "AFGH" and that of Tajikistan as "TJK."
Signature Policies of China's President Xi
President Xi has sought to rally China's citizens around a "China Dream of Great Rejuvenation of the Chinese Nation." The China Dream incorporates a pledge to build "a moderately prosperous society in all respects" by 2021, the centenary of the Party's founding, in part by doubling China's 2010 GDP and per capita income for both urban and rural residents. It also includes a pledge to make China, "a modern socialist country that is prosperous, strong, democratic, culturally advanced, and harmonious" by 2049, the centenary of the founding of the People's Republic of China.30 (The term "democratic" refers to Chinese-style "socialist democracy" under uncontested Communist Party rule.) The "China Dream" includes a "dream of a strong military."31
Externally, Xi has promoted his vision of a "community with a shared future for mankind" (also translated as "community of common destiny for mankind"). In a January 2017 speech at the U.N. office in Geneva, Xi described the "community with a shared future" as an effort to "establish a fair and equitable international order." In such an order, he said, there should be no interference in countries' internal affairs, and all countries should "have the right to independently choose their social system and development path," an implicit rejection of U.S.-led democracy-promotion efforts around the world. Appearing to address the United States directly, he stated, "Big countries should treat smaller ones as equals instead of acting as a hegemon imposing their will on others. No country should open the Pandora's box by willfully waging wars or undermining the international rule of law."32
At the CPC's 19th Congress in late 2017, the CPC incorporated the "community with a shared future for mankind" into its charter. Xi boasted of "a further rise in China's international influence, ability to inspire, and power to shape" and said China was "moving closer to center stage."33 In March 2018, China incorporated the "community with a shared future for mankind" into the state constitution. Later that year, Xi pledged that China would play "an active part in leading the reform of the global governance system, and build a more complete network of global partnerships."34
Brief History of U.S.-PRC Relations
After the Communist Party took power in China in 1949, the United States continued to recognize Chiang Kai-shek's ROC government on Taiwan as the legitimate government of all China. A year later, the United States and China found themselves on opposite sides of the Korean War, a conflict that killed 36,547 U.S. military personnel and at least 180,000 Chinese military personnel.35 China's name for the conflict is the "War to Resist U.S. Aggression and Aid Korea." Early in the conflict, the United States sent its Seventh Fleet to the Taiwan Strait "to prevent the Korean conflict from spreading south," effectively preventing Communist forces from realizing their goal of finishing the Chinese Civil War by wresting control of Taiwan from Chiang's forces.36
In 1971, changing Cold War dynamics, including the Sino-Soviet split, led the Nixon Administration to undertake a profound shift in U.S. policy. Then-Secretary of State Henry Kissinger made a secret visit to China in July 1971. In October of the same year, the United States supported U.N. General Assembly Resolution 2758, recognizing the PRC's representatives as "the only legitimate representatives of China to the United Nations," and expelling "the representatives of Chiang Kai-shek."37 President Richard Nixon formally ended nearly a quarter of a century of estrangement between the United States and the PRC with his historic visit to China in February 1972.
On January 1, 1979, President Jimmy Carter and China's Deng Xiaoping presided over the establishment of diplomatic relations between their two nations. The joint communiqué they signed, one of three that China considers to lay the foundation for the U.S.-China relationship, states that the United States "acknowledges the Chinese position that there is but one China and Taiwan is part of China." It also states that "the people of the United States will maintain cultural, commercial, and other unofficial relations with the people of Taiwan."38 In April 1979, Carter signed the Taiwan Relations Act (P.L. 96-8, U.S.C. 3301 et seq.), providing a legal basis for the unofficial U.S. relationship with Taiwan and committing the United States to sell defensive arms to Taiwan. The same year, Deng launched a bold program of "reforming and opening" to the outside world that would transform China from a backward, isolated country into the economic powerhouse, emerging military power, and shaper of global institutions that it is today.
Through the 1970s and 1980s, the overriding strategic rationale for the U.S.-China relationship was counterbalancing a shared enemy, the Soviet Union. With the collapse of the Soviet Union in 1991, U.S. and Chinese leaders cast about for a new rationale for their relationship. President Bill Clinton and China's then-leader Jiang Zemin both came to see benefits in expanding bilateral economic ties, including by working together to bring China into the WTO. On October 10, 2000, Clinton signed into law P.L. 106-286, granting China permanent normal trade relations and paving the way for China to join the WTO, which it did in December 2001. In 2018, the Trump Administration argued that "the United States erred in supporting China's entry into the WTO on terms that have proven to be ineffective in securing China's embrace of an open, market-oriented trade regime."39 A former George W. Bush Administration official suggests that "identifying a preferable alternative, even with the benefit of hindsight, is surpassingly difficult."40
After the terrorist attacks of September 11, 2001, the George W. Bush Administration settled on counterterrorism cooperation as a new strategic rationale for the U.S.-China relationship, but China complicated that rationale when it persuaded the United States to apply a terrorist label to separatist ethnic Uyghurs from its northwest Xinjiang region.41 During the Obama Administration, even as U.S.-China friction mounted over economic issues, cyber espionage, human rights, and the South China Sea, the two sides embraced as a strategic rationale for their relationship the need for their cooperation to address some of the world's most pressing challenges, including weak global economic growth, climate change, and nuclear proliferation.42 Observers broadly credited U.S.-China cooperation for contributing to the conclusion of the July 2015 Joint Comprehensive Plan of Action (JCPOA) nuclear deal with Iran and the December 2015 Paris Agreement under the U.N. Framework Convention on Climate Change.43
Over the past four decades, the U.S.-China relationship has faced some high-profile tests:
The Bilateral Relationship: Select Dimensions
High-Level Dialogues
Presidents Trump and Xi have met face-to-face five times: three times in 2017, once in 2018, and once in 2019 (see Table 1). Three of their five meetings have been on the sidelines of summits of the G-20 nations. Even as he has excoriated PRC policies, Trump has generally described his relationship with Xi in warm terms, frequently referring to Xi as "my friend." Writing on Twitter on August 23, 2019, he questioned whether the Federal Reserve chairman or Xi "is our bigger enemy."50 Three days later, however, the President wrote on Twitter that Xi is "a great leader & representing a great country" and stated publicly, "I have great respect for President Xi."51
In their April 2017 meetings, Trump and Xi agreed to establish four high-level dialogues to manage the U.S.-China relationship, replacing dialogues that operated during the Obama Administration (see Table 2).52 All of the dialogues convened in 2017. Perhaps reflecting vacancies in senior positions in the Trump Administration and rising tensions in the U.S.-China relationship, only the Diplomatic and Security Dialogue (D&SD) convened in 2018.53 None of the dialogues has convened in 2019.
Trade and Economic Relations54
U.S.-China trade and economic relations have expanded significantly over the past three decades. In 2018, China was—in terms of goods—the United States' largest trading partner, third-largest export market, and largest source of imports. China is also the largest foreign holder of U.S. Treasury securities.55 The economic relationship has grown increasingly fraught, however. In 2017, the Trump Administration launched an investigation into China's policies on intellectual property (IP), subsidies, advancing technology, and spurring innovation. Beginning in 2018, the Trump Administration imposed tariffs on $250 billion worth of Chinese imports.56 Tariffs appear to have contributed to a sharp contraction in U.S.-China trade in the first half of 2019. On August 1, 2019, President Trump stated that beginning on September 1, 2019, the United States would impose 10% tariffs on nearly all remaining imports from China.57 His Administration later exempted some goods from the 10% tariffs and delayed the imposition of tariffs on other goods, but on August 23, 2019, the President also announced his intention to raise the tariff rate for these remaining imports from 10% to 15%.58 The President has sometimes suggested what some observers characterize as an ambivalence toward the trade relationship. In reference to the persistent large size of the U.S. trade deficit with China, the President stated on August 1, 2019, "If they don't want to trade with us anymore, that would be fine with me. We'd save a lot of money."59
Trade
According to U.S. trade data, U.S. exports of goods and services to China totaled $178.0 billion (7.1% of total U.S. exports) in 2018, while imports from China amounted to $558.8 billion (17.9% of total U.S. imports). As a result, the overall bilateral deficit was $380.8 billion, up $43.6 billion (12.9%) from 2017.
Trade in Goods
U.S. goods exports to China totaled $120.8 billion in 2018, a 7.3% ($9.4 billion) decrease from the 2017 level (see Table 3). The value of U.S. goods imports from China was $540.4 billion over the same period, up 6.8% ($34.4 billion) from 2017. The decrease in U.S. exports and increase in U.S. imports resulted in a $43.8 billion (11.7%) increase in the bilateral trade deficit, to $419.6 billion. Exports to China accounted for 7.2% of all U.S. goods exports, while imports from China accounted for 21.1% of all U.S. goods imports.
Top U.S. goods exports to China in 2018 were capital goods, not including automotive products ($52.9 billion or 43.8% of U.S. goods exports to China), industrial supplies ($40 billion or 33.1%), and automotive vehicles and parts ($10.4 billion or 8.6%). Leading U.S. goods imports from China were consumer goods, not including food and automotive ($248.2 billion or 45.9% of U.S. goods imports from China), industrial supplies ($55.6 billion or 10.3%), and automotive vehicles and parts ($23.1 billion or 4.28%).
China has levied retaliatory tariffs on most U.S. agricultural and food products. The tariffs reportedly contributed to the sharp overall decline of these exports to China (particularly of U.S. soybeans) in 2018.60 Total U.S. agricultural exports to China amounted to $9.1 billion, a decline of 53.0% from 2017, while the value of U.S. agricultural imports from China was $4.9 billion, up 8.9% from 2017.61 China's share of total U.S. agricultural exports declined from 14.1% in 2017 to 6.6% in 2018.
Trade in Services
In 2018, U.S. services exports to China totaled $57.1 billion (up 2.0% or $1.1 billion), while U.S. imports of services from China grew 5.1% ($887 million) to $18.3 billion. The bilateral trade surplus in services stood at $38.8 billion (up 0.6% from 2017). Exports to China accounted for 6.9% of all U.S. services exports, while imports from China accounted for 3.2% of all U.S. services imports.
Travel represented the largest category of U.S. services exports to China, accounting for 56.1% ($32.1 billion). Other significant categories were charges for the use of IP rights (14.8% of all services exports to China or $8.5 billion) and transport (9.3% or $5.3 billion). Leading U.S. services imports from China were transport (27.4% of all services imports from China or $5.0 billion) and travel (24.7% or $4.5 billion).
Investment
Foreign Direct Investment62
Despite a surge in U.S. foreign direct investment (FDI) in China following the PRC's entry into the World Trade Organization (WTO) in 2001, levels of investment have remained relatively low. China's foreign investment regulatory regime, combined with policies or practices that favor state-owned enterprises (SOEs), has traditionally limited the sectors open to—and levels of—foreign investment. Amid trade tensions, a U.S. vetting regime with a newly broadened scope for reviewing certain foreign investments for national security implications, and tighter Chinese regulations on capital outflows, Chinese FDI in the United States has slowed since 2016.
According to the U.S. Bureau of Economic Analysis, net U.S. FDI flows to China in 2018—the most recent year for which data are available—were $7.6 billion (down 22.9% from 2017), while net Chinese FDI flows into the United States were negative (-$754 million, compared to $25.4 billion in 2016), as outflows exceeded inflows (e.g., asset divestitures).63 Additionally, the stock of U.S. FDI in China was $116.5 billion (up 8.3% from 2017), while that of China in the United States was $60.2 billion (up 3.7%), on an ultimate beneficiary ownership (UBO) basis.64 China accounts for approximately 2.0% of total U.S. FDI stock abroad.
China's Holdings of U.S. Treasury Securities
As of May 2019, approximately three-fourths (or $1.1 trillion) of China's total U.S. public and private holdings are Treasury securities, which investors generally consider to be "safe-haven" assets.65 Chinese ownership of these securities has decreased in recent years from its peak of $1.3 trillion in 2011. Nevertheless, it remains significantly higher than in 2002, both in dollar terms (up over $1 trillion) and as a percentage of total foreign holdings (from 8.5% to 17.0%). In 2009, China overtook Japan to become the largest foreign holder of Treasury securities.
Military-to-Military Relations
The United States and China formalized military ties in 1979, the year the two countries established diplomatic relations, although they had cooperated on some security issues previously. The two countries enjoyed high levels of military cooperation until the PRC's 1989 military crackdown in Tiananmen Square, after which the United States suspended military engagement. The Clinton Administration in 1993 resumed military ties, reportedly in an attempt to reassure Chinese military leaders of the United States' benign intentions toward China, but military relations never again achieved the scope and depth of the previous decade.66
China on several occasions suspended military ties when it perceived the United States to have harmed Chinese interests (for example, in response to U.S. arms sales to Taiwan). In 1999, Congress included a provision in the National Defense Authorization Act for FY2000 (P.L. 106-65) placing restrictions on military relations with China. The act states that the Secretary of Defense may not authorize any military contact with the PLA that would "create a national security risk due to an inappropriate exposure" of the PLA to 12 operational areas of the U.S. military.67
In recent years, U.S.-China military exchanges have included high-level visits, recurrent exchanges between defense officials, and functional and academic exchanges (see Table 4). According to U.S. Department of Defense (DOD) reports, the frequency of these engagements has declined in recent years, from 30 in 2016 to 12 planned for 2019.68 The two militaries also occasionally engage in multilateral fora, such as multinational military exercises, and coordinate or de-conflict activities such as counterpiracy patrols in the Gulf of Aden.
DOD reporting indicates U.S. objectives for military-to-military relations with China have narrowed in recent years from a broader focus on building trust and fostering cooperation on security issues of mutual interest to a narrower focus on risk reduction.69 The Trump Administration has been more vocal than past Administrations in expressing its concerns about China's military, and frictions have occasionally flared into public view. Eighteen "unsafe and/or unprofessional interactions" between U.S. and PRC military forces in the maritime realm have occurred since 2016, according to a U.S. Pacific Fleet spokesperson.70
In late May 2018, the United States disinvited China from the 2018 iteration of the biennial U.S.-led multinational Rim of the Pacific (RIMPAC) maritime exercise in response to China's continued militarization of its outposts in the South China Sea.71 In September 2018, the U.S. Treasury Department sanctioned the PLA's Equipment Development Department and its head for arms purchases from Russia under the Countering America's Adversaries through Sanctions Act (CAATSA) (P.L. 115-44).72 The PRC's response to that action, and a September 2018 U.S. arms sale to Taiwan, included suspension of the two militaries' year-old Joint Staff Dialogue.73
These tensions notwithstanding, both countries appear committed to military-military engagement. Then-U.S. Secretary of Defense Jim Mattis and Chinese Defense Minister Wei Fenghe met three times in 2018.74 At a meeting of the two countries' Diplomatic and Security Dialogue in November 2018, they "recognized that the U.S.-China military-to-military relationship could be a stabilizing factor for the overall bilateral relationship, and committed to a productive mil-mil relationship."75 In May 2019 remarks, Assistant Secretary of Defense for Indo-Pacific Security Affairs Randall Schriver echoed this sentiment, saying, "We continue to pursue a constructive result-oriented [military-to-military] relationship between our countries."76
U.S. Foreign Assistance in China
Since 2001, U.S. assistance efforts in China have aimed to support human rights, democracy, rule of law, and environmental programs and to promote sustainable development and environmental conservation and preserve indigenous culture in Tibetan areas in China. The U.S. government does not provide assistance to PRC government entities or directly to Chinese NGOs. The direct recipients of Department of State and U.S. Agency for International Development (USAID) grants have been predominantly U.S.-based nongovernmental organizations (NGOs) and universities.77
Between 2001 and 2018, the U.S. government provided approximately $241 million for programs in China administered by the Department of State's Bureau of Democracy, Human Rights, and Labor (DRL); $99 million for Tibetan programs; $72 million for rule of law and environmental efforts in the PRC; $43 million for health programs in China focused upon HIV/AIDS prevention, care, and treatment and countering the spread of pandemic diseases; and $8.0 million for criminal justice reform.78 DRL programs across China have supported rule of law development, civil society, government transparency, public participation in government, and internet freedom. Since 1993, Peace Corps volunteers have engaged in environmental awareness programs and teaching English as a second language in China.79 Since 2015, Congress has appropriated funds for Tibetan communities in India and Nepal ($6 million in FY2019). Since 2018, Congress has provided an additional $3 million annually to strengthen institutions and governance in the Tibetan exile communities. (See Table 5.)
The Consolidated Appropriations Act, 2019 (P.L. 116-6) appropriated an estimated $25.8 million for programs in China. This total includes ESF funding of $17 million for programs in China (non-Tibetan areas), ESF of $8 million for Tibetan areas in China, and INCLE funding of $800,000 for rule of law programs. Of the ESF appropriation for non-Tibetan areas, DRL administers human rights and democracy programs amounting to $11 million. In addition, P.L. 116-6 provided $17.5 million for Global Internet Freedom efforts, of which China programs are a major recipient.
The FY2020 Department of State foreign operations budget justification does not include a funding request for programs in China. Appropriations for such programs are determined largely by congressional foreign operations appropriations legislation.
Select Issues in the Bilateral Relationship
Economic Issues
Section 301 Investigation and Tariffs
In March 2018, the USTR released the findings of an investigation into PRC policies related to technology transfer, IP, and innovation under Sections 301-308 of the Trade Act of 1974 (19 U.S.C. 2411-2418).80 The investigation concluded that four IP rights-related PRC policies justified U.S. action: forced technology transfer requirements; cyber-enabled theft of U.S. IP and trade secrets; discriminatory and nonmarket licensing practices; and state-funded strategic acquisition of U.S. assets. Subsequently, the Trump Administration imposed increased 25% tariffs on three tranches of imports from China worth approximately $250 billion (see Table 6). China in turn raised tariffs (at rates ranging from 5% to 25%) on approximately $110 billion worth of U.S. products.
After negotiations to resolve the standoff broke down in May 2019, the President ordered the USTR to begin the process of levying increased 25% tariffs on nearly all remaining imports from China.81 Following a 12th round of talks between U.S. and Chinese trade negotiators in Shanghai at the end of July 2019, the President on August 1, 2019, announced that the United States would impose additional 10% tariffs on these remaining imports beginning September 1, 2019.82 On August 13, 2019, the Trump Administration announced that some imports from China previously identified as potentially subject to the additional 10% tariffs would be exempted "based on health, safety, national security and other factors," and that for some other imports from China, including cell phones, laptop computers, video game consoles, computer monitors, and some toys and footwear and clothing items, the additional 10% tariffs would be delayed until December 15.83
China responded to the President's August 1, 2019, announcement by allowing its currency, the renminbi or RMB, to weaken against the U.S. dollar, making Chinese exports more competitive abroad, and in part "offsetting" the impact of U.S. tariffs. Chinese companies also suspended new purchases of U.S. agricultural products.84 On August 23, 2019, China's Ministry of Finance announced plans to impose retaliatory tariffs of 5% to 10% on $75 billion worth of imports from the United States. Tariffs on some products took effect on September 1, 2019; tariffs on the rest are to go into effect on December 15, 2019.85 The Ministry also announced restoration of 5%-25% tariffs on U.S. autos and auto parts, to go into effect December 15, 2019.86
President Trump responded, in turn, to China's tariff announcements by stating that he would increase the tariff rate for $250 billion worth of imports from China from 25% to 30%, effective October 1, 2019, and that he would increase the proposed tariff rate for the remaining imports from China from 10% to 15%, to go into effect for some products on September 1, 2019, and for other products on December 15, 2019.87
Trade negotiators from the two sides are scheduled to meet for a 13th round of negotiations in Washington, DC, in September 2019.
Tariffs on Aluminum and Steel
In March 2018, President Trump issued a proclamation imposing a 10% tariff on aluminum and a 25% tariff on steel products from most countries, including China, based on "national security" justifications under Section 232 of the Trade Act of 1962 (P.L. 87-794; 19 U.S.C. §1862).88 In response, China raised tariffs by 15% to 25% on $3 billion worth of U.S. imports.89 China is also pursuing legal action against the United States at the WTO.90 In turn, the United States filed its own WTO complaints over China's retaliatory tariffs.91
Alleged PRC Currency Manipulation
On August 5, the U.S. Treasury Department labeled China a currency manipulator under Section 3004 of the Omnibus Trade and Competitiveness Act of 1988 (P.L. 100-418) and announced that Treasury Secretary Steven Mnuchin would "engage with the International Monetary Fund [IMF] to eliminate the unfair competitive advantage created by China's latest actions."92 In its annual review of China's economic policies, released on August 9, 2019, however, the IMF stated, "[e]stimates suggest little FX [foreign exchange] intervention by" China's central bank, the People's Bank of China.93
Bilateral Trade Deficit
President Trump has raised concerns about U.S. bilateral trade imbalances, particularly with China.94 Some policymakers view the large U.S. trade deficit as an indicator of an unfair trade relationship resulting from Chinese trade barriers, such as comparatively high tariffs, and currency manipulation. Others view conventional bilateral trade deficit data as misleading, given multinational firms' growing use of global supply chains.95 Supporters of the latter view note that products may be invented or developed in one country and manufactured or assembled elsewhere—using imported components from multiple foreign sources—and then exported. Conventional U.S. trade data may not fully reflect the value added in each country, and thus are often a relatively poor indicator of who benefits from global trade.96 Economists generally agree that the overall size of the trade deficit stems largely from U.S. macroeconomic policies and an imbalance between saving and investment in the economy, rather than from foreign trade barriers.97
Industrial Policies
The Trump Administration, some Members of Congress, and others charge that the Chinese government employs policies, including subsidies, tax breaks, low-cost loans, trade and investment barriers, discriminatory IP and technology practices, and technology transfer mandates, to support and protect domestic firms, especially state-owned enterprises (SOEs). Chinese government plans, such as "Made in China 2025," appear to signal an expanded role for the government in the economy, which many analysts fear could distort global markets and hurt the global competitiveness of U.S. firms.98 Separately, some U.S. officials are concerned that participation by Chinese firms in certain global supply chains, such as information and communications technology (ICT) products and services, could pose risks to U.S. national security, primarily because of PRC firms' relationships with the Chinese state.
Intellectual Property Rights (IPR) and Cyber-Theft
As noted in the Section 301 investigation, the Trump Administration considers Chinese IPR violations to be a major source of U.S. economic losses. U.S. firms cite lax IPR enforcement as one of the biggest challenges to doing business in China, and some view the enforcement shortfalls as a deliberate effort by the Chinese government to give domestic firms an advantage over foreign competitors. In 2018, the U.S. National Counterintelligence and Security Center described China as having "expansive efforts in place to acquire U.S. technology to include sensitive trade secrets and proprietary information." It warned that if the threat is not addressed, "it could erode America's long-term competitive economic advantage."99
The U.S. government's first charges against a state actor for cyber-enabled economic espionage were against China. In May 2014, the Obama Administration Justice Department indicted five PRC military officers for hacking into and stealing secrets from U.S. firms in the nuclear power, metals, and solar products industries.100 All those indicted remain at large. In September 2015, the Obama Administration and China reached a bilateral agreement on cybersecurity during President Xi's state visit to the United States. Under that agreement, Presidents Xi and Obama pledged that neither country's government would conduct or knowingly support cyber-enabled theft of intellectual property for commercial purposes.101 In February 2018 testimony to Congress, the U.S. intelligence community assessed that PRC cyber activity continued, but at "volumes significantly lower than before" the 2015 agreement.102 In October 2018, however, the cofounder of cybersecurity firm CrowdStrike asserted that after a lull, China was "back to stealing intellectual property on a massive scale."103 In 2019, the intelligence community's testimony to Congress stated, "China remains the most active strategic competitor responsible for cyber espionage against the US Government, corporations, and allies."104
Advanced Technology and Huawei105
The Trump Administration has raised national security concerns over global supply chains of advanced technology products, such as ICT equipment, where China is a major global producer and supplier. In 2017, the President blocked a proposed Chinese acquisition of a U.S. semiconductor firm on national security grounds.106 On May 15, 2019, citing a "national emergency," President Trump signed Executive Order 13873, authorizing the Secretary of Commerce to ban certain technology transactions involving "foreign adversaries."107
The Trump Administration has subjected Chinese telecommunications firm Huawei Technologies Co., Ltd. to particular scrutiny. On May 16, 2019, the U.S. Department of Commerce added Huawei and 68 of its non-U.S. affiliates to the Bureau of Industry and Security's (BIS's) Entity List, generally requiring U.S. companies to apply for an export license for the sale or transfer of U.S. technology to those entities, with a "presumption of denial" for such applications. The BIS entity list decision cites "reasonable cause to believe Huawei has been involved in activities contrary to the national security or foreign policy interests of the United States," and notes Huawei's indictment in the U.S. District Court for the Eastern District of New York on charges of violating Iran sanctions.108 On May 20, 2019, BIS eased the effect of the entity list decision by issuing a three-month temporary general license authorizing some continued transactions with Huawei and its non-U.S. affiliates.109 On August 19, 2019, BIS added an additional 46 non-U.S. Huawei affiliates to the entity list, while also extending the temporary general license for another three months, to November 18, 2019.110
In apparent response to U.S. actions, China's Ministry of Commerce in June 2019 announced plans for its own "unreliable entities list," to include foreign entities that damage "the legitimate rights and interests" of Chinese firms or "boycott or cut off supplies to Chinese companies for non-commercial reasons."111
Vice President Pence and U.S. Secretary of State Pompeo have repeatedly urged allies not to work with Huawei. In Ottawa, Canada, in May 2019, Pence argued, "The simple fact is that the legal framework within China gives the Chinese government access to information and data that is collected by Chinese companies like Huawei," making Huawei "incompatible with the security interests of the United States of America or our allies in freedom-loving nations across the world."112 Pompeo warned European allies, partners, and friends in June 2019, "don't do anything that would endanger our shared security interests or restrict our ability to share sensitive information."113 Of U.S. allies, only Australia has so far barred Huawei completely from its networks. China's Foreign Ministry accuses the United States of seeking to "strangle [Chinese companies'] lawful and legitimate operations."114
The Huawei issue has spilled into U.S.-Canada and Canada-China relations. In 2018, the United States requested that Canada detain top Huawei executive Meng Wanzhou, a daughter of Huawei's founder, and charged her with financial fraud related to alleged violation of Iran sanctions. She faces possible extradition to the United States. China has retaliated against Canada by detaining and later arresting Canadians Michael Kovrig and Michael Spavor on state secrets charges and cutting off imports first of Canadian canola seed, and then of Canadian meat.115
China's Status as a "Developing Country" in the WTO
The 164-member WTO allows members to designate themselves as either developed or developing economies, with the latter eligible for special and differential treatment (SDT) both in the context of existing WTO obligations and in new negotiations. Developed countries, including the United States and the European Union, have expressed frustration at those rules, under which two-thirds of WTO members, including China, have designated themselves as "developing."
On July 26, 2019, President Trump issued a "Memorandum on Reforming Developing-Country Status in the World Trade Organization."116 The President stated that the WTO dichotomy between developed and developing countries is outdated and "has allowed some WTO Members to gain unfair advantages in the international trade arena." He specifically called out China, stating that "the United States has never accepted China's claim to developing-country status, and virtually every current economic indicator belies China's claim." The President instructed USTR to work to reform the WTO self-declaration practice and, if no substantial progress is made within 90 days, to take certain unilateral actions, such as no longer treating a country as developing if the USTR believes that designation to be improper, and to publish a list of all economies USTR believes to be "inappropriately" claiming developing-economy status.
Responding to the U.S. memorandum, a PRC Foreign Ministry spokesperson insisted that the principle of SDT "reflects the core values and basic principles of the WTO" and "must be safeguarded no matter how the WTO is reformed." At the same time, she stated that in claiming the status, "China does not intend to shy away from its due international responsibilities." The U.S. position, she said, shows the United States to be "capricious, arrogant and selfish."117
China's Belt and Road Initiative (BRI)
In 2013, President Xi launched two projects aimed at boosting economic connectivity across continents by land, an effort known as the "Silk Road Economic Belt," and by sea, an effort known as the, "21st Century Maritime Silk Road." Collectively, China refers to the two projects as the "Belt and Road Initiative" (BRI). Under the initiative, PRC institutions are financing transportation and energy infrastructure projects in dozens of countries and PRC government agencies are working to reduce investment and trade barriers and boost people-to-people ties. BRI is also intended to alleviate overcapacity in the Chinese economy, bring new economic activity to China's western provinces, and promote PRC diplomatic and security interests, including securing energy supply routes and perhaps facilitating future Chinese military or intelligence use of Chinese-built ports and other infrastructure around the world.118 The size and scale of PRC financing, investments, and loans issued under BRI is debated. China does not issue its own authoritative figures.
PRC financing has the potential to address serious infrastructure shortfalls in recipient countries, but China's initial implementation of BRI has sometimes been rocky. A June 2019 Asia Society Policy Institute report examines BRI projects in Southeast Asia and faults China for a "laissez-faire approach" that allows mainly Chinese developers "to benefit by cutting corners and evading responsibility for legal, social, labor, environmental, and other issues." The report identifies such problems as rushed agreements, a failure to conduct feasibility studies and environmental and social impact assessments, and financing terms that create unsustainable debt for host governments. All those issues "have begun to alienate local communities and taint the BRI brand," the report asserts.119 Some countries have sought to renegotiate the terms of their BRI agreements.
The Trump Administration has adopted a sharply critical stance toward BRI. In his October 4, 2018, speech on China policy, Vice President Pence accused China of engaging in "so-called 'debt diplomacy.'" The terms of PRC loans, he said, "are opaque at best, and the benefits flow overwhelmingly to Beijing."120 In Congress, the Better Utilization of Investments Leading to Development (BUILD) Act of 2018 (P.L. 115-254) established a new U.S. International Development Finance Corporation (IDFC) by consolidating existing U.S. government development finance functions. It is widely portrayed as a U.S. response to BRI.121
At the Second Belt and Road Forum in Beijing in April 2019, Xi appeared to respond to criticism from the United States and other countries when he referenced the "need to ensure the commercial and fiscal sustainability of all projects so that they will achieve the intended goals as planned." He declared that in pursuing BRI, "everything should be done in a transparent way, and we should have zero tolerance for corruption." He also vowed to "adopt widely accepted standards and encourage participating companies to follow general international rules and standards in project development, operation, procurement and tendering and bidding."122 
Security Issues
PRC Military Modernization
U.S. policymakers are concerned about the challenges that China's ambitious military modernization program is now posing to U.S. interests in Asia and elsewhere. China's military modernization program has emerged in recent years as a significant influence on U.S. defense strategy, plans, budgets, and programs, and the U.S.-China military competition has become a major factor in overall U.S.-China relations. Since 1978, the PRC has worked to transform the PLA from an infantry-heavy, low-technology, ground forces-centric military into a high-technology, networked force with an increasing emphasis on joint operations, maritime and information domains, offensive air operations, power projection, and cyber and space operations. The PLA is becoming a global military, as demonstrated by a navy increasingly capable of operating far from home. The PLA undertakes counterpiracy patrols in the Gulf of Aden, regular patrols in places like the South China Sea and the Indian Ocean, and task group and goodwill deployments all over the world, and in 2017 established China's first-ever overseas military base in Djibouti.123
President Xi has set two major deadlines for the PLA: to complete its modernization process by 2035, and to become a "world class" military by 2049, the centenary of the establishment of the PRC.124 According to China's July 2019 defense white paper, China seeks to build "a fortified national defense and a strong military commensurate with the country's international standing and its security and development interests" in service of several national defense aims.125
According to DOD, the PLA is seeking to develop "capabilities with the potential to degrade core U.S. operational and technological advantages."126 As China's military advances, it increasingly is in a position to challenge U.S. dominance in certain domains, including air, space, and cyberspace, where the PLA has directed significant political, organizational, and financial resources in recent years. China also is investing heavily in advanced military technologies such as autonomous and unmanned systems, maneuverable reentry vehicles (including hypersonic missiles), and artificial intelligence and other enabling technologies.127
Chinese officials insist China's military posture is defensive in nature. In January 2018, a spokesperson for China's Ministry of National Defense stated, "China resolutely follows the path of peaceful development and upholds a defensive national defense policy." The spokesperson added, "China is not interested in dominance."128
North Korea
The United States and China have both committed to the goal of denuclearization of North Korea, but have sometimes disagreed on the best path toward that goal. Between 2006 and 2017, China voted for U.N. Security Council Resolutions imposing ever stricter sanctions on North Korea over its nuclear weapons and missile programs, though it often sought to weaken the resolutions first. With China sharing a 880-mile border and serving as North Korea's primary trading partner, the Trump Administration deems China's sanctions implementation to be "at times inconsistent, but critical."129
The Treasury Department has designated mainland China-based companies, Hong Kong-based shipping companies, and PRC nationals for alleged violations of U.S. North Korea sanctions.130 In both 2018 and 2019, the United States led efforts to request that a U.N. sanctions committee declare that North Korea had procured refined petroleum products at levels greater than U.N. sanctions permit, and to halt all new deliveries. Both times, China and Russia are reported to have blocked the effort. North Korea is alleged to have obtained the above-quota petroleum products through illegal ship-to-ship transfers at sea.131
The announcement of President Trump's June 2018 summit with North Korean leader Kim Jong-un led to a thaw in previously frosty China-North Korea ties. Since March 2018, Kim has visited China four times and President Xi has visited North Korea once, in June 2019. China urges all parties to undertake "phased and synchronized steps" in a "dual-track approach" to a political settlement of issues on the Korean Peninsula, with one track focused on denuclearization and the other on establishing a peace mechanism.132
East China Sea133
In the East China Sea, the PRC is involved in a territorial dispute with Japan over the sovereignty of uninhabited land features known in Japan as the Senkaku Islands and in the PRC as the Diaoyu Dao. The features are also claimed by Taiwan, which refers to them as the Diaoyutai.134 The United States does not take a position on the sovereignty dispute over the Senkakus, but it does recognize Japanese administration of the features. That recognition, reaffirmed by every U.S. Administration since Nixon, has given the United States a strong interest in the issue because Article 5 of the U.S.-Japan Treaty of Mutual Cooperation and Security covers areas under Japanese administration. The U.S. military regularly conducts freedom of navigation operations (FONOPs) and presence operations, as well as combined exercises with the Japan Self-Defense Force, in and above the East China Sea.
Since 2012, China has stepped up what it calls "routine" patrols to assert jurisdiction in China's "territorial waters off the Diaoyu Islands."135 In November 2013, China established an air defense identification zone (ADIZ) in the East China Sea covering the Senkakus as well as airspace that overlaps with the existing ADIZs of Japan, South Korea, and Taiwan.136
South China Sea137
China makes extensive, though imprecise, claims in the South China Sea, which is believed to be rich in oil and gas deposits as well as fisheries, and through which a major portion of world's trade passes. On maps, China depicts its claims with a "nine-dash line" that, if connected, would enclose an area covering approximately 90% of the sea. China physically controls the Paracel (known in China as the Xisha) Islands in the northern part of the sea, seven of the approximately 200 geographic features in the Spratly (Nansha) Islands chain in the southern part of the sea, and Scarborough Shoal (Huangyan Island) in the eastern part of the sea (see Figure 3).138 Areas claimed by the PRC are also claimed in part by Brunei, Malaysia, the Philippines, and Vietnam, and in entirety by Taiwan, with the fiercest territorial disputes being those between China and Vietnam and China and the Philippines. The South China Sea is bordered by a U.S. treaty ally, the Philippines, and is a key strategic waterway for the U.S. Navy.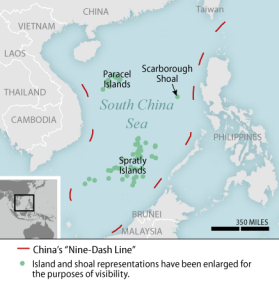 Source: Created by CRS using data from Department of State (2011, 2014, and 2015) and TomTom (2013).
Since 2013, the PRC has built and fortified artificial islands on seven sites in the Spratly Island chain, and sought to block other countries from pursuing economic or other activity within the exclusive economic zones (EEZs) they are entitled to under the U.N. Convention on the Law of the Sea (UNCLOS). According to DOD, China has placed anti-ship cruise missiles and long-range surface-to-air missiles on the artificial islands and is "employing paramilitary forces in maritime disputes vis-à-vis other claimants."139 In May 2018, the United States disinvited the PRC from the 2018 edition of the U.S.-hosted RIMPAC maritime exercise over the PRC's continued militarization of the sites. 140
To challenge what the United States considers excessive maritime claims and to assert the U.S. right to fly, sail, and operate wherever international law allows, the U.S. military undertakes both FONOPs and presence operations in the sea. In June 2019, Chinese Minister of National Defense Wei appeared to refer to those operations when he complained that "some countries outside the region come to the South China Sea to flex muscles, in the name of freedom of navigation." He declared that, "The large-scale force projection and offensive operations in the region are the most serious destabilizing and uncertain factors in the South China Sea."141
China and members of the Association of Southeast Asian Nations (ASEAN) are involved in negotiations over a Code of Conduct for the South China Sea. In November 2018, China's Premier, Li Keqiang, set a deadline of 2021 to complete the negotiations.142 The parties have not made public the latest draft of their negotiating text, but an initial August 2018 draft reportedly included proposed language from China stating that, "The Parties shall not hold joint military exercises with countries from outside the region, unless the parties concerned are notified beforehand and express no objection."143 Such language would appear to target U.S. military exercises with allies and partners, including such ASEAN members as the Philippines, Thailand, and Vietnam.
In 2013, the Philippines sought arbitration under UNCLOS over PRC actions in the South China Sea. An UNCLOS arbitral tribunal ruled in 2016 that China's nine-dash line claim had "no legal basis." The ruling also stated that none of the land features in the Spratlys is entitled to any more than a 12-nautical mile territorial sea; that three of the Spratlys features that China occupies generate no entitlement to maritime zones; and that China violated the Philippines' sovereign rights in various ways.144 China declined to participate in the arbitration process and declared the ruling "null and void."145
Human Rights and Rule of Law146
After consolidating power in 2013, Xi Jinping intensified and expanded the reassertion of party control over society that began during the final years of his predecessor, Hu Jintao, who served as CPC General Secretary from 2002 to 2012. Since 2015, China's government has enacted new national laws that strengthen the role of the state over a wide range of social activities in the name of national security and authorize greater controls over the Internet and ethnic minority groups. Government arrests of human rights advocates and lawyers, which intensified in 2015, were followed by Party efforts to instill ideological conformity in various spheres of society. In 2016, Xi launched a policy known as "Sinicization," by which China's religious populations, particularly Tibetan Buddhists, Muslims, and Christians who worship in churches that are not registered with the government, are required to conform to Han Chinese culture, the socialist system, and Communist Party policies.147
Xinjiang148
In the name of combating terrorism and religious extremism, authorities in China's northwest region of Xinjiang have since 2017 undertaken the mass internment of Turkic Muslims, mainly ethnic Uyghurs (also spelled "Uighurs"), in ideological reeducation centers. Scholars, human rights activists, and the U.S. government allege that those detained without formal charges include an estimated 1.5 million Uyghurs out of a population of about 10.5 million, and a smaller number of ethnic Kazakhs.149 Nearly 400 prominent Uyghur intellectuals reportedly have been detained or their whereabouts are unknown.150 Many detainees reportedly are forced to express their love of the Communist Party and Xi, sing patriotic songs, and renounce or reject many of their religious beliefs and customs.151 According to former detainees, treatment and conditions in the camps include beatings, food deprivation, and crowded and unsanitary conditions.152
PRC officials describe the Xinjiang camps as "vocational education and training centers" in which "trainees" undertake a curriculum of "standard spoken and written Chinese, understanding of the law, vocational skills, and deradicalization."153 In July 2019, a Xinjiang official claimed that the majority of those who return from the camps "find suitable jobs that they really like, and they can earn a satisfactory living."154 Many Uyghurs living abroad say they still have not heard from missing relatives in Xinjiang.155
In July 2019, at the second Ministerial to Advance Religious Freedom hosted by the Department of State, Secretary of State Mike Pompeo said, "China is home to one of the worst human rights crises of our time; it is truly the stain of the century."156 The Administration was reported to be considering sanctions under the Global Magnitsky Human Rights Accountability Act against officials in Xinjiang, but these actions reportedly were set aside during the U.S.-China bilateral trade negotiations, possibly for fear of disrupting progress.157
On July 8, 2019, 22 nations at the United Nations Human Rights Council (UNHRC) issued a joint statement to the UNHRC president and U.N. High Commissioner on Human Rights calling on China to "refrain from the arbitrary detention and restrictions on freedom of movement of Uighurs, and other Muslim and minority communities in Xinjiang" and to "allow meaningful access to Xinjiang for independent international observers."158 On July 12, 2019, envoys from 37 countries, including over one dozen Muslim-majority countries, cosigned a counter-letter to the UNHRC in support of China's policies in Xinjiang.159 As of July 29, 2019, China said the number of countries signing the counter-letter had risen to 50.160
Hong Kong161
Hong Kong is a Special Administrative Region (SAR) of the PRC located off China's southern coast with a population of 7.5 million people, including about 85,000 U.S. citizens.162 Sovereignty of the former British colony reverted to the PRC on July 1, 1997, under the provisions of a 1984 international treaty—known as the "Joint Declaration"—negotiated between China and the United Kingdom. Among other things, the Joint Declaration promises Hong Kong a "high degree of autonomy, except in foreign and defence affairs" and pledges that Hong Kong's "current social and economic systems" will remain unchanged for at least 50 years. As required by the Joint Declaration, on April 4, 1990, China's National People's Congress passed the Basic Law of the Hong Kong Special Administrative Region of the People's Republic of China (Basic Law), which serves as a mini-constitution for the city. The United States-Hong Kong Policy Act of 1992 (P.L. 102-383, 22 U.S.C. 5701-5732) affords Hong Kong separate treatment from China in a variety of political, economic, trade, and other areas so long as the HKSAR remains "sufficiently autonomous."
Since June 2019, hundreds of thousands of Hong Kongers have joined large rallies and marches against proposed legal amendments that would for the first time allow extraditions to Mainland China. Chief Executive Carrie Lam Cheng Yuet-ngor suspended consideration of the amendments in response to the demonstrations in early June, but has also characterized the demonstrations as "riots," and authorized the Hong Kong Police Force to use tear gas, rubber bullets, pepper spray, and truncheons to break up the protests.163 In response, the demonstrators have expanded their demands to include that Lam fully withdraw the amendments, drop all charges against arrested protesters, renounce her characterization of the demonstrations as "riots," set up an independent commission to investigate alleged police misconduct, and implement the election of the Chief Executive and Legislative Council by universal suffrage, as promised in the Basic Law.
China's state media have accused the United States of covertly instigating and directing the unrest in Hong Kong. On August 8, 2019, they circulated a photograph of a political officer at the U.S. Consulate General in Hong Kong meeting with opposition leaders at a hotel, accusing her of being "the behind-the-scenes black hand creating chaos in Hong Kong."164 Like Chief Executive Lam, President Trump has termed the demonstrations in Hong Kong "riots." The President has indicated that the situation is for China's central government and the HKSAR government to work out, has praised President Xi's handling of the Hong Kong protests, and stated that he does not see the situation in Hong Kong providing leverage in ongoing talks with China.165 He has also indicated, however, that "it would be very hard to deal if they [China] do violence. I mean, if it's another Tiananmen Square, it's—I think it's a very hard thing to do if there's violence."166 The cochairs of the Tom Lantos Human Rights Commission and other Members of Congress have called for the Trump Administration to stop U.S. sales of tear gas, pepper spray, and other riot gear to the Hong Kong Police Force.167
Hong Kongers have taken to the streets in large numbers twice before to protest China's alleged failure to fulfill its obligations under the Joint Declaration or to abide by the provisions of the Basic Law. On July 1, 2003, an estimated 500,000 Hong Kong residents rallied against a proposed antisedition bill that they believed would sharply curtail their rights.168 Large numbers of Hong Kong residents protested again beginning on September 26, 2014, against PRC restrictions on a proposal to elect the Chief Executive by universal suffrage. Those protests became known as the "Umbrella Movement."169
U.S. policy toward Tibet is guided by the Tibetan Policy Act of 2002 (P.L. 107-228), which requires the U.S. government to promote and report on dialogue between Beijing and Tibet's exiled spiritual leader, the Dalai Lama, or his representatives; to help protect Tibet's religious, cultural, and linguistic heritages; and to support development projects in Tibet. The act requires the State Department to maintain a Special Coordinator for Tibetan Issues. (The position has been vacant throughout the Trump Administration.) The act also calls on the Secretary of State to "make best efforts" to establish a U.S. consular office in the Tibetan capital, Lhasa; and directs U.S. officials to press for the release of Tibetan political prisoners in meetings with the Chinese government.
The U.S. government and human rights groups have been critical of increasingly expansive official Chinese controls on religious life and practice in Tibetan areas of China instituted in the wake of anti-Chinese protests in 2008. Human rights groups have catalogued arbitrary detentions and disappearances; a heightened Chinese security presence within monasteries; continued "patriotic education" and "legal education" campaigns that require monks to denounce the Dalai Lama; strengthened media controls; and policies that weaken Tibetan-language education.
PRC restrictions on access to Tibet for foreigners prompted Congress to pass, and the President to sign, the Reciprocal Access to Tibet Act (RATA) (P.L. 115-330). Enacted in December 2018, RATA requires the Department of State to report to Congress annually regarding the level of access PRC authorities granted U.S. diplomats, journalists, and tourists to Tibetan areas in China. It also states that no individual "substantially involved in the formulation or execution of policies related to access for foreigners to Tibetan areas" may be granted a visa or admitted to the United States so long as restrictions on foreigners' access to Tibet remain in place. The Department of State is required to submit annually a list of PRC officials "substantially involved" in such policies, and to identify those whose visas were denied or revoked in the previous year.
Of growing concern to human rights groups and foreign governments is China's insistence on controlling the succession process for the Dalai Lama. Now aged 84, the Dalai Lama is the 14th in a lineage that began in the 14th century, with each new Dalai Lama identified in childhood as the reincarnation of his predecessor. As a spokesperson for China's Foreign Ministry restated in March 2019, the PRC's position is that, "reincarnation of living Buddhas including the Dalai Lama must comply with Chinese laws and regulations and follow religious rituals and historical conventions."171 In July 2019, a Chinese official told visiting Indian journalists that the Dalai Lama's reincarnation would be required to be found in China and approved by the central government in Beijing, adding, "The Dalai Lama's reincarnation is not decided by his personal wish or by some group of people living in other countries."172 In 2011, however, the Dalai Lama asserted that, "the person who reincarnates has sole legitimate authority over where and how he or she takes rebirth and how that reincarnation is to be recognized."173
China lobbies strenuously to prevent world leaders from meeting with the Dalai Lama, the 1989 Nobel Peace Prize winner and 2006 recipient of the Congressional Gold Medal. U.S. Presidents since George H. W. Bush have met with the Dalai Lama. President Trump has not so far done so.
Use of Surveillance Technology
PRC methods of social and political control are evolving to include the widespread use of sophisticated surveillance and big data technologies. Chinese authorities and companies have developed and deployed tens of millions of surveillance cameras, as well as facial, voice, iris, and gait recognition equipment, to reduce crime. The government uses the same equipment to target and track the movements and internet-use of ethnic Tibetans and Uyghurs and critics of the regime.174 In addition, the government is developing a "social credit system," involving aggregating data on companies and individuals across geographic regions and industries, and "creating measures to incentivize 'trustworthy' conduct, and punish 'untrustworthy' conduct."175
Increasingly, Chinese companies are exporting data and surveillance technologies around the world. In April 2019, the Australian Strategic Policy Institute (ASPI), an Australian-based nonpartisan think tank, launched a public database, funded by the U.S. Department of State, mapping the overseas activities of a dozen leading Chinese technology companies. Among other projects, it shows Chinese firms involved in installing 5G networks in 34 countries and deploying so-called "safe cities" surveillance technologies in 46 countries.176 In an October 2018 report partly funded by the U.S. Department of State, independent research and advocacy organization Freedom House identified 38 countries in which Chinese companies had installed internet and mobile networking equipment, 18 countries that had deployed intelligent monitoring systems and facial recognition developed by Chinese companies, and 36 countries in which media elites and government officials had traveled to China for trainings on new media or information management. The same report, Freedom on the Net 2018, ranked China last in internet and digital media freedom of 65 countries tracked, just ahead of Iran, Syria, and Ethiopia, the fourth year China held that position in Freedom House's rankings.177
When the Carter Administration established diplomatic relations with the PRC on January 1, 1979, it terminated formal diplomatic ties with self-ruled Taiwan, over which the PRC claims sovereignty. In joint communiques with China signed in 1978 and 1982, the United States stated that it "acknowledges the Chinese position that there is but one China and Taiwan is part of China," but did not state its own position on Taiwan's status. Under the U.S. "one-China" policy, the United States maintains only unofficial relations with Taiwan, while upholding the 1979 Taiwan Relations Act (P.L. 96-8), which provides a legal basis for the unofficial relationship and includes commitments related to Taiwan's security.
The PRC frequently reminds the United States that, for Beijing, "The Taiwan question is the most important and sensitive one in China-US relations."179 Beijing is particularly wary of U.S. moves that the PRC sees as introducing "officiality" into the U.S.-Taiwan relationship, and regularly protests U.S. legislation supporting Taiwan, U.S. arms sales to Taiwan, and U.S. Navy transits of the Taiwan Strait. (The U.S. Navy conducted seven such transits between January and August 2019.)180 The United States objects to PRC efforts to isolate Taiwan internationally and to the PRC's real and implied threats of force against Taiwan, including bomber, fighter, and surveillance aircraft patrols around and near the island.
After initially questioning the U.S. "one-China" policy after his November 2016 election victory, President Trump used a February 9, 2017, telephone call with President Xi to recommit the United States to it.181 The Trump Administration's NSS states that the United States "will maintain our strong ties with Taiwan in accordance with our 'One China' policy, including our commitments under the Taiwan Relations Act to provide for Taiwan's legitimate defense needs and deter coercion."182
Trump Administration language on Taiwan has evolved since 2017. DOD's June 2019 Indo-Pacific Strategy Report discusses Taiwan without referencing the U.S. "one-China" policy. In a first for a high-profile U.S. government report in the era of unofficial relations, it also refers to Taiwan as a "country." The strategy presents Taiwan, along with Singapore, New Zealand, and Mongolia, as Indo-Pacific democracies that are "reliable, capable, and natural partners of the United States." The document asserts that, "The United States has a vital interest in upholding the rules-based international order, which includes a strong, prosperous, and democratic Taiwan."183
In 2018, the 115th Congress passed and President Trump signed the Taiwan Travel Act (P.L. 115-135), stating that it should be U.S. policy to allow U.S. officials at all levels, "including Cabinet-level national security officials, general officers, and other executive branch officials," to travel to Taiwan for meetings with counterparts, and to allow high-level Taiwan officials to enter the United States under respectful conditions to meet with U.S. officials, "including officials from the Department of State and the Department of Defense and other Cabinet agencies." In May 2019, the United States hosted a meeting between the U.S. and Taiwan National Security Advisors, the first such meeting publicly disclosed since the United States broke diplomatic relations with Taiwan in 1979.184 In July 2019, the Trump Administration allowed Taiwan President Tsai Ing-wen to make high-profile "transit" visits through New York City and Denver, CO, on her way to and from visiting diplomatic allies in the Caribbean. Each visit spanned three days. The New York City transit included a brief closed-door speech at Columbia University, a walk in Central Park, and an event at Taiwan's representative office for the U.N. representatives of Taiwan's diplomatic partners.185 Since 1995, U.S. policy has allowed Taiwan presidents to visit the United States only on transit visits through the United States on their way to other locations.
The Trump Administration has notified Congress of 11 Taiwan FMS cases on five separate dates. The combined value of the 11 FMS cases is about $11.76 billion. (See Table 7.) On July 12, 2019, in apparent response to Tsai's visit to New York City and the Administration's July 8, 2019, arms sale notification, China's Ambassador to the United States, Cui Tiankai, wrote on Twitter, "Taiwan is part of China. No attempts to split China will ever succeed. Those who play with fire will only get themselves burned. Period."186 In response to the Administration's August 20, 2019, notification of the proposed sale of F-16C/D Block 70 fighter planes to Taiwan, Chinese Foreign Ministry spokesperson Geng Shuang said China might sanction U.S. companies, stating, "China will take every necessary measure to safeguard its interests, including sanctioning American companies involved in the arms sale this time."187
Select Other Issues
Climate Change
Both China and the United States are parties to the 1992 United Nations Framework Convention on Climate Change (UNFCCC), the objective of which is to stabilize human-induced climate change. The two countries are widely viewed as having pivotal roles to play in efforts to achieve that goal as they are, respectively, the first- and second-ranking contributors to global greenhouse gas (GHG) emissions.188
While China emits more than twice as much carbon dioxide (CO2, the major human-related GHG) as the United States, comparing the nations' levels of effort to address their GHG emissions can be complicated. For example, while China emits more CO2 to produce a unit of GDP (its "energy intensity"), China has reduced and continues to reduce its energy intensity more rapidly due to structural changes and policies. The United States is one of the highest global emitters of GHG per person, at twice China's rates, due in large part to higher incomes and rates of consumption. Some U.S. consumption results in GHG emissions from manufacturing in China. China's emissions per person have been rising with incomes and consumption; its total emissions may continue to rise with incomes and the size of its economy. Under current policies, U.S. emissions may remain largely flat through the 2020s and could grow from the 2030s.189
China has pledged that its emissions will peak before 2030. Under current projections and pledges, it is unclear whether China's GHG emissions will grow, remain stable, or decline toward the "net zero" emissions that would be required to stabilize human-induced climate change. China has set ambitious targets for expanding its supply of energy from non-GHG-emitting sources, improving energy efficiency, and reducing air pollution coemitted with GHG. In this decade, China's efforts have demonstrated measurable effects in reducing the penetration of coal use, energy intensity, and air pollution. Policies in place would not likely reduce GHG emissions toward near-zero, however.190
The United States and China have cooperated on environmental and energy projects for several decades. Although U.S. policy attention to the two countries' Clean Energy Cooperation program has declined, joint research continues on Carbon Capture and Storage (CCS) technologies, energy efficiency, vehicles, water-energy, and nuclear energy.191 China is developing a national GHG cap and emissions trading system, building on programs in seven regions of the country, but has delayed its target start date several times—currently to 2020.192
The future of U.S.-China relations with regard to climate change is unclear. China appears to have maintained or increased its leadership under the UNFCCC's 2015 Paris Agreement, a framework for cooperatively addressing climate change through coming decades. The U.S. government has indicated its intention to withdraw from the agreement when it becomes eligible to do so in November 2020. Neither government has produced long-term national-level policies and plans to address its country's GHG emissions or to adapt to expected climate changes. Given the size of their economies and their investments in advancing key technologies, the United States' and China's roles in assisting less-developed countries to address climate change could be important for minimizing long-term global costs.
Consular Issues
An ongoing source of friction in the U.S.-China relationship is the PRC's alleged violations of the Vienna Consular Convention and the 1980 U.S.-China Bilateral Consular Convention in its handling of U.S. citizens.193 One such apparent violation is China's use of exit bans "to prevent U.S. citizens who are not themselves suspected of a crime from leaving China as a means to pressure their relatives or associates who are wanted by Chinese law enforcement in the United States," according to the U.S. mission in China. The mission states that PRC authorities "also arbitrarily detain and interrogate U.S. citizens for reasons related to 'state security'" and subject U.S. citizens "to overly lengthy pre-trial detention in substandard conditions while investigations are ongoing."194
Separately, the United States government is seeking China's cooperation in issuing travel documents to PRC nationals whom the United States seeks to repatriate to China. The U.S. mission in China states that as of July 10, 2018, the U.S. government was awaiting travel documents for approximately 2,200 PRC nationals with criminal convictions who were not in Immigration and Customs Enforcement (ICE) custody, and another 139 PRC nationals who were in ICE custody with removal orders. According to the U.S. mission in China, "The Chinese government consistently refuses to issue travel documents to an overwhelming majority of these individuals."195
Fentanyl196
According to provisional data from the U.S. Centers for Disease Control and Prevention, synthetic opioids, primarily fentanyl, accounted for more than 31,000 U.S. drug overdose deaths in 2018.197 The Drug Enforcement Administration (DEA) states, "Clandestinely produced fentanyl is trafficked into the United States primarily from China and Mexico, and is responsible for the ongoing fentanyl epidemic."198
Responding to pressure from the Trump Administration, China on May 1, 2019, added all fentanyl-related substances to a controlled substances list, the "Supplementary List of Controlled Narcotic Drugs and Psychotropic Substances with Non-Medical Use." Li Yuejin, Deputy Director of China's National Narcotics Control Commission, presented the move as "an important manifestation of China's participation in the global control of illicit drugs and the maintenance of international security and stability." He also said it was "based on the painful lesson from the United States."199
In April 2019, the DEA welcomed the announcement of China's plan to control all fentanyl substances, saying, "This significant development will eliminate Chinese drug traffickers' ability to alter fentanyl compounds to get around the law."200 On August 1, 2019, however, President Trump criticized China's record, saying of President Xi, "He said he was going to stop fentanyl from coming into our country—it's all coming out of China; he didn't do that. We're losing thousands of people to fentanyl."201 A spokesperson for China's Foreign Ministry responded, "The root cause of the fentanyl issue in the United States does not lie with China. To solve the problem, the United States should look harder for the cause at home."202 The spokesperson's comments appeared to refer to China's position that the U.S. opioid epidemic is being driven by U.S. demand, rather than by Chinese supply.
Legislation Related to China Introduced in the 116th Congress
In the 116th Congress, more than 150 bills and resolutions have been introduced with provisions related to China. For details, see Table 8 below.
China in the National Defense Authorization Act for FY2020
A major vehicle for legislation related to China is the annual National Defense Authorization Act. As of early August 2019, the National Defense Authorization Act for FY2020 is engrossed in the House of Representatives and the Senate (H.R. 2500 and S. 1790). Table 9, Table 10, Table 11, and Table 12 identify provisions in the two bills that explicitly reference China, as well as several provisions potentially related or relevant to China.