Introduction
Recent flood disasters have raised congressional and public interest in not only reducing flood risks, but also improving flood resilience, which is the ability to adapt to, withstand, and rapidly recover from floods. Congress has established various federal programs that may be available to assist U.S. state, local, and territorial entities and tribes in reducing flood risks. Among the most significant current federal programs assisting communities with improvements to reduce their flood risks and improve their flood resilience are (1) programs that assist with infrastructure to reduce flood risks and other flood mitigation activities,1 and (2) programs of the National Flood Insurance Program (NFIP) that provide incentives to reduce flood risks. This report provides information about these federal programs; it is organized into the following sections:
primer on flood policy and federal flood-related activities;
descriptions of selected federal assistance programs;
introduction to flood insurance and related programs; and
policy considerations.
In the United States, flood-related responsibilities are shared. States and local governments have significant discretion in land use and development decisions (e.g., building codes, subdivision ordinances), which can be factors in determining the vulnerability to and consequence of hurricanes, storms, extreme rainfall, and other flood events. Flood events, particularly Hurricane Katrina in 2005 and subsequent events, have generated concern about the nation's and the federal government's financial exposure to flood losses, as well as the economic, social, and public health impacts on individuals and communities.
Congress and other policymakers may be faced with various policy questions related to flood policy, federal programs, and federalism, including the following:
Are federal programs providing cost-effective assistance to state and local entities to reduce flood risks not only in areas that recently experienced floods, but also other areas at risk of flooding?
Could changes to how federal assistance programs or the NFIP are implemented and funded result in long-term net benefits in terms of avoided federal disaster assistance, lives lost, and economic disruption associated with floods?
Do federal programs provide incentives or disincentives for state and local entities to prepare for floods and manage their flood risks?
Although this report covers a broad range of federal programs that may be able to assist with reducing community flood risk and improving flood resilience, it is not comprehensive. Multiple aspects of flood policy and specialized federal programs are not addressed herein.2 This report is largely an overview of existing federal programs with a brief description of some policy considerations as context for these programs and the nation's flood challenge.
Primer on Flood Policy and Federal Flood-Related Activities
Evolution of Efforts to Address Flood Risk
Over the decades, U.S. flood policy has evolved from trying to control floodwaters to more comprehensive management of flood risks. Early efforts focused on flood control and flood damage reduction using engineered structures such as dams and levees. In the late 20th century, the approach shifted to flood risk reduction and mitigation, which expanded the measures employed to include buyouts, easements,3 elevation of structures, evacuation, and other life-saving and damage-reducing actions. More recently, the concept of flood resilience has become more prominent.4 This evolution in part derives from efforts to address the different components that contribute to flood risk. Risks associated with floods and other natural disasters often are expressed as a probabilistic function of
a hazard, which is the local threat of an event (e.g., probability of a particular community experiencing a storm surge of a specific height);
vulnerability, which is the pathway that allows a hazard to cause consequences (e.g., level of protection and performance of shore-protection measures); and
consequences of an event (e.g., loss of life, property damage, economic loss, environmental damage, and social disruption).
For managing flood risks, some stakeholders promote policies to reduce the hazard (e.g., climate change mitigation to reduce sea level rise5). Some stakeholders are interested in reducing vulnerability. These stakeholders may support construction of levees, dams, and shore-protection measures; they also may support protection of natural features that provide flood management benefits, like coastal wetlands and natural dunes and undeveloped floodplains. Some stakeholders support policies to reduce consequences through measures such as development restrictions, building codes, floodproofing of structures, buyouts of vulnerable properties, and improved evacuation routes. Efforts to improve flood resilience often combine trying to reduce consequences, vulnerabilities, and in some cases hazards.
Federal Flood-Related Activities
Flood Control
Although U.S. local, state, and territorial entities and tribes maintain significant flood management responsibilities, the federal role has expanded over the decades in response to catastrophic and regional flood events. Some of the earliest federal involvement was construction of specific flood control works after significant flood disasters. Examples include construction by the U.S. Army Corps of Engineers (USACE) of levees and floodways as part of the Mississippi River and Tributaries (MR&T) project, which Congress authorized in 1928,6 and drainage structures of the Central and Southern Florida project in and around the Florida Everglades, which Congress authorized in 1948. Since the early 1900s, the federal government has constructed many dams, levees, and other water resource projects to reduce riverine flood damages. Starting in the mid-1950s, the federal government also has participated in many cost-shared coastal flood risk reduction projects consisting of engineered coastal dunes and beaches, floodwalls, storm surge barriers, and levees.7 Nonfederal entities (e.g., municipalities, irrigation districts, county flood control entities) also make their own investments in flood control infrastructure.8 Although local governments often preferred structural measures to control flooding (and for their other benefits like recreation at engineered beaches), some stakeholders and groups opposed these measures because of concerns about their environmental impacts. Other interests raised concerns that flood control structures may encourage development in flood-prone areas, and that the residual risks behind levees and shore protections and downriver from dams were underappreciated.
USACE is the principal federal agency engaged in construction of flood control measures (e.g., levees and engineered coastal dunes).9 When appropriations are available, the Natural Resources Conservation Service (NRCS) of the U.S. Department of Agriculture (USDA) has acquired floodplain easements and supported construction of small levees and dams in rural areas. Some flood control infrastructure owned by local and state entities also has received support from hazard mitigation assistance programs administered by the Federal Emergency Management Agency (FEMA) and the Community Development Block Grant (CDBG) programs of the Department of Housing and Urban Development (HUD).
Insurance, Land Use, and Standards
In 1968, Congress shifted the federal role in managing flood risks by entering the flood insurance market after private firms had largely abandoned offering flood insurance. Congress established the NFIP in the National Flood Insurance Act of 1968 (NFIA; 42 U.S.C. §4001 et seq.). The new program aimed to alter development in flood-prone areas identified as the 100-year floodplain; this floodplain also is referred to as the 1% annual-chance floodplain, or the floodplain for the Base Flood Elevation (BFE) for purposes of the NFIP.10 The NFIP's multipronged regulatory system consists of community flood risk assessment and mapping, purchase requirements for flood insurance for certain residential and commercial structures, and the adoption of minimum local requirements for land use and building codes for vulnerable areas. The NFIP allows for residential and commercial construction in known floodplains, with the proviso that construction must follow building-code regulations that reduce future flood damage and prevent new development from increasing flood risk.
Although the federal government through the NFIP requires that participating communities adopt minimum land-use and building-code regulations, local and state governments maintain the dominant role in adopting building codes (and local governments in their enforcement), including those related to flood risk. A broader federal role in land use and building codes was discussed in the late 1960s. It largely was not adopted with a few exceptions for coastal land use (as discussed in the text box titled "Land Use and Federal Statutes Related to Coastal Management").
In 1977, President Carter signed Executive Order (E.O.) 11988 (Floodplain Management), which requires that federal actions are to avoid supporting development in the 100-year floodplain if alternatives are available. Also, federal agencies responsible for real property are to design and construct structures and facilities consistent with NFIP regulations. In 2015, President Obama signed E.O. 13690; among other things, the order established a Federal Flood Risk Management Standard (FFRMS) for federally funded projects, which required a higher level of flood resilience than E.O. 11988.11 On August 15, 2017, President Trump signed E.O. 13807 in an effort to streamline federal infrastructure approval. Among other actions, E.O. 13807 revoked E.O. 13690. By revoking E.O. 13690, E.O. 13807 appears to have eliminated the FFRMS and returned federal floodplain policy to the original text of E.O. 11988.
Mitigation and Nonstructural and Green Infrastructure Approaches
After extensive flooding in the Midwest in 1993, federal programs were created or adjusted to support a wider array of activities to reduce damage and prevent loss of life, such as moving flood-prone structures and developing evacuation plans. Nonstructural mitigation is now regularly used as part of flood management for new development and during repairs of damaged property and communities. Some local, state, and federal agencies and programs allow or support approaches that mimic nature or are "nature-based" (e.g., placement of oyster beds along coastlines to reduce erosion), especially if there are multiple benefits (e.g., erosion reduction, fish habitat, and water quality benefits from oyster beds).
Natural flood resilience can be reduced by development that degrades wetlands and ecosystems (e.g., mangroves, coral, and oyster reefs) and increases impervious surface in the watershed (e.g., reducing rainfall infiltration into absorbent prairie ecosystems). Department of the Interior agencies (e.g., U.S. Fish and Wildlife Service, National Park Service), NOAA, USACE, and the U.S. Environmental Protection Agency (EPA) are involved in ecosystem restoration and protection activities, as well as permitting and planning activities, which may restore or protect these natural features and their flood risk reduction benefits.
Runoff from rainfall in urban areas is often referred to as stormwater. For decades local governments and public works officials constructed stormwater infrastructure to move rainwater rapidly away from developed areas. This was done largely through grey infrastructure using pipes, gutters, ditches, and storm sewers. Although these systems were able to collect and move water away, the stormwater discharged from these systems to surface waters often contained pollutants. In recent years, local governments and public works officials have both increasingly expressed interest in and adopted green infrastructure for stormwater as a way to manage rainfall to reduce flood losses and to prevent pollution. For stormwater, green infrastructure often consists of using or mimicking natural processes to infiltrate, encourage evapotranspiration, or reuse stormwater runoff on-site where it is generated;12 this helps to reduce or delay runoff that contributes to high water levels in streams and rivers, as well as manage the pollutants entering surface water. Other communities and water users are looking to use green infrastructure to recharge groundwater with urban stormwater and other types of floodwater.
Until recently, the major federal role in stormwater had been EPA regulations to reduce pollution from stormwater runoff pursuant to objectives and requirements in the Clean Water Act.13 That is, the federal government, if it participated financially in stormwater management, focused on the pollution prevention aspects. As a result of legislative and administrative changes by EPA and states administering the Clean Water State Revolving Fund (CWSRF), activities that "manage, reduce, treat, or recapture stormwater" are now eligible for financial support.14 Such activities may have flood mitigation as well as pollution prevention benefits.
Figure 2 illustrates the suite of flood resilience and risk reduction improvements, including both structural and nonstructural measures, for coastal communities and states. A similar suite of options is available for communities along rivers. A flood risk management response may incorporate multiple types of improvements. For example, Figure 3 illustrates how levees can be set back from a river to allow for a larger floodplain and how other structural and nonstructural components can be combined to create a more comprehensive flood risk management system (e.g., a hybrid of grey and green infrastructure).
Figure 2. Selected Coastal Flood Resilience and Risk Reduction Improvements

Source: U.S. Army Corps of Engineers, North Atlantic Coast Comprehensive Study: Resilience Adaptation to Increasing Risk, January 2015, p. 7, http://www.nad.usace.army.mil/Portals/40/docs/NACCS/NACCS_main_report.pdf.
Note: Other options to reduce risk also are available, including other forms of zoning and building codes (e.g., floodproofing of lower floors of structures). NNBF = natural and nature-based features.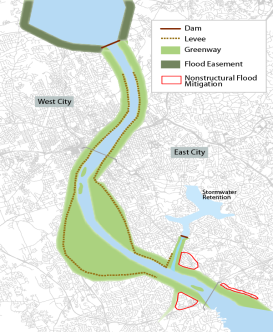 Source: Congressional Research Service.
Understanding Risk Through Monitoring, Modeling, and Mapping
The federal government is involved in monitoring and modeling flood risk along with nonfederal and private entities. Federal entities engaged in understanding flood hazards, including flood inundation mapping, include FEMA, DOI's U.S. Geological Survey (USGS), NOAA, and USACE. For example, federal agencies survey coastlines and conduct research to understand coastal processes, hazards, and resources and report on weather-related hazards, including hurricane storm surge warnings.15 Also, the National Science Foundation supports research on related topics. Advancements in technologies have assisted in better understanding weather and climate, hydrology and hydraulics, and also mapping. Although many types of data are needed to estimate flood risk and produce flood maps, elevation data are fundamental to constructing accurate estimates and maps. Federal agencies along with state, local, and private entities have been using advanced sensing technologies to collect better elevation data for a wide variety of applications, including for maps that can then be used to model and manage flood risk.16
Federal Assistance Programs
Congress has created various federal programs that may be able to assist state, local, territorial, and tribal entities with flood risk reduction and flood resilience improvements for communities. Table 1 summarizes some of these federal programs.17 Each program shown in Table 1 was created for a specific purpose and has statutory limitations. For example, some programs are triggered only after certain declarations or actions; others are part of regular agency operations. Discussions later in this report provide more information on each of the programs listed in Table 1. Although the subsequent discussions examine geographic eligibility generally, some programs may not be eligible in certain areas designated under the Coastal Barrier Resources Act.
Table 1 provides information on regular funding for FY2018 (i.e., annual discretionary appropriations for some programs) and supplemental appropriations provided in FY2017 and FY2018. Additional information is provided in the more detailed discussions about each program, including for most programs in the Trump Administration's budget request for FY2019.
The first set of assistance programs shown in Table 1 are those that provide assistance targeted specifically at flood-related improvements. The second set addresses not only flood but also other hazard mitigation and resilience activities. The third set includes broader programs that include flood-risk reduction, resilience, or stormwater activities among multiple eligible activities.
In some instances, a state may carry out some activities supported by the programs shown in Table 1 in a coordinated manner. Each state has a State Hazard Mitigation Officer who helps to compile a state mitigation plan, administers certain mitigation funding, and generally has knowledge of the state's existing mitigation resources and its history of programs and funding awards in this area. Also, a few federal programs allow for funds provided through them to be used to satisfy the nonfederal cost-sharing requirement for another federal program (e.g., see entry for CDBG in Table 12).
The below sections and accompanying tables discuss the programs shown in Table 1 discussions of the programs are grouped by the federal agency or department administering them. The order followed is FEMA, USACE, USDA, NOAA, EPA, and HUD.
Table 1. Selected Federal Programs That Support Flood Resilience and Risk Reduction Improvements
Federal Emergency Management Agency18
FEMA administers three mitigation grant programs that relate to flood resilience and risk reduction:
Pre-Disaster Mitigation (PDM) grant program;
Hazard Mitigation Grant Program (HMGP); and
Flood Mitigation Assistance (FMA) program.19
HMGP assistance is triggered by a major disaster declaration by the President under the authorities of the Robert T. Stafford Disaster Relief and Emergency Assistance Act (the Stafford Act), whereas the PDM program makes awards on an annual basis to states and, in recent years, through a competitive process. The FMA awards also are made on an annual basis and are traditionally funded through the insurance premiums of NFIP policyholders. Collectively, FEMA refers to these programs as its Hazard Mitigation Assistance Grant Programs.20 Table 2, Table 3, and Table 4 include information on PDM, HMGP, and FMA, respectively. FMA is also discussed later in this report in "NFIP Flood Mitigation."
None of these programs directly received recent supplemental appropriations in FY2017 or in FY2018 (as of mid-July 2018). However, the HMGP is one of the programs funded through the Disaster Relief Fund (DRF), which did receive multiple supplemental appropriations.21
U.S. Army Corps of Engineers22
USACE is the primary federal agency involved in construction projects to provide flood damage reduction; it conducts this work through both project-specific and programmatic authorities.23 Typically, most of this work requires that the construction costs be shared with a nonfederal sponsor, such as a municipality or levee district. Generally, federal involvement is limited to projects that are determined to have national benefits exceeding their costs, or that address a public safety concern.24 The rate of annual federal discretionary appropriations for USACE projects has not kept pace with the rate of authorization for these projects; therefore, there is competition for annual USACE construction funds. Table 5 and Table 6 include information on USACE flood risk reduction projects and programs. Table 5 provides information on projects that require Congress to specifically authorize their study and construction in legislation. For projects of a limited size and scope, Congress has provided USACE with programmatic authorities to participate in planning and construction of some projects without project-specific congressional authorization; these authorities are known as continuing authorities programs (CAPs). Table 6 provides information on four flood-related CAPs. CAPs are known by the section of the law in which they were authorized. The four flood-related CAPs discussed are the following:
Section 205 CAP to reduce flood damages,
the Section 103 CAP to reduce beach erosion and hurricane storm damage,
the Section 14 CAP to protect public works and nonprofit services affected by streambank and shoreline erosion, and
the Section 111 CAP to mitigate shore damage from federal navigation projects.
Figure 4 illustrates how a USACE project may place sand to reduce flood risk by widening the beach and raising the height of the dune; Figure 5 illustrates the shoreline before and after the USACE project.
Figure 4. Example of a Beach Engineered to Reduce Flood Damages
(Long Beach Island, NJ)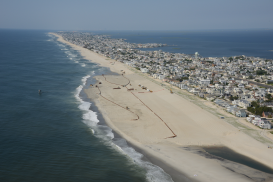 Source: U.S. Army Corps of Engineers, 2013.
USACE also is authorized to fund the repair of certain nonfederal flood control works (e.g., levees, dams) and federally constructed hurricane or shore protection projects that are damaged by other than ordinary water, wind, or wave action (e.g., storm surge, rather than high tide). To be eligible for this assistance, damaged flood control works must be eligible for and active in the agency's Rehabilitation and Inspection Program (RIP) and have been in an acceptable condition at the time of damage, according to regular inspections by USACE. RIP has 1,100 active nonfederal flood risk management systems participating. The program does not fund repairs associated with regular operations and maintenance. For more information on RIP repair assistance, see the relevant sections of CRS Report R45185, Army Corps of Engineers: Water Resource Authorization and Project Delivery Processes, by [author name scrubbed].
Figure 5. Example of Beach Engineered to Reduce Flood Damages
(Ocean City, NJ, before and after engineered beach project)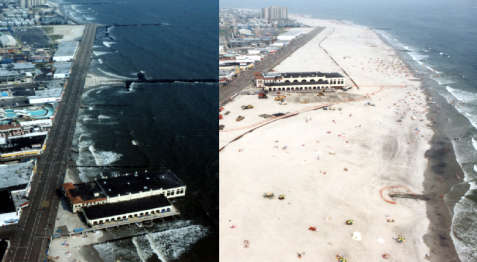 Source: U.S. Army Corps of Engineers, 2012 and 2013.
Supplemental Appropriations
In P.L. 115-123, Congress provided $135 million to USACE's Investigations account for studies and $15.055 billion to the agency's Construction account for construction projects; this funding represented 87% of the $17.398 billion in supplemental appropriations provided by the bill to USACE.25 Of the monies in the Construction account, Congress provided that $15.000 billion was to be used for the following:26
$10.425 billion was designated for expedited construction of flood and storm damage reduction projects in states and territories affected by Hurricanes Harvey, Irma, and Maria.
$4.575 billion was to be used for USACE flood and storm damage reduction construction activities in any state or territory with more than one flood-related major disaster declaration in calendar year (CY) 2014, CY2015, CY2016, or CY2017, and $50 million of this amount was set aside for CAP projects that reduce the risk of flooding and storm damage.
As of July 5, 2018, USACE had assigned to specific USACE projects most of the funds provided for construction and studies; of the $15.000 billion, $1.131 billion in construction funds and $23 million for studies remained unassigned.27
USACE projects in five states (FL, GA, LA, SC, and TX) and two territories (USVI and PR) are eligible for both the $10.425 billion and the $4.575 billion, as shown in Figure 6. A total of 33 states and 3 territories meet the criterion of one flood-related major disaster declaration in CY2014, CY2015, CY2016, or CY2017, as shown in Figure 6; that is, $4.575 billion in P.L. 115-123 funds are available for use on USACE construction projects in these 33 states and 3 territories.
Of the $135 million for the Investigation account, P.L. 115-123 required that $75 million was to be available for states and territories affected by Hurricanes Harvey, Irma, and Maria; the statute also stated that the remainder (i.e., $60 million) was to be available for "high-priority studies of projects" in any state or territory with more than one flood-related major disaster declaration in CY2014, CY2015, CY2016, or CY2017.
Figure 6. States and Insular Areas That Satisfy Criteria for Certain USACE Funding in P.L. 115-123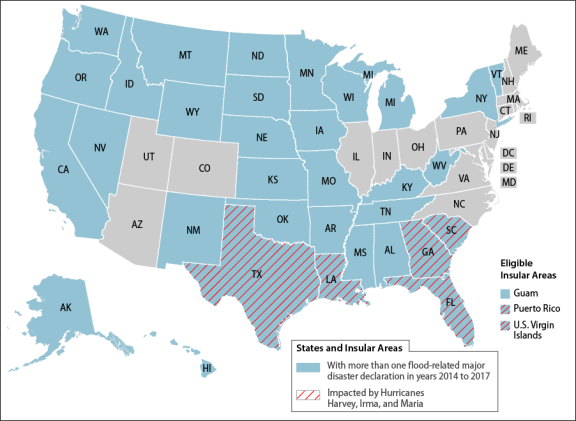 Source: Congressional Research Service using data provided by USACE.
U.S. Department of Agriculture28
As at the USACE, USDA's role in flood control and risk reduction was established by Congress decades ago.29 The general difference between the two agencies is the size, scope, location, and authorization of projects. USDA's Natural Resources Conservation Service (NRCS) administers two programs that provide flood damage reduction—the Watershed and Flood Prevention Operations (WFPO) program and the floodplain easement program of the Emergency Watershed Protection (EWP) program.30 These programs provide assistance to states, tribes, and local organizations; projects generally originate at the local level and do not require congressional approval. Annual appropriations vary greatly from year to year, resulting in a number of authorized but unfunded projects. Table 7 and Table 8 include information on USDA flood risk reduction and mitigation programs. Figure 7 provides an example of a EWP floodplain easement and Figure 8 provides an example of a WFPO project.
Figure 7. Example of a EWP Floodplain Easement
(flooded field covered by easement near the Red River east of Bowesmont, ND)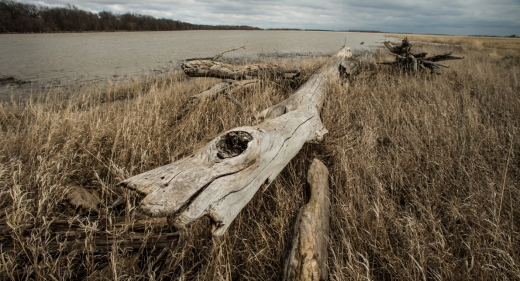 Source: Natural Resources Conservation Service, May 1, 2013.
Figure 8. Example of a WFPO Project
(Snake River diversion structure at Warren, MN)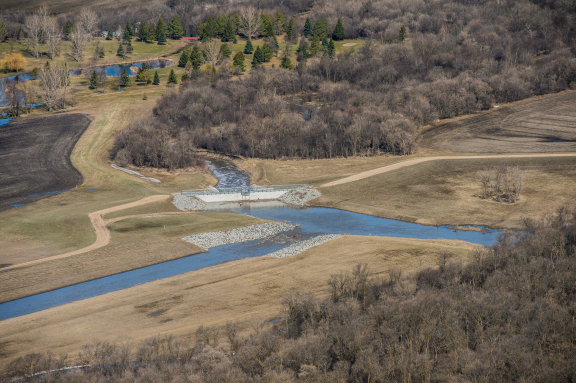 Source: Natural Resources Conservation Service, May 1, 2013.
Note: The diversion structure is one component of a larger WFPO project to address flooding. Other components (not pictured) include a four-mile floodway, 550-acre impoundment, and wetlands mitigation.
Supplemental Appropriations and Program Amendments
P.L. 115-123 authorized supplemental appropriations for crop and livestock losses from the 2017 hurricane season and wildfires. The act also provided additional funding for the EWP program for necessary expenses related to the consequences of Hurricanes Harvey, Irma, and Maria, for wildfires occurring in CY2017, and for other natural disasters. The EWP funding is to remain available until expended and, as with most EWP funding, no disaster declaration is required.
The FY2018 Consolidated Appropriations Act (P.L. 115-141, Division A, §761) included statutory amendments to the WFPO program that increased the project cost threshold required for congressional approval. Under the amended language, the Senate and House Agriculture Committees must approve projects that need an estimated federal contribution of more than $25 million for construction, an increase from the previous $5 million threshold. This program historically has been called the small watershed program because no project may exceed 250,000 acres and no structure may exceed more than 12,500 acre-feet of floodwater detention capacity or 25,000 acre-feet of total capacity. Although these limitations were not changed, the FY2018 appropriation temporarily waives the 250,000 acre limitation for all authorized activities in FY2018 where the primary purpose is not flood prevention.
National Oceanic and Atmospheric Administration31
NOAA conducts a broad variety of activities that support coastal resilience, including scientific research, data collection and monitoring, planning, habitat conservation and restoration, outreach and education, coastal and ocean management, and other activities pursuant to the Coastal Zone Management Act of 1972, as amended (CZMA; P.L. 92-583, 16 U.S.C. §§1451-1466).32 Most of NOAA's efforts focus on management, planning, and technical assistance; some of these programs lead to improved coastal flood resilience. NOAA activities include its coastal and waterfront Smart Growth program, Habitat Blueprint living shorelines program, and state Sea Grant programs,33 among others. For more on NOAA's CZMA activities, see the earlier text box titled "Land-Use Planning and Federal Statutes Related to Coastal Management."
NOAA also supports flood resilience activities by providing funding to the National Fish and Wildlife Foundation's (NFWF's) coastal resilience assessment projects.34 NFWF, with support from NOAA and USACE, has conducted U.S. coastline resilience analyses including community exposure index mapping and mapping of resilience hubs (which are areas where natural resource restoration would have the greatest impact for human community resilience while benefitting critical fish and wildlife habitat).35 In FY2017, Congress appropriated funding to the NOAA Regional Coastal Resilience Grant program, within NOAA's Coastal Management Grants budget line, which supported activities for strengthening coastal communities and habitat restoration.36 In FY2018, Congress shifted funding for this program to the National Oceans and Coastal Security Fund, also known as the Title IX Fund.37 According to P.L. 114-113, the Title IX Fund was established to "better understand and utilize ocean and coastal resources and coastal infrastructure, including baseline scientific research, ocean observing, and other programs and activities carried out in coordination with Federal and State departments or agencies." Although NOAA retains oversight of the Title IX Fund, the administrative responsibility has transferred to NFWF.
Under the Title IX Fund statutory language, NOAA and NFWF have established the National Coastal Resilience Fund to advance restoration and strengthening of natural coastal systems to (1) protect coastal communities, (2) enable rapid community recovery, and (3) enhance important fish and wildlife habitats. The National Coastal Resilience Fund will award funding to two types of projects: Project Planning and Design, and Project Implementation.38
An example of a project conducted through the NOAA Regional Coastal Resilience Grant program is shown in Figure 9. NOAA and NFWF's National Coastal Resilience Fund may support similar projects. In this case, NOAA provided financial assistance for a collaborative effort to monitor, evaluate, and provide recommendations for the design and placement of nature-based shoreline protection. The project was monitored to document if concrete "reef balls" could protect restored marshes and reduce erosion from wave energy at the nearby shoreline.
NOAA did not receive supplemental appropriations in FY2017. NOAA did receive supplemental appropriations in FY2018 through P.L. 115-123; however, the additional amount was not allocated to implement coastal flood risk reduction measures.
Figure 9. Example of a NOAA-Assisted Coastal Resilience Grant Project
(reef balls at Stafford Point, CT)

Source: Jennifer Mattei, Sacred Heart University (with permission), https://circa.uconn.edu/projects/stratford-point-living-shoreline/.
Note: The concrete "reef balls" are intended to reduce erosion from wave energy at the nearby shoreline. The project concluded in FY2017.
Environmental Protection Agency39
EPA's principal role in stormwater management is regulatory, consisting primarily of a discharge permit program. Although the EPA's financial role in flood risk reduction historically has been very limited, it has expanded in recent years, with attention to how green infrastructure approaches to stormwater management can improve water quality. EPA may provide support for stormwater projects that contribute to pollution prevention through reduction of contaminants and erosion, including by managing runoff.
To date, the primary avenue for this EPA assistance has been through the clean water State Revolving Fund (SRF) program (Table 10).40 Each state implements its own SRF program, which is allowed to support a range of projects and activities; this results in variations in program implementation from state to state. Historically, the vast majority of the projects supported by the SRF have been wastewater infrastructure activities, some of which may have involved stormwater infrastructure. Pursuant to changes made in 2014 (P.L. 113-121), stormwater management became one of multiple eligible categories of activities for SRF loans and other assistance. However, the selection of SRF projects for assistance remains prioritized on meeting the pollution-prevention objectives of the Clean Water Act.41
EPA's Water Infrastructure Finance and Innovation Act of 2014 (WIFIA) program also may provide a source of financial assistance for water infrastructure, which may include stormwater-related activities. As described in Table 11, P.L. 113-121 (Title V, Subtitle C) established the WIFIA program; it authorized EPA to provide credit assistance (e.g., secured/direct loans or loan guarantees) for a range of wastewater and drinking water projects.42 In general, project costs must be $20 million or larger to be eligible for WIFIA credit assistance, and WIFIA loan assistance is generally limited to 49% of eligible costs.43 EPA issued its first WIFIA loan in 2018.44 For purposes of WIFIA, green infrastructure includes the following:
a wide array of practices at multiple scales that manage wet weather and that maintains and restores natural hydrology by infiltrating, evapotranspiring and harvesting and using stormwater. On a regional scale, green infrastructure is the preservation and restoration of natural landscape features, such as forests, floodplains and wetlands, coupled with policies such as infill and redevelopment that reduce overall imperviousness in a watershed. On the local scale, green infrastructure consists of site- and neighborhood-specific practices, such as bioretention, trees, green roofs, permeable pavements and cisterns.45
Department of Housing and Urban Development46
Other federal departments and agencies may provide support for flood resilience and risk reduction through broad programs. Primary examples of this are certain HUD-administered programs. Under HUD's Community Development Block Grants (CDBG) program, public works is 1 of 27 eligible categories of activities; flood resilience improvements may qualify as public works under CDBG, as shown in Table 12. Other eligible activities that may qualify for CDBG assistance that benefit state and local flood resilience are buyouts of damaged properties in a floodplain and relocating residents to safer areas. Due to the block grant nature of the program, local and state officials exercise a great deal of discretion in determining which combination of eligible activities to employ. Table 13 provides information on the loan guarantee program of the CDBG.
Unlike CDBG, the CDBG-Disaster Recovery (CDBG-DR) program is not an annually funded HUD program. Instead, it has been funded at times through supplemental appropriations legislation and is tied to a specific disaster (and affected areas) or set of disasters.47 The CDBG-DR program is designed to help communities and neighborhoods that otherwise might not recover after a disaster due to limited resources. Eligible grantees typically include states, units of local government, and Indian tribes.
Congress has appropriated more than $84.7 billion since 1999 for CDBG-DR in supplemental funds for CDBG-DR to support disaster relief, mitigation, and recovery activities. As a result, the program has become one of the federal government's principal instruments in support of long-term economic recovery following both man-made and natural disasters, such as floods. Often, CDBG-DR grantees must use at least 70% of the funds for activities that principally benefit low- and moderate-income (LMI) persons or areas. Table 14 provides information on the CDBG-DR program for major disasters occurring in CY2017 and selected previous years; the table reflects the program and its appropriations as of July 2018.
Supplemental Appropriations
In response to major disasters that occurred during CY2014 to CY2017, Congress approved three acts appropriating a total of $35.8 billion in supplemental CDBG-DR funds. With these funds, states, communities, and Indian tribes could address unmet needs and undertake mitigation efforts in the most impacted and distressed areas affected by a major disaster. HUD defines unmet needs as the financial resources necessary to recover from a disaster that are not likely to be addressed by other public or private sources of funds, including but not limited to private insurance, FEMA's Stafford Act assistance programs, the Federal Highway Administration's Emergency Relief Program, and Small Business Administration Disaster Loans. The $35.8 billion aggregate amount awarded to states, local governments, and Indian tribes includes
$400 million appropriated with the passage of the Consolidated Appropriations Act, FY2017,

P.L. 115-31

, to address unmet needs resulting from major disasters that occurred in CY2015, CY2016, and CY2017;
$7.4 billion appropriated with the passage of the Supplemental Appropriations for Disaster Relief Requirements Act, 2017,

P.L. 115-56

, to address unmet needs resulting from major disasters that occurred in CY2017; and
$28 billion appropriated with the passage of the Bipartisan Budget Act of 2018,

P.L. 115-123

, for major disasters that occurred in CY2014, CY2015, CY2016, and CY2017, with not more than $16 billion allocated to states that experienced a major disaster in 2017, to address unmet needs for assistance and of this amount not more than $11 billion to be awarded to states and communities impacted by Hurricane Maria.48
Funding Specifically for Mitigation and Resilience Activities
The Bipartisan Budget Act of 2018, P.L. 115-123, signed into law on February 8, 2018, also required HUD to allocate not less than $12 billion of the $28 billion appropriated to support mitigation and resilience activities among CDBG-DR grantees that experienced presidentially declared disasters from 2014 through 2017. The remaining funds may be used to address unmet needs of disasters that occurred in 2017. P.L. 115-123 further required that HUD allocate at least 33% of the two pools of funds within 60 days of February 9, 2018, the date of its enactment, based on the best available data. On April 10, 2018, in compliance with this provision of the act, HUD announced the allocation of the following:
$12 billion to address unmet needs of states and communities impacted by 2017 presidentially declared disasters, including Puerto Rico and the U.S. Virgin Islands, which was $3.9 billion less than the maximum established by the act; and
$15.9 billion for mitigation and resilience activities. The lower allocation to unmet needs allowed HUD to allocate an additional $3.9 billion for mitigation.
The act also required HUD to allocate the remaining 67% of the funds appropriated by December 1, 2018.
Flood Insurance and Related Programs49
The NFIP is the primary source of flood insurance coverage for residential properties in the United States. The NFIP has two main policy goals: (1) to provide access to primary flood insurance, thereby allowing for the transfer of some of the financial risk of property owners to the federal government; and (2) to mitigate and reduce the nation's comprehensive flood risk through the development and implementation of floodplain management standards.50 A longer-term objective of the NFIP is to reduce federal expenditure on disaster assistance after floods. As of March 2018, the NFIP had 5.025 million flood insurance policies providing nearly $1.28 trillion in coverage, with over 22,000 communities in 50 states and 6 other jurisdictions participating.51 As a public insurance program, the goals of the NFIP are very different from the goals of private-sector companies, as it encompasses social goals to provide flood insurance in flood-prone areas to property owners who otherwise would not be able to obtain it and reduce government's cost after floods.52 The NFIP also engages in many "noninsurance" activities in the public interest: it identifies and maps flood hazards, disseminates flood risk information through flood maps, requires community land-use and building-code standards, contributes to community resilience by providing a mechanism to fund rebuilding after a flood, and offers grants and incentive programs for household- and community-level investments in flood risk reduction.
Flood Maps and State and Local Land-Use Control
The NFIP accomplishes the goal of reducing comprehensive flood risk primarily by requiring participating communities to collaborate with FEMA to develop and adopt flood maps called Flood Insurance Rate Maps (FIRMs) and enact minimum floodplain standards based on those flood maps. The NFIP encourages communities to adopt and enforce floodplain management regulations such as zoning codes, subdivision ordinances, building codes, and rebuilding restrictions. Internal FEMA studies have found that structures built to FEMA standards experience 73% less damage than structures not built to those standards.53 According to FEMA, the program saves the nation an estimated $1.87 billion annually in flood losses avoided because of the NFIP's building and floodplain management regulations,54 and FEMA expects this amount to increase over time as additional new construction is built to increasingly stronger standards.55
Communities that choose to participate in the NFIP are required to adopt land use and control measures with effective enforcement provisions and to regulate development in the floodplain.56 As authorized in law, FEMA has developed a set of minimum floodplain management standards that are intended to
(1) constrict the development of land which is exposed to flood damage where appropriate, (2) guide the development of proposed construction away from locations which are threatened by flood hazards, (3) assist in reducing damage caused by floods, and (4) otherwise improve the long-range land management and use of flood-prone areas.57
FEMA has set forth the minimum standards it requires for participation in the NFIP in federal regulations.58 Though the standards appear in federal regulations, the standards have the force of law only because they are adopted and enforced by a state or local government.
FEMA's Risk Mapping, Assessment, and Planning (Risk MAP) program is a key part of flood risk reduction by providing information to identify flood hazards, assess flood risks, and partner with states and communities to provide flood hazard and risk data to guide mitigation actions. In order to do this, FEMA conducts Flood Insurance Studies (FISs) to produce FIRMs that depict a community's flood risk and floodplain. Flood Insurance Studies analyze the terrain and factors that affect flood hazards using specified models and the physical, hydrologic, and climate conditions in effect at the time the studies are conducted. FIRMs use the information from the FISs to delineate floodplain boundaries. FIRMs and FISs are a "snapshot" of flood risk at their time of creation, and therefore can become outdated as demographic, topographic, hydrologic, or climatic conditions change, or as engineering methods and models improve. Generally, flood maps may require updating when there have been significant new building developments in or near the flood zone, changes to flood protection systems, or environmental changes in the community, or when better data become available. An area of specific focus of the FIRM is the Special Flood Hazard Area (SFHA). The SFHA is intended to distinguish the flood risk zones that have a chance of flooding during a once-in-100-year flood, or a flood of greater frequency. This means that properties have a risk of flooding of at least 1% every year if in the SFHA. However, over 20% of NFIP claims are for properties outside SFHAs.59 Over the past two decades, 80% of U.S. counties have experienced 10 or more floods, and 97% of U.S. counties have experienced at least 2 floods.60
NFIP Flood Mitigation
The NFIP offers three programs that encourage communities to reduce flood risk: the Community Rating System, the Flood Mitigation Assistance (FMA) grant program, and Increased Cost of Compliance (ICC) coverage. These programs are funded entirely by premiums and fees paid by NFIP policyholders. For more on how premiums are set for policyholders, see CRS Report R44593, Introduction to the National Flood Insurance Program (NFIP), by [author name scrubbed] and [author name scrubbed].
Flood Mitigation Assistance Grant Program
FMA61 awards grants for a number of purposes, including state and local mitigation planning; the elevation, relocation, demolition, or floodproofing of structures; the acquisition of properties; and other activities.62 In FY2014, the FMA program was authorized to use $100 million of NFIP revenue. It was authorized to use $150 million in FY2015, $175 million in FY2016, $175.06 million in FY2017, and $175 million in FY2018.63 The funding is available until it is expended, so the amount awarded may exceed the amount authorized by Congress in an appropriations act for a specific fiscal year. A FEMA database of approved FMA grants indicates that nearly $906 million in projects has been approved between July 1997 and March 2018.64
Community Rating System
Through a program called the Community Rating System, FEMA encourages communities to improve upon the minimum floodplain management standards required to participate in the NFIP. The Community Rating System, as authorized by law, is intended to incentivize the reduction of flood and erosion risk, as well as the adoption of more effective measures to protect natural and beneficial floodplain functions.65 FEMA awards points for measures that increase a community's "class" rating in the Community Rating System on a scale of 1 to 10, with 1 being the highest ranking. Starting at Class 9, policyholders in the SFHA within a Community Rating System community receive a 5% discount on their Standard Flood Insurance Policy (SFIP) premiums, with increasing discounts of 5% per class until reaching Class 1. At that level, policyholders in the SFHA can receive a 45% discount on their flood insurance premiums. As of June 2017, 1,444 communities participated in the Community Rating System, with nearly 3.6 million policyholders. This represents about 5% of eligible NFIP communities that could participate in the Community Rating System program. However, these communities have a large number of flood policies, so more than 69% of all flood policies are written in communities participating in the Community Rating System program.66 The Community Rating System discount is cross-subsidized into the NFIP program, such that the discount for one community ends up being offset by increased premium rates in all communities across the NFIP. The Community Rating System provides an average discount of 11.4% on standard flood insurance policy premiums across the NFIP. Therefore, this average 11.4% discount for Community Rating System communities is cross-subsidized and shared across NFIP communities through a cost (or load) increase of 13.4% to overall premiums in communities not participating in the Community Rating System.
The credits on premium rates for flood insurance coverage are based on the estimated reduction in flood and erosion damage risks resulting from the measures adopted by the community. Points are awarded for an array of improvements in how the community informs its public on flood risk, maps and regulates its floodplain, reduces possible flood damage, and provides immediate warnings and responds to flooding incidents. The highest points are awarded for activities that reduce future flood risk, such as development limitations, preserved open space, retrofitted buildings, and acquisition and relocation of buildings.67
Increased Cost of Compliance Coverage
The NFIP requires most policyholders68 to purchase ICC coverage, which is in effect a separate insurance policy to offset the additional expense of restoring a structure to meet more rigorous building code standards than were required when it was originally built. This ICC coverage is authorized in law, with rates for the coverage, as well as how much can be paid out for claims, set by FEMA.69 Congress has capped the amount that can be paid for ICC coverage at $75 annually.70 The ICC policy has a separate rate premium structure: currently ICC premiums vary between $4 and $70. ICC coverage provides an amount up to $30,000 in payments for certain eligible expenses.71 ICC coverage is in addition to the building coverage provided by the standard flood insurance policy. However, the payment on the building claim plus the ICC claim cannot exceed the statutory maximum payment of $250,000 for residential structures or $500,000 for nonresidential structures.
For example, when a building is determined by a community to be substantially damaged72 following a flood, floodplain management standards adopted by local communities can require the building to be rebuilt to meet current floodplain management requirements, even if the property previously did not need to do so. For instance, the new compliance standard may require the elevation of the rebuilt building to above the base flood elevation. An ICC claim may then be submitted by the policyholder to offset the cost of complying with the elevation standard. FEMA also makes ICC coverage available if a building has been declared a repetitive loss by a community's floodplain management regulations.73
ICC claims payments may also be used toward the costs of elevating, demolishing, relocating, or floodproofing nonresidential buildings, or any combination of these actions. According to ICC data, elevation is the most common form of mitigation. Approximately 61% of all ICC claims closed with payment are single-family residential claims involving compensation for elevation of a structure to or above the BFE.74 Although the cost of elevating a structure depends on the type of building and elevation requirement, the average cost of elevating an existing property has been estimated at $33,239 to $91,732,75 and suggestions have been made for years that the amount of ICC coverage should be raised.76
In addition, FEMA has not implemented ICC coverage for two conditions for which it is authorized to do so by law. These two conditions are for properties that have sustained flood damage on multiple occasions, if the administrator determines that it is cost-effective and in the best interests of the NFIP, and for properties for which an offer of mitigation assistance is made under various federal assistance programs.77
Since the ICC was introduced in 1997, the program has received over $1.4 billion in premiums and paid over $700 million in claims, with over $450 million in underwriting expenses and $50 million of claims-handling expenses. However, between $100 million and $200 million has yet to be paid on claims for prior years. For the years on which FEMA has data, 2007 to 2015, the NFIP has lost money on ICC on a cash flow basis. During that period, on aggregate premiums of $701 million, the NFIP had aggregate ICC underwriting losses of $171 million.78
Resilience-Related Policy Challenges Facing the NFIP
By rewarding behavior that reduces risks through the pricing of flood insurance policies, insurance has the potential to incentivize or even force policyholders and/or communities to address underlying flood risk. Insurance provisions also could provide incentives to limit flood damage by rewarding well-designed buildings with lower premiums, lower deductibles, or higher coverage limits. However, at present, mitigation activities form only a small part of the NFIP portfolio.
Repetitive Flood Losses
An area of debate involves NFIP coverage of properties that have suffered multiple flood losses, which are at greater risk than the average property insured by the NFIP. One concern is the cost to the program; another is whether the NFIP should continue to insure properties likely to have further losses. According to FEMA, repetitive loss (RL)79 and severe repetitive loss properties (SRL)80 account for approximately $17 billion in claims, or approximately 30% of total claims over the history of the program. As of January 31, 2018, there were 24,078 currently insured RL properties and 15,311 currently insured SRL properties.81 Repetitive loss and severe repetitive loss properties (which represent about 1-2% of the overall policies in the NFIP) have accounted for approximately $9 billion in claims, or approximately 16% of total claims over the history of the program.82 A study of all of the residential NFIP claims filed between January 1978 and December 2012 showed that the magnitude of claims for RL structures as a percentage of building value was higher than non-RL properties by 5% to 20%.83
Future Flood Losses
An increased number of properties are expected to be at risk of future flooding. A 2013 report produced at FEMA's request, The Impact of Climate Change and Population Growth on the National Flood Insurance Program Through 2100, concluded that by 2100, the 1% annual chance fluvial floodplain area is projected to grow nationally by about 45%.84 In the populated areas of most interest to the NFIP, about 30% of these increases may be attributed to increased runoff caused by the increase in impermeable land surfaces caused by population growth/development, whereas the remaining 70% represents the influence of climate change. The implication of this is that, on a national basis, approximately 13.5% of the growth in the fluvial SHFA is likely to be due to population growth and would occur even without any climate change. For the coastal environment, the typical increase in the coastal SFHA is projected to be about 55% by 2100. Sea-level rise is not only a concern for the future; many areas are already experiencing "nuisance flooding" from minor tidal flooding or rainstorms. The frequency and duration of minor tidal flooding has increased dramatically in recent decades along many U.S. coastal areas.85 Although not catastrophic, such flooding can significantly disrupt normal commerce and activity, and the seemingly minor inconveniences and local economic losses from each event can have a cumulative effect that results in considerable hidden costs to residents and businesses. In addition, the NFIP will continue to face the risk of catastrophic losses: events like Hurricanes Harvey, Irma, Maria, Katrina, and Sandy are not outside the expected range of NFIP losses.86 Since August 2017, the NFIP has paid over $10.6 billion in claims for Hurricanes Harvey, Irma, and Maria.87
Policy Considerations
Recent major flood events have renewed concerns about the nation's and the federal government's financial exposure to flood losses, as well as the economic, social, and public health impacts of floods on individuals and communities. Part of the challenge for Congress and other policymakers in reducing flood risks and improving resilience is the distribution of responsibilities among local, state, territorial, tribal, and federal entities. There exists some tension between the broader federal interest in reducing the federal government's exposure to costs for disaster response and recovery, and nonfederal (including private) roles in shaping how structures and facilities are built in coastal areas, floodplains, and elsewhere. Local and state governments in the United States have the primary responsibility for managing flood risk and resilience, including through guiding land use in floodplains, establishing and enforcing building codes and ordinances, and construction of public works to protect communities. At the same time, as discussed in this report, the federal government has elected to become involved in some aspects of flood resilience and risk reduction (e.g., NFIP) and disaster response and recovery. Consequently, although the federal government does not participate in many nonfederal decisions affecting flood risk, the federal government is affected by actions by local governments, states, tribes, and territories that reduce or exacerbate flood risk.
No authoritative national estimate of the financial consequences of all types of flooding—riverine floods, coastal storms, tidal flooding, flash floods, intense precipitation, stormwater—is available.88 Also, the current overall level of federal and nonfederal investments to reduce flood risk is unknown.89 Consequently, it is not possible to determine how current government investment in flood resilience and risk reduction compares to the national damage and disruption caused by flooding or to government spending on response and recovery.
Potential questions for the 115th Congress and other policymakers include the following:
Do federal programs provide incentives or disincentives for U.S. states, local governments, territories, and tribes to prepare for flood and manage their flood risks?
Are the level, type, and geographic distribution of federal actions for flood resilience and risk reduction cost-effective?
Are there changes to how federal flood-related assistance programs and the NFIP are implemented or funded that could result in long-term net benefits in avoided federal disaster assistance, lives lost, and economic disruption?
In addressing the nation's flood risk and resilience, policymakers may choose to prioritize some federal roles over others, increase or redistribute activities and funding across existing federal programs, reorient or eliminate existing programs, or establish new programs.
CRS Reports