Summary
The Natural Resources Conservation Service (NRCS) and the Farm Service Agency (FSA) in the U.S. Department of Agriculture (USDA) currently administer over 20 programs and subprograms that are directly or indirectly available to assist producers and landowners who wish to practice conservation on agricultural lands. The number of these programs and the differences among them have created some confusion about the purpose, participation, and policies of the programs. While some effort has been made to remove duplication, a large number of programs remain. The programs discussed in this report in tabular form are as follows.
Agricultural Conservation Easement Program (ACEP)
Agricultural Management Assistance (AMA)
Conservation Operations (CO); Conservation Technical Assistance (CTA)
Conservation Reserve Program (CRP)
CRP—Conservation Reserve Enhancement Program (CREP)
CRP—Farmable Wetland Program
CRP—Grasslands
Conservation Stewardship Program (CSP)
Emergency Conservation Program (ECP)
Emergency Forest Restoration Program (EFRP)
Emergency Watershed Protection (EWP)
Environmental Quality Incentives Program (EQIP)
EQIP—Conservation Innovation Grants (CIG)
EQIP, CIG—On-Farm Conservation Innovation Trials
Feral Swine Eradication and Control Pilot Program
Grassroots Source Water Protection Program
Healthy Forests Reserve Program (HFRP)
Regional Conservation Partnership Program (RCPP)
Voluntary Public Access and Habitat Incentive Program
Water Bank Program
Watershed and Flood Prevention Operations
Watershed Rehabilitation Program
This tabular presentation provides basic information covering each of the programs. In each case, a brief program description is followed by information on major amendments in the Agriculture Improvement Act of 2018 (P.L. 115-334, 2018 farm bill), national scope and availability, states with the greatest participation, the backlog of applications and other measures of continuing interest, program funding authority, FY2019 funding, FY2020 Administration budget request, statutory authority, the authorization expiration date, and a link to the program's website.
---
Introduction
The U.S. Department of Agriculture (USDA) administers a number of agricultural conservation programs that assist private landowners with natural resource concerns. The number and funding levels for agricultural conservation programs have steadily increased over the past 60 years. Early conservation efforts undertaken by Congress focused on reducing high levels of soil erosion and providing water to agriculture in quantities and quality that enhanced farm production. By the early 1980s, however, concern was growing that these programs were not adequately dealing with environmental problems—especially those occurring off the farm—resulting from agricultural activities. In 1985, conservation policy took a new direction when Congress passed the Food Security Act of 1985 (1985 farm bill, P.L. 99-198), which established the first conservation programs designed to deal with environmental issues resulting from agricultural activities.
Provisions enacted in subsequent farm bills in 1990, 1996, 2002, 2008, 2014, and 20181 reflect a rapid evolution of the conservation agenda, including the growing influence of environmentalists and other nonagricultural interests in the formulation of conservation policy, and a recognition that agriculture was not treated like other business sectors in many environmental laws.2 Congress also began funding many of these new programs through mandatory spending for the first time, using the borrowing authority of USDA's Commodity Credit Corporation (CCC)3 as the funding mechanism instead of annual appropriations. In addition to the original soil erosion and water quality and quantity issues, the conservation agenda has continued to expand to address other natural resource concerns, such as wildlife habitat, air quality, wetlands restoration and protection, energy efficiency, and sustainable agriculture.
Lead agricultural conservation agencies within USDA are the Natural Resources Conservation Service (NRCS), which provides technical assistance and administers most conservation programs, and the Farm Service Agency (FSA), which administers the Conservation Reserve Program (CRP). These agencies are supported by others in USDA that supply research and educational assistance, including the Agricultural Research Service (ARS), the Economic Research Service (ERS), the National Institute of Food and Agriculture (NIFA), and the Forest Service (FS).4 In addition, agricultural conservation programs involve a large array of partners, including other federal agencies, state and local governments, and private organizations, among others, who provide funds, expertise, and other forms of assistance to further agricultural conservation efforts.
Overview
USDA provides technical and financial assistance to attract interest and encourage participation in conservation programs. Participation in all USDA conservation programs is voluntary. These programs endeavor to protect soil, water, wildlife, and other natural resources on privately owned agricultural lands to limit environmental impacts of production activities both on and off the farm, while maintaining or improving production of food and fiber. Some of these programs center on improving or restoring resources that have been degraded, while others seek to create conditions with the objective of limiting degradation in the future.
Although programs in this report are listed alphabetically, agricultural conservation programs can be grouped into the following categories based on similarities: working lands, land retirement, easement, partnership and grants, compliance,5 technical assistance, emergency assistance,6 watershed, and other programs and provisions (Figure 1).
The majority of conservation programs are funded through USDA's Commodity Credit Corporation (CCC) as mandatory spending. Congress authorizes mandatory programs at specified funding levels (or acreage enrollment levels for CRP) for multiple years, typically through omnibus legislation such as the farm bill. Mandatory programs are funded at these levels unless Congress limits funding to a lower amount through the appropriations or legislative process or puts a ceiling on acreage that can be enrolled.7 Discretionary programs are funded each year through the annual appropriations process.8
Sequestration continues to have an effect on conservation programs. Sequestration is a process of automatic, largely across-the-board reductions that permanently cancel mandatory and/or discretionary budget authority to enforce statutory budget goals.9 Discretionary accounts have avoided sequestration in recent years through adjustments to spending limits, although sequestration continues on mandatory accounts. Most mandatory conservation programs were subject to sequestration in FY2014 through FY2019.10 Even with sequestration and appropriations act reductions, total annual mandatory budget authority for conservation programs has grown from a total of $3.9 billion in FY2008 to over $6.7 billion in FY2019.11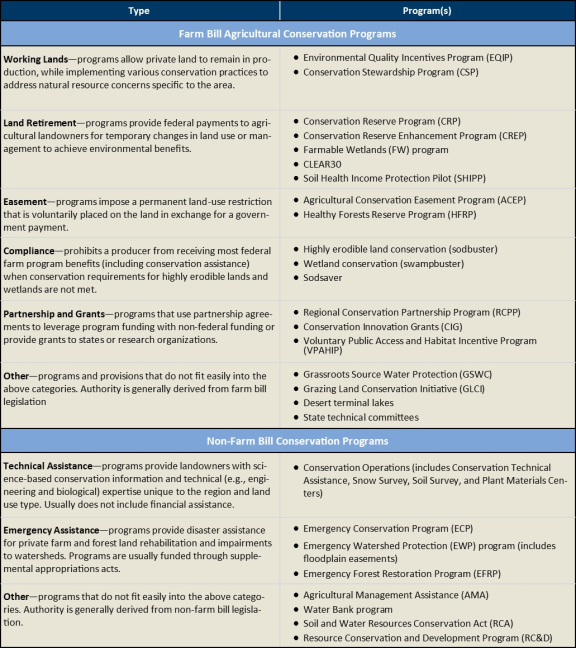 Source: CRS.
2018 Farm Bill
The conservation title of the Agriculture Improvement Act of 2018 (2018 farm bill; P.L. 115-334, Title II) reauthorized and amended many of the largest conservation programs and created a number of new pilot programs, carve-outs, and initiatives. The House- and Senate-passed farm bills (H.R. 2) each included a number of amendments to existing conservation programs, many of which did not overlap. This generally resulted in the inclusion of a mix of amendments from each chamber in the enacted bill and an overall expansion in the number of conservation programs and initiatives. For additional information on conservation programs in the 2018 farm bill, see CRS Report R45698, Agricultural Conservation in the 2018 Farm Bill.
Conservation Programs
The tabular presentation that follows provides basic information covering each of the USDA agricultural conservation programs, including
administering agency or agencies within USDA;
brief program description;
summary of major amendments to the program in the Agriculture Improvement Act of 2018 (

P.L. 115-334

), commonly referred to as the 2018 farm bill;
national scope and availability, including participation levels and acres enrolled;
states with the highest level of funds obligated or acres enrolled;
volume of application backlog or public interest in each program;
authorized funding levels, whether mandatory spending or discretionary appropriations, and any funding restrictions;
FY2019 funding level in the Consolidated Appropriations Act of 2019 (

P.L. 116-6

), or, if applicable, the authorized level in the Agriculture Improvement Act of 2018 (sequestration, transfers, and carryover are included and noted where known);
FY2020 funding level requested by the Administration (sequestration and carryover is not included unless noted);
statutory authority, recent amendments, and U.S. Code reference;
expiration date of program authority unless permanently authorized; and
program's website link.
Information for the following tables is drawn from agency budget presentations, explanatory notes, and websites; written responses to questions published each year in hearing records of the Agriculture Appropriations Subcommittees of the House and Senate Appropriations Committees; and spending estimates from the Congressional Budget Office. Further information about these programs may be found on the NRCS website at http://www.nrcs.usda.gov and on the "conservation programs" page of the FSA website at http://www.fsa.usda.gov.
Agricultural Conservation Easement Program (ACEP)
Agricultural Management Assistance (AMA)
Conservation Operations (CO)—Conservation Technical Assistance (CTA)
Conservation Reserve Program (CRP)
CRP—Conservation Reserve Enhancement Program (CREP)
CRP—Farmable Wetland Program
CRP—Grasslands
Conservation Stewardship Program (CSP)
Emergency Conservation Program (ECP)
Emergency Forest Restoration Program (EFRP)
Emergency Watershed Protection (EWP)
Environmental Quality Incentives Program (EQIP)
EQIP—Conservation Innovation Grants (CIG)
EQIP, CIG—On-Farm Conservation Innovation Trials
Feral Swine Eradication and Control Pilot Program
Grassroots Source Water Protection Program
Healthy Forests Reserve Program (HFRP)
Regional Conservation Partnership Program (RCPP)
Voluntary Public Access and Habitat Incentive Program
Water Bank Program
Watershed and Flood Prevention Operations
Watershed Rehabilitation Program