Federal agricultural conservation assistance began in the 1930s with a focus on soil and water issues associated with production and environmental concerns on the farm. During the 1980s, agricultural conservation policies were broadened to include environmental issues beyond soil and water concerns, especially issues related to production, such as erosion and wetlands loss that had effects beyond the farm. Many of the current agricultural conservation programs were enacted as part of the Food Security Act of 1985 (1985 farm bill; P.L. 99-198, Title XII). These programs have been reauthorized, modified, and expanded, and several new programs have been created, particularly in subsequent omnibus farm bills. While the number of programs has increased and new techniques to address resource challenges continue to emerge, the basic federal approach has remained unchanged—voluntary farmer participation encouraged by financial and technical assistance, education, and basic and applied research. The U.S. Department of Agriculture (USDA) administers the suite of agricultural conservation programs through two primary agencies—the Natural Resources Conservation Service (NRCS) and the Farm Service Agency (FSA).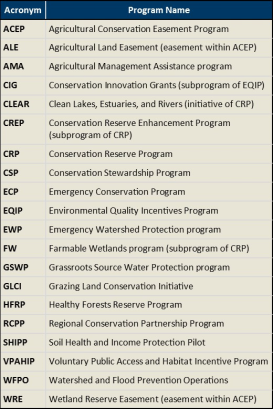 Source: CRS.
The conservation title of the Agriculture Improvement Act of 2018 (2018 farm bill; P.L. 115-334, Title II)1 reauthorized and amended many of the largest conservation programs and created a number of new pilot programs, carve-outs, and initiatives. The House- and Senate-passed farm bills (H.R. 2) each included a number of amendments to existing conservation programs, many of which did not overlap. This generally resulted in the inclusion of a mix of amendments from each chamber being in the enacted bill.2 The Congressional Budget Office (CBO) projects that total mandatory spending for the title will increase by $555 million during the first five years of the 2018 farm bill (FY2019-FY2023), compared to a continuation of funding levels authorized in the Agricultural Act of 2014 (2014 farm bill; P.L. 113-79). Mandatory spending for the title over 10 years (FY2019-FY2028) is projected by CBO to be reduced by $6 billion, relative to the 2014 farm bill authorized levels. Generally, the bill reallocates funding within the conservation title among the larger programs and pays for increases in the short term with reductions in the long term.3
Conservation Program Changes
The 2018 farm bill reauthorized and amended all of the major USDA agricultural conservation programs. Generally, farm bill conservation programs can be grouped into the following types based on similarities: working lands, land retirement, easement, conservation compliance, and partnership and grants (see Figure 1 and Figure 2 for a list of conservation programs). Most of these programs are authorized to receive mandatory funding (i.e., they do not require an annual appropriation), and include funding authorities that expire with most other farm bill programs at the end of FY2023.
Other types of conservation programs—such as watershed programs, emergency programs, and technical assistance—are authorized in legislation other than the farm bill. Most of these programs have permanent authorities and receive appropriations annually through the discretionary appropriations process. These programs are not generally addressed in the context of a farm bill and are not covered in detail in this report, except for cases where the 2018 farm bill made amendments to the program.
This section provides a general discussion of programmatic-specific amendments made to various conservation programs and subprograms. For a detailed section-by-section analysis of amendments in the 2018 farm bill, including statutory and U.S. Code citations, see Appendix.4 Unless otherwise noted, conservation programs discussed in this section are authorized to receive mandatory funding through the borrowing authority of the Commodity Credit Corporation (CCC).5 For additional analysis of conservation program funding, see the "Budget and Baseline" section.
Land Retirement
Land retirement programs authorize USDA to make payments to private landowners to voluntarily retire land from production for less-resource intensive uses. The primary land retirement program is the Conservation Reserve Program (CRP). CRP includes a number of subprograms, many of which were codified or reauthorized in the 2018 farm bill. The farm bill also authorizes a number of initiatives and pilot programs.
Conservation Reserve Program (CRP)
CRP was originally authorized in the 1985 farm bill and has been reauthorized and amended a number of times since. The program provides financial compensation for landowners, through an annual rental rate, to voluntarily remove land from agricultural production for an extended period (typically 10 to 15 years) to improve soil and water quality and wildlife habitat. CRP operates under two types of enrollment—general and continuous. General enrollment provides an opportunity for landowners to enroll in CRP through a nationwide competition during a specific period of time. Continuous enrollment is designed to enroll the most environmentally desirable land into CRP through specific conservation practices or resource needs. Unlike general enrollment, under continuous enrollment, land is typically enrolled at any time and is not subject to competitive bidding. Many of the 2018 farm bill amendments apply to continuous enrollment contracts, including the creation of new pilot programs and amendments to existing subprograms. A detailed analysis of amendments to CRP may be found in Table A-2.
Figure 2. USDA Agricultural Conservation Program by Type
(under enacted 2018 farm bill)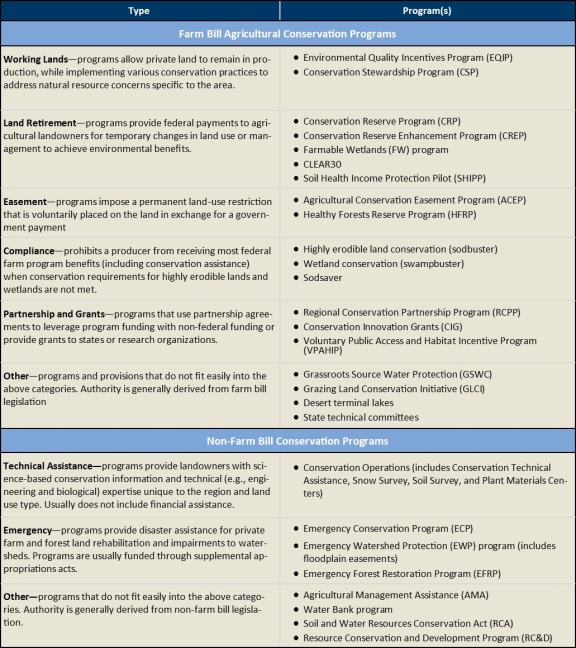 Source: CRS.
Notes: Generally programs that are authorized under Title XII of the Food Security Act of 1985, as amended, are considered to be farm bill programs. Most nonfarm bill programs are authorized outside of farm bill legislation. Amendments to these program may occur in farm bills, but their program authority and funding authority is provided separate from omnibus farm bills.
Congressional debate over CRP in the 2018 farm bill centered on how to increase enrollment limits, while not increasing overall cost. As such, the enacted bill incrementally increases the enrollment cap while reducing various rental rates, cost-share payments, and incentive payments. The 2018 farm bill increases the enrollment limit in annual increments from 24 million acres in FY2019 to 27 million acres in FY2023.6 This increase in enrollment is partly offset by reducing rental rates for general contracts to 85% of the county average rental rate and to 90% of the county average rental rate for continuous contracts. Cost-share payments are limited to the actual cost of establishing the approved practices, including not more than 50% for seed mix costs. The enacted bill also establishes minimum enrollment levels for continuous contracts (8.6 million acres by FY2022) and grassland contracts (2 million acres by FY2021).
Conservation Reserve Enhancement Program (CREP)
CREP was originally created as a CRP initiative in 1997, but was not codified into statute as a CRP subprogram until the 2018 farm bill. The provision in the 2018 farm bill is similar to the original version of CREP in that it authorizes USDA to enter into agreements with states to target designated project areas with continuous CRP enrollment contracts. Projects are designed to address specific environmental objectives through targeted continuous, noncompetitive, CRP enrollment that typically provides additional financial incentives beyond annual rental payments and cost-share assistance.
The new language in the 2018 farm bill allows existing CREP agreements to remain in force, but allows them to be modified if mutually agreed upon. CREP agreements are generally with states, but the 2018 farm bill expands eligible partners to include nongovernmental organizations (NGO). The enacted bill formalizes agreement requirements with partners, including matching fund contributions (previously not less than 20% of the project cost) and possible waiver of such contributions. The enacted bill requires the matching fund contribution to be a negotiated part of the agreement, or not less than 30% if most of the funds are provided by an NGO. Payments from an eligible partner may be in cash, in-kind, or through technical assistance. Additional requirements for select cost-share payments, incentive payments, and maintenance payments are also included. Specific requirements are included related to grazing, forested riparian buffers, and drought and water conservation agreements.
Farmable Wetlands (FW) program
The FW program was created in the Farm Security and Rural Investment Act of 2002 (2002 farm bill; P.L. 107-171) as a pilot within CRP to enroll farmable or prior converted wetlands into CRP in exchange for additional financial incentives. The 2018 farm bill reauthorized FW program at the current 750,000 acre enrollment limit.
CRP Grassland Contracts
The 2014 farm bill authorized grassland contracts under CRP, which enrolls grassland, rangeland, and pastureland into 14 to 15 year CRP contracts. Only select grazing practices are allowed under the contract in exchange for annual and cost-share payments. The 2018 farm bill reauthorizes the contracts and increases the enrollment limit to not less than 2 million acres by FY2021 from the previous limit of not more than 2 million acres. USDA may not use unenrolled grassland acres for other types of CRP enrollment. The enacted bill also prioritizes the enrollment of expiring CRP land, land at risk of development, or land of ecological significance.
Other CRP Initiatives
CLEAR 30
The 2018 farm bill creates a new pilot program referred to as CLEAR 30, which enrolls expiring CRP land into 30-year contracts devoted to practices that improve water quality. CLEAR refers to the Clean Lakes, Estuaries, And Rivers initiative that is authorized to enroll land in continuous contracts that would reduce sediment and nutrient loading, and harmful algal blooms. Under a CLEAR 30 contract, the landowner must maintain the land in accordance with an approved plan and adhere with the terms and conditions of the contract. Contract holders receive compensation in thirty annual cash payments similar to those calculated under general CRP contracts. Technical assistance is required for each contract and agreement. USDA must create the CRP plan for a contract, but management, monitoring, and enforcement may be delegated to another federal agency, state, or local government, or to a conservation organization.
Soil Health and Income Protection Pilot (SHIPP)
The 2018 farm bill also creates a new SHIPP pilot program under CRP to remove less productive farm land from production in exchange for annual rental payments and to plant low-cost perennial cover crops. Eligible land is limited to (1) land in states selected by the Secretary within the prairie pothole region, (2) land that has a cropping history in the three years prior to enrollment, but which was not enrolled in CRP during that time period, and (3) land that is considered to be less productive than other land on the farm. No more than 15% of a farm may be enrolled in the pilot and no more than 50,000 acres of the CRP may be used for the pilot. Under a SHIPP contract, a participant would be required to plant a USDA-approved, low-cost, perennial, conserving-use cover crop at the participant's expense. In return the participant would receive an annual rental payment that is 50% of the general CRP annual rental payment, or higher for beginning, limited-resource, socially disadvantaged or veteran participants. Contracts are three to five years in duration, but can be terminated early if considered necessary by USDA; or if the participant agrees to pay back the annual rental payments. Harvesting, haying, and grazing are allowed outside of the local nesting and brood-rearing period, subject to additional conditions.
Working Lands Programs
Working lands conservation programs allow private land to remain in production, while implementing various conservation practices to address natural resource concerns specific to the area. Program participants receive some form of conservation planning and technical assistance to guide the decision on the most appropriate practices to apply, given the natural resource concerns and land condition. Participants receive federal financial support to defray a portion of the cost to install or maintain the vegetative, structural, or management practices agreed to in the terms of the contract.
The two main working lands programs are the Environmental Quality Incentives Program (EQIP) and the Conservation Stewardship Program (CSP). Combined, both programs account for more than half of all conservation program funding. The 2018 farm bill amended both programs, but in different ways and to different degrees. A detailed analysis of amendments to EQIP and CSP is provided in Table A-3 and Table A-4, respectively.
Environmental Quality Incentives Program (EQIP)
EQIP is reauthorized and expanded in the enacted bill. The program provides financial and technical assistance to producers and private landowners to plan and install structural, vegetative, and land management practices on eligible lands to alleviate natural resource problems. Eligible producers enter into contracts with USDA to receive payment for implementing conservation practices. Approved activities are carried out according to an EQIP plan approved by USDA and developed with the producer that identifies the appropriate conservation practice(s) to address identified resource concerns on the eligible land. The program is reauthorized through FY2023 with a graduating level of mandatory funding—$1.75 billion in FY2019 and FY2020; $1.8 billion in FY2021; $1.85 billion in FY2022; and $2.025 billion in FY2023.
The new law includes a number of amendments to EQIP that focus on water quality and quantity-related practices, soil health improvement, and wildlife habitat improvement. The law also reduces the funding allocation for livestock-related practices from 60% to 50%, and increases the allocation for wildlife-related practices from 5% to 10%.
One of the larger changes the 2018 farm bill makes to EQIP is that water conservation system payments are expanded to include irrigation and drainage entities that were previously ineligible. Eligible entities may be states, irrigation districts, groundwater management districts, acequias, land-grant mercedes, or similar entities. Practices must be implemented on eligible land of the producer, land adjacent to a producer's eligible land, or land under the control of the eligible entity. Adjusted Gross Income (AGI) and payment limits may be waived for eligible entities, but USDA may impose additional payment and eligibility limits. Priority is given to applications that reduce water use. It is unclear how this expansion in eligibility, compared with the previous producer-only policy, may affect implementation of the program.
Conservation Stewardship Program (CSP)
CSP provides financial and technical assistance to producers to maintain and improve existing conservation systems and to adopt additional conservation activities in a comprehensive manner on a producer's entire operation. CSP contracts must meet or exceed a stewardship threshold for at least two priority resource concern at the time of application and meet or exceed at least one additional priority resource concern by the end of the contract. The House-passed bill would have repealed CSP and created a stewardship contract within EQIP, whereas the Senate-passed bill would have reauthorized CSP and reduced program enrollment. The enacted 2018 farm bill creates a mix of both the House- and Senate-passed bills with amendments. The enacted bill reauthorizes CSP, but amends how the program limits future enrollment. The new law shifts CSP from a program limited by acres (10 million acres annually under prior law; approximately $1.4 billion in FY2018) to one limited by total funding ($700 million in FY2019 in mandatory funding, increasing to $1 billion in FY2023). CBO projects this change from prior law will reduce the program by more than $12.4 billion total over ten years (see Table 2) for a total cost of $5.1 billion. Reduced spending from this reduction offset increased mandatory spending in other conservation programs (see Figure 3).
In addition to the amended funding structure of CSP, the enacted bill also made a number of amendments to the program. CSP's ranking criteria is amended to focus on an application's actual and expected increase of conservation benefits, and to add a cost competitive selection criteria for similar applications. Contract renewal options are amended to require renewal applicants to compete with new applications, whereas previously their acceptance was guaranteed. Additionally, payments for adopting cover crops, grazing management, and comprehensive conservation plan development are amended to include higher and more comprehensive payment options.
Other EQIP and CSP Initiatives and Subprograms
Conservation Innovation Grants (CIG)
CIG is a subprogram under EQIP that awards competitive grants to state and local agencies, nongovernmental organizations, tribes, and individuals to implement innovative conservation techniques and practices. The 2018 farm bill expands project eligibility to include community colleges, urban farming, and monitoring practices. A new on-farm conservation innovation trial is authorized at $25 million annually from total EQIP funding. The new on-farm trial funds projects through producers or eligible entities that test new or innovative conservation approaches, such as those related to precision agriculture technologies, nutrient management, soil health, water management, crop rotations, cover crops, irrigation systems, and other USDA approved approaches.
EQIP Conservation Incentive Contract
The House-passed farm bill would have repealed CSP and created a stewardship contract within EQIP. While the 2018 farm bill retained CSP and also authorized a new Conservation Incentive Contract under EQIP. The new EQIP incentive contracts are limited to select priority resource concerns within specific geographic regions. No more than three priority resource concerns may be identified in each geographic region. EQIP incentive contracts extend for five to ten years and provide annual payments to incentivize increased conservation stewardship and the adoption, installation, management, and maintenance of conservation practices. In determining payment amounts, USDA is required to consider the level and extent of the practice being adopted, the cost of adoption, income forgone due to adoption, and compensation ensuring the longevity of the practice.
The new EQIP incentive contracts exhibit some similarities with CSP contracts, including addressing priority resource concerns; and providing annual payments for adopting, maintaining, and improving practices. The EQIP incentive contracts also include notable differences from CSP, including a no stewardship threshold for entry;7 no comprehensive requirement for addressing resource concerns; no whole-farm enrollment; and no limit on payments. Pending implementation of EQIP incentive contracts, it is unclear what impact they may have on CSP enrollment or on general EQIP contracts.
CSP Grassland Conservation Initiative
Amendments under the commodities title (Title I) of the 2018 farm bill changed how base acres are used to calculate eligibility for certain commodity support programs.8 Base acres not planted to a commodity program-eligible crop within the last ten years are ineligible for select commodity support programs. Under the 2018 farm bill, these acres are now eligible for a one-time enrollment into a new Grassland Conservation Initiative under CSP.
While the new grassland initiative is within CSP, it has separate requirements from other CSP contracts. Unlike CSP, the grassland initiative would not require whole-farm enrollment. The initiative has no required stewardship threshold for entry, requiring the participant to only meet or exceed one priority resource concern by the end of the contract. Whereas CSP contracts must meet or exceed a stewardship threshold for at least two priority resource concern at the time of application and meet or exceed at least one additional priority resource concern by the end of the contracts. Grassland initiative contracts are short term—five years with no renewal or reenrollment option, and a participant may terminate the contract without penalty at any time. Payments under the initiative are not subject to the CSP payment limit, but cannot provide more than $18 per acre.
Easement Programs
Easement programs impose a permanent land-use restriction that is voluntarily placed on the land in exchange for a government payment. The primary conservation easement program is the Agricultural Conservation Easement Program, which provides financial and technical assistance through two types of easements (1) agricultural land easements (ALE) that limit nonagricultural uses on productive farm or grass lands, and (2) wetland reserve easements (WRE) that protect and restore wetlands. The other conservation easement program—the Healthy Forests Reserve Program (HFRP)—was reauthorized in the forestry title (Title VIII) of the 2018 farm bill and is not covered in this report.9
Agricultural Conservation Easement Program (ACEP)
The 2018 farm bill reauthorizes and amends ACEP. Most of the changes made to ACEP in the 2018 farm bill focus on the ALE. Under ALE, USDA enters into partnership agreements with eligible entities to purchase agricultural land easements from willing landowners to protect the agricultural use and conservation values of the land. The enacted bill provides additional flexibilities to ACEP-eligible entities, including the eligibility of "buy-protect-sell" transactions in which an eligible entity purchases land prior to the acquisition of an ALE, agrees to hold an ALE on the land, and then transfer the land within a select time period to a farmer or rancher. The bill also amends the nonfederal cost share requirements by removing the requirement that an eligible entity's contribution be equal to the federal share, or at least 50% of the federal share if the entity includes contributions from the private landowner. The nonfederal portion contributed by the eligible entity may include cash, a landowner's donation, costs associated with the easement, or other costs as determined by USDA. Other flexibilities provided eligible entities include the consideration of geographical differences, terms and conditions of easements, and certification criteria of eligible entities. Several amendments reduce the roll of USDA in the administration of ALE, including amendments to the certification of eligible entities, the right of easement enforcement, and planning requirements. For a detailed analysis of amendments to ACEP see Table A-7.
By comparison, the 2018 farm bill made fewer changes to WRE. Most of the amendments to WRE center on compatible use and vegetative cover requirements. Compatible use authorization is expanded to include consultation with the state technical committee, consideration of land management requirements, and improving the functions and values of the easement. Requirements for a WRE plan were amended to allow for the establishment or restoration of an alternative vegetative community that is hydraulically appropriate on the entirety of the WRE if it would benefit wildlife or meet local resource needs.
In other amendments to ACEP, Congress specified new directions regarding USDA's handling of the subordination, exchange, modification, or termination of any ACEP easement. The enacted farm bill increases mandatory funding for ACEP from the FY2018 authorized level to $450 million annually for FY2019 through FY2023.10
Other Conservation Programs and Provisions
Regional Conservation Partnership Program (RCPP)
The 2014 farm bill created RCPP from four repealed programs. The 2018 farm bill reauthorized RCPP and made a number of amendments to the program (see Table A-8 for a detailed analysis of RCPP amendments). Prior the 2018 farm bill, RCPP utilized 7% of existing conservation programs (referred to as covered programs11) through RCPP projects that were defined by eligible partners. Eligible partners would define the project's area, goals, and resource concerns to be addressed through the use of covered programs. Partners would enter into project agreements with USDA, in which they would provide a "significant portion" of the overall cost of the project. USDA issued no regulations for RCPP and instead utilized funding notices and operated it with the regulations of the covered programs.
Amendments enacted in the 2018 farm bill shift RCPP away from using contracts from covered programs to establishing RCPP as a stand-alone program with its own contracts. Prior to the 2018 farm bill, USDA would enter into agreements with a partner on a project that would target covered program contracts in an agreed upon area for a defined resource goal. The actual contract with the farmer or rancher, however, would be an EQIP, CSP, ACEP, or HFRP contract. The enacted bill no longer uses this framework; instead it requires USDA to use a contract specific to RCPP that will fund eligible activities similar to those available under covered programs, but not using the funds of those programs. The list of covered programs is also expanded under the bill to include EQIP, ACEP, CSP, HFRP, CRP, and Watershed and Flood Prevention Operations (WFPO).12
The 2018 farm bill maintains RCPP's broad partner-focused goal of creating opportunities to leverage federal conservation funding for partner-defined projects. Additionally, the revised program provides additional flexibilities to partners, including the make-up of a partner's project contribution, guidance and reporting requirements, agreement renewals, and in the application process.
Mandatory funding for the program is increased to $300 million annually for FY2019 through FY2023 from $100 million annually under prior law. However, RCPP no longer receives a percentage of funding from covered programs, which could change the overall scale of RCPP depending on how this change is implemented. The allocation of funding is also amended to provide 50% to state and multi-state projects and 50% to projects in critical conservation areas (CCA) as selected by USDA.13
Watershed and Flood Prevention Operations (WFPO)
The WFPO program provides technical and financial assistance to state and local organizations to plan and install measures to prevent erosion, sedimentation, and flood damage and to conserve, develop, and utilize land and water resources.14 Project costs are shared with local partners. Smaller projects may be authorized by the Chief of the NRCS, whereas larger projects must be approved by Congress. The 2018 farm bill made few amendments to WFPO, the most substantial being the authorization of permanent mandatory funding of $50 million annually. Historically, the program received discretionary funding through the annual appropriations process—most recently $150 million in FY2018.15
Conservation Compliance
Two farm bill provisions require that in exchange for certain USDA program benefits, a producer agrees to maintain a minimum level of conservation on highly erodible land and not to convert wetlands to crop production. These provisions were originally authorized in the 1985 farm bill as highly erodible land conservation (Sodbuster) and wetland conservation (Swampbuster). They are collectively referred to as conservation compliance.16 The 2018 farm bill amends wetland conservation provisions to specify that (1) benefits cannot be denied if an exemption applies and (2) affected landowners must have the opportunity to be present during an on-site inspection. The enacted bill also authorizes annual discretionary appropriations for wetland mitigation banking. For a detailed analysis of amendments to the wetland conservation provisions, see Table A-1.
A third type of compliance requirement introduced in the Food, Conservation, and Energy Act of 2008 (2008 farm bill; P.L. 110-246) addressed crop production on native sod (Sodsaver). While Sodsaver is not included in the conservation title of the farm bill, it operates in a manner similar to conservation compliance requirements in that benefits are reduced if production occurs on native sod.17
Policy Issues That Shaped the Conservation Title
Beginning with the Agriculture and Food Act of 1981 (1981 farm bill; P.L. 97-98), agricultural conservation has been a stand-alone title in all farm bills. The breadth of the conservation title has grown with each passing omnibus farm bill. Debate over the 2018 farm bill focused on the differences within the conservation title of the House- and Senate-passed bills (H.R. 2). The conference agreement resolved these differences to create a final version of the title in the enacted law that represents a mix of proposals from the two versions. Overarching themes of the conservation title include (1) targeting of funds or acres in existing programs, (2) a shifting of funds among the different types of conservation programs, including a continued emphasis on working lands programs, and (3) provisions that address environmental regulations through voluntary conservation measures.
Directed Policies Within Existing Programs
The 2014 farm bill focused on simplifying and consolidating programs within the conservation title. Conversely, the 2018 farm bill does not create new programs, but it does require that a number of existing programs direct a specific level of funding or acres, or percentage of a program's funding, to a resource- or interest-specific issue, initiative, or subprogram. Table 1 highlights some of the directed policies created by the 2018 farm bill and compares them with prior law. Some of these policies existed prior to the 2018 farm bill, but did not include a specified funding or acreage level. Through these directed policies Congress has specified a level of support or required investment that USDA is to achieve through program implementation. One potential consequence of these directed policies may be reduced flexibility of the implementing agency to allocate funding based on need, as well as reduced total funds or acres available for activities of the larger program that may not meet a resource-specific provision. Most of the conservation programs in the 2018 farm bill are authorized to receive mandatory funding, so these directed policies also have funding, unless Congress subsequently directs otherwise.
Budget and Baseline
Most farm bill conservation programs are authorized to receive mandatory funding. According to CBO, the conservation title makes up 7% of the total projected 2018 farm bill spending over 10 years, which is $60 billion of the total $867 billion (see Table 2 and Figure 3).18 Historically, funding for the conservation title has experienced both increases and decreases within farm bills. The 2018 farm bill conservation title is budget neutral over the 10-year baseline; however, it is projected to increase funding in the first five years (+$555 million over FY2019-FY2023) and decrease funding in the last five years (-$561 million over FY2024-FY2028).19 While most titles received an increase in authorized mandatory funding over the projected 10-year baseline, three titles, including conservation, did not.20
Figure 3. 2018 Farm Bill Conservation Title Score
(by program, dollars in millions)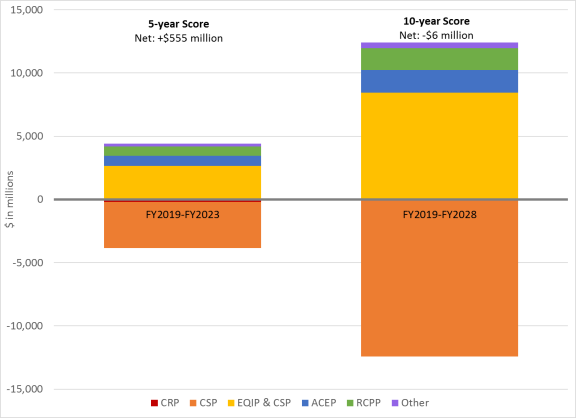 Source: CRS using CBO cost estimate of the conference agreement for H.R. 2, https://www.cbo.gov/publication/54880, Dec. 11, 2018.
Notes: The chart includes the Conservation Reserve Program (CRP), Conservation Stewardship Program (CSP), Environmental Quality Incentives Program (EQIP), Agricultural Conservation Easement Program (ACEP), and Regional Conservation Partnership Program (RCPP). Other includes funding for Watershed Protection and Flood Prevention Operations (§2401), Grassroots Source Water Protection (§2405), Voluntary Public Access and Habitat Incentive Program (§2406), and Feral swine eradication and control pilot program (§2408). The CBO Score of the 2018 farm bill includes two entries for CSP; one for the CSP contracts entered into before enactment (under §2301) and those entered into after enactment (combined with EQIP; §2308).
Historical and Programmatic Shifts in Conservation Funding
The bulk of mandatory spending for conservation is authorized for working lands and land retirement activities. While recent farm bills have increased funding for easement and partnership programs, they remain relatively small compared to three main programs—EQIP, CSP, and CRP (see Table 2 and Figure 4). The 2018 farm bill conservation title is considered budget neutral over the ten-year baseline and generally reallocates funding among the larger existing programs.
Over time, periods of high commodity prices, changing land rental rates, and new conservation technologies have led to a shift in farm bill conservation policy away from land retirement and toward an increased focus on working lands programs. Much of this shift occurred following the 2008 farm bill and continued in the 2014 farm bill as the level of total mandatory program funding for land retirement programs declined relative to working lands programs (see Figure 4). Increasingly, the separation between land retirement programs and working lands programs has become blurred by an increase in compatible use allowances for grazing and pasture use under land retirement programs. Most conservation and wildlife organizations support both land retirement and working lands programs; however, the appropriate "mix" continues to be a subject of debate.
Figure 4. Farm Bill Conservation Program Mandatory Spending, FY2002-F2029
Outlays in millions of dollars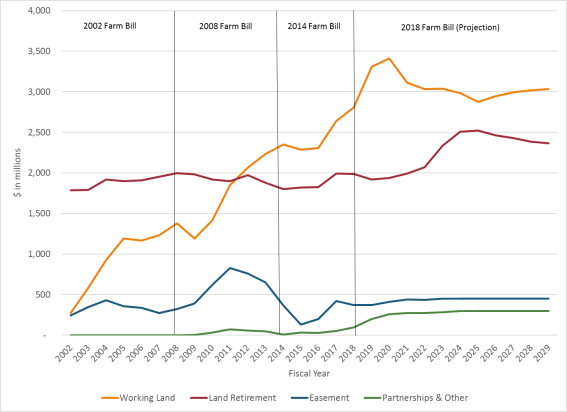 Source: CRS using CBO baseline data, FY2001-FY2019.
Notes: FY2002 through FY2018 include actual spending levels. FY2019 through FY2029 are projected spending levels. Chart does not include sequestration or savings from repealed programs. Working lands include the Environmental Quality Incentives Program (EQIP), Conservation Stewardship Program (CSP), Agricultural Management Assistance (AMA), and earlier programs; land retirement includes the Conservation Reserve Program (CRP) and subprograms; easement includes the Agricultural Conservation Easement Program (ACEP) and earlier programs; and other includes the Regional Conservation Partnership Program (RCPP) and other programs.
Additionally, some conservation program supporters are divided over the relative benefits of shorter-term land retirement programs (CRP) versus longer-term easement programs (ACEP). Unlike land retirement programs, easement programs impose a permanent or longer-term land-use restriction that the land owner voluntarily places on the land in exchange for a government payment. Supporters of easement programs cite a more cost-effective investment in sustainable ecosystems for long-term wildlife and land preservation benefits. Supporters of short-term land retirement programs cite the increased flexibility and broader participation compared with permanent or long-term easement programs. The 2018 farm bill did not amend the duration of ACEP easements, but did create two new subprograms under CRP that would provide additional options for longer-term CRP contracts (30 years under CLEAR30) and shorter-term CRP contracts (3-5 years under SHIPP).23
In recent years, Congress has placed greater emphasis on programs that partner with state and local communities to target conservation funding to local resource concerns. These partnership programs leverage private funding with federal funding to multiply the level of assistance in a selected area. The 2014 farm bill repealed a number of these partnership programs and replaced them with RCPP. The 2018 farm bill amends and expands the number of partnering opportunities under RCPP, CREP, and CIG. However, based on available funding, these programs remain relatively small compared to others in the conservation title.
Environmental Regulation and Voluntary Conservation
USDA has cited voluntary conservation practices as a way to address environmental concerns and potentially reduce the need for traditional regulatory programs.24 A number of provisions in the conservation title speak to the relationship between voluntary conservation measures and environmental regulation. One such provision is regulatory certainty. Regulatory certainty refers to using voluntary measures to address a specific resource concern in exchange for the "certainty" that additional measures will not be required under future regulations.25 A new regulatory certainty section in the 2018 farm bill (§2503(f)) authorizes USDA to provide technical assistance under the farm bill conservation programs to support regulatory assurances for producers and landowners, under select conditions.
The 2018 farm bill also makes existing regulatory certainty measures permanent, including the Working Lands for Wildlife Initiative, which was created in 2012 as a partnership between NRCS and the U.S. Fish and Wildlife Service (FWS). Under this partnership agreement, private landowners who voluntarily make wildlife habitat improvements on their land through NRCS conservation programs, and agree to maintain them for 15-30 years, receive in return a level of certainty they will be exempted from potential future regulatory actions related to at-risk species under the Endangered Species Act.26 The 2018 farm bill makes this partnership agreement permanent and allows for the initiative to be expanded to include CRP.
Another environmental regulatory-related provision in the enacted 2018 farm bill (§2410) is a sense of Congress statement encouraging watershed-level partnerships between nonpoint sources and regulated point sources to advance the goals of the Federal Water Pollution Control Act (Clean Water Act, 33 U.S.C. §1251 et seq.).
Appendix. Comparison of Conservation Provisions Enacted in the 2018 Farm Bill to Prior Law
This appendix includes a series of tables, arranged by subtitle, included in Title II of the Agriculture Improvement Act of 2018 (P.L. 115-334). U.S. Code citations are included in brackets in the "Prior Law" column. Corresponding section numbers in the 2018 farm bill are included in brackets in the "Enacted 2018 Farm Bill" column. Funding for most Title II programs is covered in the "Funding and Administration" subtitle (Subtitle E, see Table A-6). Where appropriate, funding levels are repeated within a program's corresponding subtitle table. Tables are generally organized by section number of the 2018 farm bill, except where it is appropriate to cross-references relevant amendments to provide a complete picture of the program.