Introduction
Congress has been active in establishing federal policy for the agricultural sector on an ongoing basis since the 1930s. Over the years, as economic conditions and technology have evolved, Congress has regularly revisited agricultural policy through periodic farm legislation. Across these decades, the breadth of policy areas addressed through such farm bills has expanded beyond providing support for a limited number of agricultural commodities to include establishing programs and policies that address a broad spectrum of related areas. These include agricultural conservation, credit, rural development, domestic nutrition assistance, trade and international food aid, organic agriculture, forestry, and support for beginning and veteran farmers and ranchers, among others.
The Agriculture Improvement Act of 2018 (P.L. 115-334), known as the "2018 farm bill," was enacted on December 20, 2018, approximately eight months after the bill was introduced (Table 1).1 In the House, the Agriculture Committee reported the bill on April 18, 2018, by a vote of 26-20. An initial floor vote on May 18, 2018, failed in the House by a vote of 198-213, but floor procedures allowed that vote to be reconsidered (H.Res. 905). The House passed H.R. 2 in a second vote of 213-211 on June 21, 2018. In the Senate, the Agriculture Committee reported its bill (S. 3042) on June 13, 2018, by a vote of 20-1. The Senate passed its bill as an amendment to H.R. 2 by a vote of 86-11 on June 28, 2018. Conference proceedings to resolve the differences between the House- and Senate-passed versions of H.R. 2 officially began on September 5, 2018, and concluded in December 2018 with Senate passage of H.R. 2 on a vote of 87-13 and House passage by a vote of 369-47 (H.Rept. 115-1072).
The enacted 2018 farm bill continues a tradition of multi-year farm bills that would establish policy for a broad array of agriculture and nutrition assistance programs. To this end, P.L. 115-334 addresses agriculture and food policy across 12 titles. These titles cover commodity support programs, agricultural conservation, trade and international food aid, domestic nutrition assistance, credit, rural development, research and extension, forestry, horticulture, crop insurance, and a variety of other policies and initiatives.2
The Congressional Budget Office (CBO) projected at enactment that outlays of the 2018 farm bill will amount to $428 billion over the five-year life of the law (FY2019-FY2023). Most of this projected spending—$326 million, or 76%—is in the nutrition title for the Supplemental Nutrition Assistance Program (SNAP). The remaining 24%—$102 billion of projected outlays—stems primarily from agricultural programs, including crop insurance, farm commodity programs, and conservation. CBO estimated that the conference agreement for the 2018 farm bill will be budget neutral over a 10-year period (FY2019-FY2028). CBO estimated that in its first five years, the enacted 2018 farm bill will increase spending by $1.8 billion, compared with a simple extension of the 2014 farm bill, but that this initial increase will be entirely offset in the second five years of the budget window. The "Budgetary Impact" section of this report provides additional detail at the level of individual titles and major programs.
The policymaking environment for the 2018 farm bill differed materially from that of the 2014 farm bill, reflecting lower farm income levels in recent years and disruptions to agricultural exports beginning in 2018. The U.S. Department of Agriculture (USDA) forecasts that for 2018, net cash farm income—a measure of the profitability of farming—will be about one-third below the levels of 2012 and 2013, which were the highest in the last 40 years adjusted for inflation.3 The decline in net cash farm income over this period reflects lower farm prices for many commodities. U.S. farm exports, which provide critical support to U.S. agricultural commodity prices and farm profitability, have been disrupted since early 2018 by a series of trade disputes involving major U.S. agricultural export markets—including China, Canada, Mexico, and the European Union—that has led to the imposition of tariffs by these trading partners on a range of U.S. farm product exports.4 The decline in farm income, coupled with uncertainty about prospects for agricultural exports, may well have played a role in shaping a set of policies in the enacted farm bill that provide farmers and ranchers with a degree of continuity for the next five years.
This report provides an analysis of the budgetary implications of both bills, followed by summaries identifying some of the changes contained in the enacted 2018 farm bill compared with prior law. These summaries are followed by tables containing a title-by-title analysis of all of the policies and provisions in the enacted 2018 farm bill compared to the House- and Senate-passed versions of H.R. 2 and with the expired 2014 farm bill.
Budgetary Impact5
The allocation of federal spending is one way to measure the activities covered by a farm bill, both by how much is spent in total and by how a new law changes policy. CBO estimates are the official measures when bills are considered and are based on long-standing budget laws and rules.6
A farm bill authorizes funding in two ways: It authorizes and pays for mandatory outlays with multi-year budget estimates when the law is enacted. It also sets the parameters for discretionary programs and authorizes them to receive future appropriations but does not provide funding. Mandatory programs often dominate farm bill policy and the debate over the farm bill budget.
Figure 1 illustrates the $428 billion, five-year total of projected mandatory outlays at enactment for the life of the 2018 farm bill (FY2019-FY2023). Figure 2 shows program-level detail for agriculture-specific programs, particularly the farm commodity and conservation titles. The nutrition title is the largest component of the farm bill budget, followed by crop insurance, farm commodity programs, and conservation.
Baseline
The budgetary impact of mandatory spending proposals is measured relative to an assumption that certain programs continue beyond the end of the farm bill. The benchmark is the CBO baseline—a projection at a particular point in time of future federal spending on mandatory programs under current law. The baseline provides funding for reauthorization, reallocation to other programs, or offsets for deficit reduction. Generally, many programs (such as the farm commodity programs or supplemental nutrition assistance) are assumed to continue in the baseline as if there were no change in policy and the program did not expire. However, some programs are not assumed to continue beyond the end of a farm bill.7
The CBO baseline used to develop the 2018 farm bill was released in April 2018.8 It projected that if the 2014 farm bill, as amended as of April 2018, were extended, farm bill programs would cost $867 billion over the next 10 years, FY2019-FY2028.9 Most of that amount, 77%, was in the nutrition title for the Supplemental Nutrition Assistance Program (SNAP). The remaining 23%, $203 billion baseline (the first and fourth data columns in Table 3), was for agricultural programs, mostly in crop insurance, farm commodity programs, and conservation. Other titles of the farm bill contributed about 1% of the baseline, some of which are funded primarily with discretionary spending.
Figure 1. Projected Outlays Under the Agriculture Improvement Act of 2018, by Title
(Five-year projected mandatory outlays at enactment, billions of dollars, FY2019-FY2023)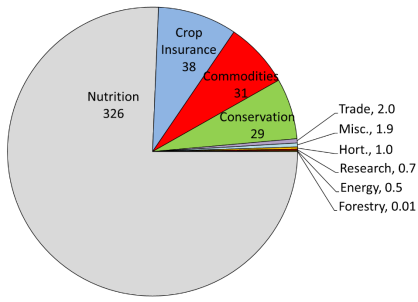 Source: CRS. Compiled from CBO, "Baseline Projections," April 2018, at the title level as shown in "Cost Estimates for H.R. 2, July 24, 2018; and CBO cost estimate of the conference agreement, December 11, 2018.
Figure 2. Projected Agriculture Outlays in the Agriculture Improvement Act of 2018
(Five-year projected mandatory outlays at enactment, billions of dollars, FY2019-FY2023)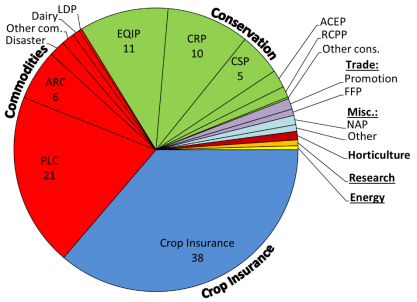 Source: CRS, using CBO Baseline for USDA Mandatory Farm Programs, April 2018; at the title level as shown in "Cost Estimates for H.R. 2, July 24, 2018;" and CBO cost estimate of the conference agreement, December 11, 2018.
Notes: PLC = Price Loss Coverage, ARC = Agricultural Risk Coverage, LDP = Loan Deficiency Payments, EQIP = Environmental Quality Incentives Program, CRP = Conservation Reserve Program, CSP = Conservation Stewardship Program, ACEP = Agricultural Conservation Easement Program, RCPP = Regional Conservation Partnership Program, FFP = Food for Progress, NAP = Noninsured Crop Disaster Assistance Program.
Figure 3. CBO Scores of the House, Senate, and Enacted 2018 Farm Bills, by Title
(projected change in 10-year mandatory outlays relative to baseline, FY2019-FY2028)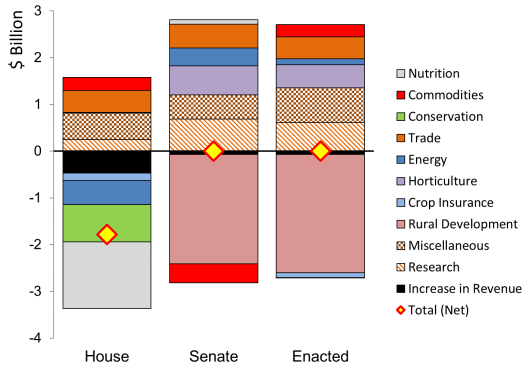 Source: CRS, using the CBO cost estimates for H.R. 2 as passed by the House of Representatives and the amendment to H.R. 2 as passed by the Senate, https://www.cbo.gov/publication/54284, July 24, 2018; and CBO cost estimate of the conference agreement for H.R. 2, https://www.cbo.gov/publication/54880, December 11, 2018.
Note: Does not show amounts less than $50 million.
Score
When a new bill is proposed that would affect mandatory spending, CBO estimates the score (cost impact) in relation to the baseline. Changes that increase spending relative to the baseline have a positive score; those that decrease spending relative to the baseline have a negative score. Budget enforcement rules use these baselines and scores to follow "PayGo" and other budget rules (that in part may require no increase to the federal deficit).10 The score (change) of the enacted 2018 farm bill is shown by title in the second and fifth columns in Table 3.
Figure 3 shows the title-level scores that are made by the enacted 2018 farm bill and the House and Senate bills that preceded the conference agreement. Table 4 contains the more detailed section-by-section CBO score of the enacted 2018 farm bill.
Relative to the baseline, the overall score of the 2018 farm bill is budget neutral over a 10-year period. The farm bill increases spending in the first five years by $1.8 billion (Table 3).11 The House-passed bill would have decreased 10-year outlays by $1.8 billion; the Senate-passed bill was budget neutral (Figure 3).12
Scores of separate titles show both increases and decreases. Generally, the enacted farm bill follows the score of the Senate bill more closely than the House bill (Figure 3). In the enacted law, most of the reductions are from changes in the Rural Development title. Six titles have increased outlays over the 10-year period, including farm Commodities, Trade, Research, Energy, Horticulture, and Miscellaneous. The Conservation and Nutrition titles have increases over the first five years but are budget neutral over the 10-year period (Table 3).
Within some titles, the net score may be a combination of increases and decreases across provisions. This is particularly notable in the Conservation title, which reallocates spending across programs more than in other titles (Table 4).
For several of the "programs without baseline" from the 2014 farm bill,13 the 2018 farm bill provides continuing funding and, in some cases, permanent baseline. Twenty-three of the 39 such programs received continued mandatory funding in the 2018 farm bill (see footnotes in Table 4).
Fourteen of the programs without baseline received mandatory funding during FY2019-FY2023 but no baseline beyond the end of the farm bill.
Nine of the programs without baseline received mandatory funding and permanent baseline beyond the end of the farm bill. Three of these programs were combined with six others into six provisions in the 2018 farm bill.
In addition, five provisions in the 2018 farm bill created new programs without baseline for the next farm bill.
Projected Outlays at Enactment
When a new law is passed, the projected cost at enactment equals the baseline plus the score (the third and sixth columns of Table 3). This sum becomes the foundation of the new law and may be compared to future CBO baselines as an indicator of how actual costs transpire as the law is implemented and market conditions change.
As presented above, Figure 1 illustrates the projected outlays at enactment for the life of the 2018 farm bill (FY2019-FY2023). Figure 2 shows program-level detail for agriculture-specific programs, particularly the Farm Commodity and Conservation titles. Most of $428 billion five-year total amount (76%) is in the Nutrition title for SNAP. The remaining 24%, $102 billion of projected outlays, is for agricultural programs, mostly in crop insurance (8.9%), farm commodity programs (7.3%), and conservation (6.8%).
Title-by-Title Summaries
Commodities14
Title I of the 2018 farm bill authorize support programs for dairy, sugar, and covered commodities—including major grain, oilseed, and pulse crops—as well as agricultural disaster assistance. Major field-crop programs include the Price Loss Coverage (PLC) and Agricultural Risk Coverage (ARC) programs and the Marketing Assistance Loan (MAL) program (see Table 5). The dairy program involves protecting a portion of the margin between milk and feed prices. The sugar program provides a combination of price support, limits on imports, and processor/refiner marketing allotments. Four disaster assistance programs that focus primarily on livestock and tree crops were permanently authorized in the 2014 farm bill. These disaster assistance programs provide federal assistance to help farmers recover financially from natural disasters, including drought and floods. Title I also includes several administrative provisions that suspend permanent farm law from 1938 and 1949 that would otherwise impose antiquated and potentially disruptive price support programs; assign payment limits for individuals, joint ventures or partnerships, and corporations; specify the adjusted gross income (AGI) threshold for program payment eligibility; and identify other details regarding payment attribution and eligibility.
The 2018 farm bill extends authority for most current commodity programs but with some modifications to the ARC, PLC, and MAL programs; dairy; sugar; and agricultural disaster assistance.
Under the 2014 farm bill, producers were allowed a one-time choice between ARC and PLC on a commodity-by-commodity basis, with payments made on 85% of each commodity's base acres (i.e., historical program acres that are eligible for ARC and PLC payments). To increase producer flexibility, the 2018 farm bill provides producers the option in 2019 of switching between ARC and PLC coverage, on a commodity-by-commodity basis, effective for both 2019 and 2020. Beginning in 2021, producers again have the option to switch between ARC and PLC but on an annual basis for each of 2021, 2022, and 2023. Producers may remotely and electronically sign annual contracts for ARC and PLC. Producers also have the option to sign a multi-year contract for the ARC and PLC programs. If no initial choice is made, then the program defaults to whichever program was in effect under the 2014 farm bill. Base acres that have not been planted to a commodity eligible to participate in these programs during the 2009-2017 period are not eligible to receive ARC and PLC payments under the 2018 farm bill. However, as a concession to the affected farms, these base acres may be enrolled in the Conservation Stewardship Program for five years at an annual program payment rate of $18 per acre.
Two changes to the PLC program include the option for producers to update their program yields (used in the PLC payment formula) based on 90% of the average yield for 2013-2017, using a yield plug of 75% of the county average for each year where the farm program yield is less, excluding any years with zero yields, and adjusting downward for any national trend yield growth. In addition, an escalator provision was added that could potentially raise a covered commodity's effective reference price (used to determine the PLC per-unit payment rate) by as much as 115% of the statutory PLC reference price based on 85% of the five-year Olympic average15 of farm prices.
The 2018 farm bill also specifies several changes to the ARC program. Under the 2014 farm bill, USDA's National Agricultural Statistics Service (NASS) data for county average yields was used for calculating both ARC benchmark and actual revenues. Under the 2018 farm bill, data from USDA's Risk Management Agency (RMA) will be the primary source for county average yield data. Where RMA data is not available, USDA will determine the data source considering data from NASS or the yield history of representative farms in the state, region, or crop-reporting district. This data reprioritization is intended to improve the integrity of the ARC program and avoid the disparity in ARC payments that some neighboring counties experienced in recent years. Also, up to 25 counties nationwide that meet certain criteria—larger than 1,400 square miles and with more than 190,000 base acres—may subdivide for purposes of calculating the ARC benchmark and actual revenue. This change is expected to allow ARC calculations to better reflect significant yield deviations within a county. Also, ARC will use a trend-adjusted yield, as is done by RMA for the federal crop insurance program. This has the potential to raise ARC revenue guarantees for producers. Finally, the five-year Olympic average county yield calculations will increase the yield floor (substituted into the formula for each year where the actual county yield is lower) to 80%, up from 70%, of the transitional county yield.16 This yield calculation is used to calculate the ARC benchmark county revenue guarantee.
Marketing assistance loan rates are increased for several program crops, including barley, corn, grain sorghum, oats, extra-long-staple cotton, rice, soybeans, dry peas, lentils, and small and large chickpeas. Commodities excluded from the loan rate increase are upland cotton, peanuts, minor oilseeds, nongraded wool, mohair, and honey. Marketing assistance loan rates are used to establish the maximum payment under PLC. Thus, raising the loan rate for a commodity lowers its potential PLC program payment rate.
No changes were made to the "actively engaged in farming" criteria used to determine whether an individual is eligible for farm program payments. With respect to payment limits and the AGI limit, the 2018 farm bill leaves both the payment limit of $125,000 per individual ($250,000 per married couple) and the AGI limit of $900,000 unchanged, but it modifies the eligibility criteria for commodity program payment eligibility. However, MAL program benefits are exempted from inclusion under payment limits. Thus, payment limits apply only to combined ARC and PLC payments. Also, the definition of family farm is expanded to include first cousins, nieces, and nephews, thus increasing the potential pool of individuals eligible for individual payment limits on family farming operations.
The enacted bill also amends the permanent agricultural disaster assistance programs. The law expands payments for livestock losses caused by disease and for losses of unweaned livestock that occur before vaccination. The law also expands the definition of eligible producer to include Indian tribes or tribal organizations and increases replanting and rehabilitation payment rates for beginning and veteran orchardists. The law amends the limits on payments received under select disaster assistance programs—of the four disaster assistance programs, only the livestock Forage Program (LFP) is not subject to the $125,000/person payment limit. The AGI requirements are left unchanged.
The Noninsured Crop Disaster Assistance Program (NAP) is also amended. The enacted bill amends crop eligibility to include crops that may be covered by select forms of crop insurance but only under whole farm plans or weather index policies. It also amends the payment calculation to consider the producer's share of the crop, raises the service fees and creates separate payment limits for catastrophic ($125,000/person) and buy-up ($300,000/person) coverage. The law makes buy-up coverage permanent, and adds data collection and program coordination requirements.
The 2018 farm bill significantly revises the Margin Protection Program (MPP) for milk producers that was established in the 2014 farm bill. The new dairy program—Dairy Margin Coverage (DMC)—provides lower producer-paid premium rates for milk coverage of 5 million pounds or less (Tier I), adds margin coverage at higher levels of coverage, and allows producers to cover a larger quantity of milk production. DMC is authorized through December 31, 2023.
The DMC program will pay participating dairy producers the difference (when positive) between a producer-selected margin and the national milk margin (calculated as the all-milk price minus an average feed cost ration). The feed ration formula is unchanged from MPP. For a $100 administrative fee, participating dairy producers are automatically covered at the $4.00 per hundredweight (cwt) margin level. Producers may buy additional margin coverage from $4.50/cwt to $9.50/cwt on the first 5 million pounds of production, compared with $5.50/cwt to $8.00/cwt under MPP. Also, producers may now cover from 5% to 95% of their production history, compared with 25% to 90% under MPP.
Under DMC, premiums for Tier I coverage above $4.00/cwt are significantly reduced from MPP to incentivize dairy producers to buy higher levels of margin coverage. For example, under MPP, an $8.00 margin cost $0.142/cwt, but under DMC, the cost is $0.10/cwt. The premiums for the newly available coverage for margins of $8.50, $9.00, and $9.50 are established at $0.105/cwt, $0.11/cwt, and $0.15/cwt, respectively. For production of over 5 million pounds (Tier II coverage), the premium rates for $4.50 and $5.00 margins are also reduced compared with MPP, but margin coverage is only available up to $8.00, and the premium rates are generally higher than under MPP.
Another change under the 2018 farm bill is that dairy producers will receive a 25% discount on premiums if they select and lock in their margin and production coverage levels for the entire five years of the DMC program. Otherwise, producers may continue to select coverage levels annually. Also under DMC, dairy producers may apply for repayment of the premiums, less any payments received, that were paid under MPP during 2014-2017. If dairy producers opt to apply repayments to future DMC premiums, they are to receive credit for 75% of the eligible repayment. Otherwise, they may opt for a direct cash payment of 50% of the eligible repayment.
Unlike MPP, the DMC program allows dairy producers to participate in both margin coverage and the Livestock Gross Margin-Dairy (LGM-D) insurance program that insures the margin between feed costs and a designated milk price. In addition, producers who were excluded from participating in MPP in 2018 because their milk production was enrolled in LGM-D may retroactively participate in MPP.
The 2018 farm bill reauthorizes the Dairy Forward Pricing Program, the Dairy Indemnity Program, and the Dairy Promotion and Research Program through FY2023. The act repeals the Dairy Product Donation Program enacted in the 2014 farm bill. It also establishes a milk donation program designed to simplify donations of fluid milk that producers, processors, and cooperatives make to food banks and feeding organizations. The donation program is funded at $9 million for FY2019 and $5 million in each following fiscal years. Also, the act amends the formula for the Class I skim milk price used for calculating the Class I price under Federal Milk Marketing Orders.
The farm bill requires USDA to conduct studies on whether the national feed cost ration is representative of actual feed costs used in the margin calculation and on the cost of corn silage versus the feed cost of corn, and it directs USDA to report alfalfa hay prices in the top five milk-producing states.
Conservation17
USDA administers a number of agricultural conservation programs that assist private landowners with natural resource concerns. These can be broadly grouped into working lands programs, land retirement and easement programs, watershed programs, emergency programs, technical assistance, and other programs. The enacted bill amends portions of programs in all of these categories (see Table 6). However, the general focus of the enacted 2018 farm bill is on the larger working lands, land retirement, and easement programs. All major conservation programs were reauthorized with varying degrees of amendments.
Farm bill conservation programs are authorized to receive mandatory funding through the Commodity Credit Corporations (CCC). Generally, the law reallocates mandatory funding within the title among the larger programs and pays for increases in the short term with reductions in the long term. CBO projects that the enacted bill would increase funding for conservation by $555 million in the short term (FY2019-FY2023) and reduce funding by $6 million in the long term (FY2019-FY2028).
Working Lands Programs
In general, working lands programs provide technical and financial assistance to help farmers improve land management practices. The two largest working lands programs—Environmental Quality Incentives Program (EQIP) and Conservation Stewardship Program (CSP)—account for more than half of all conservation program funding. Total funding for both programs is reduced under the enacted bill, compared with prior law, but in different ways and to different degrees.
CSP provides financial and technical assistance to producers to maintain and improve existing conservation systems and to adopt additional conservation activities in a comprehensive manner on a producer's entire operation. The House bill would have repealed CSP and created a stewardship contract within EQIP, whereas the Senate bill would have reauthorized CSP and reduce program enrollment. The enacted bill creates a mix of both the House and Senate proposals with amendments. The law reauthorizes CSP but amends how the program limits future enrollment. The program is shifted away from an acreage limitation under prior law (10 million acres annually) to limits based on funding ($700 million in FY2019 increasing to $1 billion in FY2023), a reduction from prior law. The savings from limiting CSP in this manner are redistributed to EQIP and other farm bill conservation programs within the title. The enacted bill also amends CSP's ranking criteria; contract renewal requirements; payments for cover crops, grazing management, and comprehensive conservation plan development; and organic certification allocations. A new grassland conservation initiative is also added to CSP.
EQIP is reauthorized and expanded in the enacted bill. EQIP provides financial and technical assistance to producers and land owners to plan and install structural, vegetative, and land management practices on eligible lands to alleviate natural resource problems. The enacted bill increases EQIP funding in annual increments from $1.75 billion in FY2019 to $2.025 billion in FY2023. A number of amendments to EQIP focus on water quality and quantity-related practices, soil health improvement, and wildlife habitat improvement. The bill reduces the allocation for livestock-related practices from 60% to 50% and increases the allocation for wildlife-related practices from 5% to 10%. Water conservation system payments are expanded to irrigation and drainage entities with limitations. Conservation Innovation Grants, a subprogram under EQIP, is expanded to include community colleges, on-farm innovation, and soil health trials.
Land Retirement and Easement Programs
Land retirement and easement programs provide federal payments to private agricultural landowners for accepting permanent or long-term land-use restrictions. The largest land retirement program—the Conservation Reserve Program—is reauthorized and expanded under the enacted 2018 farm bill. CRP provides annual rental payments to producers to replace crops on highly erodible and environmentally sensitive land with long-term resource-conserving plantings. Under the new law, annual CRP enrollment is increased incrementally from 24 million acres in FY2019 to 27 million by FY2023. Within this limit, CRP is required to enroll up to 2 million acres in grasslands contracts and up to 8.6 million acres in continuous contracts. To offset this increased enrollment level, the enacted bill reduces payments to participants, including cost-share payments, annual rental payments, and incentive payments. Annual rental payments are limited to 85% of the county average for general enrollment and 90% for continuous enrollment. The enacted bill also makes a number of other changes that would further expand grazing and commercial uses on CRP acres as well as transition options for new and limited resource producers. Under CRP, new pilot programs are created, such as CLEAR 30 (Clean Lakes, Estuaries, and Rivers and Soil Health and Income Protection Pilot), while existing subprograms are reauthorized and codified (e.g., Conservation Reserve Enhancement Program and Farmable Wetlands Program).
The Agricultural Conservation Easement Program (ACEP) is reauthorized and amended in the 2018 farm bill. ACEP provides financial and technical assistance through two types of easements: (1) agricultural land easements that limit nonagricultural uses on productive farm or grasslands and (2) wetland reserve easements that protect and restore wetlands. Most of the changes to ACEP focus on the agricultural land easements in which USDA enters into partnership agreements with eligible entities to purchase agricultural land easements from willing landowners. Additional flexibilities are provided to ACEP-eligible entities, including amendments to nonfederal cost share requirements, consideration of geographical differences, terms and conditions of easements, and certification criteria of eligible entities. Several amendments reduce the roll of USDA in the administration of ACEP agricultural land easements, including amendments to the certification of eligible entities, the right of easement enforcement, and planning requirements. Changes to wetland reserve easements center on compatible use and vegetative cover requirements. The enacted bill increases overall funding from $250 million in FY2018 to $450 million annually for FY2019-FY2023.
Other Conservation Programs
The new farm bill reauthorizes and amends the Regional Conservation Partnership Program (RCPP) by shifting the program away from enrolling land through existing conservation programs to a standalone program with separate contracts and agreements. The program is to continue to enter into agreements with eligible partners, and these partners are to continue to define the scope and location of the project, provide a portion of the project cost, and work with eligible landowners to enroll in RCPP contracts. The scope of eligible activities under RCCP is expanded to include activities that may be carried out under additional covered programs. RCPP funding is increased to $300 million annually for FY2019-FY2023 from $100 million annually under prior law. The enacted bill provides additional flexibilities to partners, including the makeup of a partner's project contribution, guidance and reporting requirements, agreement renewals, and the application process.
The enacted bill also includes amendments to conservation programs and provisions with originating authorities outside of farm bill legislation, primarily various watershed and emergency conservation programs. The law also requires reports be provided to Congress on natural resources and on various pilot programs and trials.
Trade18
The trade title—Title III of the enacted 2018 farm bill—addresses statutes concerning U.S. international food aid and agricultural export programs (see Table 7). Under the farm bill authority, U.S. international food assistance is distributed through three main programs: (1) Food for Peace (emergency and nonemergency food aid), (2) Food for Progress (agricultural development programs), and (3) the McGovern-Dole International Food for Education and Child Nutrition program (school lunch and feeding programs). The largest of these, the Food for Peace (FFP) program, receives about $1.5 billion in annual appropriations. Traditionally, these three programs have relied on donated U.S. agricultural commodities as the basis for their activities. However, recent farm bills have increasingly added flexibility to purchase food in local markets or to directly transfer cash or vouchers to needy recipients. The U.S. Agency for International Development administers FFP, while the Foreign Agricultural Service of USDA administers the other two programs.
The bill reauthorizes all international food aid programs as well as certain operational details such as prepositioning of agricultural commodities and micronutrient fortification programs. P.L. 115-334 also adds a provision requiring that food vouchers, cash transfers, and local and regional procurement of non-U.S. foods avoid market disruption in the recipient country. Under prior law, this requirement applied only to U.S. commodities. The enacted law amends FFP by eliminating the requirement to monetize—sell on local markets to fund development projects—at least 15% of FFP commodities. It also increases the minimum level of FFP funds allocated for nonemergency assistance from $350 million to $365 million each year while maintaining the maximum annual allocation of 30% of FFP funds.
P.L. 115-334 amends the McGovern-Dole program by authorizing up to 10% of annual appropriated funds to be used to purchase food in the country or region where it will be distributed. Prior law required all commodities provided under the program be produced in the United States. The bill also extends authority for several related international programs, including the Farmer-to-Farmer program, Bill Emerson Humanitarian Trust, and Global Crop Diversity Trust, as well as two associated fellowship programs: Cochran Fellowships and Borlaug Fellowships.
P.L. 115-334 consolidates the existing U.S. export promotion programs—the Market Access Program (MAP), the Foreign Market Development Program (FMDP), the Emerging Markets Program (EMP), and Technical Assistance for Specialty Crops (TASC)—into one section, establishing permanent mandatory funding for those programs. It also establishes a Priority Trade Fund, from which the Secretary can provide additional funding to the export promotion programs. The programs are authorized to receive $255 million in annual mandatory CCC funds for FY2019-FY2023. Of that money, not less than $200 million is to be spent on MAP, not less than $34.5 million on FMDP, not more than $8 million on EMP, not more than $9 million on TASC, and $3.5 million on the Priority Trade Fund. While the MAP and FMDP funding reflects 2014 farm bill funding levels for those programs, EMP and TASC are each authorized at $1 million less than in the 2014 farm bill. Another change is that MAP and FMDP funds can now also be spent on authorized programs in Cuba.
The law also reauthorizes direct credits or export credit guarantees for the promotion of agricultural exports to emerging markets of not less than $1 billion in each fiscal year through 2023. Further, the new law authorizes the appropriation of up to $2 million annually through 2023 to assist with the removal of nontariff and other trade barriers to U.S. agricultural products produced with biotechnology and other agricultural technologies. And the law adds a requirement that USDA facilitate the inclusion of more tribal food and agricultural products in federal trade-related activities and international trade missions.
Nutrition19
The enacted farm bill's Nutrition title amends a variety of aspects of SNAP and related nutrition assistance programs (see Table 8). While the enacted provisions incorporate some of the SNAP policies included in the House- and/or Senate-passed bills, the Nutrition title does not include the House-passed bill's expansion of work requirements and SNAP employment and training (E&T) programs. The law reauthorizes SNAP and related programs for five years through the end of FY2023. CBO estimates the Nutrition title's impact on direct spending (in outlays) is cost-neutral over the 10-year period (FY2019-FY2028). While certain policies are estimated to increase spending by approximately $1.1 billion, all others total to an estimated decrease in spending by approximately $1.1 billion.
SNAP Eligibility and Benefit Calculation. The enacted 2018 farm bill's Nutrition title largely maintains current SNAP eligibility and benefit calculation rules. After debate over work requirements for SNAP, the enacted conference report maintains both the existing general work requirements and the time limit for nondisabled adults without dependents to receive SNAP, with a few amendments
While prior law allowed states to exempt up to 15% of those subject to the time limit from the time limit, the 2018 farm bill reduces such exemptions to 12%.
The conference report expands the SNAP E&T activities that a state may provide and emphasizes supervised job search over unsupervised job search programs.
The new law increases one stream of mandatory E&T funding by approximately $14 million and prioritizes specified E&T activities for receiving any reallocated funding.
On benefit calculation, the new law requires states to conduct a simplified calculation for homeless households and also requires certain updates or studies of certain aspects of benefit calculation. Among other eligibility-related provisions that were not adopted, the House-passed bill would have limited categorical eligibility while amending asset limits, limited how utilities may have been calculated in benefit calculation, expanded work requirements to include individuals 50-59 years old and individuals with children over the age of six, made it more difficult for states to qualify for waivers from work requirements, and increased the earned income deduction. (Table 8 expands upon the eligibility and benefit calculation differences between the bills.)
SNAP fraud, errors, and related state administration. The enacted 2018 farm bill includes policies intended to reduce errors and fraud in SNAP. The enacted farm bill establishes a nationwide National Accuracy Clearinghouse to identify concurrent enrollment in multiple states and requires state action on information that could change benefit amounts. It increases USDA's oversight of state systems and the quality control system. The enacted bill also repeals funding for state performance awards.
Electronic Benefit Transfer (EBT) and retailers. The enacted Nutrition title contains policy changes for SNAP's EBT system and benefit redemption. It places limits on the fees EBT processors may charge, shortens the time frame for storing and expunging unused benefits, changes the authorization requirements for farmers' market operators with multiple locations, and requires USDA to conduct other specified retailer and EBT system oversight. The new law requires the nationwide implementation of the online acceptance of SNAP benefits and authorizes a pilot project to test SNAP recipients' use of mobile technology to redeem their SNAP benefits.
Other SNAP-related grants. The enacted 2018 farm bill makes changes to other SNAP-related funding (E&T, a type of SNAP-related grants, is discussed above). The enacted Nutrition title reauthorizes the Food Insecurity Nutrition Incentive (FINI) grant program, renaming it the Gus Schumacher FINI, and provides for evaluation, training, and technical assistance. As added by the 2014 farm bill, this program funds projects that incentivize participants to purchase fruits and vegetables. The 2018 farm bill expands these SNAP incentive programs, increasing mandatory funding, and, within FINI's funding, establishes grants for produce prescription projects to serve individuals eligible for SNAP or Medicaid in households with or at risk of developing a diet-related health condition. The new law increases FINI funding by $417 million over 10 years.
In addition to FINI's fruit and vegetable incentives or prescriptions, the Nutrition title also includes policies—but not federal funding—for retailer incentive programs and authorizes, with discretionary funding, pilot projects to focus on milk consumption. On nutrition education (SNAP-Ed), the new law makes some policy changes, such as requiring an electronic reporting system, but it does not change the program's funding.
Food distribution programs. The Nutrition title reauthorizes and makes some policy changes to the nutrition assistance programs that distribute USDA foods to low-income households. The law includes changes to the Food Distribution Program on Indian Reservations, including requiring the federal government to pay at least 80% of administrative costs and creating a demonstration project for tribes to purchase their own commodities. The Nutrition title reauthorizes the Commodity Supplemental Food Program and increases the length of certification periods.
The enacted bill also increases funding for The Emergency Food Assistance Program. CBO estimates that the increases will amount to an additional $206 million over 10 years. Included in this cost estimate is $4 million for each of FY2019-FY2023 for newly authorized projects to facilitate the donation of raw/unprocessed commodities by agricultural producers, processors, and distributors to emergency feeding organizations.
Other nutrition programs and policies. The enacted 2018 farm bill also continues the Senior Farmers' Market Nutrition Program and its mandatory funding. The enacted bill reduces funding for the Community Food Projects competitive grant program, providing $5 million per year instead of $9 million. Though generally the school meals programs are reauthorized outside of the farm bill, the 2018 farm bill continues the $50 million set-aside for USDA's fresh fruit and vegetable purchases for schools and requires USDA to take certain actions to enforce school meals' Buy American requirements. The enacted bill also authorizes new programs and discretionary funding for Public-Private Partnerships and Micro-Grants for Food Security.
Credit20
The Credit title (Title V) of the 2018 farm bill reauthorizes and makes several changes to provisions in the Consolidated Farm and Rural Development Act that governs the USDA farm loan programs (7 U.S.C. 1921 et seq.). It also modifies the Farm Credit Act that governs the Farm Credit System (12 U.S.C. 2001 et seq.) and reauthorizes the State Agricultural Loan Mediation Program (7 U.S.C. 5101; see Table 9).
For the USDA farm loan programs, the 2018 farm bill adds specific criteria (e.g., coursework, military service, mentoring) that the Secretary may use to reduce the requirement for three years of farming experience in order for beginning farmers to qualify for loans. It also raises the maximum loan size for guaranteed loans (both farm ownership and farm operating) to $1.75 million per borrower in 2019, adjusted for inflation thereafter, from a lower statutory base of $700,000 established in 1996 ($1.4 million in 2018 after adjusting for inflation). For direct loans, the new farm bill increases the farm ownership loan limit to $600,000 and the farm operating loan limit to $400,000, both from $300,000 under prior law. For beginning and socially disadvantaged farmers, it increases the percentage of loans that may be guaranteed to 95%, generally from 80%-90%.
The State Agricultural Loan Mediation Program is reauthorized through FY2023, and the range of issues covered by the program is expanded.
For the government-chartered cooperative Farm Credit System (FCS), the 2018 farm bill eliminates obsolete references to outdated names and transition periods from the 1980s and 1990s. It clarifies that FCS entities may share privileged information with the Farm Credit Administration (FCA) for regulatory purposes without altering the privileged status elsewhere, and it expands FCA's jurisdiction to hold accountable "institution-affiliated parties" (including agents and independent contractors). It also repeals a compensation limit for FCS bank boards of directors.
For the Federal Agricultural Mortgage Corporation (FarmerMac), the new farm bill increases the acreage exception—subject to a study by FCA—from 1,000 acres to 2,000 acres for the dollar limit to remain a qualified loan.
For the Farm Credit System Insurance Corporation (FCSIC), which insures repayment of certain FCS debt obligations, the 2018 farm bill provides greater statutory guidance regarding the powers and duties of the FCSIC when acting as a conservator or receiver of a troubled FCS institution and the rights and duties of parties affected by an FCS institution being placed into a conservatorship or receivership. These are largely modeled after provisions that apply to depository institutions that are insured by the Federal Deposit Insurance Corporation.
The enacted 2018 farm bill also directs four studies about agricultural credit: (1) an annual FSA report about its farm loan program that includes various performance characteristics, demographics, and participation by beginning and socially disadvantaged farmers; (2) an FCA study about the risks and capitalization of loans in the portfolios of FCS and FarmerMac and the feasibility of increasing the acreage for FarmerMac qualified loans; (3) a Government Accountability Office (GAO) study about credit availability for socially disadvantaged farmers; and (4) a GAO study about the credit needs of Indian tribes and members of Indian tribes.
Rural Development21
The Rural Development title of the enacted 2018 farm bill (P.L. 115-334) addresses rural development policies including broadband deployment, opioid abuse and rural health, and business and infrastructure development (see Table 10).
The law adds a new section to the Rural Development Act of 1972 authorizing the Secretary to temporarily prioritize assistance under certain USDA Rural Development loan and grant programs to respond to a public health emergency. P.L. 115-334 also directs the Secretary to prioritize assistance under certain programs between FY2019 and FY2025 to combat substance use disorder. It directs the Secretary to make available 20% of Distance Learning and Telemedicine Program funds for telemedicine projects that provide substance use disorder treatment services. It also gives priority for assistance under the Community Facilities Program and Rural Health and Safety Education Program to entities providing substance use prevention, treatment, and recovery services. The new law also allows loans or loan guarantees provided to a community facility or rural entity to be used to refinance a rural hospital's debt obligation.
P.L. 115-334 includes provisions that address access to broadband in rural communities. The law amends the Rural Broadband Access Loan and Loan Guarantee Program to allow USDA to provide grants, in addition to loans and loan guarantees, to fund broadband deployment projects. It increases authorized appropriations for broadband projects from $25 million to $350 million annually for FY2019-FY2023. Prior law established minimum acceptable levels of broadband service for a rural area for the purposes of this program as 4 megabits per second (Mbps) download and 1 Mbps upload. P.L. 115-334 increases these minimum acceptable levels to 25 Mbps download and 3 Mbps upload. The new law also reauthorizes the Rural Gigabit Network Pilot Program established in the 2014 farm bill (P.L. 113-79) and renames the program Broadband Innovative Advancement. It also codifies the Community Connect Grant Program and authorizes discretionary funding for the program of $50 million annually for FY2019-FY2023. The new law also establishes a Rural Broadband Integration Working Group to identify barriers and opportunities for broadband deployment in rural areas.
The enacted 2018 farm bill directs the Northern Border Regional Commission to establish a new State Capacity Building Grant Program to provide grants to support economic and infrastructure development in commission states. P.L. 115-334 also establishes a Council on Rural Community Innovation and Economic Development to enhance federal efforts to address the needs of rural areas by creating working groups within the council to focus on job acceleration and integration of smart technologies in rural communities and making recommendations to the Secretary of Agriculture.
P.L. 115-334 reauthorizes the Rural Energy Savings Program and amends the program to allow financing of off-grid and renewable energy and energy storage systems. It increases authorized discretionary funding for the Emergency and Imminent Community Assistance Water Program from $35 million per year to $50 million per year for FY2019-FY2023. It also decreases authorized discretionary funding to capitalize revolving water and wastewater loan funds from $30 million per year to $15 million per year for FY2019-FY2023.
P.L. 115-334 amends the definition of rural in the ConAct (P.L. 92-419) to exclude from population-based criteria individuals incarcerated on a "long-term or regional basis" and to exclude the first 1,500 individuals who reside in housing located on military bases. It also amends the Housing Act of 1949 to allow any area defined as a rural area between 1990 and 2020 to remain classified as such until receipt of the 2030 decennial census.
Among its other changes, the enacted 2018 farm bill establishes a new technical assistance and training program to assist communities in accessing programs offered through the Rural Business-Cooperative Service. In addition, it amends the Cushion of Credit Payments Program to cease new deposits and modify the interest rate structure that borrowers receive. It also allows borrowers to withdraw deposits from cushion of credit accounts to prepay loans under USDA's Rural Utilities Service without a prepayment penalty through FY2020. The new law amends the Rural Economic Development Loan and Grant Program to authorize $10 million per year in discretionary funding for FY2019-FY2023 and $5 million per year in mandatory funding for FY2022-FY2023. The law also repeals several unfunded programs, including the Rural Telephone Bank, the Rural Collaborative Investment Program, and the Delta Region Agricultural Development Grants Program.
Research22
USDA is authorized under four major laws to conduct agricultural research at the federal level and to provide support for cooperative research, extension, and postsecondary agricultural education programs in the states through formula funds and competitive grants to land-grant universities (see Table 11). The enacted Agriculture Improvement Act of 2018 (P.L. 115-334, Title VII) reauthorizes funding for these activities through FY2023 with either mandatory funding or discretionary funding that is subject to annual appropriations.
Several new research areas in the High Priority Research and Extension program are designated as high priorities: macadamia tree health, national turfgrass research, fertilizer management, cattle fever ticks, and laying hen and turkey research. The law also reauthorizes the Organic Agriculture Research and Extension Initiative (OREI) and increases mandatory funding levels to $30 million annually for FY2019-FY2023. The Specialty Crop Research Initiative (SCRI) is reauthorized through FY2023 and will continue to include carve-out funding for the Emergency Citrus Disease Research and Extension Program. SCRI also expands program eligibility to include "size-controlling rootstock systems for perennial crops" and "emerging and invasive species," among other production practices and technologies.
The enacted law provides new programs for the 1890 land-grant institutions and 1994 tribal colleges of agriculture, authorizes new support for urban and indoor agricultural production, authorizes new funding for industrial hemp research and development, and authorizes an initiative supporting advanced agricultural research. Other provisions reauthorize and extend national genetic resources programs, OREI, and SCRI. The research title also makes changes to the Foundation for Food and Agriculture Research and reauthorizes several programs relating to agricultural biosecurity.
The law creates a new scholarship program for students attending 1890 land-grant universities (Historically Black Colleges and Universities). Authorized grants are for young African American students who commit to pursuing a career in the food and agricultural sciences. Another provision of the law also establishes at least three Centers of Excellence, each to be led by an 1890 institution. The centers are to concentrate research and extension activities in one or more defined areas, including nutrition, wellness and health, farming systems and rural prosperity, global food security and defense, natural resources, energy and the environment, and emerging technologies. A similar program, New Beginnings for Tribal Students, is to offer competitive grants to 1994 tribal agriculture colleges to support recruiting, tuition, experiential learning, student services, counseling, and academic advising to increase the retention and graduation rates of tribal students at 1994 land-grant colleges. Another provision will make 1994 tribal colleges that offer an associate's degree or a baccalaureate eligible to participate in McIntire-Stennis forestry research support.
Several provisions authorize research and development funding for industrial hemp production. Under the Critical Agricultural Materials Act, hemp will now be included as an industrial product eligible for support. In amending and expanding a provision in the 2014 farm bill (Section 7606, P.L. 113-79), the Secretary is directed to conduct a study of hemp production pilot programs to determine the economic viability of domestic production and sale of hemp. A new provision creates a "Hemp Production" subtitle under the Agricultural Marketing Act of 1946, expanding the existing statutory definition of hemp and expanding eligibility to other producers and groups, including tribes and territories. States or Indian tribes wanting primary regulatory authority over hemp production will be required to implement a plan with specific requirements to further monitor and regulate their production of hemp.
A provision of the research title creates new programs supporting advanced agricultural research and urban, indoor, and emerging agricultural production systems. A new Agriculture Advanced Research and Development Authority (AGARDA) is established as a component of the Office of the Chief Scientist to examine the applicability for advanced research and development in food and agriculture through a pilot program that targets long-term and high-risk research. Focal areas include acceleration of novel, early-stage innovative agricultural research; prototype testing; and licensing and product approval under the Plant Protection Act and the Animal Health Protection Act, among other innovative research tools that might be used in the discovery, development, or manufacture of a food or agricultural product.
The Secretary is to develop and make publicly available a strategic plan setting forth the agenda that AGARDA will follow and provide for consultation with other federal research agencies; the National Academies of Sciences, Engineering, and Medicine; and others. There are provisions in the AGARDA program to expedite contract and grant awards and the appointments of highly qualified scientists and research program managers without regard to certain statutes governing appointments in the competitive federal service. The fund will have an authorized appropriation of $50 million each year for FY2019-FY2023. The program terminates at the end of FY2023.
The enacted bill also authorizes a new Urban, Indoor, and Emerging Agricultural Production, Research, Education, and Extension Initiative. The provision authorizes the Secretary to make competitive grants to facilitate development of urban and indoor agricultural production systems and emerging harvesting, packaging, and distribution systems and new markets. The grants could also support methods of remediating contaminated urban sites (e.g., brownfields); determining best practices in pest management; exploring new technologies to minimize energy, lighting systems, water, and other inputs for increased food production; and studying new crop varieties and agricultural products to connect to new markets. The provision provides mandatory and discretionary spending of $4 million and $10 million, respectively, for each year for FY2019-FY2023. In addition, there is authorization of $14 million for a study of urban and indoor agriculture production under the 2017 Census of Agriculture, including data on community gardens, rooftop gardens, urban farms, and hydroponic and aquaponic farm facilities.
Forestry23
Similar to previous farm bills, the forestry title in the enacted 2018 farm bill (P.L. 115-334, Title VIII) includes provisions related to forestry research and establishes, modifies, or repeals several programs to provide financial and technical assistance to nonfederal forest landowners (see Table 12).24 The forestry title also includes several provisions addressing management of the National Forest System (NFS) lands managed by the USDA Forest Service and the public lands managed by the Bureau of Land Management (BLM) in the Department of the Interior.
Forestry assistance and research programs are primarily authorized under three main laws: the Cooperative Forestry Assistance Act,25 the Forest and Rangeland Renewable Resources Research Act,26 and the Healthy Forests Restoration Act.27 Many forestry programs are permanently authorized to receive such sums as necessary in annual discretionary appropriations and thus do not require reauthorization in the farm bill. Some programs, however, are not permanently authorized and expired at the end of FY2018. The 2018 farm bill reauthorizes, through FY2023, four such programs: the Healthy Forests Reserve Program, Rural Revitalization Technology, National Forest Foundation, and funding for implementing statewide forest resource assessments. The 2018 farm bill also provides explicit statutory authorization and congressional direction for current programs that were operating under existing, but broad, authorizations. For example, the farm bill authorizes the Landscape Scale Restoration program to provide financial assistance for large restoration projects that cross landownership boundaries, providing statutory direction for an assistance program that has been operating since FY2015 based on authorities provided in the 2014 farm bill. The 2018 farm bill also modifies or repeals some existing assistance programs. For example, the bill amends the permanent authorization for the Semiarid Agroforestry Research Center and establishes an FY2023 expiration.
The forestry title also addresses issues related to the accumulation of biomass in many forests and the associated increased risk for uncharacteristic wildfires on both federal and nonfederal land. In Part III of Subtitle F, the Timber Innovation Act incorporates provisions from both the House- and Senate-passed bills to establish, reauthorize, and modify assistance programs to promote wood innovation for energy use and building construction and to facilitate the removal of forest biomass. The law also authorizes up to $20 million in annual appropriations to provide financial assistance to states for hazardous fuel reduction projects that cross landownership boundaries. The law also reduces the annual authorization for the Forest Service's hazardous fuels management program from $760 million annually to $660 million annually and adds a sunset date of FY2023 to the authorization. In addition, the law repeals other biomass-related programs, such as the Biomass Commercial Utilization Program, a biomass energy demonstration project, and a wood fiber recycling research program.
The 2018 farm bill contains a provision that changes how the Forest Service and BLM comply with the requirements under the National Environmental Policy Act28 for management activities involving sage grouse and/or mule deer habitat. The law establishes a categorical exclusion for specified activities under which projects up to 4,500 acres would not be subject to the requirements to prepare an environmental assessment or environmental impact statement. This provision was in the Senate-passed version of the bill. The House-passed version would have established 10 other categorical exclusions for various activities and would have also changed some of the consultation requirements under the Endangered Species Act.29 The enacted farm bill also includes provisions from the House bill related to the Forest Service's authority to designate insect and disease treatment areas on NFS lands and procedures intended to expedite the environmental analysis for specified priority projects within those areas.30 Specifically, the enacted farm bill adds hazardous fuels reduction as a priority project category and authorizes larger projects.
The enacted farm bill also addresses miscellaneous federal and tribal forest management issues. For example, the law expands the availability of Good Neighbor Agreements to include federally recognized Indian tribes and county governments and authorizes tribes to enter into contracts to perform specified forest management activities on tribal land. The enacted bill also reauthorizes the Collaborative Forest Landscape Restoration Program to receive appropriations through FY2023, raises the authorized level to $80 million, and authorizes the Secretary to issue waivers to extend projects beyond the initial 10 years. In addition, the enacted farm bill also authorizes the conveyance of NFS land through lease, sale, or exchange. The enacted bill expands the Small Tracts Act, reauthorizes the Facility Realignment and Enhancement program, authorizes the Forest Service to lease administrative sites, and includes provisions for specific parcels.31 The law also establishes two watershed protection programs on NFS lands and authorizes the Secretary to accept cash or in-kind donations from specified nonfederal partners to implement projects associated with one of those programs.
Energy32
The Energy title (Title IX) supports agriculture-based renewable energy. In the 2018 farm bill, the energy title extends eight programs and one initiative through FY2023 (see Table 13). It repeals one program and one initiative—the Repowering Assistance Program and the Rural Energy Self-Sufficiency Initiative. It establishes one new grant program, the Carbon Utilization and Biogas Education Program, which is focused on the education and utilization of carbon sequestration as well as biogas systems. The title also amends the eligible material definition for the Biomass Crop Assistance Program to include algae. Further, the law modifies the definitions of biobased product (to include renewable chemicals), biorefinery (to include the conversion of an intermediate ingredient or feedstock), and renewable energy systems (to include ancillary infrastructure such as a storage system).
Mandatory program funding is less than what was provided in earlier farm bills. The 2018 farm bill authorizes a total of $375 million in mandatory funding for FY2019-FY2023. The 2014 farm bill authorized a total of $694 million in mandatory funding over its five-year life. Mandatory funding is provided for the Biobased Markets Program ($15 million over five years), the Biorefinery Assistance Program ($75 million over five years), the Bioenergy Program for Advanced Biofuels ($35 million over five years), the Rural Energy for America Program ($250 million over five years), and the Feedstock Flexibility Program for Bioenergy Producers, which is authorized for such sums as necessary for five years but with outlays projected to amount to $0 according to CBO. Mandatory funding is not provided for the Biodiesel Fuel Education Program, the Biomass Research and Development Initiative, the Biomass Crop Assistance Program, or the new Carbon Utilization and Biogas Education Program. The farm bill also authorizes discretionary appropriations, subject to annual appropriations action.
Horticulture33
The 2018 farm bill reauthorizes many of the existing farm bill provisions supporting farming operations in the specialty crop, certified organic agriculture, and local foods sectors. These provisions cover several programs and policies benefitting these sectors, including block grants to states, support for farmers markets, data and information collection, education on food safety and biotechnology, and organic certification, among other market development and promotion initiatives (see Table 14).
Provisions affecting the specialty crop and certified organic sectors are not limited to the Horticulture title (Title X) but are contained within several other titles. Among these are programs in the Research, Nutrition, and Trade titles, among others. Related programs outside the Horticulture title include SCRI and OREI in the research title, as well as the Fresh Fruit and Vegetable Program and Section 32 purchases for fruits and vegetables under the Nutrition title, among other farm bill programs.
The new law makes changes both to farmers markets and local foods promotion programs, combining and expanding the Farmers Market Promotion Program and Local Food Promotion Program, along with the Value-Added Agricultural Product Market Development Grants program, to create a new "Local Agriculture Market Program" with an expanded mission and mandatory funding of $50 million for FY2019 and each year thereafter, plus authorized appropriations. The law also includes several provisions from S. 3005 (Urban Agriculture Act of 2018) supporting urban agriculture development (including new programs and authorization for both mandatory and discretionary funding in the Miscellaneous, Research, Conservation, and Crop Insurance titles).
The new law also makes changes to USDA's National Organic Program (NOP) and related programs, addressing concerns about organic import integrity by including provisions that strengthen the tracking, data collection, and investigation of organic product imports, including certain provisions in H.R. 3871 (Organic Farmer and Consumer Protection Act of 2017). It also amends the eligibility and consultation requirements of the National Organic Standards Board, among other changes. The law reauthorizes NOP appropriations above current levels while reauthorizing current funding for the Organic Production and Market Data Initiatives and for technology upgrades to improve tracking and verification of organic imports. It also expands mandatory funding for the National Organic Certification Cost Share Program.
The new law also includes a number of provisions that further facilitate the commercial cultivation, processing, and marketing of industrial hemp in the United States. These provisions were in the Senate-passed bill and contained within the Horticulture title as well as the Research, Crop Insurance, and Miscellaneous titles of the enacted farm bill. Many of these provisions originated from introduced versions of the Hemp Farming Act of 2018 (S. 2667; H.R. 5485). Chief among these provisions is an amendment to the Controlled Substances Act (21 U.S.C. 802(16)) to exclude hemp from the statutory definition of marijuana as redefined in the 2018 farm bill, provided it contains not more than a 0.3% concentration of delta-9 tetrahydrocannabinol—marijuana's primary psychoactive chemical. The law also creates a new hemp program under the Agricultural Marketing Act of 1946 (7 U.S.C. Section 1621 et seq.) establishing a regulatory framework for hemp production (under USDA's oversight), expands the statutory definition of hemp, and expands eligibility to produce hemp to a broader set of producers and groups, including tribes and territories. States or Indian tribes that seek primary regulatory authority over hemp production would be required to implement a "plan" to further monitor and regulate hemp production. States and tribal governments without USDA-approved plans would be subject to plans established by USDA to monitor and regulate hemp production. Without a license issued by USDA, it is unlawful to produce hemp in a state or tribal domain. Other provisions in the law's crop insurance title make hemp producers eligible to participate in federal crop insurance programs, while provisions in the Research title of the law make hemp production eligible for certain USDA research and development programs.
Crop Insurance34
The federal crop insurance program offers subsidized crop insurance policies to farmers. Farmers can purchase policies that pay indemnities when their yields or revenues fall below guaranteed levels. While the majority of federal crop insurance policies cover yield or revenue losses, the program also offers policies with other types of guarantees, such as index policies that trigger an indemnity payment based on weather conditions.
The Federal Crop Insurance Corporation (FCIC), a government corporation within USDA, pays part of the premium (about 63% on average in crop year 2017) while policy holders—farmers and ranchers—pay the balance. Private insurance companies, known as Approved Insurance Providers, deliver the policies in return for administrative and operating subsidies from FCIC. Approved Insurance Providers also share underwriting risk with FCIC through a mutually negotiated Standard Reinsurance Agreement. The USDA Risk Management Agency administers the federal crop insurance program.
The Crop Insurance title (Title XI) of the enacted 2018 farm bill (P.L. 115-334) makes several modifications to the existing federal crop insurance program (Table 15). CBO projects that the 2018 farm bill will decrease outlays for crop insurance relative to baseline levels by $104 million during the FY2019-FY2028 period. This projected reduction represents around 0.1% of projected crop insurance outlays over the same time period, during which outlays are projected to total about $78 billion.
Within the 2018 farm bill's Crop Insurance title, the section with the highest projected increase in outlays ($90 million increase over FY2019-FY2028, Section 11109) expands coverage for forage and grazing by authorizing catastrophic level coverage for insurance plans covering grazing crops and grasses It also allows producers to purchase separate crop insurance policies for crops that can be both grazed and mechanically harvested on the same acres during the same growing season and to receive independent indemnities for each intended use.
Two other sections of the 2018 farm bill have projected outlay increases compared with prior law. One modifies the FCIC board's research and development authority in several ways, including redefining beginning farmer or rancher as an individual having actively operated and managed a farm or ranch for less than 10 years, thus making these individuals eligible for federal subsidy benefits available for the purposes of research, development, and implementation of whole-farm insurance plans ($13 million increase over FY2019-FY2028, Section 11122). The other section that is projected to result in higher outlays authorizes FCIC to waive certain viability and marketability requirements in considering proposals from private submitters to develop a policy or pilot program relating to the production of hemp ($8 million increase over FY2019-FY2028, Section 11113).
The 2018 farm bill adds hemp to the definition of eligible crops for federal crop insurance subsidies (Sections 11101 and 11119) and also adds hemp to the list of crops whose policies may cover post-harvest losses (Section 11106). Most federal crop insurance policies do not cover post-harvest losses. Prior to the 2018 farm bill, coverage of post-harvest losses was limited to potatoes, sweet potatoes, and tobacco.
The section in the 2018 farm bill with the highest projected reduction in outlays ($125 million over FY2019-FY2028, Section 11110) raises the administrative fee for catastrophic level coverage from $300 to $655 per crop per county. Four other sections also scored projected reductions in outlays, according to CBO. These sections relate to consolidation and reduction of funding for certain research and development contracts and partnerships ($40 million over FY2019-FY2028, Section 11123); the expansion of enterprise units across county lines ($27 million over FY2019-FY2028, Section 11111); the reduction of funds available for review, compliance, and program integrity ($18 million over FY2019-FY2028, Section 11118); and modifications to how producer benefits are reduced when producing crops on native sod ($4 million over FY2019-FY2028, Section 11114).
Miscellaneous35
The Miscellaneous title (Title XII) of the Agriculture Improvement Act of 2018 covers a wide array of issues across six subtitles, including livestock, agriculture and food defense, historically underserved producers, Department of Agriculture Reorganization Act of 1994 Amendments, other miscellaneous provisions, and general provisions. The enacted provisions are organized by subtitle in Table 16. Those provisions that were located in the Miscellaneous titles of the House- and Senate-passed bills but were moved to other titles in the enacted bill, along with those provisions that were not enacted, are listed at the end of Table 16.
The livestock subtitle of the enacted 2018 farm bill establishes the National Animal Disease Preparedness Response Program (NADPRP) and the National Animal Vaccine and Veterinary Countermeasures Bank (NAVVCB), both under the National Animal Health Laboratory Network (NAHLN) in the Animal Health Protection Act (7 U.S.C. Section 8308a). The NADPRP is to address risks to U.S. livestock associated with the introduction of animal diseases and pests. The new law directs the NAVVCB to maintain significant quantities of vaccine and diagnostic products to respond to animal disease outbreaks. It also directs the NAVVCB is to prioritize foot-and-mouth disease. The act authorizes mandatory funding of $120 million for FY2019-FY2022 and $30 million for FY2023 and for each fiscal year thereafter. In addition, $30 million is authorized to be appropriated annually for FY2019-FY2023 for NAHLN, with as such sums as necessary appropriated for the NADPRP and NAVVCB.
Among other livestock provisions, the act authorizes appropriations for the Sheep Production and Marketing Grant Program; provides for a study on a livestock dealer statutory trust; adds llamas, alpacas, live fish, and crawfish to the list of covered animals under the Emergency Livestock Feed Assistance Act; calls for a report on the guidance and outreach USDA's Food Safety and Inspection Service provides to small meat processors; and establishes regional cattle and carcass grading centers.
Within the Agriculture and Food Defense subtitle of the enacted bill, the USDA Office of Homeland Security, as authorized in the 2008 farm bill (P.L. 110-246), is repealed and reestablished under the Department of Agriculture Reorganization Act of 1994 (7 U.S.C. Section 6901 et seq.). Under the new authorities, USDA is required to conduct Disease and Pest of Concern Response Planning, establish a National Plant Diagnostic Network to monitor threats to plant health, and establish a National Plant Disease Recovery System for long-term planning. The section also amends the criteria for considering the impact on research performance when biological agents or toxins are added to the Biological Agents and Toxins List.
The Historically Underserved Producers subtitle expands USDA activities for beginning, socially disadvantaged, and veteran farmers and ranchers. It prioritizes youth agricultural employment and volunteer programs and promotes the role of youth-serving organizations and school-based agricultural education programs. It also establishes a Tribal Advisory Committee to advise USDA on tribal and Indian affairs. The new law authorizes $50 million in discretionary funding for FY2019-FY2023 for the Farming Opportunities Training and Outreach program and provides mandatory funding for the program that increases from $30 million in FY2019 to $50 million in FY2023. The act also establishes within USDA an Office of Urban Agriculture and Innovative Production to promote urban, indoor, and emerging agricultural practices.
The 2018 farm bill includes conforming amendments that address USDA reorganizational changes that created the Under Secretary for Trade and Foreign Agricultural Affairs, the Under Secretary for Farm Production and Conservation, and the Assistant to the Secretary for Rural Development. For one, the act requires USDA to re-establish the position of Under Secretary of Agriculture for Rural Development that USDA abolished and replaced with an Assistant to the Secretary for Rural Development in its May 2017 reorganization. The new law amends the duties and provisions of the USDA Military Veterans Agricultural Liaison and the Office of Chief Scientist and creates a Rural Health Liaison. It further requires USDA to conduct a civil rights analysis on actions, policies, or decisions that may impact employees, contractors, or beneficiaries of USDA programs based on membership in a federally protected group.
The Other Miscellaneous Provisions and General Provisions subtitles contain 40 provisions that address a wide variety of issues. For example, the Protecting Animals with Shelter provision authorizes USDA—in consultation with the Departments of Justice, Housing and Urban Development, and Health and Human Services—to provide grants for emergency and transitional shelter for victims of domestic and dating violence, sexual assault, and stalking and their pets. Other animal-related provisions ban the slaughter of dogs and cats, impose a ban on animal fighting in U.S. territories, and require a report on the importation of dogs.
The enacted 2018 farm bill reauthorizes the Pima Cotton; the Wool Apparel Manufacturers; and the Wool Research, Development, and Promotion trust funds. It also establishes the Emergency Citrus Disease Research and Development Trust Fund to address invasive citrus diseases and pests. The act extends for 10 years the National Oilheat Research Alliance. It further establishes a Commission on Farm Transition to study issues affecting transitioning farms to the next generation and establishes a Century Farms program to recognize farms that have been owned by the same family and in operation for at least 100 years.
In addition, the enacted bill requires USDA to conduct and issue various studies and reports on a variety of topics, among which are food waste; the business centers of the Natural Resources Conservation Service, the Farm Service Agency, and the Risk Management Agency; the number of personnel in USDA agencies each year; the effect of absentee landlords; the level of funding that would allow the National Institute of Food and Agriculture to address evolving research and extension needs in rural and farming communities; an FDA food labeling regulation (81 Fed. Reg. 33742); and the impact of rice ratooning and post-disaster flooding on migratory birds.
The enacted 2018 farm bill directs USDA to restore exemptions for weighing and inspection services that were included in the United States Grain Standards Act (USGSA) in 2003 that were revoked when the USGSA was reauthorized in 2015. The act requires the U.S. Fish and Wildlife Service to clarify that the green sea urchin is exempt from the export permission requirements of the Endangered Species Act (16 U.S.C. Section 1538(d)(1) and its licensing regulations. The act also amends the Controlled Substance Act (21 U.S.C. Section 802(16)) to exclude industrial hemp from the statutory definition of marijuana.
Provisions of the 2018 Farm Bill by Title Compared with the House- and Senate-Passed Bills (

H.R. 2

) and with Prior Law