Introduction
Women and girls make up half of the world's population; however, in most countries, women are underrepresented in the political process at the national level. As this report shows, women currently hold 23.4% of legislative seats around the world, an increase from 11.8% of legislative seats in 1998 (see Figure 1). As of November 1, 2018, women held 50% or more of the legislative seats in three countries: Rwanda, Cuba, and Bolivia (see Table 3). At the executive level, 23 countries currently have an elected female head of state or government. Since 1960, about 110 women have been elected or appointed as head of the national government in approximately 70 countries.1
The participation and representation of women in elected government is generally considered healthy for their communities. As Heather Nauert, then-Acting Under Secretary for Public Diplomacy and Public Affairs, and State Department Spokesperson, stated in March 2018, "the low status of women and girls has vast political, economic, and social implications. It can limit the ability of communities to resolve conflict, countries to boost their economies, or regions to grow enough food."2
Supporting efforts to empower women, the 115th U.S. Congress enacted the Women, Peace, and Security Act of 2017 (P.L. 115-68) with the aim to increase the participation of women in conflict prevention and conflict resolution processes as a means to build more inclusive societies and to help stabilize countries and regions. This act expressed the sense of Congress that "the political participation, and leadership of women in fragile environments, particularly during democratic transitions, is critical to sustaining lasting democratic institutions."3 Past Congresses have appropriated funds for programs operated by the Department of State and the United States Agency for International Development (USAID) to establish governments that are representative and inclusive, as well as programs to empower women politically and economically.4
This report provides a global snapshot of women's political participation worldwide by compiling statistics and other information from a variety of sources, including The Global Gender Gap Report 2018 issued by the World Economic Forum, the Inter-Parliamentary Union, the International Institute for Democracy and Electoral Assistance, the CIA World Factbook, news reports, and other sources.
Voting Rights
The right to vote is a primary step toward involving a populace in the political decisions of a government. In many countries, voting rights were originally granted only to adult men who owned property, then were eventually expanded to include all adult male citizens regardless of property ownership, then women, and then other underrepresented groups. Definitions of what constituted a "citizen" may also have changed over time, even as they did in the United States, and gradually have become more inclusive of minorities and indigenous peoples. Other countries enacted universal suffrage from their very foundings, granting the right to vote to all adults, male and female, regardless of ethnicity, religion, economic standing, or other criterion.
Table 1 and Table 2, respectively, list the first and latest countries to extend the right and duty of voting to women. Although subnational regions (e.g., states, provinces) may have granted the right to vote earlier, the years in the tables below indicate when suffrage was extended for national elections to female adult citizens.
Legislative Representation
Women's suffrage has been closely linked to women's participation in legislative bodies. In 1907, the voters of Finland elected 19 women to the country's new unicameral parliament a year after Finnish women were granted suffrage; this was the first election in the world in which the names of both female and male candidates appeared on the ballot. On the other end of the spectrum, women voted and appeared on ballots in Saudi Arabia for the first time in 2015.
Gender Quotas
Several countries have instituted quotas to ensure that women are represented on the ballot or in the legislature. Similar quotas may also be used to ensure ethnic or religious diversity in the national legislature of some countries (e.g., Bosnia and Herzegovina, Iraq).
The Atlas of Electoral Gender Quotas explains that "[g]ender quotas are numerical targets that stipulate the number or percentage of women that must be included in a candidate list or the number of seats to be allocated to women in a legislature. They aim to reverse discrimination in law and practice and to level the playing field for women and men in politics." The Atlas further states that "gender quotas have proved to be the single most effective tool for 'fast-tracking' women's representation in elected bodies of government."5
Three main types of gender quotas are generally recognized, and they may be used at the national or subnational level, or both:
Legislated candidate quotas. These quotas are mandated through national constitutions or legislation to regulate the gender composition of the ballot.
Legislated "reserved seats." These quotas reserve a specific number or percentage of seats in the legislature for women members. The quotas are mandated through national constitutions or legislation and are implemented through special electoral procedures.
Party quotas (also known as voluntary party quotas). These quotas are adopted by individual political parties through the party's statutes and rules. Such adoption is the prerogative of each party, and some parties in a country may adopt quotas while other parties choose not to do so.
Table 3 shows the number of seats held by women in the national legislative chambers of selected countries. The countries listed include the 19 nation members of the G-20 (excluding the European Union) and the 12 countries that have legislative bodies with 40% or more of the seats held by women. Two members of the G-20—South Africa and Mexico—are included in the 12 countries with more than 40% women legislators.
Table 4 lists countries where women hold fewer than 8% of the legislative seats.
Over the years, the percentage of seats held by women in national parliaments has risen worldwide from 11.8% in January 1998 to 23.4% by January 2018 (see Figure 1).
Figure 1. Worldwide Percentage of Seats Held by Women in National Legislatures
1998-2018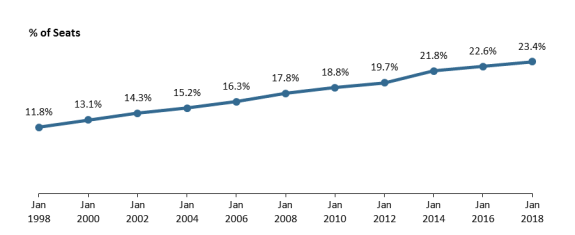 Source: Compiled by the Congressional Research Service using data from the Inter-Parliamentary Union available at http://archive.ipu.org/wmn-e/world-arc.htm.
As shown in Figure 2, the countries of the Americas, Europe (excluding the Nordic countries), and the Arab States increased the percentage of legislative seats held by women by 14.4% of seats or more from 1998 to 2018.
Figure 2. Regional Percentages of Seats Held by Women in National Legislatures
1998-2018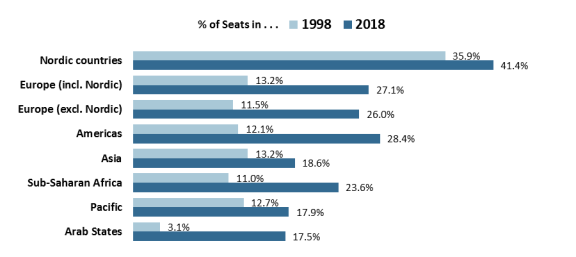 Source: Compiled by the Congressional Research Service using data from the Inter-Parliamentary Union, available at http://archive.ipu.org/wmn-e/world-arc.htm.
Executive Representation
At least 70 countries have chosen a woman as their executive since Sirima Bandaranaike of Sri Lanka was selected as the world's first female Prime Minister in 1960. Executives may be selected through various methods: directly elected from a ballot dedicated to the executive office; indirectly elected by the legislature; appointed, following legislative elections, as the leader of the majority political party or majority coalition; or through other indirect means.
Women Leaders in the 21st Century
Other women leaders in the 21st century include the following:
Khaleda Zia: Prime Minister of Bangladesh, 1991-1996 and 2001-2006.
Mireya Moscoso: President of Panama, 1999-2004.
Helen Clark: Prime Minister of New Zealand, 1999-2008. After leaving office, Clark became the Administrator of the United Nations Development Program.
Megawati Sukarnoputri: President of Indonesia, 2001-2004.
Gloria Macapagal Arroyo: President of the Philippines, 2001-2010.
Portia Simpson-Miller: Prime Minister of Jamaica, 2006-2007 and 2012-2016.
Michelle Bachelet: President of Chile, 2006-2010 and 2014-March 2018.
Ellen Johnson Sirleaf: President of Liberia, 2006-January 2018. Sirleaf was the first woman to be elected the head of state of an African country.
Cristina Fernandez De Kirchner: President of Argentina, 2007-2015.
Pratibha Patil: President of India, 2007-2012.
Yinglluck Shinawatra: Prime Minister to Thailand, 2011-2014. Shinawatra was forced to leave office after the constitutional court found her guilty of abusing her power.
Dilma Rousseff: President of Brazil, 2011-2016. Rousseff was the first woman elected as President of Brazil and was reelected in 2014. Over allegations of corruption, she was impeached and removed from office in August 2016.
Park Geun-hye: President of South Korea, 2013-2017, the first female President of the country. Park became the country's first democratically elected president to be impeached on grounds of corruption and removed from office.
Women Leaders of the 20th Century
Table 6 identifies several notable female executives in the 20th century.
Acknowledgements
Sandra Delaney, CRS summer intern, and Jennifer Roscoe, CRS research assistant, helped in gathering data and presenting key points.