Human Rights Developments in China1
Overview
Thirty years after the June 1989 Tiananmen Square crackdown, the Chinese Communist Party (CCP) remains firmly in power. People's Republic of China (PRC) leaders have maintained political control through a mix of repression and responsiveness to some public preferences, delivering economic prosperity to many citizens, co-opting the middle and educated classes, and stoking nationalism to bolster CCP legitimacy. The party has rejected reforms that it perceives might undermine its monopoly on power, and continues to respond forcefully to signs of autonomous social organization, independent political activity, or social instability. The party is particularly wary of unsanctioned collective activity among sensitive groups, such as religious congregations, ethnic minorities, industrial workers, political dissidents, and human rights defenders and activists. Technological advances have enhanced the government's ability to monitor the activities of these groups, particularly Tibetan Buddhists and Uyghur Muslims.
Some experts refer to the PRC model of governance as "responsive authoritarianism" or, in some aspects, "consultative authoritarianism."2 Despite the government's many repressive policies, some reports indicate that many PRC citizens may appreciate the government's focus on stability, are generally satisfied with the government's performance, and are optimistic about the future, although the depth of their support for the government is unclear.3 CCP General Secretary and State President Xi Jinping's anti-corruption campaign, in which over 1.5 million party members have been punished and which is viewed by many experts as partly a political purge, appears to have gained widespread popular support.4
For part of the leadership term of Hu Jintao, who served as CCP General Secretary and State President from 2002 to 2012, the party tolerated limited public criticism of state policies, relatively unfettered dissemination of news and exchange of opinion on social media on many social topics, and some investigative journalism and human rights advocacy around issues not seen as threatening to CCP control. After consolidating power in 2013, Xi Jinping intensified and expanded the reassertion of party control over society that began during the final years of Hu's term, and strengthened his own control over the party. In high-profile speeches, Xi has repeated the maxim, "The party exercises overall leadership over all areas of endeavor in every part of the country."5 In 2018, Xi backed a constitutional amendment removing the previous limit of two five-year-terms for the presidency, clearing the way for him potentially to stay in power indefinitely. Xi also has cultivated what some observers view as a cult of personality, launching far-reaching campaigns for Chinese citizens, beginning with pre-school, to study his political philosophy. Some analysts argue that Xi's efforts to bolster the party and his leadership reflect a heightened sense of insecurity rather than confidence in the CCP's ability to address internal and external threats, and that he and his supporters among the party elite have responded by choosing to "clamp down and not loosen up."6
New Laws and Policies
Since Xi's rise to power, the PRC government has introduced laws and policies that enhance the legal authority of the party and state to counteract potential ideological, political, and human rights challenges. In 2013, the CCP issued a directive (Document No. 9) that identified seven "false ideological trends, positions, and activities," largely aimed at reining in the media and liberal academics.7 In 2015, the government launched a crackdown on over 250 human rights lawyers and activists, detaining many of them and convicting over a dozen of them of "disturbing social order," subversion, and other crimes.8 PRC authorities targeted, in particular, legal staff of the Fengrui Law Firm in Beijing, which had taken on high profile human rights cases, and revoked the firm's business license in 2018.9 The government has also placed greater constraints upon environmental activism, which has been a relatively vibrant area of civil society, viewing it as a threat to social stability.10
Since 2015, the government has enacted new laws that place further restrictions on civil society in the name of national security, authorize greater control over minority and religious groups, particularly Uyghur Muslims, and reduce the autonomy of citizens. A law regulating foreign non-governmental organizations (NGOs), which took effect in 2017, places such NGOs under the jurisdiction of the Ministry of Public Security, tightens their registration requirements, and imposes greater controls on their activities, funding, and staffing.11 Some international NGOs that specialize in rule of law, rights advocacy, and labor rights have suspended their work in China.12
A new Cybersecurity Law, which went into effect in 2017, codifies broad governmental powers to control and restrict online traffic, including for the purposes of protecting social order and national security. The law also places a greater legal burden upon private internet service providers to monitor content and assist public security organs.13 A new National Intelligence Law, also enacted in 2017, obliges individuals, organizations, and institutions to assist and cooperate with state intelligence efforts.14
In 2016, President Xi launched a policy known as "Sinicization," through which the government has taken measures to further compel China's religious practitioners and ethnic minorities to conform to Chinese culture, the socialist system, and Communist Party policies.15 Many analysts view this strategy as the CCP's response to what it perceives as excessive feelings of separateness and divided loyalties among some religious and ethnic groups. In April 2016, Xi presided over a conference on national religious affairs, the first Chinese president in over ten years to do so. He emphasized that the "legitimate rights of religious peoples must be protected," but also stated, "We must resolutely guard against overseas infiltrations via religious means.... "16 At the 19th Party Congress in October 2017, Xi emphasized, "We will fully implement the Party's basic policy on religious affairs, uphold the principle that religions in China must be Chinese in orientation, and provide active guidance to religions so that they can adapt themselves to socialist society."17 The Revised Regulations on Religious Affairs, which took effect in February 2018, place an emphasis on religious and social harmony and the prevention of religious extremism and terrorism.18
Freedom of Speech
The PRC Constitution provides for many civil and political rights, including, in Article 35, the freedoms of speech, press, assembly, association, and demonstration, and in Article 36, "freedom of religious belief."19 Other provisions in China's constitution and laws, however, circumscribe or condition these freedoms, and the state routinely restricts these freedoms in practice. Under Xi's leadership, the government has further closed the space for free speech and silenced independent journalists. Authorities have used criminal prosecution, civil lawsuits, and other forms of harassment and punishment to intimidate and silence journalists and authors.20
Since 2013, China has dropped three places, from 173 to 177 (out of 180 countries), on Reporters Without Borders' World Press Freedom Index.21 The recent clampdown includes not only political speech but also "vulgar, immoral, and unhealthy" content.22 More than 60 journalists and bloggers currently are detained in China.23 In July 2019, a court in Sichuan province sentenced dissident Huang Qi to 12 years in prison for "providing state secrets to foreign entities." In 1998, Huang had created "64 Tianwang," a website that reported on sensitive topics, including government corruption and human rights violations.24
The PRC government, which operates one of the most extensive and sophisticated internet censorship systems in the world, blocks access to over 20% of the world's most trafficked websites, according to one source.25 Xi also has attempted to place greater controls on the use of censorship circumvention tools, such as virtual private networks (VPNs). Although the government often tolerates the use of VPNs for some purposes, such as academic research and international business, it sometimes punishes people for providing VPN services without authorization or for using VPNs to disseminate sensitive information.26 The use of VPNs is not widespread, either due to a lack of interest or to inconveniences such as slower browsing speeds.27
New Surveillance Technologies
PRC methods of social and political control are evolving to include the widespread use of sophisticated surveillance and big data technologies. Human rights groups and the U.S. Department of State argue that these methods, which have not yet been fully deployed nationally, violate rights to privacy, "mental autonomy," and the presumption of innocence, and are used to restrict freedoms of movement, association, and religion.28 Chinese authorities and companies have installed ubiquitous surveillance cameras, as well as facial, voice, iris, and gait recognition equipment, ostensibly to reduce crime, but likely also to track the movements of ethnic Tibetans and Uyghurs (also spelled "Uighurs") and critics of the regime.29 In Xinjiang, police and officials reportedly are collecting massive amounts of data and entering it into an "Integrated Joint Operations Platform" (IJOP). The IJOP reportedly flags individuals who exhibit behaviors that authorities view as deviating from the norm or potentially threatening to social stability. Many forms of lawful, peaceful, daily activities may be viewed suspiciously by authorities through the use of this law enforcement tool.30
The government is developing a "social credit system" that would not only rate individuals' credit worthiness but also how well they abide by rules and regulations. It involves aggregating data on individuals and "creating measures to incentivize 'trustworthy' conduct, and penalize untrustworthy' conduct."33 Citizens deemed untrustworthy may be banned from making purchases for travel, prevented from applying for certain types of jobs, or denied educational opportunities for their children. Examples of untrustworthy behavior include traffic violations, smoking in prohibited areas, making repeated purchases that indicate poor character, and posting untruthful news online.34
Labor Rights and Student Activism
The PRC government, which generally restricts the operations of independent labor groups, has been carrying out a year-long suppression campaign against labor activism in Guangdong province, a center for export-oriented manufacturing, and elsewhere. Authorities have harassed, detained, and arrested labor organizers and activists, labor NGOs, social workers, and journalists who attempted to provide support to workers, and students and recent graduates from around the country who advocated for their rights. Workers have protested low pay, unsafe or unhealthy working conditions, and other violations of the China's Labor Law.35 Over 50 labor activists are in custody or their whereabouts are unknown.36 In July 2018, workers at Jasic Technology Corporation in Shenzhen attempted to form their own union and went on strike to protest the dismissal of labor organizers.37 Other labor unrest during this time related to fair wages and the safety and health of working conditions.38
Since August 2018, authorities in Beijing have attempted to silence student labor activists at Peking University in Beijing, one of the country's most prestigious institutions of higher learning. At least 21 members of the university's Marxist Society have been placed under house arrest or have disappeared, and many others have been interrogated or surveilled. Although the students are not agitating for Western-style democracy, the CCP appears to fear that the movement could help workers to independently organize and stage protests at a time when labor demonstrations are rising across the country, or ignite other forms of social activism. The government appears particularly sensitive to student movements originating in China's most elite university, a traditional incubator of political activism.39
China, Global Human Rights, and the United Nations
In part to defend and promote acceptance of its own principles of human rights, on the global stage, China has rejected notions of universal human rights, supported principles of non-intervention, and emphasized economic development over the protection of individual civil and political rights. A member of the United Nations Human Rights Council (UNHRC) most recently in 2017-2019,40 China sponsored its first ever UNHRC resolutions in 2017 and 2018, both of which passed, emphasizing national sovereignty, calling for "quiet dialogue" and cooperation rather than investigations and international calls for action, and advocating for the Chinese model of state-led development.41 In July 2019, China sponsored a UNHRC resolution, which was adopted by a vote of 33 to 13, reaffirming the "contribution of development to the enjoyment of human all rights."42 In a speech given on global Human Rights Day in 2018, President Xi provided his perspective on "people-centered human rights," including a "path of human rights development with Chinese characteristics in line with its own conditions" and emphasizing the "right to subsistence and development as primary basic human rights."43
Religious and Ethnic Minority Policies
According to Freedom House, the extent of allowed religious freedom and activity among China's estimated 350 million religious practitioners varies widely by religion, region, and ethnic group, depending on "the level of perceived threat or benefit to [Communist] party interests, as well as the discretion of local officials."44 The party's Sinicization policy and the 2018 amendments to the government's Regulations on Religious Affairs have affected all religions to varying degrees.45 New policies further restrict religious travel to foreign countries and contacts with foreign religious organizations and tighten bans on religious practice among party members and state employees and the religious education of minors.46 Religious venues are required to raise the national flag and teach traditional Chinese culture and "core socialist values," and online religious activities now need approval by the provincial Religious Affairs Bureau.47
Christians
Christianity is the second-largest religion in China after Buddhism, and is growing steadily.48 Between an estimated 70 million and 90 million Chinese Christians worship in both officially-registered and unregistered churches. China's Sinicization campaign has intensified government efforts to pressure churches that are not formally approved by the government, and hundreds reportedly have been shut down in recent years.49 Since 2014, authorities have ordered crosses removed from nearly 4,000 churches, particularly in Zhejiang and Henan provinces, where there are large and growing Christian populations.50 The U.S. Commission on International Religious Freedom reported that roughly 1,000 church leaders were detained for brief periods in 2018.51 In Nanjing, municipal authorities launched a five-year Sinicization campaign that the U.S. Department of State characterized as aiming to incorporate "Chinese elements into church worship services, hymns and songs, clergy attire, and the architectural style of church buildings." 52 (See Figure 1)
In September 2018, the PRC government and the Vatican, which have disagreed over the appointment of bishops, religious freedom, and the Vatican's diplomatic ties with Taiwan, reached a breakthrough in negotiations on diplomatic relations. According to a 2018 provisional agreement, Beijing is to recognize the Pope as the head of the Catholic Church in China, the Vatican is to recognize seven excommunicated Chinese bishops appointed by PRC authorities, and China is to appoint future bishops, while the Pope has veto power over their nomination.53 Some observers have criticized the possible arrangement, which they believe would strengthen state control over Catholics in China.54 In June 2019, the Vatican asked the PRC government to refrain from harassing Catholic clergy who want to remain loyal to the Pope rather than pledge allegiance to the Chinese Patriotic Catholic Association, the official organization that governs Catholics in China.55
Falun Gong
Falun Gong combines traditional Chinese exercise movements with Buddhist and Daoist concepts and precepts formulated by its founder, Li Hongzhi.56 In the mid-1990s, the spiritual exercise gained tens of millions of adherents across China, including members of the Communist Party.57 Authorities have harshly suppressed Falun Gong beginning in 1999 after thousands of adherents gathered in Beijing to protest growing restrictions on their activities. Hundreds of thousands of practitioners who refused to renounce Falun Gong were sent to Re-education through Labor (RTL) centers until they were deemed "transformed."58
Since the formal dismantling of the RTL penal system in 2014, many Falun Gong detainees reportedly have been sent to "Legal Education Centers" to undergo indoctrination, or to mental health facilities. Overseas Falun Gong groups reported that in 2018, authorities arrested or harassed approximately 9,000 Falun Gong practitioners for refusing to renounce the spiritual exercise.59 In November 2018, judiciary officials in Changsha, Hunan province suspended the licenses of two lawyers for six months for arguing that Falun Gong was not an illegal cult and for engaging in speech that "disrupted courtroom order."60 Falun Gong overseas organizations claim that over 4,300 adherents have died in government custody since 1999.61
Some reports allege that Falun Gong practitioners held in detention facilities in China were victims of illegal organ harvesting—the unlawful, large-scale, systematic, and nonconsensual removal of body organs for transplantation—while they were still alive, resulting in their deaths. The claims of organ harvesting from Falun Gong detainees are based largely upon circumstantial evidence and interviews.62 China reportedly has made efforts to reform its organ-transplant system, to outlaw organ trafficking and the use of organs from executed prisoners, create a national organ registry, and encourage voluntary donations.63 Overseas Falun Gong organizations claim that the practice of organ harvesting continues.64
Tibetans
The Tibetan Autonomous Region (TAR) is home to about 2.7 million Tibetans out of China's total ethnic Tibetan population of 6 million. Most of China's remaining ethnic Tibetan population lives in Tibetan autonomous prefectures and counties in bordering provinces.65 Although some Tibetans advocate independence, the Dalai Lama, the Tibetan Buddhist spiritual leader who has lived with other Tibetan exiles in Dharamsala, India since a failed Tibetan uprising against Chinese rule in 1959, has proposed a "middle way approach," or "genuine autonomy" without independence in Tibet.66 China's leaders have referred to the middle way as "half independence" or "independence in disguise" and to the Dalai Lama as a "separatist" and a "wolf in monk's robes."67 Talks between PRC officials and representatives of the Dalai Lama on issues related to Tibetan autonomy and the return of the Dalai Lama have been stalled since 2010.
Following anti-government protests in 2008, TAR authorities imposed increasingly expansive controls on Tibetan religious life and culture. These include a heightened police presence within monasteries; the ideological re-education of Tibetan Buddhist monks and nuns; the arbitrary detention and imprisonment of Tibetans; strengthened media controls; and greater restrictions on the use of the Tibetan language in schools.68 Authorities in some Tibetan areas, in an effort to prevent "separatist" thoughts and activities, have inspected private homes for pictures of the Dalai Lama, examined cell phones for Tibetan religious and cultural content, and monitored online posts for political speech.69
Since 2016, authorities have destroyed religious structures and homes at the Larung Gar and Yanchen Gar monasteries in Sichuan Province, and evicted roughly 11,500 monks and nuns.70 The PRC government insists that Chinese laws, and not Tibetan Buddhist religious traditions, govern the process by which lineages of Tibetan lamas are reincarnated, and that the state has the right to choose the successor to the current Dalai Lama.71 U.S. officials and some Members of Congress have expressed support for the right of Tibetans to choose their own religious leaders without government interference.72 Since 2009, 155 Tibetans within China are known to have self-immolated, many apparently to protest PRC policies or to call for the return of the Dalai Lama, and 123 are reported to have died.73
Uyghurs
The Uyghurs are a Turkic ethnic group who practice a moderate form of Sunni Islam and live primarily in the Xinjiang Uyghur Autonomous Region (XUAR).74 In the past decade, PRC authorities have imposed severe restrictions on the religious and cultural activities of Uyghurs. Ethnic unrest in Xinjiang erupted in 2009, featuring Uyghur violence against Han Chinese and government reprisals.75 Subsequent periodic clashes between Uyghurs and Xinjiang security personnel spiked between 2013 and 2015, and PRC leaders responded with more intensive security measures, including thousands of arrests.76
Following the 2016 appointment of a new Communist Party Secretary to the XUAR, Chen Quanguo,77 and the implementation of new national security and counterterrorism laws and regulations on religious practice, Xinjiang officials stepped up security measures aimed at the Uyghur population.78 They included tighter restrictions on movement, the installation of thousands of neighborhood police kiosks, and ubiquitous surveillance cameras.79 Authorities reportedly have collected biometric data, including DNA samples, blood types, and fingerprints of Uyghur residents, for identification purposes.80 XUAR authorities also have implemented systems and installed phone apps to register and monitor Uyghurs' electronic devices and online activity for "extremist" content.81
The PRC government has instituted policies intended to assimilate Uyghurs into Han Chinese society and reduce the influences of Uyghur, Islamic, and Arabic cultures and languages. The XUAR enacted a regulation in 2017 that prohibits "expressions of extremification," including wearing face veils, growing "irregular" beards, and expanding halal practices beyond food.82 Authorities reportedly have banned traditional Uyghur wedding and funeral customs and Islamic names for children.83 Thousands of mosques in Xinjiang reportedly have been demolished as part of a "mosque rectification" or safety campaign.84 PRC authorities reportedly have conscripted as many as a million citizens to live temporarily in the homes of Uyghurs and other Muslim minorities to assess their hosts' loyalty to the Communist Party.85
Mass Internment of Uyghurs
Since 2017, Xinjiang authorities have undertaken the mass internment of Turkic Muslims, some of whom may have engaged in religious and ethnic cultural practices that the government now perceives as extremist or terrorist, or as manifesting "strongly religious" views or thoughts that could lead to the spread of religious extremism or terrorism.86 The government has detained, without formal charges, up to an estimated 1.5 million Uyghurs out of a population of about 10.5 million, and a smaller number of ethnic Kazakhs, in ideological re-education centers.87 Over 400 prominent Uyghur intellectuals reportedly have been detained or their whereabouts are unknown.88 Many detainees reportedly are forced to express their love of the Communist Party and Xi Jinping, sing patriotic songs, and renounce or reject many of their religious beliefs and customs.89 According to former detainees, conditions in the centers are often crowded and unsanitary, and treatment often includes psychological pressure, forced labor, beatings, and food deprivation.90
PRC officials describe the Xinjiang camps as "vocational education and training centers" in which "trainees" study Chinese, take courses on PRC law, learn job skills, and undergo "de-extremization" or are "cured of ideological infection."91 The government states that the centers "have never made any attempts to have the trainees change their religious beliefs."92 In July 2019, some Chinese officials claimed that most detainees had "returned to society" and to their families, while in August 2019, other officials stated that the "only 500,000 Uyghurs" were held in 68 camps.93 Some Uyghurs living abroad, however, claim that they still have not heard from missing relatives in Xinjiang.94 Some reports indicate that many of those released from re-education centers have been placed under house arrest or in state-run factories, and continue to be held under close political supervision.95
Hui Muslims
The Hui, another Muslim minority group in China who number around 11 million, largely have practiced their faith with less government interference.96 The Hui are more geographically dispersed and culturally assimilated than the Uyghurs, are generally physically indistinguishable from Hans, and do not speak a non-Chinese language. China's new religious policies have affected the Hui and other Muslims outside of Xinjiang, but less severely than the Uyghurs. Nonetheless, authorities in the Ningxia Hui Autonomous Region have ordered mosques to be "Sinicized"—minarets have been taken down, onion domes have been replaced by traditional Chinese roofs, and Islamic motifs and Arabic writings have been removed. Officials have cancelled Arabic classes in some mosques and private schools, and calls to prayer have been banned in Yinchuan, the capital of Ningxia. In Beijing, authorities have mandated that Arabic signage over Halal food shops be removed.97
In August 2018, thousands of Hui Muslims gathered in front of a newly-built mosque in Weizhou, Ningxia, in an attempt to block the government's announced demolition of the building due in part to its Middle Eastern architectural style. While the government backed down on its threat to destroy the mosque, PRC anticorruption investigators have begun investigating local Hui officials who they say have "strayed from the party's leadership and political discipline in religious matters."98
Figure 1. Map of China: Selected Places of Notable Reported Human Rights Abuses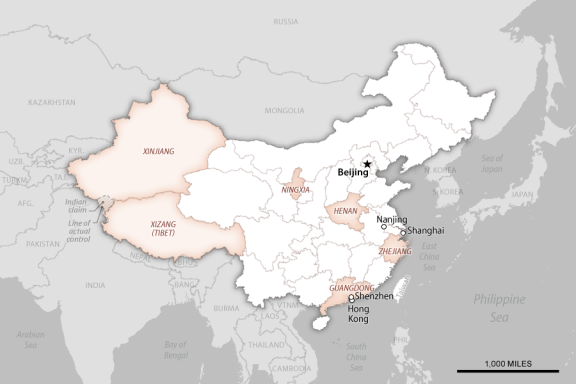 Source: Created by CRS. Map information from U.S. Department of State and Esri 2018 Data and Maps.
Notes: This map highlights places discussed in this report.
U.S. Efforts to Advance Human Rights in China
Human Rights and U.S.-China Relations
Human rights conditions in the PRC have been a recurring point of friction and source of mutual mistrust in U.S.-China relations, particularly since the Tiananmen Square crackdown in 1989 and the end of the Cold War in 1991. China's persistent human rights violations, as well as its authoritarian political system, often have caused U.S. policymakers and/or the American public to view the PRC government with greater suspicion. Chinese officials may in turn view expressed human rights concerns by U.S. policymakers, and the broader U.S. democracy promotion agenda, as tools meant to undermine CCP rule and slow China's rise.99 Frictions over human rights may affect other issues in the relationship, including those related to economics and security. In engaging China on human rights issues, the United States has often focused on China's inability or unwillingness to respect universal civil and political rights, while China prefers to tout its progress in delivering economic development and well-being, and advancing social rights for its people, including ethnic minorities.100
U.S. Policy Evolution
In the period following the 1989 Tiananmen Square crackdown, the United States sought to leverage China's desire for "most favored nation" (MFN) trade status by linking its annual renewal to improvements in human rights conditions in China.101 The Clinton Administration ultimately abandoned this direct linkage, however, in favor of a general policy of engagement with China that it hoped would contribute to improved respect for human rights and greater political freedoms for the Chinese people.102 President Bill Clinton, in his 1999 State of the Union Address, summed up the long-term aspirations of this approach, stating, "It's important not to isolate China. The more we bring China into the world, the more the world will bring change and freedom to China."103 In the following more than two decades, U.S. Administrations and Congresses employed broadly similar strategies for promoting human rights in China, combining efforts to deepen trade and other forms of engagement to help create conditions for positive change, on the one hand, with specific human rights promotion efforts, on the other.104 Presidents Bill Clinton, George W. Bush, and Barack Obama held that U.S. engagement with China and encouraging China to respect international norms, including on human rights, would result in mutual benefits, including China's own success and stability.105
Policy tools for promoting human rights have included open censure of China; quiet diplomacy, such as closed-door discussions; congressional investigations, hearings, legislation, statements, letters, and visits; funding for human rights and democracy foreign assistance programs in the PRC; congressionally-mandated reports on human rights in China; support for human rights defenders and pro-democracy groups in China, Hong Kong, and the United States; economic sanctions; efforts to promote Internet freedom; support for international broadcasting; and coordination of international pressure, including through multilateral organizations. In addition, some U.S. officials and Members of Congress have regularly met with Chinese dissidents and with the Dalai Lama and exiled Tibetan officials, in both Washington, D.C. and Dharamsala, India, where the headquarters of the Central Tibetan Administration (sometimes referred to as the Tibetan government-in-exile) is located.106 Beijing opposes such meetings as encouraging Tibetan independence and contravening the U.S. policy that Tibet is part of China.107
Trump Administration Policy
In recent years, policy analysts have increasingly debated the effectiveness of aspects of the U.S. engagement strategy with China, including, in light of China's deepening domestic political repression, its results in securing improvements in Beijing's respect for human rights and political freedoms.108 Under President Trump, U.S. policy documents have declared that China's international integration has not liberalized its political or economic system, and the United States has begun to place less emphasis on engagement.109 The Trump Administration has referred to China as a "revisionist power," a strategic competitor, or even an adversary, and curtailed some government-to-government cooperation.110 Some critics of the Administration's China policy argue that U.S. effectiveness and credibility on human rights is strengthened when the United States works with allies and within international organizations to promote human rights and democracy globally and in China, while maintaining openness to engaging China's government and society, where appropriate.111
A U.S. policy approach that is less concerned with maintaining broad engagement with China may afford greater space and opportunity to push the PRC on human rights concerns. Trump Administration efforts in this area arguably have been uneven to date, with some commentators criticizing the Administration for inconsistency in its commitment to human rights issues as it pursues other priorities with China, particularly on trade.112 More broadly, the Administration has placed less emphasis on existing multilateral institutions and on multilateral diplomacy in its foreign policy, including with regard to human rights.113
The forcefulness of the Administration's public rhetoric on PRC human rights issues has differed between the President and some senior Administration officials. Since 2018, some Administration officials have used increasingly sharp language on China's human rights abuses. Vice President Mike Pence's October 2018 speech on the Administration's China policy, which was critical of China across a broad set of policy areas, cited concern over China's "control and repression of its own people" and referenced "an unparalleled surveillance state."114 At the announcement of the Department of State's 2019 release of its annual report on human rights practices around the world, Secretary of State Michael Pompeo stated that China was in a "league of its own" in the area of human rights violations.115 In July 2019, Pompeo described the situation in Xinjiang in particular as "one of the worst human rights crises of our time," and "the stain of the century."116
President Trump generally has not publicly raised the issue of human rights in China and reportedly remains focused largely on trade issues.117 In July 2019, President Trump met with survivors of religious persecution around the world, including four individuals from China: a Uyghur Muslim, a Tibetan Buddhist, a Christian, and a Falun Gong practitioner.118 In September 2019 at a United Nations event on religious freedom, the President issued a broad statement calling for an end to religious persecution, but did not mention religious freedom issues in China specifically; his later remarks to the U.N. General Assembly, as they related to China, emphasized trade issues.119
The Trump Administration has not attempted to restart the U.S.-China Human Rights Dialogue, which Beijing suspended in 2016.120 Many other operative elements of U.S. human rights policy toward China, however, reflect continuity with prior administrations; many are statutorily mandated and/or continue to be funded by Congress (as described below). The State Department's most recent "integrated country strategy" for China, released in August 2018, includes an objective to "advocate for and urge China to adhere to the rule of law, respect the individual rights and dignity of all its citizens, and ease restrictions on the free flow of information and ideas to advance civil society."121
Policy Options and Tools
Human Rights and Democracy Foreign Assistance Programs
Since 2001, U.S. foreign assistance programs have sought to promote human rights, civil society, democracy, rule of law, and Internet freedom in China. In addition, some programs also have addressed environmental and rule of law issues and focused upon sustainable development, environmental conservation, and preservation of indigenous culture in Tibetan areas of China. U.S.-funded programs do not provide assistance to PRC government entities or directly to Chinese non-governmental organizations (NGOs), and are predominantly awarded in the form of grants to U.S.-based NGOs and academic institutions.
Figure 2. U.S. Human Rights, Democracy, and Tibetan Assistance Programs in China (Department of State and USAID), FY2013-FY2018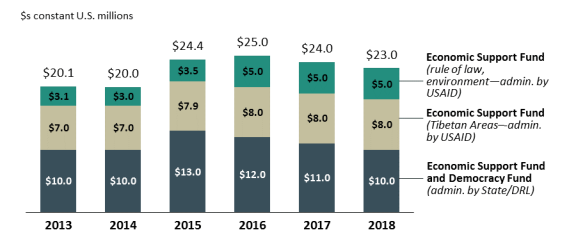 Source: Created by CRS. Data from U.S. Department of State.
Notes: USAID refers to the United States Agency for International Development; DRL refers to the State Department's Bureau of Democracy, Human Rights, and Labor. FY2018 numbers are estimated. This chart does not include all past and present U.S.-funded programs in China. Other recent U.S. assistance activities in China include HIV/AIDS prevention, care and treatment, criminal justice, and Peace Corps.
The State Department's Bureau of Democracy, Human Rights, and Labor (DRL) has generally administered programs to promote human rights and democracy in China, while the U.S. Agency for International Development (USAID) has administered the aforementioned programs in Tibet and some additional programs in the areas of the environment and rule of law.122 DRL programs across China have generally supported rule of law development, civil society, labor rights, religious freedom, government transparency, public participation in government, and Internet freedom.123 Between 2001 and 2018, the U.S. government provided approximately $241 million for DRL programs in China, $99 million for Tibetan programs, and $72 million for environmental and rule of law efforts in the PRC (see Figure 2 above). Since 2015, Congress has appropriated additional funds for Tibetan communities in India and Nepal ($6 million in FY2019). Since 2018, Congress also has provided $3 million annually to strengthen institutions and governance in the Tibetan exile communities.124
National Endowment for Democracy Grants
Established in 1983, the National Endowment for Democracy (NED) is a private, nonprofit foundation "dedicated to the growth and strengthening of democratic institutions around the world."125 Funded primarily by an annual congressional appropriation, NED has played an active role in promoting human rights and democracy in China since the mid-1980s.
A grant-making institution, NED has supported projects in China carried out by grantees that include its four affiliated organizations;126 Chinese, Tibetan, and Uyghur human rights and democracy groups and media platforms based in the United States and Hong Kong; and a small number of NGOs based in mainland China. Program areas have included efforts related to prisoners of conscience; rights defenders; freedom of expression; civil society; the rule of law; public interest law; Internet freedom; religious freedom; promoting understanding of Tibetan, Uyghur, and other ethnic concerns in China; government accountability and transparency; political participation; labor rights; public policy analysis and debate; and rural land rights, among others.
NED currently describes China as a priority country in Asia in light of the "significant and systemic challenges to democratization" there.127 NED grants for China (including Tibet and Hong Kong) totaled approximately $7 million in 2017 and $6.5 million in 2018. This support is provided using NED's regular congressional appropriations.
International Broadcasting
The U.S. Agency for Global Media (USAGM; formerly the Broadcasting Board of Governors) utilizes international broadcasting and media activities to "advance the broad foreign policy priorities of the United States, including the universal values of freedom and democracy."128 It targets resources to areas "most impacted by state-sponsored disinformation" (as well as by violent extremism), and identifies people in China as a key audience.129 USAGM-supported Voice of America (VOA) and Radio Free Asia (RFA) provide external sources of independent or alternative news and opinion to Chinese audiences. The two media services play small but unique roles in providing U.S.-style broadcasting, journalism, and public debate in China. VOA, which offers mainly U.S. and international news, and RFA, which serves as an uncensored source of domestic Chinese news, often report on important world and local events, including human rights issues.
The PRC government regularly jams and blocks VOA and RFA Mandarin, Cantonese, Tibetan, and Uyghur language radio and television broadcasts and Internet sites, while VOA English services generally receive less interference. VOA and RFA have made efforts to enhance their Internet services, develop circumvention or counter-censorship technologies, and provide access to their programs on social media platforms. USAGM increasingly emphasizes digital and social media content in China, arguing that these are "effective channels for information-seeking people to evade government firewalls." The agency describes RFA Uyghur as the "only Uyghur language news outlet for the Xinjiang Uyghur Autonomous Region," and states that the outlet's social media content is popular among the Uyghur exile community, which shares the content with Uyghurs in Xinjiang.130
Sanctions
China is subject to some U.S. economic sanctions in response to its human rights conditions. The sanctions' effects have been limited, however, and arguably largely symbolic. Many sanctions imposed on China as a response to the 1989 Tiananmen crackdown (including restrictions on foreign aid, military and government exchanges, and export licenses) are no longer in effect.131 Remaining Tiananmen-related sanctions suspend Overseas Private Investment Corporation programs and restrict export licenses for U.S. Munitions List (USML) items and crime control equipment.132
The United States also limits its support for international financial institution (IFI) lending to China for human rights reasons.133 For example, U.S. representatives to IFIs may by law support projects in Tibet only if they do not encourage the migration and settlement of non-Tibetans into Tibet or the transfer of Tibetan-owned properties to non-Tibetans, due in part to the potential for such activities to erode Tibetan culture and identity.134 Relatedly, China also has been subject to potential nonhumanitarian and nontrade-related foreign assistance restrictions as a result of its State Department designation as a "Tier 3" (worst) country for combating human trafficking in recent years.135
Sanctions on Individuals
The Global Magnitsky Human Rights Accountability Act, enacted as part of the National Defense Authorization Act for FY2017 (P.L. 114-328, Subtitle F, Title XII), authorizes the President to impose both economic sanctions and visa denials or revocations against foreign individuals responsible for "gross violations of internationally recognized human rights."136 The Trump Administration has thus far sanctioned one Chinese security official, Gao Yan, pursuant to the Global Magnitsky Act. According to the Treasury Department, Gao headed the Public Security Bureau branch in Beijing at which human rights activist Cao Shunli was held and denied medical treatment; Cao died in March 2014.137 The executive branch may also utilize Section 7031(c) of the Department of State, Foreign Operations, and Related Appropriations Act, 2019 (Division F of P.L. 116-6) or the broad authorities under Section 212 of the Immigration and Nationality Act (INA) to impose visa sanctions on individuals responsible for human rights abuses.138
Numerous human rights advocates and Members of Congress have called on the Trump Administration to sanction Chinese government officials responsible for the human rights abuses occurring in Xinjiang; many have argued for Global Magnitsky sanctions against XUAR Party Secretary Chen Quanguo, in particular.139 Press reports suggest the Trump Administration has been considering sanctions under the Global Magnitsky Act against Xinjiang officials, but has delayed actions in the midst of the U.S.-China bilateral trade negotiations.140 In October 2019, the State Department announced visa restrictions against an unspecified number of "Chinese government and Communist Party officials who are believed to be responsible for, or complicit in, the detention or abuse of Uighurs, Kazakhs, or other members of Muslim minority groups" in Xinjiang, and stated that the officials' family members may also be subject to visa restrictions.141
Designations and Actions Pursuant to the International Religious Freedom Act
The International Religious Freedom Act of 1998 (IRFA, P.L. 105-292) mandates that the President produce an annual report on the status of religious freedom in countries around the world and identify "countries of particular concern" (CPCs) for "particularly severe violations of religious freedom," and prescribes punitive actions in response to such violations. The law provides a menu of potential sanctions against CPCs, such as foreign assistance restrictions or loan prohibitions, but provides the executive branch with significant discretion in determining which, if any, actions to take.142
U.S. reports under IRFA have been consistently critical of China's religious freedom conditions, and the U.S. government has designated China as a CPC in each of its annual designation announcements since IRFA's enactment. Consistent with prior administrations, the Trump Administration has to date chosen not to take new actions against the Chinese government pursuant to IRFA and instead referred to existing, ongoing sanctions to satisfy the law's requirements.143 These existing sanctions relate to the above-mentioned restrictions on exports of crime control and detection equipment adopted following the Tiananmen crackdown.
Visa Sanctions Pursuant to the Reciprocal Access to Tibet Act
The Reciprocal Access to Tibet Act (RATA, P.L. 115-330), enacted in December 2018, requires that, absent a waiver by the Secretary of State, no individual determined to be "substantially involved in the formulation or execution of policies related to access for foreigners to Tibetan areas" may receive a visa or be admitted to the United States while PRC policies restricting foreigners' access to Tibetan areas of China remain in place. The State Department is to report to Congress annually for five years following RATA's enactment, identifying the individuals who had visas denied or revoked pursuant to the law, and, "to the extent practicable," provide a broader list of the "substantially involved" individuals.144
Export Controls
On October 7, 2019, the U.S. Department of Commerce announced that it would add 28 PRC entities to the Bureau of Industry and Security (BIS) "entity list" under the Export Administration Regulations (EAR), asserting that the entities "have been implicated in human rights violations and abuses in the implementation of China's campaign of repression, mass arbitrary detention, and high-technology surveillance against Uighurs, Kazakhs, and other members of Muslim minority groups in the XUAR."145 The entities to be added include eight technology companies, the XUAR Public Security Bureau (PSB) and eighteen subordinate PSBs, and the PSB-affiliated Xinjiang Police College.146 The action imposes licensing requirements prior to the sale or transfer of U.S. items to these entities.147 For each entity, the Commerce Department indicated that there would be a presumption of license denial for all items subject to the EAR, with the exception of certain categories to be subject to a case-by-case review.148
Secretary of Commerce Wilbur Ross stated that adding the entities would "ensure that our technologies, fostered in an environment of individual liberty and free enterprise, are not used to repress defenseless minority populations."149 Previously, Members of Congress had written to Secretary Ross and other senior Administration officials urging them to expand the entity list "to ensure that U.S. companies are not assisting, directly or indirectly, in creating the vast civilian surveillance or big-data predictive policing systems being used in [Xinjiang]."150 Some observers believe the decision could result in significant adverse business impacts for some of the Chinese technology companies.151
Multilateral Diplomacy
The United States also has engaged in multilateral diplomacy to advocate for improved human rights conditions in China. For example, in March 2016, the United States joined 11 other countries to deliver a joint statement at the United Nations Human Rights Council criticizing China's human rights record and calling on China to uphold its human rights commitments.152
The Trump Administration has curtailed U.S. participation in some multilateral human rights organizations, most prominently by announcing the U.S. withdrawal from the UNHRC in June 2018, and arguably has placed less emphasis on multilateral diplomacy.153 The United States reportedly did not sign a 2018 joint letter by 15 foreign ambassadors in Beijing requesting a meeting with XUAR Party Secretary Chen Quanguo to raise concerns over human rights abuses in Xinjiang.154 On July 8, 2019, 22 nations issued a joint statement to the UNHRC president and the U.N. High Commissioner on Human Rights calling on China to "refrain from the arbitrary detention and restrictions on freedom of movement of Uighurs, and other Muslim and minority communities in Xinjiang," and to "allow meaningful access to Xinjiang for independent international observers."155 The statement, which was signed by numerous countries that are not current members of the UNHRC, was not signed by the United States.
The Trump Administration has sought some new venues through which to issue multilateral statements on certain PRC human rights issues, particularly on religious freedom. The State Department convened a Ministerial to Advance Religious Freedom in July 2018 and July 2019, with participation from foreign delegations and civil society leaders, and each time released a joint statement expressing concern over religious freedom conditions in China. The United States was joined in the 2019 statement by Canada, Kosovo, the Marshall Islands, and the United Kingdom.156 More broadly, the Administration is also working to establish an "International Religious Freedom Alliance" comprised of governments "dedicated to confronting religious persecution around the world," presumably including in China.157
Despite its withdrawal from the UNHRC, the United States has also continued to participate in some Council activities in its capacity as a U.N. member state, such as the Universal Periodic Review (UPR) process, including China's most recent UPR.158 During China's review in November 2018, over one dozen countries, including the United States, raised questions and concerns about China's treatment of Tibetans, Uyghurs, and other minorities, as well as over freedom of religion in China.159 The United States made four recommendations, including for China to "abolish all forms of arbitrary detention, including internment camps in Xinjiang, and immediately release the hundreds of thousands, possibly millions, of individuals detained in these camps."160