Introduction
Labor markets are highly responsive to short- and long-term economic influences. For example, total employment, the types of jobs available, their locations, and the skills sought by employers respond in various degrees to changing cyclical and structural forces. Recessions, for example, bring about increased joblessness with stronger impacts for certain worker groups, and changes in production patterns and consumers' preferences for goods and services—examples of structural forces—further influence the size and composition of employment.
Using data from the Bureau of Labor Statistics,1 this report considers how such changes have affected the U.S. labor market since 2007, examining the performance of labor market indicators like employment, unemployment, and labor force participation; changes in the types of jobs available by industry and occupation; and employment outcomes for different demographic groups.2 Since 2007, the labor market has been affected by factors such as the Great Recession of 2007-2009, technological innovation, and an aging labor force that have altered the mix of jobs available to U.S. workers. Such trends have been of interest to Congress because they provide information about how the labor force is evolving, the resilience or sensitivity of some jobs to recession, and the changing needs of employers, and thereby inform workforce planning, income support programs, and other potential policy responses.
Labor Market Impacts of Cyclical and Structural Change
This section discusses the contribution of business cycles (notably the Great Recession) and ongoing structural change to recent labor market developments. Throughout the report, recent patterns are examined in the context of these changes. The timing and intensity of labor market changes can in some cases point to the effects of a particular force, but it is beyond the scope of this report to identify specific, discrete contributions of each. This is because forces (e.g., recession, technological change) act concurrently, and sometimes they can have interactive effects.3
The Role of the Business Cycle
Business cycles (i.e., economic recession and recovery) affect employment trends through several channels.4 In recessions, declining aggregate demand for goods and services, increased uncertainty about the economic environment, and postponement of capital investment projects generally serve to reduce employers' demand for workers or work hours. Unemployment and the time unemployed workers spend looking for work rise during recessions because job opportunities are relatively scarce. These patterns tend to reverse during economic recovery—as aggregate demand increases, job openings and hires increase, employment rises, and unemployment falls. Total employment follows predictable patterns over the business cycle, but the length and strength of expansions and recessions vary, causing the peak unemployment rate across recessions and the lowest unemployment rate across expansions to vary significantly. For example, unemployment peaked at 6.3% after the relatively mild 2001 recession, compared to 10% after the deeper 2007-2009 recession.
While economists once assumed that business cycle effects on overall employment and unemployment were only temporary, there is growing evidence, particularly from the 2007-2009 recession, that deeper recessions can have much longer-lasting effects on employment outcomes for some affected workers.5 This can occur when, for example, long periods of unemployment cause workers' skills to become outdated, curtailing employment prospects even when conditions improve.
Structural Changes
The composition of employment (e.g., occupational distribution and worker characteristics) can vary significantly over time because of structural changes influencing labor markets.6 Whereas the effect of business cycles is, to some degree, predictable, the impact of structural changes depends on the nature of the change. For example, recent technological improvements to information and communications technologies (ICT) and automation have changed the way work is performed and organized in many sectors, and they are recognized as major contributors to employment loss in certain middle-skill jobs (e.g., production work, office support positions) and employment gains in higher-skill positions. But technological change has not always had this effect; for example, manufacturing sector innovations in the late 19th century, such as the switch from cottage industry to factory production, brought tremendous job growth to lower-skilled workers.
In addition to technological change, globalization and changing consumer preferences over the mix of goods and services provided throughout the economy are two prominent examples of how structural change can affect employment. Globalization changes the types of jobs that are available in the United States compared to overseas. Industry and occupational employment responds to the types of goods and services that are imported and exported, as well as how multinational corporations set up global supply chains across multiple borders to produce products for domestic and foreign markets. Changing consumer demand can also cause employment to grow or shrink across industries; for example, an aging population consumes more health services, which require additional health workers. These three factors are also interrelated. For example, technological innovation makes global supply chains more practical and introduces new types of products that are desirable to consumers (e.g., streaming video), while making some older businesses obsolete (e.g., video rental stores).
Such changes have influenced the composition of employment across sectors and the worker characteristics sought by employers. Further, because of geographic specialization in certain industries, structural change results in divergent labor market outcomes for different regions within the country. If workers are not capable of responding to structural change by shifting from shrinking to growing industries, occupations, or regions, a shift to lower-wage work, unemployment, or labor force detachment can result.
Return to Full Employment?
While several forces shaped labor market outcomes over the last decade, the impact of the Great Recession was the most visible. More than 7.5 million private sector jobs were lost between December 2007 and June 2009, and an additional 1.2 million were lost between the official end of the recession and February 2010; for the entire period, private employment declined by 6.6%.7 Some of these losses included long-tenured workers (6.9 million from 2007 to 2009), who were displaced from their jobs when companies closed, moved, or downsized.8 The economy did not consistently add jobs (on net) until March 2010, and did not return to December 2007 levels until March 2014. Employment has continued to grow since then, but as a share of the population it remains below its precrisis level, largely because of declining labor force participation.9 That is, despite greater success among job seekers in securing employment (as seen in recently low unemployment rates, Figure 1), fewer potential workers are participating in the labor market (see declining labor force participation rates in Figure 2) and this has driven down employment as a share of the population. Subdued employment-population ratios among prime-age workers (25-54 years of age) are explored in greater detail in the "Worker Characteristics" section of this report.
Following the Great Recession, the unemployment rate peaked at 10%—the second time it reached double digits since the Great Depression. It has steadily fallen since 2011, reaching a low of 3.8% in May 2018—the lowest level it has been in any of the seven economic expansions since 1970 (Figure 1).10 In the 2001-2007 expansion, the lowest unemployment rate attained was 4.4%. Unemployment is below the Congressional Budget Office's (CBO's) natural rate estimate of 4.7% (i.e., the lowest sustainable unemployment rate that the economy can currently achieve), a benchmark level accepted by many economists.11 Most other labor market utilization indicators are also consistent with full employment. Thus, the United States may have reached full employment despite higher unemployment for minorities, less-educated Americans, and certain geographic regions. For more information, see CRS Insight IN10860, Has the Economy Reached Full Employment? If So, Will It Stay There?, by Marc Labonte.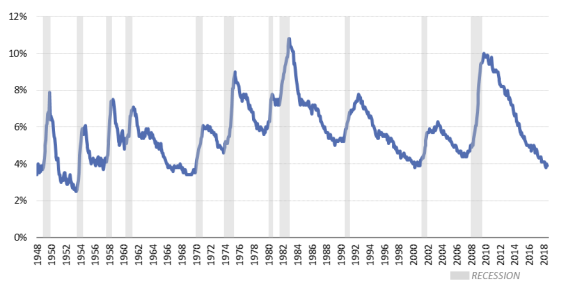 Source: Figure created by CRS using data from the Bureau of Labor Statistics (BLS) Current Population Survey (CPS) (unemployment rate) and the National Bureau of Economic Research (NBER) (recession).
One measure that has shown less improvement recently is the labor force participation rate (LFPR), which experienced an unprecedented drop in the 2000s and only a relatively small recovery in the current expansion (Figure 2).12 It fell from about 67% in the 1990s expansion to 66% in the 2001-2007 expansion, and then dropped to 63% from 2008 to 2014, its lowest level since the 1970s. It has remained around 63% since.13 Historically, the LFPR was not a highly cyclical measurement, but in this case some have wondered if its low level is indicating latent slack in labor markets; that is, there could be a source of more available workers than the unemployment rate would currently suggest.14 That possibility depends on the likelihood that workers who have left the labor force will reenter. One study found that from 1980 to 2011, almost 80% of workers aged 25-44 who exit the labor force reenter it within four years, but only 40% of workers aged 45-54 and 20% of workers aged 55-59 reenter.15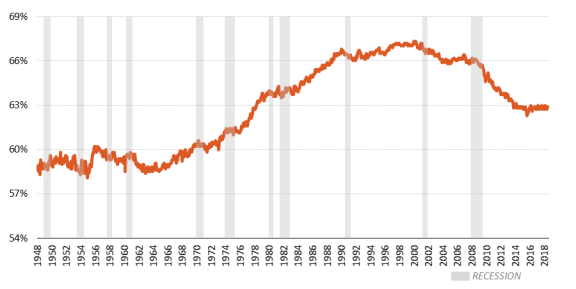 Source: Figure created by CRS using data from the Bureau of Labor Statistics (BLS) Current Population Survey (CPS) (labor force participation rate) and the National Bureau of Economic Research (NBER) (recession).
The Changing Composition of Employment
This section discusses how industry and occupational employment has changed since 2007.16 The Great Recession led to greater employment loss in certain industries and occupations than others, but those effects have receded as the economy returns to full employment. In the meantime, structural changes have also had disparate impacts on various industries and occupations. As a result, even as the unemployment rate returns to prerecession levels, the mix of jobs available today is not the same as it was in 2007.
Industry of Employment
Figure 3 plots private sector employment, overall and by broad industry sector, over the 2007 to 2018 period. Total private sector employment fell and then recovered in step with the business cycle. Over that period, there was a net increase in private sector employment, as the labor force grew. When disaggregated into broad industry groups, different employment patterns emerge. Whereas employment in both the goods- and service-producing sectors followed a similar cyclical pattern (i.e., falling during the recession and rising during recovery), only service-sector establishments (in aggregate) experienced net job growth over the period. Employment trends in the goods-producing sector—notably that the decline in employment predated the 2007-2009 recession—indicate that cyclical factors explain only some of the downturn since 2007.17 Declining employment in goods-producing sectors, particularly manufacturing, has been attributed to firms' adoption of labor-saving technology and, more recently, markedly increased import competition for some products.

Source: Figure created by CRS using data from the BLS Current Employment Statistics (CES) (employment by sector) and NBER (recession).
U.S. employment is largely and increasingly concentrated in service-sector jobs (Figure 3), which comprised about 81% of private sector jobs in 2007 and almost 84% in 2017.18 Innovations that improve the effectiveness and delivery of services, alongside demographic shifts and other factors affecting consumer demand, have contributed to rising employment shares of service workers.19
The large and growing shares of private sector employment in service-providing establishments, and corresponding loss of employment share in goods-producing firms, are illustrated in more detail in Figure 4. This figure (and others in this report) plots data in the period preceding the Great Recession (2007), a high point of the recession's labor market impact (2010), and the most recent annual data (2017). These years provide insights into the contribution of the last recession to trends (i.e., 2007 vs 2010) and trends during recovery (i.e., 2010 vs. 2017), as well as the longer-term trend (2007 to 2017). In each of the three years shown, the largest employment shares were in education and health services and in professional and business services, each of which had employment share gains of more than one percentage point. Between 2007 and 2017, the retail trade sector and hospitality and leisure sector switched rank. Retail trade held the third-highest share of employment in 2007 at 13.4%, while hospitality and leisure had an 11.6% share. By 2017, retail trade fell to 12.8% of employment, and hospitality and leisure rose to 12.9%, edging into the third place.
Figure 4. Industry Share of Private Sector Employment, 2007, 2010, and 2017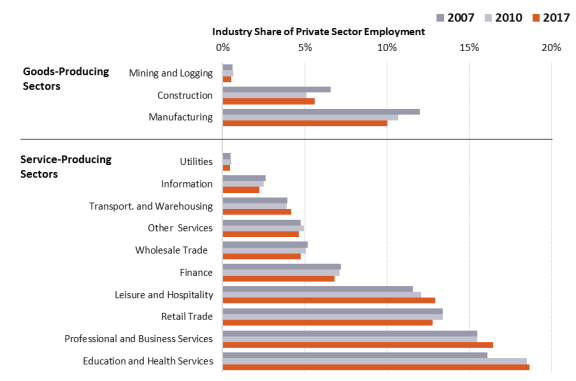 Source: Figure created by CRS using BLS CES data.
Notes: "Manufacturing" is the sum of nondurable and durable goods manufacturing.
In terms of employment levels (not shown), employment declined between 2007 and 2010 in all sectors except the education and health services sector, which added about 1.3 million jobs over that period. Employment levels in both components of the education and health services sector—the education services industry and the health care and social services industry—increased over the 2007 to 2010 period, but growth in health care and social services jobs accounted for much of the gain, about 1.1 million jobs over the period. Employment in both industries continued to grow after 2010; the health care and social services industry increased by 3.8 million from 2007 to 2017, whereas education services increased by about 728,000.20 All service industries except information and wholesale trade added workers over the 2007 to 2017 period.
Each of the three goods-producing sectors lost employment shares over the 2007 to 2017 period. While it is possible to lose employment share without losing jobs (i.e., if overall employment growth is sufficient), this was not the case for goods production. In each industry—mining and logging, construction, and manufacturing—employment levels fell between 2007 and 2010, reflecting the impact of the recession. Each then rebounded somewhat between 2010 and 2017, but employment growth in that latter period was insufficient to bring 2017 employment back to 2007 levels.21 That does not necessarily mean that production in those industries fell, however. In the case of mining and manufacturing, employment fell even though real value added for the industry rose over this period, meaning the industry became more productive and required less labor.22 In the case of construction, real value added declined along with employment.23
Occupation
The distribution of occupations changed between 2007 and 2017 as well, sometimes shifting in concert with industry patterns discussed above. Concurrent shifts can occur where occupations are concentrated in particular industries; for example, more than half of all sales and related jobs were located in the retail sales sector in 2017, and 72% of production jobs were in manufacturing.24 Employment in these occupations tends to respond predictably to industry conditions (e.g., if demand for durable goods manufacturing falls during a recession, the employment or hours of production for workers tend to decline or grow at slower rate).25 This can be seen to some degree in the notable employment losses in production, transportation, and material moving positions as well as sales jobs following the onset of the 2007-2009 recession (Figure 5).26
Figure 5. Employment by Aggregated Occupation Groups, 2007-2018
(12-month moving averages)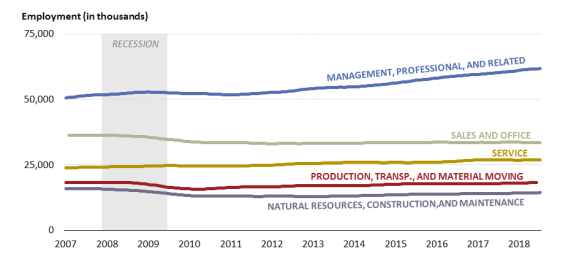 Source: Figure created by CRS using data from BLS CPS (employment by occupation) and NBER (recession).
Other occupations, such as managers, office and administrative support positions, and maintenance jobs, are distributed more broadly across industries, and these workers are generally better positioned to relocate when industry-specific conditions change.27 A degree of cross-industry mobility buffers these groups of workers from some but not all economic forces. Changes in the organization of work, supported by developments in information and communications technology, can, for example, change demand for office and administrative support staff in each industry, as can declines in overall aggregate demand.
A more detailed accounting of employment changes is provided in Figure 6, which charts the change from 2007 to 2017 in employment shares by more narrowly defined occupation groups, ranked by their median occupation wage levels in 2007.28 The figure illustrates gains in employment share for lower-wage occupations such as food preparation and personal services and concurrent gains in higher-wage jobs like managers. Because employment shares must sum to 100%, gains in some occupations must be offset by losses in others. Figure 6 shows such employment share losses for construction and extraction jobs, office and administrative support positions, and production workers—jobs placed toward the middle of the occupational wage distribution.29 This pattern—sometimes called the "hollowing out" of middle-skill jobs or "job polarization"—has generated considerable concern from economists about the shrinking pool of "good" jobs for the average U.S. worker.30
Figure 6. Change in Employment Share by Major Occupation Group, 2007-2017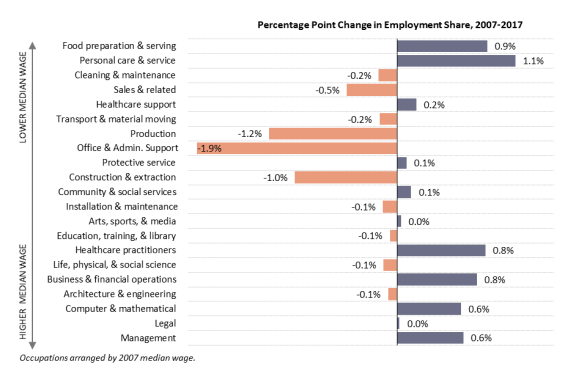 Source: Figure created by CRS using BLS Occupational Employment Statistics data.
A combination of factors is believed to have driven relative growth in low-paying and high-paying jobs. At the forefront of the discussion is technological change, which has simultaneously depressed demand for certain middle-skilled jobs while increasing the demand for certain types of high-skilled workers in recent years.31 Long-term improvements in the precision and affordability of automation technology have made manufacturing more capital intensive, while productivity gains in information and communication technology (ICT) have similarly affected demand in certain support service positions and retail sales. At the same time, technological change has been observed to raise the productivity—and the value to employers—of highly skilled workers who perform complex, nonroutine tasks (e.g., physicians, managers), translating into increased labor demand.32 Recent innovations are less likely to drive employers' demand for certain low-skilled workers (e.g., food preparation and service jobs, personal services occupations), whose tasks are by and large neither complemented nor substituted by recent technological change. However, rising incomes among other workers can result in increased demand for services supplied by low-skilled workers, increasing their employment shares through that channel.33
More broadly, forces that alter the demand for U.S.-produced goods affect the distribution of U.S. jobs across the various occupations and industries. Considerable losses in manufacturing sector jobs in the 2000s, for example, have been attributed in part to increased import competition, notably from China.34 Certain types of service-sector jobs, by contrast, are most easily performed in person and therefore less susceptible to import substitution—although this is perhaps true of fewer service jobs than in the past due to technological changes. The housing boom of 2000-2006 substantially increased the demand for construction workers (and other housing market-related jobs). Likewise, the housing bust from 2007-2012 is reflected in the loss of employment share for these workers.
Part-Time Workers
Another way to look at the availability of jobs over the 2007 to 2017 period is to consider the share of workers reporting part-time schedules. Part-time workers rose from 16.5% of total workers in 2007 to 19.5% in 2010, and then gradually fell to 17% in 2017. BLS reports that most part-time workers are voluntarily part-time (as opposed to part-time because they could not find full-time employment), but the percentage of workers who could not find full-time employment also rose during the recession.35
Figure 7 indicates that part-time schedules are far more prevalent in service occupations than in any other occupation category.36 Part-time employment has a strong cyclical component. The shares of workers in part-time positions increased between 2007 and 2010 and fell between 2010 and 2017 for each broad occupation group. At least a portion of these gains persisted through the recovery; in four of the nine occupation groups, the part-time share was more than one percentage point higher in 2017 than 2007. The pattern of rising (and falling) part-time shares varied across occupation groups. For example, the share of managers in part-time positions increased by less than one percentage point from 2007 to 2010, and returned to its 2007 level by 2017. By contrast, the share of part-time positions increased by more than five percentage points in construction and extraction jobs from 2007 to 2010, and remained elevated (one percentage point over the 2007 share) in 2017.
Figure 7. Part-Time Schedules by Occupation Group, 2007, 2010, and 2017
Annual averages of monthly data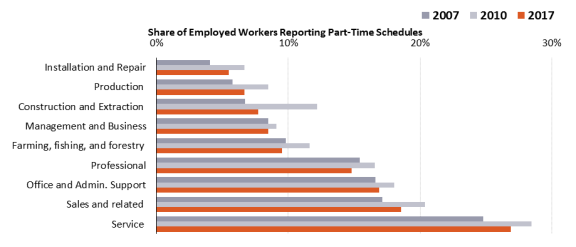 Source: Figure created by CRS using BLS CPS data (CRS-produced estimates).
Notes: Sample comprises workers 25 years or older who were employed at the time of survey. The "service" occupation category includes food preparation and serving, building and grounds cleaning and maintenance, personal care and services, protective services, and healthcare support occupations.
Worker Characteristics
Workers are not randomly assigned to jobs. They pursue and obtain work in different industries and occupations based on their skills and experience, their interest, local availability of work, employers' preferences about worker attributes, competing uses of their time (e.g., school, caregiving, leisure), and other factors. As discussed in previous sections of this report, employment has not grown in each occupation and industry at the same pace since 2007 (and in particular during the Great Recession and recovery), and this implies that employment outcomes over the past decade are likely to vary across worker groups.
The last section analyzed the labor market from the perspective of industry and the types of jobs Americans hold; this section analyzes it from the perspective of workers, in terms of educational attainment, age, sex, and race and Hispanic ethnicity. Broader patterns are considered first by examining the employment-population ratios (i.e., the share of the group that is employed), and in some cases the occupational distribution of employed workers by group. The employment-population ratio is a summary indicator of labor market performance because it describes concurrently the proportion of the adult population who want jobs (i.e., the labor force participation rate) and the success rate of this group in obtaining jobs (i.e., the employment rate, or the complement of the unemployment rate).37
Education
Occupation patterns discussed earlier in this report (see Figure 6) suggest that employment opportunities are changing for workers with different skill levels. For example, the employment share gains for managers and those in professional occupations (e.g., computer and mathematical sciences, business and finance, healthcare practitioners) are concentrated among those with at least a bachelor's degree,38 while the large losses that occurred among office support staff were felt by a group that largely holds less than a bachelor's degree.39 Further, the lost employment shares in construction and production jobs were experienced primarily by workers with a high school diploma or less education.40
Figure 8 supports this pattern more broadly and shows that employment outcomes (as measured by the employment-population ratio) improve significantly with greater educational attainment (this pattern has persisted since 1992, as far back as BLS data are available). For 2017, the employment-population ratio for workers with bachelor's degrees or more was about 30 percentage points higher than for workers with less than a high school diploma: among persons 25 years or older, 72% of bachelor's degree holders had a job in 2017, while only about 42% of those who had not completed high school were employed. Workers with a high school diploma performed somewhat better, though only 55% had a job in 2017. Unemployment rates explain some of these differences. Among job seekers, workers with a bachelor's degree had better success at gaining employment than other groups. Their unemployment rate ranged between 2.0% (2017) and 4.7% (2010) over the 2007 to 2017 period; by contrast, workers with no high school diploma had rates that ranged from 6.5% (2017) to 14.9% (2010) over the same period. But most of the difference is accounted for in lower LFPRs for less-educated workers.
Figure 8. Employment-Population Ratio by Educational Attainment, 2007-2018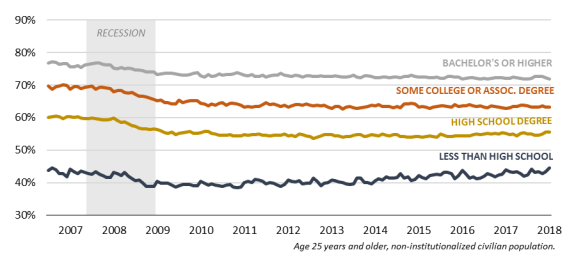 Source: Figure created by CRS using data from BLS CPS (employment-population ratios) and NBER (recession).
The figure also shows workers in all education groups experienced job losses associated with the Great Recession. The employment-population ratio declined—and had not fully recovered by 2017—for all levels of educational attainment during the recession. Workers with less than a high school diploma had come the closest of all groups to regaining their prerecession employment-population ratio, while workers with some college were still six percentage points lower in 2018 than 2007.
Age
The Great Recession affected various age groups very differently, as shown in Figure 9. The employment-population ratio fell most sharply for young workers (aged 16-24), from about 53% before the recession to below 45%. To date, it has risen to about 51%, remaining lower than it was before the recession. One study found the largest factor behind this decline to be a drop in employment among young people in school.41
Figure 9. Employment-Population Ratio by Age Group, 2007-2018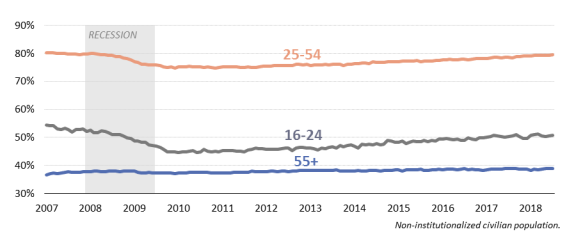 Source: Figure created by CRS using data from BLS CPS (employment-population ratios) and NBER (recession).
By contrast, the employment-population ratio for older workers (aged 55 and over) fell from 38% to 37% during the recession, and rose to about 39% over the subsequent expansion. This pattern has been attributed to a rising share of college-educated workers (a group with strong labor force attachment) in the 55 and older group.42 Greater educational attainment among this group can be seen in Census Bureau data, which show that the share of people age 55 and older with at least four years of college increased from 24% in 2007 to 30% in 2017. It is further possible that the recession caused some older workers who were set to retire to defer retirement until their financial situations improved. Nevertheless, because the over-55 group has gotten larger relative to the overall workforce—and their LFPR is lower—it has brought down the overall employment-population ratio and labor force participation ratio.
The employment-population ratio for prime-age workers is still below its prerecession level; after falling from 79.9% in 2007 to 75.1% in 2010, it slowly rose to 78.6% in 2017. The unemployment rate for this group has recovered, leaving a relatively low LFPR to explain the remaining difference.43 That is, a recovered unemployment rate implies that workers who are actively seeking work are finding it with the same rate of success in 2017 as they were in 2007. The low employment-population ratio then is explained by lower labor market engagement among the prime-age population (a smaller share is trying to become employed) (i.e., a lower LFPR).
Sex
Continuing a long-term pattern of difference in employment, prime-age (i.e., 25 to 54 years) men were more likely to be employed than prime-age women over the 2007 to 2017 period (Figure 10).44 For both sexes, the employment-population ratios declined during the Great Recession (5.7 percentage points for prime-age men and 2.1 percentage points for prime-age women). By July 2018, the female ratio had fully recovered, whereas the male ratio remained below its prerecession level. Consequently, the gap in employment rates narrowed over the period.
Figure 10. Prime-Age Employment-Population Ratios by Sex, 2007-2018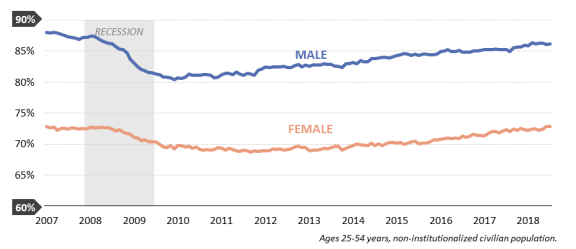 Source: Figure created by CRS using data from BLS CPS (employment-population ratios) and NBER (recession).
For both men and women, the Great Recession caused a deterioration in the LFPR that continued long after the recession had ended. The recession accelerated the long-term decline in the LFPR for prime-age men, which fell from over 95% in the 1950s to about 90% before the crisis to about 88% by 2014 (Figure 11). Since 2014, there has been some improvement in the prime-age male LFPR, which was 88.8% in July 2018 (2.7 percentage points below prerecession rates). By contrast, the Great Recession coincided with a reversal in the long-term increase in the LFPR for women caused by the shift to more two-earner households and other factors. The prime-age female LFPR rose from about 40% in the 1950s to about 76% in the late 1990s. It declined gradually over 2000 to 2005, recovering somewhat over 2005 to 2008, before dropping by about 2.1 percentage points over 2008 to 2015. Prime-age women's LFPR has improved since then, and in July 2018 it achieved the same rate as in November 2007 (i.e., just before the recession), but remains below its highpoint of 77.3% in April 2000. This pattern is unusual compared to other advanced economies, where the female participation rate has risen.45 Some attribute the difference to variations in work-family policies.46 Although there is still a gap between LFPRs for men and women, the gap since the 1990s is much narrower than it was in prior decades.47
Figure 11. Prime-Age Labor Force Participation Rate by Sex, 1948-2018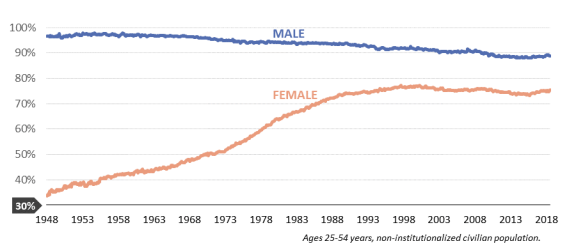 Source: Figure created by CRS using data from BLS CPS.
While prime-age men and women had similar unemployment rates before the Great Recession and in 2018, the prime-age male unemployment rate peaked at a higher level (10.0%) than the prime-age female unemployment rate (8.1%) following the recession (Figure 12). At the same time, the LFPR fell for both men and women, but labor force participation losses were larger for prime-age males. That is, prime-age men were exiting the labor force in large numbers (relative to women), and those who remained in the labor market had less success finding employment.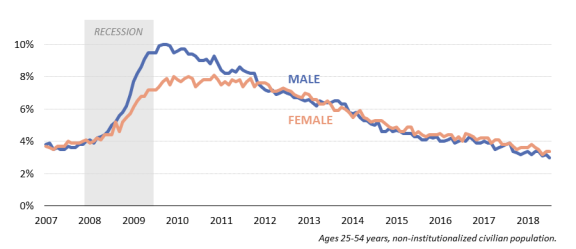 Source: Figure created by CRS using data from BLS CPS.
Part of the difference in employment outcomes since 2007 may be due to women's overall greater educational attainment (when compared to men). Another factor may be differences in how men and women cluster by industry and occupation. That is, if men are concentrated in industries that fared relatively poorly during the recession, it could lead to worse employment outcomes for men overall. The marked increases in unemployment rates for the construction (90.6% male) and durable goods manufacturing (74% male) industries (Figure 13), for example, point to challenging labor market conditions for certain groups of male workers, particularly those with less than a college degree.48 By contrast, the health and education industry (74.7% female) had the lowest unemployment rate during the recession. These patterns can be seen as well in the occupational employment data (Figure 6), which show a drop in employment shares for construction workers and production jobs from 2007 to 2017. But losses were not exclusive to men; also evident in the occupation data is the considerable loss of office and administrative support positions, jobs typically held by women (about 75%).
Recent patterns suggest that the employment impacts of future cyclical and structural forces for men and women may be more similar than they have been in the past. As construction and manufacturing jobs decline, some men have moved into occupations with traditionally large female representation, such as food preparation and serving, personal services jobs, health care support positions, and others.
Figure 13. Unemployment Rates by Industry of Last Job, 2007-2017
Industries ranked by female share of employment in 2007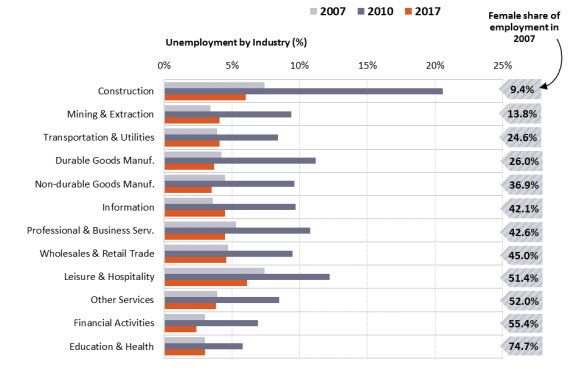 Source: Figure created by CRS using data from BLS CPS (unemployment by industry) and BLS, Women in the Labor Force: A Data Book (2008 edition) (female share of employment by industry).
Notes: Unemployment rates describe experienced workers (i.e., they do not include new labor market entrants).
Race and Hispanic Ethnicity
Employment outcomes also differ by race and ethnicity.49 Among the prime-age population, non-Hispanic white workers had the highest employment-population ratios in each year between 2007 and 2017 and non-Hispanic black workers had the lowest (Figure 14).50 The employment-population ratio for all groups declined over the Great Recession and early years of the expansion. Non-Hispanic black workers experienced particularly sharp losses following the onset of the recession, falling from 75% in 2007 to 69% in 2009 and then to 67% in 2011. Hispanic workers also experienced a six percentage point drop, non-Hispanic white workers had a four percentage point decline, and non-Hispanic Asian workers lost two percentage points over the same period. Employment rates stopped falling around 2009 for Hispanic workers and 2010 for non-Hispanic white workers and Asian workers. Employment-population ratios did not stop falling for non-Hispanic black workers until 2011, but the subsequent rebound for this group occurred at a faster pace than for other groups. Despite the subsequent recovery, all groups were about one percentage point below their prerecession employment-population ratios in 2017.
Figure 14. Prime-Age Employment-Population Ratios by Race and Hispanic Ethnicity, 2007-2017 (annual averages)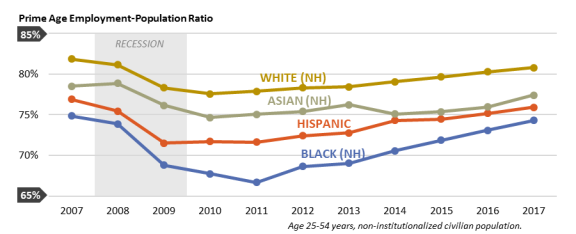 Source: Figure created by CRS using data from BLS CPS (employment-population ratios, CRS-produced estimates) and NBER (recession).
Notes: "Prime Age" refers to persons 25-54 years old. "NH" indicates non-Hispanic persons.
The cross-group differences in overall employment-population ratios and their trend over the 2007 to 2017 period can be explained by group differences in labor force participation and unemployment rates (Figure 15). All things equal, a higher employment-population ratio indicates a higher labor force participation rate, lower unemployment rate, or both. Both factors contribute to high employment rates among non-Hispanic white prime-age workers; as a group they have both high labor force participation rates (the highest among any group shown) and relatively low unemployment rates. Hispanic and nonwhite workers had similar labor force participation rates over the 2007 to 2017 period, but their unemployment rates varied considerably, and these differences are reflected in their employment-population ratios. The larger dip in the non-Hispanic black employment-population ratio in 2011, for example, is mirrored by the relatively high unemployment rate (14.4%) for that group in the same year. For all groups, unemployment rates in 2017 were comparable to 2007, but their LFPR was lower.
Figure 15. Prime-Age Unemployment Rate and Labor Force Participation Rate by Race and Hispanic Ethnicity, 2007-2017 (annual averages)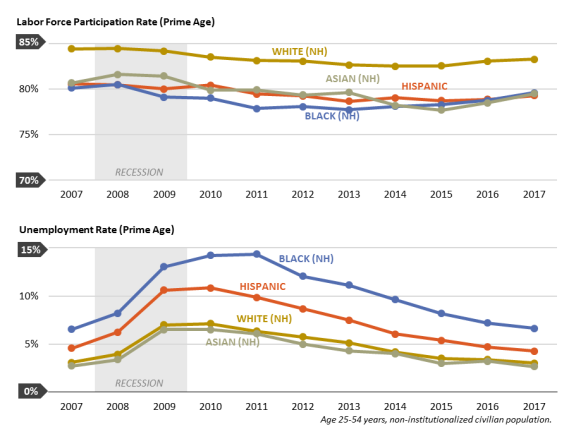 Source: Figure created by CRS using data from BLS CPS (labor force participation rates and unemployment rates by race and ethnicity, CRS-produced estimates) and NBER (recession).
Notes: "Prime Age" refers to persons 25-54 years old. "NH" indicates non-Hispanic persons.
Figure 14 shows that, among the employed, the type of job (occupation) held by workers varies considerably across ethnic and racial groups. It plots employment shares by occupation for prime-age Hispanic workers, non-Hispanic white workers, non-Hispanic black workers, and non-Hispanic Asian workers; the occupations are ordered by the median wage in the occupation group in 2017, such that relatively low-paying jobs are on the left and relatively high-paying jobs are on the right. Relative to non-Hispanic workers, prime-age Hispanic workers are clustered in lower-paying jobs; for example, whereas 30% of Hispanic employment was in the five occupations with the lowest median wage rates, 22% of non-Hispanic employment (aggregated across all racial groups) was in these occupations.51 Other differences can be seen as well: higher shares of Hispanic workers were in construction and extraction jobs (12% versus 4% of non-Hispanic employment), while non-Hispanic workers were more likely than Hispanic workers to hold management positions.
Large shares of non-Hispanic white, black, and Asian workers were in office and administrative support jobs, management, and sales positions in 2017, but the distribution across those jobs differed. A far greater share of white (14%) and Asian (12%) workers were managers than were black workers (8%), for example, and black workers (14%) were more concentrated than white (11%) or Asian (8%) workers in office and administrative support jobs. Transportation and material moving jobs was another large occupational category for black workers at 10% of employment, whereas 5% of white and 4% of Asian workers held those jobs. Asian workers had large shares of employment in computer and math sciences jobs (13%) and health practitioners and technicians (9%); in both occupation groups, they had a higher employment share than did non-Asian workers. Black workers were somewhat more concentrated in the five occupations with the lowest median wages (28% of black workers, 22% of Asian workers, and 20% of white workers). These occupational patterns may translate into different employment outcomes for black, white, and Asian workers in the near future, unless the distributions become more alike. In particular, administrative and office support jobs—which held considerable shares of black employment in 2017—have declined as a share of overall employment over the last decade; transportation and material moving jobs have lost employment share, although to a more moderate degree. By contrast, computer and math sciences jobs and health practitioners and technicians—which held considerable shares of Asian employment in 2017—gained employment shares over the 2007 to 2017 period.
Figure 16. Occupational Distribution of Prime-Age Employment by Race and Hispanic Ethnicity, 2017 (annual average)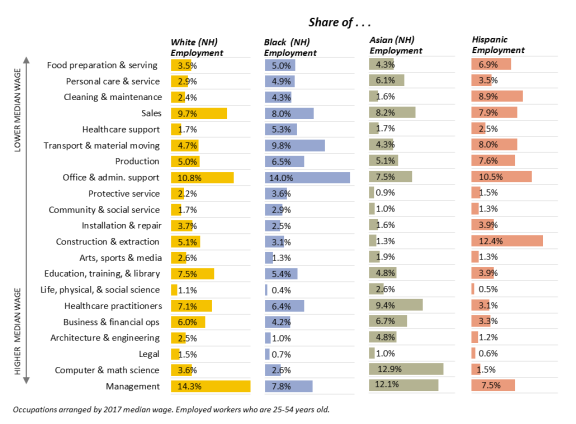 Source: Figure created by CRS using BLS CPS data (CRS-produced estimates of occupational distribution).
What to Expect Going Forward
Looking forward, the labor market will continue to evolve in response to cyclical and structural developments, creating future opportunities and challenges for U.S. workers. Some of the key trends highlighted in this report could potentially continue to play out in future years, and new, unexpected developments will emerge.
Cyclical factors are rarely static—for example, the unemployment rate is usually trending upward or downward, and is rarely steady. The unemployment rate briefly hit its lowest level since 1969 in May 2018. With a historically low unemployment rate, the economy can only continue adding jobs at the recent pace if proportionately more new or former workers can be brought into the labor force. The fact that the LFPR is still low suggests that this is possible, but conceivably challenging.
There are few examples of the U.S. economy sustaining a very low unemployment rate for a significant period of time without a return to recession. The current economic expansion is already the second longest on record, and at some point a new recession will begin. When it does, the ensuing rise in unemployment will likely disproportionately affect certain industries, occupations, and demographic groups. In the past, construction and manufacturing employment has been more sensitive to the business cycle, and labor market recovery has been slower for certain minorities. For some, the effects of the next recession could be long lasting, in terms of future earnings and employment.
Cultural and demographic changes coupled with the Great Recession led to changes in the labor market that are difficult, but not necessarily impossible, to reverse. The aging of the labor force has shifted a larger share of it into age groups that have traditionally had participation rates that were less than half the participation rate of prime-age workers.52 The participation rate of young workers (aged 16 to 24) has fallen by over 10 percentage points since 1990. The rising participation rate of women—a major source of labor force growth in the post-World War II period—has reversed since 2001. If these trends continue—and there is not an offsetting increase from a source such as immigration—the labor supply will grow far more slowly than it has in the post-World War II period, dampening economic growth and income growth. According to the Social Security Trustees report, annual labor force growth fell from 2.1% between 1960 and 1980 to 1.4% between 1980 and 2000 to 0.6% between 2000 and 2015. After a cyclical uptick through 2021, the Social Security Trustees project it will grow at a similar rate from 2022 to 2095. Without the assumption that the LFPR of older workers will rise, the Social Security Trustees' projected growth rate would be lower.53
In the long run, structural changes continue to alter the labor market in profound ways.54 For example, as farming became less labor intensive, the share of rural farm households fell from an estimated 35% of total households in 1900 to 1.7% in 2010.55 It remains to be seen whether current innovations, such as artificial intelligence (AI) and automation, will have an equally profound impact on labor markets. As was the case with changes in farming, AI could potentially lead to the eventual shift of large numbers of workers to different occupations. Skill-biased technological change and globalization have not prevented a return to full employment, but have sparked concerns about a "hollowing out" of middle-wage jobs, especially for less-educated workers. These processes may not yet have run their courses, and—as the example of farming illustrates—the types of jobs that will replace the displaced jobs are not always obvious beforehand.56
Technology and globalization are not the only developments influencing future employment. Policy changes, such as immigration changes or a potential "trade war," can also lead to structural shifts in employment composition. Educational attainment also will partly determine the types of jobs in which the United States has a comparative advantage in the future.
The U.S. labor force is dynamic, but has been less dynamic in this expansion compared to earlier ones by several measures. Fewer workers are changing jobs, individual firms are adding and subtracting fewer gross jobs, and fewer workers are moving to new areas in order to take advantage of the fact that jobs are more plentiful in some parts of the country. This reduced dynamism can make it harder for workers to adapt to the changes discussed above, increasing the potential for displacement to result in negative outcomes for workers.