Introduction and Assessment
Turkey, a NATO ally since 1952, is significant for U.S. interests. It is a constitutional republic with a large, diversified economy and a Muslim-majority population that straddles Europe and the Middle East.
The history of the U.S.-Turkey relationship is complicated. Although the United States and Turkey support each other's interests in some vital ways (see "U.S./NATO Cooperation with Turkey"), harmonizing priorities can be difficult. These priorities sometimes diverge irrespective of who leads the two countries, based on U.S.-Turkey contrasts in geography, threat perceptions, and regional roles.
Turkish leaders, including President Recep Tayyip Erdogan (pronounced air-doe-wan), may be contributing to problems between the United States and Turkey by ruling in an increasingly authoritarian manner and apparently encouraging strong criticism of U.S. policy in Turkish public discourse.1 Conflict around Turkey's borders with Syria and Iraq, particularly since 2011, has also fed U.S.-Turkey tensions.
Within this challenging environment, two specific points of bilateral contention arguably stand out:
Syria and the Kurds. Turkey's military operations in Syria against largely Kurdish militias supported by the United States over Turkey's strong objections.
Possible S-400 acquisition from Russia. Turkey's planned purchase of S-400 air defense systems from Russia, which has possible implications for Turkey's future in NATO.
Trump Administration officials have expressed significant concern about the possibility of direct conflict between Turkey and U.S. or U.S.-supported forces in Syria.2 Turkish officials assert that their military operations in Syria are primarily for self-defense,3 given links between the Syrian Kurdish YPG (People's Protection Units) and the PKK (Kurdistan Workers' Party, a U.S.-designated terrorist organization). The PKK has significantly challenged the Turkish government's control over parts of southeastern Turkey since the 1980s.
U.S. officials and lawmakers also have voiced opposition to Turkey's planned acquisition of S-400 systems from Russia and have acknowledged that the acquisition could trigger U.S. sanctions on Turkey under existing law (see "Possible S-400 Acquisition from Russia" below).
In February 2018, several high-ranking Administration officials met with their Turkish counterparts in an effort to avoid direct U.S.-Turkey conflict in Syria and broader deterioration of the bilateral relationship. After Secretary of State Rex Tillerson visited Turkey, the two countries issued a joint statement agreeing to activate a "results-oriented mechanism" for the purpose of resolving outstanding issues between them.4
Turkey's International Relationships and Regional Profile
A number of considerations drive the complicated dynamics behind Turkey's international relationships. Turkey's history as both a regional power and an object of great power aggression translates into wide popularity for nationalistic political actions and discourse. Given this nationalistic sentiment, Turkey's partial reliance on other key countries (for example, the United States for security, European Union countries for trade, and Russia and Iran for energy) may generate some resentment among Turks. Turkey's maintenance of cooperative relationships with countries whose respective interests may conflict involves a balancing act. Turkey's vulnerability to threats from Syria and Iraq increases the pressure on it to manage this balance. Involvement in Syria and Iraq by the United States, Russia, and Iran further complicates Turkey's situation. Additionally, grievances that President Erdogan and his supporters espouse against seemingly marginalized domestic foes (the military and secular elite who previously dominated Turkey, the Fethullah Gulen movement, Kurdish nationalists, and liberal activists) extend to the United States and Europe due to apparent suspicions of Western sympathies for these foes.
Turkey's Middle Eastern profile expanded in the 2000s as Erdogan (while serving as prime minister) sought to build economic and political linkages—often emphasizing shared Muslim identity—with its neighboring countries. However, efforts to increase Turkey's influence and offer it as a "model" for other regional states appear to have been set back by a number of developments since 2011: (1) conflict and instability that engulfed the region and Turkey's own southern border, (2) Turkey's failed effort to help Muslim Brotherhood-aligned groups gain lasting power in Syria and North Africa, and (3) domestic polarization accompanied by government repression. Although Turkey shares some interests with traditional Sunni Arab powers Saudi Arabia and Egypt in countering Iran, these countries' leaders regard Turkey suspiciously because of its government's Islamist sympathies and close relationship with Qatar. Turkey maintains political and economic relations with Israel, but the two countries have become distant during Erdogan's rule; he openly champions the Palestinian national cause and sympathizes with Hamas.
Despite bilateral tensions, Turkey continues to allow the United States and other members of the coalition assembled to fight the Islamic State (IS, also known as ISIS/ISIL or by the Arabic acronym Daesh) to use Turkish territory for operations against the Islamic State in Syria and Iraq. The United States and NATO continue to base key defense installations in Turkey.
Other ongoing U.S.-Turkey controversies attract attention from Congress and add to concerns about the future of bilateral relations.5 Many of these are connected to a failed July 2016 coup attempt and how the government's response to the plot has affected rule of law in Turkey. The coup attempt came from a group within Turkey's military that is widely believed by analysts to have some links with the Fethullah Gulen movement.6 Gulen's U.S. residency fuels Turkish speculation about a possible U.S. connection to the plot; U.S. officials deny any such connection. Turkey's government has called for Gulen's extradition, and the matter remains pending before U.S. officials.7
This report provides information and analysis on the issues mentioned above. For more comprehensive background on U.S.-Turkey issues, see CRS Report R41368, Turkey: Background and U.S. Relations, by [author name scrubbed] and [author name scrubbed].
Syria and the Region
Turkish Emphasis on Countering Kurds
Turkey's involvement in Syria's conflict since 2011 has been complicated and costly.8 Increasingly, Turkey's objective has been to prevent the YPG from controlling areas between the Kurdish-held cantons of Afrin (in the west) and Kobane (in the east)—with direct Turkish military operations in Syria beginning in August 2016 against IS-held territory. The PKK-linked YPG plays a leading role in the U.S.-partnered umbrella group known as the Syrian Democratic Forces (SDF), which also includes Arabs and other non-Kurdish elements. Since 2014, U.S. forces have openly assisted Kurdish-led forces against the Islamic State. This support has been concentrated in areas east of the Euphrates River, and according to U.S. officials has not included support to Kurdish units in Afrin.9 In May 2017, U.S. officials announced a decision to arm YPG elements directly, while contemplating measures to limit the prospect of YPG use of U.S.-provided arms against Turkey.10
Turkey appears to view the YPG as the top threat to its security, given the boost the YPG's military and political success could provide to the PKK's insurgency within Turkey.11 In February 2018, U.S. Director of National Intelligence Daniel Coats submitted written testimony to the Senate Select Committee on Intelligence stating that the YPG was the Syrian militia of the PKK and "probably will seek some form of autonomy."12 The joint U.S.-Turkey statement from February said the following:
Turkey and the United States reaffirm their commitment to the preservation of the territorial integrity and national unity of Syria. To this end, we will decisively stand against all attempts to create faits accomplis and demographic changes within Syria, and are dedicated to coordination on transition and stabilization of Syria.13
Since 2014, U.S. military commanders have generally differentiated between the YPG and the PKK, and have partnered with the YPG because—with the possible exception of certain forces aligned with the Syrian regime—it has arguably been the most successful anti-IS ground force in Syria.14
In August 2016, Turkish forces began military operations (termed "Operation Euphrates Shield") in the area between Afrin and Kobane by working with ground forces drawn from Syrian Arab and Turkmen units nominally associated with "Free Syrian Army" (FSA) opposition to the Syrian regime.15 These operations (which were declared to be over in March 2017) and some that followed have led to several tense interactions between Turkey and key actors. Additionally, Turkey has inserted troops directly into areas of Idlib province as part of efforts to establish "de-escalation" zones in concert with Russia and Iran.16
Afrin Operation and U.S.-Turkey Tensions
With the beginning of an offensive against YPG fighters in the Afrin canton in January 2018 (termed "Operation Olive Branch"), Turkey's objectives became more directly opposed to those of the United States—considerably increasing tensions between the two allies. The operation began a few days after a spokesperson for the U.S.-led anti-IS coalition suggested that the SDF would form the core of a border security force in the areas it controls, with a "new mission" as the fight against the Islamic State winds down.17 Previously, U.S. officials had assured Turkey that U.S. support for the YPG would be limited to anti-IS operations. They have since clarified that continued support for the SDF will not involve creating a new force, but rather ensure that partner forces can hold territory against IS remnants.18
Turkey justified its operation in Afrin as self-defense by alleging YPG threats against Turkish territory19 and calling the area a terrorist safe haven of the PKK.20 Some Turkish officials have touted the benefits of creating a secure zone along the Turkish-Syrian border to prevent attacks and create space for the return of Syrian refugees currently living in Turkey.21 From a strategic standpoint, one analyst who anticipated the offensive said that "Ankara is willing to rock the boat in Syria in a game of brinkmanship and prefers to take the risk of fighting the YPG/PKK in Syria soon, as opposed to fighting it in Syria and Turkey in the future."22 Russia, which had previously maintained a measure of control in Afrin and still has de facto control over its airspace, reportedly acquiesced to the Turkish operation—including by withdrawing personnel that had been stationed in Afrin.23
After two months of fighting, including after U.N. Security Council Resolution (UNSCR) 2401 called for a 30-day cease-fire in February, Turkish-backed forces captured the city of Afrin in mid-March. Shortly thereafter, the State Department spokesperson expressed U.S. commitment to Turkey's "legitimate security concerns" and to SDF partners fighting the Islamic State in Syria, while also voicing concern about the displacement of hundreds of thousands of residents in the Afrin canton and reiterating U.S. support for UNSCR 2401.24 Throughout the campaign, there were some reports of civilian casualties on both sides.25 Additionally, media reports indicated that significant numbers of YPG forces previously based with U.S.-supported SDF units east of Afrin left their posts to help YPG members fighting Turkish forces in Afrin.26
Figure 1. Turkey-Syria Border: Contested Territorial Areas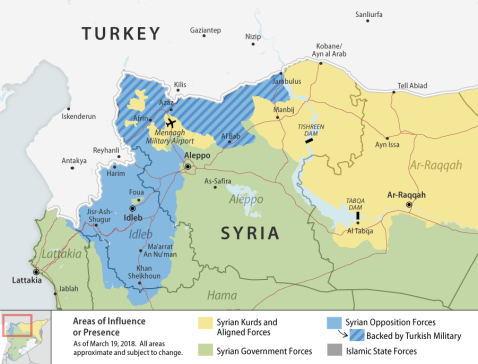 Sources: Areas of influence based on data from IHS Conflict Monitor, and adapted by CRS based on media accounts. Other sources include UN OCHA and Esri.
The town of Manbij, which the SDF seized from the Islamic State in 2016 with U.S. support, is a focal point of U.S.-Turkey tensions in Syria. After concerns grew that Turkish forces could conceivably clash with U.S. Special Operations personnel patrolling Manbij or its vicinity if Turkey advanced on the area, high-level bilateral discussions took place in February 2018. Secretary Tillerson said on February 16, after meeting with President Erdogan in Ankara, that the United States has not completely fulfilled commitments it made to Turkey on Manbij (regarding the evacuation of YPG elements from there), and that a bilateral working group would address the issue on a priority basis.27 On March 1, a senior U.S. official reinforced Tillerson's points, stating that Turkey is the U.S. ally, and that the U.S. relationship with the YPG is a "temporary tactical arrangement aimed entirely at combating Daesh."28
After the Turkish-backed capture of Afrin in March, President Erdogan indicated that Turkey will push eastward toward Manbij. Later, a Pentagon spokesman said, "It's been very clear to all parties that U.S. forces are there, and we'll take measures to make sure that we de-conflict."29
Going forward, it is unclear
how Turkey will administer areas that it controls in Syria;
to what extent Turkish-supported forces will hold their positions and/or advance farther in Syrian territory; and
how Turkey might connect its military operations to political objectives regarding broader outcomes in Syria, Iraq, and the region, and to its dealings with the United States and other key stakeholders, including Russia, Iran, and the Asad regime.
Turkey appears to be contemplating a joint military operation with the Iraqi government—perhaps after Iraqi elections in May 2018—to dislodge PKK elements from the Sinjar region of northwest Iraq.30
Possible S-400 Acquisition from Russia
In December 2017, Turkey and Russia reportedly signed a finance agreement for Turkey's purchase of the Russian-made S-400 surface-to-air defense system. Media reports indicate that the deal, if finalized, would be worth approximately $2.5 billion, and that Turkey would finance 55% of the cost via a Russian loan.31 Turkey's procurement agency anticipates initial delivery in the first quarter of 2020.32
As mentioned above, Turkey's planned acquisition of S-400 systems from Russia has raised a number of U.S. and NATO concerns, ranging from technical aspects of military cooperation within NATO to broader political considerations. In a September 2017 press briefing, a State Department spokesperson said that "it's important for NATO countries to have military equipment that's considered interoperable with the … systems that NATO nations currently have. A Russian system, if Turkey were to buy these S-400s, as is being reported, [would] not meet that standard, so that would of course be a concern of ours." In March 2018, General Petr Pavel, who chairs the NATO Military Committee, voiced concerns about the possibility that Russian personnel helping operate S-400 systems in Turkey could gain significant intelligence on NATO assets stationed in the country.33 Additionally, in November 2017, an Air Force official raised specific concerns related to Turkey's operation of the S-400 system alongside F-35 aircraft,34 citing the potential for Russia to obtain sensitive data related to F-35 capabilities.35 For some observers, the S-400 issue raises the possibility that Russia could take advantage of U.S.-Turkey friction to undermine the NATO alliance.36 In 2013, Turkey reached a preliminary agreement to purchase a Chinese air and missile defense system, but later (in 2015) withdrew from the deal, at least partly because of concerns voiced within NATO.
Turkey, in justifying its preliminary decision to acquire S-400s instead of U.S. or European alternatives, has cited its sovereign rights and various practical reasons (cost, technology sharing, territorial defense coverage).37 While pursuing the S-400 deal, Turkey also is exploring an arrangement to codevelop a long-range air defense system with the Franco-Italian Eurosam consortium by the mid-2020s.38 In March 2018, Turkish Foreign Minister Mevlut Cavusoglu said that Turkey would also be willing to purchase U.S.-origin Patriot systems if the Administration "guarantees that the US Congress [would] approve the sale."39
The planned S-400 acquisition also could trigger sanctions under existing U.S. law. In a September 2017 letter to President Trump, Senators John McCain and Ben Cardin cited the deal as a possible violation of Section 231 of the Countering America's Adversaries Through Sanctions Act (CAATSA, P.L. 115-44)—relating to transactions with Russian defense and intelligence sectors—that was enacted on August 2, 2017.40 During his February visit to Ankara, Secretary Tillerson said that U.S. consultations with various countries regarding CAATSA have led many of these countries to reconsider transactions.41 He added
We want to consult with Turkey and at least ensure they understand what might be at risk in this particular transaction. We don't have all the details yet, so I can't give you any kind of a conclusion, but it'll be given very careful scrutiny, obviously, and we'll fully comply with the law.42
U.S./NATO Cooperation with Turkey
Turkey's location near several global hotspots makes the continuing availability of its territory for the stationing and transport of arms, cargo, and personnel valuable for the United States and NATO. NATO's traditional value for Turkey has been to help mitigate the concerns about security it has from surrounding geopolitical dangers. Turkey turned to the West largely as a reaction to aggressive post-World War II posturing by the Soviet Union.
On a number of occasions throughout the history of the U.S.-Turkey alliance, the United States has withdrawn military assets from Turkey and Turkey has restricted U.S. use of its territory and/or airspace.43 Calculating the costs and benefits to the United States of a U.S./NATO presence in Turkey, and of potential changes in U.S./NATO posture, revolves to a significant extent around the following two questions:
To what extent does the United States rely on the use of Turkish territory or airspace to secure and protect U.S. interests?
To what extent does Turkey rely on U.S./NATO support, both in principle and in functional terms, for its security and its ability to exercise influence in the surrounding region?
Incirlik Air Base
Turkey's Incirlik (pronounced een-jeer-leek) air base in the southern part of the country has long been the symbolic and logistical center of the U.S. military presence in Turkey. Since 1991, the base has been critical in supplying U.S. military missions in Iraq and Afghanistan.
The United States's 39th Air Base Wing is based at Incirlik. Turkey opened its territory for anti-IS coalition surveillance flights in Syria and Iraq in 2014 and permitted airstrikes starting in 2015. At various points in the anti-IS effort, the United States has reportedly deployed F-16s, F-15s, F-22 Raptors, A-10s, EA-6B Prowlers, and KC-135 tankers at Incirlik. U.S. Predator drones based at Incirlik had reportedly flown unarmed reconnaissance missions for some time before 2014 to help Turkey counter the PKK in southeastern Turkey and northern Iraq.44 Drones (both unarmed and armed) have also reportedly flown anti-IS missions. At one point, the number of U.S. forces at the base was reportedly around 2,500 (previously, the normal force deployment had been closer to 1,500), but a March 2018 article citing U.S. officials indicated that the U.S. military has sharply reduced combat operations at Incirlik owing to U.S.-Turkey tensions.45 Turkey's 10th Tanker Base Command (utilizing KC-135 tankers) is also based at Incirlik.
Effects from some of the July 2016 coup plotters' apparent use of Incirlik air base temporarily disrupted U.S. military operations, raising questions about Turkey's stability and the safety and utility of Turkish territory for U.S. and NATO assets, including the reported storage of around 50 aircraft-deliverable nuclear weapons at Incirlik.46 Some observers have advocated exploring alternative basing arrangements in the region.47 Turkey maintains the right to cancel U.S. access to Incirlik with three days' notice.
Figure 2. Map of U.S. and NATO Military Presence in Turkey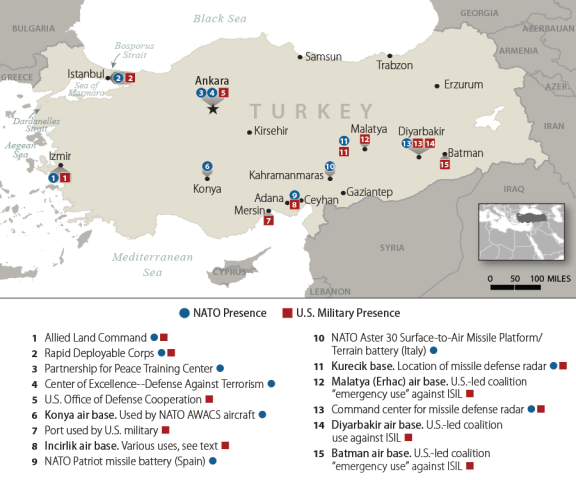 Sources: Department of Defense, NATO, and various media outlets; adapted by CRS.
Notes: All locations are approximate. All bases are under Turkish sovereignty, with portions of them used for limited purposes by the U.S. military and NATO.
The cost to the United States of finding a temporary or permanent replacement for Incirlik air base would likely depend on variables including the functionality and location of alternatives, the location of future U.S. military engagements, and the political and economic difficulty involved in moving or expanding U.S. military operations elsewhere. Also, any reevaluation of the U.S./NATO presence in and relationship with Turkey would take political considerations into account alongside strategic and operational ones.
Domestic Turkish Developments
Erdogan's Control: Implications for Rule of Law and Human Rights
Over almost 15 years, President (and formerly Prime Minister) Erdogan has increased his control over key national institutions. The Turkish parliament voted within days of the July 2016 coup attempt to approve a three-month state of emergency, and has extended it every three months since, most recently in January 2018. This allows the government to rule by decree.
The Erdogan Era
Since Erdogan became prime minister in 2003, he and the ruling Justice and Development Party (Turkish acronym AKP) have led a process of change in Turkey's parliamentary democracy that has steadily increased the power of Erdogan and other civilian leaders working with him. They have been supported by a substantial political base that largely aligns with decades-long Turkish voter preferences and backs Erdogan's economically populist and religiously informed socially conservative agenda. Analyses of Erdogan sometimes characterize him as one or more of the following: a reflection of the Turkish everyman, a cagey and pragmatic populist, a protector of the vulnerable, a budding authoritarian, an indispensable figure, or an Islamist ideologue.48
Erdogan has worked to reduce the political power of the military and other institutions that had constituted Turkey's secular elite since the republic's founding by Mustafa Kemal Ataturk in 1923. He has also clashed with other possible rival power centers, including previous allies of his in the international socioreligious movement inspired by Fethullah Gulen—a former Turkish state-employed imam who lives in the United States. Domestic polarization has intensified since 2013: nationwide antigovernment protests that began in Istanbul's Gezi Park took place that year, and corruption allegations later surfaced against a number of Erdogan's colleagues in and out of government.49 After Erdogan became president in August 2014 via Turkey's first-ever popular presidential election, he claimed a mandate for increasing his power and pursuing a "presidential system" of governance.50 Since then, Erdogan's consolidation of power has continued amid a July 2016 coup attempt and an April 2017 constitutional referendum.
There may be some similarities between Turkey under Erdogan and countries characterized as having even more authoritarian leanings, such as Russia, Iran, and China. However, some factors distinguish Turkey from these countries. For example, unlike Russia or Iran, Turkey's economy cannot rely on significant rents from natural resources if foreign sources of revenue or investment dry up. Unlike Russia and China, Turkey does not have nuclear weapons under its command and control. Additionally, unlike all three others, Turkey's economic, political, and national security institutions and traditions have been closely connected with those of the West for decades.
During Erdogan's initial years in power, vigorous debate took place regarding Turkey's political and economic trajectory and its leaders' commitment to democracy and pluralism. After the AKP's third electoral victory in 2011, and especially after domestic contention increased in 2013 in association with public protests and corruption charges, Turkey experienced
government efforts to influence media expression, including in some cases via government takeover or corporate acquisition;51
robust measures to prevent future protests, including police action and restrictions on social media;52 and
U.S. and European statements of concern about the state of civil liberties, rule of law, and stability in Turkey.53
Many of these trends expanded or accelerated in the wake of the July 2016 coup attempt and an April 2017 constitutional referendum that will considerably increase formal presidential power after the next round of elections (which are due by 2019).54 While some observers celebrated the 2017 referendum as a sign of majority support for these constitutional changes,55 others expressed skepticism about the vote's legitimacy.56
According to a March 2018 estimate, around 150,000 Turks have been fired from government posts since July 2016, and more than 60,000 people have been detained.57 Sources indicate that the government's actions have affected individuals and organizations—including several members of the media58—beyond those connected to the coup attempt.59 Legal due process and respect for prisoners' rights have come under question as well.60
Economic Issues
During the ongoing state of emergency, Turkey's economy has experienced fluctuations associated with concerns about risk related to rule of law.61 As of March 2018, Turkey's currency (the lira) has depreciated against the dollar by around 25% since the coup attempt. A combination of government fiscal stimulus and increased global demand for goods from emerging market economies boosted Turkey's real GDP growth from just over 3% in 2016 (with the coup attempt's attendant disruption) to around 7% in 2017.62 The Economist Intelligence Unit forecasts that growth will decrease to about 4% annually for the next few years due to tightened fiscal and monetary policy domestically and worldwide.63
Government Policy Toward Kurds
Under the post-coup-attempt state of emergency, Turkey's government has cracked down on domestic political opponents. A primary focus, in addition to the Gulen movement, appears to be Turkey's Kurdish minority. Heightened ethnic Turkish-Kurdish tensions predated the attempted coup, exacerbated by renewed conflict in 2015 between government forces and the PKK.64 Key Kurdish political figures have been imprisoned or threatened with detention, and as a result the pro-Kurdish Peoples' Democratic Party (Turkish acronym HDP) has replaced its leaders.65 Additionally, dozens of elected Kurdish mayors have been removed from office and replaced with government-appointed "custodians."66 Turkish officials routinely accuse Kurdish politicians of support for the PKK, but these politicians generally deny ties of a criminal nature.
The future trajectory of Turkey-PKK violence and political negotiation may depend on a number of factors, including the extent to which the United States and European actors offer incentives to or impose costs on Turkey and the PKK in efforts to mitigate violence and promote political resolution of the parties' differences. Developments involving the YPG in Syria could also have an impact on Turkey's dealings with the PKK.