Overview
The outbreak of coronavirus disease (COVID-19), first in the People's Republic of China (PRC or China), and now globally, including in the United States, is drawing attention to the ways in which the United States and other economies depend on critical manufacturing and global value chains that rely on production based in China. Congress is particularly concerned about these dependencies and has passed legislation to better understand and address them. An area of particular concern to Congress in the current environment is U.S. shortages of medical supplies—including personal protective equipment (PPE) and pharmaceuticals—as the United States steps up efforts to contain COVID-19 with limited domestic stockpiles and insufficient U.S. industrial capacity. Because of China's role as a global supplier of PPE, medical devices, antibiotics, and active pharmaceutical ingredients (API), reduced exports from China have led to shortages of critical medical supplies in the United States.1
Starting in early February 2020, U.S. health care experts began warning of a likely global spread of COVID-19, and early reports of U.S. medical supply shortages began to emerge. At the same time, the Chinese government nationalized control of the production and distribution of medical supplies in China, directing all production for domestic use.2 The Chinese government also directed the national bureaucracy, local governments, and Chinese industry to secure supplies from the global market.3 This effort likely exacerbated medical supply shortages in the United States and other countries, particularly in the absence of domestic emergency measures that might have locked in domestic contracts, facilitated an earlier start to alternative points of production, and restricted exports of key medical supplies. As China's manufacturing sector recovers while the United States and other countries are grappling with COVID-19, the Chinese government may selectively release some medical supplies for overseas delivery. Those decisions are likely to be driven, at least in part, by political calculations, as it has done recently with many countries around the world.4
COVID-19 was identified in China in December 2019 and peaked in late January 2020. In response, China shut down a large part of its economy in an effort to contain the outbreak. A key factor in the sharp economic slowdown in China was the dramatic downturn of both demand and supply after Chinese officials imposed restrictions in the third week of January on movement of people and goods in and out of localities across China. Since the COVID-19 outbreak in China has eased, the Chinese government's efforts to restart business activities has been slow and uneven across sectors and locations. Companies have sought to meet new government requirements for virus containment and faced worker and supply shortages as interregional logistics have remained constrained.5 Resumption of bilateral trade will likely be uneven due to bottlenecks in inputs, locations of containers, and logjams in current shipments. U.S. companies typically maintain anywhere from two to ten weeks of inventory, and transportation time for trans-Pacific container shipments is typically three weeks. With this timeframe in mind, initial shortages that U.S. firms faced of deliveries of microelectronics, auto parts, and health and medical products could intensify over the next few months. There could be additional shortages in a wide range of imports that transit via container ship (e.g., processed raw materials, intermediate industrial goods, and finished consumer products).
As China's economic activities resume, other countries around the world are taking an economic hit. As in China, new restrictions around the world on the movement of people and business operations could trigger sharp new slowdowns in demand, transportation, and logistics worldwide, further dragging down prospects for global trade recovery. Suppressed global demand will likely further complicate efforts to orchestrate a rebound in China's (or global) economic activity. In sectors where China has extensive capacity (such as steel), some fear China could overwhelm overseas markets, as it ramps up export-led growth to compensate for the sharp economic downturn in the first quarter of 2020.
Congress faces current choices that will influence the longer-range U.S. trade trajectory vis-a-vis China. Since the imposition of Section 301 tariffs on U.S. imports from China and China's retaliatory tariffs beginning in 2018, some Members have raised questions about the dependence of U.S. supply chains on China for critical products. There are also concerns about the potential ramifications of these dependencies, particularly in times of crisis or PRC nationalization of industry. Current demand pressures during the COVID-19 pandemic could increase U.S. reliance on medical supplies from China, at least in the short term (provided that the Chinese government is willing to export these supplies to the United States). At the same time, these pressures are also incentivizing diversification efforts.
U.S.-China Trade and the Impact of COVID-19
As the United States' third-largest trading partner in 2019, bilateral trade with China is important to the U.S. economy, and the recent sharp downturn in activity affects a wide range of U.S. industries. Total U.S. trade with the world (the sum of exports and imports of goods and services) was $5.6 trillion in 2019, equivalent to 26% of U.S. gross domestic product (GDP); China accounts for 11% of U.S. trade.6 Key facts about the relationship include the following:7
China's, total merchandise trade with the United States in 2019 amounted to $558.9 billion;
China is the United States' third largest export market for goods. U.S. goods exports to China in 2019 were valued at $106.6 billion in 2019;
China is the top source of U.S. imports. U.S. goods imports from China reached $452.2 billion in 2019;
U.S. services exports to China in 2019 were valued at $56.7 billion (mostly travel and transport);
U.S. services imports from China in 2019 were valued at $18 billion (about half of this amount was travel and transport); and
U.S. foreign direct investment (FDI) stock in China in 2018 reached $116.5 billion while China's FDI stock in the United States reached $60.2 billion in 2018.
Top U.S. exports to China include semiconductor chips, devices, parts and manufacturing machines; agriculture; aircraft, turbojets, turbo propellers, and gas turbines; optical and medical equipment; autos; plastics; and pharmaceutical products (Figure 1).
Top U.S. imports from China include microelectronics (computers and cell phones) and appliances, furniture, bedding and lighting; toys, games and sports equipment; plastics; knitted and non-knitted apparel, textile fabric, linens, and footwear; auto parts; articles of iron and steel; medical and surgical instruments; and, organic chemicals (including active pharmaceutical ingredients and antibiotics).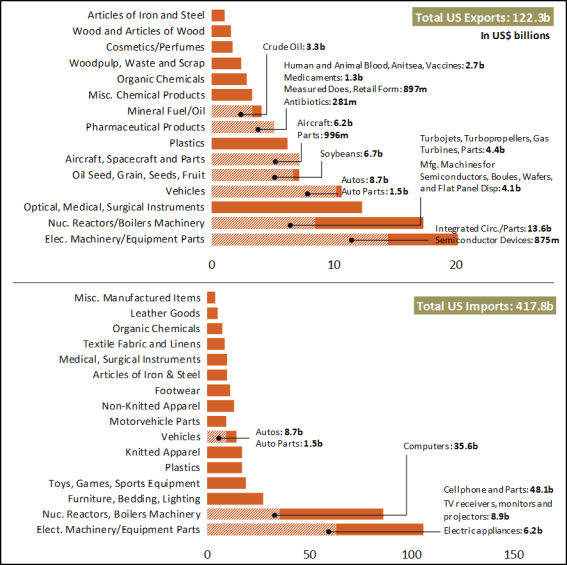 Source: Congressional Research Service (CRS) with data from Global Trade Atlas.
Note: Dashed portion of the bar depicts a subset of the product category.
China First Quarter (Q1) 2020 Slowdown Effects on U.S. Industries
Since late January, the outbreak of COVID-19 in China has had a direct economic impact on U.S. firms that operate in China, export to or sell goods and services directly in China, or depend on Chinese goods and services for their operations in the United States and abroad. Some analysts estimate that China experienced a sharp drop in economic growth by as much as 9% in Q1 2020 and a 17.2% drop in exports in January-February 2020 compared to the same period in 2019.8 China's economy is globally connected through trade, investment, and tourism. The economic slowdown and global spread of COVID-19, combined with global travel and transportation restrictions and other effects, are now causing worldwide economic fallout. Indicators in key industries, include:
China has recorded a sharp downturn in microelectronics production and sales and the United States could experience a similar drop due to a potential gap in availability. Almost half the value of U.S. imports from China in 2019 was mobile phones, computers and related parts.
Foxconn, a Taiwan firm that produces the iPhone for Apple in China, received formal government permission to reopen its facilities in mid-February but has faced challenges because of quarantine and transportation restrictions. Foxconn's plan to offer $1,000 to each returning worker suggests potential lingering concerns about the risk of infection or other labor constraints. The company may also face supply constraints of key microelectronics inputs.9 Other companies that use Foxconn for contract manufacturing in China include Amazon, Cisco, Dell, Google, Hewlett Packard, Nintendo, and Sony, as well as Chinese firms Huawei and Xiaomi.10
The U.S. auto industry and manufacturers in South Korea, Japan, and Germany quickly faced manufacturing bottlenecks because of the lack of availability of auto parts supplies from China. The spread of COVID-19 to other major auto manufacturing markets, including the United States, Germany, Japan and South Korea may pose additional constraints. China exported $9.6 billion in auto parts to the United States in 2019.
U.S. manufacturing faces potential shortages of intermediate inputs for steelmaking and heavy manufacturing, such as refined manganese metal, ferrosilicon, and ferrovanadium. Manganese and ferrovanadium are steel strengtheners that depend on China-based processing. While manganese is mined around the world, China controls 97% of manganese processing. Ferrosilicon is used to extract oxygen from liquid steel, and is mostly produced in China.11 China exported almost $10 billion in iron and steel products to the United States in 2019.
U.S. retailers, tourism, and service providers that rely on the Chinese consumer base have also taken a hit in China. Many closed or significantly curtailed operations. U.S. retailers reduced operating hours or shuttered stores in response to COVID-19.12 For example, Starbucks closed about half its 4,200 retail outlets in China between late January and late February.13 Retailers and tourism service providers around the world have seen significantly reduced revenue as fewer Chinese citizens travel abroad China's outbound tourism spending in 2018 was $277 billion, of which an estimated $36 billion was in the United States.14
Transportation, Logistics and Broader Considerations
Measures to contain the COVID-19 outbreak have significantly curtailed global transportation links. The consequence is the prevention of the transport of many products and manufacturing inputs. Passenger air traffic has slowed significantly, taking offline significant air cargo capacity for microelectronics and other products that ship by air. Container shipments are also constrained by the current backlog and dependence on domestic trucking and rail transportation, as well as on the ability of countries to staff port operations.
U.S. airlines started suspending flights to China in late January 2020 and have suspended other routes as COVID-19 has spread globally. United Airlines announced steep flight cuts and said in early March 2020 that ticket bookings were down 70% for Asia-Pacific flights, noting that this downturn was magnified by a surge in flight cancellations. The company noted that revenue in April and May could drop as much as 70%.15 While Federal Express (FedEx) and United Parcel Service (UPS) announced in early March that they continued to run flights in and out of affected countries, they warned that limitations on travel could delay some shipments, although freight carriers are now starting to repurpose passenger flights for cargo which could help expand capacity.16 Quarantine of aircrew and restrictions on the ground in China with regard to labor, production, supply and logistics likely significantly curtailed shipments. On March 26, 2020, the Civil Aviation Administration of China (CAAC) restricted all airlines running passenger flights in and out of China to one flight per week, further constraining air freight capacity.17
Container shipping from China has faced serious constraints because of shortages of workers and trucking constraints. These constraints are affecting both U.S. imports to and exports from China. The Port of Los Angeles has announced that shipments scheduled from China between February and April 2020 have been cut by 25%. Los Angeles and Long Beach ports project a 15% to 17% drop in cargo volumes in Q1 2020. One in nine Southern California jobs is tied to the ports, including people who work on the docks, drive trucks, and move boxes in warehouses, according to the Executive Director of the Port of Los Angeles.18 The Port Authority of New York and New Jersey has requested $1.9 billion in federal aid to offset a forecasted 30% year-on-year drop in cargo volumes.19
In the immediate term, shipping and logistical constraints are slowing U.S. exports to Asia. U.S. exporters of meat, poultry, hay, oranges and other produce are reporting that refrigerated containers are in short supply and cold storage facilities are overflowing with inventory.20 U.S. and global manufacturing—including production that recently shifted out of China to other parts of Asia and to Mexico—is still recovering from disruptions in Chinese supply. Vietnam, Taiwan, Malaysia, South Korea, Japan, Thailand, and Singapore all have strong supply chain links with China and reported Q1 supply shortages.21
Even as China's production resumes, these Asian countries are now grappling with their own COVID-19 outbreaks, further complicating recovery. The situation is exacerbated by spread of COVID-19 in other important manufacturing markets such as South Korea, Italy, Germany, and Mexico. Disruptions in Chinese supply chains were initially expected to have a limited macroeconomic effect on developed markets in the short term, but as the outbreak has spread globally and Chinese firms and logistics operations have struggled to return to full capacity, a wide range of U.S. imports from China, including raw materials, intermediate industrial inputs, and consumer products, are likely to be in short supply. U.S. firms with operations in China or that depend on production in China may be prompted to diversify away from China and begin establishing new supply chains. The head of the EU Chamber of Commerce in China said in late February that the disruption from COVID-19 had driven home the need for foreign companies to diversify away from China.22
Prospects for U.S. Exports
Within this context, U.S. firms may find some opportunities to increase exports to China, so long as global port operations resume and current logjams are resolved. Increased U.S. exports could be driven in part by recent tariff liberalization. As part of the phase one trade deal that the United States and China signed in mid-January 2020 to resolve some issues the United States raised under Section 301, the United States and China agreed, effective February 14, 2020, to cut by 50% the tariffs they imposed in September 2019. China announced a tariff exemption process for 700 tariff lines, including some agriculture, medical supplies, raw materials, and industrial inputs.
With China's recovery, the U.S. government could press China to make up for lost time on U.S. purchases. COVID-19 may make it difficult for both sides to meet these targets, however, given the economic fallout in both countries. As part of the phase one trade deal, China committed to purchase at least $200 billion above a 2017 baseline amount of U.S. agriculture ($32 billion), energy ($52.4 billion), manufacturing goods ($77.7 billion), and services ($37.9 billion) between January 1, 2020 and December 31, 2021.23 Regarding agriculture, in November 2019, China's National Development and Reform Commission (NDRC) announced detailed rules for the application and allocation of grain and cotton import tariff-rate quotas for 2020 that specify imports for wheat (9.636 million tons, 90% state-owned trade), corn (7.2 million tons, 60% state-owned trade), rice (5.32 million tons, 50% state trade), and cotton (894,000 tons, 33% state-owned trade).24 NDRC included in these rules a requirement that companies applying for tariff-rate quotas must have a "positive record" in China's corporate social credit system.25 This requirement allows the Chinese government to restrict or impose terms on certain U.S. cotton exporters. China could use this requirement to create counter pressure in response to recent U.S. congressional action to block U.S. imports of textiles and apparel that contain cotton from China's Xinjiang region due to concerns over forced labor there. 26 With falling oil prices, China would arguably have to buy a significant larger volume of goods to reach its purchase obligations that are benchmarked by dollar value.
Force Majeure Provisions
The crisis is also calling into question China's ability to implement the U.S.-China phase one trade deal signed in January 2020. The agreement has a force majeure provision—which allows parties to opt out of contractual obligations without legal penalty because of developments beyond their control—that could give China flexibility in implementing its commitments.27 The deal was finalized in December 2019 and signed in mid-January 2020, when Chinese officials reportedly knew about the severity of the COVID-19 outbreak in Wuhan, which raises questions about the rationale and timing of the decision to include the force majeure provision. A factor further complicating the potential for resumption and expansion of U.S. exports is Chinese companies' invocation of force majeure certifications. For example, China National Petroleum Company (CNPC) used the outbreak of COVID-19 to declare force majeure in cancelling some liquefied natural gas (LNG) imports, a move followed by a downturn in overall oil and gas demand. The Ministry of Commerce has since provided free certifications to Chinese companies that need to declare force majeure.28 Chinese companies and courts rely on an interpretation of force majeure that is different from the standard legal interpretation in the United States, which allows both parties to cancel contract terms and revert to a pre-contract baseline. In China, force majeure is used to cancel an obligation by the party invoking the provision while the other party may still be obligated to perform and honor contract terms. For example, if a payment is blocked or forgiven by the Chinese government, the other party may still be expected to perform according to the contract terms without the foreign party being reimbursed for any additional costs incurred. Moreover, Chinese courts are unlikely to allow foreign firms to prosecute Chinese firms that do not perform according to their contracts.29
U.S. Reliance on China for Health Care and Medical Products
In the midst of the pandemic, Congress is expressing a strong interest in responding to U.S. shortages of medical supplies—including PPE and pharmaceuticals—as the United States steps up efforts to contain and counter COVID-19 with limited domestic stockpiles and constraints on U.S. industrial capacity. Because of China's role as a major U.S. and global supplier of medical PPE, medical devices, antibiotics, and active pharmaceutical ingredients (Appendix B), reduced exports from China have led to shortages of critical medical supplies in the United States.30 While some analysts and industry groups have pointed to tariffs as a disincentive to U.S. imports of health and medical products, supply shortages due to the sharp spike in demand, as well as the nationalization and diversion of supply to China, appear to be stronger drivers. According to China Customs data, in 2019 China exported $9.8 billion in medical supplies and $7.4 billion in organic chemicals—a figure that includes active pharmaceutical ingredients and antibiotics—to the United States. While there are no internationally-agreed guidelines and standards for classifying these products, U.S. imports of pharmaceuticals, medical equipment and products, and related supplies are estimated to have been approximately $20.7 billion (or 9.2% of U.S. imports), according to CRS calculations using official U.S. data (Figure 2 and Table 1).
Figure 2. U.S. Imports of Pharmaceuticals and Medical Equipment, Products, and Supplies in 2019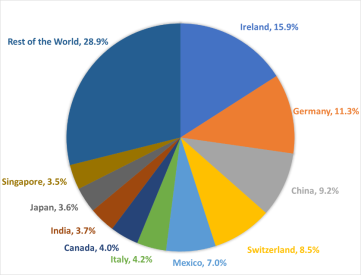 Source: CRS using the World Customs Organization's "HS Classification Reference for COVID-19 Medical Supplies;" Gary Clyde and Jeffrey J. Schott's "List of Pharmaceutical and Medical Device Products by Harmonized System (HS) Code" in Local Content Requirements: A Global Problem; and Chad Bown's "Trump's Trade Policy Is Hampering the U.S. Fight Against COVID-19." Data sourced from the U.S. International Trade Commission's DataWeb and Global Trade Atlas.
Notes: The shares presented here cover product categories at the HTS six-digit level.
China Nationalizes Medical Production and Supply
In early February 2020, the Chinese government nationalized control of the production and dissemination of medical supplies in China. Concerned about shortages and its ability to contain the COVID-19, the Chinese government transferred authority over the production and distribution of medical supplies from the Ministry of Information Industry and Technology (MIIT) to the NDRC, China's powerful central economic planning ministry. NDRC commandeered medical manufacturing and logistics down to the factory level and has been directing the production and distribution of all medical-related production, including U.S. companies' production lines in China, for domestic use.31 In response to government directives, foreign firms with significant production capacity in China, including 3M, Foxconn, and General Motors, shifted significant elements of their operations to manufacturing medical PPE.32 By late February 2020, China had ramped up face mask production—both basic surgical masks and N95 masks—from a baseline of 20 million a day to over 100 million a day.
China's nationalization efforts, while understandable as part of its efforts to address an internal health crisis, may have denied the United States and other countries that depend on open and free markets for their health care supply chains access to critical medical supplies (Table 2 and Table 3).33 On February 3, 2020, China's Ministry of Commerce directed its bureaucracy, local governments and industry to secure critical technology medical supplies and medical-related raw material inputs from the global market,34 a situation that likely further exacerbated supply shortages in the United States and other markets. To ensure sufficient domestic supplies to counter COVID-19, China's Ministry of Commerce also called on its regional offices in China and overseas to work with PRC industry associations to prioritize securing supplies from global sources and importing these products. The Ministry of Commerce provided a list of 51 medical suppliers and distributors in 14 countries and regions to target in quickly assuring supply. The Ministry also prioritized food security and the need to increase meat imports.35 China's trade data shows that these policies led to steep increases in China's imports of essential PPE and medical supplies, including the raw materials needed to make products such as N95 masks. The policies also contributed to sharp decreases in China's exports of these critical medical products to the world. (See Table 2.)
On March 29, 2020, the Australian government imposed new temporary restrictions on all foreign investment proposals in Australia out of concern that strategic investors—particularly those of Chinese origin—might target distressed assets. This comes after authorities discovered two instances of Chinese property developers in Australia purchasing large volumes of medical supplies (and precious metals) for shipment to China.36 Risland—a wholly-owned subsidiary of one of China's largest property developers, Country Garden Holdings—reportedly shipped 82 tons of medical supplies from Australia to China on February 24, 2020. The shipment included 100,000 medical gowns and 900,000 pairs of gloves.37 Greenland Australia—a subsidiary of another large Chinese property developer backed by the Chinese government, Greenland Group—implemented instructions from the Chinese government to secure bulk supplies of medical items from the global market. Greenland reportedly sourced from Australia and other countries, 3 million protective masks, 700,000 hazmat suits, and 500,000 pairs of gloves for export to China over several weeks in January and February 2020.38
Implications of China's Export Constraints: U.S. Shortages and Policy Response
As the United States ramps up efforts to contain the spread of COVID-19, reduced production and exports of pharmaceuticals and PPE from China are exacerbating shortages of critical medical supplies. Minnesota-based 3M, a large-scale manufacturer of N95 respirators, for example, told The New York Times that all masks manufactured at its Shanghai factory were sold to meet China's domestic demand; other mask manufacturers, such as Canada's Medicom, have stated that the Chinese government has not yet authorized them to export PPE.39 China's Ministry of Commerce has claimed it is not imposing export restrictions on medical supplies,40 but this statement may not apply to the current situation as all of China's domestic production is controlled by the government and geared toward domestic consumption.
U.S. national and state-level health authorities have been reporting shortages of medical supplies—including PPE such as gowns and face masks—since February. On March 18, President Trump issued Executive Order 13909, Prioritizing and Allocating Health and Medical Resources to Respond to the Spread of COVID–19, which announced the President's invocation of the Defense Production Act of 1950 (DPA) in response to the COVID-19 pandemic.41 The DPA confers broad presidential authorities to mobilize domestic industry in service of the national defense, defined in statute as various military activities and "homeland security, stockpiling, space, and any directly related activity" (50 U.S.C. §4552), including emergency preparedness activities under the Stafford Act, which has been used for public health emergencies.42 Among other authorities, Title I of the DPA allows the President to require persons (including businesses and corporations) to (1) prioritize and accept government contracts for materials and services, and (2) allocate or control the general distribution of materials, services, and facilities as necessary to promote the national defense. The Administration, however, is only publicly providing limited direction to the private sector under this authority.43
Any potential use of the DPA to respond to the COVID-19 pandemic may require some amount of time to produce adequate supplies, considering the large volumes of products, particularly PPE and ventilators, which are currently in urgent demand. Many U.S. firms are hesitant to invest in substantial increases in production, including obtaining the capital equipment and other inputs required, until they have a guaranteed buyer and price.44 Manufacturing firms, such as General Motors, Ford Motor Company, and Tesla are repurposing factory production for ventilators, but defense logistics experts expect this effort to take months.45 Additionally, in the United States, PPE and ventilators for use in the health care setting are considered medical devices and require marketing permission from the U.S. Food and Drug Administration (FDA).
The Trump Administration's relatively late formal invocation and activation of the DPA, which could effectively serve as an export constraint on U.S.-produced medical supplies, arguably left discretion to U.S. companies to decide whether to fill export or domestic orders first. By contrast, governments in Taiwan, Thailand, France, and Germany boosted production but restricted exports, further curtailing U.S. supply options. In January and February 2020, organizers of U.S. private sector relief efforts reportedly purchased large amounts of U.S. PPE products for airlift to China, further depleting U.S. supplies.46
Some Members of Congress have called for broader tariff relief or at least new exclusions for existing tariffs and a moratorium on any new tariffs. Other Members and U.S. domestic producers argue that such liberalization could open the U.S. market to a flood of imports during an economic downturn.47 The Office of the United States Trade Representative (USTR) announced on March 6, 2020, that it would lift tariffs imposed under Section 301 authorities on 19 specific products and 8 10-digit subheadings of medical supply and equipment items from China (Table 4).48
The Administration appears reluctant to liberalize non-health related tariffs, preferring to delay tariff payments instead.49 In late March 2020, the U.S. Customs and Border Protection sent notices to companies saying that officials will approve some delays in tariff payments to offer economic relief due to the severity of COVID-19; they may also be weighing a broader suspension of collecting duties.50 Separate from COVID-19, with regard to existing tariff exemptions, on March 20, USTR invited industry to submit public comments beginning on April 20, regarding whether USTR should extend certain tariff exclusions on other products already granted in June 2019 that expire in June 2020.51 A broader liberalization of U.S. tariffs on Chinese goods during the COVID-19 outbreak, could further expose the U.S. economy to Chinese excess industrial capacity at a point of economic downturn in the United States. Chinese firms also could capture market share and gain a unique foothold in the U.S. market through market softening and if the United States were to relax FDA and other product certifications.
In an effort to quickly bring overseas medical supplies into the United States, the Federal Emergency Management Agency (FEMA), announced on March 29, 2020 that it was arranging airlift for 22 flights, most from Asia, over the subsequent two weeks. The airlift is for medical supplies that medical distributors already planned to import into the United States, but it accelerates their delivery arrival time by shipping by air instead of ocean freight.52
Separate from medical supplies specific to COVID-19, a longer-term disruption of China's pharmaceutical and medical exports could increase the cost of everyday drugs and routine medical procedures in the United States. This could happen as it becomes harder to import APIs for common drugs and components for medical devices. According to FDA officials, in 2018, China ranked second among countries that export drugs and biologics to the United States by import line (accounting for 13.4% of U.S. imports of those products).53 However, FDA states it is not able to determine the volume of APIs that China is manufacturing given the complexity of the supply chain and gaps in what pharmaceutical companies are required to disclose about their inputs.54 China is also a leading supplier of APIs in global supply chains for painkillers, diabetes medicines, and antibiotics, meaning a slowdown in API exports from China could increase cost pressures faced by U.S. drug manufacturers.55 For example, China accounts for 52% of U.S. imports of penicillin, 90% of tetracycline, and 93% of chloramphenicol.56 On February 27, FDA Commissioner Stephen Hahn announced that a manufacturer of an unspecified human drug informed FDA of a shortage the drug's supply related to a Chinese API manufacturer affected by COVID-19.57 Because information disclosed to FDA regarding drug shortages is considered proprietary, FDA did not disclose the name of the drug in question, but did note that alternatives exist for patient use.58
China's role as the primary supplier of APIs to global manufacturers of generic pharmaceuticals, particularly in India, is likely to increase overall costs of generic pharmaceuticals for consumers in the United States in the short-to-medium term. The outbreak of COVID-19 in India could also affect the availability of generic pharmaceuticals in the United States. India, which supplies approximately 40% of generic pharmaceuticals used in the United States, imports nearly 70% of its APIs from China.59 In March 2020, India imposed export restrictions on several drugs whose supply chains rely on China, leading to fears of potential global shortages of generic drugs that have since escalated after India announced a nationwide 21-day lockdown.60
Global Trade Restrictions
Amid concerns about the availability of personal protective equipment (PPE), medical supplies, and pharmaceuticals, a growing number of nations have applied export controls and other restrictions on the overseas sales of these products. While export controls do not necessarily prohibit export activity, they make export licenses a requirement, which could lead to transactions being delayed and potentially denied or cancelled. As medical professionals around the world scramble to find gloves, face shields, protective garments, disinfectants, ventilators, and other equipment needed to fight COVID-19, these measures are highlighting the risks—and exacerbating the challenges—of relying on complex global supply chains and distribution channels.61 World Trade Organization (WTO) rules prohibit export bans except for rare instances in which a member invokes a measure citing national security concerns. In an effort to promote transparency, the WTO is publishing a list of temporary export bans that countries are enacting during COVID-19 and notifying to the WTO.62 On March 30, 2020, the G-20 issued a joint statement that emphasized the importance of keeping markets open and ensuring the adequate production and fair and equitable distribution of medical products to where they are most needed. The statement emphasized that any measures a country might adopt to protect health should be targeted, proportionate, transparent, and temporary.63
So far this year, China and more than 24 other economies, including India and, more recently, the European Union,64 have imposed either limits or formal or de facto bans on certain exports.65 Many of the existing and proposed measures could restrict access to markets on which the United States depends for certain imports. These include medical ventilators (for which Singapore and China accounted for 35% and 17%, respectively, of U.S. imports in 2019), breathing and gas masks (France, the United Kingdom, and Italy, 47% combined), CT scanners (Germany, 50%), medical protective equipment of textile materials (China, 72%), digital and infrared thermometers (China, 36%), pharmaceuticals (Ireland, Germany, Switzerland, and Italy, 53% combined), and tetracycline and penicillin (China, 90% and 52%, respectively).66
China's Economic Recovery: Prospects and Implications
China's leaders are focusing on resuming manufacturing production to jumpstart economic growth. 68 At an executive session of China's cabinet, the State Council, on March 17, Chinese officials emphasized the importance of stabilizing employment and announced that the government would streamline business approvals and fast-track approvals for large infrastructure projects. They also offered government support to alleviate shortages of labor, raw materials, funds, and protective gear.69 To facilitate economic activity, the Chinese government also appears to be liberalizing company health requirements and lifting intra-provincial and intra-city travel and transportation restrictions. NDRC spokesperson Meng Wei said on March 17, 2020 that transportation was operating normally. Zhejiang, Jiangsu, and Shanghai were operating at close to 100% of normal capacity; and over 90% of large-scale industrial companies outside of Hubei had resumed production.70 Company reports of opening and resumption of operations may not mean that these facilities are fully online or operating at pre-crisis levels, however. Several economic analysts and news outlets, including the Financial Times, have published alternative measures of business resumption rates using proxies for economic activity—such as data on traffic congestion, air pollution levels, and container freight movement. Overall, many of these measures suggest that businesses across China are not returning to full capacity at the rates being reported by local and provincial governments.71 In Wuhan, the center of the original outbreak, the Hubei provincial government issued a notice in March—that applies to Wuhan as Hubei's capital—allowing certain companies to resume work ahead of other production. This included companies in the medical and health industry, as well as companies producing protective gear, disinfectant, daily necessities, agriculture, and products critical to national and global supply chains.72
China Positioning to Export
China's economy depends on exports and the foreign exchange it earns through exports as well as on the large productive role that foreign firms play in the domestic market and as exporters. Seeking to stabilize drops in foreign investment and trade, on March 12, Commerce Vice Minister Wang Shouwen held a call with 400 members of the American Chamber of Commerce in China, and on March 13, he held a similar webinar with the European Chamber of Commerce in China's Advisory Council. Vice Minister Wang pressed companies to reopen operations and increase investments in China. Other Chinese agencies represented included NDRC, MIIT, the National Health Commission, the General Administration of Drug Supervision, the State Administration for Market Regulation, the General Administration of Customers, the Civil Aviation Administration of China, the Ministry of Transportation, and the State Taxation Administration.73
During past crises, such as the global financial crisis of 2008-09, China has pressed firms to idle facilities and keep them production-ready (instead of shuttering them) and retain workers (instead of laying them off) to maintain social stability and facilitate efforts to quickly ramp up production and exports later. 74 These stimulus efforts are sometimes less visible than fiscal policies in other countries. Several market watchers have noted that, while a 17% drop in Chinese exports in January-February 2020 is significant, it is not as dramatic when considering China's economy was shuttered for much of February. This indicates that Chinese industry may have had sufficient stock already at ports for export when the crisis hit. This also signals the potential power of a resumed export push from China.75
China's economic recovery is important to the United States and the global economy, as it is an important center of demand and supply. At the same time, during this period of global economic downturn, the United States and other countries are now potentially vulnerable to a concerted PRC export push and any effort it makes to take additional market share in strategic sectors.
Steel Overcapacity
Chinese overcapacity in steel has been highly contentious for its global impacts, and China could potentially see exports as a quick way to reduce inventories and secure needed cash. Similar to what happened during the global financial crisis in 2008-09, China is poised to take additional global market share in 2020 because it did not dial back production during the COVID-19 outbreak. Chinese blast furnaces continued to run during the COVID-19 crisis, and China's steel production for January-February 2020 was up 3% over the same period in 2019. Meanwhile, due to collapsing domestic demand and logistics constraints, China's finished steel inventories rose by 45% in January-February 2020 over the same period in 2019.76 China's steel production at the end of 2019 was already at an all-time high of almost 1 billion tons, with China producing over 50% of global supply, according to the World Steel Association and China's State Statistical Bureau (Figure 3).77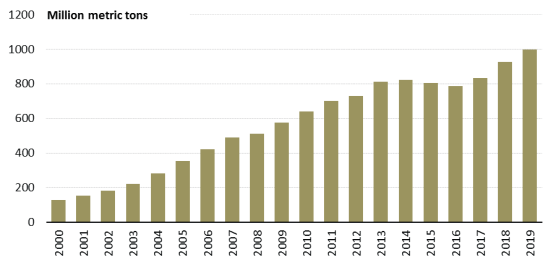 Source: CRS with data from the World Steel Association.
Export VAT Rebate
On March 17, 2020, China's Ministry of Finance announced it was increasing the export value added tax (VAT) rebate for almost 1,500 Chinese products, effective March 20, 2020. Most of the products (1,084) are receiving a 13% rebate; a small number (380) are receiving a 9% rebate.78 The export VAT rebate is a focused policy tool with quick effects that China typically employs to boost targeted exports during times of slowdown. It typically reduces the export VAT on products down to or close to zero. (See Table 5.)
The rebates reflect a strong policy push for steel exports, as well as construction and building materials (e.g., insulation, wood products, glass and fiberglass). China is also promoting the export of a range of insecticides and industrial and organic chemicals. The rebates encourage the export of agricultural products in categories for which China promised to increase purchases from the United States—such as live breeding animals, meat and dairy—suggesting the government may be incentivizing exports for industries that might face additional U.S. imports. Absent in China's policy push are incentives to encourage the sale of pharmaceuticals, PPE, and other medical products overseas.
The export VAT rebates also appear to be incentivizing China's export of wild animals and their byproducts overseas (Table 5). With assessments that COVID-19 could have originated in wild animals and potentially passed to humans in open air markets that sell these animals, China's National People's Congress announced on February 24 a ban on the sale and consumption of wild animals in China.79 While the export incentive might help the government to eradicate domestic markets by providing an economic incentive to export, this move could spread the risk to global markets.
China Pushing Ahead in Strategic Sectors
Now apparently past its peak of the COVID-19 outbreak, China is prepared to capitalize on the investments it made during the past few months to push ahead on goals outlined in its Made in China 2025 (MIC 2025) industrial plan, which includes several strategic health sectors (Figure 4). Introduced by China's State Council in May 2015, MIC 2025 is an ambitious state-led program that seeks to create competitive advantages for China in certain strategic industries. The plan aims to move China up the manufacturing value chain, expand its global market competitiveness, and reduce its reliance on foreign firms and their intellectual property (IP) over time. (See Figure 4). The program has been a major focus of the Trump Administration's Section 301 actions against China because of the distorting and predatory policies the initiative has set in motion related to technology transfer, intellectual property, and innovation.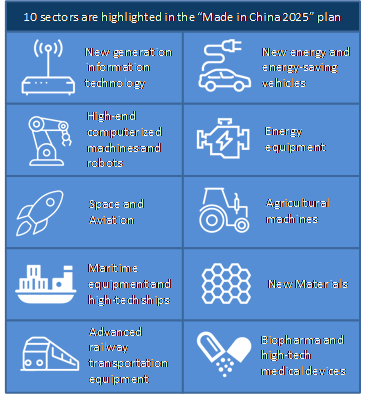 Source: Notice of the State Council on Issuing Made in China 2025, May 8, 2015, Guofa [2015] No. 28.
Biotechnology, pharmaceuticals, and medical devices are key components of MIC 2025 industrial plans that support Chinese firms in efforts to increase their global market share of generic drugs and medical equipment, and develop new innovative drugs. Toward this end, the Chinese government restricts market access for foreign pharmaceutical firms. It requires foreign firms to conduct clinical trials in China, disclose proprietary information for drug trials and sales, and enter into partnerships to secure a spot on reimbursable drug lists. Moreover, medical equipment subsidies require that 60% of a product's components be produced in China by a PRC firm.80 These policies continue despite amendments to the Drug Administration Act in 2019 which were designed to make it easier for foreign pharmaceutical companies to operate in China.
China may have been serving its commercial ambitions in decisions it made during the COVID-19 outbreak in China:
China has restricted access to medical information about COVID-19, including access for the U.S. Centers for Disease Control and Prevention (CDC), potentially putting U.S. science, research and development (R&D), and industry at a disadvantage. While some of these controls may be politically motivated, they also may be driven by China's market ambitions.
The government's tight controls over biotechnology and pharmaceutical testing, treatment, and analysis in China could advantage its state firms.
China ordered that all viral samples from the beginning of the COVID-19 outbreak be destroyed or sent to the Wuhan Institute of Virology, a national lab run by China's military. This move centralizes the government's knowledge about the potential origins of the virus and provides unique insights about its trajectory and treatment.

81 The Wuhan Institute of Virology operates China's only biocontainment level 4 (P4) lab, a specialized facility for studies on highly contagious and fatal diseases. The Lab was developed by the Merieux Foundation under a government agreement between France and China.82
In another effort by the Chinese government to control access to important health information, the World Health Organization (WHO)'s visit to China came over a month after the outbreak of the virus. Only a subset of the WHO-China Joint Mission on COVID-19 delegation was allowed to visit Wuhan.83
China appears to have been slow to approve foreign drug patents potentially relevant to COVID-19 until it needed them at the height of the crisis. For example, Gilead Sciences—a U.S. company based in California—had several patents for its antiviral drug Remdesivir's use in coronaviruses that have been pending approval since 2016. The Chinese government has been requiring the company to conduct clinical trials in China and did not approve these patents until well into the crisis. The Chinese government may have benefitted from long-standing foreign patent application information that becomes public over time once a patent application is filed in China, even if the approval is still pending. The Chinese government also likely benefits from the insights gained through the clinical trials conducted in China and the viral samples that foreign companies share. Gilead, as well as other U.S. companies, sent the Chinese government samples of its drugs during the COVID-19 outbreak.84
The Chinese government cracked down on BrightGene BioMedical Technology Co.—a PRC firm based in Suzhou, China—for the company's premature announcement that it could compound a generic version of Remdesivir. The government's move may be less of an effort to protect foreign firms than to position China's national labs. The Wuhan Institute of Virology, for example, has applied to patent an adaptation of Remdesivir.85 This could potentially complicate Gilead's and other U.S. firms' way forward in China.
China offered significant funding to Chinese biotech, pharmaceutical, and health logistics companies to expand capacity and capabilities to combat COVID-19. For example, Jointown—a top Chinese medical supplier–issued preferential bonds in February 2020, and the State Council's CITIC purchased private placement shares in the company.86
PRC official media is featuring stories about how the Chinese leadership is using its current control of medical production and supply chains to selectively help other countries, while promoting ties to China. State media is also highlighting China's interest in advancing its global medical leadership role. China's global health leadership was a key element of people-to-people exchanges envisioned in China's initial rollout of its "One Belt One Road" initiative in 2015.87 During a call to Italian Prime Minister Conte on March 17, 2020, Chinese Communist Party Chairman Xi Jinping referenced a new Chinese government initiative—a Health Silk Road—that appears designed to promote Chinese leadership and products in the health sector.88 Such efforts also aim to deflect criticism of China's alleged corralling and destruction of the initial virus samples and efforts to prevent sharing of information among medical practitioners and the global community. Some experts have highlighted how this suppression of health information violates the obligations of WHO members to immediately share information about outbreaks for the safety of the world.89
The Chinese government reportedly undertook extraordinary measures during the COVID-19 outbreak to sustain R&D and manufacturing for priority national projects and in strategic sectors—such as telecommunications, microelectronics, and semiconductors—including in Wuhan, the epicenter of China's outbreak. These efforts have potential ramifications for U.S. and foreign firms' relative competitive market position as companies compete in 5G and other emerging sectors. This is particularly the case if their China operations were closed or are now significantly curtailed in the United States and other markets. According to the Nikkei Asia Review, in February and March 2020, the Chinese government operated special transportation and quarantined dormitories at Yangtze Memory Technology, Co., Ltd. (YMTC), China's national champion to develop memory chips. YMTC is located in eastern Wuhan. The government saw continued operations as an issue of national security and issued special local and central government dispensation to keep the facility operational amidst the outbreak.90 Separate reports indicate that HiSilicon—the semiconductor subsidiary of China's leading telecommunications equipment company Huawei—also sustained operations during the outbreak.91 Huawei's chairman and chief executive told The Wall Street Journal on March 25, 2020 that the company plans to boost its research and development budget in 2020 by $5.8 billion to more than $20 billion.92
Issues for Congress
Congress faces choices in the near-term that will affect not only the immediate situation, but also the longer-range U.S. trade and economic trajectory vis-a-vis China, with a potentially significant impact on the global economy as well. The outbreak of COVID-19 has prompted a sharp collapse of transportation, services, and manufacturing production—including supply shortages of essential medical and health care products needed to contain COVID-19. The COVID-19 pandemic has also precipitated a sharp downturn in consumer demand, first in China and now globally. Questions already brewing since the imposition of U.S. Section 301 tariffs are intensifying congressional concerns and debates about potential short-term and long-term steps to address U.S. supply chain dependence on China for critical products, and the potential ramifications of these dependencies. These ramifications could be particularly marked in times of crisis or of PRC nationalization of industry. At the same time, some U.S. companies and Members of Congress are calling for lowering tariffs on goods from China. The urgent need for pharmaceutical and medical supplies is fueling systemic market pressures to increase U.S. reliance on China trade because China is an important source of many of these critical inputs and products. Whether and on what terms the Chinese government might be willing to export medical supplies to the United States remains uncertain.
Dependency of U.S. Health Care Supply Chains on China
The current shortages of critical medical supplies in the United States has exposed current U.S. health care dependencies on China. As China positions its industries to realize its MIC 2025 goals in biotechnology, pharmaceuticals, and medical equipment, the Chinese government is pursuing industrial polices to advance into higher positions in the global industrial value chain, raising longer-range questions about what this might portend for U.S. reliance on China as an increasingly competitive supplier.
As China's manufacturing capacity comes back online while the United States and other major global markets continue to grapple with COVID-19, the Chinese government appears to be selectively releasing some medical supplies for overseas delivery. China appears to be selecting designated countries, at least to some extent (although the precise degree cannot be determined), according to political calculations and has been playing up its role in Chinese state propaganda, as evidenced with China's deliveries to Italy and Serbia.93 Most foreign governments appear to be paying for these supplies although a small subset of packages may be aid. There are also reports by other countries that some of China's medical supplies and testing kits are faulty.94 In a sign that China might be using the crisis to push substandard products or gain market share in developed markets over traditional U.S. suppliers based in China that produce for export, PRC state propaganda has blamed shortages on alleged FDA failures to certify Chinese products for import.95 This raises the question of why products made by U.S. firms in China that are already FDA certified are not first in line for export to the United States given that these firms also expanded capacity during the crisis in China. Several prominent U.S. companies, including 3M, have indicated they do not have PRC government authorization to export.96
In this environment, Congress faces choices about how best to incentivize production of health supplies in the United States, potentially in collaboration with other countries, to counter COVID-19 and future pandemics, and/or whether to impose any conditions on this production. With an eye to China's industrial policies, Congress may also consider the potential longer-term advantages and disadvantages of diversifying U.S. supply and on-shoring of certain capabilities. Congress may also want to consider potential collaboration with like-minded countries, and ways to counter the effects on lesser-developed economies that could be hit particularly hard by COVID-19. China is likely to seek to retain the medical market share and edge it gains through COVID-19, particularly as these gains help advance China's MIC 2025 industrial policy goals in biotechnology, pharmaceuticals, and medical equipment. At the same time, the United States and other countries may seek to diversify away from China because of vulnerabilities highlighted during the outbreak.
Recent legislative action related to these issues includes:
In addition to recent legislation introduced by Members of Congress, the Trump Administration reportedly drafted an Executive Order in mid-March 2020 that seeks to increase U.S. production capacity while eliminating loopholes that have allowed the U.S. government to buy pharmaceuticals, PPE, and ventilators from overseas.100
Other U.S. Supply Chain Dependencies
COVID-19 provides a direct learning experience—potentially more compelling than any war game or natural disaster simulation—about the direct effects and costs of a serious disruption or cutoff of critical supplies from China to the United States. Key broader questions facing the United States that have serious implications for future economic and trade relations include:
What are the consequences for U.S. interests when China nationalizes production and distribution and hardens its borders as it did during the COVID-19 crisis?
What happens if Chinese government planners corner global supply alternatives?
What happens if the United States hardens its own borders?
What happens if U.S. allies and partners are in crisis and turn to national tools and approaches?
What supply lines are available to the United States?
What is current baseline U.S. production capacity and what is U.S. production capacity in the event an Administration invokes the Defense Production Act (DPA)?
What control do chief executive officers of U.S. companies or the U.S. government have over U.S. corporate facilities and operations that are nationalized in China?
What are U.S. dependencies on China in other critical areas such as microelectronics?
U.S. Market Competitiveness and Tariff Policy
Congress faces a series of interrelated questions about whether and how to calibrate trade policy to best position the United States in the current crisis and beyond. In response to a U.S. investigation of China's unfair trading practices under Section 301, since 2018, the United States has imposed a series of tariffs and China has responded with a series of counter tariffs that now affect a majority of trade between the two countries. Temporary tariff relief for medical supplies and pharmaceuticals could incentivize imports for the United States and other markets, but tariff policy cannot address the deeper issues of supply shortages, export constraints imposed by a number of countries including China, and product certification requirements in the United States and other markets. Tariff liberalization has been insufficient to address industrial policies within borders such as regulatory standards, procurement terms, and local content requirements that China and others impose in a range of sectors including pharmaceuticals and medical equipment.101
Recent actions by countries around the world to impose export barriers highlight potential gaps and limits to the power of WTO rules prohibiting export bans during times of global crisis. These actions also raise questions about what new rules or protocols might be needed in the future. Liberalization of U.S. import requirements also created some of the challenges the United States is facing now, such as loosening requirements for U.S. pharmaceutical firms to report on shortages and how they classify imported content for finished products that qualify as U.S. products. New liberalization could reward Chinese industrial policies in medical equipment and pharmaceuticals that seek to win new ground for Chinese firms in overseas markets. The potential for China to overwhelm global markets as it leans on exports for economic recovery raise questions about whether additional policy measures might be needed. Rather than waiting until market injury has already occurred to seek damages, for example, Congress may want to be watching trade patterns for signs of import surges and oversee the Administration's potential use of safeguard measures. Similar to the Australian government's decision on March 29, 2020 to impose new temporary restrictions on all foreign investment proposals out of concern that strategic investors—particularly those of Chinese origin—might target distressed assets, Congress may want to carefully monitor or consider whether to impose requirements about potential predatory commercial activity in the United States.
Information and Data Gaps
The outbreak of COVID-19 has exposed gaps in U.S. understanding of U.S. domestic competencies and dependencies on China and other sources of global supply. Vulnerabilities regarding raw materials, such as APIs, are not well recorded in trade and industry data. They are particularly complicated to track when materials are shipped from China and processed in a third market such as India. In similar fashion, the United States has relaxed definitions of what qualifies as a U.S. product with imported content, masking the extent to which domestically-produced products may still rely on inputs from overseas. Pharmaceutical company stockpiles are proprietary, and companies do not have to report on reserves. They are only required to report when they have a shortfall, which does not leave enough time, particularly in times of emergency, for national and contingency planning.
Under the International Investment Survey Act of 1976 (22 U.S.C. §3101 et. seq.), the President has wide authority over the collection of corporate activity abroad for statistical and analytic purposes. The Act also confers on the President the authority to request mandatory surveys of companies under specific deadlines with the ability to invoke civil and criminal penalties for noncompliance. The President has the authority to study the adequacy of current information and recommend improvements, and the Act requires him to report to Congress.102
To address these issues, Congress could consider whether to request the President to invoke his authority over the U.S. government's collection of data on corporate activity abroad. These corporate surveys could obtain specific supply chain information about the status of PPE and medical supply production, distribution, and export policy situation facing U.S. companies overseas, including in China. The surveys also could cover other sectors of potential congressional concern. This information could inform legislation that Congress has already passed or is considering with regard to overseas supply chains, including sourcing from China.
Unique Role of the U.S. Federal Government
At a time when U.S. health care systems, states, and countries overseas are seeking to secure limited medical supplies, the U.S. federal government has a unique role to play in ensuring adequate domestic and global production, contracting of supply (both domestically and globally), and distribution of these resources. Even as new capacity might be available in China, for example, who are the U.S. actors positioned to try to secure this supply and through what pathways? Lack of coordination at the federal level has led states to scramble and compete against each other for critical medical supplies in the current crisis. Among the key questions related to these issues, Congress may explore answers to such questions as:
How does the U.S. federal government position itself vis-a-vis U.S. state and private actors?
How does the U.S. federal government position itself vis-a-vis other foreign governments trying to secure similar supplies?
What is the U.S. government's posture toward supplies needed in the developing world?
How might expanded production capacity created in the United States not only help the U.S. market but also those of other countries, in the near term and over the longer term?
U.S. Leadership on Global Trade and Health Issues
The current COVID-19 pandemic provides a unique opportunity to reaffirm U.S. global leadership on trade and health issues and to counter China's nationalization and likely politicization of its domestic medical supply production capacity. China's export restraints and cornering of the global supply of medical products ahead of others in February 2020 have created serious strains on the open trade system, further incentivizing other countries to close borders and restrict any access to supplies they may have. These moves also have given China market power over other countries' procurement decisions as governments around the world grapple with how best to secure critical supplies. Early signs show that China is closely controlling and releasing supplies to other governments through contracts and some aid in ways that seek to improve China's global image and may come with other quid pro quo terms that are not yet visible. China's economic recovery ahead of others could further challenge and undermine key tenets of the open trade system, particularly if China exports pent up domestic capacity with a disregard for what the current state of the global economy is prepared to absorb on market terms.
While some European countries have imposed export restraints on their health supplies, some politicians in Europe are concerned about how the Chinese government is manipulating the crisis and China's position in global supply chains for political gain.103 Some analysts have expressed concern that China is trying to position itself as a responsible global leader in health, while violating the core tenets of WHO membership in failing to share critical information and access in the critical first few weeks as the crisis emerged in Wuhan. Members concerned about maintaining U.S. global economic leadership during the COVID-19 pandemic may consider using hearings, legislation, and statements to communicate key issues to be addressed.
Possible questions for Congress in the context of COVID-19 include:
whether to prioritize economic openness and free flows of information;
whether to prioritize diversifying sources of medical supplies, and if so, how;
how best to overcome current and future bottlenecks in health care supply chains in the United States and partner nations;
whether to respond to China's attempts to control the global narrative about key COVID-19 events, and if so, how; and
whether to look to reform global health and trade governance in light of COVID-19 developments, and if so, how.
Some Members are calling for hearings to address the role of the WHO during the COVID-19 outbreak and are raising questions about the need to reform global health governance. Other Members are looking at the chronology of events in the COVID-19 outbreak to maintain an accurate record that is not distorted by Chinese state propaganda. Some Members are also looking at the social media platforms that the Chinese government is using to convey state propaganda—such as Twitter—and raising questions about whether this access should be allowed. Several Members have expressed an interest in potential measures to hold China accountable for its slowness to acknowledge, address, and share information regarding the outbreak of COVID-19 as H.R. 6373 required by WHO members.
Appendix A. Bills and Resolutions Related to the Defense Production Act of 1950 (DPA)104
1.

P.L. 116-136

- Coronavirus Aid, Relief, and Economic Security (CARES) Act

P.L. 116-136

, Section 4017 waives certain congressional oversight and reporting requirements under the Defense Production Act of 1950's (DPA; 50 U.S.C. §§4501 et seq.) Title III Expansion of Productive Capacity and Supply. Although the bulk of DPA authorities are made available at the President's discretion, Title III requires an Act of Congress for purchases or loans made to expand productive capacity in promotion of the national defense, broadly defined, for amounts greater than $50 million, and written notifications made to the relevant congressional committees of jurisdiction—the Committee on Banking, Housing, and Urban Affairs of the Senate, and the Committee on Financial Services of the House of Representatives—at least 30 days in advance. Section 4017 waives these provisions for a period of two years upon enactment. Notably, Title III already included language allowing the President to waive these requirements in a national emergency or at the non-delegable determination of the President.105
2.

H.R. 6373

- To increase the amount available under the Defense Production Act of 1950 to respond to the coronavirus epidemic, and for other purposes.
H.R. 6373 would increase the authorized funding amount for the Defense Production Act Fund (DPA Fund) to $3 billion for FY2020-2021 from the current level of $133 million annually in response to the COVID-19 emergency. The bill also would allow for enhanced public and congressional oversight regarding the use of those funds through mandatory quarterly reporting on the use of DPA funds to congressional committees of jurisdiction, and to be made available to the public. Incorporated as a provision of H.R. 6379 - Take Responsibility for Workers and Families Act (Section 119).106
1.

H.R. 6399

- To amend the Defense Production Act of 1950 to ensure the supply of certain medical articles essential to national defense, and for other purposes.
H.R. 6399 would amend the DPA statute to fortify industry production of medical resources in response to the COVID-19 emergency.107
1.

S. 3568

- A bill to require the President to use authorities under the Defense Production Act of 1950 to require emergency production of medical equipment to address the COVID-19 outbreak.
S. 3568 would seek to compel the President to exercise the Defense Production Act for the development of specific medical equipment, including: N95 respirators, medical ventilators, face shields, medical exam gloves, surgical gowns, and other medical equipment as needed to respond to the COVID-19 emergency. The bill would also compel the President to establish a price on those goods. This bill is the Senate companion bill to H.R. 6390.108
1.

S.Res. 547

- A resolution encouraging the President to use authorities provided by the Defense Production Act of 1950 to scale up the national response to the coronavirus crisis.
S.Res. 547 calls upon the President to exercise Defense Production Act authorities to increase production of medical supplies, including personal protective equipment, to respond to the COVID-19 emergency. It supports the use of such authorities to: (1) distribute medical materials, including by directing suppliers to prioritize and accept contracts to restock the Strategic National Stockpile; and (2) establish voluntary agreements and provide financial incentives to manufacturers and suppliers of critical medical equipment.109
1.

S. 3570

- A bill to provide for the expedited procurement of equipment needed to combat COVID-19 under the Defense Production Act of 1950.
2.

S. 3570

would trigger the breadth of authorities under the DPA to effect: a major purchase order for 300 million N95 masks; requires the National Response Coordination Center to conduct a national assessment on current medical supply needs and a follow up major purchase order to fulfill the needs identified in the assessment; waive restrictions on dollar limitations for orders executed under DPA and a 30 day waiting period for orders that exceed $50 million; and authorize increased funding for DPA accounts that are being considered for supplemental COVID-19 spending packages.110
3.

H.Res. 906

- Calling on the President to invoke the Defense Production Act to respond to COVID-19.
H.Res. 906 calls on the President to: (1) use all relevant authorities of the Defense Production Act to direct the domestic production of supplies to address COVID-19; and (2) share specified information regarding the use of such authorities with Congress. The resolution also states that Congress stands ready to make additional appropriations available for this effort.111
1.

H.R. 6398

- To provide for the expedited procurement of equipment needed to combat COVID-19 under the Defense Production Act of 1950.
H.R. 6398 is the companion bill to S. 3570, which would trigger the breadth of authorities under the DPA to effect: a major purchase order for 300 million N95 masks; requires the National Response Coordination Center to conduct a national assessment on current medical supply needs and a follow up major purchase order to fulfill the needs identified in the assessment; waive restrictions on dollar limitations for orders executed under DPA and a 30 day waiting period for orders that exceed $50 million; and authorize increased funding for DPA accounts that are being considered for supplemental COVID-19 spending packages.112
1.

H.R. 6390

- To require the President to use authorities under the Defense Production Act of 1950 to require emergency production of medical equipment to address the COVID-19 outbreak.
H.R. 6390 would seek to compel the President to exercise the Defense Production Act for the development of specific medical equipment, including: N95 respirators, medical ventilators, face shields, medical exam gloves, surgical gowns, and other medical equipment as needed to respond to the COVID-19 emergency. The bill would also compel the President to establish a price on those goods. This bill is the House companion bill to S. 3568.113
Appendix B. U.S. Imports of Select Medical Products