Introduction
For several decades the federal government has funded efforts to explore the feasibility of mitigating the release of greenhouse gases (GHGs) while burning fossil fuels as a source of energy. Carbon capture and storage (CCS)—the process of capturing manmade carbon dioxide (CO2) at its source, such as a coal-fired power plant, and storing it underground instead of releasing into the atmosphere—has been proposed as a technological solution for mitigating emissions while using fossil energy.1 Federal policies on CCS have received support in recent Congresses, including support for research and development (R&D) and expansion of tax credits for carbon storage.2 The U.S. Fourth National Climate Assessment, released in 2018, states that "the impacts of global climate change are already being felt in the United States and are projected to intensify in the future—but the severity of future impacts will depend largely on actions taken to reduce greenhouse gas emissions and to adapt to the changes that will occur."3 This report focuses on federal policy regarding the underground carbon storage stage of CCS.
Underground carbon storage is achieved through geologic sequestration and as an incidental benefit of enhanced oil recovery (EOR), which both use injection by well to place CO2 into deep subsurface geologic formations. Geologic sequestration involves storing CO2 by placing it permanently in an underground formation. This process is being tested in the United States and several other countries, including several large-scale late-stage R&D projects.4 EOR involves injecting CO2 to produce additional oil and gas from underground reservoirs and has been used in the United States since the 1970s.
Both geologic sequestration and EOR are regulated under the Safe Drinking Water Act (SDWA) for the purpose of protecting underground sources of drinking water (USDWs).5 The U.S. Environmental Protection Agency (EPA) and delegated states administer sections of SDWA relevant to underground injection and carbon storage. The U.S. Department of Energy (DOE) also engages in underground carbon storage through supporting R&D activities. Congress has supported carbon storage via underground injection through recent legislation directing DOE to expand R&D activity and increasing the federal tax credit for underground carbon storage. As Congress considers policies on underground carbon storage, including geologic sequestration and EOR, Members may wish to consider the current regulatory framework and status of federal and federally sponsored activities in this area.
This report provides background on underground injection and geologic sequestration processes and related federal R&D. It then analyzes the federal framework for regulating land-based underground injection of CO2 both for geologic sequestration and EOR. Finally, it includes a discussion of several policy issues for Congress and recent relevant federal legislation. Not covered in this report are research and management of CCS elements not directly related to underground injection, including carbon capture and the pipeline and transportation infrastructure for captured CO2. Regulation of geologic sequestration on federal land and offshore geologic sequestration of CO2 are also beyond the scope of this report. For additional information on the technical aspects of CCS, see CRS Report R44902, Carbon Capture and Sequestration (CCS) in the United States, by Peter Folger.
Underground Carbon Storage Process
Underground Injection
Underground injection has been used for decades to dispose of a variety of fluids, including oil field brines (salty water) and industrial, manufacturing, mining, pharmaceutical, and municipal wastes. Injection wells are also used to enhance oil and gas recovery; for solution mining; and, more recently, to inject CO2 for geologic sequestration. As of 2018, EPA estimated that there were more than 734,000 permitted injection wells in the United States.7 According to one estimate, approximately 750 billion gallons (2.8 million tons) of oil field brine are injected underground each year in the United States.8
CO2 injection wells are a type of deep injection well used for injection into deep-isolated rock formations. These wells can reach thousands of feet deep.9 More details on specific well types are provided later in this report.
Geologic Sequestration
Geologic sequestration is the long-term containment of a fluid (including a gas, liquid, or supercritical CO2 stream) in subsurface geologic formations. The goal of geologic sequestration of CO2 is to trap or transform CO2 emitted from stationary anthropogenic sources permanently underground and ultimately reduce emissions of GHGs from these sources into the atmosphere. CO2 for sequestration is first captured from a large stationary source, such as a coal-fired power plant or chemical production facility.10 Although CO2 is initially captured as a gas, it is compressed into a supercritical fluid—a relatively dense fluid intermediate to a gas and a liquid—before injection and remains in that state due to high pressures in the underground formation. The CO2 is injected through specially designed wells into geologic formations, typically a half a mile or more below the Earth's surface. These formations include, for example, large deep saline reservoirs (underground basins containing salty fluids) and oil and gas reservoirs no longer in production.11 Research shows that CO2 could also be sequestered in deep ocean waters or mineralized.12 Impermeable rocks above the target reservoir, combined with high CO2 pressures, keep the CO2 in a supercritical fluid state and prevent migration into shallower groundwater or into other formations.
The National Energy Technology Laboratory (NETL) estimates that the total onshore storage capacity in the United States ranges between about 2.6 trillion and 22 trillion metric tons (hereinafter tons in this report) of CO2.14 (For more details, see Appendix A.) By comparison, U.S. energy-related CO2 emissions in 2018 totaled 5,269 million tons.15 Theoretically, the United States contains storage capacity to store all CO2 emissions from large stationary sources (such as power plants), at the current rate of emissions, for centuries. For additional information on the technical aspects of CCS, see CRS Report R44902, Carbon Capture and Sequestration (CCS) in the United States, and CRS Report R41325, Carbon Capture: A Technology Assessment, by Peter Folger.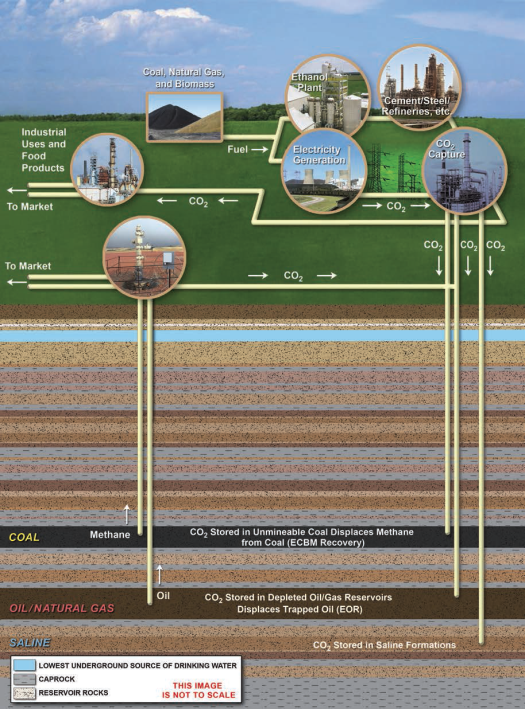 Source: U.S. Department of Energy, Office of Fossil Energy, "Carbon Utilization and Storage Atlas," 4th ed., 2012, p. 4.
Notes: EOR is enhanced oil recovery; ECMB is enhanced coal bed methane recovery.
EOR
Use of wells to inject CO2 builds on known processes. Much of the technology is adopted from well-established experience in the oil and gas industry, which as of 2014, injected approximately 68 million tons of CO2 underground each year in a process known as EOR.16 Enhanced recovery is also used occasionally in natural gas development. EOR can significantly increase the amount of oil or gas produced from a reservoir.17 CO2 is the most common injection agent used in EOR projects.
CO2 injected for EOR most commonly comes from natural sources, such as underground CO2 reservoirs, but some is also captured from anthropogenic sources, such as natural gas production, ammonia production, and coal gasification facilities.18 In many cases, the CO2 is transferred from the source to the injection site by pipeline. The CO2 is typically injected into depleted oil or gas reservoirs using the existing well infrastructure from the original production process. The injected CO2 travels through the pore spaces of the formation, where it combines with residual oil. The mixture is then pumped to the surface, where the CO2 is separated from other fluids, recompressed, and reinjected. Through repeated EOR cycles, CO2 is gradually stored in the reservoir. NETL reports that generally, between 30% and 40% of the CO2 is stored in each injection cycle, depending on the reservoir characteristics, through what it terms "incidental storage."19 This portion of the CO2 "will be contained indefinitely within the reservoir," according to NETL.20
In 2017, commercial CO2-EOR projects were operating in 80 oil fields in the United States, primarily located in the Permian Basin of western Texas.21 Some analysts project that the federal tax credit for carbon storage and the potential increased supply of CO2 from carbon capture could lead to expansion in both the number and locations of CO2 injection for EOR operations.22
Federal Research and Development for Underground Carbon Storage
Over the last decade, the focus of federal carbon storage R&D efforts, including geologic sequestration and EOR, has shifted from small demonstration projects to exploration of its technical and commercial viability for storing large volumes of captured CO2.
DOE leads the federal government's underground carbon storage R&D as part of the agency's fossil energy programs. DOE's work includes conducting fundamental laboratory research on wells, storage design, geologic settings, and monitoring and assessment of the injected CO2. In 2003, DOE created the Regional Carbon Sequestration Partnerships (RCSP) program—a set of public-private partnerships across the United States to characterize, validate, and develop large-scale field testing of CO2 injection and storage methods. The RCSP program supports these R&D projects, which include carbon storage through geologic sequestration and EOR, through partnerships with the petroleum and chemical industries and public and private research institutions.
Congress has supported DOE's carbon storage work through appropriations and, beginning in 2005, through enacting legislation directing DOE to establish programs in this area. The Energy Policy Act of 2005 (EPAct, P.L. 109-58), Section 963, directed DOE to carry out a 10-year carbon capture R&D program to develop technologies for use in new and existing coal combustion facilities.23 Among the specified objectives of this program, Congress directed DOE, "in accordance with the carbon dioxide capture program, to promote a robust carbon sequestration program" and continue R&D work through carbon sequestration partnerships.24 EPAct Section 354 directed the agency to establish a demonstration program to inject CO2 for the purposes of EOR while increasing the sequestration of CO2.
The Energy Independence and Security Act of 2007 (EISA, P.L. 110-140) amended EPAct Section 963 and expanded DOE's work in carbon sequestration R&D and demonstration. EISA Title VII, Subtitle A, directed DOE to conduct fundamental science and engineering research in carbon capture and sequestration and to conduct geologic sequestration training and research.25 Subtitle A also specifically directed DOE to carry out at least seven large-scale projects testing carbon sequestration systems in a diversity of formations, which could include RCSP projects.26 Subtitle B directed DOE to conduct a national assessment for onshore capacity for CO2 sequestration.27
To date in the United States, nine DOE-supported projects have injected large volumes of CO2 into underground formations as part of CCS systems or related EOR R&D projects (see Appendix B). Three of these active projects involve injection into saline formations for geologic sequestration (for demonstration purposes), five involve injection for EOR purposes, and one involves both sequestration and EOR. Four of these projects are currently injecting and/or storing CO2.28 The Petra Nova facility in Texas is the first operating industrial-scale coal-fired electricity generating plant with a CCS system in the United States. The captured CO2 is transported by pipeline to an oil field where it is injected for EOR. The project is jointly owned by several energy companies and was partially funded by DOE. In Decatur, IL, ADM is injecting CO2 from its ethanol production plant into an onsite sandstone formation for geologic sequestration.29 The Air Products Carbon Capture Project in Port Arthur, TX, has been injecting CO2 captured from steam methane reformers since 2013 as part of EOR operations. Each of these projects received funds from the American Recovery and Reinvestment Act (ARRA, P.L. 111-5). The Michigan Basin Project in Otsego County, MI, is injecting CO2 from a natural gas facility for EOR. DOE provides partial funding for this project through the RCSP program. All of the projects operate through collaborations among DOE, industry, and local research institutions.
Five other projects that injected CO2 were implemented through the RCSP program.30 The projects included sequestration into various underground formations and storage associated with EOR with volumes of CO2 injected and stored ranging from a few hundred tons to over 1 million tons (considered commercial-scale).31 The RCSP program is currently in the development phase, which DOE defines as large-scale field testing of high volumes of CO2 storage.32 These projects have completed injection and are now in the post-injection monitoring phase.33 All of the existing RCSP projects are scheduled to end by July 2022, but DOE is in the process of selecting additional projects for the program.34 In the United States, while numerous large-scale storage R&D projects are ongoing, none of the projects injecting CO2 solely for geologic sequestration are operating in a commercial capacity.
Worldwide, public-private partnerships have implemented several CO2 geologic sequestration projects in diverse regions. There are two active projects, both in Norway, where facilities at the Sleipner Gas Field in the North Sea and Snohvit in the Barents Sea conduct offshore sequestration under the Norwegian continental shelf.35 Chevron's Gorgon Injection Project, a natural gas production facility in Australia, plans to begin sequestering CO2 in 2020 and store a total of 100 million tons of CO2.36 Canada, Japan and Algeria have carried out smaller-scale CCS projects with sequestration in saline reservoirs.
Federal Framework for Regulating Geologic Sequestration of CO2 and EOR
This section provides an overview of the federal framework for regulating underground injection of CO2 for both geologic sequestration and EOR. It describes the primary federal statute for underground injection control (UIC), the general federal and state roles in developing and implementing UIC regulations, and the UIC well classes. The section analyzes the differences between wells used solely for geologic sequestration and wells used for EOR. It also outlines the regulatory requirements for transitioning from EOR wells to geologic sequestration wells.
SDWA
SDWA is the primary federal statute governing underground injection activities in the United States, including those associated with geologic sequestration of CO2. SDWA Section 1421 directs EPA to promulgate regulations for state UIC programs to protect underground sources of drinking water and prohibits any underground injection activity except when authorized by a permit or rule.37 The statute defines underground injection as "the subsurface emplacement of fluids by well injection."38
Federal and State Roles
EPA issues regulations for underground injection, issues guidance to support state program implementation, and in some cases, directly administers UIC programs in states.40 The agency has established minimum requirements for state UIC programs and permitting for injection wells. These requirements include performance standards for well construction, operation and maintenance, monitoring and testing, reporting and recordkeeping, site closure, financial responsibility, and (for some types of wells) post-injection site care. Most states implement the day-to-day program elements for most categories of wells, which are grouped into "classes" based on the type of fluid injected. Owners or operators of underground injection wells must follow the permitting requirements and standards established by the UIC program authorities in their states.
SDWA authorizes EPA to delegate primary enforcement authority for UIC programs, known as primacy, to individual states (see Figure 2). Section 1422 mandates that states seeking primacy adopt and implement UIC programs that meet all minimum federal requirements under Section 1421.41 For wells other than certain oil- and gas-related injection wells, states must adopt laws and regulations at least as stringent as EPA regulations and meet other statutory requirements to be granted primacy. EPA grants a state primacy through a federal rulemaking process for one or more classes of wells. If granted primacy for a class of wells, a state administers that UIC program, develops its own requirements, and allows well injection by state rule or by issuing permits. If a state's UIC plan has not been approved or the state has chosen not to assume program responsibility, SDWA requires that EPA directly implement the program in that state.42
UIC Well Classes
Under SDWA authority, EPA has established six classes of underground injection wells based on similarity in the fluids injected.43 Construction, injection depth, design requirements, and operating techniques vary among well classes. Some wells are used to inject fluids into formations below USDWs, while others involve injection into or above USDWs. EPA regulations set out specific permitting and performance standards for each class of wells. In 2010, EPA issued the first federal rule specific to underground injection of CO2, Federal Requirements Under the Underground Control (UIC) Program for Carbon Dioxide (CO2) Geological Sequestration (Class VI Rule).44 In the rule, the agency promulgated regulations for underground injection of CO2 for long-term storage and established UIC Class VI, a new class of wells for geologic sequestration of CO2. Prior to the Class VI rule's effective date in January 2011, injection of CO2 was permitted under Class II if used for EOR or Class V if the well was experimental (e.g., DOE-supported research wells). Table 1 lists the classes of UIC wells.
EPA has delegated UIC program primacy for well Classes I-V to 32 states (see Figure 2). EPA has delegated primacy for all six well classes to one state, North Dakota. Seven states and two tribes have primacy for Class II wells only. Including those states, a total of 40 states have primacy for Class II.45 For Class VI, EPA has direct implementation authority in 49 states and for all territories. For Classes I, III, IV and V only, the agency has delegated primacy for two states.46 EPA shares UIC implementation responsibility with seven states and two Indian tribes and implements the UIC program for all classes in eight states.
Additional states are pursuing Class VI primacy: EPA is reviewing Wyoming's application for Class VI primacy, and Louisiana is in a pre-application phase. As with regulations for other well classes, the Class VI rule allows states to apply for primacy for Class VI wells without applying for primacy for other well classes.
Class VI Geologic Sequestration Wells
Underground injection for the purpose of long-term geologic sequestration of CO2 is subject to SDWA UIC regulations for Class VI wells. Class VI requirements may also apply to CO2 injection for EOR using Class II wells when EPA or the delegated state determines that there is an increased risk to USDWs.47
Two Class VI wells, both in Illinois, are currently permitted in the United States. EPA issued these final permits in 2017 for two wells injecting CO2 into a saline aquifer at the ADM ethanol plant in Illinois. In 2015, EPA issued a final Class VI permit for the FutureGen project, but the permit expired after the project was cancelled without any CO2 injection taking place.48 No state has issued a permit for a Class VI well. EPA requires that state primacy for Class VI wells would be implemented under SDWA Section 1422.
Unique Class VI Requirements
When developing minimum federal requirements for Class VI wells, EPA generally built upon Class I hazardous waste requirements. The agency added new requirements to address the unique properties of CO2 and geologic sequestration in the Class VI rule. In the preamble to the Class VI rule, EPA noted that "tailored requirements, modeled on the existing UIC regulatory framework, are necessary to manage the unique nature of CO2 injection for geologic sequestration."49 EPA bases the regulation of CO2 injection as a separate class of wells on several unique risk factors to USDWs:
the large volumes of CO2 expected to be injected through wells;
the relative buoyancy of CO2 in underground geologic formations;
the mobility of CO2 within subsurface formations;
the corrosive properties of CO2 in the presence of water that can effect well materials; and
the potential presence of impurities in the injected CO2 stream.50
Due to all of these properties, Class VI requirements establish a larger injection site "area of review" compared to requirements for other classes. The area of review for Class VI wells "includes the subsurface three-dimensional extent of the carbon dioxide plume, associated area of elevated pressure, and displaced fluids, as well as the surface area above that delineated region."52 The requirements also obligate well owners or operators to track, model, and predict CO2 plume movement. The monitoring and post-injection site care requirements in the regulations are based on estimates that commercial-scale CO2 injection projects are expected to operate between 30 and 60 years. Appendix C compares the major permitting requirements and technical standards for Class II wells related to oil and gas production, which are used for EOR, and Class VI wells for geologic sequestration of CO2.
To assist states and owner operators with the permitting process, EPA has also issued 11 technical guidance documents on Class VI wells. These documents are not legally enforceable but provide additional information on site characterization, area of review, construction, reporting and recordkeeping, site closure, financial responsibility, and other permit elements.
Class II Oil and Gas Related Wells
Class II wells are used to inject fluids associated with oil and gas production, including wells injecting CO2 for EOR. EOR wells are the most common type of Class II wells. As of 2018, there were approximately 178,000 permitted Class II wells, approximately 135,600 (76%) of which were recovery wells.53 Most of these wells are located in California, Texas, Kansas, Illinois, and Oklahoma. Approximately 20% of Class II wells are disposal wells and hydrocarbon storage wells.
States may request primacy for Class II oil- and gas-related injection operations under SDWA Section 1422 or Section 1425. Section 1422 mandates that state programs meet EPA requirements promulgated under Section 1421 and prohibits underground injection that is not authorized by permit or rule.54 EPA regulations under Section 1421 specify requirements for siting, construction, operation, monitoring and testing, closure, corrective action, financial responsibility, and reporting and recordkeeping.55 Sixteen states and three territories have Class II primacy under Section 1422.
Section 1425 allows states to administer their own Class II UIC programs using state rules in lieu of EPA regulations provided a state demonstrates that it has an effective program that prevents underground injection that endangers drinking water sources.56 To receive approval under Section 1425's optional demonstration provisions, a state program must include permitting, inspection, monitoring, and recordkeeping and reporting requirements. Twenty-four states and two tribes have Class II primacy under Section 1425. Most oil- and gas-producing states have primacy for Class II under this section. Overall, nearly 99% of EOR wells are located in states with primacy under Section 1425.57 For the 10 states without Class II primacy, the District of Columbia, and most tribes, EPA directly implements the Class II program, and federal regulations apply.58
While both Class II and Class VI wells involve injection of CO2 into underground reservoirs, the purposes and regulations of these two classes are different. Class II wells inject primarily into oil or gas fields for the purposes of enhancing production from an underground oil and gas reservoir. In Class II wells, only some of the CO2 stays in the reservoir during each recovery cycle, gradually increasing the total volume of CO2 stored. In Class VI wells, all of the injected CO2 is intended to remain in the reservoir for sequestration. CO2 sequestration in Class VI wells generally involves higher injection pressures, larger expected fluid volumes, and different physical and chemical properties of the injection stream compared to Class II wells.
Given these differences between the two well classes, EPA Class II regulations specify different requirements than Class VI regulations. Generally, EPA Class II requirements impose less comprehensive performance requirements and provide longer time periods between mandatory testing and reporting compared to EPA Class VI requirements. Unlike EPA Class VI requirements, EPA Class II requirements do not include providing seismicity information, continuous monitoring of the injection pressure and CO2 stream, monitoring of the CO2 plume and pressure front, or monitoring of groundwater quality throughout the lifetime of the project.59 EPA Class II requirements also do not impose post-injection site care or emergency and remedial response requirements, which are included in EPA Class VI requirements.60 Class II wells can be granted a permit or authorized by rule by either a primacy state or EPA, while Class VI wells cannot be authorized by rule.61 See Appendix C for more information on EPA Class II well requirements.
Transition of Wells from Class II to Class VI Wells
Class II EOR wells have a different primary purpose than Class VI wells and must transition to a Class VI permit under certain conditions. EPA has determined that "owners or operators of Class II wells that are injecting carbon dioxide for the primary purpose of long-term storage into an oil or gas reservoir must apply for and obtain a Class VI permit where there is an increased risk to USDWs compared to traditional Class II operations."62 EPA recognizes that there may be some CO2 trapped in the subsurface at EOR operations. However, if the Class VI UIC program director (either EPA or the primacy state) has determined that there is no increased risk to USDWs, then these operations would continue to be permitted under the Class II requirements.63 To date, no Class II wells have been transitioned to Class VI.
Other Federal Authorities
Regulations promulgated under most other federal environmental statutes have generally not applied to underground injection or geologic sequestration of CO2. If the well owner or operator constructs, operates, and closes the injection well in accordance with a UIC Class II or Class VI permit, the injection and storage would typically not be subject to other federal air quality, waste management, or environmental response authorities and related liability. For example, a release of a hazardous substance in compliance with a UIC permit would be exempt as a "federally permitted release" from liability and reporting requirements of the Comprehensive Environmental Response, Compensation, and Liability Act (CERCLA).64 Such federally permitted releases would also be exempt from emergency notification requirements of the Emergency Planning and Community Right-to-Know Act (EPCRA).65
During the development of the UIC Class VI final rule, some stakeholders in the CCS industry asked EPA for clarification on how hazardous waste requirements, established under the Resource Conservation and Recovery Act (RCRA), may apply to CO2 streams that are geologically sequestered. In response, EPA promulgated a rule excluding CO2 from RCRA's hazardous waste management requirements when injected into UIC Class VI wells.66 As a result, when geologically sequestered in compliance with a UIC Class VI well permit, CO2 streams are not separately subject to RCRA requirements applicable to the management of hazardous waste.
Certain federal regulations may apply to CCS processes or facilities that support CO2 injection and sequestration, such as carbon capture and CO2 transportation and compression. The regulatory frameworks of these activities are beyond the scope of this report.
Clean Air Act Greenhouse Gas Reporting Program
The Greenhouse Gas Reporting Program (GHGRP) established by EPA under the authority of the Clean Air Act, requires certain sources of GHGs to report emissions data.67 In 2010, EPA promulgated a rule to include injection and geologic sequestration of CO2 in the GHGRP. In this rule, the agency determined that facilities that inject CO2 for long-term sequestration and all other facilities that inject CO2 underground fall within the GHGRP covered source categories.68 Therefore, reporting requirements apply to both Class VI wells and Class II wells that inject CO2. EPA's purpose for collecting this information is two-fold: to track CO2 emissions and to quantify the amount of CO2 being sequestered.
Under the GHGRP Rule Subpart RR, facilities that inject a CO2 stream for long-term containment (i.e., geologic sequestration) must develop and implement a monitoring, reporting, and verification plan.69 The purpose of this plan is to verify the amount of CO2 sequestered and collect data on any CO2 surface emissions from geologic sequestration facilities.70 Any facility holding a Class VI permit would be subject to Subpart RR and be required to report the mass of CO2 that is received, injected into the subsurface, produced, emitted by surface leakage, emitted by leaks in equipment, and emitted by venting.71 Facilities must also report the mass of CO2 sequestered in subsurface geologic formations.72
Subpart UU of the rule applies to Class II wells—for the injection of CO2 for EOR and for small and experimental sequestration projects exempted under Subpart RR. Subpart UU does not require a monitoring, reporting, and verification plan and sets forth different requirements for monitoring and reporting.73
Issues for Congress
If Congress were to address carbon storage through underground injection, there are a variety of policy issues Members may consider. Several policy issues relate to the current SDWA UIC regulatory framework and what elements of CO2 injection are covered under the statute's purpose and approach. Congress may also wish to consider other issues that may have implications for CO2 injection and storage policy, including current pathways of federal support for CCS and underground carbon storage, project cost, and stakeholder perspectives on CCS and fossil fuels.
Scope of the SDWA UIC Regulatory Framework
SDWA currently serves as the major federal authority for regulating injection of CO2 for geologic sequestration and carbon storage in general. However, the major purpose of the act's UIC provisions is to prevent endangerment of public water supplies and sources from injection activities. In the preamble to the proposed Class VI Rule, EPA states, "While the SDWA provides EPA with the authority to develop regulations to protect USDWs from endangerment, it does not provide authority to develop regulations for all areas related to GS [geologic sequestration]."74 The agency identified specific policy areas related to geologic sequestration that are beyond the agency's authority, including (but not limited to) capture and transport of CO2, managing human health and environmental risks other than drinking water endangerment, determining property rights, and transfer of liability from one entity to another.75
The agency acknowledges the challenge of balancing SDWA goals with broader efforts to support geologic sequestration. In the preamble to the Class VI Rule, EPA noted that the rule "ensures protection of USDWs while also providing regulatory certainty to industry and permitting authorities and an increased understanding of GS through public participation and outreach."76
Potential Environmental Risks of Geologic Sequestration of CO2
Federal agencies, external analysts, and other stakeholders have expressed a variety of viewpoints on the potential risks associated with injection and geologic sequestration of CO2. EPA, the Interagency Task Force on Carbon Capture and Storage, and others have recognized that CO2 injection and sequestration activities may convey risks to the environment and human health.77 Some of these risks involve potential endangerment of USDWs that would be covered by SDWA. Other potential impacts, however, are not covered by SDWA or the UIC implementing regulations.
For groundwater-related risks, EPA has noted that expansion of CO2-EOR and associated CO2 storage could increase the risk of endangerment to USDWs due to increased injection zone pressures and the large number of wells in oil and gas fields that could serve as leakage pathways.78 Injected CO2 could also force brine from the target formation into USDWs, which could affect drinking water.79 To address potential releases or leakage that could endanger USDWs, in the Class VI rule, EPA included monitoring, reporting, and recordkeeping requirements specific to CO2 injection.80 Class VI construction and testing requirements, which are generally more stringent than Class II requirements for EOR, are also intended to prevent USDW endangerment.81
Regarding other types of risk from improperly managed projects, EPA identified risks to air quality, human health, and ecosystems as potential concerns not addressed by SDWA authorities.82 In its 2010 report, the Task Force concluded that SDWA's limited application to only those groundwater formations that meet the specific statutory definition of USDWs may "require clarification to support actions to address or remedy ecological or non-drinking water human health impacts arising from the injection and sequestration of CO2."83 The Task Force also stated that an accidental large release could result in risks to surface water, local ecology, and human health.84 (See text box Human Health and Environmental Considerations of CO2 and Geologic Sequestration.)
An additional concern with injection and sequestration of CO2 is the increased potential for earthquakes associated with deep-well injection. Earthquakes induced by CO2 injection could fracture the rocks in the reservoir or, more importantly, the caprock above the reservoir.85 Class VI well regulations require that information on earthquake-related history be included in the permit application and that owners or operators not exceed injection pressure that would induce seismicity or initiate fractures.86
NETL and other stakeholders offer other perspectives on potential health and environmental risks. Regarding the risks of CO2 leakage, NETL outlines several case studies on leakage related to underground carbon storage in a 2019 report.87 The report states that use of EOR in the United States "has demonstrated that large volumes of gas can be stored safely underground and over long timeframes when the appropriate best-practices are implemented."88 According to the report, "Despite over 40 years of operating CO2 EOR projects, leakage events have rarely been reported,"89 although the authors also note that "there has been no official mechanism for reporting leaks of CO2 until recently."90 Other stakeholders have also commented that, even given potential health and environmental risks, the benefits of CO2 sequestration in reducing GHG emissions as part of climate change mitigation efforts outweigh such risks.91
Liability and Property Rights Issues
In the Class VI rule, EPA acknowledged stakeholder interest in liability and long-term stewardship but noted that that the agency does not have the authority to determine property rights or transfer liability from one owner or operator to another.92 In its report, the Task Force also identified that "the existing Federal framework largely does not provide for a release or transfer of liability from the owner/operator to other persons" and noted that some stakeholders view these issues as a barrier to future CCS project deployment.93 Specific policy questions regarding property rights include who owns and controls the subsurface formations (known as the pore space) targeted for CO2 sequestration, if and how such property can be transferred or aggregated, and how underground reservoirs that cross state and tribal boundaries should be regulated. State laws and contractual property arrangements, similar to those established for oil and gas development, may address some of these questions, but some analysts identify the need for more clarity.94
Issues of financial liability and long-term stewardship of injection sites and storage reservoirs also remain largely unresolved. Analysts have raised questions such as (1) who is responsible for the site and reservoir after the 50-year mandated post-injection site care period, (2) what is the role of the federal or state government in assisting site developers and operators with managing the risks associated with sequestration activities, and (3) whether the federal government should be involved in taking on some or all financial responsibility during the life-cycle of sequestration projects.95 Large-scale commercial geologic sequestration projects would likely require unique liability and stewardship structures that address issues such as the particular characteristics of CO2, the entire life-cycle of sequestration projects—from site selection to periods beyond site closure—and the geologic time frame (hundreds or thousands of years) over which sequestration occurs. For more information on legal sequestration issues, see CRS Report RL34307, Legal Issues Associated with the Development of Carbon Dioxide Sequestration Technology, by Adam Vann and Paul W. Parfomak.
Other Policy Considerations
Research and Development
EPA has stated that "a supporting regulatory framework for the future development and deployment of [carbon storage] technology can provide the regulatory certainty needed to foster industry adoption of CCS, which is crucial to supporting the goal of any climate change legislation."96 Even with the completion of several large-scale demonstration field projects, analysts recognize uncertainties regarding wide-spread commercial CCS operation in the United States. These technical issues include uncertainties in operations, such as how much CO2 would be injected, CO2 sources, availability of appropriate locations, and the exact constituents of CO2 injection streams.97 A lack of existing infrastructure for CCS systems—from capture technology to pipelines to transport CO2—may also act as barriers to future CCS deployment.98
Congress has directly supported federal activities in both geologic sequestration of CO2 and EOR through the EPAct in 2005 and EISA in 2007, directing DOE to carry out R&D activities to further technical knowledge and deployment of CCS.99 Several bills in the 116th Congress—including H.R. 1166/S. 383, H.R. 3607, and S. 1201—would continue or expand DOE's CCS programs, including carbon storage programs. Some of these bills would direct EPA to conduct CCS research and/or direct DOE to develop and implement R&D programs related to geologic sequestration methods, storage siting, and assessment of potential impacts. Provisions in some of these bills would also direct DOE to continue its partnership programs for large-scale sequestration demonstration projects. Other relevant provisions include provisions that would require actions from the Council on Environmental Quality, such as publishing guidance and submitting reports to Congress on CCS research and development.
Project Cost
The cost of constructing and operating a new CCS system or retrofitting an existing facility, such as a coal-fired power plant, with CCS is likely to play a major role in the future deployment of commercially viable sequestration projects. Costs for large-scale geologic sequestration or EOR include expenses directly related to injection and storage, as well as costs of investing in sufficient carbon capture and transportation infrastructure and maintaining ongoing facility operations. Regarding regulatory costs associated with geologic sequestration, in the preamble to the Class VI rule, EPA specified the agency's intention that the rule would not impede geologic sequestration:
Should this rule somehow impede GS from happening, then the opportunity costs of not capturing with the benefits associated with GS could be attributed to this regulation; however the Agency has tried to develop a rule that balances risk with practicability, site specific flexibility and economic considerations and believes the probability of such impedance is low.100
Analysts expect that the costs of CCS, whether new system or retrofitting of an existing facility, are likely to total several billion dollars per project, which could act as a barrier to future CCS deployment without the continuation of subsidies.101 Recently, Public Service Company of New Mexico reportedly estimated that retrofitting a 500-megawatt coal-fired power plant with CCS technology could cost between $5 billion and $6 billion.102 The company reportedly stated that its evaluations showed that it would be more cost effective to switch to another source of energy (such as renewable energy) rather than continue to use coal with the addition of CCS.
Examples of completed commercial-scale CCS operations and associated costs are limited, causing some uncertainty regarding future investments and the scale of project deployment in the coming decades. In a 2019 report, NETL indicated that "the potential costs of commercial-scale CCS are still not fully understood, particularly from a fully integrated (capture, transportation, and storage) perspective."103 Costs could vary greatly due to a variety of site-specific factors. The type of capture technology is the largest component of costs, possibly accounting for as much as 80% of the total.104 The variations in the geology of storage formations also make predicting future geologic sequestration costs particularly difficult.
Projects that inject some or all the CO2 for EOR (with incidental carbon storage) involve different cost implications and economic factors from projects injecting solely for permanent CO2 sequestration. These factors could influence future deployment of these types of projects, as facility owners and operators may consider cost implications when deciding whether to invest in EOR or when deciding between investing projects for EOR or permanent geologic sequestration. EOR operations typically use the existing injection infrastructure in place from earlier oil and gas production activities. Thus, the well exploration and construction costs are "sunk costs." Unlike geologic sequestration projects, these expenses may not be included in total project cost calculations, resulting in comparatively lower costs for injecting and storing the CO2. In addition, for EOR projects, overall project costs could be influenced by revenue for the owner or operator from additional oil and gas production. EOR project costs may also be subject to variability and uncertainty, however. NETL notes that the price of oil and the cost and availability of CO2 are key drivers in the economics of CO2 EOR.105
Federal tax credits for carbon storage, available since 2009 for both EOR and geologic sequestration, may also play a role in underground injection and storage of CO2 project costs and investment decisions. These credits are discussed later in this report.
Public Acceptance and Participation
In the preamble to the proposed Class VI rule, EPA noted that "GS of CO2 is a new technology that is unfamiliar to most people, and maximizing the public's understanding of the technology can result in more meaningful public input and constructive participation as new GS projects are proposed and developed."106 EPA also stated that "the agency expects that there will be higher levels of public interest in GS projects than for other injection activities."107 In the Class VI rule, EPA adopted the existing UIC public participation requirements, which require permitting authorities to provide public notice of pending actions, hold public hearings if requested, solicit and respond to public comments, and involve a broad range of stakeholders.108
At least two cases involving Class VI permits have come before EPA's Environmental Appeals Board.109 The first case involved the permit for the FutureGen facility, which was never constructed. The second case involved ADM's Illinois facility, currently operating and permitted in Illinois. Public concerns centered on safety and environmental protection issues, including air quality, groundwater quality, and protection of endangered species. Local landowners claimed that the permits do not adequately address how the facility will ensure these protections in the event of leakage or well failure. They also raised concerns about property rights (including mineral rights), potential decreases in property value, and increased traffic associated with the facilities.110
Continued Use of Fossil Fuels
In the EPAct in 2005 and EISA in 2007, Congress recognized connections between geologic sequestration of CO2 and the continued use of fossil fuel as a major source of electricity in the United States. Consistent with Congress's directives, DOE's CCS research identifies that the purpose of its CCS research, technology development, and testing is "to benefit the existing and future fleet of fossil fuel power generating facilities by creating tools to increase our understanding of geologic reservoirs appropriate for CO2 storage and the behavior of CO2 in the subsurface."111 In the preamble to the proposed Class VI rule, EPA stated that, "the capture and storage of CO2 would enable the continued use of coal in a manner that greatly reduces the associated CO2 emissions while other safe and affordable energy sources are developed in the coming decades."112
Some stakeholders have argued for further research, development and deployment of CCS (when coupled with negative carbon technology, such as direct air capture) as a method for achieving the negative emissions trajectories modeled by the IPCC.113 Some of these stakeholders state that CCS is an appropriate transitional technology to reduce CO2 emissions from electricity generation and other industrial sources while expanding the capacity of low or zero-carbon power sources, such as renewable energy.114
In contrast, other stakeholders have argued that CO2 sequestration could create a disincentive to reduce fossil-fuel-based power plant emissions or shift to renewable energy sources.115 In particular, some stakeholders note that injecting CO2 for EOR may actually increase net GHG emissions, as it produces additional oil and gas to be burned as fuel.116 CCS systems also require energy to compress, transport, and inject the CO2, which, if derived from fossil fuel combustion, could detract from the net GHG reduction benefits of sequestration.
Carbon Storage Tax Credits
Federal tax credits for carbon storage were first enacted in 2008 by the Energy Improvement and Extension Act (P.L. 110-343). This act added Section 45Q to the Internal Revenue Code, which established tax credits for CO2 storage through both EOR and geologic sequestration.117 For EOR, only the CO2 that is used as tertiary injectant and remains in the reservoir qualifies for the tax credit. CO2 recaptured or recycled does not qualify.118 The Bipartisan Budget Act of 2018 (BBA) amended Section 45Q to increase the amount of these tax credits from $22.66 to $50 per ton over time for sequestered CO2 and from $12.83 to $35 per ton over time for CO2 used in EOR.119 The BBA also removed a 75-million-ton cap on total qualified CO2 captured or injected but required the relevant taxpayer to claim the credit over a 12-year period after operations begin. Additionally, eligible facilities must be operating or must begin construction before 2024. The U.S. Department of the Treasury is currently considering comments on proposed implementing regulations for the BBA tax credit provision and has not released a final rule. In response to the 2019 Internal Revenue Service notice requesting comments on carbon credits for future regulations and guidance, some oil and gas industry commenters expressed concerns with Treasury's proposed approach to measuring "secure geological storage" and other requirements, which they assert would impact their ability to plan and invest in CCS projects.120
In the meantime, the tax credit as authorized in the BBA is available to qualified entities. Treasury estimates that in FY2019, the credit will reduce federal income tax revenue by $70 million.121 Over the FY2020-FY2029 budget window, Treasury estimates that the tax credit will reduce federal income tax revenue by a total of $2.3 billion.122 As of May 2019, the amount of stored carbon oxide123 claimed for 45Q credits since 2011 totaled 62,740,171 tons.124
In legislation pending in the 116th Congress, H.R. 5156 would extend the deadline for the start of construction of a qualified facility to January 1, 2025. S. 2263 would revise the requirements for the secure geologic storage of carbon oxide for EOR and sequestration.
Recent CCS Legislation
Table 2, below, lists legislation introduced in the 116th Congress that includes provisions relating to geologic sequestration of CO2 (as of date of report publication). Legislation in the 116th Congress has focused on research and development of CCS, including carbon storage through EOR and geologic sequestration, and adjustments to the 45Q carbon storage tax credit.
Appendix A. Estimates of U.S. Storage Capacity for CO2
Appendix B. Large Scale Injection and Geologic Sequestration of CO2 Projects in the United States