Introduction
Economic factors, new technologies, environmental concerns and associated regulatory policies, and other developments are changing the energy sources used to generate electricity in the United States. One notable change is increased generation from variable renewable energy (VRE) sources such as wind and solar. According to the U.S. Energy Information Administration (EIA), combined generation from wind and solar sources increased from 1% of total electricity generation in 2008 to 9% of total electricity generation in 2018.1 These sources have weather-dependent availability, meaning that changing weather patterns can change available electricity supply from those sources. In contrast, conventional sources for electricity generation, such as coal, natural gas, or nuclear energy, are usually available under normal weather conditions. Power system operators have adjusted existing reliability standards and planning practices to accommodate weather-dependent wind and solar sources. Further adjustments are being discussed as generation from wind and solar sources continue to grow.
Congress required the setting and enforcement of electric reliability standards in the Energy Policy Act of 2005 (EPACT05; P.L. 109-58).2 These standards are developed by the North American Electric Reliability Corporation (NERC) and approved by the Federal Energy Regulatory Commission (FERC) in the United States.3 These mandatory standards apply to the bulk power system, which is comprised mostly of large-scale generators and electricity transmission systems. Small-scale generators (e.g., rooftop solar electricity generation), publicly owned utilities, and local electricity distribution systems are generally under the jurisdiction of state public utility regulatory commissions (PUCs).
To date, generation from wind and solar sources does not appear to be causing electric reliability issues at the national level. NERC's 2018 annual report on reliability showed that, of the 13 metrics it uses to assess reliability, 9 were stable or improving over the 2013-2017 period and 4 showed trends that were, at least partly, inconclusive. Of the four metrics with inconclusive trends, three improved over this period for a subset of bulk power system components.4 Data from NERC also indicate that reliability performance is currently stable in regions such as the Midwest and California where the shares of generation from wind and solar sources are above the national average. Questions remain about how higher levels of generation from wind and solar sources might impact electric reliability moving forward.
This report provides background on reliability planning in the United States with an emphasis on the effects of daily and seasonal variability in wind and solar sources on the bulk power system. Members of Congress might consider how reliability could be impacted if generation from wind and solar sources increases, as many analysts expect. Other reliability concerns, such as cyber and physical security, small-scale generators, and local distribution networks, may be of interest to Congress but are not discussed at length in this report.
Electric Power Sector Overview
As shown in Figure 1 the electric power sector consists primarily of three systems. The generation system consists of power plants that generate electricity. The transmission system consists of high voltage transmission lines that move power across long distances. The distribution systems make final delivery of electricity to homes and businesses. This report will refer to the combined generation and transmission systems as the bulk power system, following the definition Congress established in EPACT05:
The term "bulk-power system" means—(a) facilities and control systems necessary for operating an interconnected electric energy transmission network (or any portion thereof); and
(b) electric energy from generation facilities needed to maintain transmission system reliability.
The term does not include facilities used in the local distribution of electric energy.5
Notably, the discussion in this report generally excludes distributed energy resources such as rooftop solar electricity generation. These resources might pose separate reliability challenges that Congress might choose to consider.
Ownership structures for bulk power system components vary across the country. In some regions, shown in Figure 2, competitive markets exist for wholesale electric power, and regional transmission organizations (RTOs) and independent system operators (ISOs) manage the generation and transmission components of the power system.6 In RTO regions, electricity generators compete to sell power to distribution utilities. The RTO manages an auction process to select the sources for generation that distribution utilities resell to end-use customers. The RTO is also responsible for managing the transmission system and overseeing reliability within its boundaries. In RTO regions, market signals primarily determine investment decisions. Some RTOs operate separate auction processes specifically for essential reliability services.7 According to FERC, two-thirds of U.S. electricity demand comes from RTO regions.8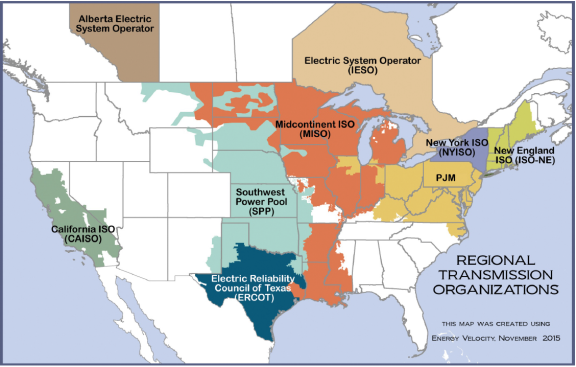 Source: FERC, "Regional Transmission Organizations (RTO)/Independent System Operators (ISO)," October 18, 2018, update, https://www.ferc.gov/industries/electric/indus-act/rto.asp.
Notes: RTOs manage almost two-thirds of U.S. electricity generation, including day-to-day reliability responsibilities. In non-RTO regions, shown as white in this map, vertically-integrated utilities, municipal utilities, or electric co-operatives have these functions. ISO = Independent System Operator. Alaska and Hawaii are not shown because RTOs and ISOs do not operate in those states.
In non-RTO regions, vertically integrated electric utilities are largely responsible for power generation, transmission, and distribution of electricity to end-use customers. These utilities are regulated as natural monopolies and, unlike utilities in RTO regions, do not face competition for generation and transmission services. These utilities may also take responsibility for some aspects of reliability as discussed in the Appendix. State regulators generally oversee these utility operations and are responsible for authorizing new investments, including those related to reliability.9
Even in RTO regions, municipal utilities and rural electric cooperatives may own generation and transmission system components and oversee their operation.10 These systems and operation are generally outside of federal and state regulatory jurisdiction.
What Is Electric Reliability?
A colloquial definition of electric reliability is "having power when it is needed." Operators of bulk power system components, though, require specific and highly technical definitions for reliability. For purposes of regulation, these definitions are provided in the form of NERC reliability standards. NERC develops individual standards for each set of power system components, which may include separate standards covering different reliability timescales for each set of components. As NERC defines "reliability standard," it
includes requirements for the operation of existing Bulk-Power System facilities, including cybersecurity protection, and the design of planned additions or modifications to such facilities to the extent necessary to provide for Reliable Operation of the Bulk-Power System, but the term does not include any requirement to enlarge such facilities or to construct new transmission capacity or generation capacity.11
When all bulk power system components meet reliability standards, NERC expects the vast majority of individuals to have the full amount of electricity they desire. NERC reliability standards do not apply to local electricity distribution system components and operations (see discussion in text box, "Distribution System Reliability"), so localized outages could still occur when reliability standards are met. An analysis found that from 2008 to 2014, upwards of 90% of power outages originated in local distribution systems.12 This measure includes major events (e.g., hurricanes), but may not capture the full scope or severity of large-scale outages.
Distribution System Reliability
As shown in Figure 1, the electric distribution system makes final delivery of electric power to businesses, households, and other consumers. Voltage levels on distribution systems are lower than on transmission systems, but otherwise many distribution system components operate in the same way as transmission systems. Different ownership models for electric distribution utilities include investor-owned, publicly owned, and cooperative. In some cases, the distribution utility also owns generation and transmission assets, but in other cases it does not. Regardless of whether distribution utilities also own and operate generation and transmission system components, they are recognized as natural monopolies and regulated by states.
Reliability of distribution systems has not been traditionally viewed as a federal issue, since the effects of outages in distribution systems are localized. Nonetheless, distribution system outages can be impactful.13 Past federal efforts to improve distribution system reliability include funding for Smart Grid upgrades and grants to communities to install microgrids or other electricity projects.14
Small-scale wind and solar generators are frequently located on the distribution system. Often, these occur in so-called behind-the-meter configurations in which the generator is on the customer side of the distribution utility's meter. These sources generally cannot be controlled by system operators the way sources on the transmission system can be, raising reliability concerns. An emerging proposal to account for this situation is an independent distribution system operator (IDSO) that could balance generation and electricity demand in the distribution system. The IDSO would be analogous to ISOs and RTOs in the transmission system.15
NERC's reliability standards are meant to ensure an Adequate Level of Reliability (ALR) for the bulk power system during normal operating conditions and following localized disturbances such as lightning strikes.16 For economic reasons, some risk of occasional power loss is accepted in reliability planning. A common goal is to limit outages to no more than 1 day every 10 years under normal operating conditions.17
Achieving ALR is not the same goal as preventing all brownouts and blackouts. Bulk power system outages could still occur when reliability standards are fully met. These outages might follow a major event such as a hurricane affecting large areas of the bulk power system.
Electricity System Resilience
An emerging topic of interest is the concept of electricity system resilience. This term is somewhat similar to reliability in that both terms suggest that power will be available when it is wanted. The term resilience, however, tends to be used in a broader sense and often in the context of disasters. As the National Academies noted
Resilience is not just about lessening the likelihood that these outages will occur. It is also about limiting the scope and impact of outages when they do occur, restoring power rapidly afterwards, and learning from these experiences to better deal with events in the future.18
Whereas the electric power industry has developed technical standards and metrics for reliability that are suitable for regulatory purposes, a technical definition of resilience is still under development. FERC initiated Docket No. AD18-7-000 on January 8, 2018,
(1) to develop a common understanding among the Commission, industry, and others of what resilience of the bulk power system means and requires; (2) to understand how each RTO and ISO assesses resilience in its geographic footprint; and (3) to use this information to evaluate whether additional Commission action regarding resilience is appropriate at this time.19
This report does not discuss power system resilience in depth, although some system operations and other activities that support reliability might also support power system resilience. This report uses the terms reliability and reliability standard as those terms are currently used by NERC.
Generally, factors that increase uncertainty reduce reliability, and factors that reduce uncertainty increase reliability. Wind and solar are types of variable renewable energy sources of electricity, and weather is a key source of uncertainty for forecasts of generation from these sources. In contrast, conventional sources such as coal and nuclear have long-lasting, on-site fuel supplies that reduce the uncertainty about their availability.20 This difference has raised questions about how to integrate large amounts of VRE sources into the existing bulk power system, since it was not originally designed to accommodate large amounts of weather-dependent sources of electricity.21
Figure 3 shows typical patterns for electricity generation for wind and solar sources in the United States. Wind generation tends to peak overnight and during winter months.22 Solar generation, on the other hand, tends to be highest during the middle of the day and during the summer. Though these typical patterns are well established for most of the United States, actual generation from wind and solar sources at any particular moment will depend upon specific weather conditions.
Figure 3. Generation Patterns for U.S. Wind and Solar Sources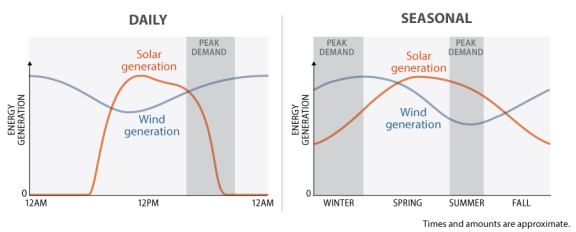 Sources: CRS. Daily generation profiles based on CAISO, Renewables Trend, May 13, 2019, http://www.caiso.com/TodaysOutlook/Pages/supply.aspx. Daily peak demand based on national data from EIA, "U.S. Electric System Operating Data," https://www.eia.gov/realtime_grid/#/summary/demand. Seasonal profiles and peak demand based on 2018 data for total United States, EIA, "Electricity Data Browser," https://www.eia.gov/electricity/data/browser/.
Notes: The y-axis represents the potential energy generation from each individual source, from a minimum of zero to a maximum defined by the installed capacity of the source. Actual generation from any individual source will depend on local weather conditions and other factors. Wind seasonal generation patterns vary by region, so the pattern shown here may not apply in all cases. The daily pattern for solar is typical of south-facing photovoltaic panels in the United States. West-facing panels tend to reach maximum generation 1-2 hours later in the day.
Changing Electricity Generation Profile
The electric power sector is increasing its use of sources associated with more uncertainty in availability. According to the U.S. Energy Information Administration, combined generation from wind and utility-scale solar sources increased from 1% of total electricity generation in 2008 to 8% of total electricity generation in 2018.23 Of the generation in 2018 from wind and utility-scale solar sources, 80% came from wind. Conventional sources such as coal, natural gas, and nuclear comprised a large majority of generation over this time period. The annual share of generation from different sources from 2008 to 2018 in shown in Figure 4.
Figure 4. Annual Net U.S. Electricity Generation by Source, 2008-2018
Percent of total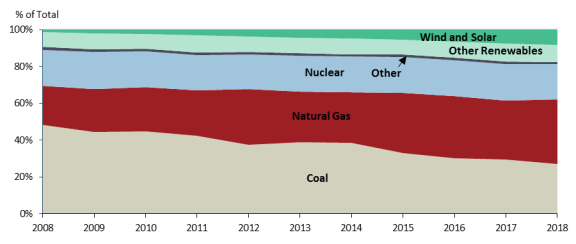 Source: CRS analysis of data from EIA, "Electricity Data Browser," accessed April 16, 2019, https://www.eia.gov/electricity/data/browser/.
Notes: Some EIA categories are combined. Other = petroleum liquids, petroleum coke, other gas, and other; Other Renewables = wood and wood-derived fuels, landfill gas, biogenic municipal solid waste, other waste biomass, geothermal, conventional hydroelectric, and hydroelectric pumped. "Solar" does not include generation from small-scale solar because data were not collected before 2014.
National-level data are not indicative of how generation from wind and solar sources varies across the country. Similarly, annual data do not show how electricity generation varies throughout the day or during different seasons. For example, during brief periods in some regions, wind and solar sources have provided a majority of the energy for electricity generation. Some examples are
Generation from wind sources supplied 56% of electricity demand in ERCOT, the RTO covering most of Texas, at 3:10 am on January 19, 2019.24
Generation from solar sources supplied 59% of electricity demand in CAISO, the RTO covering most of California, at 2:45 pm on March 16, 2019.25
Generation from wind supplied 67.3% of electricity demand in SPP, the RTO covering many central states, at 1:25 am on April 27, 2019.26
These events all set records for maximum share of generation from renewable sources, and the bulk power system maintained reliability during them. Some advocates for increased use of wind and solar sources have pointed to events like these as evidence that VRE sources can be used to an even greater degree without impacting reliability.27
Extrapolating these events to scenarios of correspondingly high national levels of generation from wind and solar sources, however, is complicated by several factors. First, these events were all short lived, typically five minutes or less. Further, these events all occurred when electricity demand was relatively low, namely weekend days during cool months. During times of the year when electricity demand is high, such as the summer cooling season, the share of electricity generation from renewable sources is lower.28 For example, SPP has reported that during its peak demand hours in 2016, wind supplied 11% of generation while conventional sources such as coal (47%) and natural gas (33%) supplied the majority of electricity.29 The seasonality of VRE availability also likely contributed to these record-setting events, especially for wind, which tends to have maximum generation during winter and spring months.
Balancing Variable Renewable Energy
Electricity is essentially generated as a just-in-time commodity, due to limited energy storage capacities. If electricity supply and demand differ by too much, system components could be damaged, leading to system instability or potential failure. The operations that keep electricity supply and demand within acceptable levels are known as balancing.
Balancing involves increasing or decreasing output from generators according to system conditions over timescales of minutes to hours, and it is a critical aspect of maintaining reliability. Balancing authorities, discussed in the Appendix, issue orders to generators to change their output as needed to maintain reliability. Balancing authorities can be utilities, or RTOs can act as balancing authorities in the regions where they exist. The rules for selecting which generators must increase or decrease output typically reflect an approach known as security-constrained economic dispatch (SCED). Under SCED, system operators ensure that electricity is produced at the lowest overall cost while respecting any transmission or operational constraints.30 When generation from a low-cost source would jeopardize reliability, a higher-cost source is used. In other words, SCED has two goals: affordability and reliability.
SCED favors sources with low operating costs, and wind and solar sources do not have to pay for fuel. As a result, wind and solar sources typically generate the maximum amount of electricity they can at any moment.31 Balancing typically involves quickly increasing or decreasing output from other sources in response to variable output from wind and solar sources. The capability to quickly change output is known as ramping, and electricity sources differ in their ramping capability.
System operators use a variety of electricity sources to balance generation from wind and solar sources. Some may be more commonly used in certain regions of the country, depending on local factors. Each has different benefits and limitations, some of which are summarized below.
Reciprocating internal combustion engines (RICE) have seen an increase in installed capacity since 2000, partly in response to higher levels of generation from wind and solar sources.32 These sources have high ramping capabilities and use mature technologies. They usually use natural gas or fuel oil as fuel, so they have associated fuel costs and environmental impacts.33
Steam turbines, usually fueled by coal or nuclear energy

, have historically been operated at steady, high output levels, barring maintenance needs, because that is the most efficient and lowest cost operational mode for them. These sources are capable of ramping to some extent. This operational mode may provide revenue for certain sources located in regions of the country with low wholesale electricity prices. It might also result in higher costs for electricity from these sources, compared to when they are not ramped.

34

Wind and solar sources located in one area can balance wind and solar sources in other areas, since it is rare to have cloudy skies or calm winds over broad regions of the country simultaneously. This could have the benefit of using sources with zero fuel costs and zero emissions for balancing; however, existing electricity transmission system constraints limit the extent to which this is possible.35

Energy storage can be used for balancing because it stores electricity during periods of high supply and then provides electricity when supply is low. Many experts also see storage as a way to address the daily variability shown in

Figure 3

and thereby expand the utilization of installed wind and solar sources.

36

Many energy storage types are expensive and not currently deployed in large amounts.

37

Energy storage can be co-located with wind or solar generators, or it can be located at other sites in the power system or the distribution system.38

Demand response, sometimes called demand-side management, involves adjusting electricity demand in response to available supply. This is counter to how the power system has historically been operated, but has become more commonly used.

39

Demand response includes programs in which electricity consumers voluntarily reduce their usage in exchange for financial compensation. Demand response can be a low-cost balancing option because it does not require electricity generation; however, it comes at a social cost because consumers do not use electricity at their preferred time.

The electric power sector is working to improve the use of weather and power forecasting in system balancing.

For example, MISO changed its wholesale electricity market rules in 2011 to create a Dispatchable Intermittent Resources program. This program allows wind sources to make use of their own generation forecasts and offer generation at five-minute intervals. Previously, offers had to be made on an hourly basis. This was creating inefficiencies in using wind sources since their output can vary over the course of an hour.

Improved forecasting could result in increased use of low-cost wind and solar sources, but forecasting methodologies are still being optimized for this purpose.
The above considerations apply to bulk power system balancing today. Technological or policy developments could alter how system balancing is conducted in the future. Additionally, if wind and solar sources provided even larger shares of overall generation, new benefits or limitations for each balancing source type could emerge.
Federal Government Activities Affecting Reliability and Balancing
Work at the federal level to address reliability needs associated with increased use of wind and solar sources has been underway for some time. For example, NERC created a task force in December 2007 to study the integration of VRE and identify gaps in reliability standards.40
The federal government undertakes actions in addition to the development and enforcement of reliability standards that affect electric reliability. FERC regulates interstate electricity transmission, which can be a key determinant of what sources are available to balance wind and solar. FERC also regulates wholesale electricity markets in most regions of the country. Market rules, including how SCED is implemented, can influence which individual generators are used for system balancing. Market prices can directly affect project revenues and influence investment decisions. Additionally, Congress funds projects and programs that support technology development and deployment, including for sources and operations that improve reliability.
Some examples demonstrate the breadth of federal activities related to reliability.
Potential Issues for Congress
Congress has held hearings related to the changes in the electricity generation profile of the country, and some Members raised concerns about reliability during these hearings.51 Members may continue to examine reliability issues moving forward, in light of projections that wind and solar will become an increasingly larger share of electricity generation. For example, EIA's projection of existing law and regulations shows wind and solar sources contributing 23% of electricity generation in 2050.52 Members may also choose to include reliability as part of any debate about policies to increase the generation from wind and solar sources.53
Preparing for higher levels of generation from wind and solar might require new approaches to maintaining electric reliability. The existing regulatory framework can accommodate some changes since FERC and NERC have authority to initiate development of new reliability standards. For example, NERC has raised the issue of whether it should develop new reliability metrics in light of the increasing use of VRE for electricity generation.
In addition to its capacity supply assessment, NERC's Reliability Assessment Subcommittee should lead the electric industry in developing a common approach and identify metrics to assess energy adequacy. As identified in this assessment, the changing resource mix can alter the energy and availability characteristics of the generation fleet. Additional analysis is needed to determine energy sufficiency, particularly during off-peak periods and where energy-limited resources are most prominent.54
Congress could choose to provide guidance for FERC and NERC activities in this area.
Congress could also assess whether the existing regulatory framework is sufficient to maintain reliability if generation from wind and solar sources increase above current projections. One area of discussion is the siting and approval of transmission projects, particularly those that might result in enhanced availability of wind and solar sources for system balancing. Currently, the siting of electricity transmission facilities is largely left to the states. Section 1221 of EPACT05 directs FERC to issue permits for the construction or modification of transmission facilities in certain circumstances in areas designated by the Secretary of Energy as "National Interest Electric Transmission Corridors." This authority was to be exercised only if the relevant state agency lacks the authority to permit the transmission facilities or has "withheld approval for more than one year." Shortly after passage of EPACT05, DOE set out to designate the National Interest Electric Transmission Corridors and FERC set up a framework for permitting transmission facilities on those corridors. However, federal courts vacated both agencies' actions, and neither agency has taken any significant action pursuant to their Section 1221 authority since that time.55
As noted above, most power outages occur on local electricity distribution systems, and these are regulated by state or local governments. Congress could consider expanding federal activities affecting distribution system reliability. This might involve studies of the factors (e.g., weather, aging infrastructure, VRE) that result in power outages. Such activities might also include federal financial support for projects or practices that improve reliability of distribution systems or encouraging new operational regimes such as independent distribution system operators (see earlier discussion of this issue in text box, "Distribution System Reliability").
Congress might also consider acting on the emerging and related issue of electric resilience. Some support for an enhanced federal role in electricity system resilience exists. For example, the National Academy recommends
Congress and the Department of Energy leadership should sustain and expand the substantive areas of research, development, and demonstration that are now being undertaken by the Department of Energy's Office of Electricity Delivery and Energy Reliability and Office of Energy Efficiency and Renewable Energy, with respect to grid modernization and systems integration, with the explicit intention of improving the resilience of the U.S. power grid.56
Many sources currently used to balance wind and solar have received federal financial support in the past, such as tax credits, grants to states or other entities, and DOE research programs. Congress might consider continuing or expanding this type of support if current activities affecting reliability were deemed insufficient.
Appendix. Key Reliability Concepts for Policymakers
Electric reliability encompasses short-term and long-term aspects as shown in Figure A-1. System operators and reliability planners, governed by reliability standards from the North American Electric Reliability Corporation (NERC), have different practices in place to address reliability over these various timescales.
Reliability over Different Timescales
At the smallest timescales, typically seconds or less, are factors such as frequency control, voltage support, and ramping capability.57 These are often automatic responses of power system components. NERC refers to these factors as Essential Reliability Services (ERS), and they are sometimes called ancillary services. Historically, many ERS were provided as a natural consequence of the physical operational characteristics of steam turbines. Wind and solar generators do not inherently provide ERS in the same way. They require additional electrical components to do so, and these are being more commonly deployed. In some cases, FERC has mandated the use of technologies that allow wind and solar to provide ERS.58
Balancing, described in the main body of this report, typically occurs over minutes to hours. Unlike ERS, balancing typically requires action by a system operator.
Long-term aspects of reliability relate to planning for energy and transmission needs over months to years. This is sometimes referred to as resource adequacy. Policy goals, such as preferences for certain electricity sources over others, tend to influence long-term reliability planning more than shorter-term reliability aspects.
Planning for resource adequacy involves forecasts of electricity supply and demand. For variable renewable energy (VRE) like wind and solar sources, these forecasts require assumptions about wind and solar availability. Reliability planners commonly use planning reserve margins to assess whether planned generation and transmission capacity will be sufficient to supply electricity demand. A planning reserve margin is the difference between expected peak demand and available generating capacity at the peak period in each forecast year.59 It is often expressed as a percentage where the difference is normalized by the peak demand value. According to NERC, reserve margins "in the range of 10-18 percent" are typically sufficient for ensuring reliability, although "by itself the expected Planning Reserve Margin cannot communicate how reliable a system is."60 Reserve margins are calculated months or years ahead as part of assessments of whether and where reliability concerns might exist. High planning reserve margins may indicate a likelihood that reliability will be maintained, but, especially when variable sources are present, they might not be predictive. That is, a high planning reserve margin does not guarantee reliability and a low planning reserve margin does not guarantee power disruptions.
At the national level, NERC annually assesses resource adequacy over a 10-year forecasting window. NERC uses historic VRE generation data in its assessment and has noted "methods for determining the on-peak availability of wind and solar are improving with growing performance data."61 In its 2018 Long-Term Reliability Assessment, NERC recommended enhancing its reliability assessment process to account for events, like those noted in the "Changing Electricity Generation Profile" section above, during which VRE sources provided large shares of generation during off-peak periods.62
Solar eclipses, though rare events, provide opportunities to test the ability of grid operators to reliably operate the grid when solar sources are unavailable. The August 21, 2017, solar eclipse that affected many parts of the United States was one such opportunity. According to NERC, no reliability issues developed during the event, in part because of the measures implemented in advance by the electric industry.63
Electric Reliability Regulatory Framework
Current electric reliability planning is a coordinated process involving multiple entities and spanning multiple jurisdictions. These reliability planning organizations share responsibility for, among other responsibilities, ensuring electricity from wind and solar sources are reliably integrated into the power system. Table A-1 summarizes these entities and their responsibilities.
Entity Name

Selected Reliability Activities

Enforcement Mechanism

Oversight Mechanism

Notes

Federal Energy Regulatory Commission (FERC)

Approves new or modified reliability standards proposed by NERC and conducts enforcement activities.

FERC can enforce compliance plans, reliability enhancements, and impose civil penalties for violations of reliability standards.

Commissioners are nominated by the President and confirmed by the Senate.

Pursuant to EPACT05, FERC may approve reliability standards that are developed by NERC.

FERC rules for investigating potential violations of reliability standards are codified in 18 C.F.R. §1b

North American Electric Reliability Corporation (NERC)

Sets reliability standards for industry and annually assesses long-term (10-year) resource adequacy.

NERC files Notices of Penalty with FERC.

Independent board oversees NERC. FERC may direct NERC to revise reliability standards.

FERC certified NERC as the Electric Reliability Organization (ERO) in 2006. EPACT05 specifies duties of the ERO regarding reliability standards.

Regional Entity

Monitors and enforces compliance with NERC reliability standards.

Can recommend penalties on entities that violate reliability standards and/or fail to mitigate any violations.

NERC can hear appeals in case of disputed violations.

EPACT05 allows NERC to delegate some responsibilities to Regional Entities. Older documents may refer to eight regional entities, but in 2018 the Southwest Power Pool Regional Entity ceased operations and its members transferred into other regional entities, leaving seven regional entities.

Balancing Authority (BAs)

Maintains real time power system reliability in response to system conditions.

Enforcement conducted by appropriate Regional Entity.

Mostly conducted at the local or regional level.

BAs as separate entities are not required by law. Instead, NERC reliability standards require BAs to ensure that electricity supply and demand are balanced in real time. Entities voluntarily register to take on these duties. All of the RTOs act as BAs.

Public Utilities Commissions (PUCs)

In some states PUCs approve power system investments, including those related to power system reliability. PUCs have exclusive jurisdiction over distribution system reliability.

Could include imposing penalties or denying cost recovery for damages associated with poor reliability.

Some state utilities commissioners are appointed by governors; others are elected.

Some state policies, including those supporting wind and solar energy development, might have consequences for reliability. Some states are considering adoption of performance-based rates to provide financial incentives to utilities with positive reliability performance.
Source: CRS analysis.
Notes: Other entities, including generator operators, transmission operators, and reliability coordinators are involved in reliability planning, but their activities are not shown here. Each of those entities has a different scope of function in maintaining power system reliability. A full list of the roles of power system entities in maintaining reliability is available in the NERC Reliability Functional Model at https://www.nerc.com/pa/Stand/pages/functionalmodel.aspx.
In the Energy Policy Act of 2005 (EPACT05; P.L. 109-58), Congress gave FERC responsibility for reliability of the grid through the setting and enforcement of electric reliability standards.64 These standards are developed by NERC and approved by FERC in the United States.65 NERC has set over 100 reliability standards that cover all timescales of reliability planning.66
Congress gave NERC authority to enforce reliability standards in EPACT05. Per statute, NERC has delegated this authority to the Regional Entities shown in Figure A-2. The jurisdiction for enforcing compliance with reliability standards includes "all users, owners and operators of the bulk-power system" within the contiguous United States.67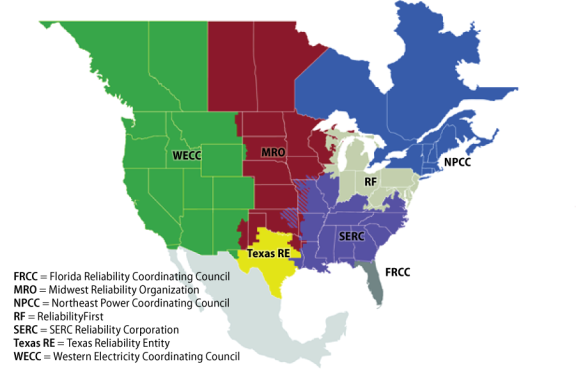 Source: CRS, adapted from NERC, "Key Players," accessed April 17, 2019, https://www.nerc.com/AboutNERC/keyplayers/pages/default.aspx.
Notes: The multicolored areas represent areas where some entities are members of MRO and some entities are members of SERC. Alaska and Hawaii are not shown because mandatory reliability standards do not apply in those states.
Separate from the tasks of setting and enforcing reliability standards is the task of reliably operating the power system in real time. Per NERC's reliability standards, balancing authorities carry most of the responsibility for matching generation levels with electricity demand. Balancing authorities can have different geographic footprints. RTOs act as balancing authorities and they may have a footprint spanning multiple states. Other balancing authorities might have a footprint spanning an area within a single state. Another class of entities with operational responsibilities are reliability coordinators. A reliability coordinator may operate over larger geographic areas than balancing authorities and can overrule real-time decisions by balancing authorities to preserve the larger scale power system reliability. RTOs typically also act as reliability coordinators. NERC has certified 66 balancing authorities and 11 reliability coordinators in the United States.68