Introduction
Human activities, particularly fossil fuel combustion and industrial operations, have raised the atmospheric concentration of carbon dioxide (CO2) and other greenhouse gases (GHGs)1 by about 40% over the past 150 years. Almost all climate scientists agree that these GHG increases have contributed to a warmer climate today and that, if they continue, they will contribute to future climate change.2 Although a range of actions that seek to reduce GHG emissions are currently underway or being developed on the international3 and subnational level (e.g., individual state actions or regional partnerships),4 federal policymakers and stakeholders have different viewpoints over what to do, if anything, about future climate change and related impacts.
Congressional interest in GHG emission control legislation has fluctuated over the last 15 years. Proposals to limit GHG emissions have often focused on market-based approaches, such as a GHG emission cap-and-trade program or a GHG emissions tax (often referred to as a carbon tax) or fee.5 In general, a market-based approach would place a price on GHG emissions (e.g., through an emissions cap or emission tax or fee), allowing covered entities to determine their pathway of compliance.6
This report provides a comparison of the legislative proposals from the 108th through the 116th Congresses that were and are designed primarily to reduce GHG emissions using market-based approaches such as cap-and-trade or carbon tax/fee programs. During this time frame, Members introduced multiple energy-related proposals that would have likely resulted in reductions in GHG emissions—legislation that promotes renewable energy7 or encourages carbon capture and sequestration8—but these bills are not discussed in this report.
In addition, starting in the 112th Congress, some Members have introduced resolutions in the House and Senate expressing the view that a carbon tax is not in the economic interests of the United States. In September 2018, the House passed a resolution "expressing the sense of Congress that a carbon tax would be detrimental to the United States economy" (H.Con.Res. 119).9 An analogous resolution was not introduced in the Senate in the 115th Congress.
As Figure 1 illustrates, between the 108th and 111th Congresses, most of the introduced bills would have established cap-and-trade systems. Between the 112th and 115th Congresses, most of the introduced bills would have established carbon tax or emissions fee programs.
In the 111th Congress, Members offered multiple and varied proposals,10 ultimately resulting in the House passage of H.R. 2454, an economy-wide cap-and-trade bill.11 A companion bill in the Senate (S. 1733) was ordered reported from the Committee on Environment and Public Works, but the bill was never brought to the Senate floor for consideration.
In subsequent Congresses, some Members continued to offer GHG emission control legislation, but these proposals saw minimal legislative activity. During that time frame, the U.S. Environmental Protection Agency (EPA) used existing Clean Air Act authorities to promulgate GHG emission standards for key sectors, including the electric power and transportation sectors.12 EPA rulemakings in this area—particularly the 2015 Clean Power Plan final rule13 and the 2019 Affordable Clean Energy final rule14—continue to generate interest and debate in Congress.
The proposals from the 116th Congress range in their scope of emissions covered from CO2 emissions from fossil fuel combustion to multiple GHG emissions from a broader array of sources. In addition, the proposals differ by how, to whom, and for what purpose the fee revenues or allowance value would be applied. Some economic analyses indicate that policy choices to distribute the tax, fee, or emission allowance revenue would yield greater economic impacts than the direct impacts of the carbon price.
Figure 2. Number and Type of Market-Based GHG Emission Reduction Bills Introduced in 108th Congress through 116th Congress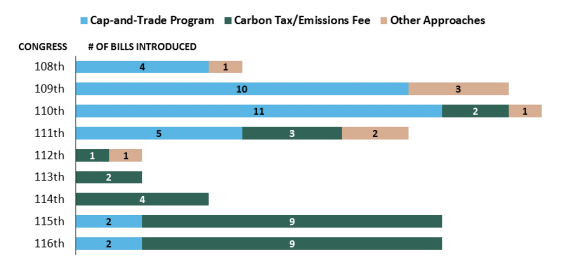 Source: Prepared by CRS.
Notes: "Other Approaches" include (1) proposals that did not specify the overall framework but would have provided EPA with the authority to establish a GHG emission reduction program and (2) proposals that combine elements from a cap-and-trade system with price control features in a carbon tax or emissions fee system, sometimes described as hybrid approaches.
The first section of this report provides background information on cap-and-trade and carbon tax or emission fee programs. The second section compares the GHG emission reduction legislation in each Congress (108th-116th).
Background
Over the last 15 years, broad GHG emission reduction legislation has generally involved market-based approaches—such as cap-and-trade systems or carbon tax programs—that rely on private sector choices and market forces to minimize the costs of emission reductions and spur innovation.15 Both carbon tax and emissions cap-and-trade programs would place a price—directly or indirectly—on GHG emissions or their inputs (e.g., fossil fuels), both would increase the price of fossil fuels for the consumer, and both would reduce GHG emissions to some degree. Preference between the two approaches ultimately depends on which variable policymakers prefer to precisely control: emission levels or emission prices. As a practical matter, these market-based policies may include complementary or hybrid designs, incorporating elements to increase certainty in price or emissions quantity. For example, legislation could provide mechanisms for adjusting a carbon tax/fee if a targeted range of emissions reductions were not achieved in a given period. Alternatively, legislation could include mechanisms that would bound the range of market prices for a cap-and-trade system's emissions allowances to improve price certainty.
What Is a GHG Emissions Cap-and-Trade System?
A GHG cap-and-trade system creates an overall limit, or cap, on GHG emissions from certain sources. Cap-and-trade programs can vary by the sources covered, which often include major emitting sectors (e.g., power plants and carbon-intensive industries), fuel producers and/or processors (e.g., coal mines or petroleum refineries), or some combination of both.
The emissions cap is partitioned into emission allowances. Typically, in a GHG cap-and-trade system, one emission allowance represents the authority to emit one metric ton16 of carbon dioxide-equivalent (mtCO2e).17 The emissions cap creates a new commodity—the emission allowance. Policymakers may decide to distribute the emission allowances to covered entities at no cost (based on, for example, previous years' emissions), sell the allowances (e.g., through an auction), or use some combination of these strategies. The distribution of emission allowances is typically a source of significant debate during a cap-and-trade program's development, because the allowances have monetary value.
At the end of each established compliance period (e.g., a calendar year or multiple years), covered sources submit emission allowances to an implementing agency to cover the number of tons emitted. If a source did not provide enough allowances to cover its emissions, the source would be subject to penalties. Covered sources would have a financial incentive to make reductions beyond what is required, because they could (1) sell or trade unused emission allowances to entities that face higher costs to reduce their facility emissions, (2) reduce the number of emission allowance they need to purchase, or (3) bank them, if allowed, to use in a future year.
The use of emission offsets as a compliance option received attention during debate over cap-and-trade programs. An offset is a measurable reduction, avoidance, or sequestration of GHG emissions from a source not covered by an emission reduction program. Economic analyses of cap-and-trade proposals concluded that offset treatment (i.e., whether or not to allow their use and, if so, to what degree) would have a substantial impact on overall program cost. This is because some emissions and sources often not covered in cap-and-trade programs can reduce emissions at a lower cost per ton than many typically covered sources. However, the use of offsets generates considerable controversy, primarily over the concern that difficult-to-assess or fraudulent offsets could create uncertainty about the quantity of emission reductions.18
In addition, other mechanisms—such as allowance banking or borrowing—may be included to increase the flexibility of the program and, generally, reduce the costs.
What Is a Carbon Tax or Emissions Fee?
In a carbon tax or emissions fee program, policymakers attach a price to GHG emissions or the inputs that create them. A carbon tax/fee on emissions or emissions inputs—namely fossil fuels—would increase the relative price of the more carbon-intensive energy sources. This result is expected to spur innovation in less carbon-intensive technologies and stimulate other behavior that may decrease emissions.19
Economic modeling indicates that a carbon tax/fee approach could achieve emission reductions, the level of which would depend on the scope and stringency (i.e., tax or fee level) of the program.20 For example, to address emissions from fossil fuel combustion—76% of total U.S. GHG emissions21—policymakers could apply a tax/fee to fossil fuels at approximately 3,000 entities, including coal mines, petroleum refineries, and entities required to report natural gas deliveries.22
A carbon tax/fee would generate a new revenue stream. The magnitude of the revenues would depend on the scope and rate of the tax or fee, the responsiveness of covered entities in reducing their potential emissions, and multiple other market factors. A 2016 Congressional Budget Office study estimated that a $25/ton carbon tax would yield approximately $100 billion in the first year of the program.23
When designing a carbon tax/fee system, one of the more controversial and challenging questions for policymakers is how, to whom, and for what purpose the new tax or fee revenues could be applied. Congress would face the same issues that would be encountered during a debate over emission allowance value distribution in a cap-and-trade system.
When deciding how to allocate the revenues, policymakers would encounter trade-offs among objectives. The central trade-offs involve minimizing economy-wide costs, lessening the costs borne by specific groups—particularly low-income households and displaced workers or communities—and supporting a range of specific policy objectives.
A primary argument against a carbon tax/fee system (and a cap-and-trade program) is the concern about the economy-wide costs that a carbon price could impose. The potential costs would depend on a number of factors, including the magnitude, design, and use of revenues of the carbon tax or fee.
Others who may oppose a carbon tax system express opposition to federal taxes in general or the possibility that the revenues would enable greater federal spending. Owners of coal resources, in particular, would likely lose asset values under a carbon tax system—as under a cap-and-trade system—to the degree that coal becomes less competitive under the costs of emission reductions.
GHG Emission Reduction Legislation by Congress
This section compares GHG emission reduction legislation from the 108th Congress to the 116th Congress by including a separate legislative table for each Congress.24 The tables compare the bills by their overall framework, scope, stringency, and selected design elements. Categories of comparison include
General framework: the proposed program structure—emissions cap, emissions tax or fee, or some combination of both—and scope in terms of emissions covered (multiple GHG emissions or just CO2 emissions).
Covered entities/materials: the industries, sectors, or materials that would be subject to the program.
Emissions limit or target: the GHG or CO2 emissions target or cap for a particular year. Some targets/caps would apply only to covered sources; others apply to total U.S. GHG emissions.
Distribution of allowance value or tax revenue: how emission allowance value or carbon tax or fee revenue would be distributed (if applicable).
Offset and international allowance treatment: the degree to which offsets and international allowances could be used for compliance purposes and the types of offset activities that would qualify. Some proposals limit offsets by percentage of required reductions; others limit offsets as a percentage of allowance submissions.
Mechanism to address carbon-intensive imports: a central concern with a U.S. GHG reduction program is that it could raise U.S. prices more than goods manufactured abroad, potentially creating a competitive disadvantage for some domestic businesses, particularly carbon-intensive, trade-exposed industries. Policymakers could address these potential impacts in several ways—for example, through border adjustments, tax rebates, or emission allowances provided at no cost to selected industrial sectors.