Overview
On March 11, 2019, the Trump Administration proposed its FY2020 budget for the Department of State, Foreign Operations and Related Programs (SFOPS) accounts, which fund U.S. diplomatic activities, cultural exchanges, development and security assistance, and U.S. participation in multilateral organizations, among other international activities. The SFOPS budget includes most international affairs (function 150) funding, as well as funding for international commissions in the function 300 budget. The request totals $42.72 billion in discretionary funds ($42.88 billion when $158.9 million in mandatory retirement funds are included), which is 2.5% higher than the FY2019 request but 21% below the FY2019 enacted SFOPS funding level. It is also lower than any SFOPS funding level in the last decade (Figure 1).
Figure 1. SFOPS funding, FY2009-FY2020 request
(In billions of current US dollars)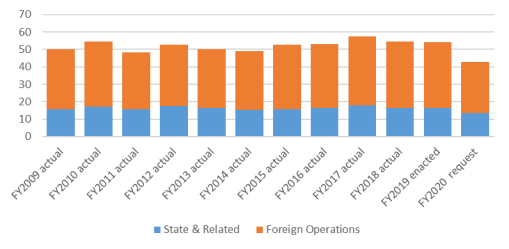 Source: Annual SFOPS Congressional Budget Justifications (CBJs); P.L. 116-6.
The SFOPS request represents about 3% of the total discretionary budget authority (an estimated $1.313 trillion) requested for federal programs in FY2020.
In SFOPS, there is often disparity between requested and enacted appropriations. During the Obama Administration, Congress typically provided less SFOPS funding than was requested, though the gap narrowed over time. Thus far in the Trump Administration, Congress has enacted significantly more SFOPS funding than the amount requested, both because the requested amounts have represented large cuts and because enacted funding levels have been high relative to most recent years (Table 1). The FY2020 budget request appears to continue this pattern.
The Budget Control Act and Overseas Contingency Operations
Since FY2012, the appropriations process has been shaped by the discretionary spending caps put in place by the Budget Control Act of FY2011 (BCA; P.L. 112-25). Congress has amended the BCA to raise the caps for two years at a time, most recently by the Bipartisan Budget Agreement of 2018 (P.L. 115-123). To date, Congress has not taken action to raise the caps for FY2020. If no action is taken, nondefense discretionary spending, which includes SFOPS funding, will need to be cut by a total of $55 billion (-9% from FY2019 funding levels), enforceable through sequestration (automatic across-the-board reductions).1
In addition to raising the caps, another way that Congress has managed the constraints imposed by the BCA budget caps is through the use of Overseas Contingency Operations (OCO) funding, which is excluded from the BCA discretionary budget caps.2 Congress began appropriating OCO in the SFOPS budget in FY2012, having previously provided OCO funds for the Department of Defense. Originally used to support shorter-term, temporary contingency-related programming in Afghanistan, Iraq and Pakistan that was not part of the "base" or "core" budget, the use of OCO has expanded considerably over the years. In FY2019, OCO funds were used to support 11 different SFOPS accounts, from USAID operating expenses and the Office of Inspector General to International Disaster Assistance and Foreign Military Financing.
When Congress raised the BCA caps for FY2019, the Administration chose not to request OCO funding for FY2019 SFOPS. Congress nevertheless designated $8 billion of FY2019 SFOPS funding as OCO, a 33% reduction in OCO spending compared to FY2018 and the second year in a row that SFOPS OCO levels declined significantly (Figure 2). For FY2020, the Administration is again requesting no OCO funding for SFOPS.
Figure 2. Requested and Enacted OCO SFOPS Funding, FY2012-FY2020
(In billions of current US dollars)

Sources: Annual SFOPS CBJs; P.L. 116-6.
Note: No OCO was requested for FY2020, and no SFOPS legislation has yet been enacted for FY2020.
While the FY2020 SFOPS request does not include OCO funding, the Administration's FY2020 defense budget request includes an unprecedented amount of OCO funding, widely viewed as a means of increasing defense spending without amending the BCA's defense discretionary spending cap.
Congressional Action
House SFOPS Legislation. On May 16, 2019, FY2020 SFOPS legislation (H.R. 2839) was introduced and approved by the full House Appropriations Committee. The legislation includes total SFOPS funding of $56.54 billion, 0.4% higher than FY2019 enacted funding and 32% more than requested. Of that total, $48.54 billion is base funding—the 302(b) allocation level approved by the House committee—and $8 billion is designated as OCO. On June 19, 2019, the House passed the FY2020 SFOPS legislation in a "minibus" measure that included three other appropriations bills—Labor, Health and Human Services, Education; Defense; and Energy and Water Development (H.R. 2740). While the topline funding level remained the same, some monies were shifted among the various accounts due to adopted amendments.
State Department Operations and Related Agency Highlights
For FY2020, the Administration seeks to cut funding for the Department of State and Related Agency appropriations accounts from the $16.46 billion Congress enacted for FY2019 to $13.87 billion, a 15.7% reduction. The Administration's FY2020 request exceeds its FY2019 request for these accounts, which totaled $13.26 billion, by around 4.6%. The Administration's priorities to be funded through Department of State and Related Agency accounts include
sustaining the global diplomatic workforce and operations;
protecting U.S. government personnel and overseas missions; and
preserving strategic participation in international organizations to achieve outcomes favorable to the United States and its allies.3
Table 3 provides detailed information regarding the extent of the Administration's proposed cuts to these accounts.
Proposed New Account
The Worldwide Security Protection (WSP) sub-account within the Diplomatic Programs account has been used to fund programs that the State Department's Bureau of Diplomatic Security (DS) and other bureaus implement to protect the department's staff, property, and information. As part of its FY2020 request, the Administration has asked Congress to create a new WSP standalone account and authorize the transfer of all unobligated WSP funds into this account by no later than the onset of FY2021 (October 1, 2020). The Administration maintains that creating this account will increase the transparency of WSP expenditures through more clearly indicating distinctions between funding for diplomatic programs and security-related activities. For its FY2021 budget request, the State Department intends to request WSP funding in this new account.
Selected Key Programs and Priorities
As in previous years, the majority of the funding the Administration is requesting for the Department of State and Related Agency appropriations accounts is for diplomatic programs, diplomatic security and embassy construction, and contributions to international organizations and international peacekeeping activities. For FY2020, such programs account for approximately 89% of the Administration's request. Some of the Administration's priorities within these areas, as identified by the Department of State in its Congressional Budget Justification and other materials provided to Congress, are detailed below.
Diplomatic Programs
The Diplomatic Programs account is the State Department's principal operating appropriation and serves as the source of funding for several key functions. These include domestic and overseas State Department personnel salaries; the operations of the department's strategic and managerial units, such as the Office of the Secretary and the Bureaus of Administration, Budget and Planning, Information Resource Management, and Legislative Affairs; and foreign policy programs administered by the Bureaus of African Affairs, Conflict and Stabilization Operations, and others.
The Administration's FY2020 request for Diplomatic Programs totals $8.42 billion, an 8% reduction from the $9.17 billion Congress enacted for this account in FY2019. The Administration maintains that its request of $2.69 billion in the American Salaries subaccount within Diplomatic Programs is consistent with past congressional guidance regarding appropriate State Department on-board personnel volumes and will sustain the Foreign Service and Civil Service workforces at their end of 2017 numbers.4 Among other priorities, the Administration asserts that its request prioritizes the maintenance and enhancement of the State Department's cybersecurity infrastructure and, separately, the establishment of the new Bureau of Global Public Affairs to better communicate U.S. foreign policy priorities and values in the contemporary media landscape. The Administration is seeking cuts to several bureaus funded in this account, including the Bureau of Administration and the Bureau of Oceans and Environmental and Scientific Affairs. These bureaus face requested cuts of approximately 6% and 9%, respectively.5
As passed, the House legislation, H.R. 2740, would provide $9.25 billion for Diplomatic Programs, which totals 1% more than the FY2019 enacted level and approximately 10% more than the Trump Administration's request. This bill provides funding to return the State Department's Foreign Service and Civil Service on-board personnel levels to those in place during FY2016, prior to the onset of the Trump Administration's hiring freeze at the beginning of 2017 (as opposed to congressional guidance in the FY2019 appropriations law, which called for personnel levels to return to those in place at the end of calendar year 2017).6
Diplomatic Security
The Administration's FY2020 budget request seeks to provide approximately $5.41 billion for the department's key diplomatic security accounts: $3.78 billion for the Worldwide Security Protection (WSP) allocation within the Diplomatic Programs account and $1.63 billion for the Embassy Security, Construction, and Maintenance (ESCM) account.7 The WSP allocation supports the Bureau of Diplomatic Security (DS), which is responsible for implementing security programs to protect U.S. embassies and other overseas posts, diplomatic residences, and domestic State Department offices. The ESCM account supports the Bureau of Overseas Buildings Operations (OBO); provides the State Department's share of costs involved with the planning, design, construction, and maintenance of U.S. overseas posts around the world; and funds "brick and mortar" security measures at these posts.
As illustrated in Table 4, enactment of the Administration's request would mark a decline of 8% for WSP and 18% for ESCM relative to the FY2019 enacted figures. Among the priorities the Administration is seeking to fund through its request are the construction of new embassy compounds in Qatar, Brazil, and Malawi and new U.S. consulates in Italy and Indonesia.8 Proposed cuts include a $50 million reduction in DS operations in Iraq due to the suspension of operations at the U.S. consulate in Basrah.9
The House legislation, H.R. 2740, would provide $4.10 billion for WSP and $1.99 billion for ESCM. This combined total of $6.09 billion is 0.2% above the FY2019 enacted level and about 13% more than the Administration's request. The bill also carries over several reporting requirements from previous years that the committee maintains are necessary for Congress to conduct appropriate oversight of diplomatic construction projects abroad.10
Assessments to International Organizations and Peacekeeping Missions
Through the Contributions to International Organizations (CIO) account, the United States pays its assessed contributions (membership dues) to the United Nations (U.N.), the U.N. system of organizations (including, for example, the International Atomic Energy Agency), inter-American organizations such as the Organization of American States, and other international organizations. Additional funding is provided to international organizations through the various multilateral assistance accounts, as described in the Foreign Assistance section of this report. Separately, the United States pays its assessed contributions to U.N. peacekeeping missions through the Contributions for International Peacekeeping Operations (CIPA) account. Recent funding levels for both accounts are detailed in Table 5.
The Administration's CIO account request notes that it prioritizes funding for international organizations "whose missions substantially advance U.S. foreign policy interests" while cutting contributions to organizations whose work either does not directly affect U.S. national security interests or renders unclear results. While the request funds the North Atlantic Treaty Organization (NATO) and the International Atomic Energy Agency near recent levels, it cuts funding for the World Health Organization and the Food and Agriculture Organization by approximately 50% each. The Administration's request specifically notes that these cuts owe to "these entities' less direct linkages to U.S. national security and economic prosperity."11
With regard to CIPA, the Administration's request assumes that the State Department will make progress in efforts to negotiate reductions in the overall budgets of peacekeeping missions or the closure of certain missions altogether.12 The latest U.S. assessment for U.N. peacekeeping (negotiated in 2018) is 27.89%. If the Administration's request was enacted, it would provide 58% of total U.S. assessed dues owed for FY2020.13 The remainder of these dues would be compounded into arrears, which the State Department estimates totaled approximately $521 million through FY2018.14
The House legislation, H.R. 2740, would provide a combined total of $3.65 billion for CIO and CIPA. This would mark an increase of 25% relative to the FY2019 enacted level and is approximately 70% higher than the Administration's FY2020 request. The committee report accompanying this bill notes concern regarding arrears owed by the United States to U.N. peacekeeping missions; the bill requires that not less than $478.9 million from its FY2020 CIPA appropriation of $2.13 billion shall be disbursed to the U.N. to pay arrears accumulated in FY2017 and FY2018.15
Foreign Operations Highlights
The foreign operations accounts in the SFOPS appropriation, together with the Food for Peace and McGovern-Dole food aid programs funded through the agriculture appropriation, comprise the foreign assistance component of the international affairs budget. The Administration's FY2020 foreign operations request totals $29.01 billion, about 1.5% more than the Administration requested for these accounts for FY2019 and 24% less than Congress enacted for FY2019. Total foreign aid, including the food aid programs in the agriculture appropriation, would be cut by 27%. The foreign aid request outlines four general priorities16
Supporting U.S. friends and allies.
Winning the great power competition.
Promoting a "journey to self-reliance" for developing countries.
Sharing the burden of international security and development with more partners.
Under the President's proposal, assistance levels would be cut across all aid types and sectors. The House legislation, H.R. 2740, includes $39.2 billion for foreign operations, a slight increase compared to FY2019, and about 34% more than the Administration requested (Table 6).
Proposed Account Consolidations and Restructuring
In the FY2020 request, the Administration proposes to consolidate accounts in two areas
Most nonhealth development assistance accounts—Development Assistance; Economic Support Fund; Assistance to Europe, Eurasia and Central Asia; and the Democracy Fund—would be combined into a single new Economic Support and Development Fund (ESDF). The Administration made a similar request for both FY2018 and FY2019, but Congress did not enact the proposed account restructuring.
For the first time, the Administration is proposing to consolidate the four humanitarian assistance accounts—International Disaster Assistance (IDA), Migration and Refugee Assistance (MRA), Food for Peace, Title II and Emergency Refugee and Migration Assistance (ERMA)—into a single International Humanitarian Assistance (IHA) account. Budget documents state that the consolidated account would be managed by USAID under the policy authority of the State Department (see Humanitarian Assistance section below).
The Administration suggests that consolidation of these accounts would streamline management to allow more efficient deployment of resources.
The House passed legislation,

H.R. 2740

, did not adopt the account structure proposed by the Administration. However, it did move the Economic Support Fund account from Title III (bilateral economic assistance) of the bill to Title IV (security assistance), making comparisons of the two titles to the request or to prior appropriations potentially misleading. The committee report notes that ESF funds "are provided to advance United States interests by helping countries meet political and security needs," and may be provided in countries that also receive Development Assistance funds, seemingly clarifying the purpose for distinct accounts rather than a combined ESDF.17
Independent Agencies
Under the FY2020 request, funding for independent SFOPS agencies would be reduced by 12% overall from FY2019 levels. Requested Peace Corps funding is $396.2 million (a 3.5% reduction from FY2019) and for the Millennium Challenge Corporation (MCC), $800 million (an 11.6% reduction). As in the FY2019 budget request, the FY2020 request also proposes elimination of two independent development agencies—the Inter-American Foundation (IAF) and the U.S. Africa Development Foundation (USADF)—and incorporation of their staff and small grant activities into USAID's Western Hemisphere and Africa bureaus, respectively. The request specifies that funding is included for 40 staff positions to enable this transition, as well as $20 million in ESDF to support small grants.
H.R. 2740, as passed, would maintain funding for the MCC and USADF at FY2019 levels while increasing funding for the Peace Corps (3.5% increase) and IAF (44%, with the increase to be used to support the Central America Strategy, the Caribbean Basin Strategy, and for programs in Colombia). The committee report makes clear that the committee does not assume the proposed consolidation of IAF and USADF into USAID.
Multilateral Assistance
The various multilateral assistance accounts, through which the United States contributes to multilateral development banks and international organizations that pool funding from multiple donors to finance development activities, would be cut by about 18% from FY2019, to $1.52 billion under the request. As in the FY2018 and FY2019 requests, the Administration included no funding in the FY2020 request for the International Organizations and Programs (IO&P) account, which funds U.S. voluntary contributions to international organizations, primarily United Nations entities such as UNICEF. Congress appropriated $339 million for IO&P in FY2019. The Administration also requested no funding for the Global Environment Facility (GEF), describing the FY2019 appropriation as sufficient to cover FY2019 and FY2020.
The House legislation, H.R. 2740, would increase total funding for international organizations by nearly 26%. This includes a 91% increase compared to FY2019 for the IO&P account, with report language allocating funds for core contributions to specific agencies, including $147.5 million for UNICEF and $55.5 million for the U.N. Population Funds. The IO&P allocation also includes $170.5 million for the U.N. Relief and Work Agency (UNRWA, which works in Palestinian territories) and report language specifies that $226.6 million of multilateral assistance should support humanitarian and development efforts in the West Bank and Gaza. The bill also includes $139.6 million for the GEF and $30 million for the International Fund for Agricultural Development.
Export Promotion Assistance/International Development Finance Corporation (IDFC)
Export promotion activities in FY2020, as in all recent years, are expected in total to return more to the Treasury through offsetting collections (such as fees and loan interest payments) of the Export-Import Bank and the Overseas Private Investment Corporation (OPIC) than is appropriated for these programs. OPIC will dissolve in FY2020 and be replaced by a new International Development Finance Corporation (IDFC), which will also incorporate USAID's Development Credit Authority (DCA), and the request includes increased administrative funding to support this transition ($98 million, compared to $80 million for OPIC administration and $10 million for DCA administration in FY2019).18 The FY2020 request also includes $200 million in program funds to support IDFC credit subsidies, technical assistance and feasibility studies. As in FY2018 and FY2019, the Administration's export promotion request calls for the elimination of the U.S. Trade and Development Agency, seeking $12.1 million for an orderly shutdown. Congress appropriated $79.5 million for TDA in both FY2018 and FY2019.
H.R. 2740, as passed, does not include funding for OPIC, anticipating its termination under the BUILD Act, and instead provides funds for the IDFC, including $164 million for the capital account (45% less than requested), to include $101 million for administrative expenses. It also sets an $80 million limit on transfers to the IDFC to support direct and guaranteed loans and includes several reporting requirements for the new agency. It also includes $75 million for TDA, a 5.7% cut from current year funding.
Key Sectors
As in previous years, the bulk of aid requested for FY2020 is for global health, humanitarian, and security assistance programs.
Global Health
The total request for the Global Health Programs (GHP) account for FY2020 is $6.34 billion, a 28% cut from the FY2019 enacted funding level. Global health sub-accounts would be cut across the board under the request, with reductions ranging from 11% for malaria programs to nearly 55% for family planning and reproductive health programs (Table 7).
HIV/AIDS program funding would be cut by nearly 30% from current funding levels, though the Administration asserts that the requested funding would be sufficient to maintain treatment for all current recipients. The Administration proposes limiting U.S. Global Fund contributions to 25% of all donations, rather than the 33% that the United States has provided since the George W. Bush Administration.
The House legislation, H.R. 2740, includes nearly $9.3 billion for GHP, which would increase GHP funding by 5% over FY2019 and is 47% more than requested. Sub-sector allocations specified in the report would maintain level funding or slight increases for most health subsectors compared to current year levels, with the exception of family planning and reproductive health funding, which would increase by 30%. The bill includes $1.56 billion for the Global Fund, retaining the U.S. contribution limit at 33% of the total, and directs the Administration to fully obligate the funds for the first installment of the new replenishment round. In addition, the House committee bill includes a provision that would prohibit funds appropriated in the act, or prior SFOPS Acts, from being used to implement the Administration's expansion of the "Mexico City Policy," which prohibits all global health funding (expanded from family planning funding) to foreign NGOs engaged in voluntary abortion activities, even if such activities are conducted with non-U.S. funds.19
Humanitarian Assistance
The FY2020 budget request for humanitarian assistance is $5.97 billion, a 37% decrease from the FY2019 appropriation. The request continues a long-standing trend of humanitarian budget requests being significantly smaller than prior year enacted funding levels, at times reflecting the fact that humanitarian assistance funds may be carried over from year to year and unobligated balances from prior years may still be available (Figure 3).
Figure 3. Humanitarian Assistance Budget Requests and Enacted Funding, by Account, FY2013-FY2020 Request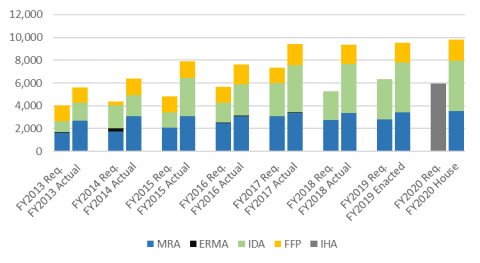 Sources: Annual SFOPS CBJs; H.R. 2740.
Notes: FY2020 House funding is as reported by committee. IHA = International Humanitarian Assistance, FFP = Food for Peace, IDA = International Disaster Assistance, ERMA = Emergency Refugee and Migration Assistance, MRA = Migration and Refugee Assistance.
The Administration's budget justification asserts that "when combined with all available resources, average funding available for 2019 and 2020 roughly matches the highest-ever level of U.S. overseas humanitarian programming, and is sufficient to address needs for Syria, Yemen, and other crisis areas."20
For FY2020, as noted earlier, the budget proposes to fund all humanitarian assistance through a new, single global International Humanitarian Assistance (IHA) account. IHA would be managed by the newly consolidated Humanitarian Assistance Bureau at USAID, but with a "senior dual-hat leader" under the policy authority of the Secretary of State reporting to both the Secretary of State and the USAID Administrator. The proposal would effectively move the administration of refugee and migration assistance funding from State to USAID. The State Department would retain approximately 10% of the current MRA funding to support refugee diplomacy and administrative expenses, costs associated with resettlement of refugees in the United States, and support for refugee resettlement in Israel.
Within USAID, the proposal would also eliminate the Food for Peace Act, Title II funding currently appropriated through the agriculture appropriation but administered by USAID. The Administration previously proposed this in FY2018 and FY2019, citing inefficiency and the ability to provide food assistance through other accounts. Under the proposed plan, emergency food assistance would also be funded through the IHA account.
H.R. 2740, as passed, provides $7.97 billion in foreign operations humanitarian assistance, a 2% increase over FY2019 funding and about 26% more than requested.21 Funding is provided through the traditional accounts (IDA, MRA and ERMA) rather than the proposed IHA account.
Security Assistance
The FY2020 request for military and security assistance is $7.415 billion, a 19% cut from FY2019 enacted levels. Reductions are proposed for every account (Figure 4). As is typical, the bulk of security assistance requested by the Administration (67%) is Foreign Military Financing (FMF) aid to Israel ($3.3 billion), Egypt ($1.3 billion), and Jordan ($350 million). As in FY2018 and FY2019, the Administration's FY2020 request seeks authority to provide FMF assistance through a combination of grants and loans, including loan guarantees, rather than the current use of FMF on an almost exclusive grant basis. The Administration asserts that loan authority would enable partners to purchase more U.S.-made defense equipment and promote burden sharing in security cooperation activities.
FY2020 International Narcotics Control and Law Enforcement (INCLE) funding would decrease by 37%, with a notable increase requested for Colombia ($209 million from $143 million in FY2018) and decrease for Afghanistan ($95 million, down from $160 million in FY2018).
The House legislation, H.R. 2740, includes $11.21 billion for security assistance, an almost 23% increase over the FY2019 funding level and a more than 50% increase over the Administration request. The difference is due in large part to the House bill including the Economic Support Fund account under security assistance rather than bilateral economic assistance. Excluding ESF funds, security assistance in the bill would be reduced about 1% from current year funding.
Figure 4. Security Assistance by Account, FY2018–FY2020 Request
(In millions of current US dollars)

Source: FY2020 SFOPS CBJ; P.L. 116-6; H.R. 2740.
Note: FY2020 House amount is as reported by committee.
Other Foreign Assistance Sectors
In addition to proposed cuts to global health and humanitarian assistance, the FY2020 budget request would reduce funding from the previous year's enacted levels for almost all development sectors. Programs to counter trafficking in persons would be cut the least, 25%, while activities related to environmental protection, microenterprise, water and sanitation, and education would be cut by more than 60%. Democracy promotion and food security funding would be reduced by about half. One exception to the proposed sector cuts is gender equality funding, which would increase by about 80%, driven by the Women's Global Development and Prosperity Initiative, recently rolled out by Ivanka Trump, for which the budget includes $100 million (Table 8).
The House legislation, H.R. 2740, recommended development sector allocations similar to those enacted for FY2019, with the exception of environment programs, for which the allocation would increase by 77%. In addition to the funding allocation, the environmental programs section also specifies that funding may be used to support the U.N. Framework Convention on Climate Change (Paris Agreement) and that none of the funds in the act, or in prior SFOPS appropriations acts, may be used to withdraw from the Paris Agreement. The report accompanying the legislation (H.Rept. 116-78) called for the USAID Administrator to provide a detailed implementation plan of the Women's Global Development and Prosperity Initiative to Congress, including focus countries and planned metrics, within 90 days of enactment.
Country and Regional Aid Allocations
Top aid recipients under the request, consistent with recent years, would be allies in the Near East who receive the bulk of military aid, including Israel and Egypt; strategically significant development partners such as Jordan and Afghanistan; and several global health focus countries in Africa (Table 9). Notable reductions in aid are proposed for South Africa (-171%) and West Bank/Gaza (-43%).
The Near East and Africa would continue to be the top regional aid recipients, together comprising more than 75% of aid allocated by country or region (Figure 5).The FY2020 request emphasizes large increases for the Indo-Pacific and Europe and Eurasia regions relative to the FY2019 request, as part of the emphasis on countering Chinese and Russian influence. However, the requested funding for East Asia and the Pacific is 14% less, and the South and Central Asia request almost 17% less, than the FY2018 allocations for those regions (FY2019 country and regional allocations are not yet available). Aid to Europe and Eurasia would be reduced by 54%, aid to the Western Hemisphere by 30%, and aid to sub-Saharan Africa by 35%. The MENA region would see the smallest proportionate cuts under the request, about 8%, and increase its share of regionally allocated aid from 36% to 44%.
Figure 5. Proportional Aid By Region, FY2018 and FY2020 request
(in millions of current U.S. dollars)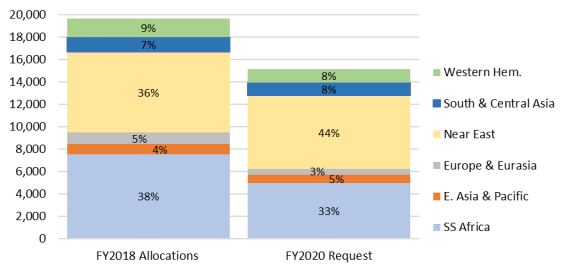 Source: FY2020 SFOPS CBJ.
These country and regional allocations do not include the nearly $6 billion requested for humanitarian assistance. Humanitarian assistance is not requested by country and could significantly change country and regional aid totals once allocated. In addition, the FY2020 budget request seeks authority to transfer $500 million in aid from unspecified accounts as necessary to meet needs related to the crisis in Venezuela.
The House legislation, H.R. 2740, does not provide comprehensive country and regional allocations, but did specify aid levels for several countries and regions, including $3.300 billion for Israel, $1.403 billion for Egypt, $1.525 billion for Jordan, $457 million for Colombia, $160 million to support the Indo-Pacific Strategy, $541 million designated for Central America as a region, and $280 million for the Countering Russian Influence Fund.
Appendix A. SFOPS Funding, by Account
Appendix B. International Affairs Budget
The International Affairs budget, or Function 150, includes funding that is not in the Department of State, Foreign Operations, and Related Programs appropriation: foreign food aid programs (P.L. 480 Title II Food for Peace and McGovern-Dole International Food for Education and Child Nutrition programs) are in the Agriculture Appropriations, and the Foreign Claim Settlement Commission and the International Trade Commission are in the Commerce, Justice, Science appropriations. In addition, the Department of State, Foreign Operations, and Related Programs appropriation measure includes funding for certain international commissions that are not part of the International Affairs Function 150 account.
Appendix C. SFOPS Organization Chart