U.S.-Israel Relations: Current Status
For decades, strong bilateral relations have fueled and reinforced significant U.S.-Israel cooperation in many areas, including regional security. Nonetheless, at various points throughout the relationship, U.S. and Israeli policies have diverged on some important issues. Significant differences regarding regional issues—notably Iran and the Palestinians—arose or intensified during the Obama Administration.1 Since President Donald Trump's inauguration in January 2017, he and Israeli Prime Minister Binyamin Netanyahu have discussed ways "to advance and strengthen the U.S.-Israel special relationship, and security and stability in the Middle East."2
A number of issues have significant implications for U.S.-Israel relations. They include
Various controversies regarding Israeli-Palestinian issues and diplomatic efforts to address them, including President Trump's December 2017 recognition of Jerusalem as Israel's capital and announced plan to relocate the U.S. embassy in Israel there.
Regional security issues (including those involving Iran, Hezbollah, Syria, and Hamas) and U.S.-Israel cooperation.
Israeli domestic political issues, including an ongoing criminal investigation of Prime Minister Netanyahu.
For background information and analysis on these and other topics, including aid, arms sales, and missile defense cooperation, see CRS Report RL33476, Israel: Background and U.S. Relations, by [author name scrubbed]; CRS Report RL33222, U.S. Foreign Aid to Israel, by [author name scrubbed]; and CRS Report R44281, Israel and the Boycott, Divestment, and Sanctions (BDS) Movement, coordinated by [author name scrubbed].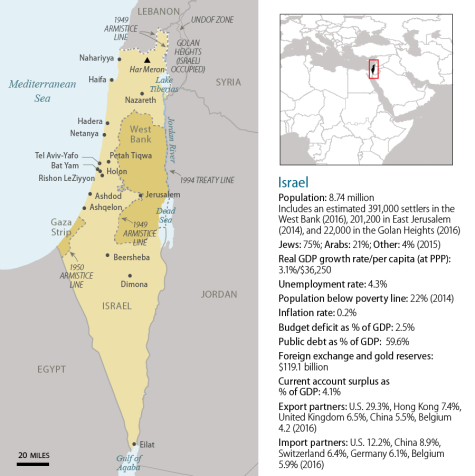 Sources: Graphic created by CRS. Map boundaries and information generated by [author name scrubbed] using Department of State Boundaries (2011); Esri (2013); the National Geospatial-Intelligence Agency GeoNames Database (2015); DeLorme (2014). Fact information from CIA, The World Factbook; Economist Intelligence Unit; IMF World Outlook Database; Israel Central Bureau of Statistics. All numbers are estimates and as of 2017 unless specified.
Notes: United Nations Disengagement Observer Force (UNDOF) withdrew to Israeli-controlled territory in the Golan Heights in September 2014. The West Bank is Israeli-administered with current status subject to the 1995 Israeli-Palestinian Interim Agreement; permanent status to be determined through further negotiation. The status of the Gaza Strip is a final status issue to be resolved through negotiations. Boundary representation is not necessarily authoritative.
Israeli-Palestinian Issues
President Trump has stated aspirations to help broker a final-status Israeli-Palestinian agreement as the "ultimate deal." The President's advisors on Israeli issues include his senior advisor Jared Kushner (who is also his son-in-law), special envoy Jason Greenblatt, and U.S. Ambassador to Israel David Friedman.3 Various political developments during 2017 (some of which are discussed below) have raised questions about whether and when a new U.S.-backed diplomatic initiative might surface. For example, some of President Trump's statements have fueled public speculation about the level of his commitment to a negotiated "two-state solution," a conflict-ending outcome that U.S. policy has largely advocated since the Israeli-Palestinian peace process began in the 1990s.
A number of aspects of the Israeli-Palestinian conflict have remained relatively constant in recent years. There has been little or no change in the gaps between Israeli and Palestinian positions on key issues of dispute since the last round of direct, U.S.-brokered talks broke down in April 2014. Additionally, Israel maintains overarching control of the security environment in Israel and the West Bank. Palestinians have been divided since 2007 between a Palestinian Authority (PA) administration with limited self-rule in specified West Bank urban areas—led by the Fatah movement and PA President Abbas—and Hamas control in the Gaza Strip. The Palestinians also face major questions regarding future leadership.4
In late 2017, the leading Palestinian factions took tentative steps toward more unified rule. In October, Fatah and Hamas reached an Egyptian-mediated agreement aimed at allowing the Fatah-led PA greater administrative control over Gaza.5 The PA gained at least nominal control of Gaza's border crossings with Israel and Egypt in November, but a larger handover of control has been delayed since early December. It is unclear whether this handover will take place, or whether the unity agreement—like similar agreements since 2007—will remain unimplemented.6 The question appears to center on Hamas's willingness to cede control of security in Gaza.7 PA President Abbas has maintained that he will not accept a situation where PA control is undermined by Hamas's militia.8
Observers debate how the President's December decision to recognize Jerusalem as Israel's capital and announce plans for moving the U.S. embassy from Tel Aviv to Jerusalem (discussed below) might complicate any attempt to relaunch Israeli-Palestinian talks in 2018.9 Some commentators surmise that the Administration probably expects leaders from Arab states (such as Saudi Arabia, Jordan, and Egypt) to continue their support for a U.S.-led peace process, despite their initial negative reactions to the President's decision in public, because of their widely reported interest in working with the United States and Israel to counter Iran's influence in the region.10 The Administration's National Security Strategy, issued in December 2017, asserts, "Today, the threats from jihadist terrorist organizations and the threat from Iran are creating the realization that Israel is not the cause of the region's problems. States have increasingly found common interests with Israel in confronting common threats."11
Whether Arab state leaders will move toward or away from supporting the peace process may partly depend on public opinion regarding Jerusalem, Israeli settlements, and other controversial topics. These leaders' stances could also depend on the extent to which they believe that coordination with the United States and Israel to counter Iran is tied to cooperation on the peace process. A separate issue is whether Arab state support would be sufficient to engage Palestinian officials in a new diplomatic initiative, given the difficulties with past initiatives, questions regarding Palestinian leadership overall, and divided rule in the West Bank and Gaza.12
The implications of the President's Jerusalem decision for the U.S. and Israeli approaches to Palestinian issues remain in question. One article speculated that leaders from Israel's political right would feel emboldened to pressure Netanyahu to boost Israelis' presence in Jerusalem and the West Bank. Yet, the same article reported that some Israelis anticipate possible demands from President Trump for future Israeli concessions to the Palestinians.13
Possible presidential or legislative initiatives could address
U.S. aid to Israel and the Palestinians.
U.S. policy on a two-state solution and other issues of dispute (including security, borders, settlements, Palestinian refugees, and the status of Jerusalem).
U.S. contributions to and participation in certain United Nations and other international bodies.14
U.S. approaches to other regional and international actors that have roles in Israeli-Palestinian issues.
Jerusalem: New U.S. Stance and Implications
Via a presidential document that he signed on December 6, 2017, President Trump proclaimed "that the United States recognizes Jerusalem as the capital of the State of Israel and that the United States Embassy to Israel will be relocated to Jerusalem as soon as practicable."15 A December deadline for presidential action under the Jerusalem Embassy Act of 1995 (P.L. 104-45) precipitated the timing of the President's decision.
Despite his proclamation on the planned embassy relocation, the President ultimately did sign a waiver (citing national security grounds) in response to the December deadline.16 So long as the embassy has not officially opened in Jerusalem, the waiver is required every six months under P.L. 104-45 to prevent a 50% limitation on spending from the general "Acquisition and Maintenance of Buildings Abroad" budget. This limitation would otherwise apply in the following fiscal year.
In making his decision, President Trump departed from the decades-long U.S. executive branch practice of not recognizing Israeli sovereignty over Jerusalem or any part of it.17 The western part of Jerusalem that Israel has controlled since 1948 has served as the seat of its government since shortly after its founding as a state. Israel officially considers Jerusalem (including the eastern part it unilaterally annexed after the 1967 Arab-Israeli war, while also expanding the city's municipal boundaries) to be its capital. In explaining the President's decision, Acting Assistant Secretary of State for Near Eastern Affairs David Satterfield said on December 10, "This step was recognition of simple reality."18
The President stated—in a December 6 speech accompanying his proclamation—that he was not taking a position on "specific boundaries of the Israeli sovereignty in Jerusalem," and would continue to consider the city's final status to be subject to Israeli-Palestinian negotiations.19 Palestinians envisage East Jerusalem as the capital of their future state. The President did not explicitly mention Palestinian aspirations regarding Jerusalem. He called on all parties to maintain the "status quo" arrangement at holy sites, including the Temple Mount/Haram al Sharif.20 Echoing past statements,21 the President said that the United States would support a two-state solution if both sides agree to it.
Jordan and Jerusalem
Perhaps more than any other Arab state, Jordan has a significant stake in any development affecting the status of Jerusalem. Jordan and its king, Abdullah II, maintain a custodial role—recognized by Israel and the Palestinians—over the Old City's Temple Mount/Haram al Sharif and its holy sites. This area is the third-holiest in Islam (after Mecca and Medina in Saudi Arabia). Also, Palestinians make up a large portion (probably a majority) of Jordan's population, so any situation involving possible discontent or unrest among Palestinians has the potential to affect Jordan directly.
In a December 13 speech before the Organization of Islamic Cooperation in Istanbul, Turkey, King Abdullah characterized President Trump's December decision on Jerusalem as "dangerous" and as having undermined efforts to resume the peace process. The king focused particular criticism on the unilateral nature of the decision "outside the framework of a comprehensive solution that fulfils all the legitimate rights of the Palestinian people to liberty and an independent state, with East Jerusalem as its capital."22 After a December 19 meeting with French President Emmanuel Macron, King Abdullah said—in reference to a possible U.S. plan for a Israeli-Palestinian peace initiative—"We will have to hope and pray that, actually, over the next two months, our American colleagues will articulate the next phase of this challenge, and, hopefully, to be able to build on that."23
Israeli officials welcomed the President's decision. Reactions from other international actors—including key Arab and European countries—were mostly negative. Several governments warned that recognizing Jerusalem as Israel's capital and preparing for an embassy move could lead to the collapse of the Israeli-Palestinian peace process and to violence, and some asserted that the decision was "not in line" with U.N. Security Council resolutions.24 On December 18, the United States vetoed a draft Security Council resolution (backed by all other 14 members of the Council) that would have reaffirmed past Security Council resolutions on Jerusalem, nullified actions purporting to alter "the character, status or demographic composition of the Holy City of Jerusalem," and called upon all states to refrain from establishing diplomatic missions in Jerusalem.25 On December 21, the U.N. General Assembly adopted a nonbinding resolution (by a vote of 128 for, nine against, and 35 abstaining) that contained language similar to the draft Security Council resolution.26
Palestine Liberation Organization Chairman and Palestinian Authority President Mahmoud Abbas characterized the President's decision as a U.S. withdrawal "from undertaking the role it has played over the past decades in sponsoring the peace process."27 Other Palestinian leaders also denounced the decision. In the immediate aftermath, Palestinian demonstrators clashed with Israeli authorities in Jerusalem, the West Bank, and the Gaza Strip. Protests also took place in other Muslim-majority countries. These demonstrations then abated.
Many Members of Congress have expressed support for President Trump's decision,28 while others have voiced opposition29 or warned about possible negative consequences.30 Congress could consider a number of legislative and oversight options. With regard to the planned embassy move, these could focus on funding, timeframe and logistics, progress reports, and security for embassy facilities and staff. Past media reports have identified a number of sites owned or leased by the U.S. government in Jerusalem—including the existing Consulate General that deals with the Palestinians—as possible venues for an embassy (see Figure 2).31 Secretary of State Rex Tillerson said on December 12 that "nothing [is] going to happen in the next couple of years because it'll take us that time to get to a stage that we can begin to actually implement the building itself. So it's probably no earlier than three years out.... And we do expect that authorizers will support the move."32
Figure 2. Jerusalem: U.S. Sites and Other Selected Sites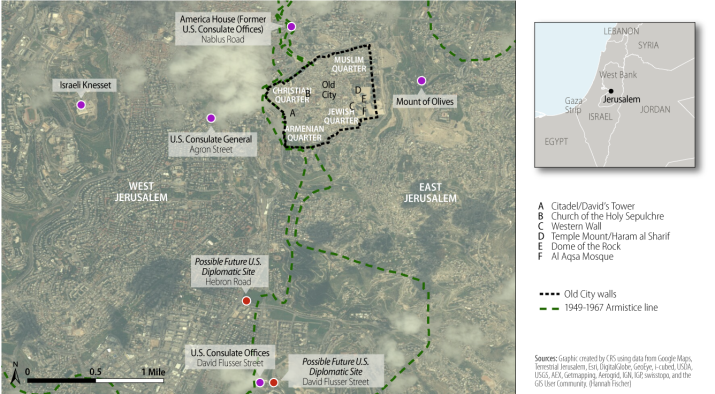 Note: All locations and lines are approximate.
Settlements
Various U.S. actions and statements feed into the overall conversation within Israel about settlement activity. According to one media source from late 2017, as Netanyahu tries to "balance the demands of his pro-settlement coalition partners with the opposition from the international community," settlement opponents' concerns focus on activity in remote areas of the West Bank as well as possible preparatory moves to develop geographically sensitive areas of Jerusalem.33
To date, the Trump Administration has been less publicly critical than the Obama Administration of Israeli settlement-related announcements and construction activity.34 However, in February 2017, the White House press secretary released a statement with the following passage:
While we don't believe the existence of settlements is an impediment to peace, the construction of new settlements or the expansion of existing settlements beyond their current borders may not be helpful in achieving that goal. As the President has expressed many times, he hopes to achieve peace throughout the Middle East region.35
In September 2017, Netanyahu told settler leaders that U.S. officials had told him privately that the Administration was prepared to tolerate limited settlement building and would not distinguish between settlement "blocs" (generally closer to Israel proper) and so-called isolated settlements.36 According to Nickolay Mladenov, the U.N. Special Coordinator for the Middle East Peace Process, about 80% of settlement moves in 2017 were in and around major Israel population centers, with 20% in more remote areas of the West Bank.37 One former U.S. official has written, "About 90,000 [settlers] live deep in the West Bank on the Palestinian side of the Security Barrier.... As time passes, the situation becomes ever more complicated."38
By late 2017, Administration responses to Israeli settlement-related announcements mostly took the form of general statements of policy rather than reactions to the particulars—arguably contributing to some uncertainty about U.S. views and intentions vis-à-vis settlements. One media report in October suggested that Israel was coordinating settlement plans to some extent with U.S. officials.39 However, in late October, the Israeli Knesset (parliament) delayed action on a proposed bill aimed at expanding Jerusalem's municipal boundaries to include various West Bank settlements, following apparent intervention by the Administration. An unnamed senior U.S. official reportedly said that "the U.S. is discouraging actions that it believes will unduly distract the principals from focusing on the advancement of peace negotiations. The Jerusalem expansion bill was considered by the administration to be one of those actions."40
Regional Security Issues
For decades, Israel has relied on the following perceived advantages to manage potential threats to its security and existence:
overwhelming regional conventional military superiority;
undeclared but universally presumed nuclear weapons capability;41 and
de jure or de facto arrangements with the authoritarian leaders of its Arab state neighbors aimed at preventing regional conflict.
Israeli officials closely consult with U.S. counterparts in an effort to influence U.S. decisionmaking on key regional issues. Reflecting Israeli concerns about these issues and about potential changes in levels of U.S. interest and influence in the region, some of Israel's leaders and supporters make the case to U.S. officials and lawmakers that Israel's security and the broader stability of the region continue to be critically important for U.S. interests. They also argue that Israel has substantial and multifaceted worth as a U.S. ally beyond temporary geopolitical considerations and shared ideals and values.42
U.S. decisionmakers' views on these points could influence the type and level of support that the United States might provide to address threats Israel perceives, or how Israel might continue its traditional prerogative of "defending itself, by itself" while also receiving external assistance. They also could influence the extent to which the United States places conditions on the support it provides to Israel.
Since late 2010, a number of countries in the region have experienced significant turmoil, leading to heightened uncertainty with regard to situations on or near Israel's borders. These situations involve governments and nonstate groups, along with flows of people, goods, and weapons. To some extent, these developments may have reduced the conventional military threats facing Israel.
The following are significant (and sometimes overlapping) threats facing Israel.
Iran and Its Allies
Although many Israeli officials have accepted the 2015 international agreement on Iran's nuclear program, and some even have characterized it in positive terms, Iran remains of primary concern to Israel largely because of (1) Iran's antipathy toward it, (2) Iran's broad regional influence, and (3) the possibility that Iran will not face nuclear program constraints in the future. Netanyahu remains publicly skeptical of the Iranian nuclear agreement, calling in a September 2017 speech before the U.N. General Assembly for the agreement's signatories to "fix it or nix it."43
Netanyahu welcomed President Trump's decision in October 2017 to refrain from certifying Iran's compliance with the nuclear accord (under the Iran Nuclear Agreement Review Act of 2015, P.L. 114-17). The President asserted that he could not certify that suspension of sanctions on Iran in relation to the 2015 agreement was "appropriate and proportionate" to the measures taken by Iran to terminate its illicit nuclear program.44 Netanyahu and his supporters in government reportedly favor the prospect of a toughened U.S. and international sanctions regime on matters not directly connected to Iran's nuclear program, such as Iran's development of ballistic missiles and its sponsorship of terrorist groups.45 Media reports indicate that many current and former officials from Israel's military and security establishment may favor the preservation of the nuclear deal because of doubts about achieving international consensus regarding stricter limits on Iran's conduct.46
Lebanese Hezbollah is one major Iranian ally with the ability to threaten Israel. Hamas (with its main base of operations in the Gaza Strip) is also largely aligned with Iran, but somewhat less so than Hezbollah, perhaps because of Hamas's Sunni Islamist and Palestinian nationalist characteristics. In recent years, Israel and Arab Gulf states have discreetly cultivated closer relations with one another in efforts to counter Iran.47
Lebanon-Syria Border Area and Hezbollah
During 2017, Israeli officials have increasingly focused on concerns about Iranian influence near Israel's northern borders with Lebanon and Syria. The government of Bashar al Asad has regained control of much of Syria's territory, with assistance from Iran, various Iran-backed militias, and Russia.48 Israel has alleged that Iran aspires to establish territorial corridors to the Mediterranean coast, and to have some kind of military presence along those corridors.49 In his September address before the U.N. General Assembly, Prime Minister Netanyahu said
We will act to prevent Iran from establishing permanent military bases in Syria for its air, sea and ground forces. We will act to prevent Iran from producing deadly weapons in Syria or in Lebanon for use against us. And we will act to prevent Iran from opening new terror fronts against Israel along our northern border.50
In this context, U.S. National Security Advisor Lt. Gen. H.R. McMaster publicly warned in December of the prospect for Iran to have a "proxy army on the borders of Israel."51
Accordingly, Israel has
continued airstrikes on targets inside Syria to prevent weapons transfers to Hezbollah in Lebanon, and increased warnings about threats from Hezbollah;52
reportedly carried out airstrikes aimed at discouraging Iran from constructing and operating bases or advanced weapons manufacturing facilities in Syria;53 and
sought to influence agreements between Russia, the United States, and Jordan on de-escalation zones in southern Syria, especially by seeking Russian help in keeping Hezbollah and other Iranian allies as far as possible from the Israeli border.54
In December, after an alleged Israeli strike on a base in Syria that was supposedly controlled by Iran, a report surfaced about Prime Minister Netanyahu previously communicating to Syrian President Asad Israel's readiness to act against Iranian bases.55 To date, Russia has apparently tolerated some Israeli military operations in or near Syrian airspace. Its maintenance of advanced air defense systems and its other interests in Syria could affect future Israeli operations.
Hezbollah has challenged Israel's security near the Lebanese border for decades.56 In recent years, Israeli officials have sought to draw attention to Hezbollah's weapons buildup—including reported upgrades to the range and precision of its projectiles—and its alleged use of Lebanese civilian areas as strongholds.57 During Syria's civil war, Israel has reportedly provided various means of support to rebel groups in the vicinity of the Syria-Israel border in order to prevent Hezbollah or other Iran-linked groups from controlling the area.58
Various incidents in 2017 have increased speculation about future conflict between Israel and Hezbollah and potential consequences for Lebanon, Israel, Syria, and others.59 In November, Lebanese Prime Minister Saad Hariri announced his resignation (which he withdrew a month later), citing "unacceptable" Iranian influence over Lebanese politics. In response, Hezbollah leader Hassan Nasrallah accused Saudi Arabia (the country where Hariri announced the resignation) of inciting Israel to attack Lebanon.60 Nasrallah also said that a new Israel-Hezbollah clash was possible but unlikely, and this assertion appears to track with the tone of Israeli political discourse and the near-term views of many Israeli experts.61
Palestinians
The threat to Israel from the unresolved conflict with the Palestinians may have less destructive potential in immediate military terms than threats from Iran's and Hezbollah's missiles and other capabilities. However, if the conflict remains unresolved, it could have long-term political implications that fuel wider regional or global problems for Israel. Three major conflicts between Israel and Palestinian militant groups in the Gaza Strip (most prominently, Hamas) have taken place in 2008-2009, 2012, and 2014. Some analysts have speculated about the possibility that conflict could resume,62 but as of December 2017, Hamas appears to be acting against Salafist militants in Gaza whose rocket launches into Israel may represent an effort to trigger a new round of Israel-Hamas hostilities.63 Israel appears to have increased its capacity to detect and destroy tunnels that gave Hamas some advantages in previous conflict situations.64
Domestic Israeli Developments
A number of controversial domestic developments are taking place in Israel.65 Several of the government's opponents and critics have voiced warnings about government initiatives depicted as targeting dissent or undermining the independence of key Israeli institutions such as the media, the judiciary, and the military. Controversial legislation may be forthcoming to define Israel as the national homeland of the Jewish people in a basic law,66 and limit the Supreme Court's power of judicial review over legislation.67
Some on the right side of the political spectrum have joined the criticism, expressing concerns about the future of democracy in Israel. One media article characterized the split on the Israeli right as being between a past generation (including Israeli President Reuven Rivlin) that "were sticklers for defending minority rights and the rule of law" and "a newer, more populist and partisan politics epitomized by Mr. Netanyahu's government."68 Contention surrounding these issues may be heightened by the possibility of early elections (legally, elections are required by 2019) if the governing coalition splits over Israeli-Palestinian negotiations, the criminal investigation into Netanyahu's conduct, or some other issue.
As 2017 progressed, a legal probe of Prime Minister Netanyahu turned into a criminal investigation—in connection with allegations of various types of corruption—that some observers speculate could threaten his term of office or lead to early elections.69 Netanyahu has dismissed the allegations.
One media account summarizes the two specific investigations in which Netanyahu is a suspect as follows:
Case 1000 revolves around gifts he received from businessmen, including cigars and champagne. Netanyahu's lawyers say they were simply presents from long-time friends, with no quid pro quo.
Case 2000 focuses on suspicions Netanyahu negotiated with the publisher of Israel's best-selling newspaper for better coverage in return for curbs on the competition. The prime minister's lawyers say Netanyahu never seriously considered any such deal.70
Two of Netanyahu's closest associates and attorneys were arrested in early November, bolstering speculation that charges—if Israel's attorney general introduces them—could come sometime in 2018.71 The Knesset is considering legislation that would prohibit police from publicizing investigative findings against government officials before an attorney general's decision to prosecute. However, after facing criticism that such a bill would be self-serving, Netanyahu has said that the legislation would not apply to his case.72
If elections take place in the near future, Netanyahu (if he runs) could face challenges from figures on the right of the political spectrum (including Education Minister Naftali Bennett, Defense Minister Avigdor Lieberman, former minister Gideon Saar, and the previous defense minister Moshe Ya'alon), or nearer the center or left (former finance minister Yair Lapid and new Labor Party leader Avi Gabbay). In December, thousands of Israelis—who appear to come mostly from Israel's "anti-Netanyahu" camp—have protested Netanyahu's alleged corruption, though polls still suggest that Netanyahu may retain an advantage over those who seek to succeed him.73