Introduction
President Trump declared the Coronavirus Disease 2019 (COVID-19) a national emergency in March 2020.1 In an effort to slow the transmission of COVID-19, the Office of Management and Budget (OMB) ordered federal agencies to "maximize telework across the nation for the Federal workforce (including mandatory telework, if necessary), while maintaining mission-critical workforce needs."2 Private sector companies are taking similar measures.3
This report provides information on telework in practice at federal agencies and potential effects of telework on our communications infrastructure, data, and security.4
Telework in Practice
This section discusses how employees may access an organization's digital resources and potential effects that may have on communications infrastructure.
Working Onsite at an Organization's Facilities
For many organizations, employees perform their work at an organization-controlled facility, such as an office which affords access to both digital and physical resources. Workers access company information on equipment owned by the organization (e.g., a laptop), and use software the company approves (e.g., a word processor). Typically, organizations provide email services, internet access, and other communication services (e.g., chat). In this model, the organization controls data access, and provides cybersecurity safeguards to protect their information, the employees, and the organization itself.
Some of the cybersecurity safeguards an organization may provide include
anti-malware software at both the device and network level (prevents malicious software from executing unauthorized commands on the system);
intrusion protection systems (detects and blocks malicious internet traffic coming into and going out of the organization's network);
firewalls (blocks certain internet traffic based on preset rules);
regular patching and secure configurations (minimizes opportunities for hackers to exploit vulnerabilities in a system); and
event logging (allows security professionals to investigate and identify attacks).
These safeguards may still apply if employees telework. For a discussion of the effect of cybersecurity tools when employees telework, see the "Increased Telework" section of this report.
Working Remotely
With the increased adoption of information communications technologies (ICT) that support mobile computing (e.g., wireless networking and video teleconferencing), more organizations and employees are embracing remote working arrangements.
Telework is "the ability for an organization's employees, contractors, business partners, vendors, and other users to perform work from locations other than the organization's facilities."5 Federal agencies have used telework as workplace flexibility, a tool to ease transportation congestion, and a perk for recruiting and retaining a workforce. Over the years it has also been used as a tool to benefit the government, such as maintaining productivity during emergencies (e.g., inclement weather) and reducing real estate costs.6
Employees may access an organization's information network on an organization-provided device (e.g., laptop or mobile phone) or their own device (i.e., under a bring-your-own-device, or BYOD, policy). Devices usually need some additional software to enable access, such as a virtual private network (VPN) client. A VPN creates an encrypted tunnel between the device and the network it is seeking to access. Data passes between the device and the organization using common internet infrastructure, but the encrypted tunnel is designed to prevent other users or devices from reading the data between the two.7 The organization will usually have some appliance (i.e., a piece of hardware with dedicated software, like a secure remote access server) running at the point at which the organization connects to the internet. This appliance will serve to manage the VPN and allow access to the organization's network. In essence, a VPN is a software solution to allow devices to remotely connect to an organization's network as if they were physically attached to that network. Figure 1 shows a graphical representation of how this could work.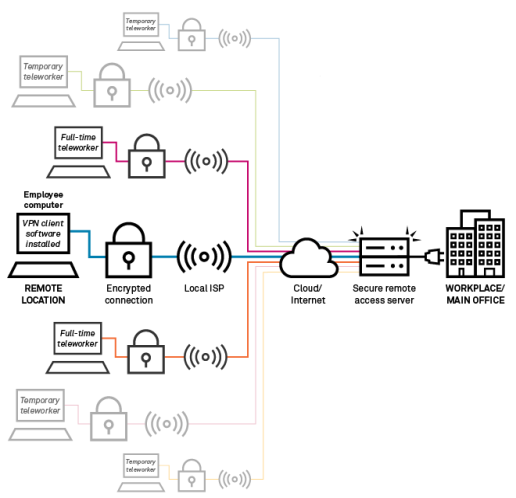 Source: Cat Weeks, S&P Global Market Intelligence, March 18, 2020.
Notes: Local ISP = Local Internet Service Provider (e.g., Comcast or RCN). VPN = Virtual Private Network. Cloud/Internet = Internet backbone infrastructure (e.g., core providers and cloud services providers).
This model is not the only one for teleworking employees. For example, some organizations use cloud-based resources (e.g., Microsoft Office 365) in lieu of resources owned and maintained by the organization. In that case, the employee may access their organization's data without their internet traffic first routing through the organization. Some federal agencies do employ a cloud-based computing solution. For example, at the end of 2019, 76% of federal agencies had migrated their email services to a cloud-based service provider.8 However, the full extent of federal agency cloud adoption is not publicly known.9
It is also important to note that employees may potentially access multiple networks in an organization. A teleworking employee may access an organization's data network to correspond using email or access a database. But an employee may also access an organization's voice network to access voicemail on a desk phone or forward business calls. Organizations may also have more than one voice, data, or video network on which their employees conduct their business.
Impact on Infrastructure
Since the outbreak of COVID-19, telework use has increased significantly. One estimate saw use of VPN in the United States increase 53% from early to mid-March, and predicts it will have increased by more than 150% from March 2019 to March 2020.10 This trend has the potential to stress information communication infrastructure. As a whole, American internet service providers (ISPs) have been able to handle the shifts and spikes in internet usage; however, questions remain as to whether or not this infrastructure can continue to handle increased loads.11
Although ISPs have been able to manage demands for network access to date, other elements of internet infrastructure have been stressed. Content delivery networks (CDNs)12 host multiple copies of information (e.g., webpages, videos, and files) that users seek to access on the internet in geographically disperse servers. This redundancy creates resiliency in users' ability to access content and allows content to be delivered faster. With the shift in when users are accessing internet services, some CDNs are prioritizing certain types of content (e.g., video teleconferencing service) and deprioritizing others (e.g., game downloads) in order to maintain speedy access to services.13
The Cybersecurity of Telework
This section discusses existing guidance agencies follow while managing cybersecurity risks related to telework and security risks they may experience.
Security Guidance
Generally, federal agencies follow the Federal Information Security Modernization Act (FISMA, P.L. 113-283) to guide their information technology risk management practices.14 FISMA lays out responsibilities for
agency heads to be ultimately responsible for the security of their agency's information technology (but agency heads may delegate this responsibility to a senior agency official);
the Director of the Office of Management and Budget (OMB) to provide strategic guidance on implementing FISMA;
the Secretary of Homeland Security (through the Director of the Cybersecurity and Infrastructure Security Agency, CISA) to provide operational guidance and assistance to federal agencies in securing their networks;
Inspectors General (IGs) to independently evaluate the information security programs of agencies; and
the Director of the National Institute of Standards and Technology (NIST) to provide technical standards and guidance to agencies to follow in designing and implementing information technology security.
For COVID-19, OMB issued guidance directing federal agencies to maximize telework.15 However, security guidance came from other agencies, namely NIST and CISA.
NIST Guidance
NIST has two primary documents that provide guidance to agencies on the security of telework: one addresses security of the enterprise16 and the other addresses security of the user.17 NIST has also published guidance for mobile device security.18 In March 2020, NIST's National Cybersecurity Center of Excellence (NCCOE) provided additional guidance for telework security19 and privacy during video teleconferences.20 Among NIST's recommendations for enterprises are
Assume employees will be accessing the organization from untrusted devices and networks when developing telework policies;
Develop telework, remote access, and bring-your-own-device (BYOD) policies together;
Ensure that telework-enabled devices are updated regularly; and
Separate network access and resources based on the type of device connecting to it.
Among NIST's recommendations for users are
Ensure data is backed up so that users can still access information even in a loss of network functionality;
Receive training on and understand their organization's teleworking policies;
Ensure their devices (to include home networking equipment) are updated and secure; and
Avoid accessing organization computer resources on unapproved devices.
CISA Guidance
To complement NIST's guidance, the DHS Cybersecurity and Infrastructure Security Agency (CISA) issued additional guidance to organizations using telework in response to COVID-19.21 CISA also issued an alert advising that malicious actors have a history of using world events to improve the likelihood that users fall prey to their scams, phishing attempts, and malware.22 Phishing is a technique for "[t]ricking individuals into disclosing sensitive personal information through deceptive computer-based means." Malware is "[h]ardware, firmware, or software that is intentionally included or inserted in a system for a harmful purpose."23 Among CISA's recommendations are
Avoid clicking on unsolicited web links and email attachments, which may carry malware;
Use trusted sources for information, such as government websites with valid website certificates;
Double check a source's authenticity prior to sending money, and check with the Federal Trade Commission (FTC) to see if it is a scam;24
Update network devices and VPN appliances with the latest available patches to minimize the risk from known vulnerabilities;
Enable network logging so that security personnel can audit, detect, and respond to incidents with current information; and
Enable multi-factor authentication25 for credentials accessing organization networks.
Cybersecurity Risks
In addition to the persistent risks that organizations, administrators, and users face in cyberspace, the COVID-19 outbreak and response created two unique risks: a high-profile event and a rapid change in computing habits (i.e., telework).
A High Profile Event
Adversaries have a history of using high-profile events to entice and trick users. Government agencies26 and private sector researchers27 have issued warnings surrounding major events like the Olympics in the past. The coronavirus outbreak is no different.28 Adversaries are counting on users' demand for the latest information, a desire to be charitable during a time of crisis, and the heightened public interest to improve the likelihood that a user engages with malicious websites, attachments, and emails.
The news media is reporting increased phishing attempts related to coronavirus.29 Cybersecurity firms have also reported an increase in coronavirus-related phishing attempts.30 The goal of these attempts is to get a user to click a link in an email, visit a malicious website, or download a compromised file in order to distribute malware to the user's device or to trick the user into sending money to an illegitimate recipient.31 This activity is not limited to cyber criminals, but is also employed by nation-state actors, as well.32 Hackers are not limited to compromising an end-user device. Some infiltrate home routers and other network infrastructure to reroute user web traffic from legitimate websites to illegitimate ones that distribute malware.33
Increased Telework
The second risk comes from the rapid pace at which organizations and employees are shifting their computing habits to telework. The rate at which agencies adopted a strategy of maximum telework in response to COVID-19 left little time for administrators to check their networks, improve policies, and apply updates. Employees are no longer accessing agency computing resources from inside agency facilities, with the physical security that comes with those facilities.34 They may be using unsecured home networks or devices (e.g., unpatched equipment) to access agency information. Agencies may have had to increase network access rapidly to allow for maximum telework, without establishing, testing, and refining security measures to protect data. Even with security measures in place within an agency's network, the proverbial 'perimeter' of the agency's network is extended well beyond its baseline posture with many more employees teleworking. NIST and CISA alerted agencies to these risks and encouraged them to put into place measure to minimize these risks.35
Federal agencies have been moving to a shared-services model under the Trump Administration.36 CISA provides many of the cybersecurity services agencies rely on, including Continuous Diagnostics and Mitigation (CDM, a program to scan agency networks for vulnerabilities); EINSTEIN (a program to detect intrusions to agency networks coming from the internet); and Trusted Internet Connections (TIC, a program to consolidate internet access points for the federal government).37 However, information on the ability for these programs to adequately operate in an environment where agency information is being accessed through heavy use of virtual private networks (VPNs), information being accessed directly through cloud service providers, or through other arrangements, is not publicly available. On April 8, 2020, CISA published interim guidance to federal agencies on using the TIC program during a surge in telework because of COVID-19. One of the goals of this document is to insure that network-level security protocols continue to protect agency information during the surge in telework arrangements.38
Adversaries may seek to compromise the VPNs themselves to gain access to agency networks or user devices. Vulnerabilities in VPN appliances were discovered in the past, leading government agencies to issue warnings and mandates to patch network infrastructure.39 Adversaries may seek to compromise federal agency networks during this time of alternative data access. However, they may not need to attack the network itself. With so many users teleworking, an adversary may only need to compromise one or a few user devices, and then use their VPN connection to access agency information, appearing as legitimate traffic and network use to an agency's internal defenses and logs.40
Other risks may arise if employees are processing federal information outside of a secured device-to-agency connection. If employees are using publicly available, internet-based applications and platforms to conduct their business, they may not be using the cybersecurity tools offered by the agency—potentially exposing government information to malicious actors.41
How the shift to telework is affecting federal agencies is currently unknown. Federal agencies have not reported how prevalent telework is during the COVID-19 response. Before the COVID-19 outbreak, the Government Accountability Office (GAO) examined telework practices at agencies. GAO's investigations focused on the use of telework as a human capital and real property management tool, and agencies considered telework in terms of costs and benefits under that rubric. Despite existing guidance, GAO found data from agencies on the use of telework to be unreliable.42
Considerations for Congress
The U.S. Congress has held hearings to examine telework policy in federal agencies and considered legislation on the subject. Recent committee hearings have focused on employee abuse of telework.43 At the start of the millennium, Congress looked at ways to promote telework as an employee benefit and to reduce real property costs.44 However, after the attacks of September 11, 2001, Congress examined telework as a tool to ensure continuity of operations in the event of terrorist attacks or pandemics.45 Congress has also considered legislation concerning telework and passed the Telework Enhancement Act of 2010 (P.L. 111-292). Concerning the COVID-19 outbreak, a bill introduced in the116th Congress would require federal agencies to permit employees to telework (S. 3561). These efforts do not significantly address cybersecurity matters of telework.
As the coronavirus outbreak continues and as government examines its response, policymakers may choose to examine the use of telework further. Three areas Congress may choose to explore are agency oversight, interagency collaboration, and cybersecurity investments.46
Agency Oversight. Some agencies reported disruptions as employees started to telework en masse.47 Other agencies braced for stress to their network infrastructure.48 Regardless of the prevalence of employee teleworking, agencies still face the need to manage ordinary risks to their cyber infrastructure (e.g., performing updates, inventorying assets on their network, and ensuring proper network use). Congress may exercise oversight to ensure that agencies are able to fulfill their required operations securely, while employing increased telework capabilities.
Interagency Collaboration. Federal agencies have forums49 and requirements50 to share cybersecurity information. Congress has taken action to require changes in the ways federal agencies engage with each other on cybersecurity threats.51 Despite these preventive efforts, risks to federal IT are increasing.52 Recent adoption of telework has shifted the risk landscape. Some agencies may be adapting to those changes while others are struggling with or unaware of their security posture. Congress may see additional need to review and change agency requirements to share information on cybersecurity risks and strategies to mitigate those risks. Additionally, Congress could choose to require agencies to adopt certain risk management strategies that have been successfully deployed at other agencies.
Cybersecurity Investments. There has been a market trend away from organization-owned and -controlled computing resources towards mobile, cloud, and leased computing resources—a trend that the federal government is embracing. The Federal Chief Information Officer published a strategy to drive cloud adoption at federal agencies,53 and Congress passed a law encouraging agencies to seek cloud services as they modernized legacy agency systems.54 Cloud computing's offsite facilities may present new or altered security risks for organizations that adopt them. As agencies are implementing increased telework, they are also experiencing different stresses and demands on their IT security infrastructure. Congress may choose to use this information to guide future agency appropriations or cybersecurity authorizations.