In 1994, Congress passed and President Clinton signed the Violent Crime Control and Law Enforcement Act of 1994 (P.L. 103-322). The act, among other things, made federal and state prisoners ineligible to receive Pell Grants. The Pell Grant program is the single largest source of federal grant aid supporting postsecondary education students. The Violent Crime Control and Law Enforcement Act of 1994 was passed during a period when federal and state policymakers were adopting increasingly punitive measures―such as establishing new crimes, increasing penalties for certain offenses, requiring convicted offenders to serve a greater proportion of their sentences before being eligible for release, and making convicted offenders ineligible for certain government assistance programs―as a means to combat violent crime. However, concerns about the financial and social costs of an increasing prison population and what prisons are doing to rehabilitate prisoners and prevent recidivism have led some policymakers to consider whether some of the "tough on crime" policies of the 1980s and 1990s need to be changed.
A Note About the Terminology Used in This Report
The terms prisoner and incarcerated person/individual/adult are sometimes used interchangeably in popular lexicon, but they connote different things.1 Prisoner refers to individuals who have been sentenced and are incarcerated in a prison. Generally speaking, prisoners have been convicted of felonies, meaning an offense that carries a sentence of one year and one day or longer. Incarcerated person includes prisoners, but it also includes individuals who are convicted and serve their sentence in jail. Convicted offenders housed in jails are typically convicted of misdemeanors, which, if they carry a term of incarceration, require the offender to serve a jail sentence of one year or less. The current prohibition on receiving Pell Grants extends to both prisoners and incarcerated offenders serving a jail sentence for a misdemeanor (see below). Thus, in this report, the terms prisoner and incarcerated person will be used depending on the context. However, the current debate about expanding access to Pell Grants has largely focused on prisoners. This most likely stems from the fact that there are more prisoners than jail inmates and because prisons are more likely to offer postsecondary education programs because prisoners have more of an opportunity to complete these programs due to their longer sentences. In addition, much of the data and research on postsecondary education in a correctional setting focuses on prisoners and not all incarcerated persons.
Policymakers have started to reconsider whether prisoners should be prohibited from utilizing Pell Grants to participate in postsecondary education programs while they are incarcerated. Legislation was introduced in the 115th and 116th Congresses that would have allowed incarcerated individuals to receive Pell Grants.2 As Senator Lamar Alexander noted "most prisoners, sooner or later, are released from prison, and no one is helped when they do not have the skills to find a job. Making Pell grants available to them in the right circumstances is a good idea."3 In addition, both the Obama Administration and Trump Administration recommended expanding Pell Grants or other targeted federal financial aid to prisoners who are eligible for release after serving a period of incarceration.4
However, reestablishing prisoners' eligibility for Pell Grants is not without controversy. Legislation was introduced in the 115th Congress that would have ended the Second Chance Pell Experiment, a program begun under the Obama Administration that evaluates the effects of granting prisoners access to Pell Grants.5 Opposition to allowing prisoners to receive Pell Grants stems from the belief that taxpayer money should not be used to finance the education of prisoners, especially if it might compromise assistance to non-prisoners.6 Of note, under current Pell Grant program rules, expanding Pell Grant eligibility to prisoners would not affect the eligibility of non-prisoners or award levels of non-prisoners.
This report provides a discussion of issues policymakers might consider if Congress takes up legislation to allow individuals incarcerated in federal and state facilities to receive Pell Grants. Before discussing these issues, the report offers a brief examination of relevant data on the prison population and the educational participation and attainment of incarcerated adults. This is followed by an overview of the history of the prohibition on allowing incarcerated individuals to receive Pell Grants, and a brief discussion of who is eligible for Pell Grants.
Prison Populations and Postsecondary Education
This section provides information on the number of prisoners in the United States from 1980 to 2018 and an overview of the latest recidivism data from the Department of Justice's Bureau of Justice Statistics (BJS). It also describes the educational attainment of prisoners, and their participation in and completion of educational programs offered to them.
The recent debate over prisoners' eligibility for Pell Grants is driven, in part, by concerns that the prohibition on prisoners receiving Pell Grants is hampering access to postsecondary education that could aid prisoners' rehabilitation, assist their efforts to find employment after being released, and help them become productive and law-abiding members of their communities. These concerns are combined with an acknowledgment that "tough on crime" policies contributed to a prison population that grew throughout the 1980s, 1990s, and the early 2000s and, because most offenders sentenced to prison will eventually be released, more people returning to their communities after serving a period of incarceration. The growth in the prison population combined with the Pell Grant ban means that an increasing number of prisoners are unable to participate in postsecondary education and large numbers of ex-prisoners are potentially returning to their communities without having enhanced skills or education while in prison that could aid them in becoming law-abiding citizens.
The prison population in the United States increased steadily from 1980 to 2009 before decreasing somewhat from 2010 to 2018 (the most recent year for which prison population data are available).7 There were approximately 1,471,000 prisoners under the jurisdiction of state and federal correctional authorities in 2018, compared to 330,000 prisoners in 1980. Increased prison populations are a function of increases in prison admissions, among other things, but growth in the prison population absent large increases in the percentage of convicted offenders who were sentenced to death or life in prison without the possibility of parole means that there has also been an increase in the number of people released from prison annually. Approximately 626,000 prisoners were released by state and federal correctional authorities in 2016, up from approximately 158,000 prisoners released in 1980.
A recent study by the Bureau of Justice Statistics (BJS) found that 44% of prisoners released from custody in 2005 were rearrested in the first year after their release and 83% of released prisoners had been rearrested after nine years.8 A review of research on corrections-based educational programming suggests that prisoners who participate in postsecondary education while incarcerated recidivate at lower rates than prisoners who do not participate.9 However, methodological limitations in many of the studies mean that alternative explanations for the results―for example, that prisoners who took postsecondary coursework had a greater desire to reform themselves―cannot be excluded.
Employment and educational attainment have also been linked. Data from the Census Bureau's American Community Survey (ACS) indicate that the employment rate of adults ages 25-64 increases as their level of educational attainment increases. Sixty percent of adults without a high school diploma were in the labor force in 2017 compared to 87% of adults with at least a bachelor's degree. ACS data further indicate that incarcerated individuals have lower levels of educational attainment than the general population. Figure 1 shows that approximately one-third (31%) of incarcerated adults (age 25 or older) have less than a high school diploma, while 12% of non-incarcerated adults have not completed high school.10
Figure 1. Educational Attainment of Incarcerated and Non-Incarcerated Adults Age 25 and Over: 2017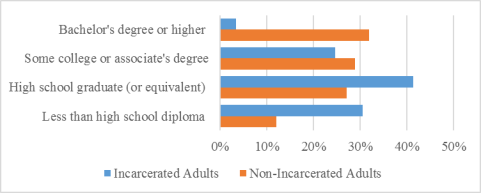 Source: U.S. Census Bureau, 2017 American Community Survey 1-Year Estimates, Table B26106.
Notes: Incarcerated adults include individuals age 25 or older who are held in adult correctional facilities, which include federal and state prisons, local jails and other municipal confinement facilities, correctional residential facilities (e.g., halfway houses), federal detention centers (federally operated correctional facilities that provide "short-term" confinement or custody of adults pending adjudication or sentencing), and military disciplinary barracks and jails.
While incarcerated individuals have relatively low levels of educational attainment, data suggests that a large percentage of prisoners are not advancing their education while they are incarcerated. Based on a survey of 1,546 inmates in state, federal, and private prisons, the Department of Education's National Center for Education Statistics (NCES) reported that more than half (58%) did not further their education during their current period of incarceration.11 The NCES study did not ask prisoners whether the cost of postsecondary education prevented them from participating,12 but the Institute for Higher Education Policy notes that self-financing can be a barrier for prisoners who want to participate in postsecondary education while they are incarcerated.13
Background on Pell Grants for Incarcerated Individuals
Prior to 1992, all incarcerated individuals were eligible to receive aid under Title IV of the Higher Education Act of 1965 (HEA; P.L. 89-329, as amended), including Pell Grants and loans.14 Pell Grants are need-based aid that is intended to be the foundation for all federal need-based student aid awarded to undergraduates. A 1982 report by the General Accounting Office (now known as the Government Accountability Office; GAO) estimated that approximately 11,000 federal and state prisoners received Pell Grants in academic year (AY) 1979-1980.15 ED's Office of the Inspector General (OIG) estimated that about 25,000 prisoners each year received Pell Grants during the period from 1988 to 1992.16 The 1982 GAO report noted that some states and schools also provided considerable financial assistance to prisoners.
The 1980s and 1990s were marked by several policy initiatives at the state and federal level to augment penalties for convicted offenders. In addition, Congress was concerned about schools established solely to take advantage of the HEA Title IV funds provided to incarcerated students, and the possibility of high student loan default rates among individuals formerly or currently incarcerated.17 Some financial aid administrators questioned whether Pell Grants were the most appropriate source of rehabilitative aid for incarcerated students.18 The Higher Education Amendments of 1992 (P.L. 102-325) limited the eligibility of incarcerated students to HEA Title IV aid in several ways:
GAO published a report in 1994 in response to remaining congressional concerns regarding the use of Pell Grants by incarcerated individuals. The report provided data on the number of inmates receiving Pell Grants, described the effect of allowing incarcerated individuals to receive Pell Grants on grants for other needy students, and reviewed the research at that time on the effect of correctional education on recidivism rates.22 Using ED data for AY1993-1994, GAO reported that approximately 23,000 Pell Grant recipients were incarcerated (less than 1% of all recipients), and the average amount of the Pell Grant was the same regardless of whether individuals were incarcerated or not. Of Pell Grant recipients who were incarcerated, 39% were enrolled in public two-year IHEs, 35% were enrolled in private nonprofit four-year IHEs, and 12% were enrolled in public four-year IHEs. The remaining 14% of incarcerated students were enrolled in public, private nonprofit, or private for-profit programs that granted certificates (10%) or private nonprofit or private for-profit two-year IHEs (4%). GAO indicated that because the Pell Grant program operates as an entitlement for students, the number and amount of Pell Grants for incarcerated individuals had no effect on Pell Grant availability for individuals who were not incarcerated. Finally, GAO concluded that the studies on incarcerated students' participation in educational programming and recidivism "have resulted in conflicting findings" because isolating the effect of correctional education on recidivism was not possible in existing studies for two primary reasons: many interrelated factors affecting recidivism are difficult to define and measure, and an experimental design that randomly assigns prisoners to treatment and control groups would be necessary to eliminate the effect of motivated prisoners self-selecting into correctional education programs.23
The culmination of the "tough on crime" approach in setting federal policy was the enactment of the Violent Crime Control and Law Enforcement Act of 1994 (VCCLEA, P.L. 103-322). The act, among other things, authorized grants to assist states that enacted "truth in sentencing" laws24 with building new prisons, expanded the number of offenses for which the federal death penalty applies, and established a series of new federal crimes. With respect to the HEA, the VCCLEA eliminated the supplement not supplant provision relating to Pell Grant funds made available to incarcerated individuals and the prohibition on Pell Grant receipt by individuals sentenced to life in prison or the death penalty. The VCCLEA also established the current prohibition against any individuals incarcerated in federal and state penal institutions receiving Pell Grants.
As a likely consequence of the newly enacted prohibition on prisoners receiving Pell Grants, combined with previously enacted prohibitions on the receipt of HEA Title IV student loans, the availability of postsecondary education programs to state prisoners and their enrollment in such programs declined. After prisoners were prohibited from receiving Pell Grants, approximately half of the postsecondary correctional education programs closed and those that remained were reduced in size.25 In addition, from 1991 to 2004 the percentage of state prison inmates enrolling in college courses declined from 14% to 7%.26
In 2008, Congress passed and President George W. Bush signed into law the Higher Education Opportunity Act (P.L. 110-315), which prohibited those individuals who upon completion of a period of incarceration for a forcible or nonforcible sexual offense were subject to an involuntary civil commitment from receiving Pell Grants. This prohibition was partially in response to the fact that 54 individuals who were civilly committed sex offenders in Florida had received Pell Grants in 2004.27
Current Pell Grant Eligibility
Under Department of Education (ED) regulations for HEA Title IV, an incarcerated student is defined as any "student who is serving a criminal sentence in a federal, state, or local penitentiary, prison, jail, reformatory, work farm, or other similar correctional institution."28 The definition does not include an individual who is confined in a correctional facility prior to the imposition of any criminal sentence or juvenile disposition, such as an individual confined in a local jail while awaiting trial. Similarly, it does not include students confined or housed in less restrictive settings such as halfway houses or home detention, or who are serving their sentences only on weekends.
To be eligible for a Pell Grant, a student must meet requirements established by Title IV of the HEA. Some requirements apply to all of the HEA Title IV student aid programs, and some are specific to the Pell Grant program.29 Among the requirements generally applicable to the HEA Title IV student aid programs for AY2018-2019 are the following:
Specific eligibility requirements for the Pell Grant program that may be germane to criminal justice involved individuals include, but are not limited to, the following:
Therefore, students serving a sentence in a federal or state penal institution, operated by a federal or state government or a contractor, are ineligible for Pell Grants. Other alleged and convicted offenders, however, may be eligible for a Pell Grant. Those incarcerated in a juvenile justice facility or a local or county jail may be eligible. Individuals in a halfway house or home detention, serving a jail sentence only on weekends, or confined prior to the imposition of any criminal sentence or juvenile disposition are eligible for Pell Grants.33
The other HEA Title IV student aid programs also have eligibility rules for incarcerated students (see regulatory definition above). No incarcerated individual is eligible for any of the loan programs. Incarcerated students are eligible for the Federal Supplemental Educational Opportunity Grant (FSEOG) program and the Federal Work-Study (FWS) program.34 Despite statutory eligibility, it is unlikely that incarcerated individuals would receive FSEOG or FWS aid because such funds are limited, the aid is subject to additional eligibility requirements established by each IHE, and offering FWS jobs in a correctional setting would be difficult.35
Second Chance Pell Experiment
In 2015, ED initiated the Second Chance Pell Experiment to determine if access to Pell Grants would increase the enrollment of incarcerated individuals in high-quality postsecondary education programs. The initiative was part of the "Obama Administration's commitment to create a fairer, more effective criminal justice system, reduce recidivism, and combat the impact of mass incarceration on communities."36 HEA Section 487A authorizes the Secretary of Education to waive certain HEA Title IV statutory or regulatory requirements, except for requirements related to award rules, at a limited number of IHEs in order to provide recommendations for proposed regulations and initiatives. The Secretary used this waiver authority to implement the Second Chance Pell Grant Experiment. In promoting the experiment, ED highlighted research finding that making postsecondary education and training opportunities available to incarcerated individuals increases educational attainment, reduces recidivism, and improves post-release employment opportunities and earnings.37
Under the Second Chance Pell Experiment, participating IHEs, in partnership with federal and/or state prisons, award Pell Grants to individuals who are otherwise Pell-eligible except that they are incarcerated in a federal or state prison. Priority is given to students who are likely to be released from prison within five years. Incarcerated students must enroll in educational programs that lead to high-demand occupations from which such individuals are not legally barred. Education programs may not be offered through correspondence, but may be offered online.38 In addition, students must be able to complete such programs either while incarcerated or after being released. Participating IHEs must offer academic and career guidance, as well as transition services. Finally, the Pell Grant aid offered under the experiment must supplement and not supplant such postsecondary education assistance provided by the IHE, the prison, or another source.39
There are 65 IHEs participating in the experiment, enrolling approximately 8,500 inmates in the first year, 11,000 in the second year, and 10,000 in the third year of the experiment.40 More than one-half of the participating IHEs are public two-year colleges.41 Approximately two-thirds of participating IHEs already provided postsecondary correctional education prior to joining the experiment.42 Some IHEs experienced start-up difficulties related to accreditation approvals,43 the availability of adequate facilities and space, recruiting eligible prisoners, and enrolling a sufficient number of prisoners to make the program financially viable.44 Of the programs originally planned, approximately 35% were designed to award a postsecondary certificate, 47% were designed to award an associate's degree, and 18% were designed to award a bachelor's degree.45
ED generally issues reports of experiments that analyze and summarize IHE-reported outcomes and "address how the experiment: reduced administrative burden; avoided creating additional costs to taxpayers; and improved aid delivery services or otherwise benefited students."46 The reports are intended to inform federal legislative decisionmaking. In February 2019, ED announced that the experiment would be extended an additional year but did not provide an estimate of the release of any data or an evaluation of the program.47
In April 2019, GAO reported on the status of the Second Chance Pell Experiment (hereafter referred to as the 2019 GAO report).48 According to the report, in AY2017-2018, 59 schools disbursed $22.3 million in Pell Grants to over 6,000 prisoners under the experiment.49 Schools reported various challenges implementing the experiment including, but not limited to, prisoners not being registered for Selective Service, prisoners being in default on a HEA Title IV student loan, and prisoners and school staff having difficulty proving prisoner income and financial need.
Select Issues and Discussion
Many prisoners are interested in participating in postsecondary education,50 but one of the most significant barriers to prisoners taking college-level classes is their lack of resources.51 Providing access to Pell Grants could help reduce this barrier. However, there are several issues policymakers might consider before expanding access to Pell Grants, including overall program costs, whether the federal government should support more research on the effects of postsecondary education in correctional institutions, obstacles to providing access to postsecondary education in a correctional environment, and barriers returning prisoners might face when trying to find post-release employment related to their education.
Increased Pell Grant Program Costs
Expanding Pell Grant eligibility to some or all federal and state prisoners will increase Pell Grant program costs. The Pell Grant program is funded by a mix of annual discretionary appropriations and permanent mandatory appropriations. Expanding eligibility would increase both discretionary and mandatory costs.
The Pell Grant program is often referred to as a quasi-entitlement because, since AY1990-1991, eligible students receive the Pell Grant award level calculated for them without regard to available appropriations.52 Expanding eligibility without instituting other provisions would not reduce awards for any otherwise eligible individuals and would only expand the pool of eligible individuals.
The increase in program costs that would result from making federal and state prisoners eligible for Pell Grants who are currently ineligible would be limited by several provisions under current law:
Eligibility Factors
The following sections describe subgroups of individuals that may require additional consideration when extending Pell Grant eligibility.
Pell Grant Eligibility for Prisoners Who Might Not Be Released
If policymakers choose to reinstate prisoners' eligibility for Pell Grants, part of the justification for doing so is that taking college coursework might help prisoners obtain post-release employment and reduce their risk of recidivism. However, this reasoning raises a question about whether prisoners who might never be released should be eligible to receive Pell Grants. The current Second Chance Pell Experiment excludes individuals who are unlikely to be released and gives priority to students who are expected to be released within five years. Prisoners who might never be released include those who have been sentenced to periods of incarceration that would realistically exceed their natural life spans and those convicted of sex offenses who could be civilly committed to a secure psychiatric facility after serving their sentences because they are at high risk of committing a violent sex offense.
A study conducted by the Sentencing Project56 found that in 2016, a total of 161,957 state and federal prisoners were serving life sentences.57 This includes 108,667 prisoners sentenced to life with the possibility of parole (LWP) and 53,290 prisoners sentenced to life without parole (LWOP).58 Prisoners serving life sentences accounted for one out of every nine prisoners in 2016. The Sentencing Project also found that another 44,311 prisoners were serving virtual life sentences, which were defined as sentences where a prisoner would have to serve at least 50 years of incarceration before being eligible for release. Virtual lifers, while still technically eligible for release (i.e., they were not sentenced to LWOP), are prisoners whose sentences are so long they will most likely spend the rest of their lives in prison. Of note, the Sentencing Project's definition of virtual lifers does not include older prisoners who are sentenced to incarceration and might serve less than 50 years, but because of their advanced age are likely to die in prison. The number of prisoners serving life and virtual life sentences accounted for 14% of all inmates in 2016.59
The Sentencing Project's research found that a handful of states accounted for the majority of prisoners with LWP, LWOP, and virtual life sentences. Four states (California, Georgia, New York, and Texas) accounted for 55% of all prisoners serving LWP. Four states (California, Florida, Louisiana, and Pennsylvania) and the Bureau of Prisons (BOP) accounted for 53% of all prisoners serving LWOP. Five states (Illinois, Indiana, Louisiana, Pennsylvania, and Texas) accounted for 55% of prisoners with virtual life sentences.
The Sentencing Project also found that from 2003 to 2016 there was a 27% increase in the number of prisoners serving any type of life sentence, though the number of prisoners sentenced to LWOP increased by 59% while the number of prisoners sentenced to LWP increased by 18%.
When debating about possibly expanding eligibility for Pell Grants, policymakers might also consider whether civilly committed sex offenders, who might never be released, should be allowed to participate in the program. Laws regarding the civil commitment of sex offenders (also known as sexually violent predator or sexually dangerous persons statutes) allow for the involuntary civil commitment of certain sex offenders at the conclusion of their prison sentences. As of 2015, 20 states, the District of Columbia, and the federal government had laws that allowed for the civil commitment of sexually violent predators and sexually dangerous persons.60 Individuals who are civilly committed are held until courts deem that they no longer meet the criteria for civil commitment.61 These individuals are held in secure treatment facilities. In general, for someone to be civilly committed the individual must have committed a qualifying sex offense, have a qualifying mental condition (e.g., a personality disorder or a paraphilia62), and be identified as high risk to commit another sexual offense as a result of the disorder.63
The Prison Policy Initiative reported that 5,430 offenders were civilly committed in 2016 in 15 states.64 Unlike most prison sentences, there is no set period of time for when someone who is civilly committed will be released. For example, Minnesota has yet to release any civilly committed sex offenders committed to its custody since the mid-1980s, and 40 individuals have died in custody.65
Pell Grant Eligibility of Individuals Who Lack Selective Service Registration
Congress may consider whether to amend the HEA Title IV and Pell Grant eligibility requirement for Selective Service registration because it is an obstacle for some men who have been involved in the criminal justice system. Most men aged 18–25 are required to register with the SSS.66 Men who are required to register and do not do so are ineligible for Pell Grants, unless they did not knowingly and willfully fail to register. Men ages 18-25 who are incarcerated are not required to register with the Selective Service while they are in prison. Some research shows that men who have been involved in the criminal justice system are at a higher risk for failing to register due to misunderstandings and misinformation.67
Under current regulations, a man who did not register may still achieve eligibility through one of several processes. If he was not required to register, he can provide evidence of his exception. If he is age 25 or younger, he can register. If he was unable to register for reasons beyond his control, he can provide evidence of the circumstances that prevented him from registering. If he has already served on active duty in the Armed Forces, he can provide evidence of such. If he did not knowingly and willfully fail to register, he may submit to his school an advisory opinion from the SSS that does not dispute his claim that he did not knowingly and willfully fail to register, and the school must not have evidence to the contrary.68 For incarcerated or previously incarcerated men 26 and older who failed to register, proving Pell Grant eligibility may be cumbersome. Some IHEs in the Second Chance Pell Experiment have advocated waiving the Selective Service registration requirement for incarcerated individuals in order to increase enrollments.69 The waiver could potentially reduce or eliminate the burden of proving eligibility or establishing eligibility for men 26 and older who were incarcerated at any time during the ages of 18 to 25.
Pell Grant Eligibility of Individuals Who Have Not Completed Secondary School
If postsecondary education completion by prisoners is a policy objective, the large proportion of prisoners who have not completed a secondary school education may also need to be addressed. As shown previously in Figure 1, approximately one-third of incarcerated individuals have not completed high school. There are two primary federal approaches for educating adults who have not completed secondary school: supporting elementary and secondary education and supporting postsecondary career pathways.
Many correctional systems spend a significant proportion of available funding on providing Adult Basic Education (ABE) and GED preparation courses.70 Even in cases where prisoners have a high school diploma or GED, they might still need remedial education in order to complete and pass college-level courses.71 Congress might consider whether there is a need for additional funding or a restructuring of programs to support ABE and GED preparation courses in prisons, or to diagnose learning disabilities in prisoners. There are several federal programs that provide some support that can be used for the secondary education of prisoners:
Under current provisions in the HEA, schools may establish career pathway programs for students who are not high school graduates but can demonstrate an ability to benefit from postsecondary education. Students enrolled in career pathway programs may be eligible for Pell Grants and other HEA Title IV aid. A career pathway program combines occupational skills training, counseling, workforce preparation, high school completion, postsecondary education, and postsecondary credential attainment. The ability to benefit may be demonstrated by the student passing an examination approved by ED to be eligible for federal student aid, or by successfully completing six credit hours or 225 clock hours of college work applicable to a certificate or degree offered by a postsecondary institution.75 Ability to benefit tests must be proctored by a certified test administrator and given at an assessment center facility.76 Administering ability to benefit tests to incarcerated individuals might be challenging. If incarcerated individuals do not take the ability to benefit test, they would have to successfully complete six credit hours or 225 clock hours of college work to become eligible for HEA Title IV aid. Should Congress want to take additional steps to promote postsecondary educational pursuits of incarcerated individuals, it might consider encouraging the development of career pathway programs in correctional environments such that prisoners who have not completed high school may pursue postsecondary education with the aid of a Pell Grant.
Additional Research on the Effects of Postsecondary Education in Correctional Institutions
As outlined above, there is a lack of regular, comprehensive data on postsecondary education in correctional facilities. The evaluation literature on the effect of postsecondary education on recidivism would benefit from more routinely collected and complete data on postsecondary education that allows for methodologically rigorous studies. This suggests that there might be a role for the federal government to play in collecting and reporting data on postsecondary education in correctional institutions and supporting more rigorous evaluations of postsecondary education for prisoners.
BJS collects data on the prison population through its annual National Prisoner Statistics (NPS) program and its Survey of Prison Inmates (SPI). The First Step Act of 2018 (P.L. 115-391) requires BJS to collect data through the NPS on the number of federal prisoners who have a high school diploma or GED prior to entering prison, the number who obtain a GED while incarcerated, and the number of BOP facilities with remote learning capabilities. The SPI collects data related to prisoner participation in education and job training, but the data are collected sporadically.77 The most recent iteration was conducted in 2016. Prior to that, BJS conducted the SPI in 1974, 1979, 1986, 1991, 1997, and 2004, when it was known as the Survey of Inmates in State and Federal Correctional Facilities. Neither the NPS or the SPI collects data on the types of degrees prisoners seek, how many receive a postsecondary certificate or degree, how much time they spend taking courses, how instruction is provided (e.g., onsite, through correspondence courses, online), or how postsecondary education programs are funded. Nonetheless, BJS has decades of experience collecting data on prison inmates from state correctional agencies and BOP. Congress could consider expanding BJS's mandate under 34 U.S.C. Section 10132 to require the collection and reporting of more detailed data on postsecondary education in correctional facilities. However, states participate in the NPS program voluntarily, so if data collection efforts become too burdensome there is the possibility that some state correctional systems will decline to participate. As a way of promoting state participation in data collection efforts, policymakers might also consider whether to make participation a condition of receiving grant funds under a program such as the Edward Byrne Memorial Justice Assistance Grant (JAG) program.78
One limitation of both of the NPS program and the SPI is that they only collect data on prisoners while they are incarcerated. Variables that are necessary to evaluate the effectiveness of postsecondary correctional education programs―such as rearrest, reconviction, and reincarceration; post-release educational attainment; post-release employment, and the nature of post-release employment; to just name a few―can only be collected after prisoners have been released, and sometimes several years after they have been released. Even though there are existing data sources that could be used to measure recidivism (e.g., criminal history records data maintained by the Federal Bureau of Investigation (FBI) or in state criminal history repositories), a new federally sponsored longitudinal data collection effort to track whether prisoners attain education credentials post-release or find employment post-release would enable additional research on the relationship between education and post-incarceration success. In addition, policymakers might consider whether to authorize the FBI to share criminal history records with non-governmental research organizations for the purpose of promoting and conducting recidivism research.79
Congress might also consider other ways to promote research on prisoners' postsecondary education and its impact on recidivism and employment. The literature on postsecondary correctional education lacks studies that utilized randomized controlled trials, which are regarded as the gold standard of social science research. While randomized controlled trials could help draw more definitive conclusions about whether participation in postsecondary education reduces recidivism, it might also undermine the aims of the proposed policy change. A randomized controlled trial would require prisoners to be randomly assigned to a treatment group (postsecondary education programming) or a control group (no postsecondary education programming). This means that some prisoners who might have otherwise enrolled in postsecondary education programming would not be allowed to access it while incarcerated. Although, there are ethical considerations when conducting randomized controlled trials on prisoners and they are afforded additional protections as subjects of behavioral science research studies.80 Congress could also promote more rigorous evaluations of postsecondary correctional education by providing funding to the National Institute of Justice―the research, development, and evaluation agency of the Department of Justice―that is specifically dedicated for this purpose.
It has been argued that evaluations of correctional education programs and other prison-based programming should focus on outcomes other than just recidivism and employment.81 Cessation of criminal activity is considered an important marker of rehabilitation. However, the emphasis on evaluating how correctional education programs affect recidivism means that little is known about the process whereby education programs help shape how released prisoners re-integrate into their communities.82 As noted previously, correctional education is believed to help prisoners improve their cognitive skills and abilities, which, in turn, enables them to continue their education and/or training upon release and secure gainful employment. While there is value in improving the quality of evaluations that assess the effect of correctional education on recidivism and employment, there might be value as well in better understanding how the availability of, and participation in, correctional education programs affect changes in motivation, literacy gains, development of concrete skills, disciplinary actions, postsecondary credits earned, and completion of educational programs.83
Policymakers might also consider whether the federal government should support research into ways to improve the delivery of postsecondary correctional education programs. There is a dearth of methodologically rigorous research on the best way to deliver postsecondary education in prison. For example, prior research seldom accounted for differences in the initial educational level of prisoners. Additionally, there is little research on the effectiveness of different modalities of providing postsecondary education (e.g., in-person instruction, correspondence courses, online learning) or whether the amount of time spent engaging in postsecondary education (i.e., the dosage) has an effect on recidivism.
Obstacles to Providing Access to Postsecondary Education in a Correctional Environment
The following sections describe considerations unique to providing and delivering postsecondary education in a correctional environment.
Unaccommodating Correctional Environments
Even if Congress were to provide access to Pell Grants for certain prisoners, factors related to the correctional environment might limit the ability of prisoners to participate in postsecondary education programs. Three recurring resource challenges identified by ED and GAO are space, access to educational equipment or supplies, and trained staff.84 In 2016, 14 states and BOP held more inmates than their maximum capacity.85 Correctional systems and institutions that are over capacity might not be able to provide sufficient classroom space to meet an increase in demand for postsecondary instruction. Prisons in rural areas might also have problems finding instructors who are nearby or are willing to commute to the prison in order to teach college courses. Additionally, even trained educators will require training on effective teaching strategies for correctional students and techniques and procedures for working in restrictive prison environments.86
It is not unusual for prisoners to be moved from one prison facility to another within the same state or within the federal prison system. Common reasons for the transfer of federal prisoners include security reclassification, medical treatment, and program participation. A prisoner who is transferred from one facility to another would be unable to complete a college course he or she is currently enrolled in if it is an in-person-only class not offered at the facility to which the prisoner is transferred. Programs that are accessible, integrated, and transferrable in every prison in a state or across the federal prison system may reduce the need for transferred prisoners to restart their postsecondary education in a new facility. The Institute for Higher Education Policy (IHEP) argued that many of the resource problems that limit access to postsecondary education could be addressed by providing more access to online courses.87 However, many correctional agencies limit the ability of prisoners to access the internet. Congress might consider whether there are steps that could be taken to promote online postsecondary courses for prisoners. For example, Congress could support a program to develop and test security protocols for prisoner internet access that allows them access to specific, but not all, web content.
Complicated Systems of Responsibility for Correctional Education
There are a variety of arrangements through which educational programming is provided to prisoners. In some states, correctional education is the responsibility of the correctional agency; in other states, a separate entity is responsible for providing it, either through a correctional school district or through the state's education department.88 Having separate agencies responsible for confining prisoners and providing prisoner education can add additional layers of bureaucracy and the agencies' missions might, at times, conflict. Beyond this, in many states the warden of each correctional institution is the one who makes the decision about whether postsecondary education courses will be offered at the prison.89 Also, the warden can cancel postsecondary courses if he or she objects to them.
A 2019 GAO report described the importance of schools coordinating with prison staff and state corrections agencies.90 This suggests that for an effective expansion of educational activities to occur, there might be a need for states and BOP to have a uniform or coordinated curriculum across all correctional facilities in their respective systems. Policymakers might consider whether there is a need to promote more consistent policies in how states provide correctional education. For example, Congress could place conditions on federal funds to require state correctional departments to determine what type of postsecondary education courses will be available at each facility.
Inadequate Education Program Design
The educational programs accessed by prisoners may not be designed to increase their academic and post-release success given the unique attributes of the prison population. ED provides a research-based guide for developing education programs to help incarcerated adults transition successfully to their communities.91 For example, incarcerated individuals may benefit from supportive services. Support services may include assistance selecting academic programs, tutoring, assistance with study skills, assistance with financial literacy, academic and employment counseling, or other academic supports to help them succeed in individual courses and their program of study. For example, some individuals may require advice and assistance in choosing courses, educational programs, and careers that will transfer more easily to practical employment in their post-release communities of choice. Practical employment options for former prisoners are those that provide earnings that permit self-sufficiency, are open to individuals with a criminal record, and are available despite any possible residential or transportation constraints.
Some individuals may want to complete their program of study post-release. An incarcerated student who begins a postsecondary degree program through a postsecondary correctional education program may not be able to complete such degree before release and would benefit from the postsecondary correctional education program credits being fully transferrable or articulated to an educational program available to noninstitutionalized students. Strategic partnerships that ensure institutional courses are fully transferrable and articulated to multiple academic programs may increase the program completion rate.
Increasing Opportunities for Post-Release Employment
In addition to issues related to providing greater access to postsecondary education in prisons, policymakers might also consider issues related to prisoners being able to utilize the education and skills they learned during their coursework to secure post-release employment.
Vocational certificates are a form of postsecondary credential that is popular with prisoners. One study found that approximately one in three prisoners (29%) would like to enroll in courses where they could obtain certificates from colleges or trade schools, which is greater than the proportion of prisoners who reported that they would like to enroll in courses that offer an associate's degree (18%), bachelor's degree (14%), master's degree (5%), professional degree (1%), or doctorate degree (2%).92 However, it is important that the vocational training inmates receive while incarcerated is aligned with employment opportunities that are available in the local job markets to which inmates will return. As IHEP notes, "learning vocational skills that are quickly made obsolete by technological advances or that are irrelevant to local employment opportunities is a waste of money by funders and effort by students."93 Policymakers might consider whether there should there be mandated coordination between correctional agencies, state departments of labor, and business organizations to ensure that inmates are using Pell Grants to participate in postsecondary education programs that provide the skills needed to secure meaningful employment when they are released.
A criminal history can be a barrier to securing employment in a variety of fields, either because formerly incarcerated individuals are prohibited from working in the field due to a provision in law or regulation, or because employers are wary of hiring someone with a criminal history. One estimate suggested that in 2010, 12% of noninstitutionalized men had a felony conviction, and in 2014, 34% of unemployed working-age men had a criminal record.94 Increasing access to Pell Grants might be for naught if prisoners cannot get hired because of their criminal histories. Policymakers might consider whether there is a need to undertake efforts to reduce the collateral consequences of a criminal history on post-release employment. For example, Congress could consider expanding the Department of Labor's Federal Bonding Program for employers that hire recently released prisoners.95