Introduction
The term child nutrition programs refers to several U.S. Department of Agriculture Food and Nutrition Service (USDA-FNS) programs that provide food to children in institutional settings. The largest are the National School Lunch Program (NSLP) and School Breakfast Program (SBP), which subsidize free, reduced-price, and full-price meals in participating schools.1 Also operating in schools, the Fresh Fruit and Vegetable Program provides funding for fruit and vegetable snacks in participating elementary schools, and the Special Milk Program provides support for milk in schools that do not participate in NSLP or SBP. Other child nutrition programs include the Child and Adult Care Food Program, which provides meals and snacks in child care and after-school settings, and the Summer Food Service Program, which provides food during the summer months.2
The child nutrition programs were last reauthorized by the Healthy, Hunger-Free Kids Act of 2010 (HHFKA, P.L. 111-296). On September 30, 2015, some of the authorities created or extended by the HHFKA expired. However, these expirations had a minimal impact on program operations, as the child nutrition programs have continued with funding provided by annual appropriations acts.3
In the 114th Congress, lawmakers began but did not complete child nutrition reauthorization, which refers to the process of reauthorizing and potentially making changes to multiple permanent statutes—the Richard B. Russell National School Lunch Act, the Child Nutrition Act, and sometimes Section 32 of the Act of August 24, 1935. Both committees of jurisdiction—the Senate Committee on Agriculture, Nutrition, and Forestry and the House Committee on Education and the Workforce—reported reauthorization legislation (S. 3136 and H.R. 5003, respectively). This legislation died at the end of the 114th Congress, as is the case for any bill that has not yet passed both chambers and been sent to the President at the end of a Congress. There were no significant child nutrition reauthorization efforts in the 115th Congress; however, 2018 farm bill proposals and the final enacted bill included a few provisions related to child nutrition programs.
The implementation of the HHFKA, child nutrition reauthorization efforts in the 114th Congress, and the child nutrition-related topics raised during 2018 farm bill negotiations have raised issues that may be relevant for Congress in future reauthorization efforts or other policymaking opportunities. These issues often relate to the content and type of foods served in schools: for example, the nutritional quality of foods and whether foods are domestically sourced. Other issues relate to access, including alternatives to on-site consumption in summer meals and implementation of the Community Eligibility Provision, an option to provide free meals to all students in certain schools. Stakeholders in these issues commonly include school food authorities (SFAs; school food service departments that generally operate at the school district level), hunger and nutrition-focused advocacy organizations, and food industry organizations, among others.
This report provides an overview of these and other current issues in the child nutrition programs. It does not cover every issue, but rather provides a high-level review of some recent issues raised by Congress and/or program stakeholders, drawing examples from legislative proposals in the 114th and 115th Congresses. References to CRS reports with more detailed information or analysis on specific issues are provided where applicable, including the following:
Current Issues
Nutrition Standards for School Meals and Snacks
Background
School meals must meet certain requirements to be eligible for federal reimbursement, including nutritional requirements. These nutrition standards were last updated following the enactment of the HHFKA, which required USDA to update the standards for school meals and create new nutrition standards for "competitive" foods (e.g., foods sold in vending machines, a la carte lines, and snack bars) within a specified timeframe.4 Specifically, the law required USDA to issue proposed regulations for competitive foods nutrition standards within one year after enactment and for school meals nutrition standards within 18 months after enactment. The law also provided increased federal subsidies (6 cents per lunch) for schools meeting the new requirements and funding for technical assistance. The nutrition standards in the HHFKA were championed by a variety of organizations and stakeholders, including nutrition and public health advocacy organizations, food and beverage companies, school nutrition officials, retired military leaders, and then-First Lady Michelle Obama.5
The precise nutritional requirements were largely written in the subsequent regulations, not the HHFKA. USDA-FNS published the final rule for school meals in January 2012 and the final rule for competitive foods in July 2016.6 As required by law, the nutrition standards were based on the Dietary Guidelines for Americans and recommendations from the Institute of Medicine (now the Health and Medicine Division of the National Academies).7 For school meals, the updated standards increased the amount of fruits, vegetables, and whole grains in school lunches and breakfasts.8 They also instituted limits on calories, sodium, whole grains, and proteins in meals and restricted milk to low-fat (unflavored) and fat-free (flavored or unflavored) varieties. Other requirements included a provision that senior high school students must select a half-serving of fruits or vegetables with a reimbursable meal. Similarly, the nutrition standards for competitive foods limited calories, sodium, and fat in foods sold outside of meals, among other requirements.9 The standards applied only to non-meal foods and beverages sold during the school day (defined as midnight until 30 minutes after dismissal) and include some exceptions for fundraisers.
Implementation and Changes
The meal standards began phasing in during school year (SY) 2012-2013, and the competitive foods standards took effect in SY2014-2015.10 However, sodium limits and certain whole grain requirements for school meals were scheduled to phase in over multiple school years.11 Some schools experienced challenges implementing the changes, reporting difficulty obtaining whole grain and low-sodium products, issues with student acceptance of foods, reduced participation, increased costs, and increased food waste. These accounts were shared in news stories and by the School Nutrition Association (SNA), a national, nonprofit professional and advocacy organization representing school nutrition professionals.12 Studies by the U.S. Government Accountability Office and USDA confirmed that many of these issues were present in SY2012-2013 and SY2013-2014, the first two years of implementation.13 SNA advocated for certain changes to the standards, while other groups called for maintaining the standards, arguing that they were necessary for children's health and that implementation challenges were easing with time.14
In January 2014, USDA removed weekly limits on grains and protein.15 Then, in the FY2015, FY2016, and FY2017 appropriations laws, Congress enacted provisions that loosened the milk, whole grain, and/or sodium requirements from SY2015-2016 through SY2017-2018.16 USDA implemented similar changes for SY2018-2019 in an interim final rule.17 In December 2018, USDA published a final rule that indefinitely changes these three aspects of the standards starting in SY2019-2020.18 Specifically, the rule
allows all SFAs to offer flavored, low-fat (1%) milk as part of school meals and as beverages sold in schools,19 and requires unflavored milk to be offered alongside flavored milk in school meals;
requires SFAs to adhere to a 50% whole grain-rich requirement (the original regulations required 100% whole grain-rich starting in SY2014-2015);20 states may make exemptions to allow SFAs to offer nonwhole grain-rich products; and
maintains Target 1 sodium limits from SY2019-2020 through SY2023-2024, implements Target 2 limits starting in SY2024-2025 and thereafter, and eliminates Target 3 limits (the strictest target).21
Table 2 provides a timeline from the 2012 final rule to the 2018 final rule, showing the ways in which milk, whole grain, and sodium requirements have been modified over time. Apart from these changes, the nutrition standards for school meals remain largely intact. The changes to the milk requirements also affect other beverages sold in schools; otherwise, the nutrition standards for competitive foods have not been changed substantially.
Other Proposals
Legislative proposals related to the nutrition standards were considered in the 115th Congress. For example, the House-passed version of 2018 farm bill (one version of H.R. 2) would have required USDA to review and revise the nutrition standards for school meals and competitive foods. According to the bill, the revisions would have had to ensure that the standards, particularly those related to milk, "(1) are based on research based on school-age children; (2) do not add costs in addition to the reimbursements required to carry out the school lunch program … and (3) maintain healthy meals for students."22 This provision was not included in the enacted bill.
Child nutrition reauthorization proposals in the House and Senate during the 114th Congress also would have altered the nutrition standards. The House committee's proposal (H.R. 5003) would have required USDA to review the school meal standards at least once every three years and revise them as necessary, following certain criteria.23 In addition, under the proposal, fundraisers by student groups/organizations would no longer have had to meet the competitive food standards and any foods served as part of a federally reimbursable meal would have been allowed to be sold a la carte.24 The Senate committee's proposal (S. 3136) would have required USDA to revise the whole grain and sodium requirements for school meals within 90 days after enactment. Although not included in the proposal itself, negotiations between the Senate committee, the White House, USDA, and the School Nutrition Association resulted in an agreement that these revisions, if enacted, would have reduced the 100% whole grain-rich requirement to 80% and delayed the Target 2 sodium requirement for two years.25
"Fresh" in the Fresh Fruit and Vegetable Program (FFVP)
Under current law, fruit and vegetable snacks served in FFVP must be fresh.26 According to USDA guidance, fresh refers to foods "in their natural state and without additives."27 In recent years, some have advocated for the inclusion of frozen, dried, canned, and other types of fruits and vegetables in the program, while others have advocated for continuing to maintain only fresh products.28 Stakeholders on both sides include agricultural producers and processors.
The 2014 farm bill (Section 4214 of P.L. 113-79) funded a pilot project that incorporated canned, dried, and frozen (CDF) fruits and vegetables in FFVP in a limited number of states. USDA selected schools in four states (Alaska, Delaware, Kansas, and Maine) that reported difficulty obtaining, storing, and/or preparing fresh fruits and vegetables. According to the final (2017) evaluation, 56% of the pilot schools chose to incorporate CDF fruits and vegetables during an average week of the demonstration.29 Schools most often introduced dried and canned fruits, which resulted in decreased vegetable offerings and increased fruit offerings in the FFVP. However, there was no significant impact on students' vegetable consumption, while fruit consumption declined on FFVP snack days (likely because students consumed a smaller quantity of fruit when it was dried or canned). There was also no significant impact on student participation. Student satisfaction with FFVP decreased slightly during the pilot, parents' responses to the pilot were mixed, and school administrators (who opted into the pilot) generally favored the changes.
Legislative proposals to change FFVP offerings on a more permanent basis have also been considered. For example, in the 115th Congress, the House version of H.R. 2 would have allowed CDF and puréed forms of fruits and vegetables in FFVP and removed "fresh" from the program name. This provision was not included in the enacted bill. In the 114th Congress, child nutrition reauthorization legislation in the House (H.R. 5003) included a similar proposal to allow participating schools to serve "all forms" of fruits and vegetables as well as tree nuts. The Senate committee's proposal (S. 3136) would have provided temporary hardship exemptions for schools with limited storage and preparation facilities or limited access to fresh fruits and vegetables that would have allowed them to serve CDF fruits and vegetables in FFVP. Such schools would have to transition to 100% fresh products over time.
"Buy American" in School Meals Programs
Schools participating in the National School Lunch Program (NSLP) and/or School Breakfast Program (SBP) must comply with federal requirements related to sourcing foods domestically. These requirements are outlined in the school meals programs' authorizing laws and clarified in USDA guidance.
Under the Buy American requirements, schools participating in the NSLP and/or SBP in the 48 contiguous states must purchase "domestic commodities or products … to the maximum extent practicable."30 Statute defines "domestic commodities or products" as those that are both produced and processed substantially in the United States. Accompanying conference report language elaborated that "processed substantially" means the product is processed in the United States and contains over 51% domestically grown ingredients, and this definition is also included in USDA guidance (discussed below).31 USDA regulations essentially restate the statutory requirement.32
USDA has issued guidance on how SFAs and state agencies should implement the Buy American requirements. The most recent guidance (as of the date of this report) was published in a June 2017 memorandum.33 According to USDA-FNS guidance, the Buy American requirements apply to any foods purchased with funds from the nonprofit school food service account, whether or not they are federal funds (children's paid lunch fees, for example, also go into the nonprofit school food service account).34 The guidance encourages SFAs to integrate Buy American into their procurement processes; for example, by monitoring the USDA catalog for appropriate products and placing Buy American language in solicitations, contracts, and other procurement documents. The guidance explains that SFAs are permitted to make exceptions to the Buy American requirements on a limited basis when a product "is not produced or manufactured in the U.S. in sufficient and reasonably available quantities of a satisfactory quality" or when "competitive bids reveal the costs of a U.S. product are significantly higher than the non-domestic product."35 SFAs must interpret when this is the case and document any exceptions they make. SFAs may also request a waiver from the requirements for a product that does not meet these criteria. State agencies must review SFAs' compliance with the Buy American requirements, including any exceptions an SFA has made, and take corrective action when necessary.
The enacted 2018 farm bill (Section 4207 of P.L. 115-334) included a provision requiring USDA to "enforce full compliance" with the Buy American requirements and "ensure that States and school food authorities fully understand their responsibilities" within 180 days of enactment. In addition, the bill requires USDA to submit a report to Congress by the 180-day deadline on actions taken and plans to comply with the provision. The provision clarifies the definition of domestic products for the purposes of USDA's enforcement, stating that domestic products are those that are "processed in the United States and substantially contain … meats, vegetables, fruits, and other agricultural commodities" produced in the United States, the District of Columbia, Puerto Rico, or any territory or possession of the United States, or "fish harvested" in the Exclusive Economic Zone or by a U.S.-flagged vessel. The provision in the enacted bill amended a related provision in the Senate-passed version of the farm bill.36
Proponents of stricter requirements have cited economic and food safety reasons for domestic sourcing and expressed particular concern over sourcing from China.37 Others have argued for maintaining or increasing schools' discretion in food procurement, arguing that high-quality domestic options are not always available or cost-effective.38
Alternatives to Congregate Feeding in Summer Meals
Under current law, summer meals are generally provided in "congregate" or group settings where children come to eat while supervised. These meals are provided through the Summer Food Service Program (SFSP) and the National School Lunch Program's Summer Seamless Option (SSO).39 In recent years, policymakers have weighed different proposals and tested alternatives to congregate meals in SFSP and SSO. Some of these alternatives focus on rural areas, which may face particular barriers to onsite consumption of summer meals. According to a May 2018 study by the U.S. Government Accountability Office, states commonly reported that reaching children in rural areas was "very" or "extremely" challenging in SFSP.40
Summer EBT Demonstration
The 2010 Agriculture Appropriations Act (Section 749(g) of P.L. 111-80) provided $85 million in discretionary funding for "demonstration projects to develop and test methods of providing access to food for children in urban and rural areas during the summer months." One of these is the Summer Electronic Benefit Transfer for Children (SEBTC or Summer EBT) project, which began in summer 2011 and has continued each summer since (as of the date of this report) in a limited number of states and Indian Tribal Organizations.41 The project provides electronic food benefits to households with children eligible for free or reduced-price school meals. Depending on the site and year, either $30 or $60 per month is provided on an electronic benefits transfer (EBT) card for the Special Supplemental Nutrition Program for Women, Infants, and Children (WIC) or Supplemental Nutrition Assistance Program (SNAP). Participants in jurisdictions providing benefits through SNAP can redeem benefits for SNAP-eligible foods at any SNAP-authorized retailer, while participants in the WIC EBT jurisdictions are limited to the smaller set of WIC-eligible foods at WIC-authorized retailers.42
An evaluation of Summer EBT was conducted from FY2011 through FY2013.43 The study, which used a random assignment design, found a significant decline in the prevalence of very low food security among participants (9.5% of control group children experienced very low food security compared to 6.4% in the Summer EBT group).44 It also showed improvements in children's consumption of fruits, vegetables, and whole grains. Both the WIC and SNAP models showed increased consumption, but increases were greater at sites operating the WIC model.45
Congress has provided subsequent funding for Summer EBT projects (see Table 3). Most recently, the third FY2019 Consolidated Appropriations Act (P.L. 116-6) provided $28 million for the Summer EBT demonstration. Awardees for summer 2017 were Connecticut, Delaware, Michigan, Missouri, Nevada, Oregon, Virginia, and the Chickasaw and Cherokee nations.46 For summer 2018, USDA also awarded grants to Tennessee and Texas.47 Many of these jurisdictions participated in Summer EBT in previous summers as well. In October 2018, USDA-FNS announced a new strategy for determining grant recipients in FY2019, stating that the agency will prioritize new states that have not participated before, statewide projects, and projects that can operate in the summers of 2019 through 2021.48
There were proposals in the 114th and 115th Congresses to expand Summer EBT. For example, the Senate committee's child nutrition reauthorization proposal in the 114th Congress (S. 3136) would have allowed a portion of SFSP's mandatory funding to cover Summer EBT and authorized up to $50 million in discretionary funding for the program. In addition, in its FY2017 budget proposal, the Obama Administration recommended expansion of Summer EBT nationwide with a phase-in over 10 years.49 Freestanding bills in the 114th and 115th Congresses had similar objectives.50
Other Summer Demonstrations
Funding from the 2010 Agriculture Appropriations Act (Section 749(g) of P.L. 111-80) was also used for other demonstration projects. One of these, the Enhanced Summer Food Service Program (eSFSP), took place during the summers of 2010 through 2012 in eight states.51 It included four initiatives: (1) incentives for SFSP sites to lengthen operations to 40 or more days, (2) funding to add recreational or educational activities at meal sites, (3) meal delivery for children in rural areas, and (4) food backpacks that children could take home on weekends and holidays.
Evaluations of eSFSP were published from 2011 to 2014. Summer meal participation rates rose during the demonstration periods for all four initiatives.52 In addition, children in the meal delivery and backpack demonstrations had consistent rates of food insecurity from summer to fall (this was not measured for the other initiatives).53 However, the results from these evaluations should be interpreted with caution due to a small sample size, the lack of a comparison group, and potential confounding factors.54
Another demonstration project, also operating under authority provided by the 2010 Agriculture Appropriations Act, provided exemptions from the congregate feeding requirement to SFSP and SSO outdoor meal sites experiencing excessive heat each summer since 2015 (as of the date of this report).55 Exempted sites must continue to serve children in congregate settings on days when heat is not excessive, and provide meals in another form (e.g., a take-home form) on days of excessive heat. USDA also offers exemptions on a case-by-case basis for other extreme weather conditions. This demonstration has not been evaluated.
Other Proposals
There were other proposals and hearings related to congregate feeding in SFSP in recent years.56 For example, in the 114th Congress, committee-reported child nutrition reauthorization proposals in the Senate and the House (S. 3136 and H.R. 5003, respectively) would have enabled some rural meal sites to provide SFSP meals for consumption offsite. Specifically, both proposals would have allowed offsite consumption for children (1) in rural areas (H.R. 5003 to a more limited extent than S. 3136) and (2) in nonrural areas in which more than 80% of students are certified as eligible for free or reduced-price meals. The bills would have also permitted congregate feeding sites to provide meals to be consumed offsite episodically under certain conditions such as extreme weather or public safety concerns.
Community Eligibility Provision
The HHFKA created the Community Eligibility Provision (CEP), an option to provide free meals (lunches and breakfasts) to all students in schools with high proportions of students who automatically qualify for free or reduced-price lunches.57 CEP became available to schools nationwide starting in SY2014-2015, and participation has increased since then. As of SY2016-2017, more than 20,700 schools participated in CEP, according to data from the Food Research and Action Center (FRAC), a nonprofit advocacy organization.58 This is roughly 22% of NSLP schools.59
Several groups have expressed support for CEP during its implementation, arguing that the provision improves access to meals, reduces stigma associated with receiving free or reduced-price meals, and reduces schools' administrative costs.60 Others have sought to change the option. For example, in the 114th Congress, the House's committee-reported child nutrition reauthorization bill (H.R. 5003) would have restricted schools' eligibility for CEP, which the committee majority argued was "to better target resources to those students in need, while also ensuring all students who are eligible for assistance continue to receive assistance."61
One secondary effect of CEP is that it has created data issues for other nonnutrition federal and state programs.62 Many programs, most notably the federal Title I-A program (the primary source of federal funding for elementary and secondary schools), use free and reduced-price lunch data to determine eligibility and/or funding allocations. These data come from school meal applications, which are no longer collected under CEP's automatic eligibility determination process. For more information on this issue, see CRS Report R44568, Overview of ESEA Title I-A and the School Meals' Community Eligibility Provision.63
Unpaid Meal Costs and "Lunch Shaming"
Students may qualify for free meals, or they may have to pay for reduced-price or full-price meals.64 In recent years, the issue of students owing and not paying their meal costs, and schools' responses to such situations, has received increased attention. In many cases, schools serve students a regular meal, charging the unpaid meal cost and creating a debt that they may try to collect later from the family. In other cases, schools respond with what some have called "lunch shaming" practices—most commonly, taking or throwing away a student's selected hot foods and providing an alternative cold meal or, less commonly, barring children from participation in school events until debt is repaid or having children wear a visual indicator of meal debt (e.g., a stamp or sticker). Lunch shaming instances have largely been reported in news articles from different states, and there are limited national data available on the prevalence of such practices (available data are discussed in the text box below).65
Many school districts report that unpaid meal costs create a financial burden on their meal programs (see text box below for more detail).66 In addition to federal funds, student payments for full and reduced-price meals are a primary source of revenue for school food programs. Schools have an interest in collecting this revenue to help fund operations.67 Also, according to federal regulations, if schools are unable to recover unpaid meal funds, the money becomes "bad debt" and the school or school district must use other nonfederal funding sources to cover the costs.68
Starting in 2010, Congress and USDA have taken actions to address the issue of unpaid meal costs. Section 143 of the HHFKA required USDA to examine states' and school districts' policies and practices regarding unpaid meal charges. As part of the review, the law required USDA to "prepare a report on the feasibility of establishing national standards for meal charges and the provision of alternate meals" and, if applicable, make recommendations related to the implementation of the standards. The law also permitted USDA to take follow-up actions based on the findings from the report.69
USDA's subsequent Report to Congress in June 2016 ultimately did not recommend national standards, but instead recommended "clarifying and updating policy guidance on specific national policies impacting unpaid meal charges and facilitating the development and distribution of best practices to support decision making by States and localities."70 USDA-FNS followed up with a memorandum requiring SFAs to institute and communicate, by July 1, 2017, a written meal charge policy, which was to include instructions on how to address situations in which a child does not pay for a meal.71 USDA-FNS also provided clarification through webinars, other memoranda, and a best practice guide.72
In the Report to Congress, USDA stated that its recommendation was based on findings from a study published by USDA-FNS in March 2014 and a Request for Information (RFI) on "Unpaid Meal Charges" published by USDA-FNS in October 2014.73 The findings from both the study and the RFI—which garnered 462 comments—showed that meal charge policies were largely determined at the school and school district levels rather than the state level. The responses to the RFI also indicated that such policies ranged in formality, with varying degrees of review (e.g., some required school board approval while others did not) and enforcement. In the RFI comments, school and district officials generally expressed a preference for local control of meal charge policies, while national advocacy groups generally favored national standards.
The topics of lunch shaming and unpaid meal costs also surfaced in the 115th Congress. For example, a provision in the FY2018 appropriations law stated that funds appropriated in the law could not be used in ways that result in discrimination against children eligible for free or reduced-price meals, including the practices of segregating children and overtly identifying children by special tokens or tickets (note that this does not pertain to children paying for full-price meals).78 Legislative proposals in the 115th Congress included the Anti-Lunch Shaming Act of 2017 (H.R. 2401/S. 1064), which sought to establish national standards for how schools treat children unable to pay for a meal.79
Unpaid meal costs and lunch shaming have also been active topics at the state level. In recent years, a number of states have enacted legislation aimed at addressing these issues.80 For example, in 2018, Illinois passed legislation that requires schools to serve a regular (reimbursable) meal to students who do not pay and allows school districts to request an offset from the state for debts exceeding $500.81
Paid Lunch and Other School Food Pricing
The HHFKA created new requirements related to schools' pricing of paid lunches (sometimes referred to as "paid lunch equity" requirements).82 Specifically, the law required all NSLP-participating SFAs to review their average price of paid lunches and, if necessary, gradually increase prices based on a formula.83 The law also gave SFAs the option to meet the requirements with specified nonfederal funding sources instead of raising prices.84
According to the Senate committee report on the HHFKA, the requirements were intended "to ensure that children receiving free and reduced price lunches receive the full value of federal funds."85 Prior to the paid lunch equity requirements, a USDA study found that federal subsidies for free and reduced-price lunches were cross-subsidizing other aspects of the meals programs, likely including paid lunches.86 This can occur because federal reimbursements for free, reduced-price, and paid lunches are all mixed into the same SFA-run "nonprofit school food service account" (NSFSA).87 Some observers argue, however, that raising prices may reduce participation in paid lunches.88
Under the paid lunch equity formula, the price per paid lunch must eventually match or exceed the difference between the federal reimbursements for free and paid lunches. If this is not the case, schools must increase prices over time until they make up the difference. For example, the federal reimbursement was $3.37 for free lunches and $0.37 for paid lunches SY2018-2019 for some schools.89 Under the requirements, if schools were not charging at least $3.00 per paid lunch, they would be required to increase the price of a paid lunch gradually, based on a formula, until they closed the gap (see Figure 1). Schools cannot be required to raise the price by more than 10 cents annually, but they may choose to do so.
Figure 1. Paid Lunch Equity Formula
An Example of Schools' Pricing of Paid Lunches Under the Healthy, Hunger-Free Kids Act of 2010 Using SY2018-2019 Reimbursement Rates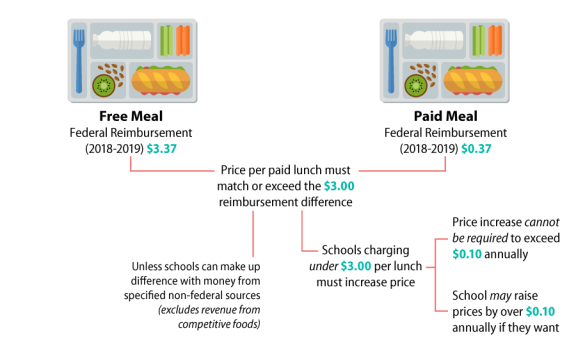 Source: CRS, based on Section 205 of P.L. 111-296.
Notes: If schools are charging under the reimbursement difference (based on their average price of a paid lunch in October of the previous school year), they must increase the price of paid lunches by at least 2% plus the percentage change in food inflation. Schools may round down to the nearest $0.05.
The HHFKA also included related requirements for revenue from "nonprogram" (i.e., competitive) foods.90 The law required that any revenue from nonprogram foods accrue to the SFA-run NSFSA. In practice, this prevents revenue from competitive foods from being used for other school purposes outside of food service. The law also required that, broadly speaking, revenue from nonprogram foods equal or exceed the costs of obtaining nonprogram foods (see the regulations for a specific formula).91
In June 2011, USDA-FNS published an interim final rule implementing the requirements starting in SY2011-2012, offering some flexibility for that first year.92 USDA subsequently provided certain exemptions through agency guidance for SY2013-2014 through SY2017-2018 for SFAs "in strong financial standing," as determined by state agencies based on different criteria.93 For SY2018-2019, the enacted FY2018 appropriation (Section 775 of P.L. 115-141) expanded the exemptions, requiring only SFAs with a negative balance in the NSFSA as of January 31, 2018, potentially to have to raise prices for paid meals.94
Other legislative proposals related to the paid lunch equity requirements were considered in recent Congresses. For example, the House committee's child nutrition reauthorization proposal in the 114th Congress would have eliminated the requirements.95 The Senate committee's proposal would have replaced the requirements with a broader "non-federal revenue target," which could have come from household payments for full-price lunches or other state and local contributions.96
Appendix. Acronyms Used in This Report
CACFP: Child and Adult Care Food Program
CDF: Canned, dried, or frozen
CEP: Community Eligibility Provision
eSFSP: Enhanced Summer Food Service Program
FFVP: Fresh Fruit and Vegetable Program
HHFKA: Healthy, Hunger-Free Kids Act
NSFSA: Nonprofit school food service account
NSLP: National School Lunch Program
SBP: School Breakfast Program
SFA: School food authority
SFSP: Summer Food Service Program
SMP: Special Milk Program
SSO: Summer Seamless Option
Summer EBT or SEBTC: Summer Electronic Benefit Transfer for Children
SY: school year
USDA-FNS: U.S. Department of Agriculture Food and Nutrition Service