Introduction
Congressional office spending has been a regular topic of interest to academics, interest groups, newspapers, and constituents for many years. It is a topic frequently mentioned in newspaper articles that address individual Member spending or generally discuss financial accountability among elected officials, and it has been examined by watchdog organizations and interest groups covering congressional spending on internal operations generally. A few scholars have also examined how Members typically spend their office allowances, analyzing spending within broader theories of representation.1 Individual office spending may be as varied as the districts Members represent. Factors affecting spending include the tenure or interests of the Member, levels of casework, geography, unexpected events, and even the congressional calendar.
While Representatives have a high degree of flexibility to operate their offices in a way that supports their congressional duties and responsibilities, they must operate within a number of restrictions and regulations. The Members' Representational Allowance (MRA), the allowance provided to Members of the House of Representatives to operate their DC and district offices,2 may only support Members in their official and representational duties. It may not be used for personal or campaign purposes. Additional regulations or restrictions regarding reimbursable expenses may be promulgated by the Committee on House Administration, the Commission on Congressional Mailing Standards, also known as the Franking Commission, and the Committee on Standards of Official Conduct, and may be found in a wide variety of sources, including statute, House rules, committee resolutions, the Members' Handbook,3 the Franking Manual,4 the House Ethics Manual, "Dear Colleague" letters, and formal and informal guidance.5
This report provides a history of the MRA and overview of recent developments. It also demonstrates actual MRA spending patterns in recent years for all voting Members who served for a defined period.6 Spending and practices across offices and across time vary, and an examination of additional Congresses would be required for a more complete picture of congressional office spending patterns.
Establishment of the MRA
The MRA, which was first authorized in 1996, was preceded by multiple allowances for each Member covering different categories of spending—including the former clerk hire allowance, official expenses allowances, and official mail allowance. The establishment of the MRA followed efforts by the House, dating back to the late 1970s, to move to a system of increased flexibility and accountability for Member office operations.7
In September 1995, the Committee on House Administration authorized the consolidation of these allowances.8 Subsequently, in November 1995, the FY1996 Legislative Branch Appropriations Act combined the separate appropriations for personal office staff, official office expenses, and mail costs into a single new appropriations heading, "Members' Representational Allowances."9 According to the House Appropriations Committee report on the FY1996 bill, the consolidation was adopted to simplify Members' accounting practices and allowed Members to more easily show savings achieved when they did not spend all of their allowance.10 Subsequent legislation in 1996 further defined the MRA and made it subject to regulations and adjustments adopted by the Committee on House Administration.11 Additional provisions included in the FY2000 Legislative Branch Appropriations Act amended language regarding official mail and repealed obsolete language and terms.12
Subsequent MRA Legislation
Appropriations Acts: Administrative Provisions Related to Unexpended Balances and Deficit Reduction
Since the MRA's establishment, appropriations acts funding the legislative branch have contained—or continued, in the case of a continuing resolution—a provision requiring unused amounts remaining in the MRA be used for deficit reduction or to reduce the federal debt.13
This provision was included in legislative branch appropriations bills reported by the House Appropriations Committee in FY1999 and since FY2002. In some years prior to consideration of FY2002 funding, it was added by amendment, including
Other MRA Legislation Introduced
In addition to the appropriations language, numerous bills and resolutions addressing the MRA have been introduced (for examples, see tables in the Appendix). This legislation has generally fallen into three major categories:
Attempts to change the MRA procedure or regulate, prohibit, authorize, disclose, or encourage the use of funds for a particular purpose.
Stand-alone legislation that would govern the use of unexpended balances, including language to require these funds to go toward deficit reduction.
MRA-related amendments have also been offered to the legislative branch appropriations bills. These include
Appropriations and Allocations: Timing Differences with the Overall Fiscal Year Appropriation and Individual Member Calendar Year Authorization
Funding is provided on a fiscal year (beginning October 1) basis and a single total amount for all Members is provided under the appropriations heading, "Members' Representational Allowances," within the House account "Salaries and Expenses" contained in the annual legislative branch appropriations bills.
Allowance or authorization levels for individual Members of the House are authorized in statute and are regulated and adjusted by the Committee on House Administration pursuant to 2 U.S.C. 4313 et seq. and House Rule X(1)(j). The individual MRAs for the 441 Members, Delegates, and the Resident Commissioner are authorized for periods that correspond closely to the sessions of Congress—from January 3 of each year through January 2 of the following year.
In addition to the complexity involved in different time frames and split responsibilities—with the appropriation on a fiscal year determined by the Committee on Appropriations, and the authorization roughly following the calendar year as allocated by the Committee on House Administration—the House has indicated that the total authorized level for all MRAs may be more than the total appropriation due to projections on spend-out rates. The FY1997 report accompanying the legislative branch appropriations bill, for example, stated
Many Members do not expend their full allowance. That is why the Committee bill does not fully fund this account. The frugality of those Members is already projected in the bill presented by the Committee. Since these prospective savings are already taken in the bill, they reduce the need for appropriated funds and, therefore, contribute directly to the reduction in federal spending and consequently lower the projected deficit. If the Committee bill were to fully fund the Members' Representational Allowance, the amount appropriated would have to be increased by $27 million. Thus, the account is underfunded by almost 7%.14
A similar discussion of the use of prior spending patterns in the determination of MRA appropriations levels was included in numerous other House reports, particularly in the first few years of the MRA.15 It was also discussed during a hearing on the FY2009 legislative branch appropriations requests.16
Pursuant to law, late-arriving bills may be paid for up to two years following the end of the MRA year.17 The permissibility of payment for late-arriving bills does not provide flexibility in the timing of the obligation, a point emphasized in the Members' Congressional Handbook, which states: "all expenses incurred will be charged to the allowance available on the date the services were provided or the expenses were incurred" and the "MRA is not transferable between years."18
Fiscal Year Appropriations: Funding History
The MRA is funded in the House "Salaries and Expenses" account in the annual legislative branch appropriations bills. One single line-item provides funding for all Members' MRAs.
The MRA funding level peaked at $660.0 million in FY2010. It was subsequently reduced to $613.1 million in FY2011 (-7.1%), and then to $573.9 million in FY2012 (-6.4%). The FY2012 funding level was continued in the FY2013 continuing resolution (P.L. 113-6), not including sequestration or an across-the-board rescission (-5.2%). The FY2014 level of $554.3 million was continued in the FY2015 act (P.L. 113-235) and the FY2016 act (P.L. 114-113).
At an April 20, 2016, markup of the FY2017 bill, the House Appropriations Committee Legislative Branch Subcommittee recommended a continuation of this level. At the May 17, 2016, full committee markup, an amendment offered by Representative Farr to increase this level by $8.3 million, to $562.6 million (+1.5%), was agreed to. This level was included in the House-passed FY2017 bill (H.R. 5325). H.R. 5325 was not enacted, however, this increase was provided in the Consolidated Appropriations Act, 2017 (P.L. 115-31), which was enacted on May 5, 2017.
The FY2017 level was continued for FY2018. The FY2019 level of $573.6 million represents an increase of $10.998 million (+2.0%). This funding is separate from an allowance for interns in Member offices ($8.8 million was provided in the FY2019 legislative branch appropriations act for up to $20,000 per office).
Figure 1 shows the appropriation for the overall MRA account for all Members from FY1996 through FY2019 in current and constant dollars. The FY2019 funding level is
approximately equivalent to the funding level provided when the account was established in FY1996, when adjusted for inflation;
approximately 6% below the $609.0 million provided in FY2009, not adjusted for inflation; and
approximately 13% below the peak funding provided in FY2010, not adjusted for inflation.
Figure 1 also shows that the MRA is the largest category of appropriations within the House of Representatives, regularly comprising approximately 50% of House appropriations.
Figure 1. MRA Funding: Current and Constant Dollars and Relationship to Overall Funding for the House of Representatives
(FY1996-FY2019)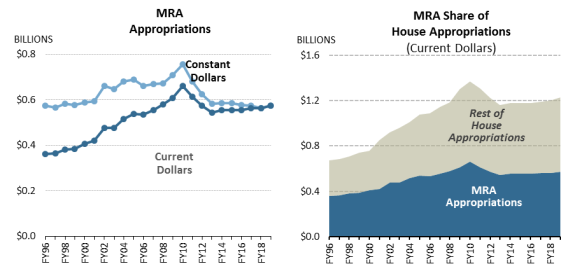 Source: CRS calculations based upon annual legislative branch appropriations acts, including supplemental appropriations and rescissions. Constant dollars based on Consumer Price Index for All Urban Consumers (CPI-U, Bureau of Labor Statistics, U.S. Department of Labor). Base year = 2018.
Individual MRAs for Members: Formula and Authorized Levels Since 1996
The MRA for each Member is set by the Committee on House Administration based on three components: personnel, official office expenses, and official (franked) mail. The personnel allowance component is the same for each Member. The office expenses and mail allowances components vary from Member to Member. The office expense component includes a base amount; a mileage allowance, which is calculated based on the distance between a Member's district and Washington, DC; and an office space allowance, which is based on the cost of office space in a Member's district. The official mail component is calculated based on the number of nonbusiness addresses in a Member's district. The three components result in a single MRA authorization for each Representative that can be used to pay for official expenses.19 Table 1 demonstrates the variation in authorization levels that resulted from this formula since 1996. Figure 2 presents this information graphically.
Figure 2. MRA Allowances by Member: Maximum, Minimum, and Mean
(current dollars, 1996-2018)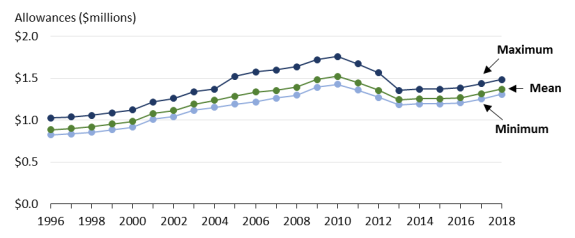 Source: CRS calculations based on the Statements of Disbursements including expenses for 1996-2018 (in current dollars). The Member allowances are available from January 3 through January 2 of the following year.
Notes: The calculations exclude nonvoting Members, including Delegates and the Resident Commissioner. Members elected by special election and sworn in after the start of the session also excluded since their allowance level may be prorated.
112th Congress: Resolution Reducing Individual Authorizations
In the 112th Congress (2011-2012), the House agreed to H.Res. 22, which reduced the amount authorized for salaries and expenses of Member, committee, and leadership offices in 2011 and 2012. This resolution, agreed to on January 6, 2011, stated that the MRA allowances for these years may not exceed 95% of the amount established for 2010. Individual MRAs, which reflect authorized levels from January 3 of each year through January 2 of the following year, subsequently were reduced, resulting in a total reduction of 11.08% from 2010 to 2012.20
113th Congress: Multiple Influences on Individual Authorized Levels
Individual authorization levels for 2013 (January 3, 2013-January 2, 2014), which were affected by both redistricting21 and sequestration,22 were reduced by a total of 8.2% according to the Statement of Disbursements.23 For legislative year 2014 (January 3, 2014-January 2, 2015), each Member's MRA increased by 1%.24
114th Congress
The FY2015 MRA appropriations level remained unchanged from FY2014, and Members' individual allowances were continued from legislative year 2014 to 2015.25
The FY2016 MRA appropriations level remained unchanged from FY2014 and FY2015, although Members' individual allowances for legislative year 2016 were increased by 1.0%.26
115th Congress
The FY2017 MRA appropriations level increased by +1.5% from FY2016. According to the Statement of Disbursements, each Member's authorization for 2017 was increased "by approximately 3.9% of the average MRA."27 This resulted in an average increase of approximately $47,000.
A shooting on June 14, 2017, at a practice for the Congressional Baseball Game, which wounded one Member of Congress, two U.S. Capitol Police (USCP) officers, and two members of the public in Alexandria, VA, had an impact on consideration of MRA funding for FY2018.
The report accompanying the legislative branch appropriations bill (H.R. 3162), in addition to addressing funding for the Capitol Police and the House Sergeant at Arms, indicated that the Appropriations "Committee has provided resources necessary to support the Committee on House Administration's plan to increase Member's Representational Allowance (MRA) by $25,000 per account this year for the purpose of providing Member security when away from the Capitol complex."28
The House approved the MRA authorization increases when it agreed to H.Res. 411, by unanimous consent, on June 27, 2017.
As stated above, during consideration in the House of the FY2018 legislative branch appropriations bill (H.R. 3219)29 on July 26, 2017, two amendments related to the MRA were offered: H.Amdt. 214 was agreed to by voice vote, and H.Amdt. 213 failed by voice vote.
Subsequently, on July 28, 2017, House Sergeant at Arms Paul D. Irving issued a "Dear Colleague" letter announcing that his office "will assume the cost of and oversee future District Office security upgrades, maintenance, and monthly monitoring fees."30 These upgrades were previously supported through the MRA.
On August 15, 2017, the Committee on House Administration issued a "Dear Colleague" letter announcing updates to the Members' Congressional Handbook incorporating these and other changes.31 The MRA remains available for security measures necessitated by official duties as discussed in the letter and the Handbook.
The FY2018 act continued the FY2017 level of $562.6 million. According to the Statement of Disbursements, the "Members' Representational Allowance for 2018 utilizes each Member's 2017 amount and increases that amount by $25,000."32
Guidelines, Operations, and Sources of Regulations
Expenses related to official and representational duties are reimbursable under the MRA in accordance with the regulations contained in the Members' Congressional Handbook.
The Handbook, for example, states that a
Member is personally responsible for the payment of any official and representational expenses incurred that exceed the provided MRA or that are incurred but are not reimbursable under these regulations.33
Certain expenses, including personal expenses, greeting cards, alcoholic beverages, and most gifts and donations, are also not reimbursable. The MRA is not transferable between years, and unspent funds from one year cannot be obligated in any subsequent year.
Other limitations on the use of official funds are also contained in House Rule XXIV.
"Dear Colleague" Letters Related to the MRA
"Dear Colleague" letters—which are distributed among Members, committees, and officers—frequently mention the MRA. These "Dear Colleague" letters have announced changes in the dissemination of information or the processing of vouchers, elaborated on procedures, reminded Members and staff of guidelines on the use of funds, and asked for support for MRA legislation.
The Committee on House Administration, for example, has distributed regular annual "Dear Colleagues" announcing or explaining regulations, such as those pertaining to end-of-year expenses, district office space, and travel.34 Other letters have been issued regarding allowable franking and MRA expenses for the annual Congressional Art Competition or travel for a Member's funeral service, as well as reminders of prohibited expenses.35 The letters have explained the implication of new regulations, rulings, or decisions on MRA spending.36 They also have summarized changes to the Statement of Disbursements.37
Categories of Spending
House spending is categorized by the standard budget object classes used for the federal government.38 These may include
personnel compensation;
personnel benefits;
travel;
rent, communications, and utilities;
printing and reproduction;
other services;
supplies and materials;39
transportation of things; and
equipment.
The disbursement volumes also contain a category for franked mail.
Certain costs are not included in the MRA and will not be reflected in these totals. The costs include the salaries of Members40 and certain benefits—including any government contributions toward health and life insurance and retirement—for both Members and staff. Additionally, the range of items that may be covered by an office, as well as staff pay ceilings, have changed over time.41 The MRA also does not reflect spending by House officers and legislative branch agencies in support of Member offices.
Statements of Disbursements: Online Publication and CSV Availability
The Statements of Disbursements are published as House documents and were historically available in bound volumes. Beginning with the disbursements for the quarter ending September 30, 2009, the Statements have been posted on the House of Representatives website, House.gov.42 Beginning with disbursements covering January-March 2016, this website provides SOD information in a sortable CSV (comma-separated values) format.
The MRA in Historical Practice: An Analysis of Spending in Selected Years
This section examines the use of the MRA in practice in recent years.
Methodology
Disbursement information for each authorization year may appear in Statements for 12 quarters, since, as discussed above, late-arriving bills may be paid for up to two years following the end of the MRA year (although unspent funds from one year cannot be obligated in any subsequent year). For example, while Members could only obligate 2011 MRA expenditures from January 3, 2011, until January 2, 2012, late-arriving receipts could be paid through the quarter ending December 31, 2013. While some bills, particularly from outside vendors, may be settled up to eight quarters after the end of the MRA year, the vast majority of billing occurs during the session or in the quarter immediately following the close of the MRA year. Billing for some categories—like personnel compensation—is almost entirely within the disbursements for the calendar year of study.43 By examining volumes from subsequent quarters, in addition to those from the authorization year, it is possible to provide a more complete picture of spending patterns.44
Findings
Numerous characteristics of individual congressional districts or Member preferences can influence spending priorities, which is reflected in the flexibility provided to Members in establishing and running their offices.45 Despite some variations, the data, however, show a relative consistency in the overall allocation of MRA resources by category of spending both across Members and over time.
Table 2 provides a distributional analysis of office-level data.
As with the figures on House-wide total Member office spending in Figure 3, the office-level data indicate that personnel compensation is by far the largest category of expense for Member offices. Spending on personnel as a percentage of total spending varied (as seen in the differences between the maximum and minimum percentages), but many offices clustered near the mean (i.e., the median and mean were close in all years).
Data on other categories of spending also demonstrate that, while variations exist across offices, similar patterns have developed across the House.46
Table 3 shows spending as a proportion of the total individual authorization.
Figure 3 demonstrates aggregate House spending in these years. As with the data on office-level spending in Table 2, the aggregate data indicate that personnel compensation is the largest category of MRA-related expenses.
Figure 3. Expenditures by Category, as a Percentage of Aggregate MRA Spending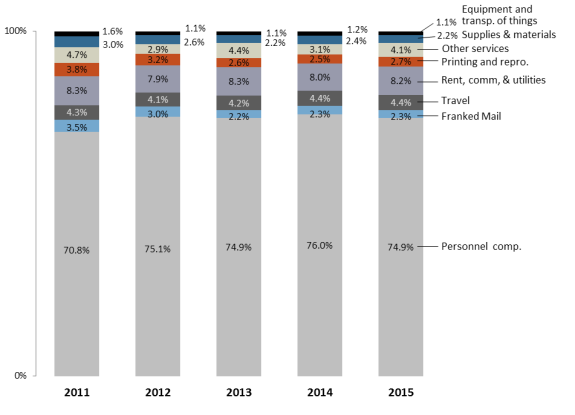 Source: CRS calculations based on the Statements of Disbursements.
Notes: This figure only represents spending supported by the MRA. For example, this figure does not include government contributions for employee benefits (which are paid through another House account), the cost of DC office space, and various services provided by other House administrative offices. The "Equipment" and "transportation of things" categories were combined due to their size—the latter represents less than 0.00% of spending.
Appendix. Examples of Legislation Introduced Affecting the MRA by Type