Introduction
Congress has been active in establishing federal policy for the agricultural sector on an ongoing basis since the 1930s. Over the years, as economic conditions and technology have evolved, Congress has regularly revisited agricultural policy through periodic farm legislation. Over these decades, the breadth of policy areas addressed through such farm bills has expanded beyond providing support for a limited number of agricultural commodities to include establishing programs and policies that address a spectrum of related areas, such as agricultural conservation, credit, rural development, domestic nutrition assistance, trade and international food aid, organic agriculture, and support for beginning and veteran farmers and ranchers, among others.
On June 21, 2018, the House voted 213-211 to approve H.R. 2, the Agriculture and Nutrition Act of 2018, an omnibus farm bill that would establish farm and food policy for the next five years, covering FY2019-FY2023. The vote to approve H.R. 2 followed a failed vote of 198-213 on the same bill on May 18, 2018. The final passage vote on June 21 followed a vote of 233-191 approving a motion to reconsider, which was made after the unsuccessful vote on final passage of May 18. The Committee on Agriculture marked up and ordered reported H.R. 2 on April 18, 2018.
The House-passed version of H.R. 2 continues the tradition of multi-year farm bills that would establish policy for farm programs and nutrition assistance. To this end, H.R. 2 addresses agriculture and food policy across 11 titles that cover commodity support programs, agricultural conservation, trade and international food aid, domestic nutrition assistance, credit, rural infrastructure and economic development, research and extension, forestry, horticulture, and a variety of other policies and initiatives. The Congressional Budget Office (CBO) projected that spending on mandatory programs under H.R. 2 would total $867 billion over the 10-year period FY2019-FY2028, which equals the cost of extending the current 2014 farm bill for 10 years.
H.R. 2 would supersede the current slate of farm programs and policies authorized by the 2014 farm bill, P.L. 113-79, many of which will expire in 2018 unless Congress acts to reauthorize them or to extend them. Certain programs, such as crop insurance, are permanently authorized and would continue to operate in the absence of new farm legislation or an extension of the current farm bill. But if the current farm law were to expire, many other programs—such as commodity support programs that provide a safety net for producers of major agricultural commodities, such as corn and wheat, milk, sugar, and others—would be governed by so-called permanent laws, which do not expire and date from the late 1930s and 1940s.
These permanent laws, including the Agricultural Adjustment Act of 1938 (P.L. 75-430) and Agricultural Act of 1949 (P.L. 81-439), emphasize supply controls to support price support regimes that would raise prices of these basic farm commodities well above existing market levels. A change in farm policy along these lines from the market-driven and export-oriented model that characterizes most existing commodity support programs could prove to be broadly disruptive for farmers, farm input suppliers, agricultural exporters, food manufacturers, and consumers. Many other programs, such as conservation programs and rural development programs, would cease to function. In the past, when Congress has faced the prospect of expiring farm legislation without enacting successor legislation, it has acted to extend the existing policies, as it did when the 2002 and 2008 acts expired.
This report provides a title-by-title summary of the policies and provisions in H.R. 2 and compares them with current law. Following an analysis of the budgetary implications of H.R. 2, summaries of major changes the bill would make in each of its 11 titles are provided. These summaries are followed by side-by-side comparison tables for each of the bill's 11 titles that briefly describe the provisions in H.R. 2 and compare them with current law. During the floor debate on H.R. 2, the House adopted a number of amendments to the bill, which are listed in Table A-1.
Budgetary Impact1
A farm bill authorizes funding in two ways. It authorizes and pays for mandatory outlays with multiyear budget estimates when the law is enacted. It also sets the parameters for discretionary programs and authorizes them to receive future appropriations but does not provide funding. Mandatory programs often dominate farm bill policy and the debate over the farm bill budget.
The budgetary impact of mandatory spending proposals is measured relative to an assumption that certain programs continue beyond the end of the farm bill. The benchmark is the CBO baseline—a projection at a particular point in time of future federal spending on mandatory programs under current law. The baseline provides funding for reauthorization, reallocation to other programs, or offsets for deficit reduction.2
When a new bill is proposed that would affect mandatory spending, the score (cost impact) is measured in relation to the baseline. Changes that increase spending relative to the baseline have a positive score; those that decrease spending relative to the baseline have a negative score. Budget enforcement uses these baselines and scores and may follow "PayGo" and other budget rules (that in part may require no increase to the federal deficit).3
In April 2018, CBO released a baseline for farm bill programs with mandatory spending that will be used for the rest of the legislative year.4 It projects that, if current law were extended, farm bill programs would cost $867 billion over the next 10 years, FY2019-FY2028, 77% of which is in the nutrition title for the Supplemental Nutrition Assistance Program (SNAP). The remaining $203 billion baseline is for agricultural programs, mostly in crop insurance, farm commodity programs, and conservation. Other titles of the farm bill contribute less than 1% of the baseline (Figure 1), some of which are funded primarily with discretionary spending.
Relative to this baseline, CBO released its score of H.R. 2 on April 13, 2018.5 CBO estimates that H.R. 2 is essentially budget neutral over the procedural 10-year budget window (Table 2). The bill would increase mandatory (direct) spending by $458 million and is offset by increases in revenue of $465 million, reflecting fees paid by contractors in the SNAP electronic benefits transfer (EBT) program.
Under H.R. 2, the baseline of the three largest titles (nutrition, crop insurance, and commodities) is projected to remain within roughly 0.5% of current law. Within individual titles, the conservation and nutrition titles would experience larger shifts among programs within their respective titles. For example, the conservation title's 10-year baseline would be reduced by $795 million (-1.3%), reflecting a $12.6 billion reduction (21%) from repealing the Conservation Stewardship Program (CSP), which is the offset for increases in other conservation programs (Table 3). The nutrition title's 10-year baseline would increase by $463 million (+0.07%), although this includes reductions of $20 billion (3%) in benefits that are reallocated to other programs in the nutrition title. Moreover, the overall nutrition title increase, $463 million, is more than offset by the projected $465 million increase in revenue attributed to that title.
Bioenergy programs, which had their own title in recent farm bills, are addressed in the rural development title of H.R. 2, where their mandatory funding is eliminated (-$517 million over 10 years). Animal disease and preparedness programs, including a vaccine bank, receive new mandatory funding (+$450 million) in the miscellaneous title. Farm safety net program outlays would be essentially flat overall, with crop insurance title reductions (-$161 million over 10 years) nearly offsetting net increases in farm commodity title programs ($+193 million).6
For several of the subset of programs in the 2014 farm bill that received mandatory funding but do not have a baseline beyond the end of FY2018,7 H.R. 2 would provide new mandatory funding. Two research title programs would receive $250 million in mandatory funds, while trade title programs would receive $450 million and be provided with permanent baseline. A food insecurity program in the nutrition title would receive $472 million in mandatory funding and gain permanent baseline.
Figure 1. CBO Baseline Under Current Law, by Title
(10-year projected outlays, FY2019-FY2028, billions of dollars)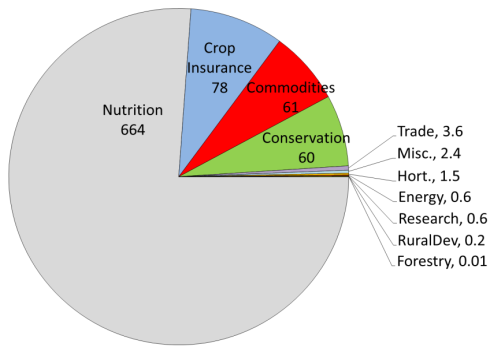 Source: CRS, using CBO April 2018 Baseline (unpublished).
Title-by-Title Summary
Title I, Commodity Program8
Title I commodity programs authorize support programs for dairy, sugar, and covered commodities—including major grain, oilseed, and pulse crops—as well as agricultural disaster assistance. Major field-crop programs include the Price Loss Coverage (PLC) and Agricultural Risk Coverage (ARC) programs and the Marketing Assistance Loan (MAL) program. The dairy program involves protecting a portion of the margin between milk and feed prices. The sugar program provides a combination of price support, border protection, and producer production allotments. Four disaster assistance programs that focus primarily on livestock and tree crops were permanently authorized in the 2014 farm bill. These disaster assistance programs provide federal assistance to help farmers recover financially from natural disasters, including drought and floods. Title I also includes several administrative provisions that suspend permanent farm law from 1938 and 1949; assign payment limits for individuals, joint ventures or partnerships, and corporations; specify the adjusted gross income (AGI) threshold for program payment eligibility; and identify other details regarding payment attribution and eligibility.
H.R. 2 extends authority for current commodity programs but with some modifications to programs for covered commodities and dairy as well as agricultural disaster assistance. The sugar program is extended but is otherwise unchanged. H.R. 2 also amends both payment limits and the AGI limit to expand the list of producer exemptions from payment and income limits under certain conditions.
In general, program changes affecting covered commodities under H.R. 2 make PLC a more attractive option for producers than ARC. In particular, H.R. 2 includes an escalator provision that would raise a covered commodity's effective reference price (used in the PLC payment formula) by as much as 115% of the statutory PLC reference price based on 85% of the five-year Olympic average9 of farm prices. In addition, producers participating in PLC that experienced at least 20 consecutive weeks of severe drought during 2008-2012 would be allowed to update their program yields (used in the PLC payment formula). In contrast, producers enrolled in the county-level ARC program (or the stacked income protection plan for cotton) would be ineligible for crop insurance coverage under an area yield and loss basis or the supplemental coverage option. Furthermore, the individual, farm-level ARC program is eliminated.
The MAL program would be retained as is under H.R. 2, but any program benefits would be exempted from inclusion under both payment limits and the AGI limit. Payment limits would also be affected by H.R. 2's treatment of eligible payment entities. Under current law, partnerships and joint ventures are treated as collections of individuals, each with their own payment limits, whereas a corporation is treated as a single individual subject to a single payment limit. H.R. 2 would alter the treatment of certain corporations by defining a "qualified pass through entity" (QTPE) as including partnerships, joint ventures, limited liability corporations, and S corporations.10 This would allow each separate owner of a QTPE (meeting all program eligibility criteria) to have an individual payment limit. Also, H.R. 2 would redefine family farm to include first cousins, nieces, and nephews, thus increasing the potential pool of individuals eligible for an individual payment limit on family farming operations.
With respect to agricultural disaster assistance programs, H.R. 2 amends the limits on payments received under the programs and waives the AGI requirement if more than 75% of the producer's income comes from farming, ranching, or silviculture. The bill also expands payments for livestock losses caused by disease.
H.R. 2 expands producer coverage choices under the current Margin Protection Program (MPP) and renames it the Dairy Risk Management Program (DRMP). Like MPP, the DRMP pays participating dairy producers the difference (when positive) between a producer-selected margin and the national milk margin (calculated as the all-milk price minus an average feed cost ration). Under H.R. 2, the U.S. Department of Agriculture (USDA) is required to conduct studies on whether the feed cost ration is representative of actual feed costs used in the margin calculation and on the cost of corn silage versus the feed cost of corn. The bill also directs USDA to report alfalfa hay prices in the top five milk producing states.
Under current law, for a $100 administrative fee, participating dairy producers automatically receive payments on 90% of their first 5 million pounds or less of milk production when the milk margin falls below $5.00 per hundredweight (cwt.). Under DRMP, the catastrophic margin is lowered to $4.00/cwt. Also, under current law dairy producers select a margin protection level in $0.50/cwt. increments from $4.00/cwt. to $8.00/cwt. and a percent coverage ranging from 25% to 90% of the farm's historical milk production. Premiums paid by producers vary with coverage levels selected and across two production tiers: Tier I is the first 5 million pounds of milk production; Tier II is milk production above 5 million pounds. Under DRMP, additional margin levels of $8.50/cwt. and $9.00/cwt. are available for Tier I. Premiums are reinstated for the $4.50/cwt. and $5.00/cwt. margins under Tier I, while premiums are reduced substantially for the other Tier I margins ranging from $5.50/cwt. to $8.00/cwt., and the percent coverage range is extended to 5% to 90% of a farm's milk production history. Premiums for Tier II would be left unchanged. A difference under DRMP from current law is that dairy producers would make a single one-time election of a margin coverage level and a percentage of milk production to cover. This election would last the duration of the farm bill.
H.R. 2 would also repeal the Dairy Product Donation Program; extend through FY2023 the Dairy Forward Pricing Program, the Dairy Indemnity Program, and the Dairy Promotion and Research Program; and eliminate the provision prohibiting dairy producers from participating in both the DRMP and the Livestock Gross Margin-Dairy insurance program, although dual coverage cannot be on the same milk production. Finally, H.R. 2 amends the formula for the Class I skim milk price used for calculating the Class I price under Federal Milk Marketing Orders.
Title II, Conservation11
USDA administers a number of agricultural conservation programs that assist private landowners with natural resource concerns. These can be broadly grouped into working land programs, land retirement and easement programs, watershed programs, emergency programs, technical assistance, and other programs. H.R. 2 amends portions of programs in all of these categories. However, the general focus is on the larger working lands, land retirement, and easement programs. All current conservation programs are reauthorized with the exception of the largest—CSP—which is repealed. New spending on the conservation title is projected to increase by $656 million over 5 years but over 10 years would be reduced by nearly $800 million.
In general, working land programs provide technical and financial assistance to assist farmers to improve land management practices. The two largest working lands programs—Environmental Quality Incentives Program (EQIP) and CSP—account for more than half of all conservation program funding.12 H.R. 2 repeals CSP, which currently has an enrollment of more than 70 million acres. CSP provides financial and technical assistance to producers to maintain and improve existing conservation systems and to adopt additional conservation activities in a comprehensive manner on a producer's entire operation. A more limited version of the CSP stewardship contract is included in EQIP with the proviso that no more than 50% of EQIP funding may be used for these contracts. Existing CSP contracts would remain active until completion. Repealing CSP is the primary driver behind the projected decline in spending under the conservation title over 10 years, since CSP contracts are five years in duration and would all be completed by FY2023. H.R. 2 also amends EQIP by expanding options for irrigation entities, removing a requirement that 60% of payments relate to livestock production, limiting the EQIP Conservation Innovation Grants to $25 million, and increasing the overall funding in annual increments through FY2023 to $3 billion from $1.75 billion in FY2018.
Land retirement and easement programs provide federal payments to private agricultural landowners for permanent or long-term land-use restrictions. The Conservation Reserve Program (CRP), the largest land retirement program, is reauthorized and amended by H.R. 2. CRP provides annual rental payments to producers to replace crops on highly erodible and environmentally sensitive land with long-term resource-conserving plantings. Total CRP enrollment would be authorized to increase incrementally through FY2023 to 29 million acres from the current limit of 24 million acres. In order to offset this increased enrollment level, the bill would reduce payments to participants, allow for a one-time early termination of select CRP contracts without penalty in FY2019, and reduce incentives for continuous contracts and reenrollment. A number of other changes are made to CRP that would further expand grazing and commercial uses on CRP acres. The Agricultural Conservation Easement Program (ACEP) USDA's easement program, is also reauthorized and amended by H.R. 2. ACEP provides financial and technical assistance through two types of easements: agricultural land easements that limit nonagricultural uses on productive farm or grasslands and wetland reserve easements that protect and restore wetlands. Most of the changes to ACEP focus on the agricultural land easements in which USDA enters into partnership agreements with eligible entities to purchase agricultural land easements from willing landowners. H.R. 2 would provide additional flexibilities to ACEP eligible entities. It would also remove planning requirements, waive the AGI requirement, allow for mineral development and participation in environmental markets, and increase overall funding to $500 million annually.
The 2014 farm bill created the Regional Conservation Partnership Program (RCPP), which enrolls land through existing conservation programs in partnership with eligible partners. Under RCPP, partners define the scope and location of the project, provide 50% or more of the project cost, and work with eligible landowners to enroll in existing conservation programs. H.R. 2 expands funding for the program as well as the existing set of conservation programs covered under program. H.R. 2 would also provide for longer partnership agreements and project renewal options.
Title III, Trade13
The trade title deals with statutes concerning U.S. international food aid and agricultural export programs. Under the farm bill authority, U.S. international food assistance is distributed through three main programs: (1) Food for Peace (emergency and nonemergency food aid); (2) Food for Progress (agricultural development programs); and (3) the McGovern-Dole International Food for Education and Child Nutrition program (school lunch and feeding programs). The largest of these, the Food for Peace (FFP) program, receives about $1.5 billion in annual appropriations. Traditionally, these three programs have relied on donated U.S. agricultural commodities as the basis for their activities. However, recent farm bills have increasingly added flexibility to purchase food in local markets or to directly transfer cash or vouchers to needy recipients. FFP is administered by the U.S. Agency for International Development (USAID), while the other two programs are administered by the Foreign Agricultural Service of USDA.
H.R. 2 reauthorizes all of the international food aid programs along with several associated fellowship programs. FFP is amended to remove a minimum monetization requirement of 15% of FFP funds; raise the minimum requirement used for nonemergency programs to $365 million (up from $350 million) or not more than 30% of FFP funding; and require food vouchers, cash transfers, and local and regional procurement of non-U.S. foods to avoid market disruption in the recipient country. H.R. 2 also extends authority for several other related international programs—including the Farmer-to-Farmer program, Bill Emerson Humanitarian Trust, Cochran Fellowships, Borlaug Fellowships, and Global Crop Diversity Trust.
Current U.S. export promotion programs include the Market Access Program (MAP), the Foreign Market Development Program (FMDP), the Emerging Markets Program (EMP) and Technical Assistance for Specialty Crops (TASC). These programs are administered by the Foreign Agricultural Service. Under H.R. 2, all four export programs—MAP, FMDP, EMP, and TASC—are combined into a single program named the International Market Development Program (IMDP) while maintaining existing activities and eligibility requirements.14 IMDP would be authorized to receive $255 million in annual mandatory Commodity Credit Corporation (CCC) funds for FY2019-FY2023. Of that, no less than $200 million shall be spent on promotional activities for both generic and branded U.S. agricultural products; no less than $35 million on promotional activities for generic commodities; no more than $9 million for technical assistance to specialty crop groups looking to export their crops; and no more than $10 million on promoting U.S. agricultural goods to emerging markets. These funding levels reflect current spending across MAP, FMDP, TASC and EMP. H.R. 2 further creates the Biotechnology and Agricultural Trade Program in Title III to assist with the removal of non-tariff and other trade barriers to U.S. agricultural products produced with biotechnology and other agricultural technologies. Finally, H.R. 2 reauthorizes direct credits or export credit guarantees for the promotion of agricultural exports to emerging markets of not less than $1 billion in each fiscal year through 2023.
Title IV, Nutrition15
The Nutrition title in H.R. 2 proposes a number of policy changes to SNAP and related programs, while in some respects continuing current policy and operations. The bill would reauthorize SNAP and related programs for five years through the end of FY2023. Altogether, CBO estimates that the Nutrition title would increase spending by $463 million over 10 years (FY2019-FY2028). Certain individual policies are estimated to have large effects on SNAP spending, especially those expected to impact SNAP eligibility and benefit calculation.
H.R. 2 proposes a number of changes to the determination of households' financial and nonfinancial eligibility for SNAP benefits. Three of these policies were debated during committee markup:
1. Broad-based categorical eligibility. The bill proposes to place additional limits on households that are eligible for SNAP based on their receipt of Temporary Assistance for Needy Families benefits. CBO estimates that these changes would reduce SNAP spending by more than $5 billion over the 10-year window. CBO also estimates that in an average year about 400,000 households would lose SNAP eligibility. As SNAP recipients are also eligible for free school meals, CBO estimated that in an average year, 265,000 children would lose access to free meals.
2. Work-related requirements. The bill proposes to replace SNAP's general work requirements and able-bodied adults without dependents time limit with a work requirement for all states. Beginning with FY2021, the proposal would require a minimum of 20 hours of work per week for non-exempt able-bodied adults. Unlike the current-law time limit, which applies to 18- to 49-year-olds who do not have children, the proposed requirement would apply to 18- to 59-year-olds and would not exempt parents or caretakers of children six years old and older. The proposal continues to give states authority to exempt a portion of the caseload and to request geographic waivers based on labor-market measures, with some amendments to current law. Unlike the current law time limit, the proposal requires states to offer employment or training opportunities to those individuals subject to the requirements. The bill increases SNAP Employment and Training funding for the states, increasing mandatory funding in a formula grant for states from $110 million in current law to $270 million in FY2020 and to $1 billion in FY2021 and each year thereafter. CBO estimates that these work-related changes would reduce spending on SNAP benefits by approximately $9.2 billion over 10 years, and administration of the changes would increase spending by approximately $7.6 billion—a net reduction of $1.5 billion. In FY2028, CBO estimates that in an average month approximately 1.2 million recipients would no longer receive benefits, with each recipient losing an average annual SNAP benefit amount of $1,816. This provision was amended on the House floor (see Table A-1).
3. LIHEAP and benefit calculation. Under current law, an eligible household's receipt of a Low Income Home Energy Assistance Program (LIHEAP) payment over $20 has the potential to increase monthly benefit amounts, because this payment allows the household to have their benefits calculated using a standard utility allowance. For households without elderly members, under this bill (as amended on the House floor), LIHEAP, regardless of the amount provided, would no longer confer this advantage. CBO estimates that this provision would reduce 560,000 households' SNAP benefits by an average of $84 per month.
In addition to these three eligibility changes, the proposal increases asset limits and changes how vehicles and savings accounts are counted. It also amends the way certain income is counted or excluded, increases the deduction for earned income, and requires households' cooperation with child support enforcement.
The bill includes measures intended to address SNAP retailer and recipient fraud and to improve payment accuracy. This includes establishing a Duplicative Enrollment Database, making changes to the Quality Control system, and increasing USDA's oversight of state performance. The bill repeals funding for performance bonuses, which, under current law, financially rewards states' performance. The bill also proposes a number of policy changes for SNAP's EBT system and benefit redemption.
The bill proposes some changes to SNAP-related grants. It would make some amendments and increases funding for bonus incentives for fruits and vegetables under the (renamed) Gus Schumacher Food Insecurity Nutrition Incentive Program. It would also authorize and fund a pilot for retailers to receive federal funding for operating bonus incentive projects that incentivize fruit, vegetable, and milk purchases. It also proposes some changes to USDA's operations and funding of the Nutrition Education and Obesity Prevention Grant Program.
For many of the food distribution programs and other nutrition title programs and policies, the bill would extend them through FY2023 without substantive policy changes. The Emergency Food Assistance Program would receive an increase of approximately $45 million (adjusted annually for inflation) each year and would also include authority for a "Farm to Food Bank Fund." The Fresh Fruit and Vegetable Program would be renamed to "Fruit and Vegetable Program," and participating schools could serve fresh, canned, dried, frozen, or pureed fruits and vegetables.
The National School Lunch Program and School Breakfast Program are not reauthorized in this bill. However, an amendment incorporated on the House floor requires USDA to review and change its 2012 regulations updating school meal nutrition standards and 2016 regulations adding nutrition standards to foods sold outside the meals programs.
Title V, Credit16
H.R. 2 would make several permanent changes and reauthorize provisions in the Consolidated Farm and Rural Development Act that governs the USDA farm loan programs, make several permanent changes to the Farm Credit Act that governs the Farm Credit System, and reauthorize the State Agricultural Loan Mediation Program through FY2023.
For the farm loan programs of FSA, H.R. 2 would add specific conditions that the Secretary may use to reduce the requirement for three years of farming experience in order for beginning farmers to qualify for loans (e.g., coursework, military service, mentoring). It raises the maximum loan size for guaranteed farm ownership loans and guaranteed farm operating loans from a statutory base of $700,000 in FY1996 ($1.4 million in FY2018 after adjusting for inflation) to a higher base of $1.75 million per borrower, which inflation adjusts to an effective maximum guaranteed loan amount of about $3.5 million in FY2019. The bill also makes several technical corrections.
For the government-chartered, cooperative Farm Credit System (FCS), H.R. 2 would eliminate a host of obsolete references to outdated names and transition periods from the 1980s and 1990s. It adds clarification that FCS entities may share privileged information with the Farm Credit Administration (FCA) for regulatory purposes without altering the privileged status elsewhere. It expands FCA's jurisdiction to hold accountable "institution-affiliated parties" (e.g., including agents and independent contractors) and makes the scope retroactive for a six-year period. For the Federal Agricultural Mortgage Corporation (FarmerMac), it increases the acreage exception from 1,000 acres to 2,000 acres for the dollar limit to remain a qualified loan, subject to a study by FCA. It also directs FCA to study the risks and capitalization of loans in the FCS and FarmerMac portfolios. Finally, it deletes the compensation limit for FCS bank boards of directors.
For the State Agricultural Loan Mediation Program, H.R. 2 reauthorizes the program to FY2023 so that it may continue to provide matching grants for mediation of credit and certain other agricultural disputes.
Title VI, Rural Infrastructure and Economic Development17
The Rural Infrastructure and Economic Development title of H.R. 2 amends the Rural Development Act of 1972 (P.L. 92-419) to propose a new Subtitle A, Improving Health Outcomes in Rural Communities. The four sections of the proposed subtitle would permit the Secretary of Agriculture, after consultation with public health figures, to announce a temporary reprioritization of certain rural development loans and grants to assist rural communities in responding to a specific rural health emergency. The announced emergency would expire either when the Secretary has determined that the emergency has ended or 360 days after the announcement, whichever date is earlier. While the emergency is in effect, 10% of the funds available for the Distance Learning and Telemedicine Program would be made available to identify and treat individuals affected by the emergency. Under the Community Facilities program, priority would be given to entities providing prevention, treatment, and recovery services to those affected by the emergency. The subtitle would also reauthorize the Farm and Ranch Stress Assistance Network and authorize a new loan and grant program to help establish group health plans offered by agricultural associations.
Subtitle B of H.R. 2 makes changes to the Enhancing Broadband Telecommunications Services in Rural Areas Program. Provisions under this subtitle would establish minimum acceptable standards of broadband service of 25 megabits per second downstream transmission capacity and 3 megabits per second upstream transmission capacity and develop projections of broadband service 5, 10, 15, 20, and 30 years into the future. Other provisions would require broadband infrastructure loan guarantees, provide incentives to reach more isolated rural areas by establishing a residential density measure for loan guarantee applicants, permit the Rural Utility Service to obligate but not disburse broadband funding support, and give priority to applicants who would provide broadband service to areas not predominantly for business. Other provisions would authorize loans for middle-mile broadband infrastructure, modify build-out requirements for loan applicants from three to five years, and reduce reporting requirements for borrowers.
Subtitle C of the bill concerns provisions for rural communities, business development, and rural infrastructure. Its provisions would prioritize project applications that support implementation of strategic plans on a multi-jurisdictional basis and reserve a portion of funds for such projects, raise the maximum loan amount for water and waste water projects, increase funding for water and waste water technical assistance, and reauthorize a range of rural development programs authorized under the Consolidated Farm and Rural Development Act.
Subtitle D reauthorizes programs under the Rural Electrification Act of 1936 (P.L. 74-605), including expanding 911 access in rural areas and extending the rural economic development loan and grant program. Subtitle E amends and reauthorizes all of the agricultural energy programs in the 2014 farm bill that were previously in a separate title, extending most through FY2023. H.R. 2 also modifies the type of funding available for these programs. In prior farm bills, many of these programs were provided with mandatory funding, whereas H.R. 2 authorizes only discretionary funding.
Subtitle F reauthorizes the Value-Added Grants program and increases its discretionary funding authorization. The regional development commissions established in the 2008 farm bill are also reauthorized, and the current definition of rural area for the Rural Housing Service's programs is retained until the 2030 decennial census. Subtitle G repeals several unfunded programs, including the Rural Telephone Bank, the Rural Collaborative Investment Program, and the Delta Region Agricultural Development Grants Program. Subtitle H makes technical corrections to certain provisions of the Consolidated Farm and Rural Development Act (P.L. 92-419) and the Rural Electrification Act.
Title VII, Research18
USDA is authorized under four major laws to conduct agricultural research at the federal level and to provide support for cooperative research, extension, and postsecondary agricultural education programs in the states through formula funds and competitive grants to land-grant universities. H.R. 2 reauthorizes funding for these activities through FY2023, subject to annual appropriations.
With respect to the land-grant entities, H.R. 2 authorizes a new scholarship program for the 1890 land-grant institutions. A provision in the bill would also prohibit any further entities from being designated as eligible to receive formula funding under the Hatch Act (24 Stat. 440), Smith-Lever Act (P.L. 63-95), and McIntire-Stennis Act (P.L. 87-788). Permissible indirect cost recovery for federal funding of agricultural research and extension would increase to 30% from 22% of funding.
Several new research areas in the High Priority Research and Extension program are designated to be high priorities: macadamia tree health, national turfgrass research, fertilizer management, cattle fever ticks, and laying hen and turkey research. The bill also reauthorizes the Organic Agriculture Research and Extension Initiative and increases mandatory funding levels to $30 million annually for FY2019-FY2023. The Specialty Crop Research Initiative (SCRI) would be reauthorized through FY2023 and continues to include carve-out funding for the Emergency Citrus Disease Research and Extension Program. SCRI also expands program eligibility to include "size-controlling rootstock systems for perennial crops" and "emerging and invasive species," among other production practices and technologies.
Title VIII, Forestry19
The Agriculture Committees have jurisdiction over forestry issues generally, as well as over some—but not all—National Forest System (NFS) lands managed by the USDA Forest Service (FS).20 Previous farm bills have primarily addressed forestry research and assistance programs and have sometimes included provisions addressing management of federal forest land. The forestry title in H.R. 2 would reauthorize and modify several existing assistance programs and establish new assistance programs, and it also contains several provisions that would address management of the NFS and the public lands managed by the Bureau of Land Management (BLM) in the Department of the Interior.
Forestry assistance programs are authorized under two main laws: the Cooperative Forestry Assistance Act (CFAA)21 and the Healthy Forests Restoration Act of 2003.22 Most federal forestry assistance programs are permanently authorized to receive such sums as necessary in annual discretionary appropriations and thus do not require reauthorization in the farm bill. H.R. 2, however, would amend two forestry assistance programs by replacing their permanent authority to receive annual appropriations with an authorization limit through FY2023. H.R. 2 would also establish some new assistance programs—generally by providing explicit statutory authorization and congressional direction for current programs that are operating under existing, but broad, authorizations. The bill would also reauthorize funding for the National Forest Foundation.
H.R. 2 would also address federal and tribal forest management issues. For example, the bill would direct the Secretary of Agriculture to exempt unprocessed dead and dying trees on NFS lands in California from the export prohibition for 10 years. Subtitle B would amend the Secure Rural Schools and Self-Determination Act of 2000,23 a program that authorizes payments to counties containing NFS lands and certain BLM lands.24 The bill would also change how the FS and BLM comply with the requirements under the National Environmental Policy Act (NEPA)25 and the consultation requirements under the Endangered Species Act26 for specified management activities. For example, the bill would establish 10 categories of actions that would not be subject to the requirements to prepare an environmental assessment or environmental impact statement under NEPA. (Six apply to both FS and BLM actions; four apply to just FS actions.) H.R. 2 would also authorize federally recognized Indian tribes to enter into good neighbor agreements with the FS and BLM and to request to conduct forest management activities on NFS lands, among other provisions.
Title IX, Horticulture27
H.R. 2 reauthorizes many of the existing farm bill provisions supporting farming operations in the specialty crop, certified organic agriculture, and local foods sectors. These provisions cover several programs and provisions benefitting these sectors, including block grants to states, support for farmers markets, data and information collection, education on food safety and biotechnology, and organic certification, among other market development and promotion provisions. Other provisions in H.R. 2 would amend certain regulatory requirements under some federal statutes.
H.R. 2 makes changes to funding for farmers markets and local foods promotion. Whereas the 2014 farm bill provided $30 million in mandatory CCC funding for each of FY2014 through FY2018 for the Farmers Market Promotion Program and Local Food Promotion Program, H.R. 2 reauthorizes discretionary appropriations for these programs in the amount of $30 million annually for FY2019-FY2023. The bill does not provide any mandatory funding beyond FY2018.28
H.R. 2 also makes changes to USDA's National Organic Program (NOP). It would enact several provisions in H.R. 3871 (Organic Farmer and Consumer Protection Act of 2017), including limiting the types of operations excluded from NOP certification, requiring electronic import documentation, establishing mechanisms for collaborative investigations and enforcement, requiring increased documentation and reporting, and increasing USDA accreditation authority over certifying agents, among other changes. In addition, it requires USDA to establish procedures for expedited petitions under the NOP's "National List of Approved and Prohibited Substances" and amends the eligibility and consultation requirements of the National Organics Standards Board (NOSB). H.R. 2 reauthorizes NOP appropriations above current levels, increasing to $24 million by FY2023, and reauthorizes funding for the Organic Production and Market Data Initiatives. It also provides $5 million for technology upgrades to improve tracking and verification of organic imports. H.R. 2 does not reauthorize current mandatory funding for the National Organic Certification Cost Share Program, although the program remains authorized.
CBO estimates a total budget authority of $850 million (FY2019-FY2023) for programs in the Horticulture title. Under H.R. 2, CBO estimates an increase in mandatory spending of $10 million (FY2019-FY2023) for programs under this title, which would cover data collection and technology updates under NOP. Provisions affecting the specialty crop and certified organic sectors, however, are not limited to the Horticulture title but are contained within several other titles of the new law. These include programs in the research, nutrition, and trade titles, among others. For example, under H.R. 2, CBO estimates an increase in mandatory spending of $101 million (FY2019-FY2023) for the Organic Agriculture Research and Extension Initiative in the bill's Research title. Other programs in the Research title, such as SCRI, would maintain current funding levels of more than $320 million (FY2019-FY2023). Budget estimates for other programs outside Title IX that benefit the specialty crop, certified organic agriculture, and local foods sectors—such as the Fresh Fruit and Vegetable Program (Snack Program) and Section 32 purchases for fruits and vegetables under the Nutrition title, among other farm bill programs—are not available.
Title IX includes several exemptions from certain regulatory requirements, amending existing provisions in the Federal Insecticide, Fungicide, and Rodenticide Act (FIFRA, 7 U.S.C. 136 et seq.), the Clean Water Act (33 U.S.C. §1251 et seq.), the Plant Protection Act (7 U.S.C. 7701 et seq.), and the Occupational Safety and Health Act (OSHA, 29 U.S.C. 651 et seq.). H.R. 2 amends FIFRA to clarify federal and state roles in the regulation of pesticides, to exempt certain pesticide discharges from point source discharge permitting requirements, and to not require that the Environmental Protection Agency consult with other federal agencies regarding pesticide registrations and their potential impact on endangered species. H.R. 2 would also enact into law H.R. 1029 (Pesticide Registration Improvement Enhancement Act of 2017), amending FIFRA to extend the authority to collect pesticide fees and other purposes. Finally, H.R. 2 amends the Plant Protection Act regarding the use of methyl bromide in response to an emergency event and also amends OSHA to exempt agricultural retailers from process safety management requirements.
Title X, Crop Insurance29
Crop insurance is designed cover economic losses from a variety of natural causes, as well as certain adverse market developments. The federal crop insurance program makes available subsidized crop insurance to producers who purchase policies to protect against losses in yield, crop revenue, margin, or whole farm revenue. The crop insurance title of H.R. 2 makes several modifications to the existing federal crop insurance program, which is permanently authorized by the Federal Crop Insurance Act. According to CBO, the crop insurance title of H.R. 2 would decrease authorized spending for crop insurance relative to baseline levels by $70 million during the FY2019-FY2023 period. The largest component for projected savings ($52 million) is attributed to eliminating the crop insurance education and information program for targeted states carried out by the Risk Management Agency and the Agricultural Management Assistance program. Up to $15 million per year of CCC funds could be saved from the elimination of the AMA program alone. Additional savings ($32 million) occur by increasing the administrative fee for catastrophic risk protection (commonly referred to as CAT fees) from $300 per crop per county to $500. CBO also projects another $23 million in savings from provisions that would eliminate several past research and development (R&D) priorities, discontinue R&D partnerships, and reduce CCC funding for R&D contracting from $12.5 million to no more than $8 million annually.
Among other adjustments, H.R. 2 expands coverage for forage and grazing by allowing separate crop insurance policies to be purchased for crops that can be both grazed and mechanically harvested on the same acres during the same growing season. Such separate policies can be independently indemnified for each intended use. CBO projects this expanded coverage to cost the government $40 million during the FY2019-FY2023 period. Similarly, by redefining "beginning farmer or rancher" as having actively operated and managed a farm or ranch for less than 10 years, the federal subsidy benefits available for the purposes of research, development, and implementation of whole farm insurance plans on such participating operations would result in a projected additional cost of $4 million during FY2019-FY2023.
Crops for which the producer has elected ARC or that are enrolled in stacked income protection would be ineligible for coverage based on an area yield and loss basis or for the supplemental coverage option. H.R. 2 also clarifies requirements for FCIC approval of reimbursement for the development of private submissions for modifying old plans of insurance or creating new plans of insurance.
Title XI, Miscellaneous30
The Miscellaneous title of H.R. 2 contains seven subtitles: Livestock; Beginning, Socially Disadvantaged, and Veteran Producers; Textiles; United States Grain Standards Act; Noninsured Crop Disaster Assistance Program; Protect Interstate Commerce; and Other Matters.
The Livestock subtitle would establish the National Animal Disease Preparedness and Response Program to address the risk of the spread of animal pests and diseases and the National Animal Health Vaccine Bank to prioritize the acquisition of foot-and-mouth disease vaccine. H.R. 2 would provide a combined $250 million in mandatory funding in FY2019 for these two new programs and to operate the National Animal Health Laboratory Network, as well as $50 million for the same purposes each year from FY2020 to FY2023. The livestock subtitle would also authorize appropriations for the National Aquatic Health Plan, amend a program for veterinarian training, and require USDA to conduct a study on the Food Safety and Inspection Service's guidance and outreach to small and very small meat processing plants.
The Beginning, Socially Disadvantaged, and Veteran Producers subtitle includes mandatory funding of $10 million each year from FY2019 to FY2023 for its outreach and assistance program for socially disadvantaged and veteran farmers and ranchers. H.R. 2 would prioritize youth agricultural employment and volunteer programs and establish an Agricultural Youth Organization Coordinator position to promote the role of youth-serving organizations and school-based agricultural education programs. The bill would also create a Commission on Farm Transition to study issues affecting the transition of farm operations from established farmers and ranchers to the next generation.
The Textile subtitle would repeal the trust funds for Pima Agriculture Cotton and Agriculture Wool Apparel Manufacturers. It would also repeal grant funding under the Wool Research and Promotion program. In place of these funds, H.R. 2 would establish the Textile Trust Fund to reduce injury for domestic users of imported pima cotton and wool fabric whose tariffs may exceed the tariffs on certain finished imported pima cotton and wool apparel. For each calendar year from 2019 to 2023, USDA would transfer $8 million and $15 million to the trust fund for domestic manufacturers who import pima cotton and wool fabric, respectively, and $2.25 million for grants for wool research and promotion. In addition, for FY2019, H.R. 2 would provide $2 million for strengthening and enhancing the U.S. sheep industry.
The United States Grain Standards Act (USGSA) would restore exceptions in grain inspection regulations that were implemented in 2003, and revoked in 2015, that allowed grain to be inspected by more than one designated official agency.
The Noninsured Crop Disaster Assistance Program (NAP) subtitle would amend NAP crop eligibility to include crops that may be covered by crop insurance but only under whole farm policies. It would also raise the service fees and reauthorize buy-up coverage through crop year 2023.
The Protect Interstate Commerce subtitle would prohibit a state or local government from setting standards or conditions on agricultural commodities produced in another state if the commodities are produced or manufactured in accordance with federal or state laws and regulations. The bill provides that producers, consumers, trade associations, governments, and other agents may bring an action against the standard or condition in the appropriate court.
The Other Matters subtitle would make technical amendments to various laws to account for USDA reorganizational changes that created the Under Secretary for Trade and Foreign Agricultural Affairs, the Under Secretary for Farm Production and Conservation, and the Assistant to the Secretary for Rural Development. H.R. 2 would also create a Food Loss and Waste Reduction Liaison within the Office of the Secretary, a Century Farms Program under the Secretary that recognizes farms in continuous operation for at least 100 years, and a National Agriculture Imagery Program within the Farm Service Agency. The subtitle would further prohibit the slaughter of dogs and cats for human consumption and would require a report on the importation of dogs.
In addition, the subtitle would require a report on including natural stone in a promotion and research program and a report on agriculture innovation in gene editing and precision plant breeding. It would amend the hiring authority for cotton classification employees to allow for non-competitive rehiring of qualified individuals and add South Carolina to the Virginia/Carolina region of the Peanut Standards Board.
Provisions of the House Agriculture Committee-Reported Bill (

H.R. 2

), Compared with Current Law
Appendix.