How Does Solar Energy Work?1
The energy in sunlight can be converted into electricity in either of two ways: by using solar photovoltaic cells or by concentrating solar energy to produce heat for electricity generation. Solar energy can also be used to heat water for direct use, but this report focuses only on electricity generation applications.
Solar Photovoltaic (PV)
Sunlight can interact with certain materials to directly produce electricity in a process known as the photovoltaic (PV) effect. Silicon (more specifically, crystalline-silicon, or c-Si) is the most commonly used material today, but other materials (e.g., cadmium telluride) also can be used. Research is ongoing into alternative materials and designs that might be more efficient or less expensive than c-Si.2
To construct a PV cell to generate electricity, PV material is manufactured into ingots, which are then cut into wafers (Figure 1). Wafers are typically 15 centimeters (cm) wide along each side and around one-hundredth of a centimeter thick, although exact dimensions may vary by manufacturing process.3 Wafers are processed into cells, which are then assembled into modules, also called panels. A module typically consists of 60 to 72 cells mounted on a plastic backing within a frame. Modules are typically installed in groups, known as arrays, with the number of modules in the array depending upon the available space and the desired generation capacity of the project.4
Figure 1. Crystalline-Silicon Photovoltaic (PV) Manufacturing Process

Source: National Renewable Energy Laboratory (NREL), Crystalline Silicon Photovoltaic Module Manufacturing Costs and Sustainable Pricing: 1H 2018 Benchmark and Cost Reduction Road Map, p. 1, February 2019.
Note: Polysilicon is the raw material processed into crystalline silicon. It accounted for 97% of global PV production in 2018. It is the most common material currently used in PV modules.
A PV system includes modules and a variety of structural and electronic components, known as balance of system (BOS) equipment, to tie the system together.5 Structural BOS equipment includes brackets, on which the modules are mounted. For ground-mounted systems, these brackets can be either fixed or able to rotate during the day to face the sun. Mounting systems that can rotate are known as tracking systems. Modules mounted on tracking systems tend to generate more electricity than modules on fixed-mount systems, all else being equal, because the tracking systems can optimize the amount of sunlight hitting the module over the course of a day.6 One key piece of BOS equipment is an inverter, an electronic device that converts the electricity generated by PV modules into a form that is usable in the U.S. electric system. Other electronic BOS equipment includes charge controllers, circuit breakers, meters, and switch gear. Some PV systems also include integrated energy storage systems such as batteries.7
PV systems can be divided into three categories, based primarily on capacity.8
Utility-scale systems (i.e., solar farms) may range in capacity from a few megawatts (MW) to a few hundred MW. They are typically owned and operated like other central power plants. Utility-scale projects are typically connected to the electricity transmission system, the network of high-voltage lines that move electricity over long distances.
Commercial-scale systems typically range in capacity from a few kilowatts (kW; 1,000 kW = 1 MW) to a few hundred kW. They may be installed on the ground or on rooftops, and are typically owned or hosted by commercial, industrial, or institutional entities. Some may be connected to the transmission system, and some may be connected to the electricity distribution system, the network of low-voltage lines that deliver electricity directly to most consumers.
Residential-scale systems typically have generation capacity of a few kW. Most residential-scale projects are installed on rooftops and connected to the distribution system.
Another way to categorize PV systems is by ownership model. Systems connected to the transmission system (typically utility-scale) are generally owned by utilities or independent power producers, as is the case for other central power plants. Smaller systems may use other ownership models, depending on what applicable state laws allow.
Customer-owned systems are owned directly by the electricity consumer benefiting from the system. The consumer might buy the system outright or finance it in the same way as for other property improvements (e.g., loan).
Third-party ownership (i.e., solar leasing) is an ownership model in which an electric consumer, such as a homeowner, allows a company to build a solar system on the consumer's property. The company owns and maintains the solar system while the consumer uses the electricity produced by the system. The consumer pays back the cost of the system to the company through either lease payments or a power purchase agreement.
Community solar (i.e., solar gardens) is an ownership model in which multiple electricity consumers may purchase or lease shares of a solar system through a subscription. Subscribers can benefit from the project by receiving electricity, financial payments, or both. Community solar systems are usually not installed on a subscriber's property, and the systems may be owned by a utility or another type of entity.
Concentrating Solar Power
Concentrating solar power (CSP) technologies collect and concentrate energy from sunlight to heat certain fluids (liquids or gases). CSP plants use these heated fluids to produce electricity, either by creating steam to drive a steam turbine or by directly running a generator. CSP plants can be designed with thermal energy storage systems.9 At least one CSP plant with storage operating in the United States is capable of generating electricity 24 hours a day.10
How Much Electricity Comes From Solar Energy?11
Electricity generation from solar energy has grown in recent years, as shown in Figure 2. Solar energy overall (PV and CSP combined) accounted for 0.7% of total U.S. electricity generation in 2014 and 2.2% of the total in 2018, according to data from the U.S. Energy Information Administration (EIA).12 Most generation (96% in 2018) from solar energy comes from PV systems. Large-scale systems, defined by EIA as those greater than 1 MW, accounted for 61% of overall generation from solar energy in 2014, the first year for which EIA reported generation data for different size categories. By 2018, the share from large-scale systems had increased to 68%.
Figure 2. U.S. Electricity Generation from Solar Energy, 2014-2018
Generation in GWh and as Percent of Total U.S. Electricity Generation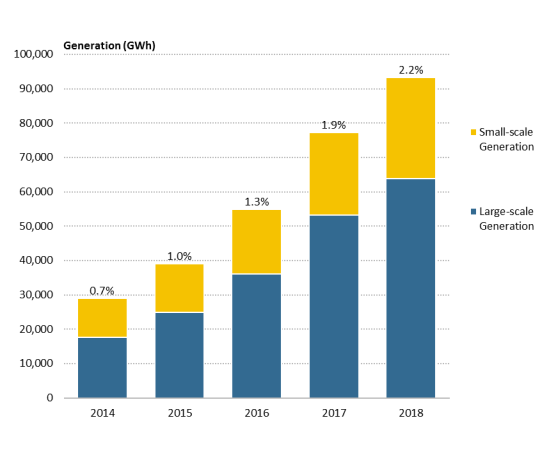 Source: U.S. Energy Information Administration (EIA), Electric Power Annual 2018, 2019.
Notes: GWh = gigawatt-hours. Bars are labeled with the percent of total U.S. generation from solar energy overall (large-scale and small-scale combined) in that year. EIA defines large-scale generation as generators with capacity > 1 MW, and small-scale generation as generators with capacity < 1 MW. EIA began reporting generation data for small-scale solar generators in 2014.
How Much Does a Solar PV System Cost?13
Costs for solar PV systems vary by size, as shown in Figure 3. The figure shows an estimate of average U.S. solar PV system costs per unit of capacity, as of the first quarter of 2018 (Q1 2018), based on an analysis by the Department of Energy's National Renewable Energy Laboratory (NREL). Costs for any individual project could differ based on project-specific circumstances. Two general findings from NREL's analysis are supported by numerous other studies, namely that larger projects tend to be cheaper on a per-unit basis, and that costs for projects of all sizes have declined in recent years.
Utility-scale systems have the lowest unit costs, ranging from an average of $1.06 per watt of direct current (hereinafter, W) to $1.13/W in 2018, depending on whether projects were mounted on fixed brackets or tracking systems, respectively.14 Commercial-scale systems cost $1.83/W on average in Q1 2018, and residential-scale systems cost $2.70/W on average. The total system cost differences shown in Figure 3 are driven primarily by higher "soft costs." These costs include, for example, costs associated with permitting, interconnecting with the grid, and installer overhead costs. The soft costs are much higher for smaller-scale systems, per watt, than for utility-scale systems.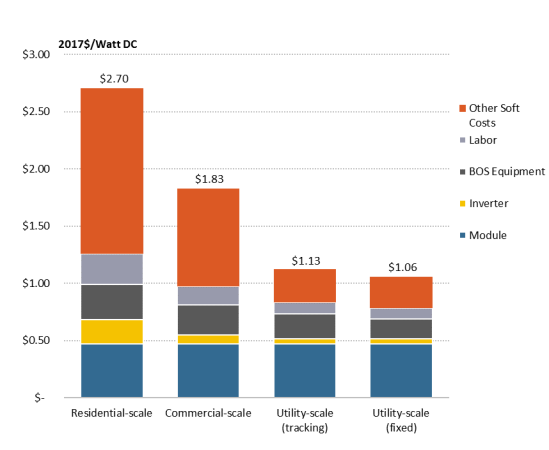 Source: Ran Fu, David Feldman, and Robert Margolis, U.S. Solar Photovoltaic System Cost Benchmark: Q1 2018, NREL, November 2018.
Notes: DC = direct current; BOS = balance of system. Separate costs are shown for utility-scale solar PV systems depending on whether they are mounted on fixed brackets (fixed) or a tracking system (tracking). Labels show total system costs.
PV system costs have declined, as shown by data from the NREL analysis shown in Figure 4. NREL reported costs from 2010 to Q1 2018. NREL credits cost declines over this time period to cost declines in all system components (i.e., modules, inverters, BOS equipment, labor, and other soft costs).15
PV module costs increased between 2017 and 2018 as a result of tariffs discussed in the section "How Are U.S. Tariffs Affecting Domestic Solar Manufacturing?," offsetting cost declines in other system components, according to the NREL report.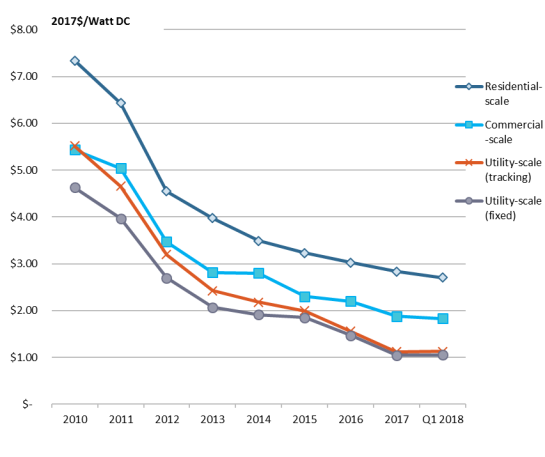 Source: Ran Fu, David Feldman, and Robert Margolis, U.S. Solar Photovoltaic System Cost Benchmark: Q1 2018, NREL, November 2018.
Notes: DC = direct current. Q1 2018 value reflects first-quarter data only. Separate cost curves are shown for utility-scale solar PV projects depending on whether they are mounted on fixed brackets (fixed) or a tracking system (tracking). Values are inflation-adjusted by NREL using the consumer price index.
How Does Solar Energy Impact Electricity Costs for Consumers?16
Generalizing the cost impacts to consumers for solar systems is challenging because costs for these systems vary across the United States. Additionally, solar system costs are declining in both absolute terms (as discussed in the previous section) and relative to other sources of electric power. In parts of the country, new solar systems are sometimes among the least cost-options for generating electricity. This was not generally the case a few years ago.
Policies aimed at promoting solar energy make an assessment of costs more complex. For example, tax incentives, as discussed in the section "What Federal Tax Incentives Support Solar Energy Development?," can reduce the ownership costs for businesses or individuals that purchase solar energy systems. Some of those costs are then transferred to taxpayers. The following discussion focuses on electricity costs only from a consumer's point of view.
Consumers' electricity costs can be measured in two ways. The first way is the electricity rate, typically expressed in cents per kilowatt-hour (cents/kWh). The second way is the electricity bill, typically the total costs for electricity that consumers pay each month expressed in dollars. In most cases, an electricity bill reflects the costs to produce electricity (typically, the applicable electricity rate times the amount of electricity consumed), the costs to deliver electricity to the consumer, and any other fees as determined by state or local regulators (e.g., contributions to funds that provide bill relief to low-income households). Electricity rates can go down while bills go up, and vice versa.
Multiple factors can determine how solar energy might affect what consumers pay for electricity. Many of these factors vary based on local circumstances. They can also change over time as the profile of electricity sources changes.
Comparing Electricity Costs
One way to compare electricity costs is by estimating the lifetime costs of energy systems. Lifetime costs include the initial construction and installation cost plus operation and maintenance (O&M) costs, fuel costs, and other costs. Electricity rates are strongly influenced by total lifetime costs for all the electricity generators serving a given area. Lifetime costs for solar energy have historically been higher than for many other sources, but that is changing in many parts of the United States.17 For example, one commonly used measure of lifetime costs is the levelized cost of electricity (LCOE), usually expressed in dollars per megawatt-hour of generation ($/MWh) and averaged over the lifetime of a project. LCOE estimates attempt "apples-to-apples" comparisons among technologies because the estimates account for how much electricity a given power plant is expected to produce over its lifetime.18 According to widely cited estimates from one consulting firm, 2019 LCOE for new utility-scale solar systems ranged from $32/MWh to $42/MWh. By comparison, LCOE for new wind generation was $28/MWh-$54/MWh and for natural gas combined cycle generation was $44/MWh-$68/MWh.19
Another factor in consumers' bills is the extent to which electricity from solar energy displaces electricity generation from existing sources. If existing power plants are called upon to produce less electricity than planned when they were first built due to the availability of power from less expensive sources, the owners still need to pay the construction cost of their unneeded capacity. Such costs are known as stranded costs. Depending on each state's regulatory framework, stranded costs might be borne by power plant owners or be passed through to consumers in electric bills.
To the extent that solar systems require new transmission lines to deliver electricity to consumers, the cost of building those lines may result in higher electricity bills. Utility-scale solar, which is frequently located in rural areas distant from consumers, may have higher associated cost impacts on bills than, for example, residential-scale solar, depending upon project details. On the other hand, installation of solar systems can sometimes avoid upgrades to transmission systems, resulting in potentially lower costs for consumers. In other cases, though, solar systems necessitate upgrades to local distribution systems, which might increase costs for customers. In states with carbon pricing policies in place, increased solar energy deployment could reduce the bill impacts associated with the carbon price.
Generating solar energy has approximately zero marginal cost. Marginal costs reflect the variable costs of producing incremental amounts of electricity from an existing source. Marginal costs are typically dominated by fuel costs, which are not relevant for solar energy. When solar energy is present in an area, fewer fuel-consuming electricity sources are required, which tends to drive down marginal costs for the regional electricity system overall. This effect may diminish as the number of solar electricity generators increases in an area, because nearby solar PV systems tend to maximize their electricity production at the same time (usually midday). If all of the midday electricity demand were to be met by solar PV, there would no incremental cost benefit to adding more solar PV systems to the region.20
The rate and bill impacts discussed above would apply to all electricity consumers within a region in which solar energy development is taking place. Consumers that install rooftop solar systems or participate in community solar projects ("solar customers") could have different bill impacts. Most states allow solar customers to be financially compensated for the electricity generated by the projects they host. The most common type of policy for this compensation is net metering, though some states have established net metering alternatives. Depending on a consumer's electricity demand and the size of the solar energy project, solar consumers participating in net metering or related policies could reduce their electricity bills to zero.21
Is Solar Energy Reliable?22
One potential reliability concern for solar energy is due to its variable nature, dependent on the availability of sunlight.23 For example, solar PV systems cannot produce electricity at night, and their output can vary during the day depending on local weather conditions (e.g., cloudiness). The physical requirements of the electricity system are such that the supply and demand of electricity must equal each other at all times. Currently, to ensure reliability, other sources of electricity generation are used when solar energy is not available. Expanding other types of electricity system infrastructure, such as transmission lines or energy storage assets, could also address this limitation. Alternatively, policies and regulatory frameworks that incent greater electricity consumption during daytime hours and less at night (i.e., load shifting) could reduce the reliability impact of solar energy's variability.
Another potential reliability concern for solar energy arises from the mismatch between the hours of the day when generation from solar energy peaks (typically midday) and when electricity demand peaks (typically several hours later). To maintain reliability, some sources of electricity have to quickly increase their output to account for the simultaneous drop-off in output from solar generators and increase in demand. As more solar systems are installed, the need for other sources that can quickly change output levels typically increases. This situation is often referred to as the "duck curve" because the shape of the plot showing the difference between demand and output from solar generators resembles a duck.24 Not all electricity generators are capable of quickly changing their output, and their deployment may not match the levels of deployment of solar generators. Load shifting, operational changes to non-solar sources, and deployment of more flexible resources (e.g., energy storage) are all possible ways to address the duck curve. Some analysis suggests that electric vehicle deployment might also act as a form of load shifting and address the duck curve, at least if vehicle charging occurs when output from solar sources is high.25
A third potential reliability concern comes from the fact that solar PV produces direct current (DC) electricity. Conventional generators produce alternating current (AC) electricity, and the grid is optimized for AC. An inverter is an electrical device that converts DC to AC; grid-connected solar PV systems require an inverter. For this reason, solar is sometimes referred to as an "inverter-based resource."26 Generators that produce AC also inherently contribute to grid reliability by providing what are known as "essential reliability services" or "ancillary services."27 Most of these services arise from the way generators physically respond to changes in the balance of electricity supply and demand over fractions of seconds. Inverter-based resources do not inherently provide these services, although inverters can be designed (and are being deployed) to provide some of these services.
The electric power industry and its federal and state regulators have been studying ways to protect system reliability from the unique nature of inverter-based resources since at least 2008. Additionally, Congress has funded a variety of research programs related to electric reliability.28 No widespread reliability issues due to solar appear to have occurred to date, though some local reliability issues have been reported.29
What Federal Tax Incentives Support Solar Energy Development?30
Various provisions in the Internal Revenue Code (IRC) support investment in solar energy equipment. These provisions reduce the after-tax cost of investing in solar property, thereby encouraging taxpayers to invest in more solar property than they would have absent tax incentives. Tax incentives for solar energy property were first enacted in 1978. Several incentives for solar are currently part of the tax code.31 Historically, the value of tax incentives for solar has fluctuated, although the current tax credit rates were established in 2005.32 Under current law, solar tax incentives are scheduled to phase down in the coming years from their 2019 rates.
Tax Incentives for Businesses
Investments in certain renewable energy property, including solar, qualify for an investment tax credit (ITC).33 The amount of the credit is determined as a percentage of the taxpayer's basis in eligible property (generally, the basis is the cost of acquiring or constructing eligible property). The credit rate for solar was 30% through 2019, 26% in 2020 and 22% in 2021. Solar energy has a permanent 10% ITC that is to go into effect in 2022. The expiration dates for the ITC are commence construction deadlines.34 For example, solar property that was under construction by the end of 2019 may qualify for the 30% tax credit, even if the property is not placed in service (or ready for use) until a later date.
Special provisions in the tax code allow solar energy property to be depreciated over a shorter period of time than would normally be the case.35 Specifically, solar energy property is classified as five-year property in the Modified Accelerated Cost Recovery System (MACRS).36 The depreciable basis (the amount that is recovered through depreciation deductions over time) of solar energy property is reduced by 50% of any ITC claimed. Thus, if a 30% ITC was claimed on a $1 million investment in solar energy property, $850,000 would be depreciated under the schedule for five-year MACRS property. Accelerating depreciation reduces the after-tax cost of investing in solar energy property.
Temporarily, through 2022, certain investments in solar energy property are eligible for 100% bonus depreciation.37 This eligibility means that for these investments, the expense can be deducted immediately (i.e., expensed). Bonus depreciation is scheduled to phase down after 2022. It is scheduled to decrease to 80% in 2023, 60% in 2024, 40% in 2025, and 20% in 2026, before being 0% in 2027. Bonus depreciation may be claimed for new as well as used property. Regulated public utilities cannot claim bonus depreciation. Tax-exempt organizations, such as electric cooperatives, also cannot claim bonus depreciation, and typically are limited in their ability to benefit from tax incentives more broadly.
Tax Incentives for Individuals
Individuals purchasing solar energy property may qualify for the residential energy-efficient property credit.38 Through 2019, the tax credit for individuals is 30% of the cost of solar electric property installed on the taxpayer's residence.39 The tax credit rate is scheduled to be 26% in 2020 and 22% in 2021, with the credit expiring after 2021.40 The tax credit is nonrefundable, meaning that the amount of the credit a taxpayer can claim in the tax year is limited to the taxpayer's income tax liability. However, unused tax credits can be carried forward to the following tax year.
How Much Do Solar Tax Incentives Cost?
Tax expenditure estimates are one source of information on the "cost" of solar tax incentives. Tax expenditures are, by definition, the amount of forgone revenue associated with special provisions in the tax code, such as tax credits and accelerated cost recovery. For FY2019, the Joint Committee on Taxation (JCT) estimates that the amount of forgone revenue associated with the business ITC for solar was $3.4 billion.41 The amount of forgone revenue associated with the residential energy-efficient property credit for FY2019 was an estimated $2.0 billion. This figure, however, includes all eligible technologies.42 While most of this was due to solar energy property, JCT does not estimate the forgone revenue associated with solar separate from other eligible technologies. The revenue loss for five-year MACRS for all eligible energy property (primarily wind and solar, but other technologies are eligible) is estimated at less than $50 million in FY2018. Because bonus depreciation is not a solar- or even energy-specific provision, a tax expenditure estimate for bonus depreciation for solar is not available.
Internal Revenue Service (IRS) data also provide information on individual claims of tax credits for solar electric property.43 In 2017, individuals filed 381,242 tax returns that claimed the residential energy-efficient property credit for solar electric property.44 The total cost of solar electric property for which tax credits were claimed was $5.5 billion, generating approximately $1.6 billion in individual income tax credits.45
What State Policies Support Solar Energy Development?46
Per the Federal Power Act, states have jurisdiction over most aspects of electricity generation and distribution.47 Consequently, many policies that affect the development solar energy are implemented by states. This section discusses one common state policy, a renewable portfolio standard. Other state policies designed to accelerate the deployment of solar energy include net metering (mentioned in the section "How Does Solar Energy Impact Electricity Costs for Consumers?"), state tax credits, and allowing third-party ownership (i.e., solar leasing).48
Renewable portfolio standards (or, more broadly, electricity portfolio standards), as typically implemented, set requirements on utilities to procure a minimum share of their electricity sales from specified renewable sources such as solar.49 Many factors influence solar energy development, but renewable portfolio standards are widely credited as being a key factor historically, as they have provided a policy-driven source of demand for renewable electricity generation. Twenty-nine states, three U.S. territories, and the District of Columbia are implementing mandatory electricity portfolio standards, and an additional eight states and one territory have voluntary standards. Of these, nine jurisdictions have targets of 100% clean energy. Jurisdictions differ in their definitions of eligible clean energy sources, but solar is eligible in all cases.50 Nineteen of these policies include specific requirements or extra incentives for solar.51
How Are U.S. Tariffs Affecting Domestic Solar Manufacturing?52
The United States has applied tariffs on imports of solar energy equipment since 2012. The different types of equipment comprising a solar PV system are discussed in the section "How Does Solar Energy Work?"
The tariff effects have not been felt evenly across the solar industry's manufacturing segments (i.e., polysilicon production, ingot and wafer production, solar cell production, and module assembly). To date the tariffs have not encouraged expansion of U.S. manufacturing in the more technologically advanced segment of the PV manufacturing supply chain, namely the production of crystalline-silicon solar cells. However, U.S. production of solar modules, into which cells are assembled, rose in 2018, and a few companies, including one Chinese manufacturer, have opened solar module assembly plants in the United States. The increased domestic production of modules draws on imported parts and components, reflecting the industry's global supply chain.
U.S. solar tariffs have negatively affected the one segment of the PV supply chain in which the United States traditionally has been the most competitive, the production of polysilicon, the key raw material used in the manufacture of the vast majority of solar cells. China retaliated against the Obama Administration tariffs by imposing double-digit tariffs on polysilicon shipped from the United States to China, which had been a significant export market for U.S. producers. These tariffs have had an adverse effect on U.S. production of polysilicon, which shrank 40% between 2015 and 2018.60 The U.S. share of global polysilicon production is also down, falling to 11% of the global total in 2017 from 29% in 2010.61 The production of wafers made from polysilicon, which in turn are cut to make individual cells, has largely been discontinued in the United States,62 with China accounting for more than 80% of global wafer production in 2017.63
Solar cell production has significant economies of scale, so manufacturers generally centralize production in large plants. As shown in Figure 5, annual domestic U.S. PV cell production shrank to 124 megawatts (MW) in 2018, the lowest level since 2010.64 Domestic manufacturers of PV modules import nearly all of their solar cells, which represent a substantial portion of the cost and value of a finished module (27% in Q4 2018, according to Wood Mackenzie, an energy consultancy).65 China accounted for more than two-thirds of the world's solar cell production in 2017.66
Figure 5. U.S. Cell and Module Production
Annual U.S. Production in Megawatts (MW)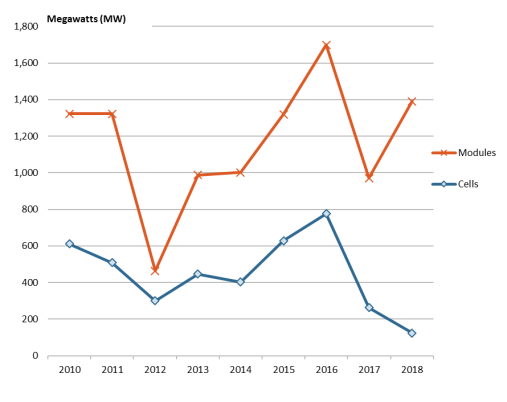 Source: Solar Energy Industries Association (SEIA)/Wood Mackenzie, Annual U.S. Solar Market Insight Reports and National Renewable Energy Laboratory (NREL), Quarterly Solar Industry Update, https://www.energy.gov/eere/solar/quarterly-solar-industry-update.
Despite the various trade actions in 2018, solar cell prices in the United States declined from 20 cents per watt at the beginning of that year to 10 cents per watt at year-end 2018, which represented a 50% decrease in cost.67 Meanwhile, figures from the United States International Trade Commission (ITC) show U.S. imports of solar cells more than doubled by value from 2016 to 2018. This trend continued despite the additional tariffs on solar cells and modules that took effect in 2018, with U.S. imports of solar cells rising 32% during the first seven months of 2019 compared to the same period in 2018.68
One possible reason for the rise in cell imports is that the Trump Administration's solar tariff allows up to 2.5 GW of unassembled solar cells to be imported into the United States duty-free each year the tariff is in effect. These can then be assembled into solar modules in the United States.69 From February 2018 to the end of 2018, about a quarter, or 650 MW, of the duty-free tariff rate quota was filled. The low fill rate during the first year may be because there was not enough module assembly capacity in the United States to use those cells, and because some PV cells were stockpiled prior to the imposition of the tariff. If the 2.5 GW quota is reached in any year, foreign-made cells will be subject to U.S. tariffs for the balance of that year.
The uncertainty surrounding the tariffs limits the incentive to expand solar cell production in the United States. For example, the Trump Administration's solar tariff is initially set to last four years, with the tariff rate declining by five percentage points in each year the tariff is in effect.70 The other tariffs may be discontinued at the President's discretion. A new cell factory would need a large capital investment and about two years to construct. The possibility that some or all of the tariffs will be eliminated in the near future may discourage creation of new manufacturing capacity.71 At present, Panasonic is the only major domestic producer of crystalline-silicon solar cells, and several producers of solar cells have closed U.S. plants since 2012.72
Unlike cell production, domestic module assembly is growing. A count by the Solar Foundation, a trade group, indicates that approximately 20 factories assembled PV modules in the United States in 2018.73 Annual U.S. PV module production increased to 1.4 GW in 2018, up from 970 MW in 2017, but down from a record high of 1.7 GW in 2016, the year the federal investment tax credit had been set to expire (see Figure 5).74 It typically takes about six months to construct a new solar-module assembly facility and begin operation at scale. PV Magazine, an industry publication, reported that 3.9 GW of new module manufacturing capacity was under construction or had recently come online as of late 2018.75 Hanwha Q Cells, a South Korean company, and Jinko Solar, a Chinese company (the largest module producer in the world), have opened new module-assembly facilities in the United States.76 A Canadian company, Heliene, reopened a shuttered solar module facility in Minnesota.77 NREL reports that several additional solar companies expect to add another 4 GW of U.S. module assembly capacity.78
In 2017, China accounted for more than 70% of total global module production.79 One challenge for domestic producers is that U.S. module facilities are smaller than the most efficient plants in Asia, meaning they generally lack the economies of scale that are central in driving down unit costs. The two companies—SolarWorld and Suniva—that petitioned the Trump Administration to put tariffs on imported cells and modules have both ceased production.
Because U.S. tariffs are much higher on imports from China and Taiwan than on products of other countries, the tariffs have encouraged manufacturers of cells and modules to serve the U.S. market from other Asian countries. PV module shipments into the United States from Malaysia, South Korea, Vietnam, Mexico, and Thailand have largely replaced module imports from China, which shrank to less than 1% of total U.S. imports by 2018. These five countries accounted for nearly 85% of $2.8 billion in PV modules imported into the United States in 2018.80
Inverters made in China now face a 25% U.S. tariff. To avoid the U.S. tariff, two large suppliers of inverters to the U.S. market are reportedly planning to shift production from China to other locations.81 According to the Solar Energy Industries Association (SEIA), U.S. inverter production is declining, primarily due to the closure of two major U.S. facilities at the end of 2016.82 Backsheets and junction boxes are other examples of solar energy components needed for solar panel assembly, and they are also among the products that face a 25% tariff if they are imported from China.83
Module prices globally have declined steeply over the past decade. While prices in the U.S. market have fallen as well, despite the tariffs on imported cells and modules, they remained 61% higher, on average, than the global average selling price in 2018, according to NREL.84 One factor contributing to this price differential is the preference of U.S. purchasers for Tier 1 solar modules, which may be 10% to 30% more expensive and may be more reliable than Tier 2 and Tier 3 solar modules, although they may not necessarily be the best-performing modules on the market.85 Projects using Tier 1 modules may be easier to finance than those using modules not classified as Tier 1.
What U.S. Jobs Are Supported by the Solar Industry?86
The federal government does not collect data on employment in the solar energy industry. According to a report by the Solar Foundation, the industry provided 242,300 full-time equivalent jobs in 2018 (Figure 6).87 Of these positions, 85% involved work other than manufacturing, such as installation of solar systems and project management, wholesale trade and distribution, and operations and maintenance.
Figure 6. Domestic Solar Industry Employment
2010-2018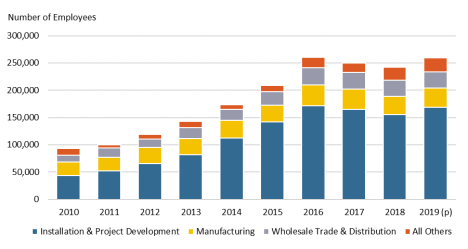 Source: Solar Foundation, National Solar Jobs Census, 2018. 2019 data are projected.
Notes: "All Others" refers to activities not classified elsewhere, such as research and development and finance. In 2018, the Solar Jobs Census added a new sector for operations and maintenance, with jobs in this segment totaling 11,164. The census does not give a count for employment related to polysilicon production in the United States.
Most employment in the solar energy industry—64% in 2018—involves two solar sectors, the installation of solar systems and project development, whether on rooftops of individual homes or larger projects. Although the federal government does not track employment specific to the solar energy industry, the Bureau of Labor Statistics (BLS) publishes occupational data for solar PV installers. These data indicate that employment in PV installation may be significantly lower than the figures reported by SEIA for the combined solar installation and project development segment of the industry. BLS predicts the overall employee occupational count for solar PV installers of 9,700 workers in 2018 will rise by 63% to 15,800 jobs in 2028.88 BLS predicts that solar installation will be the fastest-growing occupation in the nation over the next decade. BLS reports the median pay for a PV installer in 2018 was $42,680 per year, or $20.52 per hour, about 13% above the national median for all workers.89
At the end of 2018, the number of solar jobs as reported by the Solar Foundation was approximately 7% lower than in 2016, with installation jobs accounting for most of the decline. The annual number of PV systems installed in the United States shrank 14% to about 327,000 in 2018 from approximately 380,000 in 2016.90
Direct employment in U.S. solar manufacturing was about 34,000 workers in November 2018, according to the Solar Foundation, accounting for about 14% of total employment related to the solar energy sector. The number of reported jobs dropped by 4,400 from November 2016. One reason for the decline may be that the tariffs raised the cost of foreign inputs that are assembled into solar systems in U.S. factories, making those factories' products more expensive.
Due to automation, a significant increase in employment in U.S. solar manufacturing is considered to be unlikely. One market research firm says module manufacturing accounted for about 1,200 U.S. jobs in 2018, but is projected to fall to just over a 1,000 workers by 2024.91 A review of publicly available information by CRS suggests that there are fewer than 2,000 workers involved in domestic polysilicon production. There is also limited employment related to the assembly of solar factory production equipment for wafers, cells, and modules in the United States because this equipment is made mainly in Europe and China.
What Land Requirements Does Solar Energy Have?92
Land is required for the extraction, production, and consumption of energy and for the generation, transmission, and distribution of electricity. There is not a generally accepted standard metric or methodology for a comparison of land use impacts across energy technologies.93 Different studies evaluate land use in different ways and may or may not account for upstream and downstream process steps associated with electricity generation (e.g., extraction of fuels or resources used for electricity generation), for the intensity of the impact of the activity on the occupied land, or for the time-to-recovery.94 Other factors that may not be incorporated into comparisons include location-dependent factors, such as solar incidence, or co-location of different activities with the energy generation, such as solar panels on rooftops.
Estimates of power density for different energy sources vary by methodology and technology type studied. Some estimates consider the area of the power plant only, while others include land areas used for fuel production, electricity transmission, waste disposal, or other factors. Estimates can change with time as technology innovation leads to increased energy efficiency; such is the case for solar energy, with newer and more efficient technologies leading to increased power density.
When considering total land area occupied, renewable energy sources generally require more land to produce the same amount of electricity than nonrenewable sources.95 One metric used in the energy sector that accounts for land use is power density, which can be expressed as a unit of power per unit of area (e.g., watts per square meter). A review of 54 studies which examined the power density of electric power production in the United States found that solar energy has a lower power density than natural gas, nuclear, oil, and coal, but solar energy has a higher power density than wind, hydro, biomass, and most geothermal.96 The review accounted for energy conversion efficiencies, capacity factors, and infrastructure area, including infrastructure associated with energy production (e.g., mines). The review did not control for time, reporting that the earliest study included in the analysis was from 1974; however, the review concluded that, of the nine energy types evaluated, only solar had a statistically significant relationship between power density and time.97 Published values for power density for solar systems range from 1.5 to 19.6 We/m2.98 Generally, solar thermal and utility-scale photovoltaic (PV) were found to require more land area to produce the same amount of electricity than residential PV and concentrated solar. While the technology for residential PV and utility-scale PV is similar, sloped rooftops may allow more sunlight to reach otherwise flat panels for residential systems, and the spacing of panels at utility-scale facilities (regardless of tilt) to provide for maintenance and to avoid shading may lead to lower power densities.99 Another review found that both location-dependent parameters and technology-dependent parameters affect the variability of land use energy intensity of solar electricity generation.100
In addition to power density, other factors may be relevant when evaluating energy sources and land use. Two examples are land use and land cover change, which account for the previous state of the land before an energy project was developed.101 In the case of solar, some solar energy systems may change land use and land cover to a smaller degree than others. For example, rooftop solar PV systems do not change how the underlying land is used or covered. Another factor is co-location of activities where land can be occupied but not used exclusively by its occupier. For example, farming and grazing can occur on land around wind turbines and underneath solar panels (this dual-use solar is referred to as "agrivoltaics"). Time-to-recovery is another factor to consider. Some technologies may impact land such that the land can recover to its previous state after use in a matter of months or a few years; other technologies may impact the land in such a way that it may take decades or centuries for the land to recover to its previous state. According to the Department of Energy, "further work is critically needed to determine appropriate land-use metrics for meaningful cross-comparisons."102
What Are Potential Impacts of Solar Energy Development on Agriculture?103
Agricultural land has become increasingly desirable for siting utility-scale solar PV systems (i.e., solar farms) for electrical generation. One concern that some raise about solar farm development is that siting solar arrays on agricultural lands can also displace agricultural production.104 With solar generation capacity in the United States increasing from less than 1 GW in 2010 to 50 GW in 2018, demand for large tracts of reliably sunlit, cleared, unobstructed acreage is also growing.105 California, North Carolina, Texas, and Florida had the largest U.S. cumulative solar capacity in the third quarter of 2019, with California the largest.106
While some individual farm operations develop PV arrays through their own investments in solar technologies as an income supplement or as an on-site energy source for their farming operations, private solar development companies have increasingly turned to long-term leasing arrangements with farmers to site PV arrays. Farmers benefit from the lease and solar developers get access to the scarce commodity of land. Prime agricultural lands often represent very large tracts of land in potentially suitable locations. As important as large tracts of acreage may be, other variables determine whether a satisfactory lease is negotiated. The quality of the terrain, local weather factors, proximity to grid connections, local transmission capacity, proximity to main roads, conservation and environmental impact issues, local/regional land use regulations, and flood risks all contribute to the suitability of particular agricultural acreage for a solar development company.
In potential lease arrangements, farmers are often interested in whether or not the PV array will curtail, if not completely end, their ability to continue farming. Typically, contractors constructing solar farms will strip the topsoil and then mount the PV modules on concrete footings. Not only does this remove the land from agricultural production during the period of the lease, it can become prohibitively expensive to restore the land to production after a lease terminates.107 The concern that the agricultural land can be permanently lost to production even after a lease ends is a factor when considering whether to maximize energy capacity on land at the expense of agricultural production. Suitable land where solar generation can be maximized will tend to be highly compensated relative to the potential of the agricultural operation. For example, while marginally productive acreage may be tilled, its yield potential is often quite low, and the environmental costs can be high (e.g., erodible soils). This type of acreage may be suitable for maximization of solar generation without significant threat to overall agricultural production.
Under other lease arrangements, solar energy development might occur without detriment to farming. While the land is attractive for siting solar PV arrays, it is also valuable as productive farmland. In these arrangements, vegetation growth may be possible under and around the solar system. The University of Massachusetts Crop Research and Education Center is exploring agrivoltaics, where modules are raised high enough off the ground and spaced in a way that crops can still grow around and beneath them, but also permit an economically viable solar development.108 Fear of a decline in agricultural production may be an important factor in some opposition to solar development, particularly where the value of the land for solar exceeds the current value for agriculture. Research examining the impact on agricultural yields of solar development could prove important to informing future investment in solar generation.109 State and federal grants to support development of dual-use agrivoltaic systems, such as the Solar Massachusetts Renewable Target (SMART), could help offset these systems' additional costs.110
Because U.S. agricultural land often enjoys favorable property tax treatment, different states/regions may establish regulations governing the use of agricultural lands for nonagricultural purposes. Local and regional planning commissions can constrain solar development, and may require various permits and clearances that could challenge the longer-term economic feasibility of the solar development, regardless of the suitability of the land for solar deployment. Successfully co-locating agricultural production with solar development could reduce some of the land use planning constraints—or outright prohibitions—that may come with productive agricultural lands proposed for solar development.