Summary
The U.S. Department of Agriculture (USDA) has numerous programs to support the management of state and private forests. These programs are under the jurisdiction of the House and Senate Agriculture Committees and are often examined in the periodic legislation to reauthorize agricultural programs, commonly known as farm bills. For example, the 2014 farm bill repealed, reauthorized, or modified many of these programs. The House version of the 2018 farm bill, the Agriculture and Nutrition Act of 2018 (H.R. 2), contains a forestry title (Title VIII) that would reauthorize, modify, and establish new forestry assistance programs.
Forestry-specific assistance programs (in contrast to agriculture conservation programs that include forestry activities) are primarily administered by the USDA Forest Service (FS), with permanent authorization of funding as needed. Some programs have been combined through the appropriations process or for administration purposes. These programs generally provide technical and educational assistance such as information, advice, and aid on specific projects. Other programs provide financial assistance, usually through grants (with or without matching contributions from recipients) or cost-sharing (typically through state agencies, with varying levels of contributions from recipients). Many programs provide both technical and financial assistance.
Some of the assistance programs provide support for planning and implementing forestry and related land management practices (e.g., Forest Stewardship, Urban and Community Forestry). Other programs provide assistance for forest restoration projects that involve more than one jurisdiction and address regional or national priorities (e.g., Landscape Scale Restoration). Other programs provide support for protecting forestlands from wildfires, insects and diseases, and from converting forestland to nonforest uses (e.g., Community Forest and Open Space Conservation, Forest Legacy). The Forest Health program provides support for protecting both federal and nonfederal forests from continuing threats, although most of the funding goes to federal forests. Programs also exist to enhance state and rural wildfire management capabilities (e.g., State Fire Assistance and Volunteer Fire Assistance) and to promote the use of forest products (e.g., Wood Innovation). International Forestry is often included as a forestry assistance program, because it provides technical forestry help and because it is funded through the FS appropriations account for forestry assistance programs (State and Private Forestry).
Most of the programs provide assistance to state partner agencies. The state agencies can use the aid on state forestlands or to assist local governments or private landowners. How the states use the resources is largely at the discretion of the states, within the authorization of each program and consistent with the national priorities for state assistance established by Congress in the 2008 farm bill.
Overall funding for the Forest Service's forestry assistance programs in FY2018 was $355.1 million, an 8% increase over FY2017 funding of $328.9 million. The Trump Administration requested $197.4 million in funding for FY2019. Overall funding has declined over the past 15 years, however, in both real and constant dollars. Over that time, funding for forestry assistance programs has ranged between 5% and 9% of the total annual Forest Service discretionary appropriation.
---
There are approximately 766 million acres of forestlands in the United States, most of which are privately owned (445 million acres, or 58%) by individuals, families, Native American tribes, corporations, nongovernmental organizations, and other groups (see Figure 1).1 The federal government has numerous programs to support forest management on those private forests and also public—state and local—forests. These programs support a variety of forest management and protection goals, including activities related to planning for and responding to wildfires, as well as supporting the development of new uses and markets for wood products. These programs are primarily administered by the Forest Service (FS) in the U.S. Department of Agriculture (USDA), and often with the assistance of state partner agencies.
This report describes current forestry assistance programs mostly funded and administered through the State and Private Forestry (SPF) branch of the FS.2 Following a brief background and overview, this report presents information on the purposes of the programs, types of activities funded, eligibility requirements, authorized program duration and funding level, and requested and enacted program appropriations.
Figure 1. Forest Landownership in the Conterminous United States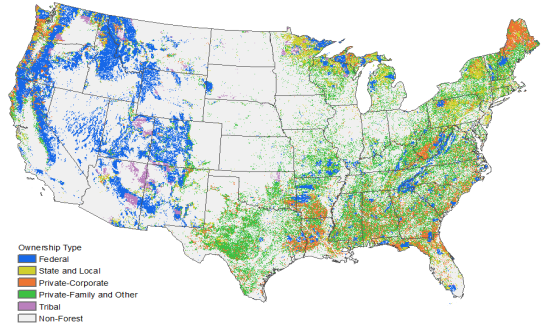 Source: CRS. Data from Jaketon H. Hewes, Brett J. Butler, and Greg C. Liknes, Forest Ownership in the Conterminous United States circa 2014 - geospatial data set, Forest Service Research Data Archive, 2017, https://doi.og/10.2737/RDS-2017-0007.
Background
Providing federal assistance for nonfederal forest landowners has been a component of USDA's programs for more than a century. Initial forestry assistance efforts began with the creation of the USDA Division of Forestry in 1881 (to complement forestry research, which began in 1876). Forestry assistance and research programs grew slowly, and in 1901 the division was upgraded to the USDA Bureau of Forestry. In 1905, the bureau merged with the Interior Department's Division of Forestry (which administered the forest reserves, later renamed national forests) and became the USDA Forest Service (FS). The FS has three primary mission areas: managing the National Forest System, conducting forestry research, and providing forestry assistance.
The Senate and House Agriculture Committees have jurisdiction over forestry in general, forestry assistance, and forestry research programs. Congress authorized specific forestry assistance programs in the Clarke-McNary Act of 1924.3 This law guided those programs for more than half a century, until it was revised in the Cooperative Forestry Assistance Act of 1978 (CFAA).4 The House and Senate Agriculture Committees often examine these programs in the periodic omnibus legislation to reauthorize agriculture and food policy programs, commonly known as farm bills.5
The 2008 farm bill established national funding priorities (conserve working forests, protect and restore forests, and enhance public benefits from private forests); enacted a standardized process for states to assess forest resource conditions and strategize about funding needs; and established, modified, and repealed specific assistance programs, among other provisions.6
Many of the agricultural programs—including two forestry programs—authorized by the 2014 farm bill are scheduled to expire at the end of FY2018 unless Congress provides for an extension or reauthorizes them.9
Overview
Most forestry assistance programs are administered by the FS, but the programs are typically implemented by state partners (e.g., state forestry or natural resource agencies). In these cases, the FS provides technical and financial aid to the states, which then provides information and assistance to private landowners or specified eligible entities.10 However, the 2008 farm bill expanded the definition of authorized conservation practices for agricultural conservation programs generally to include forestry practices, and thus direct federal financial assistance to private forest landowners may be feasible through the conservation programs.11 See Table 1 for a brief summary of the FS programs addressed in this report; more information on each program is available in the "Forest Service Assistance Programs" section of this report.
To be eligible to receive funds for most of the programs, each state must prepare a State Forest Action Plan, consisting of
a statewide assessment of forest resource conditions, including the conditions and trends of forest resources in the state; threats to forest lands and resources, consistent with national priorities; any areas or regions of the state that are a priority; and any multistate areas that are a regional priority; and
a long-term statewide forest resource strategy, including strategies for addressing the threats to forest resources identified in the assessment; and a description of the resources necessary for the state forester to address the statewide strategy.12
The State Forest Action Plans are to be reviewed every 5 years and revised every 10 years.13 All 50 states, the District of Columbia, and 8 territories are covered by a State Forest Action Plan. Each state must also publish an annual funding report and have a State Forest Stewardship Coordination (FSC) Committee.14 Chaired by the state forester and composed of federal, state, and local representatives (including representatives from conservation, industry, recreation, and other organizations), the FSC Committee makes recommendations on statewide priorities on specific programs as well as on the development and maintenance of the State Forest Action Plan.
Types of Assistance
The forestry programs may provide technical assistance, financial assistance, or both. Technical assistance includes providing guidance documents, skills training, data, or otherwise sharing information, expertise, and advice broadly or on specific projects. Technical assistance may also include the development and transfer of technological innovations. Financial assistance is typically delivered through formula or competitive grants (with or without contributions from recipients) or cost-sharing (with varying levels of matching contributions from recipients). As an example, the Forest Health Protection program provides both types of assistance: financial assistance in the form of funding for FS to perform surveys and to control insects or diseases on state or private lands (with the consent and cooperation of the landowner) and technical assistance in the form of data, expertise, and guidance for addressing specific insect and disease infestations.
Funding
Most—but not all—FS assistance programs are available nationally and have permanently authorized funding and without specified funding levels. No forestry assistance programs have mandatory spending; all require funding through the annual discretionary appropriations process, and are typically funded in the annual Interior, Environment, and Related Agencies appropriations acts. Most of the assistance programs are funded through the FS's State and Private Forestry (SPF) account, although some programs are funded or allocated from other accounts or programs. Some programs have been combined for funding purposes or for administrative reasons.
Funding for forestry assistance programs has declined over the past 15 years, in both real and constant dollars (see Figure 2). The average annual appropriation over that time, from FY2004 through FY2018, was $362.7 million, with a peak of $420.5 million in FY2010 and a low of $328.9 million in FY2017. Funding increased in FY2018 to $355.1 million, but remains below the 15-year average. When adjusting for inflation, however, overall funding in FY2018 was 32% below FY2004 levels and 25% below FY2010 levels. In total, these forestry assistance programs made up 7% of the FS's total annual discretionary appropriation on average across those 15 years.15 The Administration requested $197.4 million in FY2019 and proposed to eliminate funding for seven of the programs and decreased funding for the others (see Table 2 for FY2014-FY2018 appropriations and the FY2019 budget request; more information on each program is available in the "Forest Service Assistance Programs" section of this report).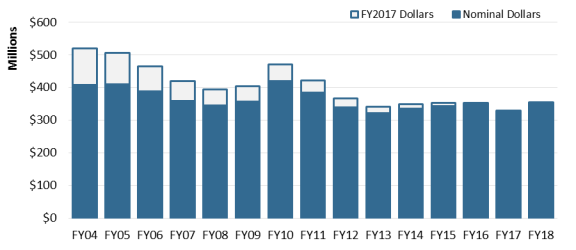 Source: CRS. Data compiled from the tables prepared by the House Committee on Appropriations and annual agency budget documents.
Notes: Figures reflect total annual discretionary appropriations for forestry assistance programs, including appropriations provided through the FS's State and Private Forestry, Wildland Fire Management, and National Forest System accounts. Figures adjusted to FY2017 dollars using the annual GDP deflator price index reported by the U.S. Department of Commerce, Bureau of Economic Analysis, National Income and Products Accounts Tables, Table 1.1.9.
Unfunded and Repealed Programs
Some FS programs have been repealed by previous farm bills, or have gone unfunded by Congress for several years. Table 3 lists these programs and the most recent congressional action. Some activities authorized by these unfunded or repealed programs may continue to be performed or provided by FS through other authorizations or funding sources.
Forest Service Assistance Programs
This report focuses on forestry assistance programs administered by FS. Other agencies, inside and outside of USDA, also administer programs that may have forest conservation or protection benefits. For example, the USDA Farm Services Agency (FSA) administers several programs, including the Emergency Forest Restoration program, which provides assistance to nonindustrial forest landowners to recover or restore forests following catastrophic events.16 The USDA Natural Resources Conservation Service (NRCS) administers the Healthy Forest Reserve program, which funds agreements, contracts, or easements to assist landowners with forest restoration or enhancement projects.17 The Department of the Interior administers a community assistance program to support collaborative community planning and projects to mitigate wildfire risk.18
The tabular presentation that follows provides basic information covering each of the FS forestry and fire assistance programs, including
brief program description;
program activities;
eligibility requirements;
the FS appropriations account budget line item that provides funding for the program;
authorized funding levels and any funding restrictions;
FY2018 funding level in the Consolidated Appropriations Act of 2018 (

P.L. 115-141

);
FY2019 funding level requested by the Administration;
statutory authority, recent amendments, and U.S. Code reference;
expiration date of program authority unless permanently authorized; and
program's website link.
Information for the following tables is drawn largely from agency budget documents and presentations, explanatory notes, and websites. Further information about these programs may be found on the FS SPF website at http://www.fs.fed.us/spf and on the "cooperative forestry" page.
Collaborative Forest Restoration Program (CFRP)
Community Forest and Open Space Conservation Program (CFP)
Cooperative Fire Protection: State Fire Assistance (SFA)
Cooperative Fire Protection: Volunteer Fire Assistance (VFA)
Forest Health Protection (FHP): Federal Lands and Cooperative Lands
Forest Legacy Program (FLP)
Forest Stewardship Program (FSP)
International Forestry Programs
Landscape Scale Restoration Program (LSR)
Urban and Community Forestry Assistance Program (UCF)
Wood Innovation Program