Introduction
On September 20, 2017, Hurricane Maria made landfall in Puerto Rico as a Category 4 storm with sustained wind speeds of over 155 miles per hour. The hurricane also brought torrential rainfall with a range of 15 to 25 inches in many areas and 40 inches or more in isolated spots.1 This resulted in widespread flooding across the island. Puerto Rico's office of emergency management reported that the storm had incapacitated the central electric power system, leaving the entire island without power. Puerto Rico's grid infrastructure was essentially destroyed by Hurricane Maria. Recovery efforts from Hurricane Maria focused on restoring electricity to hospitals, water treatment plants, and some industries. However, the Commonwealth of Puerto Rico (the Commonwealth) was already in recovery mode following the glancing blow struck by Hurricane Irma on September 6, 2017, which left 70% of electricity customers without power. After Maria, officials were estimating that many of Puerto Rico's 3.5 million people could be without electricity for up to six months.
Even before the 2017 hurricane season, Puerto Rico's electric power infrastructure was known to be in poor condition, due largely to underinvestment and poor maintenance. Questions are now being raised as to possible options for rebuilding the electricity grid on the island, given the financial debt of the Puerto Rico Electric Power Authority2 (PREPA) before the damage from the storms.3 PREPA's current debts at the end of 2016 totaled about $9 billion.4 PREPA is overseen by a board appointed by the Puerto Rican governor. Some have blamed much of PREPA's woes on governance issues.5
Hurricanes Irma and Maria brought the electricity system's problems to a head, as power outages before the first storm6 were eclipsed in magnitude by the island-wide power outages brought on by the destruction of the second storm. Power outages in Puerto Rico have been common, as an apparent lack of maintenance and vegetation management practices have contributed to power outages.7 Some have questioned PREPA's dispensing with long-established practices (e.g., a request for proposals) following its posthurricane decision to give a major repair and reconstruction contract to a small firm.8 This decision seemed to eschew normal industry practices which rely on mutual aid as a primary route to system restoration.9
With the poor state of the electricity system (physically, organizationally, and financially),10 and a perceived lack of transparency with regard to decisions (both before and since Hurricane Maria),11 some have called for a new electricity system regime to lead the reconstruction and resiliency planning efforts ahead.12
Should Congress decide that alternatives to PREPA be considered, the question of what entities and structures could replace PREPA will arise. This report presents a history of PREPA, describes issues related to the debt crisis in Puerto Rico, and offers some options if Congress wants to consider restructuring the electricity system in Puerto Rico. Modernizing Puerto Rico's grid, and taking the next steps to incorporate resiliency, will be expensive. Congress may want to consider whether investment incentives to form public-private partnerships could provide alternatives for modernizing Puerto Rico's grid. Congress may also want to consider whether the efforts to restore electric power in Puerto Rico will need to progress beyond simple restoration of electricity, and require new investment and oversight by the federal government, especially if Congress considers the further goal of building a resilient grid.
Puerto Rico and the Electric Power Authority
Puerto Rico's Population and Economy
Puerto Rico was in a fiscal, economic, and social crisis before Hurricane Maria destroyed the electric grid on the island.
Some 3,900,000 people live in Puerto Rico, approximately one-third of them within the San Juan metropolitan area. The island, with an area of 3,435 square miles (9,000 sq. km)—110 miles long by 39 miles wide—has a mountainous interior and is surrounded by a wide coastal plain where the majority of the population lives.... Manufacturing, for so many years the workhorse of the island economy, has been hit by competition from low-cost destinations, as well as high local utility, shipping, and other fixed costs. The sector's decline began in 1996, when a 10-year phase-out of U.S. industrial tax breaks began. This marked the end of 75 years of federal incentives that attracted stateside industries and helped make Puerto Rico the Caribbean's industrial powerhouse.13
Puerto Rico's economy has shrunk by about 15% in the last decade. The fiscal cuts to deal with Puerto Rico's debt crisis and the economy's downward direction, according to one analysis, are projected by the Centre for International Governance Innovation "to result in an additional 12 percent contraction in Puerto Rico's economy over the next 10 years."14
Approximately 45% of Puerto Rico's population lives under the poverty level. An estimated 47.5% of the Commonwealth's population participates in the labor force, with the island territory having the highest unemployment rate in the United States at 10.1%.15 Puerto Rico's population has fallen by about 11% in the last decade,16 and the population has declined about 2% in each of the past three years.17
The migration of Puerto Rican residents to the mainland reflects challenging economic circumstances and also implies a shrinking customer base for goods and services on the island, including the consumption of electric power. Uncertainty about future demand levels provides another complication to the revitalization of PREPA.
PREPA
PREPA is a public power utility18 owned by the Commonwealth of Puerto Rico, and is the largest supplier of electricity in the Commonwealth. As of 2014, according to the American Public Power Association, PREPA was one of the largest public power utilities in the United States, serving approximately 1.4 million customers. At that time, PREPA ranked in the top 10 of U.S. public power utilities in terms of net electric power generated, with about 12.7 million megawatt-hours (MWh).19 In 2014, PREPA sold approximately 17.3 million MWh, which included sales for resale20 and sales to ultimate consumers of electricity. Revenues from electricity sold in 2014 totaled approximately $4.6 billion (from sales for resale, and sales to ultimate consumers of electricity).21
PREPA's Power Plants
Generating electric power anywhere in the world has historically been based on available resources. The Puerto Rico Water Resources Authority (PRWRA) was formed in 1941 with the aim of consolidating existing power operators into an integrated publicly owned utility that could respond to increased demand for electric power, which Puerto Rico was experiencing at the time.22 As the agency's name suggested, hydropower originally was a major source of electric power. In that respect, Puerto Rico is very similar to some of its Caribbean island neighbors. As demand for electric power grew, the PRWRA purchased the Puerto Rico Railway Light and Power Company and the Mayagüez Light Power and Ice Company in 1945.
Over time, Puerto Rico shifted from hydropower dominance to petroleum. Generating power with fuel oil or diesel was a logical choice in the absence of other nonhydro resources. Currently, heavy fuel oil (e.g., number 5 or 6 residual fuel oil) is the dominant source of electricity in Puerto Rico. Unlike most of its island neighbors, Puerto Rico imports coal to fuel its pulverized coal power plant at Guayama, which represents almost 8% of overall electricity generation.23
In 1950, PRWRA began operating its first thermoelectric24 facilities fired by petroleum fuels with the San Juan (400 MW),25 Palo Seco (602 MW), and Costa Sur (990 MW) power plants.26 In 1979, the Puerto Rico Water Resources Authority changed its name to the Puerto Rico Electric Power Authority.27 Other major power plants include the Aguirre thermoelectric (900 MW) and Aguirre combined-cycle power (592 MW) plants.28
| | | | | |
| --- | --- | --- | --- | --- |
| Power Plant | Generating Capacity (MW) | Fuel/Energy Source | Owner | Year of Construction |
| Costa Sur | 990 | No. 6 Fuel Oil | PREPA | 1962-1973 |
| Aguirre Thermo Electric | 900 | No. 6 Fuel Oil | PREPA | 1975 |
| Palo Seco | 602 | No. 6 Fuel Oil | PREPA | 1960-1970 |
| Aguirre Combined Cycle | 592 | No. 2 Fuel Oil | PREPA | 1977 |
| EcoEléctrica | 540 | Natural Gas | Gas Natural SDG, S.A. | 2000 |
| AES | 454 | Coal | AES Corporation | 1994 |
| San Juan Combined Cycle | 440 | No. 2 Fuel Oil | PREPA | 2008-2009 |
| Cambalache | 248 | No. 2 Fuel Oil | PREPA | 2007 |
| Other | 1,257 | Wind, Solar, Hydropower | PREPA/Private | Various |
| Total: | 6,023 |   |   |   |
Source: PREPA, Operational Profile at https://www2.aeepr.com/INVESTORS/OperationalProfile.aspx.
Note: Plants in table represent approximately 79% of Puerto Rico's total generating capacity. EcoEléctrica and AES are private Independent Power Producers selling power under contracts to PREPA.
As shown in Table 1, most of the island's electricity is generated at five PREPA-owned, petroleum-derived fuel power plants: Costa Sur, Aguirre,29 Palo Seco, San Juan, and Cambalache, which are responsible for about 62% of total electricity production capacity.30 Other large generation (owned by nonutility independent power producers) includes the EcoEléctrica plant, which is fueled by natural gas from imported liquefied natural gas (with about 9% of overall generation capacity), and the AES facility at Guayama, fueled by imported coal.
Much of the island's electricity is generated at power plants (e.g., at Aguirre, Costa Sur, AES, and EcoEléctrica) on Puerto Rico's southern coast (see Figure 1), located relatively far away from the major population centers. Approximately 2 million of Puerto Rico's people reside in the large urban areas in and around San Juan, Bayamón, and Carolina, on the northern coast of the island. As a result, most electricity must be sent by transmission lines over the island's forested, central mountain range.
Figure 1. Puerto Rico Energy Infrastructure, Topography, and Population Density
Other Major Infrastructure also Shown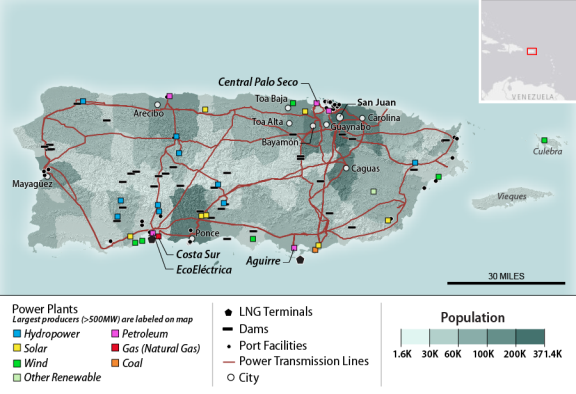 Source: Created by CRS using data from the National Geospatial Intelligence Agency (NGA), National Oceanic and Atmospheric Administration (NOAA), PLATTS, United States Army Corps of Engineers (USACE), United States Geological Survey (USGS), and ESRI.
Notes: LNG = liquefied natural gas. Port facilities include docks. The power transmission lines depicted are 115 kilovolt (kV) and 230 kV transmission lines. Together, these systems are approximately 1,100 miles in length. In addition, there are approximately 1,375 miles of 38kV subtransmission level lines including 55 miles of undersea lines that connect the main island with the islands of Vieques and Culebra (depicted). The LNG terminal depicted on the map near Aguirre (e.g., Aguirre Offshore Gasport) is planned and not currently operational. Many of the dams depicted on this map are not hydropower dams, but serve other uses (e.g., water supply, flood control, irrigation, and recreation).
The almost 6 GigaWatts (GW) in power generation capacity in Puerto Rico has long been dominated by fossil fuels. Figure 2 illustrates that continuing dependency, as petroleum and coal accounted for approximately 64% of generation in 2016. Natural gas and renewable sources accounted for approximately 36% (34% natural gas, 2% renewables). Renewable generation mostly came from several small, privately owned wind and solar photovoltaic (PV) power installations, collectively providing less than 160 MW of capacity.
Figure 2. Sources of Electricity Generation in Puerto Rico
As of 2016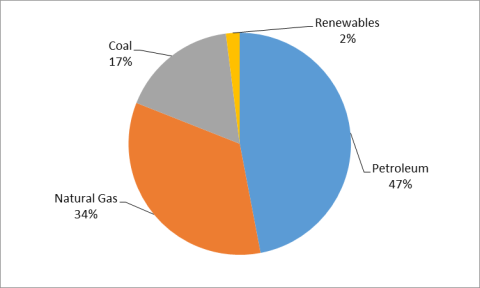 Source: U.S. Energy Information Administration at https://www.eia.gov/state/print.php?sid=RQ.
Notes: Petroleum used for electric power generation was approximately 40% No. 6 residual fuel oil, and 31% No. 2 diesel fuel (with other petroleum-derived fuels making up the remaining 29%). About 2.4% of PREPA's electricity came from renewable energy sources, with two-fifths of that from wind and nearly as much from solar. The rest came from hydroelectric and biomass facilities.
PROMESA: Restructuring of Puerto Rico's and PREPA's Debts31
Even before Hurricanes Irma and Maria hit Puerto Rico in September 2017,32 the finances and operations of PREPA had attracted the attention of Congress. PREPA's debt—about $9 billion—is larger than that of any other operational U.S. public corporation. High electricity prices and the unreliability of power supply resulting from deterioration of the island's generating and transmission infrastructure have hindered the island's economic development prospects and the well-being of its residents.
Puerto Rico's Energy Policy Since 2014
Two threads of policy developments have shaped Puerto Rico's energy sector. First, Puerto Rico's government has taken steps to modernize its energy policy and grid, although implementation of changes has been slow and at times contentious. Second, PREPA has faced increasingly severe financial constraints.33 The threads of energy reform and financial exigency have intertwined in recent years and appear unlikely to untangle in coming years.
In July 2010, Puerto Rico enacted (Act 82 of 2010) a Renewable Energy Portfolio Standard (RPS) which mandated that PREPA supply increasing amounts of retail electricity sales from eligible "green energy"34 resources, peaking at 20% of retail sales by 2035.35 In 2014, concerns about PREPA's performance culminated in legislation (Act 57 of 2014) that established a Puerto Rico Energy Commission (PREC) and an office of consumer advocacy.36 PREC was authorized to review PREPA's rates and provide oversight. Previously, PREPA set its own rates,37 subject to requirements of a 1974 bond contract that required the utility to set rates and fees "sufficient for the payment of expenses of the Authority."38
In May 2014, PREPA lacked funds to buy fuel. Negotiations with bondholders, fuel line creditors, and bond insurers led to an August 2014 forbearance agreement that averted PREPA's default. In the absence of viable federal bankruptcy options at the time, Puerto Rico attempted to create local bankruptcy procedures. Those local procedures, however, were struck down by federal courts.39
Act 57 of 2014 also called for governance reforms within PREPA as well as a possible decoupling of electric generation and distribution. In July 2015, PREC issued regulations starting a process to review existing PREPA rates and framing a process to ensure that future rates would be "just and reasonable."40
Local Efforts to Restructure
The August 2014 forbearance agreement required the appointment of a Chief Restructuring Officer (CRO) to oversee PREPA operations, a post taken by Lisa Donahue of the energy consulting firm Alix Partners.41 A tentative Restructuring Support Agreement (RSA) was reached in mid-December 2015 between PREPA and holders of about 70% of PREPA's debt and created a process for reducing PREPA's debt.42 Had the RSA been finalized, uninsured creditors would have been required to accept new securities that were estimated to reduce PREPA's debt by 15%.
Additional efforts by the Puerto Rico legislature and PREC sought to further shape PREPA. The Puerto Rico legislature and governor enacted a law (Act 4 of 2016) in February 2016 to fulfill other RSA conditions, including imposing a surcharge on electric bills to repay creditors and establishing an appointment procedure for the PREPA board that relied upon an independent search to identify technically qualified candidates.43 PREC approved a 3.1 cents per kilowatt hour (kWh) surcharge in June 2016 as well as a 1 cent/kWh base rate increase in January 2017.
PROMESA Creates Oversight Board and Debt Restructuring Processes
To address the lack of federal bankruptcy options, Congress established two processes for debt adjustment in the Puerto Rico Oversight, Management, and Economic Stability Act (PROMESA; P.L. 114-187), enacted at the end of June 2016.44 Title VI set out a process for voluntary collective action agreements, similar in ways to the RSA negotiations in progress. Title III set out a process that draws on procedures from the U.S. Bankruptcy Code.
PROMESA also established a Financial Oversight and Management Board (OB) for Puerto Rico that required PREPA to draw up a fiscal plan. While PROMESA endowed the OB with wide authorities, the governor and legislature of Puerto Rico retained substantial control over public priorities, within constraints of fiscal plans and other provisions of PROMESA. The board approved and issued a revised draft fiscal plan for PREPA on April 28, 2017, which outlined proposals and projections for the utility's finances, operations, capital investments, and market environment for the coming decade.45 The plan projected a 23% reduction in energy sales, and called for setting a 21 cent per kWh target rate by 2023.
Different Directions in 2017
The RSA continued to be extended after enactment of PROMESA. In 2017, following the election of Governor Ricardo Rosselló Nevares, PREPA's affairs took a different turn. At the end of February 2017, CRO Lisa Donahue's contract expired. On April 27, 2017, an RSA extension granted additional concessions from PREPA creditors that were sought by the governor.46 The structure of PREPA's board was also changed, resulting in the removal of members selected for their technical expertise and the appointment of new members by the governor.47 A new Puerto Rico agency was also set up to handle debt negotiations.48
Although the PREPA fiscal plan aimed to complete RSA negotiations by July 1, 2017, the OB decided to terminate PREPA's RSA and put it into the bankruptcy-like process of Title III on July 2, 2017.49 On the following day, PREPA did not make scheduled debt service payments. A coalition of bondholders holding nearly two-thirds of PREPA's debt then requested the appointment of a receiver to operate PREPA.50 On September 13, 2017, after Hurricane Irma but before Hurricane Maria, U.S. District Court of the Southern District of New York Judge Laura Taylor Swain, who was appointed by Chief Justice John Roberts to oversee the Title III processes, denied the request citing PROMESA-set limitations on the court's powers.51
Hurricanes Irma and Maria
In September 2017, Hurricanes Irma and Maria severely damaged electrical system assets, raising new questions about how repairs to the system could be paid for given PREPA's precarious financial state. The outmigration of Puerto Rican residents and businesses to the U.S. mainland, which posthurricane conditions may accelerate, presents serious challenges to the size of PREPA's customer base, and therefore, to its finances.
The scale of damage left by the hurricanes has led some to question whether PROMESA provided an adequate framework for Puerto Rico's recovery and restructuring efforts.52 The Oversight Board has called for revisions in fiscal plans and has taken steps to impose stricter oversight of recovery operations. In particular, in response to concerns about PREPA's contracting practices, the Oversight Board attempted to appoint its revitalization coordinator Noel Zamot as chief transformation officer (CTO) of PREPA, a move that the governor opposed. On November 15, 2017, Judge Swain denied the Oversight Board's request to appoint Mr. Zamot to that post, holding that PROMESA did not empower the Oversight Board to appoint a CTO, or to exercise the authority of a chief executive officer for PREPA.53
PREPA's Proposed Modernization Plan
In April 2017, PREPA issued a draft fiscal plan for investments to upgrade and modernize its power generation and delivery infrastructure as it seeks to restructure its debts.54 Most of the existing electricity infrastructure in Puerto Rico is considered old, with a median power plant age of 44 years; an average depreciable service life of a power plant is typically 40 years.55 PREPA is thus seeking to modernize its electric generation options, and renewable energy is expected to be an increasing part of the portfolio. The major benefit of most renewable power sources is that they do not need a fuel to generate electricity, and thus there is no variable cost component of generation resulting from fuel costs.
PREPA's draft plan proposed a number of actions to modernize its infrastructure including public-private partnerships, increased use of renewable energy56 and distributed generation,57 making "smart grid"58 improvements, and initiating a short-term maintenance program for its transmission and distribution systems. Improving safety, reliability, and resiliency are also stated goals. PREPA maintains that the proposal "commits PREPA to fiscal responsibility and implements urgently needed infrastructure modernization," while allowing for "revised fuel prices, distributed generation trends, [and] urgent infrastructure investments for needed efficiencies."59 However, the draft plan recognized that PREPA faced major challenges ahead as falling customer demand could mean a 23% drop in energy sales through the forecast period (i.e., from 2016 to 2026). This means that revenues needed for modernization from electricity rates were likely to fall (and likely to be exacerbated by posthurricane migration), and as such, would likely not be available to help fund the proposed plan.
Recovery of Electricity in Puerto Rico
The extent of damage from Hurricanes Irma and Maria has slowed the restoration of electric power in Puerto Rico. The hurricanes knocked out of service over 2,400 miles of transmission lines (including 1,375 miles of subtransmission lines operating at 38 kV), and 30,000 miles of distribution lines,60 representing almost the entire transmission and distribution infrastructure of the island.61 Recovery efforts have focused primarily on restoring electricity to hospitals, water treatment plants, and some industries. However, restoration of the electricity transmission and distribution systems will be key to the overall recovery of the island from the disaster. In some instances, especially in rural areas, the estimation of the total cost of power restoration is still ongoing. However, the extent to which the restored infrastructure in Puerto Rico is rebuilt to current electrical standards will be important to the necessary modernization efforts that will follow.
FEMA and Grid Restoration Assistance
As a public utility, PREPA is an eligible applicant that can receive federal assistance through the Federal Emergency Management Agency (FEMA). In particular, FEMA provides grant assistance through the Public Assistance Grant Program (PA Program) for the repair, restoration, and replacement of public facilities, as defined by law, in states and communities that have received a major or emergency disaster declaration through the Robert T. Stafford Disaster Relief and Emergency Assistance Act (Stafford Act, P.L. 93-288, as amended).62
Generally, under the PA Program, an eligible applicant that owns a public facility or facilities may receive grant assistance to repair or replace its predisaster design (its size and capacity) and function. Grants additionally include eligible expenses that are required by current applicable codes and standards, provided the work is required as a direct result of the disaster. Pursuant to 44 CFR §206.226(d), for a code-required improvement to be eligible, the code or standard requiring the upgrade must meet the five criteria listed below:
1.Apply to the type of repair or restoration required;
2.Be appropriate to the pre-disaster use of the facility;
3.Be found reasonable, in writing, and formally adopted, and implemented prior to the disaster declaration date or be a legal federal requirement;
4.Apply uniformly to all facilities of the type being repaired within the applicant's jurisdiction; and
5.Have been enforced during the time that it was in effect. FEMA may require documentation showing prior application of the standard.
According to PREPA, the authority adopted interconnection standards based on the standard in the federal Energy Policy Act of 2005 (EPAct 2005, P.L. 109-58) via regulation.63 The standard in EPAct 2005, IEEE standard 1547, Standard for Interconnecting Distributed Resources with Electric Power Systems, is a consensus-based standard that "establishes criteria and requirements for interconnection of distributed resources (DR) with electric power systems." Whether FEMA will determine this code standard to be "applicable" per 44 CFR §206.226(d) remains unknown.
Qualifying projects may also be required to meet minimum standards for public assistance to promote resiliency and achieve risk reduction. The minimum standards for eligible building restoration projects are described in a FEMA policy.64 According to FEMA, the minimum standards policy does not directly apply to most power facilities, as power facilities do not fit the definition of "building."65 However, the legal authority supporting the FEMA minimum standards policy would seem to allow for further expansion of the policy to power facilities at the discretion of FEMA.66
Role of the Army Corps of Engineers67
The U.S. Army Corps of Engineers (USACE) supports the Department of Homeland Security in carrying out the National Response Framework. If requested by the President and the affected governors under the Stafford Act, USACE's primary role under the framework is to provide emergency support in areas of public works and engineering.68 These USACE activities are funded through the Disaster Relief Fund and not through direct appropriations to the agency. In Puerto Rico, USACE is not only restoring emergency power but also leading initial grid repair. USACE leadership in grid repair as part of domestic disaster recovery is a novel development.69
Emergency Power
USACE initially responded to the power situation in Puerto Rico as part of its responsibilities for emergency power restoration following natural and man-made disasters. USACE activated and deployed its Emergency Power Planning and Response Team (power PRT or power team) and the 249th Engineer Battalion to Puerto Rico. The power PRT and 249th Engineer Battalion were deployed on September 3, 2017, and on October 4, 2017, as part of the response to Hurricane Irma and Maria respectively.70 The power team and battalion assist with restoring emergency power for public and critical facilities (e.g., hospitals), often by procuring and installing generators.71 That is, USACE generally focuses on emergency power response for life-saving and life-sustaining facilities and in assisting municipal facilities to regain their operations.
Grid Repair
On September 30, 2017, the FEMA Administrator also tasked USACE to work with the PREPA, Department of Energy (DOE), and FEMA to provide a unified effort to repair Puerto Rico's power grid. USACE was tasked with leading the planning, coordination, and integration of the electric power grid repair. USACE is approaching the repair as a four-part process:
Providing temporary power and spot generation for critical facilities;
Ensuring adequate generation at power plants;
Reinstalling and repairing transmission lines; and
Restoring and repairing distribution lines.
In testimony given on October 31, 2017, the USACE Deputy Commanding General for Civil and Emergency Operations shared that USACE was repairing the system to "pre-storm condition."72 At the same hearing the FEMA Administrator stated that USACE was "mobilizing to rebuild the grid to U.S. code standards."73 Much of the work that USACE is leading is being accomplished through contracts with private companies. USACE has awarded these contracts following the applicable federal acquisition regulations.74
USACE Emergency Power Response to Hurricanes Sandy and Katrina
Hurricanes Sandy and Katrina are two examples of disasters where the USACE supported emergency power restoration to life-saving and life-sustaining facilities and to operations of municipal facilities. In response to Hurricane Sandy in 2012, the battalion and the power PRT helped restore the regional power systems and priority facilities in the 13 affected states, completed 567 power assessments, and installed 211 generators. Their efforts provided emergency power to a wide range of facilities including mass transit systems like the Hudson ferry, New Jersey's PATH trains, and the Long Island railroad as well as petroleum terminals.
In response to Hurricane Katrina in 2005, the USACE's emergency response efforts provided over 900 large generators. The 249th Battalion helped install and maintain emergency generators at critical facilities, including the large pumps used to dewater portions of the city. While the USACE had a major role in rebuilding and strengthening storm-risk reduction projects (e.g., storm-surge gates, engineered beaches, and dunes) after Hurricanes Katrina and Sandy, the agency was not involved in the rebuilding or strengthening of the electric grid beyond its emergency power role.
Comprehensive Energy Planning
In addition to considerations of federal disaster assistance for restoration, Congress may consider comprehensive energy planning to address the vulnerabilities of Puerto Rico's electric power system to hurricanes and extreme weather events.75 Energy planning assesses current and future energy supply and demand, examines existing energy policies, and identifies potential challenges and opportunities in meeting future needs cost-effectively and sustainably. Under 48 U.S.C. §1492, Congress authorized comprehensive energy planning, demonstration of cost-effective renewable energy technologies, and financial assistance for projects in insular areas—including Puerto Rico—related to energy efficiency, renewable energy, and building power transmission and distribution lines. Although two energy assessment reports were conducted—a DOE report issued in 1982 and a Department of the Interior (DOI) report issued in 2006—only the 1982 report by DOE included Puerto Rico.
The 1982 DOE report evaluated options to diversify Puerto Rico's energy portfolio to decrease reliance on imports. At the time, imported oil provided 98% of the system's electricity and hydropower provided 2%. Several resources were evaluated to displace oil for electricity generation: wind, hydropower, solar, bioenergy, ocean thermal energy conversion (OTEC), and cogeneration. The assessment projected savings in millions of barrels of oil imports, through the year 2000. Near-term priorities focused on wind and existing hydropower. The 1982 assessment stated that "the system experiences reliability problems because of its isolation, the large size of several units relative to total system size, limited quick response capability, and maintenance problems."
Puerto Rico also directed PREPA to prepare an Integrated Resources Plan (IRP). The IRP identified potential strategies to meet electricity needs through 2035. These included new fossil fuel-fired generation, new renewable generation, retirements of several existing units, and transmission projects. The IRP assumptions reflected conditions as of June 30, 2015, including PREPA's financial situation.76
In February of 2017, the Puerto Rico Energy Commission disapproved the IRP,77 stating the following:
The public needs assurance that the paths chosen in reliance upon an IRP are going to achieve public policy objectives of least cost, reliability, integration of renewables and lower environmental impacts. The IRP provided by PREPA was insufficient in terms of the process and mechanisms chosen for achieving the results contained therein. Therefore, the Commission is unable to rely upon the IRP filed by PREPA. If the IRP cannot be used for its intended purposes, then it is noncompliant.78
Post-Hurricane Maria, the operability of the system has changed. On October 31, 2017, the Energy Commission granted an extension until December 31, 2017, citing a need to conclude an investigation into the current state of PREPA's electric system.79
Authority for DOE and DOI to provide financial assistance to the Government of Puerto Rico and other insular area governments is codified at 48 U.S.C. 1492. Assistance under DOE authority includes financial assistance "to carry out projects to evaluate the feasibility of, develop options for, and encourage the adoption of energy efficiency and renewable energy measures." Assistance under DOI authority includes grants for power line projects designed to protect the system from damage caused by hurricanes and typhoons. Congress may consider providing appropriations to facilitate energy planning or improving system resiliency.
Making Puerto Rico's Electric Power System More Resilient
Resilient electric systems are able to maintain some level of operations during hurricanes or storms, and quickly recover from storm-related damage.80 To promote system efficiency and resilience, many electric utilities have "hardened" exposed power generation and delivery systems.
Hardening refers to physically changing the infrastructure to make it less susceptible to damage from extreme wind, flooding, or flying debris. Hardening improves the durability and stability of energy infrastructure, making it better able to withstand the impacts of hurricanes and weather events without sustaining major damage. Resiliency, by contrast, refers to the ability of an energy facility to recover quickly from damage to any of its components or to any of the external systems on which it depends. Resiliency measures do not prevent damage; rather they enable energy systems to continue operating despite damage and/or promote a rapid return to normal operations when damages/outages do occur.81
Some question how much more system hardening is appropriate in the context of the perceived risks from climate change and other factors.
Grid resilience, a core requirement for climate adaptation, includes hardening, advanced capabilities, and recovery/reconstitution. Although most attention is placed on best practices for hardening, resilience strategies must also consider options to improve grid flexibility and control. Resilience includes reconstitution and general readiness such as pole maintenance, vegetation management, use of mobile transformers and substations, and participation in mutual assistance groups.82
While some distribution poles and electric power facilities have been hardened in U.S. coastal areas to withstand a Category 3 hurricane, consideration may be warranted for upgrading certain facilities to withstand a more severe event.83 In parts of Puerto Rico, even concrete poles were destroyed by the high Category 4 winds of Hurricane Maria.84
Building a Smarter, Harder, More Resilient Grid
While hardening activities are generally based on the types of extreme weather experienced in a region, activities to improve resiliency may consider more than a region's history with storms. According to a 2010 report from the DOE, a number of actions exist for hardening electric grid transmission and distribution infrastructure. Some actions electric utilities can take to harden energy infrastructure include the following:85
To protect against damage from flooding:
Elevating substations/control rooms/pump stations
Relocating/constructing new lines and facilities.
To protect against damage from high winds:
Upgrading damaged poles and structures
Strengthening poles with guy wires
Burying power lines underground.
Newer electric power infrastructure can potentially survive damage from extreme weather better than older infrastructures, simply due to the repeated exposure over time to weather events of older facilities. Therefore, DOE also recommends modernizing electricity systems by deploying smart grid technologies with smart sensors and control technology to pinpoint system problems, and reroute power flows as needed.86
DOE also states that electric system resiliency can be enhanced by improvements to utility preparedness by programs and investments which improve general readiness (e.g., conducting hurricane preparedness planning and training, complying with inspection protocols, managing vegetation, participating in mutual assistance groups, improving employee communications and tracking, purchasing or leasing mobile transformers and substations, and procuring spare equipment). Storm-specific readiness can also be improved by activities such as maintaining minimum fuel tank volumes, facilitating employee evacuation and reentry to storm areas, securing fuel contracts for emergency vehicles, expanding deployment staging areas, and supplying logistics to recovery staging areas.87
Other observers point out that distributed resources, particularly microgrids,88 can function separately from a centralized power grid, and may be easier to repair and restore electricity service than a centralized power generation system, which provides power to communities via transmission and distribution systems.89
Managing Costs of Hardening and Resiliency
While DOE's recommendations are fairly extensive, electric utilities generally try to manage the potential costs of actions to promote system reliability by consideration of the risks of various extreme weather events. A strategy for grid resilience was suggested in the 2013 report from DOE and the President's Council of Economic Advisors and focused on six factors identifying weather-related risks to the system, and the cost for hardening of the grid.90
Key among these factors were the following:
Risk awareness and preparation using mutual aid networks with other utilities;
Cost-effective grid strengthening focused on distribution line pole upgrades to concrete, steel, or composite materials, and transmission tower upgrades to galvanized steel lattice or concrete structures; and
Increasing system flexibility and robustness by utilizing new technologies for power generation and control, and energy storage.
Renewable Electricity and Puerto Rico Grid Resiliency
Another potential way to improve the resilience of Puerto Rico's electric power system is to increase the generation of electricity from renewable resources. The major benefit to resiliency from renewables is that most renewable power sources do not need a fuel to generate electricity. Therefore, if the solar panels and wind turbines remain intact and operable, and if these are connected to distribution systems rather than connected at the transmission level, then they can provide electricity to those local residences and businesses whose individual electricity service connections are undamaged.
The most utilized renewable sources of electricity (i.e., wind or solar PV power) are considered variable or intermittent, since the wind does not always blow nor does the sun always shine.91 Although in the Caribbean both the prevailing winds and available sunlight are considered high-quality resources throughout most of the year, electricity generation from wind power or solar PV panels must be backed up when the resources ebb. When considering large-scale renewable electric generation, this lack of availability92 means that other forms of generation (for example, fast-ramping natural gas capacity)93 must generally be available to step in and provide power, or that some form of energy storage94 must be provided to assure that power demands are met. The estimated availability of renewable resources in Puerto Rico during the day or night (the capacity factors) is 30% for wind power and 18% for solar PV.95
Other than hydropower from impoundments and dams, new renewable energy technologies to produce electricity from marine, hydrokinetic, and ocean thermal sources may provide more firm capacity than wind power or solar PV, and be able to provide power on demand. However, these technologies are largely in the developmental stage. Using renewable wind power and solar PV to produce hydrogen for use in fuel cell power generation is another option under development.
Biomass and landfill gas can provide power in a similar manner to base load generation fired by fossil fuels, if these resources exist on a large enough scale. Puerto Rico's RPS already includes biomass and landfill gas under its "green energy" categories, and alternative energy biomass sources (for example, bagasse) exist.96 Under the RPS's Alternative Renewable Energy category, landfill gas and waste-to-energy power plants are included, and can provide green energy to complement increasing renewable electric generation. PREPA, through Puerto Rico's RPS, has a current target of 12% renewable generation for the period from 2015 to 2019.97
A 2014 study98 prepared by the Siemens company for PREPA concluded that renewable energy could not be significantly ramped up in Puerto Rico without a new natural gas-fired combined-cycle (NGCC) power plant, or major upgrades to the electric grid. The Siemens study concluded that PREPA's existing electricity system (in place before Hurricane Maria) could have accepted up to 579 MW of renewable generation, split into 160 MW of wind and 419 MW of solar photovoltaic (PV) power, which would represent almost 10% of capacity.99 The study also concluded that PREPA's system may not be able to achieve the existing 12% renewables goal by 2019, and may not be able to attain Puerto Rico's higher 20% RPS goal by 2035 without system improvements, and new power generation able to function in a load-following role (to back up variable power production from renewable electricity sources).
Energy Storage for Renewable Generation
As the sun begins to set, solar generation ebbs and traditional base load fossil must ramp up quickly to meet demand. Most existing base load power plants are not designed to cycle up and down quickly in this manner. Generally, older power plants (such as those in PREPA's generation fleet) are not well-suited to operate in a "load-following" manner, cycling power generation up and down to meet the highs and lows of renewable electricity generation. Energy storage resources could potentially provide power during times of peak demand, and could help to address load and demand balancing issues raised with increasing amounts of renewable electricity generation on the grid.
The 2014 Siemens study concluded that existing energy storage options were not an economic option for Puerto Rico. Nevertheless, PREPA instituted minimum technical requirements for new power projects mandating new wind or solar PV projects include minimum levels of energy storage to help accommodate the variability of renewable electric generation, and help provide ancillary services.
Under the new [minimum technical requirements], developers will be required to add a minimum 30% of the installation's contracted capacity in storage as well as the flexibility to keep a minimum 45% of the capacity in reserve for at least one minute, for ramping and frequency control to mitigate the intermittency of renewables generation.100
Demand response programs and energy efficiency may also be able to reduce some of the early-evening peak load when renewable solar PV electric generation (in particular) declines.
New tools to actively reduce load in the early‐evening peak hours, as solar generation is falling, can reduce the level of fossil ramping required, particularly by being available to shave (i.e., reduce) what will otherwise be the highest net peak load hours of the day. The most extreme ramping events happen on only a few days per year, and the ability of system operators to call on customers to reduce loads, or shift consumption to another time of day, can reduce the need to purchase new gas capacity.101
New wind and solar forecasting technologies have been used in other regions of the United States to improve renewables integration, and may be able to improve renewables integration in Puerto Rico.102 Novel smart grid technologies may also be able to incorporate more amounts of renewable energy, but deploying these technologies may require large-scale upgrades to Puerto Rico's aging transmission and distribution systems, and some degree of energy storage.103
However, other than operating at night to replace solar PV operation, it is unclear whether biomass or other alternative fuel providers of renewable energy could rapidly cycle power generation efficiently (like new NGCC) to deal with the surges and ebbs of wind and solar resources. The availability of necessary volumes of fuel to operate these facilities is one question. Another question would be whether these facilities could be commercially ready or scaled to operate to the capacities needed to provide base load or cycling power to meet the RPS 12% target in 2019, or to levels targeted after 2019.
Interconnecting Puerto Rico's grid with that of the U.S. Virgin Islands (or other Caribbean island electric systems) may provide for a larger "balancing area" for renewable electricity integration,104 and reduce needs for backup power from fossil, storage, or other sources.105 Puerto Rico does not have its own geothermal resources that could provide base load generation, but such resources do exist in other parts of the Caribbean (for example, in Dominica, Saint Kitts, and Nevis). Interconnection would require undersea electricity cables, transmission substations, and agreements between government entities to allow and price the transfer of electricity between the islands.
Puerto Rico's Existing Incentives for Renewables
Puerto Rico recently began to institute policies to increase renewable electric generation. In 2007, Puerto Rico instituted a net metering program for PREPA's customers who install their own power generation facilities (i.e., solar PV, wind, or other distributed generation) to offset electricity purchased from the utility. Owners of such installations must also provide (at their own expense) a bidirectional meter which subtracts customer-generated electricity from power purchased from PREPA.106
In July 2010, Puerto Rico enacted a Renewable Energy Portfolio Standard (RPS) which essentially requires PREPA to supply increasing amounts of retail electricity sales from eligible green energy resources, peaking at 20% of retail sales by 2035.107 PREPA must demonstrate compliance with the RPS through procurement of renewable energy credits.108 A newly created Commonwealth Energy Public Policy Office will be responsible for overseeing RPS implementation.
In addition to the 2010 RPS, Puerto Rico has also created a Green Energy Fund (GEF) for small- to utility-scale projects to help increase green energy production.109 Through the GEF, Puerto Rico was coinvesting up to $185 million in the development of renewable energy projects on the island, beginning with $20 million allocated to the fund in 2011. The GEF offers rebates of up to 40% of the eligible costs for Tier 1 projects (installations up to 100 kiloWatts [kW]), and up to 50% of eligible costs for Tier 2 projects (from 101 kW to 1,000 kW or 1 MW).110
However, some renewable developers say that implementation of renewable policy has been slow.111 Before Hurricane Maria, Puerto Rico had 215 MW of renewable electricity capacity.112
Some Issues and Considerations with Developing Renewable Energy
Renewable electricity development entails a number of choices, beginning with the type and scale of projects. For example, with regard to solar PV power, it may be asked how much development should be utility scale vs. rooftop residential units, and what type of regulatory program should this development be under? With wind power, while the technology favors larger-capacity projects, should the utility develop these or issue solicitations for generation from independent power producers (IPPs)113 to develop projects? Renewables are also amenable to distributed generation, which places power generation close to the consumer and thus may lessen the need for transmission line expansion and modernization.
Funding of renewable projects is an issue. Some cost risks can be passed to developers of IPP projects, whereby the utility contracts with the IPP to purchase the power generated. If a jurisdictional government encourages residential rooftop solar PV, and allows some form of net metering114 of power produced, such arrangements can reduce a utility's peak power demand, and thus its overall capacity needs. Some electric utilities would argue that net metering rates and policies must include provisions to compensate the utility for backup power provided when the customer purchases power from the utility, and compensate the utility for its infrastructure costs. The level of compensation for the net-metered customer is also a consideration, as the jurisdiction develops a price (i.e., at retail or wholesale) or a policy for allowing power generated by customers to be subtracted from power purchased from the utility.115
A Restructuring of Puerto Rico's Electric Power System
This section presents some possible options and alternatives Congress may consider for restructuring Puerto Rico's electricity system, recognizing that any alternative would require agreement from Puerto Rico. Consideration is given to Puerto Rico's population distribution, low income levels, and depressed economy in evaluating potential options for restructuring the Commonwealth's electric power system.
PREPA initially estimated the cost of modernizing Puerto Rico's electricity system at $4 billion, not including the damage from the 2017 hurricanes.116 However, incorporating additional goals, such as resiliency, as well as the hurricane recovery, could result in costs several times that estimate.
Options for Smaller Community Power Generation
Community Solar Power
While there are a number of paths to obtaining solar power, villages, towns, and other areas in the more rural areas of Puerto Rico may want to consider community solar projects as a way to reduce their costs of power from the central grid.
Community Solar is defined as a solar-electric system that, through a voluntary program, provides power and/or financial benefit to, or is owned by, multiple community members. Community Solar advocates are driven by the recognition that the on-site solar market comprises only one part of the total market for solar energy.117
Community solar projects are built around a solar PV project, sized to provide a community with a portion of their electricity demand. There are options as to how the community owns or finances the project.
'Community solar' can refer to both 'community-owned' projects as well as third party-owned plants whose electricity is shared by a community.... When projects are ownership-based, participants can either purchase their panels up-front or finance them through a loan provided by the project developer or their own bank. In this way, ownership-based community solar models are very similar to purchasing a rooftop system—except, of course, that no system will be installed on the participant's roof or property. Instead, the participant will own a set number of panels in the array or, instead, a certain number of kilowatts (e.g. 5 [kiloWatts] kW) out of the solar plant's total capacity. In such programs, participants may only purchase enough share to meet their annual electricity usage. A matching proportion of the project's actual output will be credited to the customer through their electricity bill or through some other arrangement with the project administrator.... Ownership-based projects can be complicated to develop and administer, and the 'ownership' factor can be a barrier to entry for those who do not have the capital or credit rating necessary to get involved.118
Community Wind Power
In areas with good prevailing winds, villages, towns, and other areas in the more rural areas of Puerto Rico may want to consider small wind power projects. The types of local communities which employ community wind include groups with agricultural or rural economic development interests, or those that want to invest in small wind power projects for their communities.
Small wind is defined as wind turbines with a capacity rating of less than or equal to 100 kW. Turbines in this category range in size from smaller than 1 kW for off-grid applications to 100-kW turbines that can provide village power.119
According to DOE, a number of paths can be followed to establish a community wind project.
Community wind projects have multiple applications and can be used by schools, hospitals, businesses, farms, ranches, or community facilities to supply local electricity. Rural electric cooperatives or municipal utilities can own community wind projects and use them to diversify electricity supplies. Community wind projects can also consist of groups of local individuals who form independent power producer groups or limited liability corporations to sell the power the turbines produce to a local electricity supplier. With the combination of no fuel costs and relatively low operating costs, owners of community wind projects can confidently predict the price that they will pay for energy throughout the lifetime of the project. Community wind projects generally operate on a smaller scale than utility-scale wind farms, so they may not require transmission upgrades. Most community wind projects can be easily connected to the distribution grid.120
Microgrids
In general, a microgrid is any small or local electric power system which can function independently of a transmission-connected, centralized electric power network.121 Electricity services provided by all-renewable distributed generation systems may be limited without some type of energy storage, due to the daily variability of some renewable sources. In addition, some solar-only distributed generation solutions may only provide lighting, phone charging, and other basic services. The provision of other basic human needs, such as continuous refrigeration for medical supplies or water pumping for sanitation and agricultural usage, may be limited with a solar-only distributed generation (DG) architecture.
While microgrids are generally standalone systems, they can be interconnected with other microgrids to form larger networks. Due to the ability of microgrids to generate electricity using renewable resources, they are being installed in many parts of the developing world.122
As noted above, using solely renewable resources for microgrids can have technical challenges since the generation can be intermittent (i.e., wind power) or variable (i.e., solar power). Load balancing123 for microgrids with renewable electricity input can be an issue, especially when the microgrid is operating in an island mode.124 New technologies may address these technical challenges for microgrids. Smart inverters125 are under development that may make variable power supplies easier to use and at more reasonable costs. Battery and other storage technologies that can absorb or discharge energy are growing in application.126 These technical and operational challenges can be accentuated for more rural communities, as technology support may be an issue. Potential costs for control systems and infrastructure should also be evaluated when considering the potential benefits of a microgrid.127 However, the development of new technologies may simplify microgrid design and operation, further reducing barriers to microgrid adoption.
Public Power Alternatives and Privatization Options
PREPA is one of the nation's largest public power utilities. However, other types of public power options may be considered for serving Puerto Rico's population. The context of these options becomes more apparent when Puerto Rico's population density, current infrastructure, and geography are considered.
Given the population distribution, and the aged nature of PREPA's largest power plants, Congress may consider whether smaller public power entities such as municipal utilities or electric cooperatives should be established. These entities may be a part of a restructured electric power system in Puerto Rico, and may be designed with reliability and resiliency goals to serve the needs of various population segments more effectively, considering the poor reliability much of the island experienced under PREPA.
Electric Cooperatives
As can be seen in Figure 1 at the beginning of this report, Puerto Rico's population outside of urban centers is distributed across the island in rural communities, many of which are farming communities. Electric cooperatives (co-ops) are owned by the consumers they serve, and generally operate in rural areas with relatively low numbers of customers per transmission mile. They are incorporated under state laws, and are governed by a board of directors elected by the members. Electric cooperatives set rates similar to publicly owned utilities. As nonprofit entities, electric cooperatives are required to provide service to their members at cost. Any revenues in excess of the cost of providing service are returned to the members.128
Co-ops serve an average of 7.4 consumers per mile of line and collect annual revenue of approximately $16,000 per mile of line as compared to investor-owned utilities, which have on average 34 customers per mile of line and collect $75,500 per mile, and publicly-owned utilities, or municipals, which average 48 consumers and collect $113,000 per mile.129
The Rural Utilities Service (RUS) of the U.S. Department of Agriculture (USDA) and the National Rural Utilities Cooperative Finance Corporation are important sources of debt financing for cooperatives.130
The loans and loan guarantees finance the construction of electric distribution, transmission, and generation facilities, including system improvements and replacement required to furnish and improve electric service in rural areas, as well as demand side management, energy efficiency and conservation programs, and on-grid and off-grid renewable energy systems. Loans are made to cooperatives as well as to corporations, states, territories and subdivisions and agencies such as municipalities, people's utility districts, and nonprofit, limited-dividend, or mutual associations that provide retail electric service needs to rural areas or supply the power needs of distribution borrowers in rural areas.131
USDA also has a High Energy Cost Grant program for retail or power supply providers serving eligible rural areas. The program "[a]ssists energy providers and other eligible entities in lowering energy costs for families and individuals in areas with extremely high per-household energy costs (275 percent of the national average or higher)."132 While entities in Puerto Rico and the U.S. Virgin Islands are eligible, they have not as yet been recipients of these grants.133
Generation and transmission cooperatives (which own power plants and transmission lines) can potentially be established to sell electricity for resale to distribution-only cooperatives.134 Co-ops also employ renewable energy. According to the National Rural Electric Cooperative Association, wind power is now second only to hydropower in co-ops' renewable energy portfolio with over 6.7 GW of capacity. Co-ops lead the electric utility in deployment of community solar projects. Using this model, a co-op develops a solar array for members who can either purchase the power or lease panels. Over 77 MW in community solar capacity is deployed at distribution co-ops.135
Municipal Utilities
There are about 10 smaller cities and towns in Puerto Rico, with populations ranging from 20,000 to about 80,000 people, which could be served by municipal utilities. Across the United States, a number of cities have shown an interest in taking over the electricity business from private utilities, reflecting intensifying concerns about climate change, responses to power disruptions, and a desire to add more renewable energy to the electricity system.136 Municipal utilities are public power entities (as is PREPA) and are owned by the local government body. They are nonprofit public entities, typically managed by elected officials and public employees. Customer rates may be established by a city council or other municipal government body, while municipal utilities may return a portion of net income to the general fund of the local government.137 Like PREPA, public utilities have access to tax-free bonds, and rates are set to recover costs and earn additional returns to maintain bond ratings, and potentially invest in new facilities. Municipal utilities existed at one time in Puerto Rico, until the act that established PREPA.138
While some cities on the U.S. mainland have utility power plants that they may be able to acquire from their host utility, many of the smaller cities in Puerto Rico may not have that option (given the potential costs of acquisition and remote location of most power plants, among other issues). Accordingly, new power plants may have to be built or private generators contracted to serve the local demand. The Electric Programs of RUS also make loans to municipalities for building or upgrading electric power systems.
Table 2 summarizes the organization, management, and regulatory oversight for the major types of electricity providers. The following paragraphs discuss aspects of these electric industry entities as the rebuilding, and perhaps restructuring, of Puerto Rico's electricity system is assessed. Investor-owned utilities (IOUs) are included in the chart for comparison purposes. As the chart shows, IOUs are established to optimize returns to shareholders. Under traditional rate regulation, rates are established in regulatory proceedings and include a return on the utility's investment in the rates charged to customers.
 

POU

IOU

Co-ops

Ownership

A local government body and/or customers or members of the utility. Usually limited to the service area.

Shareholders or investors. Not limited to the service area.

Co-ops are owned by the consumers they serve.

Structure/ Management/Regulation

Nonprofit public entity managed by locally elected officials/public employees.

Private company. Shareholder-elected board appoints management team of private sector employees. Regulated by the state Public Utility Commission.

Incorporated under state laws and are governed by the organization's board of directors elected by the members.

Rates Setting and Regulation

Customer rates are set by each utility's governing body—a board or local government in a public forum. Municipal utilities may return a portion of net income to the general fund of the local government.

Customer rates are set and regulated by states through public process that includes some customer participation.

Electric cooperatives set rates similar to POUs. Any revenues in excess of the cost of providing service are returned to the members.

Mission/Goals

Optimize benefits for local customer owners usually in the form of lower energy rates.

Optimize return on investment for shareholders. These utilities either distribute profits to stockholders as dividends or reinvest them.

Optimize benefits for local customer owners usually in the form of lower energy rates.

Financing

Public utilities have access to tax-free bonds at the local level.

Stockholders (investors), the sale of bonds, and bank borrowing help finance the utility's operations.

Co-ops have access to low-interest loans.

The Rural Utilities Service (RUS) of the U.S. Department of Agriculture and the National Rural Utilities Cooperative Finance Corporation are important sources of debt financing.

Profit/Net Revenue

Rates are set to recover costs and earn additional return to maintain bond ratings and invest in new facilities.

Utility rates are set to recover costs and earn a reasonable return as profits for investors in return for the risk they bear for investing in new facilities.

As nonprofit entities, they are required to provide electric service to their members at cost.

Size/heterogeneity

Although POUs dramatically differ in size and number of customers they serve, most are small or mid-sized.

Very large in size and number of customers. Complex, heterogeneous customer mix.

Generally operate in rural areas with relatively low numbers of customers per transmission mile.
Source: CRS and various external sources.
Notes: POU= Publicly owned utilities. IOU=Investor-owned utilities. Co-ops=Co-operative Utilities.
Privatization
In June 2017, four of the seven members of the Financial Oversight and Management Board for Puerto Rico wrote an article recommending privatization for PREPA. The article stated their reasoning:
We believe that only privatization will enable PREPA to attract the investments it needs to lower costs and provide more reliable power throughout the island. By shifting from a government entity to a well-regulated private utility, PREPA can modernize its power supply, depoliticize its management, reform pensions, and renegotiate labor and other contracts to operate more efficiently. A reformed PREPA is key to restoring opportunity for the people of Puerto Rico.139
Privatization is generally the process of transferring property from public ownership to private ownership. It can also include the transfer of the management of a service or activity from the government to the private sector. Types of privatization include complete privatization, privatization of operations, privatization through contracts, franchising, and open competition.140
Government run industries and assets have generally been completely privatized through one of three main ways. The first way is share issue privatization. The government sells shares of the government run company which can then be traded on various stock markets. Share issue privatization has been the most prevalent method used, though a developed secondary market is necessary. The second method is through asset sale privatization. In this method, the whole firm or asset is sold to an investor. This is usually done by auction. The final method is voucher privatization in which shares of ownership are distributed to all citizens for free or for a very low price.141
Privatizing PREPA's generation could therefore mean that PREPA-owned generation is either transferred or sold to private owners. Given PREPA's debt situation, it is unclear how such a sale would proceed. However, given the age and condition of most of PREPA's generation, the costs of acquisition may be small in comparison to the investments potentially needed to modernize the plants, if that option were considered.
Public-Private Combination
Given the condition and modernization needs of most of PREPA's transmission and distribution (T&D) networks, it is unlikely that a privatization effort would involve PREPA's entire system. A privatization venture would likely focus on PREPA's generation assets, which would leave open the question of how to modernize and maintain the T&D systems. One possible option is for some type of hybrid model. Public-private partnerships (PPPs) generally involve a private company signing a contract with government to "build, operate, lease, transfer, and/own certain assets.... The government and the private company enter into an agreement establishing a set of rules that determines the tariffs or regulated prices to be paid by either the government or customers."142 Such an agreement allows companies to recover prudently incurred operating and capital costs while serving the public.
Unlike private contracts, a public-private partnership is a risk-sharing business model in which the government and one or more private companies jointly provide services or goods. PPPs often form when a project requires a massive investment to establish the necessary infrastructure and because either the government or private firms (or both) lack the expertise, financial resources, and incentives to undertake the project by themselves.143
Another option for Puerto Rico is a public-private combination, wherein public or private power generators144 provide and sell power to distribution companies (primarily organized as municipal utilities or cooperatives). The transaction between generators and distribution companies could be managed by a publicly owned transmission entity. Congress may also want to consider whether investment incentives to form public-private partnerships could provide an alternative for modernizing Puerto Rico's grid.
Long Island Power Authority: A Public-Private Combination
An example of a public-private combination arrangement existed on New York's Long Island, between the Long Island Power Authority (LIPA), which owned the transmission and distribution (T&D) system, and the Keyspan Corporation, which owned the power generation units. Both companies acquired their assets from the Long Island Lighting Company in 1998. However, the Keyspan Corporation was taken over in 2007 by National Grid, LLC, which assumed Keyspan's power generation role. A contract Keystone subsequently signed to manage LIPA's system was later found to be questionable by the state, since it was not subject to a competitive process. In December 2011, Public Service Electric and Gas Long Island won the competition for a new contract to manage LIPA's T&D system, replacing National Grid.145 However, with issues of debt and poor performance from Superstorm Sandy power restoration, the State of New York decided to privatize LIPA, allowing the investor-owned Public Service Electric and Gas Company to take over LIPA's assets and operations, and assume responsibility for its debts.146 New York has retail competition which allows end-users of electricity to select an electricity provider, and the customers' power consumption is billed to the chosen provider.147
Retail Competition
A combined public-private model could allow for retail competition if power generation is of a sufficient scale to allow real competition to exist between generators. Most retail competition programs in mainland states allow customers to choose between a default electricity provider and competing retail providers. Consumer protections would have to be in place to ensure that competitive processes were legitimate.
Potential Roles of a Federal Government Corporation
In Puerto Rico, it could be argued that the state of the island's infrastructure and the historic failings of the system in provision and oversight call for a different approach. One such option could be for a federal government corporation148 to be established to manage Puerto Rico's transmission system, serving as the transaction manager between power generators and retail distribution sellers of electricity to industrial, commercial, and residential customers. Such an entity could manage publicly owned generation and transmission facilities, providing power at cost to retail distribution companies. Additionally, such an entity could also procure wholesale power from privately owned generation for sale to distribution companies.
Wholesale Power Generation and Marketing
One example for a federal government model generation and transmission system is the Western Area Power Administration (WAPA). As one of four power marketing administrations (PMAs) under the DOE, WAPA markets and transmits power from federally owned and operated hydropower projects, and markets power from the Navajo Generating Station coal-fired plant.149 In general, the PMAs came into being because of the government's need to dispose of electric power produced by dams constructed largely for irrigation, flood control, or other purposes, and to promote small community and farm electrification—that is, providing service to customers whom it would not have been profitable for a private utility to serve. Though PMAs were all created to market federal power, and they share the common mission of providing electricity at cost-based rates with preference to public customers, each PMA also has unique elements and regional issues that affect its business.
Wholesale Power Generation and Marketing and Economic Development
Alternatively, another potential model is the Tennessee Valley Authority (TVA), a federal government corporation created by Congress in 1933. The preamble to the TVA Act of 1933 (TVA Act) (16 U.S.C. 831) lists flood control, reforestation, and agricultural and industrial development as primary considerations in the original establishment of the TVA. As such, TVA was established to "exist in perpetuity."150 While the focus of TVA's activities originally was largely on its flood control and economic development roles, TVA is now essentially a power generation company. TVA's business metrics are focused on optimizing TVA's financial position, and its operational goals are focused on providing electricity at the lowest feasible rates to its wholesale customers in the multistate Tennessee Valley region. The TVA Act of 1933 gave TVA up to $50 million (equivalent to $939 million in 2017)151 for building new generation and transmission facilities (in accord with Section 7 of TVA Act). An additional $61.5 million (equivalent to $1.2 billion in 2017)152 was allowed for acquiring the property of other utilities incorporated into the TVA system. In 1959, Congress passed legislation making the Tennessee Valley Authority power system self-financing. Between FY1934 and FY1959, Congress appropriated approximately $1.96 billion in funding for TVA. Appropriations during that period were approximately $22.7 billion in 2017 dollars, adjusted for inflation.153
Caribbean-wide Power Generation and Marketing
Another potential option could be for a power generation and marketing authority (PGMA), based on the mainland or in Puerto Rico. If the PGMA were based in Puerto Rico, the initial market could be for Puerto Rico and the U.S. Virgin Islands. As shown in Figure 3, the market area could potentially be expanded, exporting power via undersea cables to the wider Caribbean region. A federal government corporation created for this purpose would likely need to price its output to recover its capital costs of construction over a reasonable period, and to cover its operations and maintenance costs. Like PMAs, any federal funds used for the PGMA's establishment or costs could be repaid with interest to the U.S. Treasury. As with other federal government corporations, establishing a PGMA would require an act of Congress. A PGMA taking advantage of economies of scale could generate electricity at U.S. market-based rates, which are likely to be lower cost than power generated in most Caribbean Basin countries from smaller plants that serve smaller, individual country markets.
Building a PGMA could be potentially advantageous to U.S. interests for several reasons. For the Caribbean Basin countries, the advantages could come from a cheaper, cleaner fuel since power generation could use natural gas as opposed to coal, diesel, and heavy fuel oil options currently in use.154 However, if the PGMA were built in Puerto Rico, liquefied natural gas imports might be used to fuel the facility,155 and consideration would then be on how to bring natural gas to Puerto Rico affordably, given Jones Act limitations.156
Possible Issues for Congress
The 2017 hurricane season and the resulting destruction in Puerto Rico have led to an unprecedented disaster for the people of Puerto Rico. The ability of the electricity system to deliver power was effectively destroyed, and restoration of electricity services to the majority of Puerto Rico's people has yet to be achieved, as of the writing of this report. The reliability of service from the electric utility, PREPA, was poor before the hurricane by the utility's own admission. Post-Hurricane Maria, power restoration is the first priority. But PREPA's subsequent efforts to restore power have been considered questionable by most observers, as contracts to rebuild the system appear to have been hastily arranged without due process, and one large contract was cancelled. Infighting and disputes between the utility, the Commonwealth's government, the Oversight Board, and the Energy Commission have added to the distress of Puerto Ricans. Congress may want to consider governance issues or reforms for Puerto Rico.
Some observers have stated that it is time for a new regime to serve the electric power needs of Puerto Rico. The destruction of electric infrastructure offers an opportunity to design and build a new, efficient, relatively low-cost electricity system, incorporating renewable electricity and flexible, new natural gas-fired generation (assuming the fuel can be brought to Puerto Rico cheaply). Some have also suggested that the publicly owned utility PREPA should be privatized as a way to modernize and improve electricity services. Congress may also want to consider a federal government corporation to serve these purposes.
However, neither a greater incorporation of renewables and natural gas nor privatization provides a silver bullet solution to the issues facing rebuilding the grid in Puerto Rico. Renewable electric generation on an increased scale would require modernization of the grid. The ability of the Commonwealth and its citizens to assume the burden of paying for a rebuilt (and possibly restructured) electricity system is a key consideration. Privatization, and a potential sale of PREPA's aged generation assets (which might normally generate funds to help modernize the electricity system), are also in question given the debt issues. Entities interested in a privatization venture in Puerto Rico would likely seek recovery of an investment in a "reasonable" amount of time. Such a time frame could potentially lead to a sizable increase in rates based on the recovery period and how rate allocation across customer classes could be accomplished. Given Puerto Rico's economic condition and falling population, the design of a privatization venture, in whole or part, would likely have to consider socioeconomic factors alongside the financial investment, if it is to achieve success.