The National Park Service's (NPS's) backlog of deferred maintenance (DM)—maintenance that was not performed as scheduled or as needed—is an issue of ongoing interest to Congress. The agency estimated its DM needs for FY2018 (the most recent year available) at $11.920 billion. Although other federal land management agencies also have DM backlogs, NPS's backlog is the largest.1 Because unmet maintenance needs may damage park resources, adversely affect visitors' enjoyment of the parks, and jeopardize safety, NPS DM has been a topic of concern for Congress and for nonfederal stakeholders. Potential issues for Congress include, among others, how to weigh NPS maintenance needs against other financial demands within and outside of the agency, how to ensure that NPS is managing its maintenance activities efficiently and successfully, and how to balance the maintenance of existing parks with the establishment of new park units. This report addresses frequently asked questions about NPS DM. The discussion is organized under the headings of general questions, funding-related questions, management-related questions, and questions on Congress's role in addressing the backlog.
General Questions
What Is Deferred Maintenance?
The Federal Accounting Standards Advisory Board defines deferred maintenance and repairs (DM&R) as "maintenance and repairs that were not performed when they should have been or were scheduled to be and which are put off or delayed for a future period."2 NPS uses similar language to define deferred maintenance.3 Although NPS uses the term DM rather than DM&R, its estimates also include repair needs. Following NPS's usage, this report uses the term DM to refer to NPS's deferred maintenance and repair needs. Members of Congress and other stakeholders also often refer to DM as the maintenance backlog.4
As suggested by the above definition, DM does not include all maintenance, only maintenance that was not accomplished when scheduled or needed and was put off to a future time. Another type of maintenance is cyclic maintenance—that is, maintenance performed at regular intervals to prevent asset deterioration, such as to replace a roof or upgrade an electrical system at a scheduled or needed time.5 Although NPS considers cyclic maintenance separately from DM for budgeting purposes, NPS has emphasized the importance of cyclic maintenance for controlling DM costs. Cyclic maintenance, the agency has stated, "is a central element of NPS efforts to curtail the continued growth of deferred maintenance and promote asset lifecycle management."6 NPS also performs routine, day-to-day maintenance as part of its facility operations activities. Such activities include, for example, mowing and weeding of landscapes and trails, conducting custodial and janitorial functions, and removing litter.7
How Big Is NPS's Maintenance Backlog?
NPS estimated its total DM for FY2018 at $11.920 billion.8 This amount is split between transportation-related DM in the "Paved Roads and Structures" category and mostly non-transportation-related DM for all other assets (see Table 1). The Paved Roads and Structures category includes paved roadways, bridges, tunnels, and paved parking areas. The other assets are in eight categories: Buildings, Housing, Campgrounds, Trails, Wastewater Systems, Water Systems, Unpaved Roads, and All Other.9
Has the Maintenance Backlog Been Increasing or Decreasing?
NPS's estimated maintenance backlog has increased over the past decade (FY2009-FY2018) in nominal dollars but decreased when adjusted for inflation. Figure 1 and Table 2 show a growth in NPS DM of $1.751 billion in nominal dollars and a decline of $0.368 billion in inflation-adjusted dollars.
Figure 1. NPS Maintenance Backlog Estimates, FY2009-FY2018
($ in billions)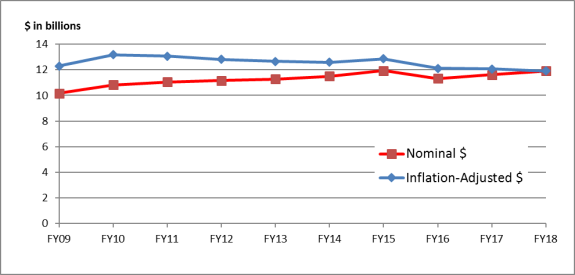 What Factors Contribute to Growth or Reduction of the Backlog?
Multiple factors may contribute to growth or reduction in the NPS maintenance backlog. One key driver of growth in NPS maintenance needs has been the increasing age of agency infrastructure. Many agency assets—such as visitor centers, roads, utility systems, and other assets—were constructed by the Civilian Conservation Corps in the 1930s or as part of the agency's Mission 66 infrastructure initiative in the 1950s and 1960s.10 As these structures have reached or exceeded the end of their anticipated life spans, unfunded costs of repair or replacement have contributed to the DM backlog. Further, agency officials point out, as time goes by and needed repairs are not made, the rate at which such assets deteriorate is accelerated and can result in "a spiraling burden."11
Another key factor is the amount of funding available to the agency to address DM. The sources and amounts of NPS funding for DM are discussed in greater detail below, in the section on "Funding for NPS Deferred Maintenance." NPS does not aggregate the amounts it receives and uses each year to address deferred maintenance, but agency officials have stated repeatedly that available funding has been inadequate to meet DM needs.12 In recent years, Congress has increased NPS appropriations to address DM.13 NPS has stated that these funding increases, although helping the agency with some of its most urgent needs, have been insufficient to address the total problem.14 Some observers have advocated for further increases in agency funding as a way to address DM; some others have recommended reorienting existing funding to prioritize maintenance over other purposes.
Another subject of attention is the extent to which acquisition of new properties—for example, through the creation of new parks or the expansion of existing parks—may add to the maintenance burden. To the extent that newly acquired lands contain assets with maintenance and repair needs that are not met, these additional assets would increase NPS DM. The agency has stated in the past that new additions with infrastructure in need of maintenance and repair have been relatively rare, and most acquired lands have been unimproved or have contained assets in good condition.15 NPS also has stated that some acquisitions of "inholdings" within existing parks have facilitated maintenance and repair efforts by providing needed access for maintenance activities.16 Others have contended that even if new acquisitions do not immediately contribute to the backlog, they likely will do so over time, and that further expansion of the National Park System is inadvisable until the maintenance needs of existing properties have been addressed. For example, the Administration's FY2021 budget proposes to eliminate funding for NPS federal land acquisition projects in order to "focus … available funds on the protection and management of existing lands and assets."17
Some observers also have expressed concerns that growth in NPS DM may be at least partially due to inefficiencies in the agency's asset management strategies and/or the implementation of these strategies. The section of this report on "Management of the Maintenance Backlog" gives further details on NPS's management of its DM backlog. NPS has taken a number of steps over the decade to improve its asset management systems and strategies. The Government Accountability Office (GAO) has recommended further improvements.18
Still another issue is that the methods used by NPS and the Department of the Interior (DOI) to estimate DM have varied over time and for different types of maintenance reporting.19 What portion of the overall change in NPS DM over the decade may be attributable to changes in methodology or data completeness, rather than to other factors, is unclear.
From year to year, the completion of individual projects, changes in construction and repair costs, and similar factors play a role in the growth or reduction of NPS DM. The DM amounts reported by NPS for each fiscal year represent a snapshot of the backlog on the applicable date. The amount of DM changes frequently as NPS managers and staff complete or cancel maintenance work, recalculate costs, and record new maintenance and repair needs. For example, the change in the DM amount between FY2017 ($11.607 billion) and FY2018 ($11.920 billion) included work order completions, cancellations, and cost changes that reduced DM by $1.313 billion, along with new work orders and cost changes that added $1.626 billion to the backlog.20
How Does NPS's Backlog Compare with Those of Other Land Management Agencies?
Although all four major federal land management agencies—NPS, the Bureau of Land Management (BLM), the Fish and Wildlife Service (FWS), and the Forest Service (FS)—have DM backlogs, NPS's backlog is the largest. For FY2018, NPS reported DM of $11.920 billion, whereas FS reported DM of less than half that amount ($5.217 billion), and FWS and BLM reported $1.301 billion and $0.955 billion, respectively. DM for the four agencies is discussed further in CRS Report R43997, Deferred Maintenance of Federal Land Management Agencies: FY2009-FY2018 Estimates and Issues.
Which States Have the Largest NPS Maintenance Backlog?
NPS reports DM by state and territory in its report titled NPS Deferred Maintenance by State and Park.21 The 20 states (including the District of Columbia) with the highest NPS DM estimates are shown in Table 3.
The states with the highest DM are not necessarily those with the most park acreage. For example, Alaska contains almost two-thirds of the total acreage in the National Park System but accounts for less than 1% of the agency's DM backlog. Instead, the amount, type, and condition of infrastructure in a state's national park units are the primary determinants of DM for each state. For example, transportation assets are a major component of NPS DM, and states with NPS-administered parkways—the George Washington Memorial Parkway (mainly in Virginia and Washington, DC), the Natchez Trace Parkway (mainly in Mississippi and Tennessee), the Blue Ridge Parkway (North Carolina and Virginia), and the John D. Rockefeller Jr. Memorial Parkway (Wyoming)—are all among the 20 states with the highest DM.22
Which Park Units Have the Largest Maintenance Backlog?
Table 4 shows the 20 individual park units with the highest maintenance backlogs.
Various factors may contribute to the relatively high DM estimates for these park units as compared to others. For example, many of them are older units whose infrastructure was largely built in the mid-20th century. Some sites, such as Gateway National Recreation Area and Golden Gate National Recreation Area, are located in or near urban areas and contain more buildings, roads, and other built assets than some more remotely located parks. Three of the units with the highest estimated DM are national parkways, consistent with the high proportion of NPS's overall DM backlog that is related to road needs.23
What Types of Projects Account for the Largest Share of NPS Deferred Maintenance?
Transportation-related projects are among those with the highest DM estimates. As shown in Table 1, more than half of NPS's DM backlog is attributed to transportation assets. The agency reported that two-fifths of paved roads in the National Park System were rated in "fair" or "poor" condition as of the end of FY2018.24
In particular, NPS reports a number of transportation "mega-projects" that require "a much larger amount of funding than is available on an annual basis."25 These include projects such as rehabilitation of the Arlington Memorial Bridge (crossing the Potomac River between the District of Columbia and northern Virginia), with repair work estimated at $227 million;26 and modifications to the Tamiami Trail in Everglades National Park, with an estimated cost of $240 million.27 Other examples involve road, trail, or bridge work on the Natchez Trace Parkway, at Colonial National Historical Park, and at Great Smoky Mountains National Park.28 In some cases, NPS has worked with states to seek project-specific grants, outside of standard NPS funding sources, for these high-cost transportation projects (see "What Are the Funding Sources for NPS to Address the Maintenance Backlog?").
Projects related to other types of park infrastructure also may have high DM estimates. For example, DM needs for the Trans-Canyon Water Pipeline in Grand Canyon National Park have been estimated at more than $150 million, and DM needs for the infrastructure surrounding East Potomac Park (part of the National Mall and Memorial Parks in Washington, DC), including a deteriorating seawall, have been estimated to exceed $500 million.29
Funding for NPS Deferred Maintenance
How Much Has NPS Spent in Recent Years to Address the Maintenance Backlog?
It is not possible to determine the total amount of funding allocated each year to address NPS's DM backlog, because NPS does not aggregate these amounts in its budget reporting. Funding to address DM comes from a variety of NPS budget sources, and each of these budget sources also funds activities other than DM. NPS does not report how much of each funding stream was used for DM in any given year.30 Some estimates have suggested that annual funding of roughly $800 million per year would be required simply to maintain NPS assets at existing conditions, without addressing the DM backlog.31
What Are the Funding Sources for NPS to Address the Maintenance Backlog?
NPS has used discretionary appropriations, allocations from the Department of Transportation, park entrance and recreation fees, donations, and other funding sources to address the maintenance backlog. Most of the funding for DM comes from discretionary appropriations, primarily under two budget activities, titled "Repair and Rehabilitation" and "Line-Item Construction."
The Repair and Rehabilitation (R&R) budget subactivity, within the NPS's Operation of the National Park System (ONPS) budget account,32 focuses on large-scale, nonrecurring repair needs in cases where scheduled maintenance is no longer sufficient to improve the condition of the facility.33 R&R funds are used for projects with projected costs of less than $2 million each. These projects may include both DM and other types of maintenance.34 FY2020 appropriations for the R&R subactivity in

P.L. 116-94

were $136.0 million.
The Line-Item Construction budget activity, within the NPS's Construction account, provides funding for major maintenance, repair, and replacement of high-priority NPS assets.35 This funding is used for projects expected to cost $2 million or more. NPS prioritizes projects based on "monetary and nonmonetary benefits, return on investment, and overall risk."36 As with the R&R budget subactivity, the projects may include both DM and other types of maintenance.37 FY2020 appropriations in

P.L. 116-94

for Line-Item Construction were $283.0 million.
Portions of other NPS discretionary budget activities and accounts also are used for DM. These include various budget activities within the ONPS and Construction accounts, as well as NPS's Centennial Challenge account. The Centennial Challenge account provides federal funds to match outside donations for "signature" NPS parks and programs. The funding is used to enhance visitor services, reduce DM, and improve natural and cultural resource protection.38 The FY2020 appropriation for the Centennial Challenge program in

P.L. 116-94

was $15 million.
Beyond NPS discretionary appropriations, a number of other, nondiscretionary agency revenue streams also are used partially or mainly to address DM. Where applicable, the discussion below gives estimates of revenues from these sources for FY2020, as provided in NPS's FY2021 budget justification. These estimates would not reflect factors arising since preparation of the budget justification, such as the closure of many national park units during the COVID-19 outbreak.39
NPS receives an annual allocation from the Highway Trust Fund to address transportation needs, including transportation-related DM.40 Funds are provided to NPS (and other federal land management agencies) by the Federal Highway Administration, primarily under the Federal Lands Transportation Program. The program was most recently reauthorized by the Fixing America's Surface Transportation Act (FAST Act;

P.L. 114-94

). In recent years, these allocations have accounted for more than half of NPS's transportation-related maintenance spending.41 For FY2020, NPS's allocation from the Federal Lands Transportation Program is $300.0 million.42 Through related federal highway programs, NPS could potentially receive additional funding.43 For some of its "mega-projects," NPS has worked with states to apply for transportation grants not otherwise available to the agency.44
Park entrance and recreation fees collected under the Federal Lands Recreation Enhancement Act (16 U.S.C. §§6801-6814) may be used for DM, among other purposes. The fees are available for use without further appropriation, and most are retained at the collecting parks.45 Fee collections may be used for a variety of purposes benefiting visitors, including facility maintenance and repair, interpretation and visitor services, law enforcement, and others. In its FY2021 budget justification, NPS estimates entrance and recreation fee collections of $344.4 million for FY2020.46 Under NPS policy, parks must obligate at least 55% of recreation fee allocations to DM projects.47
NPS collects concessions franchise fees from park concessioners who provide services such as lodging and dining at park units. The fees, collected under the National Park Service Concessions Management Improvement Act of 1998 (54 U.S.C. §§101911 et seq.), are available for use without further appropriation and are mainly retained at the collecting parks.48 They may be used to reduce DM, among other purposes, with priority given to concessions-related DM.49 In its FY2021 budget justification, NPS estimates concessions franchise fee collections of $135.8 million for FY2020.50
The National Park Service Centennial Act (

P.L. 114-289

) established the NPS Centennial Challenge Fund. In addition to discretionary appropriations (discussed above), the fund is authorized to receive, as offsetting collections, certain amounts from the sales of entrance passes to seniors.51 NPS estimates that the senior pass sales will provide an additional $4.0 million for the account in FY2020, on top of discretionary appropriations.52 Federal funds must be matched by nonfederal donations on at least a 50:50 basis. The funding may be used for a variety of projects but must prioritize DM, improvements to visitor services facilities, and trail maintenance.53 The Centennial Act also established the NPS Second Century Endowment and directed that the endowment receive, as offsetting collections, revenues from senior pass sales totaling $10 million annually.54 The endowment also is authorized to receive gifts, devises, and bequests from donors. The funds may be used for projects approved by the Secretary of the Interior that further the purposes of NPS, including projects on the maintenance backlog. More broadly, other types of donations to NPS may be used for projects that reduce DM, among a variety of other purposes.55 NPS estimated that, through all of these programs combined, the agency would receive donations of $52.0 million in FY2020 (in addition to the revenues generated from the sales of the senior passes).56
Other NPS mandatory appropriations also have been partially used for DM. These include monies collected under the Park Building Lease and Maintenance Fund, transportation fees collected under the Transportation Systems Fund, and rents and payroll deductions for the use and occupancy of government quarters, among others. NPS estimated varying amounts for these mandatory appropriations for FY2020.
Have Additional Types of Funding Been Proposed to Address the Backlog?
Some Members of Congress and other stakeholders have proposed sources of additional funding to address NPS's DM needs. Stakeholders have advocated for increases in both discretionary and mandatory appropriations for this purpose. Some have contended that NPS maintenance projects, which often require multiyear investments, are hampered by the agency's heavy reliance on discretionary appropriations, which are uncertain from year to year. These stakeholders seek greater funding certainty through mandatory appropriations.57 Others contend that discretionary appropriations provide an important level of congressional oversight over each year's funding that would not be present if funds were provided outside that annual process.58
Legislative proposals in the 116th Congress are discussed in the "Role of Congress" section, below. A number of these bills would address deferred maintenance through a mandatory fund drawn from federal energy development revenues.59 Supporters of this type of funding have expressed the principles that monies derived from energy development on federal lands should be used in part to conserve and maintain federal lands, and that NPS maintenance is a particular priority given the park system's highly valued natural and cultural resources, its contributions to the outdoor recreation economy, and its substantial DM backlog. Opponents of proposals to use federal energy revenues for NPS deferred maintenance have debated the extent to which these revenues should be prioritized for NPS DM versus other potential uses, such as for other federal programs, sharing with states, or contributing to the General Treasury. Some also have expressed concerns that an approach based on energy revenues could incentivize federal fossil fuel leasing as a means of financing NPS maintenance, with associated climate impacts that could have negative consequences for parks over time.60
Outside of proposals to use federal energy revenues for NPS DM, stakeholders also have proposed to increase DM funding by other means, such as through visa fees paid by foreign visitors to the United States, monies from the Land and Water Conservation Fund, income tax overpayments and contributions, motorfuel taxes, DOI land sales, or revenues from coin and postage stamp sales.61 Other suggestions have involved ways to increase the revenues that NPS itself collects, such as by raising park entrance fees, offering new types of products or services to visitors for a fee, or introducing tolling on park highways that are used as major commuter routes (especially in the region around Washington, DC).62 Some have opposed such proposals as diverting federal funds from other valued uses or imposing unnecessary fees on the public.
Is Additional Deferred Maintenance Funding Needed?
The extent to which NPS deferred maintenance funding should be a priority, given other NPS and broader governmental needs, has been under debate. As discussed, the funding sources in some proposals have been opposed for various reasons. In an environment of constrained federal budgets, measures to increase financial support for NPS DM generally would reduce funds available to other programs or to the General Treasury or would require imposition of new fees that some may view as burdensome.
Some proposals have focused on ways NPS could reduce DM without the application of additional funds. Some have suggested that this could be accomplished by improving the agency's capital investment strategies, increasing the role of nonfederal partners in park management, disposing of unneeded structures in poor repair, or transferring some NPS assets (such as commuter roads) out of federal ownership.63
Management of the Maintenance Backlog
How Does NPS Prioritize Its Deferred Maintenance Needs?
NPS uses standardized inputs and measures, captured in electronic management systems, to prioritize its DM projects.64 Two primary factors in the priority assessments are the condition of an asset and its importance to the NPS missions of resource preservation and visitor use.65 To determine the condition of assets, agency staff at each park perform condition assessments according to specified standards.66 Park managers separately assign ratings of an asset's importance, using DOI-wide "asset priority" standards that take into account an asset's contribution to natural and cultural resource preservation, visitor use, and park operations, as well as the availability of other comparable assets that could fulfill similar functional requirements.67 These ratings of condition and asset priority are captured in the work orders that park managers generate for maintenance and repairs, using a Facility Management Software System.
Park managers also classify assets in broad optimizer bands indicating "the level of maintenance that each asset should receive."68 Of the five optimizer band ratings, the highest level (band 1) is defined as "critical to the operations and mission of the park or having high visitor use; require the highest base funding."69 Subsequent levels are labeled high, medium, low, and lowest, with the lowest level (band 5) defined as "assets not required for the operations and mission of the park, such as inactive assets, or those fully maintained by partners. These assets are often in poor condition. Many are good candidates for disposal."70 For FY2018, of the total $11.920 billion in deferred maintenance, NPS categorized $5.814 billion in optimizer band 1 (highest level), $3.298 billion in band 2 (high), $1.942 billion in band 3 (medium), $0.551 billion in band 4 (low), and $0.316 billion in band 5 (lowest).71
NPS regional offices prioritize maintenance projects within their regions, and national-level officials assign service-wide priorities in the five-year project plans submitted as part of annual NPS budget justifications. NPS projects may include work classified as deferred maintenance along with other related infrastructure work that might be classified as other types of maintenance.72
What Challenges May Exist in Managing the Maintenance Backlog?
In addition to the funding challenges discussed earlier, NPS faces other issues in managing the maintenance backlog. In 2016, GAO reported on NPS management of maintenance activities, and identified both successes and challenges.73 Among successes in NPS asset management, GAO reported that the agency's assessment tools were consistent with federally prescribed standards and that it was working with partners and volunteers to address maintenance needs.74 In terms of challenges, GAO reported that competing duties often made it difficult for park staff to perform facility condition assessments in a timely manner, that the remote location of some assets contributed to this difficulty, that the agency's focus on high-priority assets might lead to continued deterioration of lower-priority assets, and that NPS lacked a process for verifying that its Capital Investment Strategy was producing the intended outcomes.75
A particular challenge identified by NPS relates to the disposal of unneeded assets to reduce the agency's maintenance burden.76 Such "excess" facilities, NPS has stated, can create health and safety hazards in addition to adding to the DM backlog.77 However, NPS has at times stated that the cost of demolishing or disposing of these assets precludes the use of this option.78 NPS has requested and received funding under the Line-Item Construction budget activity for demolition and disposal of unneeded assets. NPS received appropriations of $5.0 million for this activity in FY2020. GAO identified that legal requirements—such as the requirement in the McKinney-Vento Homeless Assistance Act (P.L. 100-77, as amended) that federal buildings slated for disposal must be assessed for their potential to provide homeless assistance before being disposed of by other means—create additional obstacles for NPS disposal of unneeded properties.79 NPS wrote that the McKinney-Vento assessment process can take 8-12 months and "has been onerous and has not resulted [in] a benefit for either the NPS or any qualified organization."80 NPS stated that as of July 2019, it had processed more than 400 "excess buildings" under requirements of the act, and none had been found suitable for homeless use.81
Role of Congress
How Has Congress Addressed NPS's Maintenance Backlog?
Congress has addressed NPS's maintenance backlog through oversight, appropriations, and other legislation. For example, the natural resources committees in the House and Senate have held oversight hearings to investigate options for addressing the DM needs of NPS and other federal land management agencies.82 Congress has provided both discretionary and mandatory appropriations to address NPS DM, as discussed in the section on "Funding for NPS Deferred Maintenance."83 Additionally, Congress has considered and enacted other statutory changes to address the backlog, as discussed below.
What Laws Have Been Enacted in Recent Years to Address NPS Deferred Maintenance?
In addition to annual appropriations acts and surface transportation legislation with NPS allocations, the National Parks Centennial Act (P.L. 114-289), enacted in December 2016, addressed the maintenance backlog in multiple ways. The act created two funds that may be used to reduce DM—the National Park Centennial Challenge Fund and the Second Century Endowment for the National Park Service.84 Both funds receive federal monies from the sale of senior recreation passes, as well as donations. DM projects are a prioritized use of the Centennial Challenge Fund and are among the potential uses of endowment funds.85 In addition, the act authorized appropriations of $5.0 million annually for FY2017-FY2023 for the National Park Foundation to match nonfederal contributions. Contributions to the foundation are used for a variety of NPS projects and programs, including projects on the maintenance backlog. The law also made changes to extend the eligible ages for participants in the Public Land Corps and increase the authorization of appropriations for the Volunteers in the Parks program.86 Participants in these programs perform a variety of duties that help address DM, among other activities.87 The John D. Dingell, Jr. Conservation, Management, and Recreation Act (P.L. 116-9), enacted in March 2019, made additional changes to extend eligibility for the Public Land Corps.88
The Helium Stewardship Act of 2013 provided mandatory appropriations totaling $50 million over two fiscal years (FY2018 and FY2019) to pay the federal share of NPS challenge cost-share projects aimed at addressing DM and correcting deficiencies in NPS infrastructure.89 The projects require at least a 50% match from a nonfederal funding source (including in-kind contributions). The act provided $20 million of the funding in FY2018 and $30 million in FY2019. After sequestration, NPS reported $18.7 million as the FY2018 mandatory appropriation and $28.1 million as the FY2019 appropriation.
What Legislation Has Been Proposed in the 116th Congress to Address NPS Deferred Maintenance?
Bills in the 116th Congress related to NPS deferred maintenance include the following. For further discussion of some of these proposals, see CRS In Focus IF10987, Legislative Proposals to Address National Park Service Deferred Maintenance, by Laura B. Comay.
In addition to the proposals in 116th Congress bills, stakeholders within and outside of Congress have proposed other ideas for addressing NPS deferred maintenance. Additional proposals are discussed under the questions "Have Additional Types of Funding Been Proposed to Address the Backlog?" and "Is Additional Deferred Maintenance Funding Needed?"