Introduction
Three-dimensional (3D) printing is a manufacturing process used to create real-world parts from digital 3D design files. This process is of particular relevance to Congress because of its use in federal programs; economic potential; continued applications in scientific research and development; roles in national security; and potential areas of concern, including weapons development and intellectual property law. This report describes the basic parts common to 3D printers and explains the operation of the technology. It also provides a snapshot of current materials and capabilities, traces the historical development of the technology since 1980, provides information on the federal role in 3D printing, communicates the primary properties of 3D printing with reference to manufacturing, explains secondary manufacturing impacts that stem from these properties, and highlights particular issues relevant to Congress.
3D printing is sometimes known as additive manufacturing. The term additive refers to the construction of a final part through the addition of consecutive layers of material on a build plate. In contrast, subtractive manufacturing processes carve out a final part from an initial block by removing unwanted material. Computer-controlled additive and subtractive manufacturing originated in the 1980s and 1970s, respectively.1 Yet, the basic techniques underlying these manufacturing methods—that is, addition or removal of material to create a product—have existed for millennia.
| | |
| --- | --- |
| Application | Example Uses |
| Aerospace | Turbine blades, fuel nozzles, structural members |
| Medicine | Implants, instruments, prostheses |
| Defense | Field replacement parts, inventory reduction |
| Custom manufacturing | Razor handles, sneaker soles |
| Prototyping | Structural electronics, fit/function validation |
| Education | Conceptual modeling, problem-solving, career readiness |
| Hobbies | Geometric designs, figurines, toys |
| Art | Jewelry, costume design, footwear |
Sources: See footnote 2.
Note: This table is not exhaustive.
3D printing is used in a wide variety of applications, including aerospace, medicine, defense, custom manufacturing, prototyping, art, hobbies, and education (see Table 1).2 The prices, capabilities, and dimensions of 3D printers also vary widely. For more information, see "Current Materials and Capabilities" section below.
Technical Overview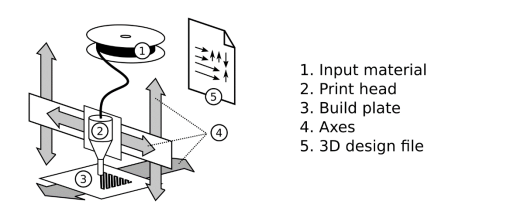 Source: Congressional Research Service (CRS).
In general, 3D printers have five common parts: input material, print head, build plate, axes, and 3D design file (see Figure 1).3
Input material—3D-printed parts begin as input material. This material can be in the form of solid filament, pellets, liquid, or powder.
Print head—The input material is deposited at the tip of the print head. This process can occur through a variety of methods, including pushing filament or pellets through a metal extruder, using a laser to melt powder, or using a light to solidify liquid.
Build plate—The build plate is the base (flat surface) upon which the part is constructed. At the beginning of the 3D printing process, the print head is nearly touching the build plate. As more layers are added to the part, the distance between the print head and the build plate increases.
Axes—The axes move the print head relative to the build plate. This enables the 3D printer to create a particular pattern for each new layer of material. The final part is made up of the patterns in each layer, stacked on top of each other.
3D design file—The 3D printing process is governed by a digital 3D design file. This file provides instructions to the 3D printer that describe how to move the axes, which in turn move the position of the print head relative to the build plate. The file controls exactly what patterns are produced in each layer; this determines which kind of part is produced by the 3D printer (see Figure 2).

Source: CRS.
Note: The 3D printing process is characterized by the consecutive addition of new layers (shaded areas).
Current Materials and Capabilities
The prices and capabilities of 3D printers span a wide range of options. Prices vary from several hundred dollars to millions of dollars.4 More specifically, 3D printers at the price range of $5,000 and below (known as consumer printers) often are designed to print plastic parts.5 Several different plastics are available, each with different capabilities and costs. These materials include tough nylon plastics; flexible, rubber-like plastics; plastics reinforced with carbon fiber; dissolvable plastics; clear plastics; and decorative plastics with the appearance of wood or metal.6 Some 3D printers in this price range can also print using materials such as ceramic or chocolate.7
Structural metal-infused plastic, as opposed to decorative metal-infused plastic, also can be used in 3D printers at this price range. However, structural metal-infused 3D-printed parts require additional high-temperature post-processing to burn off the plastic. This process leaves an entirely metal product behind.8 The necessary high temperatures for post-processing can be attained using pottery kilns, sintering machines, or other specialized devices.9 Commercial services are available that offer high-temperature post-processing of metal-infused 3D-printed parts.10
3D printers at the price range of $5,000 and up (known as industrial printers) are able to use a wider variety of materials in an even greater variety of applications. These 3D printers can create structures that are larger, more detailed, or more reliable than structures created by consumer printers, or they can print in materials that are unavailable at lower price ranges. For example, medical biofabrication printers can print structures made of living cells.11 Metal 3D printers can create parts out of titanium, steel, and other metals, which may cost less than traditional subtractive machining processes.12 Large-format plastic 3D printers can create parts that are more than 6 feet tall. Some concrete 3D printers can manufacture the walls of an entire building.13
History
The development and growth of 3D printing can be described in three major periods. The period spanning 1980 to 2010 marks the creation of the technology, its industrial use, and the beginning of the consumer 3D printing movement. Between 2010 and 2015, the 3D printing market continued to expand, despite signs of weakening in 2014. Since 2015, prices for consumer 3D printers have fallen, while sales of consumer and industrial 3D printers have continued to rise as the technology has matured.
Early 3D Printing (1980-2010)
The first major patents for 3D printing methods were filed in the 1980s, creating a nascent 3D printing market for industrial clients.14 In the 1990s, 3D printers using plastic, metal, paper, ceramic, and wax became available at prices from thousands of dollars to hundreds of thousands of dollars.15 In the early 2000s, the 3D printer market expanded into specialized industries, including medicine, dentistry, and jewelry.16 At the same time, new plastic printing materials were developed.17
The first decade of the 21st century marked the expiration of several key 1980s 3D printing patents. In the same period, consumers gained access to improved web connectivity and user-friendly computer-aided design (CAD) tools. These factors contributed to the birth of the consumer 3D printing movement. Key developments in this movement included the formation of the open-source 3D printer community; the 2007 release of the first website for print-on-demand custom 3D prints (Shapeways); and the 2008 creation of the popular 3D printing file-sharing website Thingiverse.18 In 2009, MakerBot, one of the first consumer 3D printing companies, released a $750 3D printer that incorporated some of the off-patent technologies from the 1980s.19
Expansion of 3D Printing (2010-2015)
The consumer market for 3D printers expanded in the 2010s, fueled in part by the continued expiration of 20th-century patents. Offerings included branded 3D printers, unbranded kits sold on eBay, and 3D printers funded on crowdfunding sites.20 Prices of bare-bones consumer 3D printers fell to $500-$600.21 Higher-end consumer printers gained advanced features that made them easier to use and maintain.22
Innovations in 3D design software and improvements in printer reliability contributed to the spread of consumer and industrial 3D printers in shared makerspaces, commercial establishments, libraries, and universities. 3D file sharing also became widespread, both for paid and free models. One 3D file website, Thingiverse, had more than 2 million active users in 2015.23 Transmission of 3D design files occurred not only through mainstream file-sharing sites such as Thingiverse, 3DShook, and Cults but also through anonymous channels, including internet torrents (a distributed, hard-to-trace online file-sharing method).24 At the same time, materials for consumer and industrial 3D printers grew more diverse and were sold by more companies, helping to reduce 3D printing costs.
Print-on-demand services also expanded in this period, offering a wide variety of materials, including plastics, precious metals, and ceramics. These services allowed consumers to purchase a 3D-printed part made from their own 3D design file but fabricated by a third party. Some of the early print-on-demand services offered the ability to purchase printing services from a peer-to-peer network of individually owned desktop 3D printers.25
The 3D printing industry began to show signs of weakening in 2014 after a period of growth and consolidation. In June 2015, Time magazine reported that the stocks of four leading 3D printing companies had "lost between 71% and 80% of their market value in the past 17 months."26 Between January and October 2015, the 3D printing company Stratasys laid off 36% of staff in its MakerBot division.27
At the same time, annual grants of 3D printing-related patents more than doubled between 2010 and 2015, from 247 to 545.28 In 2015, industrial unit sales of 3D printers declined by 2.3% while consumer unit sales increased by 49.4%.29 Unit sales of both industrial and consumer 3D printers generally have shown sustained upward trends (see Figure 3 and Figure 4). Total 3D printing industry revenues increased year-over-year since 1993, with the exception of 2001, 2002, and 2009.30 On average, 3D printing industry revenues have grown annually over the past 30 years by 26.9%.31
Figure 3. Annual Industrial 3D Printer Unit Sales, 1988-2018

Source: Wohlers Report 2019.

Note: Industrial 3D printers are defined as 3D printers sold at prices greater than $5,000.

Source: Wohlers Report 2019.

Note: Consumer 3D printers are defined as 3D printers sold at prices lower than $5,000.
Recent 3D Printing History (2015-Present)
The period from 2015 to 2019 has seen renewed 3D printing investment, in terms of both research and development and investment in growing companies. Corporations (such as General Electric, Google Ventures, Alcoa, and Norsk Titanium AS) and federal departments and agencies—such as the Department of Defense (DOD) and the National Institutes of Health (NIH)—have invested a combined total of hundreds of millions of dollars in 3D printing initiatives over this period.32
At the same time, the price of consumer 3D printers has continued to fall. As of July 2019, a basic 3D plastic printer can be purchased online for less than $150.33 3D printers in the low hundred-dollar range generally can be used after simple assembly or directly out of the box.34 The input material for these basic 3D printers is usually a spool of plastic filament, which can be purchased for less than $9 per pound.35
Sales of both industrial and consumer 3D printers have continued to rise. According to one market analysis, 19,285 industrial 3D printers and 591,079 consumer 3D printers were sold in 2018 (see Figure 3 and Figure 4).36 Further, that analysis estimates that a total of more than 140,000 industrial 3D printers and 2 million consumer 3D printers have been sold worldwide.37 This may be an underestimation of consumer 3D printers, because it does not include those assembled from parts or those purchased as kits.
3D-print-on-demand services now serve the consumer and industrial markets.38 These services provide access to industrial-grade 3D printers, allowing users to create high-precision parts out of plastic or other materials. In general, individuals do not have to create their own files for 3D printing; many online databases of 3D design files are available. Users also may join online 3D printing communities, some of which have hundreds of thousands to millions of users.39
The Wohlers Report estimates that annual 3D printing industry revenues reached $9.975 billion globally in 2018.40 However, 3D printing makes up less than 1% of manufacturing revenues worldwide.41 Further, analysts predict that most future products will be created through traditional manufacturing methods, even when 3D printing is technologically mature. Some estimates predict that 3D printing will eventually account for 5%-10% of total global manufacturing revenues.42
Several issues may limit the overall effectiveness and utility of current 3D printing technologies, including quality control, cybersecurity, and relative production speed as compared to traditional manufacturing.43 New evaluation methods, certification programs, cybersecurity advances, and research and development programs may help to address these limiting issues.44
Federal Role in 3D Printing
Private industry has long been the primary innovator in 3D printing technology, accounting for an estimated 90% of additive manufacturing patents through 2015.45 DOD's Institute for Defense Analysis (IDA) found that the federal government played a relatively small but instrumental role in the creation of 3D printing technology, providing "direct funding for developing early phases of the technology and later refinements in two of the four processes."46 According to IDA,
[Federal] support of early research ... created the knowledge, technologies, and tools later adopted in the [additive manufacturing] field and applied by inventors to develop foundational AM patents and technologies. The knowledge generated from federally sponsored [research and development] from the early 1970s influenced the patents filed in the 1980s and 1990s and later innovations. Observations from the backwards citations analysis of the foundational patents show that some of the earliest investors in AM were the Department of Defense Office of Naval Research (ONR) and the Defense Advanced Research Projects Agency (DARPA), which provided steady, continual streams of funding for both academic and industry-based researchers. NSF support was also instrumental in the development of early relevant AM research in the 1970s.47
The IDA report further credited federal "support of knowledge diffusion from the foundational patents to improve the technologies and develop new applications."48
The report also noted that the National Science Foundation (NSF) participated in the development of four of six foundational 3D printing processes developed in the 1980s and 1990s. According to the 2015 report, NSF "provided almost 600 grants for [additive manufacturing] research and other activities over the past 25 years, amounting to more than $200 million (in 2005 dollars) in funding." 49
In 2012, President Obama announced the establishment of the National Additive Manufacturing Innovation Institute (NAMII) in Youngstown, OH, as a pilot institute under the National Network of Manufacturing Innovation (NNMI, now referred to as Manufacturing USA).50 Under NAMII, the Departments of Defense, Energy, and Commerce; the National Science Foundation; the National Aeronautics and Space Administration (NASA); 40 companies; 9 research universities; 5 community colleges; and 11 nonprofit organizations collaborated to share resources, move basic research toward product development, and provide workforce education and training.51 The National Center for Defense Manufacturing and Machining was selected to manage the NAMII pilot institute through a competitive selection process.52 In 2013, NAMII was rebranded as America Makes.53
The Manufacturing USA program's four stated goals are to
increase the competitiveness of U.S. manufacturing;
facilitate the transition of innovative technologies into scalable, cost-effective, and high-performing domestic manufacturing capabilities;
accelerate the development of an advanced manufacturing workforce; and
support business models that help the Manufacturing USA institutes to become stable and sustainable after the initial federal startup funding period.54
The Government Accountability Office (GAO) estimates that America Makes was to receive $56 million in federal funding and $85 million in nonfederal funding from August 2012 to August 2019. As of December 2018, America Makes had 225 members.55
Many national laboratories use 3D printing, including Oak Ridge National Laboratory, Lawrence Livermore National Laboratory, Sandia National Laboratories, Los Alamos National Laboratory, and Fermi National Accelerator Laboratory.56
The U.S. government also purchases 3D-printed products in several capacities; a 2016 report by the General Services Administration (GSA) notes that the Department of Defense purchases an especially wide variety of 3D-printed parts for defensive and medical purposes.57 The GSA offers a specific procurement subcategory for federal purchases of 3D printing technology.58
The federal government is involved in the creation of 3D printing standards, as well. Among other initiatives, the U.S. Air Force granted a private U.S. company $6 million in 2016 to develop standards for 3D-printed rocket engines. This grant was intended to reduce U.S. reliance on foreign-made launch vehicle components.59 Similarly, the Federal Aviation Administration (FAA) is working with industry organizations to develop certification methods for 3D-printed parts. The FAA published a road map in September 2018 that "includes training and education, development of regulatory documents, Research and Development (R&D) plan and interagency communication."60 Further, the National Institute of Standards and Technology and the Food and Drug Administration operate several projects in pursuit of improved process qualification for 3D printing.61 At the same time, standards have been developed privately by Committee F42, a technical group formed in 2009 by ASTM International and the Society of Manufacturing Engineers.62
Manufacturing Impacts
In some cases, 3D printing offers advantages when compared to traditional methods of manufacturing, such as injection molding, drilling, or welding. These benefits stem from the particular design of the technology (see "Technical Overview") and have changed the national security, manufacturing, and economic landscapes. The following list of properties provides an overview of ways in which 3D printing deviates from previously established manufacturing technologies.
Properties of 3D Printing
Reduced waste—In general, the additive manufacturing process uses only the approximate amount of material needed to produce a product; subtractive manufacturing processes remove materials to produce a product, which inherently generates waste. Accordingly, less input material may be wasted in additive manufacturing. To the extent that some input material is wasted in 3D printing, that material can sometimes be recycled into new stock for use in making other 3D-printed parts.63
Capacity to create parts with high internal complexity—3D-printed parts are constructed layer by layer, which means complex internal geometries (such as hidden cavities or small channels) can be constructed easily. 64
Cost-effectiveness of small production runs—3D printers do not require significant retooling when a new or modified part is manufactured. In contrast, manufacturing technologies such as injection molding or die casting incur significant retooling costs when a part design is modified.65
Ease of design modification—Digital 3D design files can be easily modified and transmitted. 66
Associated Manufacturing Impacts
Potential reduction in discrete parts per product—The high internal complexity of 3D-printed parts means that several distinct manufacturing processes (e.g., machining and welding) can often be integrated into a single 3D printing operation. This has supported manufacturing of parts that previously would have been impossible or prohibitively expensive. Single-piece construction can also result in parts that have fewer weak spots.67
Potential reduction in manufacturing costs—3D printing provides an alternative for companies considering investments in machine tools. In some cases, 3D printing may be more cost-effective than traditional options; this is particularly true for short-run, custom, or complex parts. 3D printing may be less cost-effective for parts that would require fewer post-processing steps if manufactured using traditional methods.68 The smaller size of a 3D printer compared to traditional manufacturing equipment may also reduce required physical plant size and related costs.69
Improved prototyping abilities—Easy modification of design files, combined with the cost-effectiveness of short runs of parts, supports the ability to rapidly prototype parts using 3D printing. This rapid prototyping ability allows designs to be optimized and adjusted quickly.70
Potential reduction in part weight or improvement in part strength—The capacity to create complex internal structures using 3D printing has improved manufacturers' ability to create parts that are lighter or stronger. This has shown particular promise in the aerospace and automotive industries.71
Potential reduction in inventory—Large production runs usually are pursued in traditional manufacturing to minimize fixed costs per part. Often, many of the goods produced must be held in storage as inventory. The ability to create 3D-printed parts on demand may allow manufacturers to reduce their inventory of parts. Low set-up costs associated with additive manufacturing allow for smaller production runs, reducing the amount of capital tied up in inventory as well as overhead costs such as storage and insurance.72
Mass customization—3D-printed parts may be individually customized on a large scale. Additive manufacturing allows for the production of unique parts, sometimes modified from a basic design, to suit the needs of individual consumers.73
Potential environmental efficiency—Reduced waste and the lack of a need for retooling 3D printers supports environmental efficiency in manufacturing. Energy costs also can be reduced by "re-manufacturing" parts using 3D printing—that is, creating salable products by reconstructing worn-out areas of old parts, instead of manufacturing parts from entirely new input materials.74
Decentralized manufacturing—3D printers can be used to develop parts in a decentralized capacity. This may reduce the time required to provide parts to consumers, as well as the cost, energy, and environmental impacts of shipping.75
Low barriers to entry—The comparatively low cost of 3D printing equipment may lower the barrier to entry to manufacturing. This may cause positive or negative impacts; although productivity in legal industry may increase, 3D printing also may be used to support manufacturing of contraband items, including light weapons or parts of nuclear weapons.76 Low barriers to entry also may create potential negative impacts for established businesses facing new competitors.
Issues for Congress
3D printing is a relatively new approach to manufacturing, and the number of 3D printers in use has expanded greatly over the past 15 years. Some industry leaders and policymakers have expressed optimism about the potential of this technology to address certain manufacturing needs. 3D printing is seen as a tool for enabling cost-effective, customized, local production of parts, and in some cases, it allows for the production of parts that cannot be made using traditional manufacturing processes. 3D printing is also seen as enabling innovation and entrepreneurship by lowering the cost of entry into manufacturing.
The federal government has played an important R&D role in the development and improvement of 3D printers. In addition, some agencies—such as DOD, NASA, and NIH—are using 3D printing capabilities to accomplish their missions, such as by making or acquiring parts that are no longer available, custom parts, or prototypes for testing and evaluation.
As 3D printing technology matures, Congress may face a variety of related issues. Among these issues are how much funding to provide for R&D on 3D printing technology and materials; how much funding to provide for education and training activities focused on preparing scientists, engineers, technicians, and others for careers related to 3D printing; whether federal acquisition strategies need to be modified to reflect the availability of 3D-printed parts; how to ensure that U.S. regulatory agencies can appropriately address 3D printing processes and products; and whether and how the federal government can facilitate the development of industry standards and systems for testing and certification of 3D printing.
One of the federal government's flagship efforts focused on 3D printing is the America Makes manufacturing institute, the first institute established as part of the Manufacturing USA program. America Makes is a public-private partnership that seeks to "[accelerate] the adoption of additive manufacturing technologies in the United States to increase domestic manufacturing competitiveness."77
Some have raised concerns over the long-term sustainability of the Manufacturing USA institutes after their period of initial federal financial assistance, which extends for five to seven years.78 According to the GAO, the agency sponsors of the institutes—Department of Commerce, Department of Energy, and DOD—"have taken steps to support their institutes' sustainability planning but have not developed criteria to evaluate whether institutes are on track to sustain their operations beyond the initial period of federal financial assistance."79 Institute representatives have expressed concern that the institutes may seek or accept support from foreign corporations, potentially undermining the competitiveness goals of the institutes.80 Congress may monitor the progress of the America Makes institute toward sustainability and consider whether the federal government should provide continuing financial support. Current bills in the 116th Congress related to this issue include H.R. 2397.
Some have expressed concern about the potential use of 3D printing in the manufacture of firearms or other contraband material by individual criminals, criminal organizations, terrorists, or others precluded from the possession of such devices. Congress may wish to consider approaches to limiting or preventing such uses of 3D printing. Current bills in the 116th Congress related to this issue include S. 1831 and H.R. 3265.
3D printing may raise intellectual property (IP) issues. For example, the U.S. Army has stated that IP difficulties may impede the fabrication of 3D-printed parts in the field.81 A 2014 industry survey also indicated that manufacturers consider the "threat to intellectual property" to be a major concern created by the proliferation of 3D printing.82 Congress may explore how IP issues could impede the legitimate use of 3D printing, particularly its use by the federal government, and what options may be available for addressing such barriers. Current bills in the 116th Congress related to this issue include H.R. 3313.
Conclusion
3D printing is an alternative manufacturing process with particular strengths and weaknesses. Although the technology is not suitable for all types of manufacturing, it is used in a wide variety of industries, including aerospace, medicine, and custom manufacturing. 3D printing has remained in wide use by the federal government, as well. The technology is likely to grow in usage as new materials become available, material and machine costs continue to fall, and quality issues are addressed.
The influences that 3D printing has on the U.S. manufacturing landscape stem from an improved capacity for relatively inexperienced users to create extremely complex parts. This may create regulatory, IP, or safety challenges. At the same time, the manufacturing abilities provided by 3D printers also promote economic development and new avenues of scientific and medical exploration. For these reasons, 3D printing is likely to offer both challenges and opportunities over the coming years.