Introduction
The federal government spends more than $80 billion each year on information technology (IT) investments; in FY2017 that investment is expected to increase to more than $89 billion.1 The Government Accountability Office (GAO) has found that, historically, the projects supported by these investments have often incurred "multi-million dollar cost overruns and years-long schedule delays." In addition, they may contribute little to mission-related outcomes and, in some cases, may fail altogether.2 These undesirable results, according to GAO, "can be traced to a lack of disciplined and effective management and inadequate executive-level oversight."3 The Federal Information Technology Acquisition Reform Act (FITARA) was enacted on December 19, 2014,4 to address these issues5 and codify existing initiatives managed by the Federal Chief Information Officer (CIO).6
FITARA Overview
FITARA outlined seven areas of reform that affect how federal agencies purchase and manage their information technology (IT) assets, including
enhancing the authority of agency CIOs;
improving transparency and risk management of IT investments;
setting forth a process for agency IT portfolio review;
refocusing the Federal Data Center Consolidation Initiative (FDCCI) from only consolidation to optimization;
expanding the training and use of "IT Cadres," as initially outlined in the "25 Point Implementation Plan to Reform Federal Information Management Technology";7
maximizing the benefits of the Federal Strategic Sourcing Initiative (FSSI);8 and
creating a government-wide software purchasing program, in conjunction with the General Services Administration.
Among other provisions, FITARA codified elements of existing Federal CIO initiatives. In addition, FITARA requires the Federal CIO, in conjunction with federal agencies, to
refocus the Federal Data Center Consolidation Initiative (FDCCI) from consolidation to optimization, to include adoption of cloud services;9
set forth a process for agency IT portfolio review and oversight;
improve transparency and risk management of IT investments;
identify and publish cost savings and optimization improvements;
provide public updates on cumulative cost savings and optimization improvements; and
review agencies' data center inventories and management strategies.
FITARA requires federal agencies to submit annual reports that include
comprehensive data center inventories,
multiyear strategies to consolidate and optimize data centers,
performance metrics and a time line for agency action, and
yearly calculations of investment and cost savings related to FITARA implementation.
Applicability of FITARA
Generally, agencies identified in the Chief Financial Officers (CFO) Act of 1990,10 as well as their subordinate divisions and offices, are subject to the requirements of FITARA. The DOD, the intelligence community, and portions of other agencies that operate systems related to national security are subject to only certain portions of FITARA. Additionally, executive branch agencies not named in the CFO Act are encouraged, but not required, to follow FITARA guidelines.
FITARA Implementation
On June 10, 2015, OMB published guidance11 to implement the requirements of FITARA and harmonize existing policy and guidance12 with the new law. Among other goals, the requirements are intended to
assist agencies in establishing management practices that align IT resources with agency missions, goals, programmatic priorities, and statutory requirements;
establish government-wide IT management controls that will meet FITARA requirements while providing agencies with the flexibility to adapt to agency processes and unique mission requirements;
establish universal roles, responsibilities, and authorities of the agency CIO and other senior agency officials;13
strengthen the agency CIO's accountability for the agency's IT costs, schedules, performance, and security;
strengthen the relationship between agency and bureau CIOs;
establish consistent government-wide interpretation of FITARA terms and requirements; and
provide appropriate visibility and involvement of the agency CIO in the management and oversight of IT resources to support the implementation of effective cybersecurity policies.14
In addition to implementing FITARA, the guidance also harmonizes the requirements of FITARA with existing law, primarily the Clinger-Cohen Act of 1996 and the E-Government Act of 2002.15 Those laws require OMB to issue management guidance for information technology and electronic government activities across the government, respectively. FITARA also contains provisions that required OMB interpretation before implementation.
Modernizing Government Technology (MGT) Act
In December 2017, Congress enacted the Modernizing Government Technology (MGT) Act, which authorized agencies to set up IT-specific working capital funds. Thus far, only three agencies have taken the steps necessary to set up their fund, while five additional agencies have plans to set up an MGT working capital fund by the end of FY2020. The working capital funds authorized under the MGT Act allow agencies to fund IT modernization and reinvest savings for additional modernization projects. One reason given for this low adoption rate is that the law did not provide agencies the authority to transfer money into their working capital funds. Additional legislative actions to provide agencies with this authority may be needed.
The MGT Act also established a centralized Technology Modernization Fund (TMF) to fund large IT modernization projects. The MGT Act originally authorized $500 million for the TMF, but the fund has only received $125 million over the past two fiscal years, limiting the effectiveness of the TMF. While the Financial Services and General Government Fiscal Year 2020 Appropriation Act under consideration in the House would provide an additional $35 million for the fund, some believe more funding is needed to address the long list of agency IT modernization needs.
Oversight of Federal CIO Initiatives
Through hearings and GAO investigations, Congress has been active in monitoring the activities of the Federal CIO and the initiatives carried out by the office. Congress has been especially attentive to the topics of data center use and cloud adoption as they relate to achieving the goals of FITARA.
Congressional Oversight, 116th Congress
The 116th Congress has thus far not introduced any legislation related to FITARA. The House Committee on Oversight and Reform Subcommittee on Government Operations has held one hearing, "The Federal Information Technology Reform Act Scorecard 8.0,"16 on June 26, 2019.
Government Accountability Office Reports and Testimony, 2019
The GAO has conducted numerous investigations into the initiatives being carried out under the auspices of the U.S. CIO. Most recently, GAO published testimony provided before the House Committee on Oversight and Reform Subcommittee on Government Operations, "Implementation of GAO Recommendations Would Strengthen Federal Agencies' Acquisitions, Operations, and Cybersecurity Efforts," (GAO-19-641T), June 26, 2019.17
Additionally, on April 29, 2019, GAO published, "Effective Practices Have Improved Agencies' FITARA Implementation (GAO-19-131). In that report, GAO reviewed nine agencies and found 12 practices officials said helped them to effectively implement one or more of the FITARA provisions (Figure 1). For example, five of the agencies said that centralizing the management of software licenses was essential to meeting the software purchasing provision of the law. By doing so, agencies were able to make agency-wide purchasing decisions that saved them money.
Figure 1. Practices that Selected Agencies Used to Effectively Implement Key Provisions of FITARA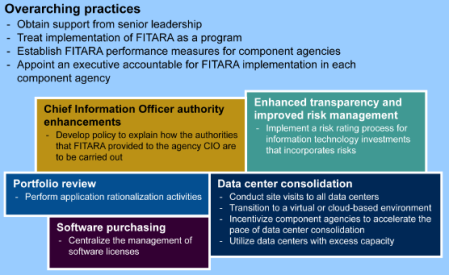 Source: "Effective Practices Have Improved Agencies' FITARA Implementation (GAO-19-131), April 29, 2019, https://www.gao.gov/products/GAO-19-131.
GAO also published reports on cloud adoption and data center optimization. In "Cloud Computing: Agencies Have Increased Usage and Realized Benefits, but Cost and Savings Data Need to Be Better Tracked" (GAO-19-58), published April 4, 2019,18 GAO noted that, each year, federal agencies spend $90 billion on IT. The agency found, though, that agencies don't consistently track cloud-related savings, making it hard for them to make informed decisions on whether to use cloud services. GAO recommended that agencies improve their savings tracking. In "Data Center Optimization: Additional Agency Actions Needed to Meet OMB Goals" (GAO-19-241), published April 11, 2019,19 GAO noted that federal agencies that since 2010 have been required to close unneeded data center facilities and improve the performance of remaining facilities. Across the government, agencies have closed 6,250 centers to date and saved $2.7 billion. However, GAO stated that only 2 agencies in its review planned to meet September 2018 government-wide optimization goals that include, for example, a target for how much time data servers sit unused.
Recent Activity: FITARA Scorecard 8.0
On June 26, 2019, the "FITARA Scorecard 8.0"20 was issued at a June 26, 2019, House hearing, "The Federal Information Technology Reform Act Scorecard 8.0,"21 (Figure 2).
At the June 26, 2019, hearing by the House Committee on Oversight and Reform, "The Federal Information Technology Reform Act Scorecard 8.0,"22 Carol Harris, Director of Information Technology Management Issues at GAO, cited five areas where significant actions remain to be completed: CIO responsibilities, CIO IT acquisition review, consolidating data centers, managing software licenses, and ensuring the nation's cybersecurity.
CIO Responsibilities
Laws such as FITARA and related guidance assigned 35 key IT management responsibilities to CIOs to help address longstanding challenges. In August 2018, GAO reported that none of the 24 selected agencies had established policies that fully addressed the role of their CIO. GAO recommended that OMB and each of the 24 agencies take actions to improve the effectiveness of CIOs' implementation of their responsibilities. As of June 2019, none of the 27 recommendations had been implemented.
CIO IT Acquisition Review
According to FITARA, covered agencies' CIOs are required to review and approve IT contracts. However, in January 2018, GAO reported that most of the CIOs at 22 covered agencies were not adequately involved in reviewing billions of dollars of IT acquisitions. Consequently, GAO made 39 recommendations to improve CIO oversight for these acquisitions. As of June 2019, 23 of the recommendations had not been implemented.
Consolidating Data Centers
OMB launched an initiative in 2010 to reduce the number of data centers. According to 24 agencies, data center consolidation and optimization efforts had resulted in approximately $4.7 billion in cost savings through August 2018. However, additional work remains. GAO has made 196 recommendations to OMB and agencies to improve the reporting of related cost savings and to achieve optimization targets. As of June 2019, 79 of the recommendations had not been implemented.
Managing Software Licenses
Effective management of software licenses can help avoid purchasing too many licenses that result in unused software. In May 2014, GAO reported that better management of licenses was needed to achieve savings, and made 136 recommendations to improve such management. As of June 2019, 27 of the recommendations had not been implemented.
Ensuring the Nation's Cybersecurity
While the government has acted to protect federal information systems, GAO has consistently identified shortcomings in the federal government's approach to cybersecurity. The 3,058 recommendations that GAO made to agencies since 2010 have been aimed at addressing cybersecurity challenges. These recommendations have identified actions for agencies to take to fully implement aspects of their information security programs and strengthen technical security controls over their computer networks and systems. As of June 2019, 674 of the recommendations had not been implemented.